Choosing the Right Tracker
Looking for efficient time tracking solutions beyond Toggl? Discover the 5 best Toggle alternatives that cater to diverse needs. From the streamlined precision of Traqq and the flexibility of Clockify to the team-focused dynamics of Hubstaff, Timely App, and Time Doctor, discover a whole range of Toggl alternatives to enhance productivity and time management.
All the information provided in this article is published in good faith and for comparison purposes only. We do not intend to imply that our product is better than other time trackers on the market. The information is well-researched and unbiased to help you choose the right software for your business. While Traqq strives to make the information as accurate as possible, liability for errors, omissions, accuracy, or completeness of the contents is hereby expressly disclaimed.
What Is Toggl?
Toggl Track is a time tracking tool that helps teams and freelancers stay organized. It lets you monitor project revenue and alerts you when you're about to reach your budget limits.
The time tracker is suitable for freelancers who use tools like Asana, GitHub, and Jira to manage their teams and projects.
With Toggl, you can:
Integrate with multiple project management apps
Manage your team members and check their work progress
Track time across multiple devices
Get weekly reports on team performance.
Best Toggl Alternative for Remote Teams: Traqq
With automatic time tracking at its core, Traqq eliminates the need for manual input, ensuring accuracy while maintaining a focus on productivity. Its seamless integration into workflows and compatibility with various operating systems make it versatile and user-friendly. The added advantage of screenshot and activity monitoring ensures transparency and accountability, making it an ideal choice for both individual professionals and remote teams. Traqq's commitment to data-driven insights and the optimization of work processes solidifies its position as the ultimate Toggl alternative, transforming the way teams and individuals manage their time and productivity.
With Traqq, you can:
Check the progress of each employee in detailed timesheets
Identify the apps and websites team members are spending the most time on
Receive alerts when you start working without turning on the time tracker
Get a summary of your employees' activity levels for a given period for ease of analysis.
Toggl vs Traqq:
Side-by-Side Feature Comparison
 
Reports
Simple and easy to use
Clean
Time Tracking

Manual

Automatic

Manual

Automatic

Activity tracking

Yes

Yes

Idle Time Detection

Yes

Yes

Employee Monitoring

Yes

No

Screenshots

Yes

No

Screen Recording

Yes

No

Deleting Screenshots

Yes

No

Time Tracking

Weekly summary

Time and Activity

Manual Time Adjustments

Apps and Websites

Amounts Earned

Idle Time

Deleted Tracked Time

Weekly summary

Automatic reports

Yes

Yes

Report sharing

Yes

Yes

Manual time adjustment

Yes

Yes

Reports
Smart alerts and notifications
Background tracking
Automatic Timesheets

Yes

Yes

Team
Management

Yes

Yes

Invoicing

No

Yes

Employee Attendance
Tracking

Yes

No

Offline Tracking

Full offline mode

Limited offline functionality

Task Tracking

No

Yes

Third-Party Integrations

No

Yes

Platforms

Windows

MacOS

iOS (coming soon)

Android (coming soon)

Linux (coming soon)

Windows

MacOS

iOS

Android
Pricing comparison
Premium Starter

Free

Package offers all premium features for 3 users

Start for free

Free plan

Free

Requires subscription to enjoy all premium features

Starter

$9

per user, per month

Premium

$18

per user, per month

 

Enterprise

~

custom pricing
Choosing the Best Free Toggl Alternative
Here's a detailed Traqq vs Toggl comparison, focusing on the best features of each time tracking app.
Time Tracking
Automatic/Manual Time Tracking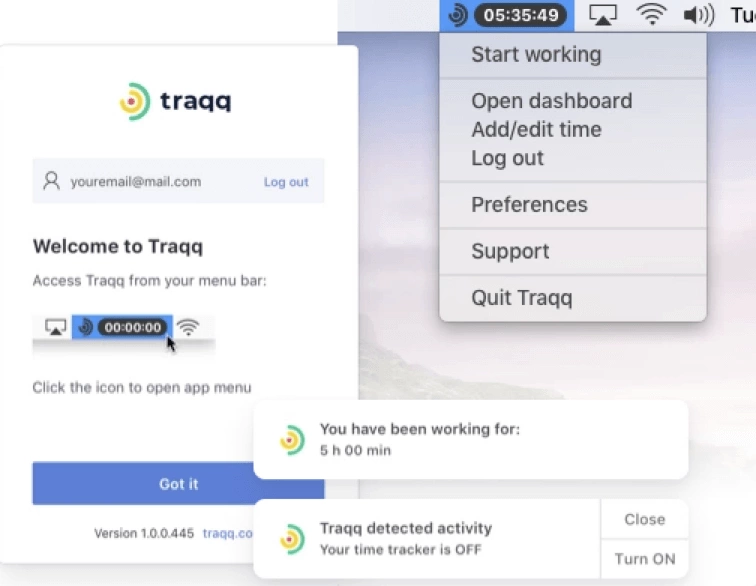 If you want simplicity, accuracy, and convenience, Traqq provides unlimited time tracking features. For starters, it lets you log hours manually and automatically. Using Traqq is simple:
You first need to install Traqq on your computer. The process is quick and it starts by registering your account. After verifying your email, proceed to download and install the Traqq desktop app.
Once installed, fill in your login details to log in to the desktop app.
To create your work hour log, simply click on Start on Traqq's widget on your taskbar. Click on Stop to take a break or end your day.
To configure Traqq, go to Settings and choose your preferences. You can set the app to send you notifications when you forget to turn on the tracker while working. You can even configure it to notify you of activity tracked every hour.
For your convenience, you can set Traqq to launch on system startup without starting time tracking, or have it start tracking your work time right after launch. All this can also be done in the app's Settings.
Manual Time Adjustment
As one of the best Toggl alternatives Traqq ensures accurate time records. If you work in the field or have a client meeting scheduled, Traqq lets you add time manually. You can give a brief explanation of the time adjustment.
If you manage a team, you can add team members using the "Invite people" option. You can group them based on projects, clients, or departments. After adding people and creating groups, you can see how they are spending their time through Traqq's dashboard.
Offline Time Tracking
With Traqq, you don't have to worry about losing data when you don't have an Internet connection. The tracker works offline, ensuring you stay on top of your activities. When you get back online, all your logged hours, screenshots, and activity reports will be synchronized with your Traqq account.
Idle Time Detection
If the tracker detects activity while it's turned off, it will nudge you to turn it on. Likewise, if it detects idle time while the tracker is running, you get a reminder to turn it off. This ensures accurate work hour recording for accurate payments.
Toggl time tracker automates time tracking, which is triggered every time you start using specific software that you've preset. The timer runs in the background while allowing you to view how much time you have been working on your tasks.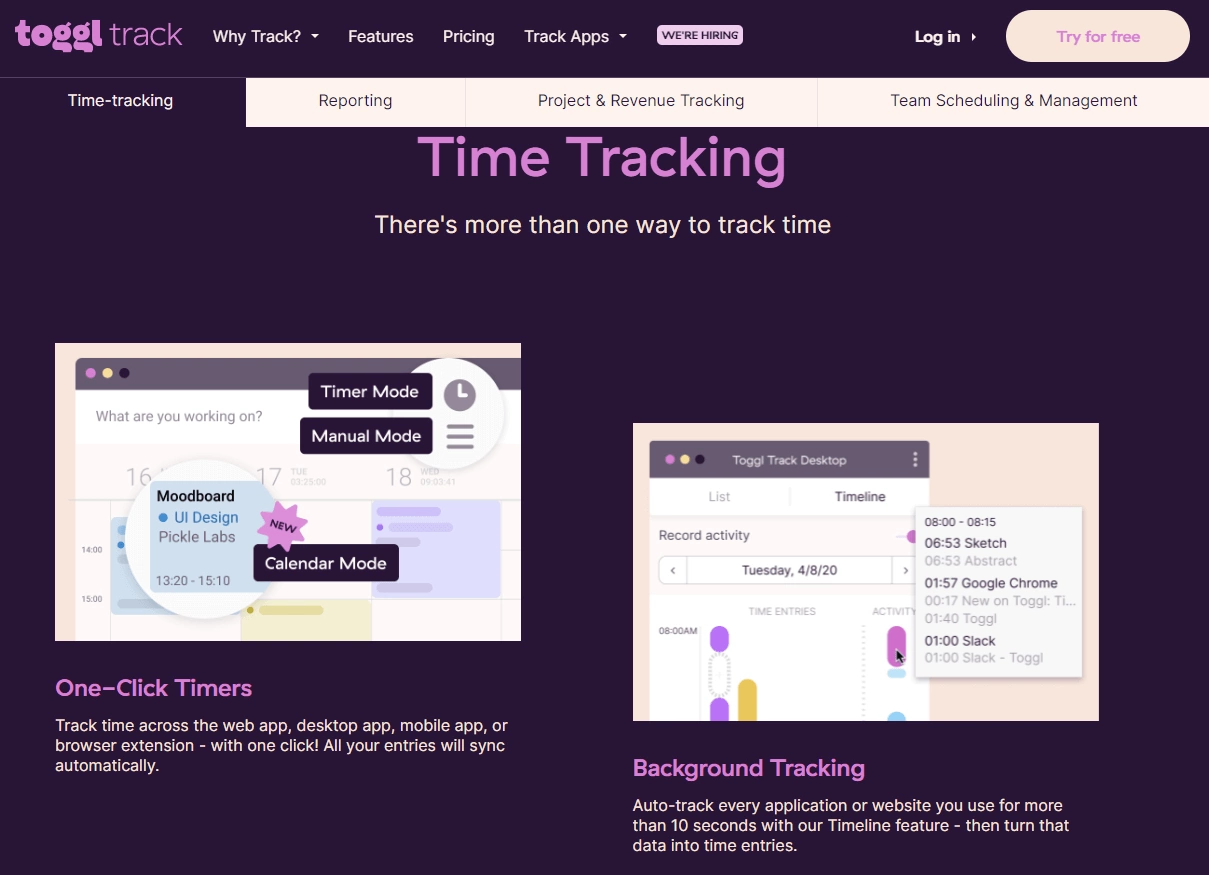 Idle Time Detection
The tool also reminds you to pause or clock out if it detects no activity. Every 25 minutes, you get a reminder to take a Pomodoro break to prevent worker fatigue.
Employee Monitoring and Management
While Traqq is one of the best alternatives to Toggl for time tracking, it is also a powerful employee monitoring tool. The app keeps an accurate record of all processes being undertaken, ensuring everyone is on the same page.
By seeing what teams are working on, you can distribute work fairly. This helps to avoid overworking individuals, which is the leading cause of employee absenteeism.
Traqq's top monitoring features include:
Screenshots and Screen Recordings
The thing with distributed teams is that there's no telling what they are actually working on. Unless, of course, you have a system that records their progress every step of the way. Traqq is set to capture screenshots of the user's desktop automatically and randomly, every ten minutes.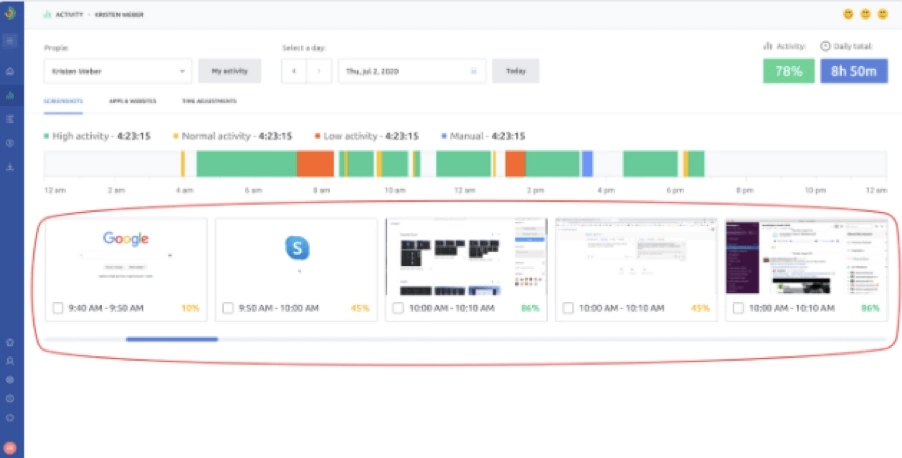 These screenshots are useful in measuring your team's ongoing activities and overall productivity. They also ensure employees follow company policies and minimize time wastage.
Traqq is the best Toggl alternative that promotes ethical monitoring. So, people can rest easy knowing they are not being spied on. The screenshots are blurred to prevent sensitive information like passwords from becoming legible. This ensures that the employee's privacy is protected.
Traqq starts taking screenshots as soon as the user clicks on Start on the time tracker. The screenshots can be viewed by opening the Activity tab under the Screenshots category.
Traqq also captures ten-second videos of user activities on the screen. The recordings are blurred as well but show the cursor movements across the user's screen.
Traqq's employee monitoring works in stealth mode, so workers are not distracted.
App and Website Tracking
Sure, the screenshots show that employees are working. However, wouldn't you be interested in seeing if they are spending too much time on non-work-related stuff? Traqq's website and app tracking displays a graphical presentation of where your employees spend their time.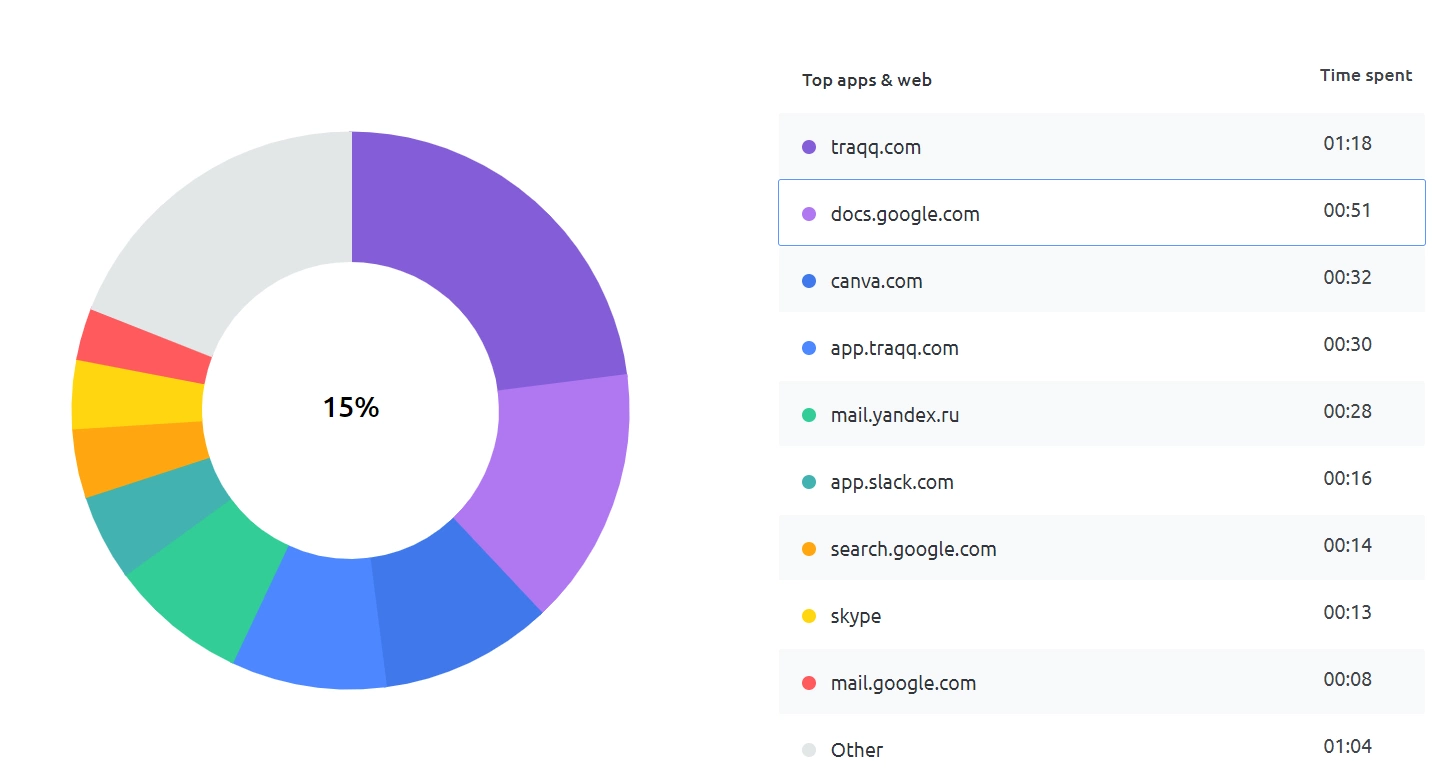 The details are further broken down to show exactly how many minutes were spent on each app or website. To an employer, it's crucial to account for every minute to maximize profit.
If there is too much time being wasted by someone, you can use this info to talk to the employee, identify and then address their issues.
Toggl time tracker doesn't support screenshots and mostly focuses on time and task tracking.
App and Website Tracking
Toggl is configured to auto-track every app or website you use for more than ten seconds. You can then review the visual representation of how much time you spent on the app or website on the Timeline.
Reports and Timesheets
Performance reports show actionable insights into your team's overall performance and productivity. The reports and timesheets make it easier for you to analyze and assess your team's activity levels and adjust where needed.
Automatic Reports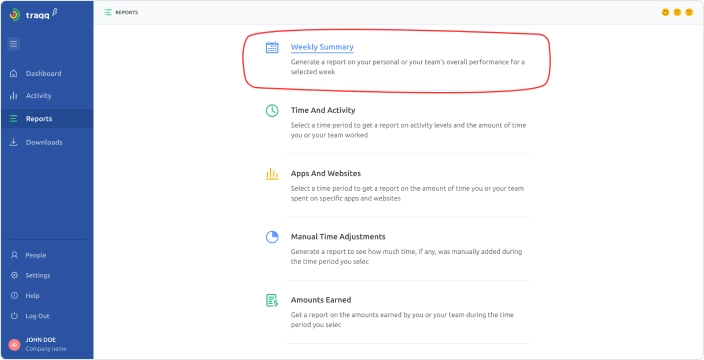 Traqq automatically generates and updates all users' daily activity stats. The detailed reports show how teams performed and the income they earned over a certain period.
The tool categorizes the reports into five levels for ease of analysis.
Weekly Summary lets you generate your personal or team's overall activity levels. You can use such data to compare performance over the weeks to determine overall workforce progress.
Time and Activity shows the activity levels and the amount of time you or your team worked on projects.
Apps & Websites lets you view a list of apps and websites used over a selected period. This information can help you identify common time wasters and take steps to reduce or eliminate them.
Manual Time Adjustments generates a report of how much time was manually added during a given period. If teams work on the field a lot, these manual adjustments allow them to record all work hours.
Amounts Earned generates reports showing the total amount of money earned by you or your team during the selected period. The data can also prove useful when comparing your weekly or monthly earnings.
Idle Time gives you an idea of how much work time is spent with no activity detected by the time tracker.
Deleted Tracked Time gives you a breakdown on the time that was deleted each day during the selected period.
In each category, you can filter reports by people or groups and download them in the .csv and .pdf formats. You can then share the reports with clients, making accountability easy.
Automatic Reports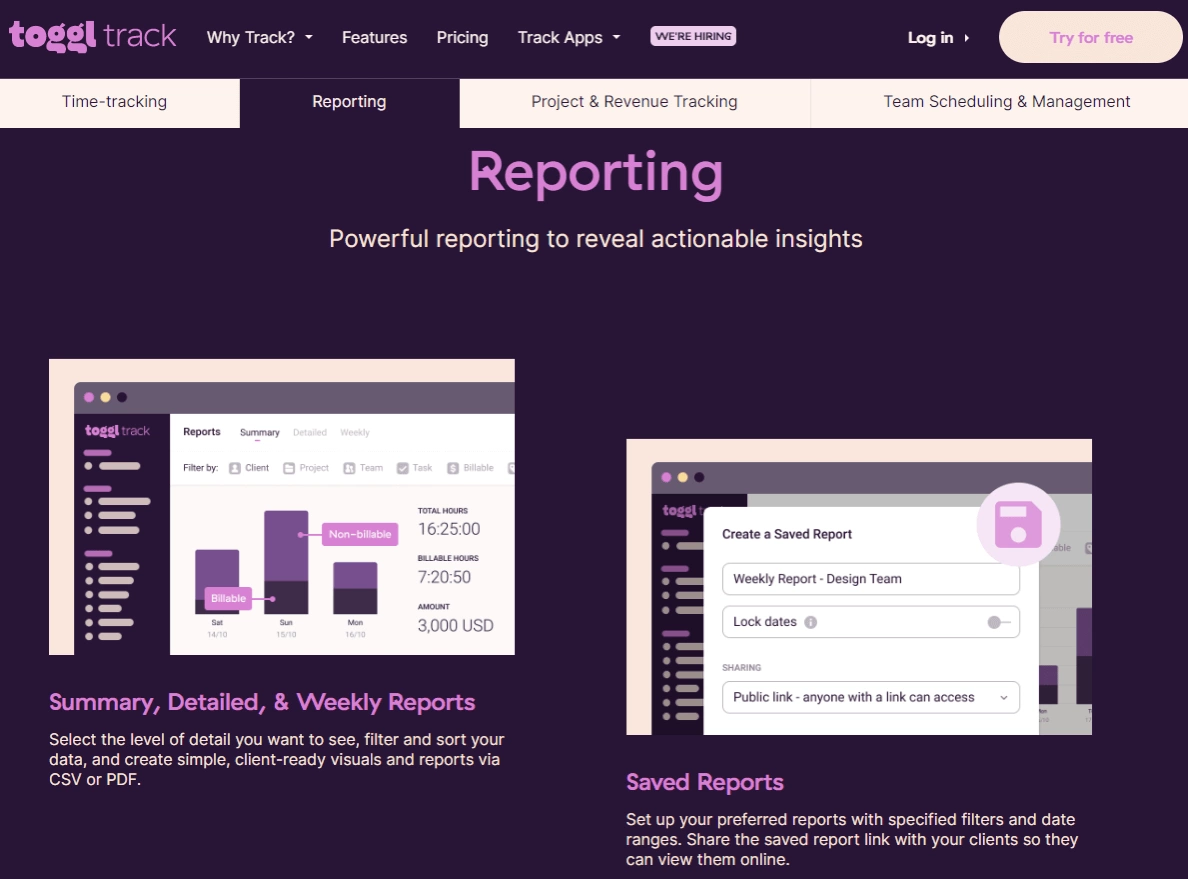 Toggl Track also automatically generates reports to help you view who worked on what and how long it took to complete a task/project. You can also generate a weekly summary to get insights into how much revenue was generated over the week.
Here are some of its categories:
Summary Report gives a wider perspective of tracked time for various tasks
Detailed Report presents a detailed view of an individual's or team's entries over a given period. You can filter the reports by client, project, team, task, or billable hours.
Weekly Report generates a weekly report of how much time was tracked over the past week.
Toggl lets you save the reports as PDFs or CSVs so you can share them with clients.
Productivity Tracking
Using a daily activities tracker can help you eliminate time wasters, become more organized, get more things done, and record proof of work. At the end of the day, you can easily track your productivity and analyze how you spend your work hours.
Accurate Activity Tracking
Traqq is also the ideal Toggl Track alternative for calculating activity levels based on mouse clicks and scrolls as well as your keyboard strokes. It is equipped with an anti-cheating algorithm that detects and nullifies power clicks and redundant mouse movements to eliminate discrepancies.
The timelines promote easy visualization using distinct colors to denote different activity levels. Green signifies high activity, yellow - normal activity, and red - low activity. The graphical presentation allows you to quickly check activity levels throughout the working hours.
With every minute captured, you don't have to worry about payroll processing. The Amounts Earned report automatically calculates the total amount earned over a selected period, based on the hourly rate.
Track a Large Team with Ease
As your business grows, keeping track of your employees' productivity can be complicated, but not with Traqq. Adding members is a breeze, plus you can group them into various categories for simple tracking.
You can generate activity reports for each individual or the team for your own analysis.
View Profit Projection and Revenue Tracking
The Team dashboard allows you to see the most active employees of the week and assess their workloads. Toggl, like Traqq, records the total number of hours worked to help you understand how long projects take to complete.
It shows profitability projections, earnings per client, and ROI insights. It also automates sending email reminders to employees to log hours. This ensures seamless reporting and accurate billing.
Best Free Toggle Alternative: Clockify
If you are looking for a time tracker that offers Toggl-like functionality for less, check out Clockify. Clockify is a free time tracking solution that makes managing individual tasks and projects a breeze.  You can choose between manual and automatic tracking, and there's no limit to the projects and tasks you can create. Clockify works well for individuals and teams, integrating smoothly with other tools you might use. It's a smart choice for those seeking insights to boost productivity and manage time effectively, all without breaking the bank.
Best Toggl Alternative for Project Management
What sets Hubstaff apart is its seamless blend of time tracking and team collaboration tools. With features like activity monitoring, automatic time tracking, and detailed reporting, Hubstaff ensures accountability and boosts productivity. Its project management capabilities enable teams to assign tasks, set deadlines, and monitor progress, fostering efficient workflows. Moreover, Hubstaff's GPS and location tracking are particularly beneficial for remote or field-based teams. The real-time insights Hubstaff offers into employee activities and project statuses make it a powerful choice, ensuring that not only time but also resources are managed effectively for optimal results.
Best Toggl Alternative for Planning Ahead
Timely App is a great alternative to Toggle if you like to plan ahead. The app offers a nice visual of your entire schedule for weeks ahead making it easy to check availability for new projects and move tasks around. Timely App features automatic tracking that effortlessly captures work hours, freeing users from manual input. The tool also excels in project management with features like task assignment, deadlines, and progress monitoring, enhancing team collaboration. The cherry on top is its Memory Tracker, which reconstructs your workday, aiding in accurate time allocation. 
Best Toggl Alternative for Employee Monitoring
Time Doctor is a good alternative to Toggl delivering a comprehensive suite of features that elevate time tracking and team management. What sets Time Doctor apart is its robust employee monitoring capabilities, including real-time activity tracking and website/app usage insights. This level of visibility surpasses Toggl's focus solely on time tracking, offering deeper insights into employee productivity and work habits. Moreover, Time Doctor's distraction alerts and idle time reminders enhance concentration and time optimization. By seamlessly integrating time tracking with powerful productivity-enhancing tools, Time Doctor offers a holistic approach to workforce management. 
In Conclusion…
Traqq is right for you if you:
Are looking for a Toggl plan alternative that offers simple and efficient time tracking and employee monitoring
Want to promote transparency among employees
Need to track performance and productivity to the last minute
Need to boost overall employee productivity
Are searching for a free Toggl alternative for smaller teams
Toggl is right for you if you:
Need an app that integrates with project management tools
Want to track tasks and projects of your teams
Want to manage project budgets and revenues.