The Best Free actiTIME Alternative
With a sizable chunk of the workforce shifting to the remote working environment, the line between work and life has become thinner. Workers are facing challenges trying to balance personal relationships, work, and social life.
Time is at the center of all this. Many of us are still trying to figure out how to manage work time outside the office – not to mention dealing with the distractions that often make it hard to complete tasks on time.
Fortunately, you can utilize time tracking tools to improve your time efficiency and achieve better productivity. Regardless of your profession, using a time tracker simplifies your workflow and keeps you organized.
You may have heard about or are already using actiTIME. It lets you create, monitor, and keep track of projects. That said, it has some limitations. If you're searching for an actiTIME alternative, try Traqq. Monitoring your team has never been this seamless. Plus, you get access to premium features for free.
Traqq: A Brief Overview
Traqq is one of the best free actiTIME alternatives, and its aim is to track how your team spends time. It offers a powerful reporting feature that gives managers deep insights into their employees' time use habits. The time tracker is ideal for freelancers, remote employees and in-office workers.
With Traqq, you can track your team's progress, assess their levels of productivity and ensure that no one is being overworked. The clock in clock out app can help you determine whether deadlines will be met and who's falling behind schedule so that you can reassign tasks.
Some of its top features include
●time tracking to ensure teams are efficient,
●detailed reports to help you quickly analyze your team's performance and productivity levels,
●ethical team monitoring to check on your employees while protecting their privacy,
●employee internet usage tracking to ensure team accountability and transparency, and
● smart reminders to keep you and your team focused on tasks and minimize idle time.
Traqq offers a free 21-day trial for teams of up to 500 users, and you don't need your credit card to get started.
ActiTIME: A Brief Overview
actiTIME offers time tracking, payroll management, and project planning features. It logs work hours to give you a full overview of what your teams are working on. Such insightful data can help identify loopholes and address them before they become an issue.
actiTIME is also a task tracker that uses visual Kanban boards to monitor project progress and help teams collaborate.
Some of actiTIME's top features include
● integrations with other productivity tools for improved workflow,
● mobile time tracking when you need to work away from your computer,
● detailed reports that let you review your team's performance and project costs, and
● absence tracking to check employee attendance.
actiTIME offers a free 30-day trial with access to features like reports, time tracking, and project planning.
Traqq vs. actiTIME: A Side-by-Side Comparison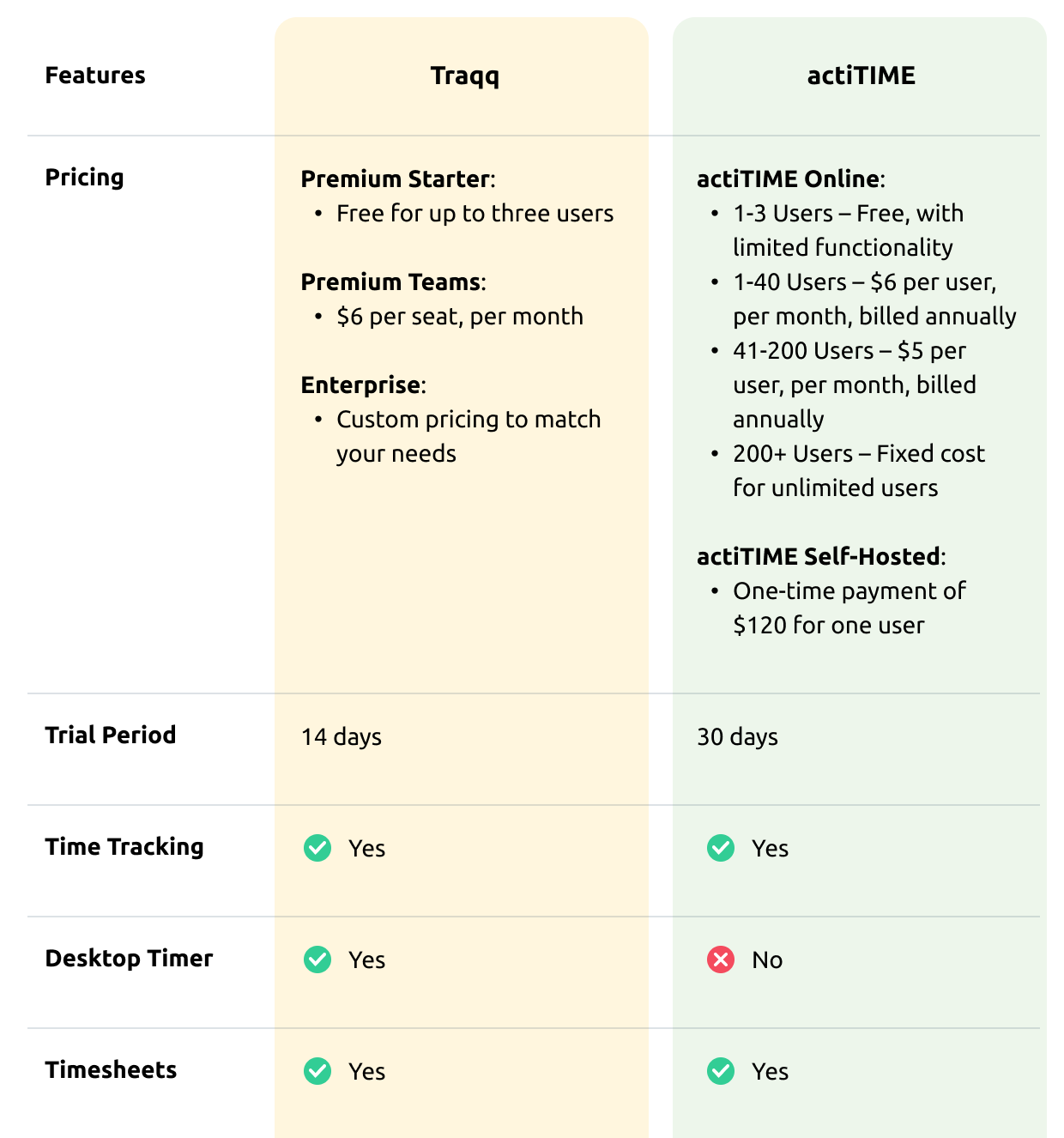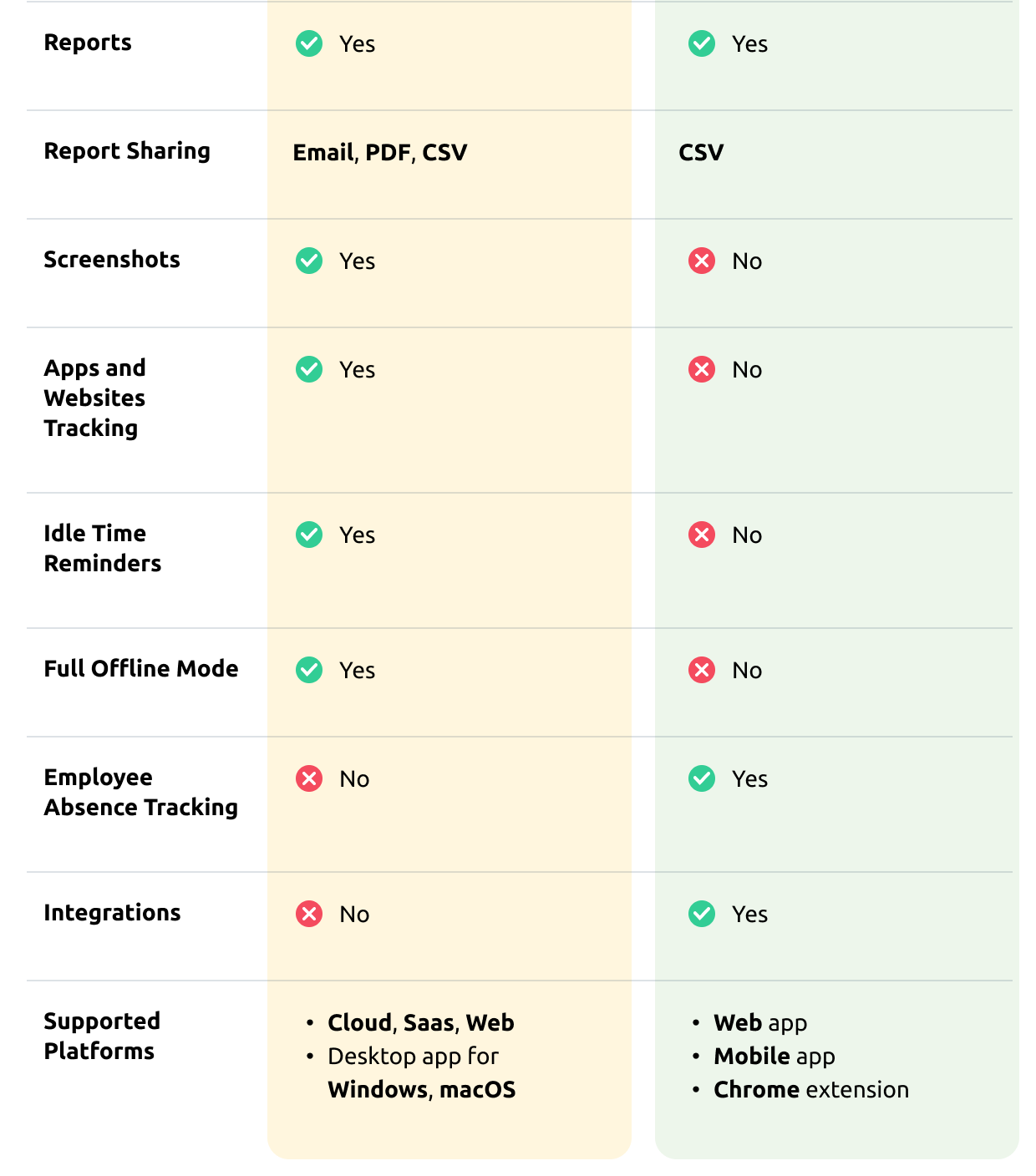 actiTIME vs. Traqq: A Detailed Comparison of Their Features
Both actiTIME and Traqq offer valuable features to track time and analyze employee performance. However, they all have their weaknesses and strengths. Here's an in-depth comparison of what each time tracking app delivers.
Time Tracking
Traqq – A Better Alternative to actiTIME
Manual Time Tracking
After installing the Traqq desktop app, click Start to commence time tracking. The tool will automatically log your work hours and update your timeline. To take a break, click Stop to pause the timer. You can easily pick off from where you left and continue tracking time by clicking Start.
Traqq monitors your personal or team's activity levels based on keyboard movements and mouse clicks and scrolls. It then accurately gathers all the data into online timesheets for quick comparison and analysis.
The app is highly customizable and lets you configure several settings, including
●getting notified of every hour tracked,
●getting notified if inactivity is detected while the tracker is running so that you can stay focused, and
● setting the tracker to play sounds when screenshots are taken.
Using Traqq can prove beneficial for any business model. Among other things, you can do the following:
●Adjust time manually. Traqq has an option to add time manually, which is especially convenient if you have a team that works in the field. It allows you to add all the time worked away from the computer. Users must provide an explanation for the added time. The feature can also be handy if you forget to activate the tracker while working.
●Detect idle time. Distractions can interfere with your performance, and the idle time detection feature ensures that you stay focused during work hours. Alerts will pop up on your screen whenever inactivity is detected.
● Track offline activity. The best part about using Traqq is that it's not reliant on the internet. In case of an outage or you work in areas with unstable connections, you can still track time without worry. Your timeline will be updated as soon as you reconnect to the internet.
actiTIME
Manual Time Entries
Tracking time on actiTIME is not as straightforward as on Traqq. First, you must create tasks by using the Tasks interface and assign them names, estimates, deadlines, and types of work (billable or non-billable).
After you create the tasks, they will appear under the "Enter Time-Track" page under the Time-Track tab. Unlike Traqq, which displays the timer on your desktop screen, you must install a Chrome extension to capture work hours directly from the browser.
To view the Time-Track details, including overtime and leave time, switch to the "View Time-Track" page. You'll also see Time-Track statuses – that is, whether management approved or rejected a time entry.
Account admins can lock the timesheet to prevent further changes to the submitted entries. actiTIME supports offline tracking via a mobile app. The data is then automatically synced to the web timesheet once you connect to the internet.
If you prefer a simple free actiTIME alternative, we suggest Traqq. All you have to do is click Start to log work hours and Stop at the end of your work shift. There are no long processes of creating tasks. Plus, the desktop app lets you check how long you've spent on tasks to determine if you're on track. You also don't get idle time detection and reminders when using actiTIME. However, you can set up email reminders to prompt your staff to submit the timesheet.
Employee Monitoring
Traqq
Traqq is the best alternative to actiTIME when it comes to employee monitoring. It automates the process of tracking your workers' payable hours, so you don't interfere with their work schedules.
Automated Screenshots and Video Recordings
Traqq captures screenshots randomly every 10 minutes. For some employees, this can give rise to privacy concerns. However, Traqq promotes ethical tracking by ensuring all the screenshots and screen recordings are blurred by default. This way, all sensitive data becomes illegible, and workers can work peacefully knowing they are not being spied on.
Managers only need to see if teams are really working on assigned projects rather than on personal stuff. Ultimately, all you want is efficient time management for your staff, and Traqq can help you achieve that.
Screenshots and screen recordings are taken even when you're offline, ensuring all time spent working is captured accurately. All the data will be uploaded to your online account as soon as you connect to the internet.
Users can view their screenshots on the "Activity" page, along with their activity levels for each ten-minute interval. While users can opt to delete the screenshots, we should point out that doing so also removes the corresponding 10-minute time interval. In other words, if you delete four screenshots, you lose 40 minutes from your timeline.
Apps and Websites Usage Monitoring
It's easy to get distracted when working, whether remotely or in-office. By tracking your internet usage habits, issues like spending too much time on Instagram or YouTube will be brought to light. Traqq starts recording any application or website you spend more than ten seconds on.
Later, you can review which apps and websites you frequently used over the week and how long you spent on each. It makes it easier to detect if you spend half your time doing unproductive stuff so that you can devise ways to minimize time wastage.
actiTIME
Screenshots
Currently, actiTIME doesn't offer employee monitoring solutions. It lacks the screenshot and video recording feature, and managers have to rely on employee time logs to monitor their performance.
Managers can set up work schedules and view the reports to get a detailed analysis of their employees' work habits.
App and Website Usage Monitoring
actiTIME does not track application and website usage. Managers can set up task time estimates and deadlines and track project progress using the Kanban view.
Timesheets and Reports
Traqq
What makes Traqq an excellent actiTIME alternative is its uncluttered, powerful reporting feature. You don't need to assess complex details when analyzing team performance and productivity. The reports are clear and concise so that all concerned parties can understand all the data at a glance.
Reports are clear and concise so all concerned parties can understand all the data at a glance.
Traqq gives you access to the following reports:
●Weekly Summary generates a report that gives an overview of your or your team's performance over a selected week.
●Time and Activity generates a report on the average activity levels and the total number of work hours logged over the period you select.
●Apps and Websites generates a report that provides application and website usage data on you or your team over the period you select.
●Manual Time Adjustments displays the total amount of manually added time during a given period.
●Amounts Earned generates a report with insights into how much money you or your team earned during the period you select.
● Idle Time is a new report that shows the total amount of time you or your team were idle during a selected period.
You can filter the reports by date, individual, or group, depending on the details you want to analyze. If you wish to share the reports with your clients or other departments, Traqq lets you do so via emails. Alternatively, you can save them in PDF or CSV for future reference.
actiTIME
actiTIME offers several reports to check staff performance, leave time, and billing, as well as profit and loss.
Users can access the following reports:
●Staff Performance provides insights into time expenses and employee time logs.
●Time Balance & Overtime gives an overview of time balances and overtime values over a given date range for individuals or teams.
●Leave Time & Balances provides data on leave time across your staff.
●Estimated Vs. Actual Time lets you review estimated time and actual time so that you can balance workload more efficiently.
●Billing Summary displays the total time and billable amounts over a specific date range to help you identify profitable projects.
●Cost of Work captures working hours, leave hours, and their associated costs for all users.
● Profit & Loss lets you review profitability for customers, projects, or tasks.
actiTIME lets you create report templates and pin them to the dashboard to easily access them. You can also export reports in CSV format for further analysis.
Pricing Plans
Traqq
Cost matters a great deal when selecting a time tracking app. When it comes to pricing, Traqq is the most desirable actiTIME alternative since its premium plan is one of the cheapest.
Individuals and teams with a maximum of three members can enjoy Traqq for free, including access to all the premium features.
Here are Traqq's pricing plans:
●Premium Starter – Free for up to three users
●Premium Teams - $6 per seat, per month
● Enterprise – Custom pricing to match your needs
actiTIME
actiTIME has two subscription options:
actiTIME Online:
●1-3 Users – Free, with limited functionality
●1-40 Users – $6 per user, per month, billed annually
●41-200 Users – $5 per user, per month, billed annually
● 200+ Users – Fixed cost for unlimited users
actiTIME Self-Hosted:
● One-time payment of $120 for one user
ActiTIME vs. Traqq: Choose the Best Time Tracking App for You
Traqq is right for you if:
You are looking for a free alternative to actiTIME with unlimited access to all the premium features.
You're searching for a time tracker with a dedicated employee monitoring system that promotes ethical tracking.
You prefer simple, easy-to-read reports with all the necessary details.
You want a comprehensive time clock app that works both online and offline.
actiTIME is right for you if:
You want to keep track of overtime and leave time.
You want to keep track of working hours and their associated costs.