Traqq Vs. TimeCamp: The Best TimeCamp Alternative
Are you considering alternatives to TimeCamp time tracker? We are here to help.
With so many time tracking applications available on the market, choosing the right one is not always an easy decision. You need to consider factors like your needs, budget, the size of your team, and the product features.
Traqq is the best alternative to TimeCamp, particularly when it comes to recording time and monitoring employees. As a business owner, you need to know that company time is utilized efficiently and that workers are not flouting corporate policies.
Traqq and TimeCamp are two respectable time trackers that you may consider for your business. Below, we show you a side-by-side comparison to help you have a clear image of how each tool works. We also give you reasons Traqq is the best TimeCamp alternative.
Disclaimer:
All the information provided in this article is published in good faith and for educational purposes only. We do not intend to imply that one product is worse than the other. The information is objective, well-researched, and unbiased to help you choose the right software for your needs. Traqq Inc. releases itself from any liabilities that errors, unintentional omissions, inaccuracy, and incompleteness in the content may incur.
TimeCamp Vs. Traqq: A Side by Side Feature Comparison

Traqq Vs. TimeCamp: The Definitions
What Is Traqq?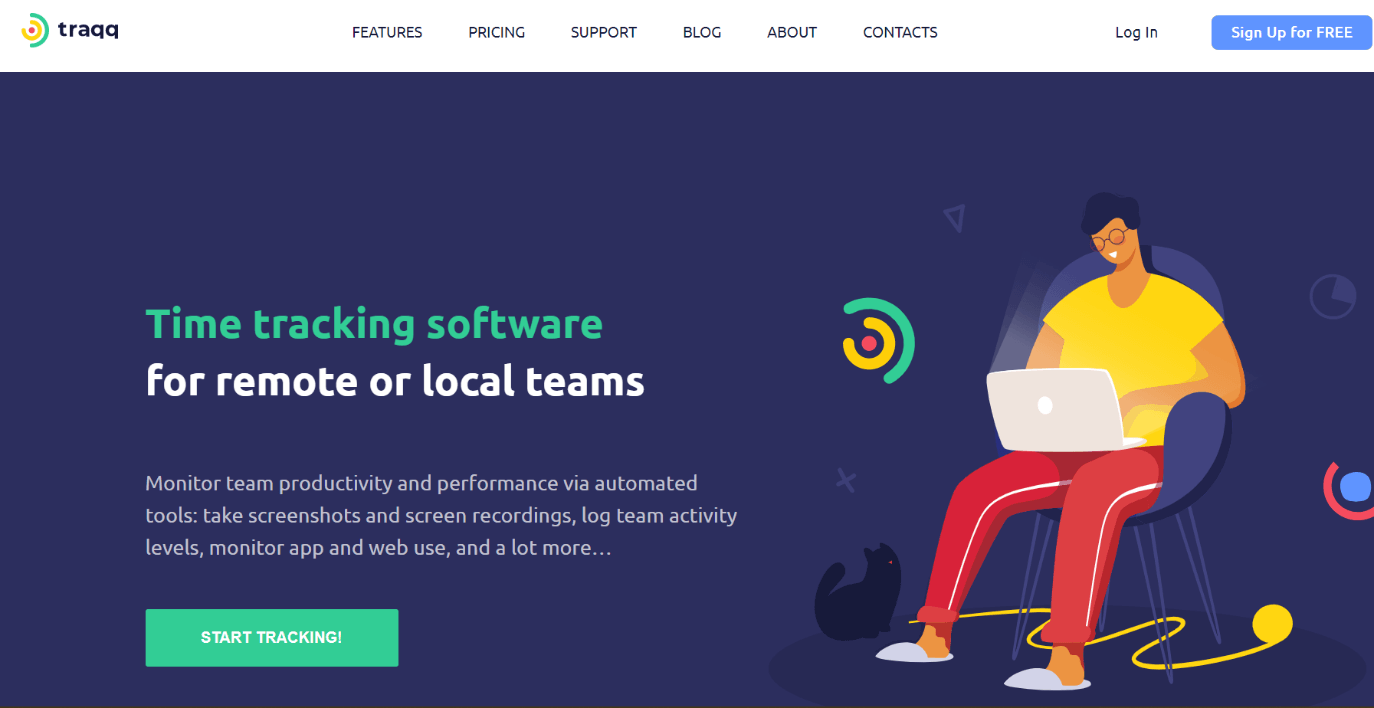 Traqq is the ultimate time management tool for teams (of any size) and individuals interested in staying on track towards their goals. The app allows you to monitor performance and record billable hours. You can track how efficient your staff is without making them feel micromanaged.
Traqq automatically records the time spent on projects and lets you analyze employee's performance via online timesheets.
Its main features include:
Time tracking to capture the work time of your employees accurately
Performance tracking to easily detect productivity leaks
Detailed reporting and online timesheets
Resource usage analysis to help you determine the impact on profitability
Employee monitoring with screenshots and video recordings
Online and offline time tracking
What Is TimeCamp?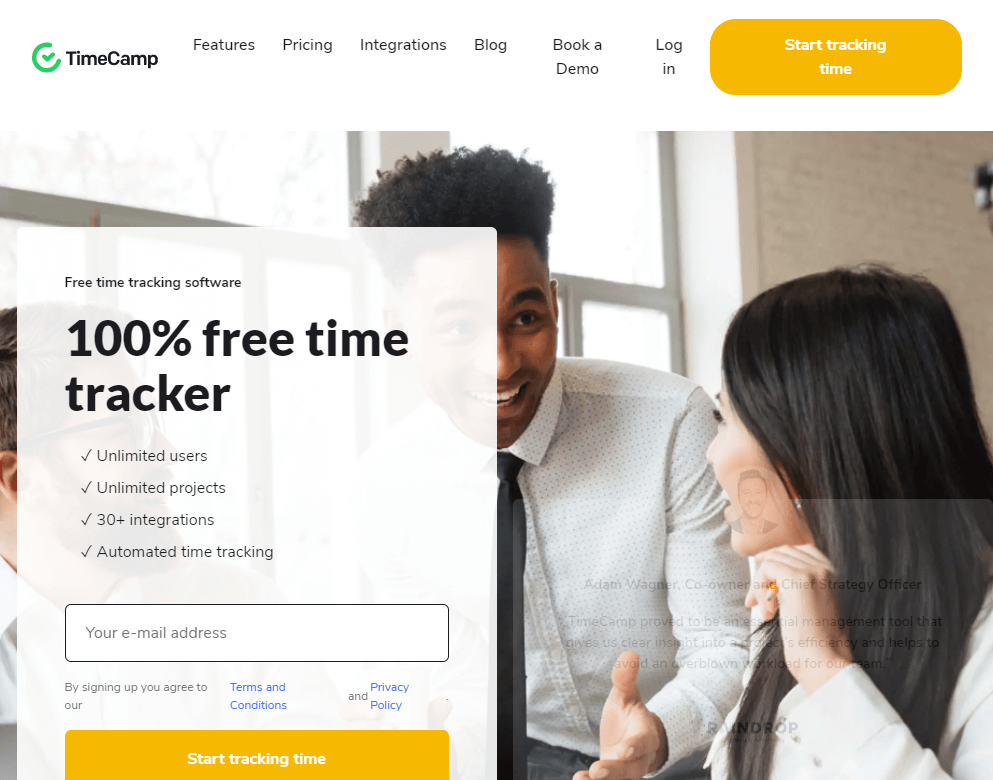 TimeCamp is a flexible time tracking software best known for its long list of app integration. It lets you sync with tools like GitHub, Asana, Evernote, and Salesforce for smooth and efficient workflow.
By using TimeCamp, you can automatically track your teams, monitor their app and website usage, as well as track idle time.
TimeCamp's main features include:
Automatic time tracking
Generating reports for in-depth analysis
Creating and managing projects
Tracking billable and unbillable hours
Integrations with 50+ apps
Traqq Vs. TimeCamp: Detailed Comparison
Time Tracking
As a business owner, you know that effective time management translates to getting more work done. That's why you need a tool that lets employees log the time spent working for accurate analysis. Both Traqq and TimeCamp offer great time tracking features. Here's how they compare:
Traqq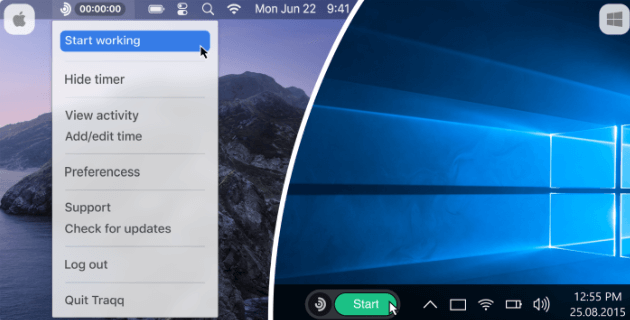 You can track time from your desktop, from anywhere. With Traqq you can clock in when you start work, pause the timer to take breaks, and clock out at the end of your shift. The intelligent desktop app alerts you after every hour you've worked so you can keep track of how long you've been working on your tasks. This enables you to manage your time more effectively.
With Traqq, you can:
Use the Traqq desktop app to conveniently manage your time. Simply start tracking by hovering your mouse cursor over the widget and clicking Start. This will also activate the app and website monitoring feature.
Track offline activity. Time tracking doesn't have to stop because you don't have a stable network connection. Traqq also works offline, meaning it can track any offline activity and add it to your timesheet once you reconnect to the Internet.
Add time manually. If you work off your computer and need to add that time, Traqq makes the process a breeze via the Time Adjustment option. Simply click Add time, enter the time, and provide a brief explanation for the adjustment.
Detect idle time. Traqq's Idle Time Detection feature reminds users that there's no activity on the desktop while the tracker is running. This helps employees become more accountable.
Choose if you want to be notified when screenshots are taken and if you want the alerts to be accompanied by sounds.
TimeCamp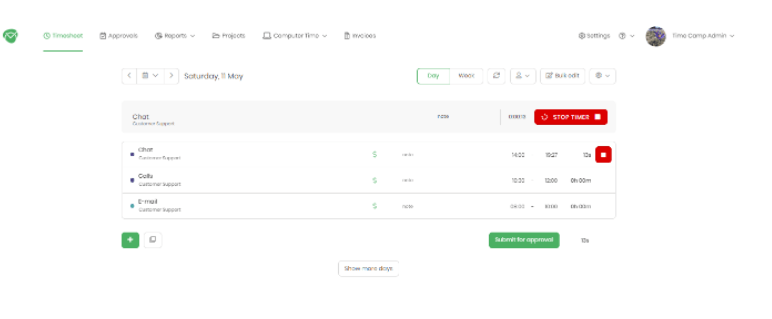 TimeCamp employs automatic and manual time tracking to log working hours. The tool automatically monitors how long you take to complete tasks. You can approach TimeCamp's manual time tracking in two ways:
The Time Entry feature where you can enter the total number of hours spent on a specific task
The Built-in Timer that lets you start and stop time as you work
Its automated time tracking utilizes predefined keywords. It starts recording time when it detects the keyword in the URL, window title, or the app name.
Employee Monitoring
Micromanagement not only leads to low employee morale and dissatisfaction but also high turnover and low productivity. That's where monitoring software comes in. Both Traqq and TimeCamp allow you to observe your employees without distracting them.
Traqq
Screenshots and Screen Recordings Monitoring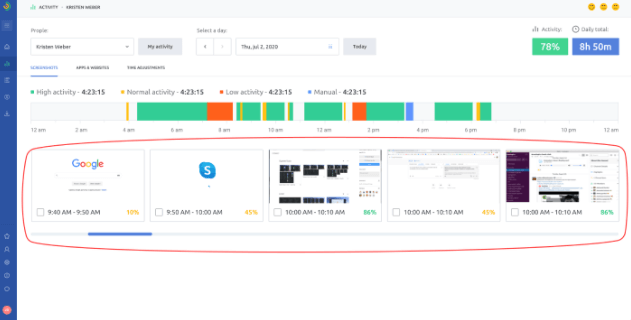 With Traqq, screenshots are randomly taken every ten minutes to monitor how employees are spending their work hours. The screenshots can be viewed on Traqq's online dashboard. The screenshots show the user's activity level (in percentage) for every ten-minute block.
Since Traqq works both online and offline, it can take screenshots when you're offline to ensure accurate activity tracking. The screenshots will be uploaded to your timesheet once you re-establish a network connection.
Traqq also captures ten-second video recordings of screen activity. The recordings capture cursor movement across the user's monitor(s) without revealing sensitive details.
Employee Privacy
Employee monitoring can cause distrust among workers if they feel like they are being spied on. Traqq promotes ethical tracking to ensure employee privacy is protected. All screenshots are blurred, preventing sensitive information from becoming legible.
Moreover, team members can delete screenshots to maintain their privacy. However, by deleting the screenshots, you also remove the corresponding time, which is deducted from your work hours.
Apps and Websites Tracking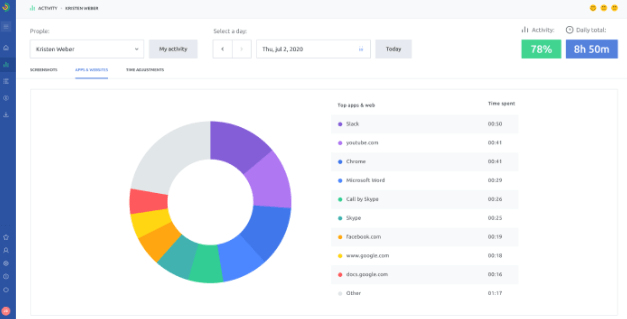 Apart from employee monitoring, Traqq can also track productivity. The program records apps and websites usage. The report will show all the applications each employee used and the websites they accessed while working.
The details are presented neatly on a pie chart, displaying the time spent on each app or website. These details are crucial if you want to identify where time is being wasted and employ strategies to restore time efficiency.
Activity Monitoring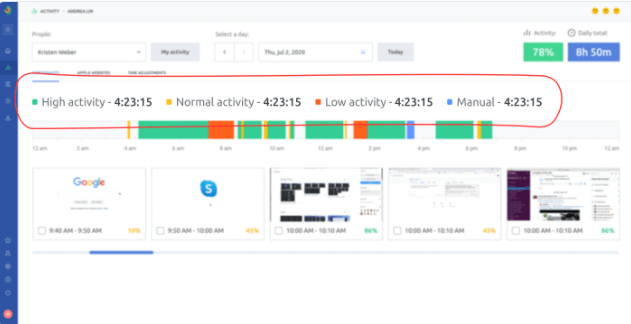 Traqq records your personal or team's activity levels by registering mouse and keyboard clicks. To be clear, the tool doesn't record what the user types or webpages accessed the way keyloggers do.
It simply tracks how active their mouse and keyboard movements are. It then displays a summary of the data showing their activity levels. The information is displayed in percentage, next to each captured screenshot.
It's a useful feature that gives you an overview of how activity fluctuates throughout the day. This way, you can analyze your productivity peaks and work your schedule around them.
TimeCamp
Screenshots
Unlike Traqq, TimeCamp doesn't have a definitive screenshots feature – it's offered as optional. So, if you're after employee monitoring Traqq would definitely be the best alternative to TimeCamp.
The automated screenshots ensure you stay on top of your projects and get a bird's eye view of project progress.
Apps and Websites Tracking
TimeCamp monitors websites and apps that team members access during work. The tool registers all your actions, websites, apps, and documents, recording the time spent on each of them.
This enables you to track time spent on productive and non-work-related activities.
Activity Monitoring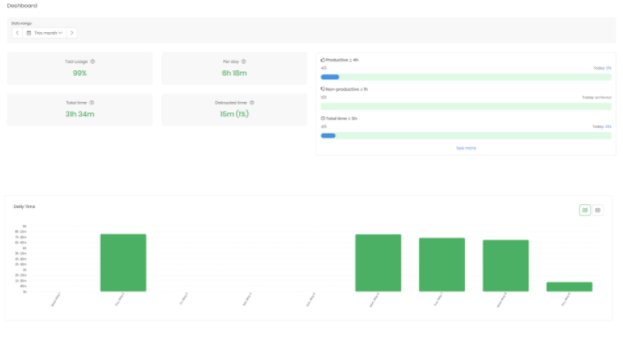 TimeCamp lets you measure idle time, so you can strategize how to improve focus at work. The tool helps you analyze the productivity of your team members' time spent on the computer, away from the computer, and in meetings.
Employers can view the activity levels of an individual or an entire team, check the average hours worked per day, and review total time spent on projects.
Reports
Reports give you insights into everyone's data and can be used to review performance and productivity. Both Traqq and TimeCamp have unique reporting features:
Traqq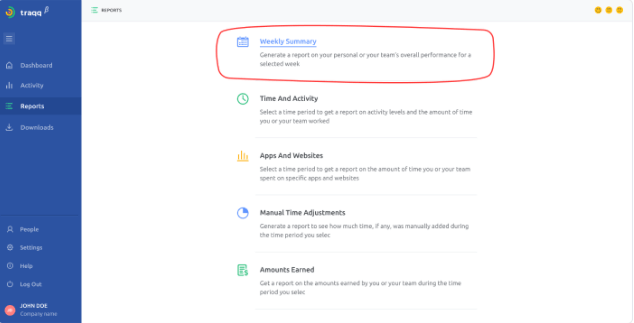 Traqq is the TimeCamp alternative that offers freelancers and teams flexible reporting features, providing useful details like hours logged by an individual or entire team. You can also review the amounts earned and use the data to study your operation's profitability. Doing so can be useful when taking on future projects.
With Traqq, you can generate:
Weekly Reports to view your personal or your team's overall performance for a given week.
Time and Activity Reports to review details of activity levels and the amount on time spent on projects over a given period.
Apps and Websites Reports that specify the amount of time spent by each team member on apps and websites for the selected period.
Manual Time Adjustments Reports to view the total amount of time manually added to the timeline for the selected period.
Amounts Earned Reports that display the total amount earned for different people over a selected period.
You can specify the people whose report you want to see (whether it's an individual or entire team) and the period you want to be reported. Once you have the report, you can export it in a format that's more convenient to you.
You can send the report via email directly from the Traqq dashboard or export it in a .csv or .pdf format. You can also save the reports to your computer and use them to review the team's performance over time.
TimeCamp

TimeCamp offers different reports, but the availability varies depending on the pricing plan you've subscribed to. TimeCamp reports fall under three major categories:
Time Tracking Reports, which generate reports by projects, by tasks, by days, by project budget, and so on.
Computer Time Reports, which includes:

Dashboard Reports
Away Time Reports
Activities Reports
Categories Reports
Timetable Reports

Budgeting Reports that show project estimates.
When it comes to reporting, you'll appreciate Traqq's simplicity. The reports are easy to understand. They summarize everything you need to know regarding time and employee management.
Pricing
The cost of a time tracking app plays a significant role in your decisions. Of course, you'd want to invest in a tool that will benefit your business.
Traqq
You can sign up for free and start using Traqq to efficiently manage your time. The free plan gives you access to all premium features forever. If you manage a team of more than four people, you'll need to upgrade to the paid tier.
Traqq offers more affordable plans compared to TimeCamp. Plus, there are no limitations on the availability of features. For example, you can generate any type of report you want, whether you're using Traqq's free or paid tier.
On the contrary, TimeCamp limits the types of reports you can generate on its free plan. You can only get useful reports if you upgrade to one of its paid plans.
Traqq Vs. TimeCamp: Pricing Plan Comparison
Traqq
Premium Starter: Free for three users maximum. Enjoy all premium features without charge.
Premium Teams: $6 per user per month billed annually, with a 14-day trial period.
Enterprise: Custom pricing. Contact the sales team for a price quote.
TimeCamp
Free Plan: Unlimited users, projects, and tasks. Limited integrations and reporting.
Basic Plan: $5.25 per user per month, billed annually.
Pro Plan: $7.50 per user per month, billed annually.
Enterprise Plan: Customized to your needs.
| | |
| --- | --- |
| Traqq | TimeCamp |
| Choose Traqq if you want to take control over your personal or your team's time and productivity. It is also the ideal choice if you're after ethical employee monitoring. | Choose TimeCamp if you want a tool that integrates with other apps for collaboration and project management. |