Clockify vs. Traqq: Which Is the Better Alternative?
It doesn't matter if you're managing a team of two or 100, or what industry you work in. Time tracking software is a must-have for effective time management. However, here's the thing. You can't use just any time tracking app. You need one that perfectly fits your business.
Clockify is one of the top options for those who prefer recording time for every task or project. While this is an excellent feature for a time tracker, some people do not need it. If you want a Clockify alternative for a smoother workflow, consider using Traqq. As soon as you click Start on the app, it will log your billable hours. This way, you won't have to click Stop and Start when you're switching between tasks.
Its free version gives users access to all the premium features compared to the limited features offered by Clockify (despite it claiming to offer unlimited features).
If you're looking for a great alternative to Clockify, read on. We've compiled a detailed comparison of Traqq vs. Clockify to help you choose the suitable tool for your needs.
Disclaimer:
All the information provided in this article is published in good faith and for educational purposes only. We do not intend to imply that one product is worse than the other. The information is objective, well-researched, and unbiased to help you choose the right software for your needs. Traqq Inc. releases itself from any liabilities that errors, unintentional omissions, inaccuracy, and incompleteness in the content may incur.
What Is Traqq and Why Is It The Best Clockify Alternative?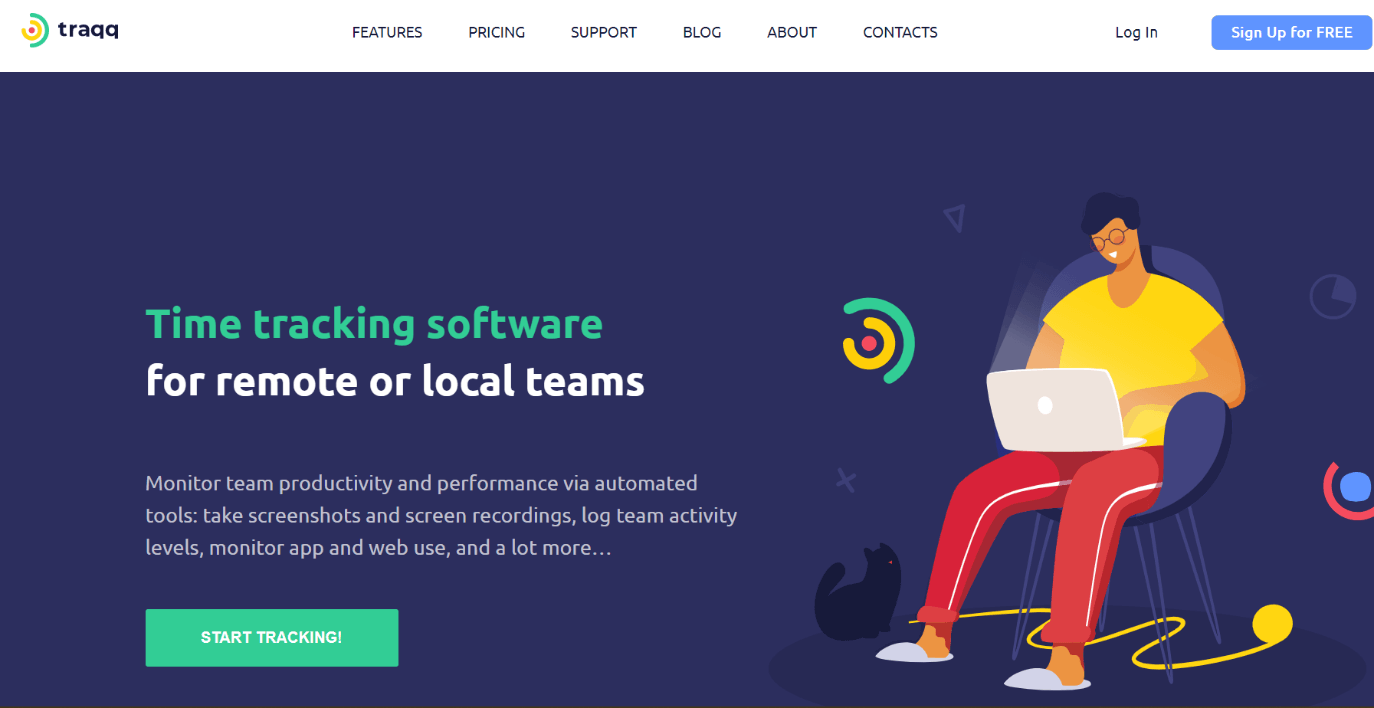 Traqq is a feature-rich time tracking app for freelancers and business owners who want to record their work hours accurately. It's an excellent tool for individual and team accountability and a great alternative to Clockify!
Traqq also offers employee monitoring to help you keep tabs on how employees spend company time. You can see what they are doing and learn about their most active hours.
Some of Traqq's key features include:
Automated time tracking for accurate data
Random screenshots and video recordings for accountability
Simplified view for monitoring individual and team activities
Detailed timesheets to help analyze an individual's or team's performance
Exportable reports for easy invoicing
What Is Clockify?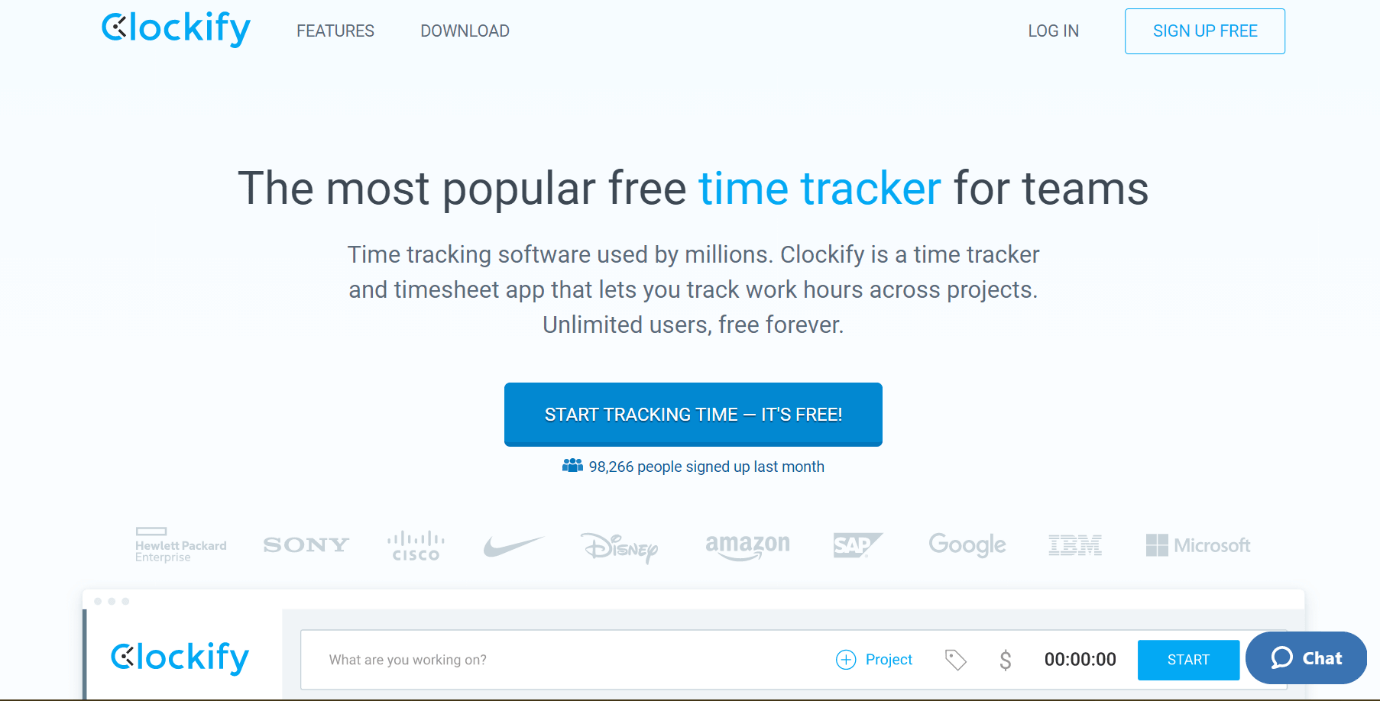 Clockify is a simple time tracking and project management software program. Its free version offers basic features to an unlimited number of users. If you need extra functionality, you'll need to upgrade to one of its paid plans.
The tool provides users with timesheets to track work hours and easily manage multiple client projects. It also offers employee management features that enable you to monitor attendance. Some of Clockify's main features include:
Attendance management features for tracking holidays and leaves
Project budgets with alerts to help you stay within the limits
A breakdown of all activities by day or user
Integrations with FreshBooks, Salesforce, G Suite, and other web apps
Traqq Vs. Clockify: A Side by Side Comparison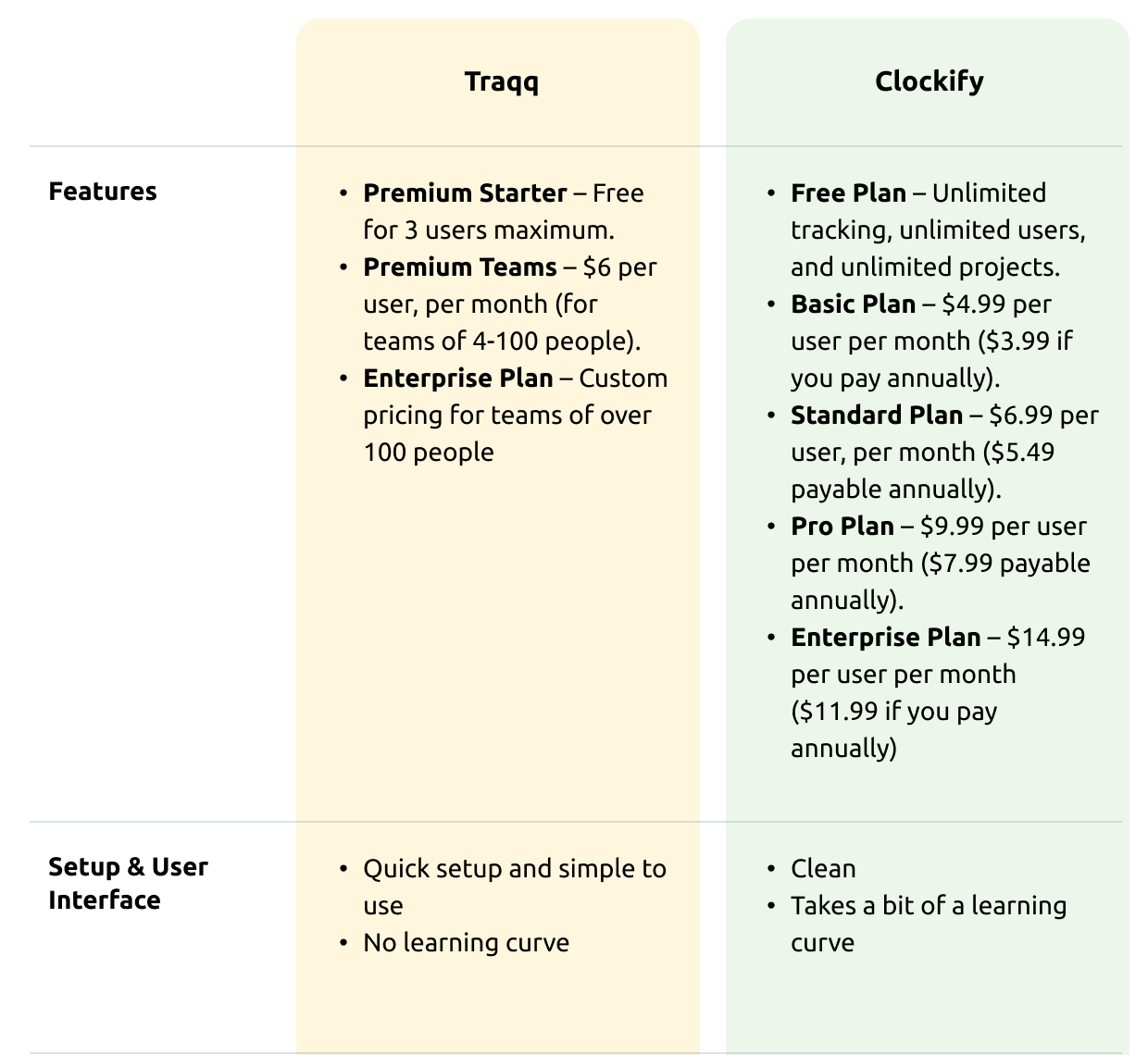 Traqq Vs. Clockify: A Feature by Feature Comparison
Let's check out in detail the different features of these two time trackers to help you make the right decision.
Time Tracking
Traqq
Automatic Time Tracking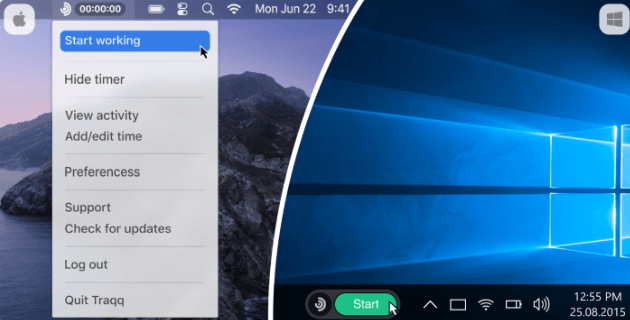 It's human nature to forget and a manual time tracker can lead to errors when recording time. Clockify alternative Traqq makes timekeeping convenient and accurate. You can rest assured that every second spent on projects or clients will be captured.
The software is easy to use and takes only one click to start recording. Where Traqq shines is its idle time detection feature. It sends constant reminders to users to turn on the tracker if it detects activity while it is off. Conversely, it alerts you to turn off the app if it detects inactivity on your computer. This helps to eliminate inaccuracies and ensure accountability.
To view the time spent so far, select the View Activity option. Doing so opens the Traqq dashboard via your default browser to show a breakdown of your activities. To stop recording, just hover your mouse pointer over the widget and click Stop.
Track Time Offline
Traqq works both online and offline, meaning you can still log hours without an active internet connection. This is a great feature for off site employees who work in areas with unstable network connections.
The data is synchronized as soon as you get back online.
Manual Time Entries
Traqq allows users to add time manually if they must work away from their computers. Let's say you are meeting clients outside of the office and you want to log the meeting as billable hours. You can manually add the time spent on meetings and provide a reason for the entry.
Manual time adjustment can also come in handy if you forget to clock in. It allows you to edit the recorded time and add the missing time.
Clockify
Manual Time Tracking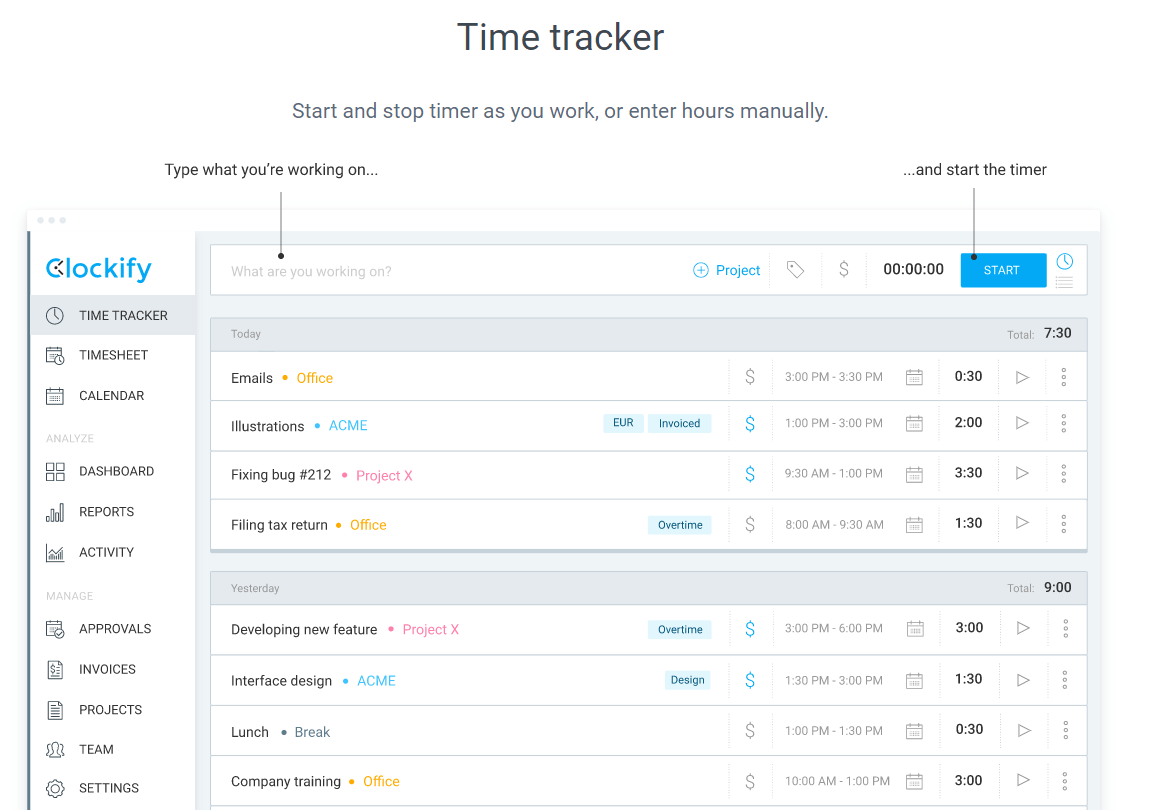 While Clockify is simple to use, it requires you to clock in and clock out by clicking on the timer. Employees need to log activities manually in a timesheet and click Start on the built-in stopwatch to start tracking time.
This method of time tracking can be erroneous considering how easily one can forget certain details. To automatically track activities, you'll need to install the Clockify Chrome Extension. It starts recording time when you launch your browser and stops when you close it.
Offline Tracking
Clockify is a web app that requires an internet connection to function. It also supports offline tracking but you need to separately install an iOS or Android app on your phone.
Clockify's offline tracking is integrated into the platform and you don't need to download a separate mobile app. This means you can keep working in case your internet goes down and everything will be synced the moment you restore your network connection.
Manual Time Entries
Clockify also supports manual time editing for those who forget to clock in at the start of the workday or clock out at the end of the day.
Timesheets - Clockify and The Free Alternative to Clockify
Traqq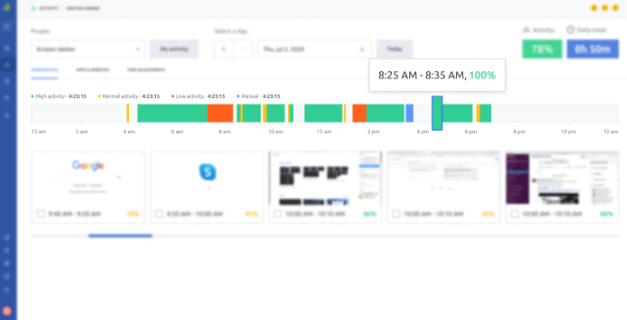 Traqq is not limited to time tracking. It also lets you analyze your team's activity levels via online timesheets. The timesheets provide detailed insights into everyone's performance which can be useful in allocating tasks.
You can see the total number of hours worked and their productivity levels in percentage form. The visual presentation enables easy data interpretation and weekly performance comparison. At the end of the week or month, you can go to the dashboard and generate a timesheet automatically. You will see the total billable hours along with the activity levels. What's more, you can export the data to a PDF or CSV file for easier invoicing.
Clockify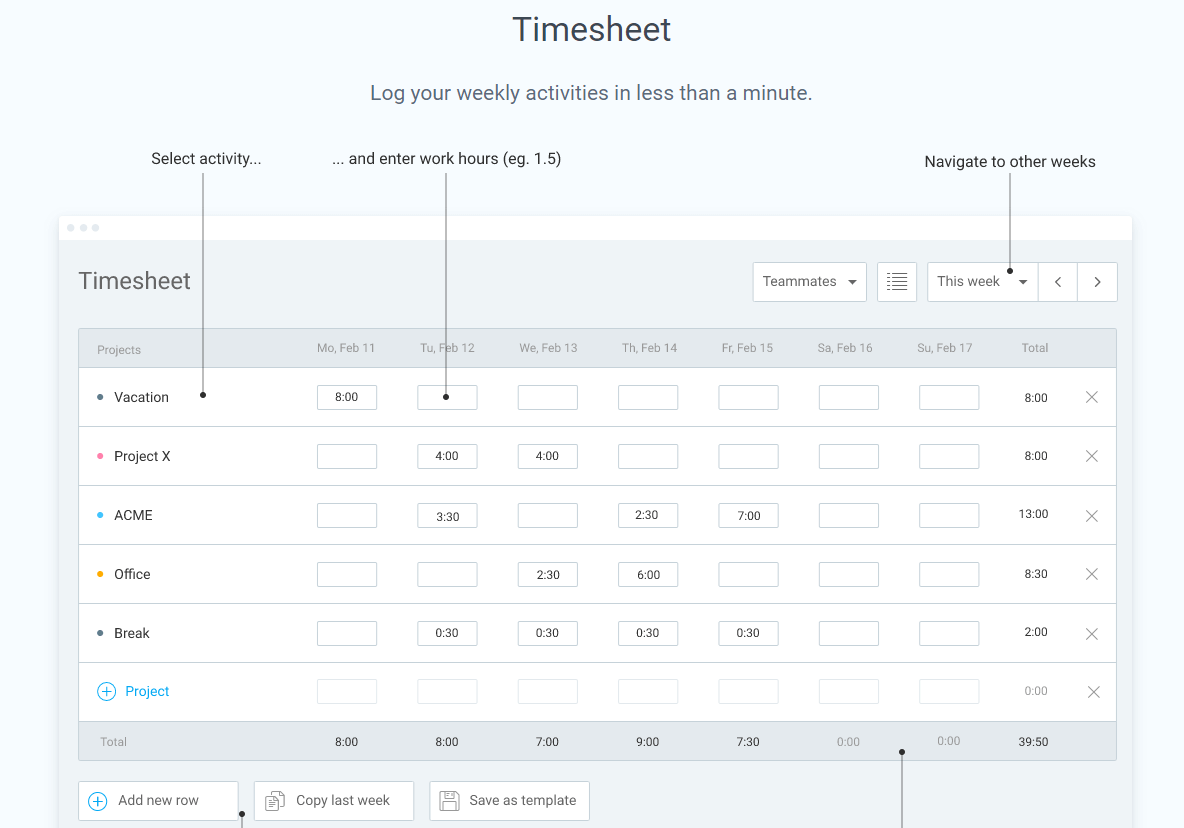 On Clockify, you can create a timesheet and set it as a template to log your weekly activities. You can add an activity and manually enter the time spent on the task. As a manager, you can send reminders to your team for due timesheets. Individuals can also edit their personal entries to reflect accurate records. The problem with manual entries is they present room for errors.
Individuals can also edit their personal entries to reflect accurate records. The problem with manual entries is they present room for error. Traqq automatically records how you spend your time and gives you an overview of your personal or your team's average activity via the app's dashboard.
Analytics and Reports
Reports provide detailed analyses of your team's performance and participation during a given period. It also shines a light on their employee and overall company progress.
Traqq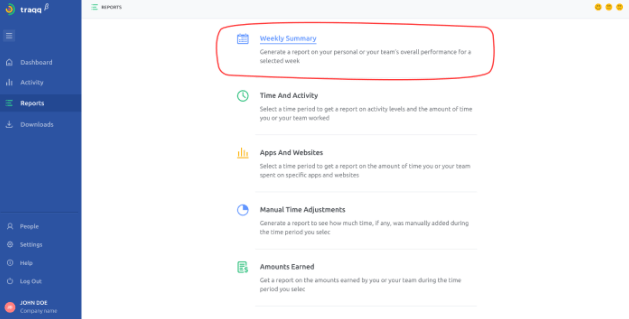 Traqq automatically generates informative reports that show how many hours were logged by individuals and the entire team. You can also see how much a person or a group earned for a given period. Besides, the reports give a clear picture of a person's or team's activity levels and how much time they spend working.
Traqq offers the following reports:
Weekly Summary generates a weekly report on your personal or your team's overall performance for a specific week.
Time and Activity generates a report on your personal or your team's activity levels and the total number of logged hours.
Apps and Websites provides an overview of how much time was spent on each of the apps or websites used while working.
Manual Time Adjustments generates a report showing how much time was added manually over a given period. This is a useful feature for teams working in the field.
Amounts Earned generates a report showing the total revenue accrued over a selected period.
You can filter the reports by people or groups and select the period for which you want to see the data. You can share the report directly via email or save it locally in PDF or CSV format. This way, you can share it later with your clients.
Traqq even lets you schedule when to share the reports. You can choose the file format, emailing frequency, and emailing time. This way, you don't have to manually share your weekly reports with clients.
Clockify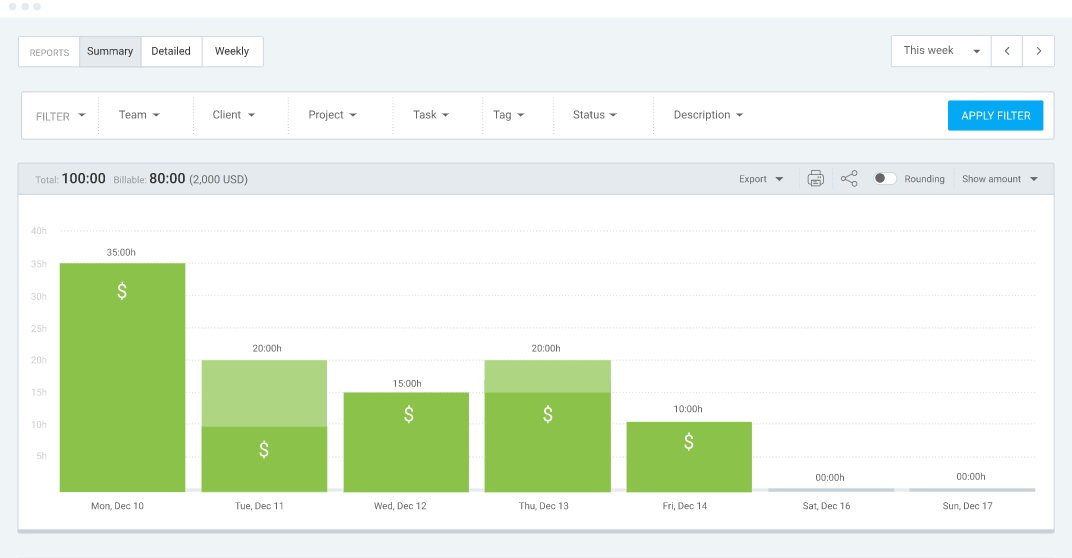 Clockify provides reports showing who worked on what and the projected revenue. The reports are grouped into three categories, namely:
Summary Reports give an overview of the total hours logged and the amount earned. You can filter reports by team, client, project, or task.
Detailed Reports give an in-depth analysis of all time entries, projects, and employees, along with the duration of each task.
Weekly Reports break down the total time worked each day of the week and the total hours logged during the week.
You can also share the reports with clients in PDF, CSV, or Excel format.
Productivity Monitoring
While these are not fully-fledged project management tools, they offer some useful features to monitor your personal or your team's productivity.
Traqq
Smoother Workflow
Unlike other time trackers, Traqq simplifies the timesheet process by logging the hours automatically. Instead of manually tracking time for every project, you would only have to click Start on the timer. This way, you can focus on work instead of creating logging time for every task or project.
Managers can also view the reports and review individual activity levels. They will know who's consistently efficient and who's loafing around non-work-related sites. The data enables you to redistribute the workload, ensuring that everyone gets their fair share of tasks. Additionally, by monitoring employee performance, you can notice productivity leaks and address the issue before it gets out of hand.
Activity Monitoring in Real-Time
Traqq gives you access to everyone's activity levels in real-time for effective time and project management. The reports provide insightful data on how teams have been performing over time, so you can measure progress.
The timesheets can help you identify periods when your employees are most active, and schedule work around this time. Since everyone's focus is different depending on the time of day, you can find their best routine and make it work for them.
Clockify
Billable Hours Tracking
Clockify lets you view billable and non-billable tasks, compare tracked vs. estimated time, and see which team members are assigned to specific tasks. You can categorize tasks by job type for easy analysis and view the budget or time set for each project.
Employee Monitoring
Traqq
Traqq offers employee monitoring features to help you keep tabs on everything that's going on during company time, just as you would in an in-office setting. These include:
Screenshots and Screen Recordings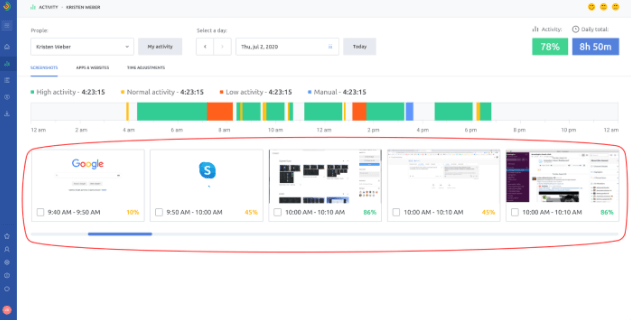 Traqq randomly takes screenshots every ten minutes to give team leaders real insights into what the team is really working on. The screenshots are blurred to hide sensitive user information.
Users can delete the screenshots as they wish, along with the recorded time. If the feature is unnecessary, managers can disable it completely via settings. Screenshots can also be taken while you're offline, provided the tracker is on. The screenshots will be uploaded once you reestablish an internet connection.
It's important to point out that Traqq is not a tool for spying. Instead, it upholds ethical monitoring. It's a way to keep employees accountable for their actions without violating their privacy. As a result, the app can encourage workplace transparency while protecting morale.
Apps and Website Usage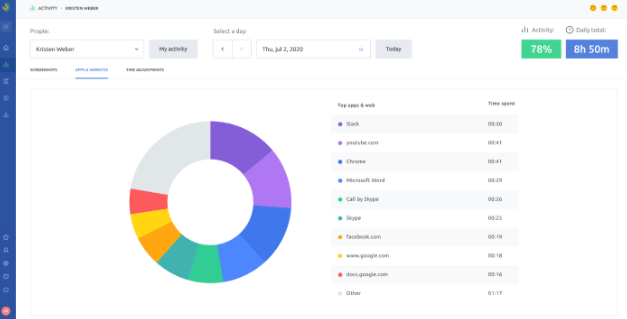 We all know how distracting social media can be. It's among the leading time wasters for remote workers and can lead to a drop in productivity. Traqq starts tracking apps and websites you spend more than ten seconds on. It displays the frequency with which you access the apps and websites, plus, how much time you spent on each.
Note that it doesn't record your browser activity, but only detects and reports the websites you accessed during company time. The tool displays this information in a pie chart for quick analysis.
Clockify
Clockify doesn't offer employee monitoring. It mainly focuses on time tracking and basic team and project management. So, if you want to know where all the time goes, Traqq is one of the best alternatives to Clockify.
Team Management
Traqq
Adding users to Traqq is straightforward and only takes seconds. The free version allows you to invite up to three users. You can upgrade to the premium plan at only $7 per user, per month ($6 per user per month if you pay annually) if you have a larger team.
Clockify
Clockify lets you invite an unlimited number of users for free. You get control over managing users and can create groups and set per user hourly rates.
Summing Up…
Traqq is right for you if you:
Efficient workflow
Ethical employee monitoring
Rich activity reports and timesheets
Automatic activity, performance, and productivity tracking app
Free plan with access to all premium features
Accurate data for easier payroll processing
Clockify is right for you if you:
Simple reports displaying users, hours worked, and projects
To add entries manually to a timesheet
A basic system for time and task management