The Best Hubstaff Alternative: A Head-to-head Comparison
Any type of business can benefit from tracking employee time. Whether you're running a brick-and-mortar office or you're managing a remote team, you will need a time tracking app. This tool is the most convenient option for accurately recording your workers' hours. However, it's undeniable that there are several choices out there? Now, how do you choose the appropriate program for your team?
Hubstaff may be the most popular employee monitoring tool today, but it doesn't necessarily mean that it's the best. What's more, it's not a one-size-fits-all solution for anyone looking for time tracking software. Now, if you want the best alternative to Hubstaff, then we recommend using Traqq. This tool is packed with unique features that you'd want in an online monitoring app.
We won't force you to use any of the programs. However, if you want to make an informed decision, keep reading this article. We'll compare the two time tracking apps and highlight features that will serve specific needs. We'll also explain why Traqq is the best free Hubstaff alternative.
Disclaimer:
All the information provided in this article is published in good faith and for educational purposes only. We do not intend to imply that one product is worse than the other. The information is objective, well-researched, and unbiased to help you choose the right software for your needs. Traqq Inc. releases itself from any liabilities that errors, unintentional omissions, inaccuracy, and incompleteness in the content may incur.
Traqq at a Glance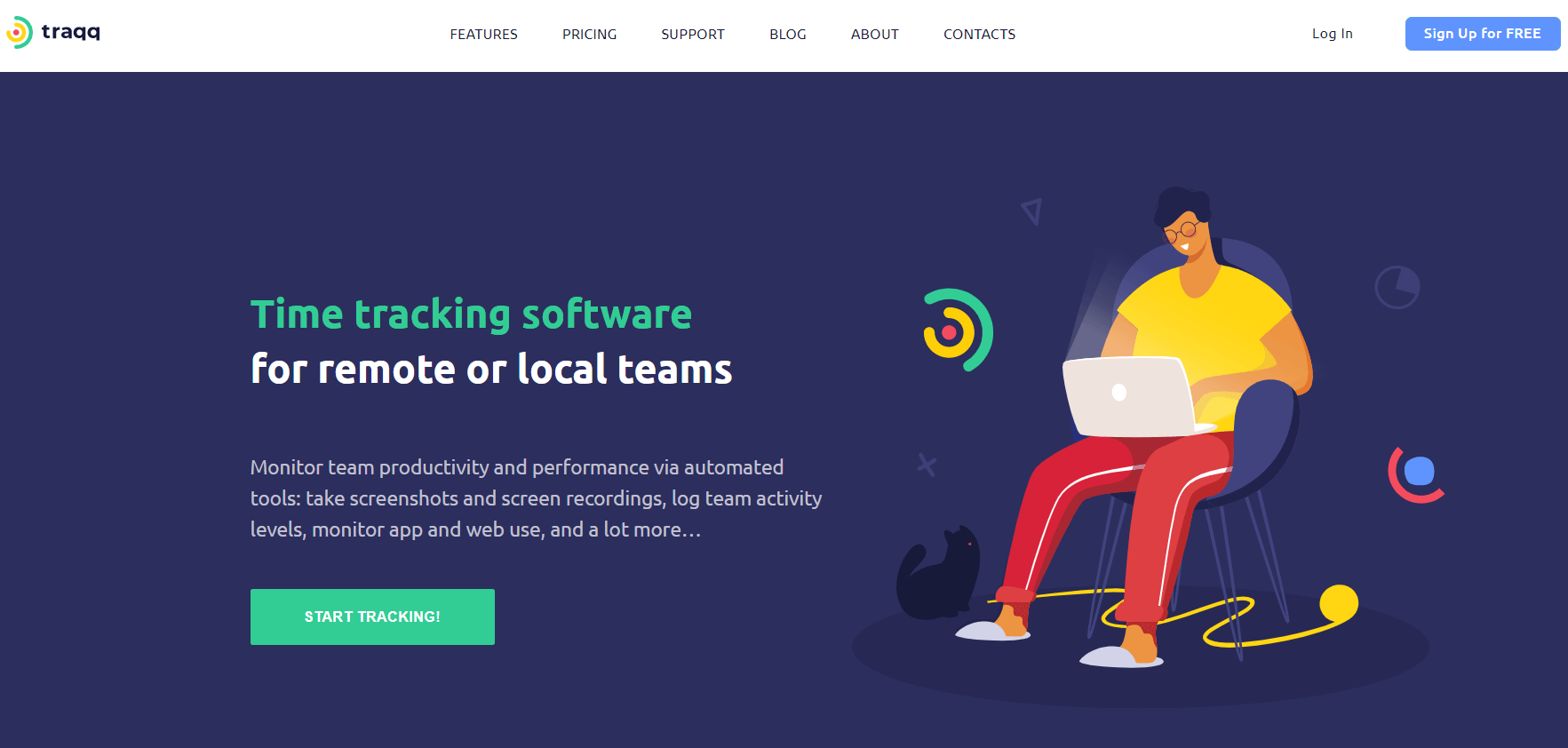 Traqq is an employee monitoring and time tracking tool that offers lots of user-friendly features. It is the preferred productivity app for freelancers and startup businesses. With Traqq, you can conveniently monitor how much time employees spend on tasks. Moreover, you will identify common time-wasters and prevent cyberslacking during office hours. With its productivity reports, you can determine how well your team is performing. It's the best Hubstaff alternative for those who prefer a simplified way to track time.
Hubstaff at a Glance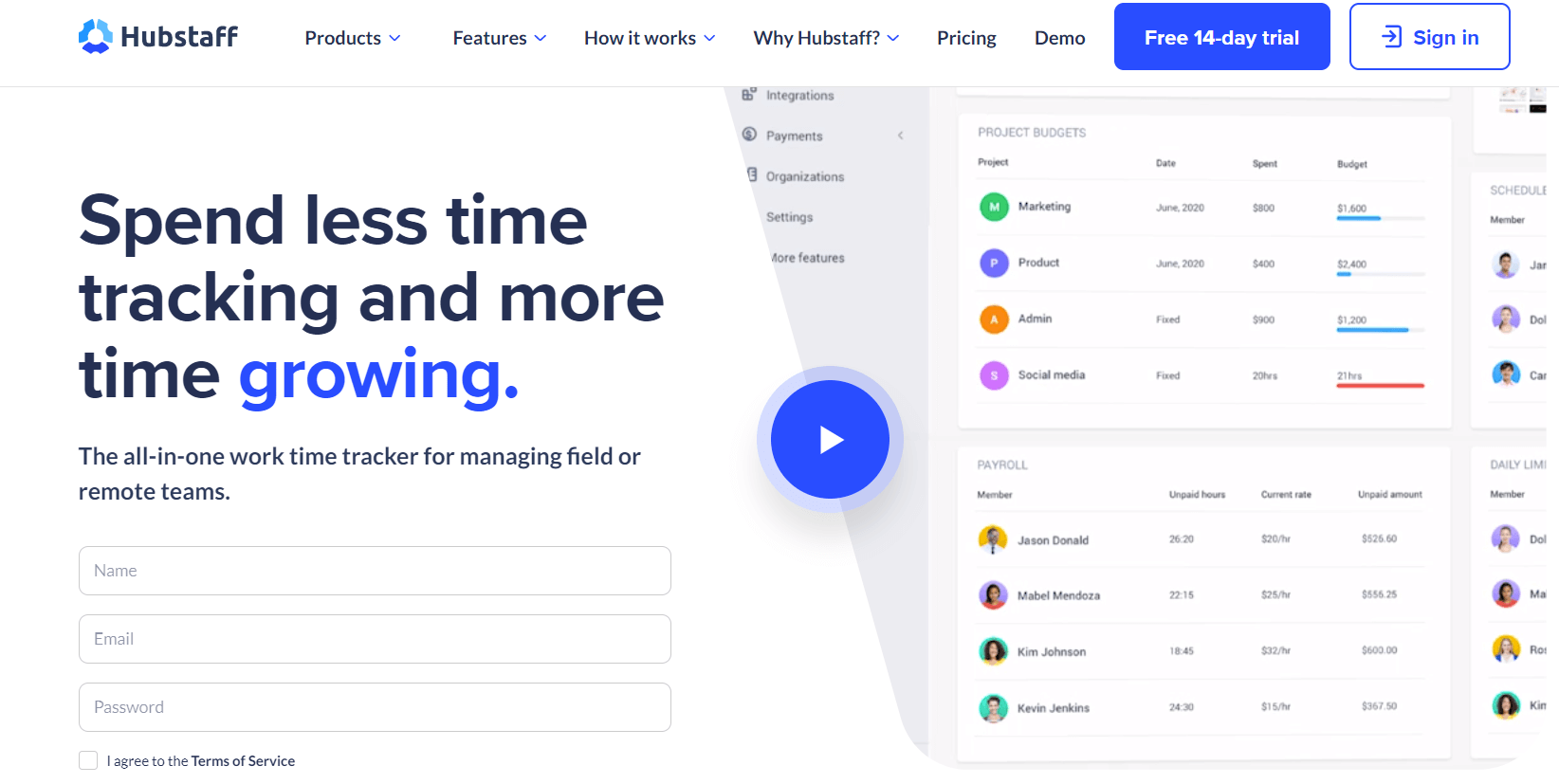 Many companies use Hubstaff to manage productivity and track time. This employee monitoring tool allows users to record how much time they spend on tasks and projects. It also provides insights into common time-wasters while taking random screenshots for accountability. What's more, it has payroll, invoice, and timesheet features.
Traqq vs. Hubstaff: A Side-by-Side Comparison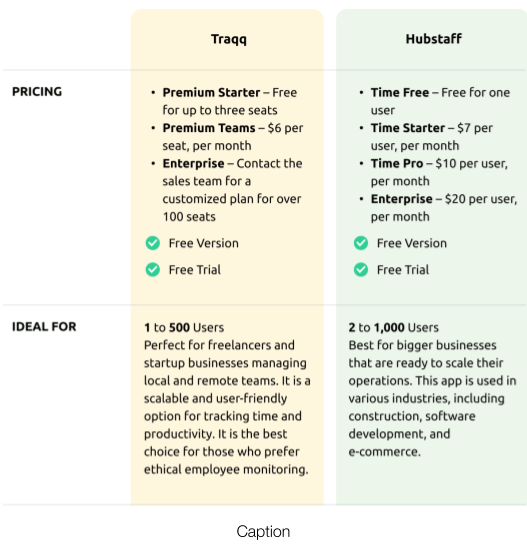 Hubstaff vs. Traqq: An In-Depth Comparison of Their Features
Every time tracking app has its weaknesses and strengths. So, we're going to compare Hubstaff and Traqq to help you decide which program has the features you need.
Time Tracking
Traqq
Traqq comes with a lightweight app that supports Windows and macOS. When it comes to time tracking, this tool's strengths lie in automation and activity level analysis.
Automation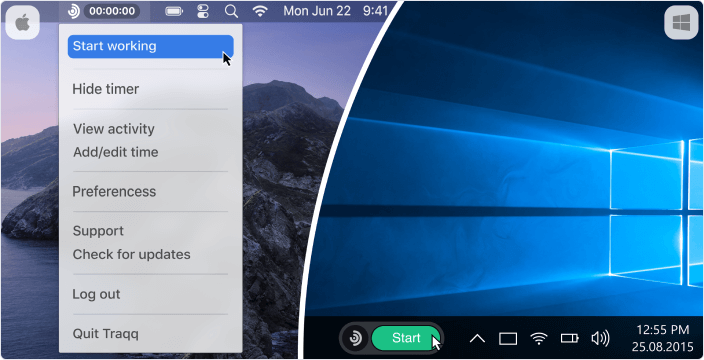 Once a user has installed the time tracker, all they have to do is click Start. The app will automatically log billable hours while running discreetly in the background. What's more, Traqq sends smart alerts and notifications to ensure that a user can get on track when they forget to activate or disable their tracker. This way, they won't miss a single minute of their work time.
Activity Level Analysis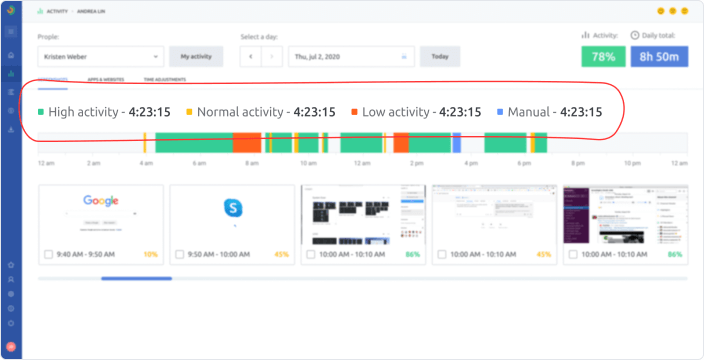 Traqq, being one of the free alternatives to Hubstaff, analyzes activity levels based on keyboard movements and mouse clicks and scrolls. On the dashboard, you will see a percentage that represents your team's active time against their total logged hours. Now, we understand you may worry about the accuracy of this data. After all, some people using other time trackers have deceivingly increased their activity levels by power clicking. However, Traqq is equipped with an anti-cheating algorithm. This feature nullifies redundant mouse movements and clicks.
Hubstaff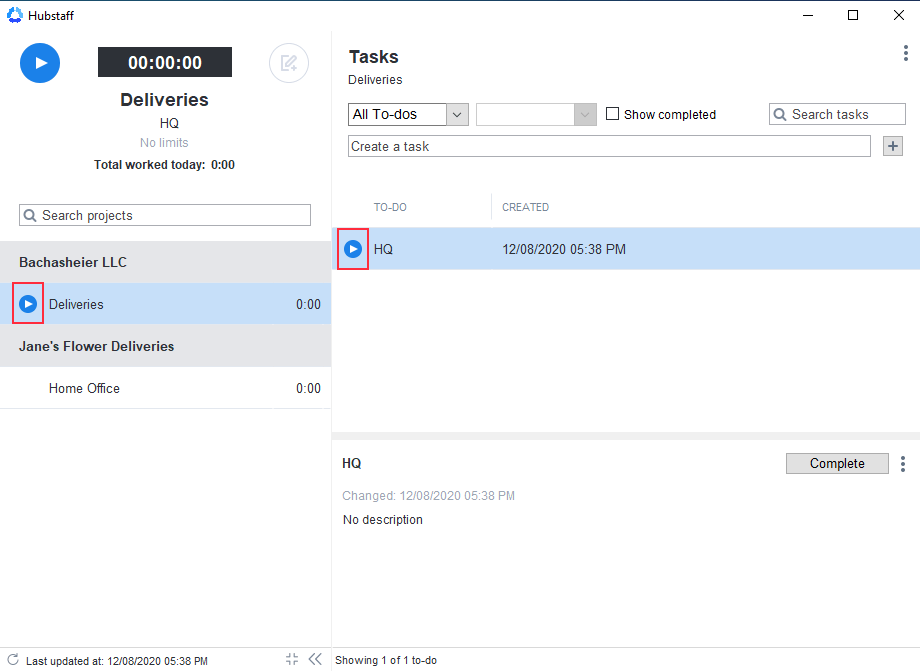 Like with Traqq, Hubstaff's time tracking features can be broken down into two primary aspects—automation and activity level analysis.
Automation
This app allows users to view individual and team timesheet reports. With the Me option, you will see your total logged hours per day and week. It will also show you your activity percentage. Meanwhile, if you choose the Team view, you will see the same data for the entire team. However, there are extra stats like the number of online users and a graphical view of the total hours logged by the employees.
Activity Level Analysis
Aside from automating timesheets, Hubstaff also analyzes activity levels. It will watch every second that an individual uses a mouse or a keyboard. If there are no movements, the period will be classified as idle time. Let's say a user logged 60 seconds of work and they spent 30 seconds moving the mouse around and 20 seconds typing on the keyboard. Meanwhile, there is no recorded activity during the remaining 10 seconds. In this case, Hubstaff will report an activity level of 83%. This data also illustrates how long a person spends on tasks, allowing efficient allocation.
Employee Monitoring
Traqq - The Best Hubstaff Alternative for Ethical Monitoring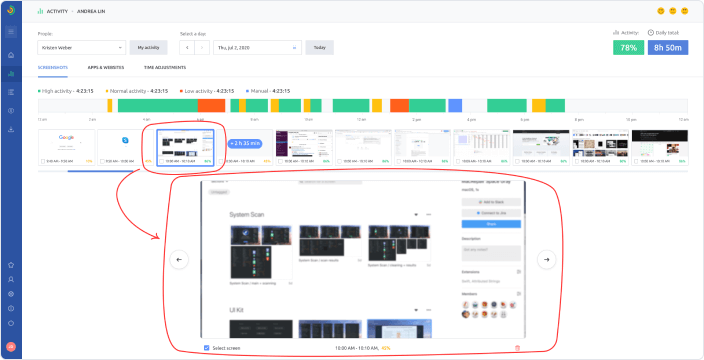 When you pit Hubstaff vs. Traqq in terms of employee monitoring, the latter definitely takes the crown. What's sets this app apart from other time trackers is the fact that it ensures accountability without damaging a user's privacy.
Random Screenshots and Video Recordings
Every ten minutes, Traqq takes random screenshots and ten-second video recordings of a user's desktop. Even so, the images are intentionally blurred to an extent that would prevent sensitive information from becoming legible. So, managers won't be able to read private messages or passwords. Instead, they will only get an idea of what a person is working on at a given time.
App and Website Monitoring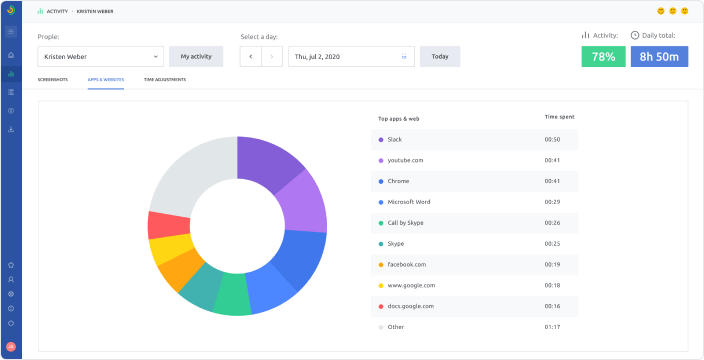 Another notable feature of Traqq is its Apps and Websites feature. The tool also monitors how much time a user spends on apps and websites. On the dashboard, there will be a graph that illustrates the activities that are eating up the biggest chunks of an employee's total time. This way, managers can easily identify cyberslackers and those who are struggling with their workload. As a result, task allocation will be more efficient, boosting overall team productivity.
Hubstaff
When it comes to employee monitoring, Hubstaff uses two features:
Random Screenshots
Apps and URLs
Random Screenshots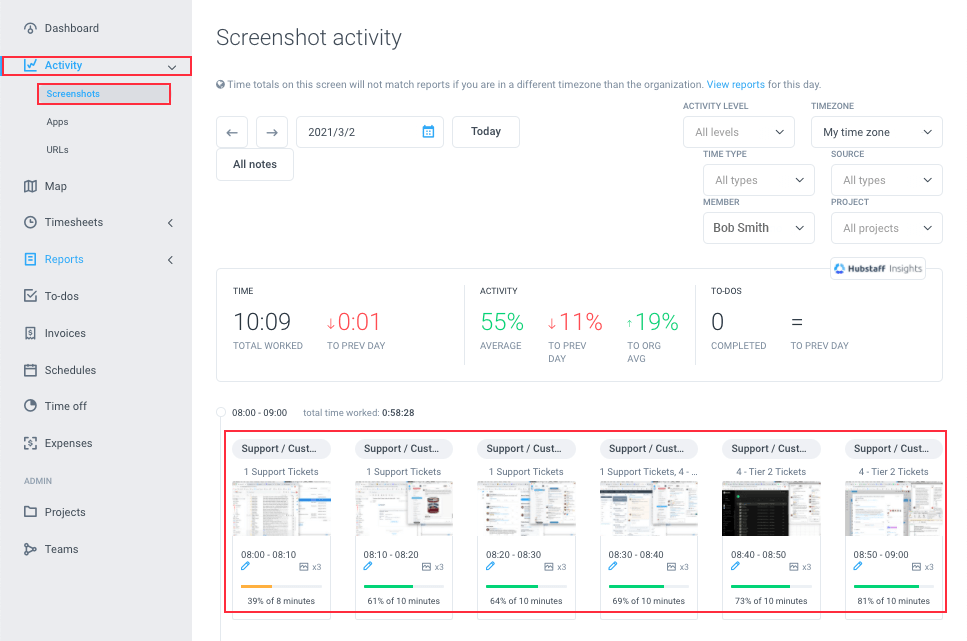 Managers can get an idea of what an employee is working on by looking at the random screenshots that Hubstaff captures. Moreover, this feature is customizable. A manager can configure it to take up to three screenshots every ten minutes. Meanwhile, if you don't need the screenshots, you can completely turn the feature off. Unfortunately, unlike Traqq, Hubstaff doesn't take video recordings of a user's desktop. That feature would've been useful in providing a deeper insight into how employees spend their time.
Apps and URLs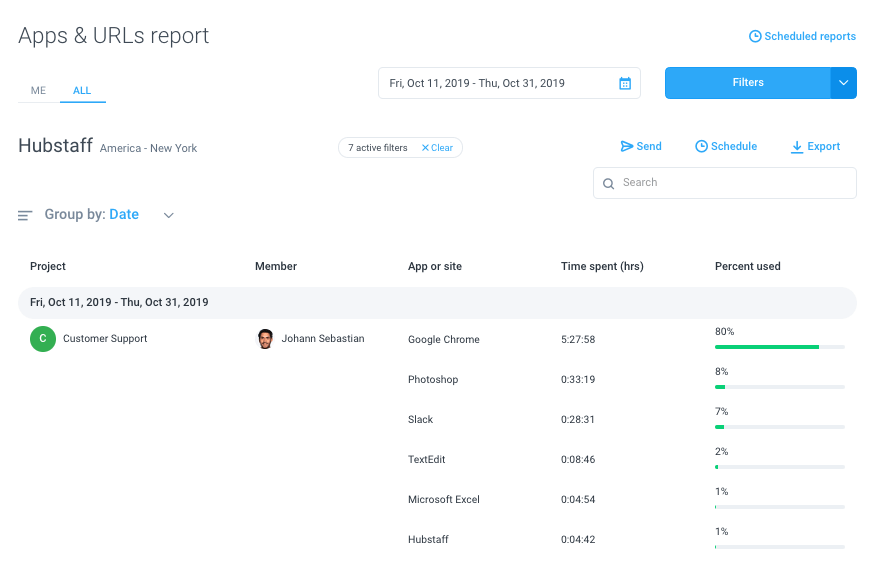 Hubstaff also monitors the websites that employees visit along with the apps they use. On the dashboard, you will see the URLs that workers access while the time tracker is running. You will also see details like the amount of time they spend on a website. Moreover, the report includes how long they use a particular program. It even displays the percentage of a particular app's usage against the total time logged.
Timesheets and Reports
Traqq - Free Hubstaff Alternative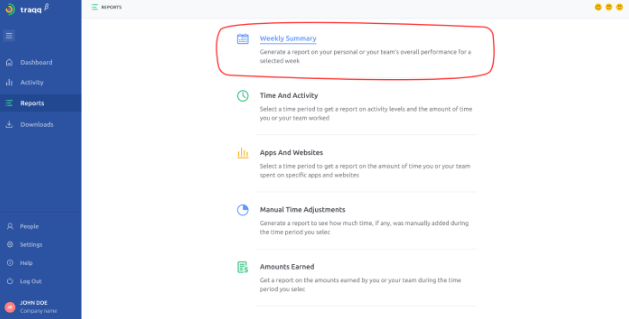 Traqq's reports are divided into five categories:
Weekly Summary – View this category to get a report on individual and team performance over a selected week.
Time and Activity – Select a time period to get a report on activity levels and the amount of time an individual or your team worked.
Apps and Websites – This category shows you how much time a person or a team spent on specific apps and websites.
Manual Time Adjustments – You can refer to this report to see how much time, if any, was manually added during the time period you select.
Amounts Earned – This category lets you access reports on the amounts earned by an individual or your team during the time period you select.
Traqq also allows managers to filter reports by individual, group, or period. On the dashboard, they can choose to share the report via email or store it locally as a PDF or CSV file. The tool even allows users to schedule report generation so they won't have to manually create a timesheet each time.
Hubstaff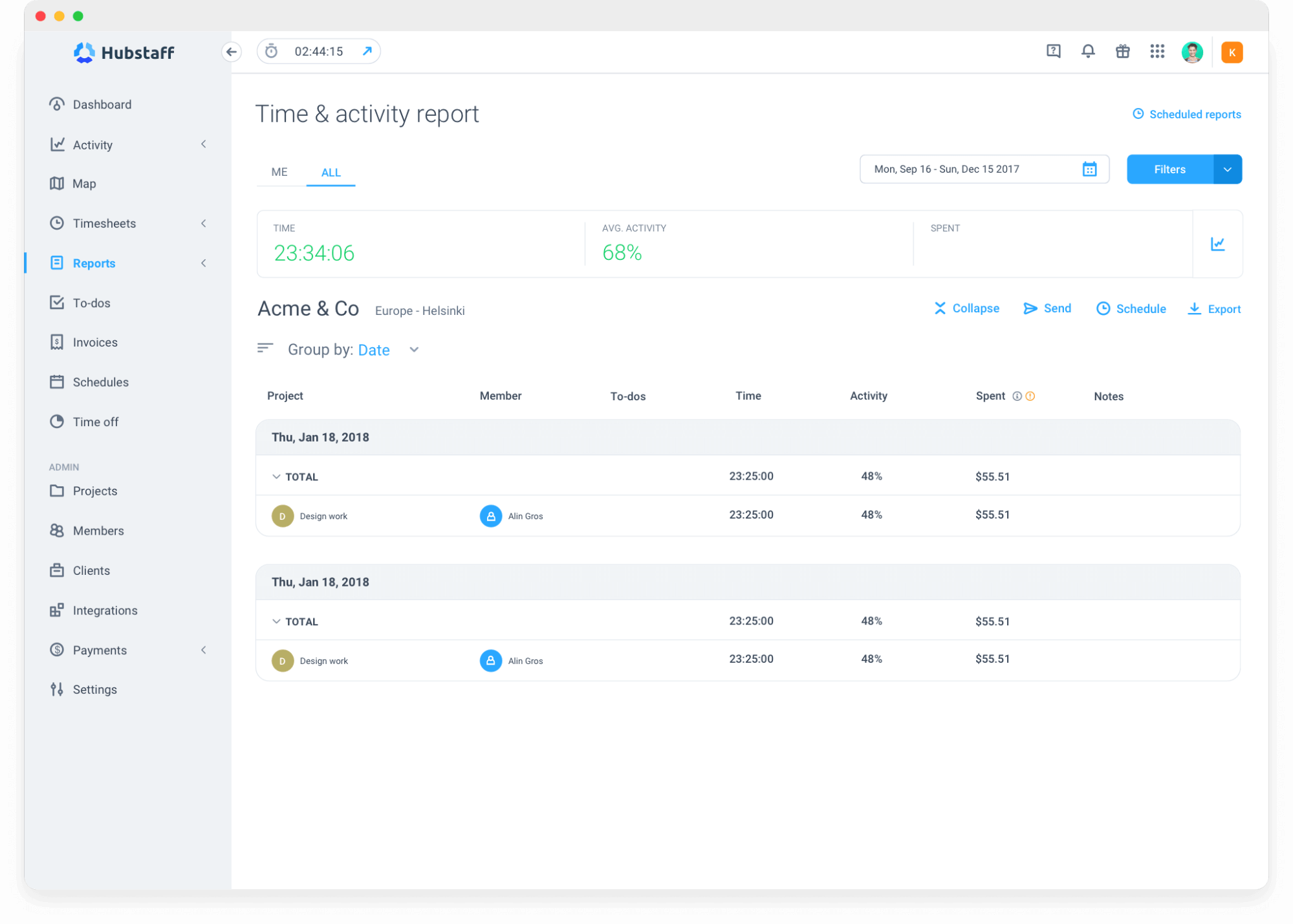 When you use Hubstaff, you can access six categories of reports:
General – Here, employers will see weekly performance data, manual time edits, expenses, timesheets, website and app usage, and time and activity.
Payment – This category displays billable hours and payments made.
Budgets and Limits – Managers can view this category to see weekly employee spending limits, client budgets, and project expenses.
Time Off – This category shows each employee's time-off balance and approved vacation requests.
Schedule – Managers can use this for convenient employee scheduling.
Invoice – This category includes client and team invoices. It also shows unpaid and aging invoices.
Job Sites – This feature is available for those who manage separate teams from different locations.
On Hubstaff's dashboard, you can download timesheets and reports as CSV and PDF files.
Pricing Plan
Traqq
All of Traqq's pricing plans come with Premium features. So, no matter what you choose, you can use the time tracker, monitor employees, and generate reports. It is among the few Hubstaff alternatives that offer reasonable rates. Here are the three pricing plans:
Premium Starter – Free for up to three seats
Premium Teams – $6 per seat, per month
Enterprise – Contact the Sales team for a customized plan for over 100 seats
Hubstaff
With Hubstaff, you can choose from four pricing plans:
Time Free – Free for one user
Time Starter – $7 per user, per month
Time Pro – $10 per user, per month
Enterprise – $20 per user, per month
Hubstaff vs. Traqq: Which Is the Best Time Tracking App?
Indeed, every time tracker has its weaknesses and strengths. If you need a time tracker that is easily scalable, Hubstaff is the ideal choice. It was designed to accommodate companies that manage hundreds—if not thousands—of employees. However, if you're after the best Hubstaff alternative for ethical employee monitoring that won't break the bank, Traqq is the superior choice. It has a user-friendly and intuitive interface.
Within a few minutes, you can get your team on board. Sign up for a free account today to start tracking time!