Free Harvest Alternative in 2021
It's a fact that we can't buy time - we only have 24 hours each day to accomplish tasks. Now, using time tracking software is essential for anyone who wants to improve their productivity and time management skills.
However, here's the thing. Choosing a decent time tracking app can be challenging.
There's Harvest, a popular workforce management app that offers features like timesheets and project budgeting. On the other hand, we have Traqq, which not only offers project time tracking but also employee monitoring features. It makes keeping tabs on remote teams easier without micromanaging them.
If you are at a crossroads, wondering which tool to choose, here's a Traqq vs. Harvest comparison where we explore the features each offer. We also tell you why Traqq is the worthy Harvest alternative.
So, let's get down to business.
Disclaimer:
All the information provided in this article is published in good faith and for educational purposes only. We do not intend to imply that one product is worse than the other. The information is objective, well-researched, and unbiased to help you choose the right software for your needs. Traqq Inc. releases itself from any liabilities that errors, unintentional omissions, inaccuracy, and incompleteness in the content may incur.
Traqq: A Brief Overview
Traqq is a user-friendly time tracker that logs every second you spend working. It boasts of simplicity, accuracy, and ethical employee monitoring – the strongest selling points that sets it aside from the competition.
It has powerful features that work for small, medium, and big-sized teams. Besides, individuals can enjoy free access to all the premium features. Using Traqq ensures consistent time tracking that allows you to make better decisions in the future.
Key Features:
Time tracking
Automated desktop screenshots
Online and offline time tracking
Employee activity tracking
Smart alerts and notifications
Ethical employee monitoring
Harvest: A Brief Overview
Apart from time tracking, Harvest also offers project management features. It lets you plan and estimate project costs and compare time vs. budget. If you work with teams, you can manage their workflow and quickly process invoices for fast payments.
Harvest integrates with productivity tools like Trello, Asana, and Slack for better team collaboration.
Key Features:
Project budgeting and cost estimations
Timesheets and reports
Time tracking
Invoicing
Traqq Vs. Harvest: A Side by Side Comparison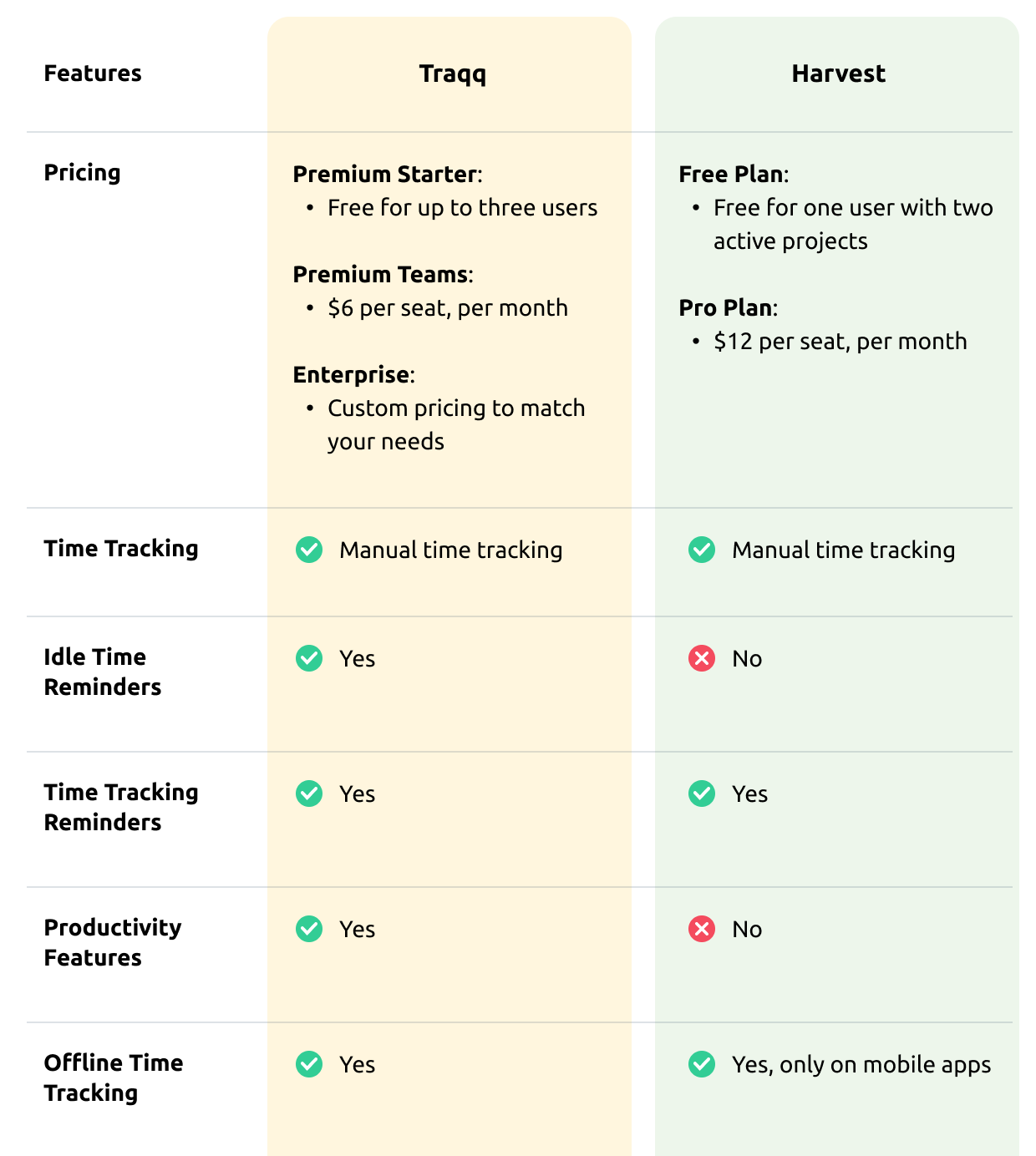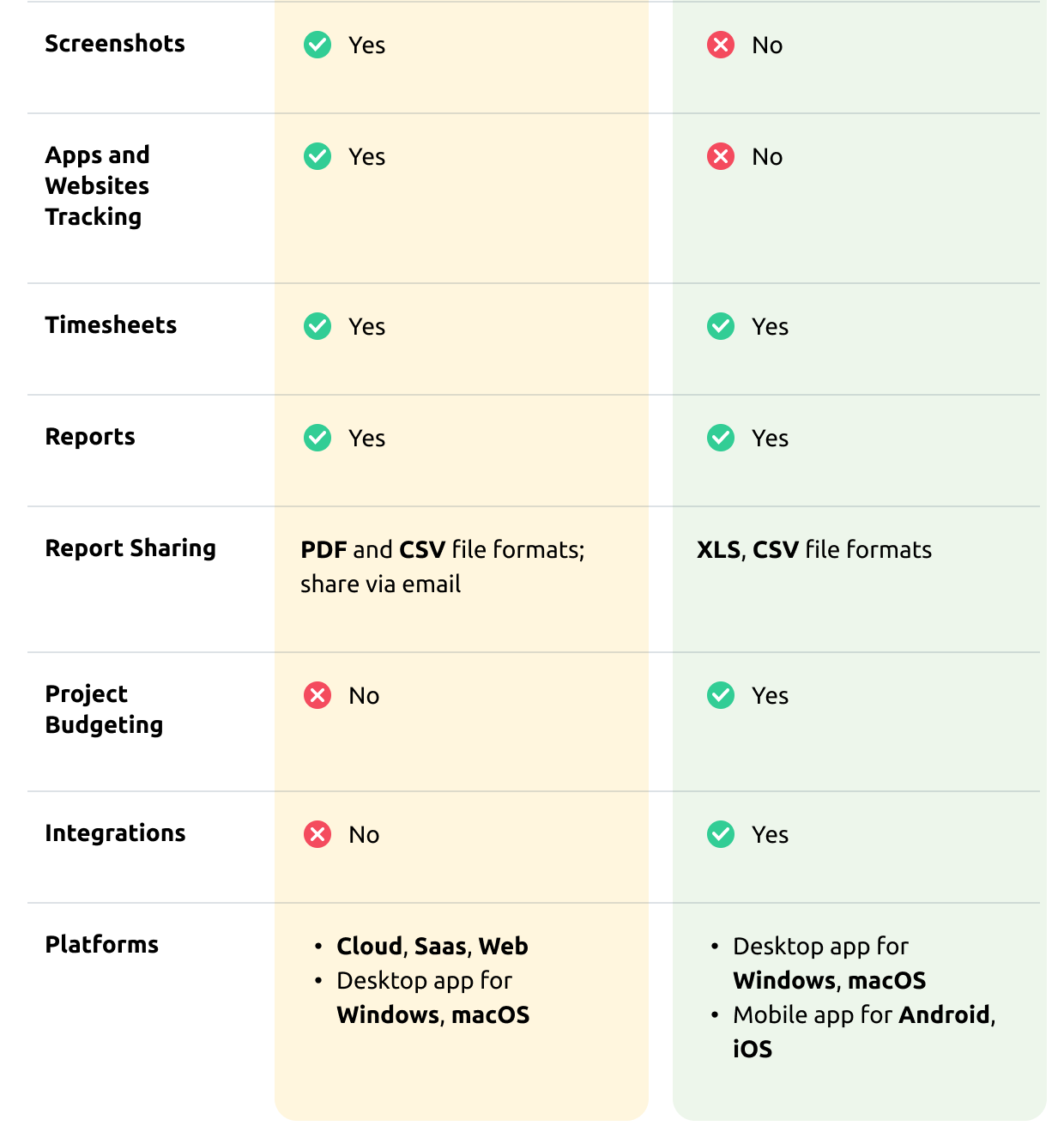 Harvest Vs. Traqq: A Detailed Feature Comparison
To understand why Traqq is the top Harvest alternative, let's take a closer look at how these two apps track time.
Time Tracking
Traqq
Manual Time Tracking
With Traqq, you'll appreciate the minimalist layout with all the options easily accessible. There won't be a learning curve once you get started. However, you must create an account before downloading the Traqq desktop app.
After signing into your account, you can begin tracking by clicking Start on the Traqq widget on your taskbar. When you're done working on your task or wish to take a break, click on the Stop button.
Traqq has a timer, conveniently located on your computer's taskbar, that lets you check how long you've been working. This is useful when you want to take breaks or target completing a task within a specific time. On the contrary, there is no timer on Harvest. You have to go back to the Timesheet tab to see the timer, which can be cumbersome.
This makes Traqq the best alternative to Harvest since the timer is the most crucial feature of any time tracking app.
Offline Time Tracking
Traqq functions fully offline, meaning you can work without an internet connection and still keep tabs on all your activities. The data is automatically synced to your online account the instant you connect to the Internet.
Moreover, Traqq lets users add time manually to account for time worked away from the computer. It's a handy feature for those whose line of work is mostly fieldwork. The added time is updated to your timeline for accurate payroll processing.
Smart Alerts and Notifications
Traqq also offers smart reminders to encourage you to track time consistently. If it detects inactivity while the tracker is running, you'll be nudged to keep working or turn the app off.
Harvest
Manual Time Tracking
Harvest lets you track time as you work or enter time after the fact, like when you finish a phone call with a client or at the end of a meeting. First, you need to add the project that you're working on before you start the timer.
The tool tracks billable and non-billable hours for accurate payroll processing. You can assign Capacity, which is the expected number of hours the employee will work on.
It then gives users an overview of over or underworking team members by comparing their actual tracked time against the maximum allotted work hours. Harvest lets you track time for a specific client, task, or project and even add notes on logged time.
Offline Time Tracking
Harvest lets you work from anywhere using its Android and iPhone app. You can start the time on the tracker or add time from your device. The data is later synced to your online timesheets once an internet connection is reestablished.
Its mobile platforms also allow you to keep tracking time if you step out of the office but continue working.
Automated Reminders
Like Traqq, Harvest has reminders to ensure consistent time tracking.
Employee Monitoring
Traqq – The Best Harvest Alternative for Ethical Employee Monitoring
Automated Screenshots and Video Recordings
Traqq shines when it comes to employee monitoring and is a huge proponent of ethical tracking. Time trackers can create privacy concerns among employees, particularly if they know they are being watched.
That's not the deal with Traqq.
The screenshots and video recordings are intentionally blurred to hide any sensitive information like passwords and private messages. The desktop screenshots are purely intended to give the employer or client a glimpse of what the team members are working on.
Screenshots enable supervisors to determine how workers are actually spending company time. It ensures the staff stays focused and works more efficiently.
The screenshots on Traqq are taken randomly, every ten minutes, and added to the timeline. When working with teams, account Owners have full access to the screenshots, which are shown alongside the activity levels of each team member.
Users can only view their screenshots and screen recordings. If you wish to delete a screenshot, you can do so freely. However, keep in mind that with every screenshot you remove, you also erase ten minutes from your timeline.
Apps and Website Usage Monitoring
Traqq tracks applications and websites usage for insightful data on whether work hours are put to good use or wasted on unproductive stuff. The website and app usage report is automated, and the data is displayed on a pie chart for quick analysis.
It records any application or website that you spend more than 10 seconds on, showing the web's URL and the application's title. You'll also see how much time was spent on each.
This report can be useful if you want to eliminate those time-wasting apps or websites for better focus.
Productivity Tracking
Another factor that makes Traqq the better alternative to Harvest is its productivity tracking capabilities. Traqq monitors your activity level or that of your employees so you can check who's more focused at work. If you notice low activity levels throughout the day, you may want to get to the bottom of why it's happening. These are shown as blocks of red.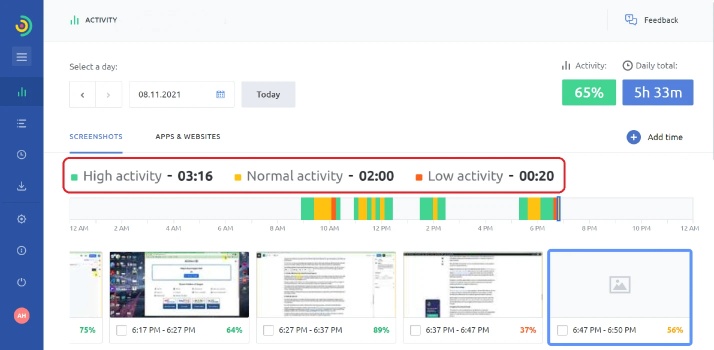 Tracking productivity is also crucial if you want to compare team performance and profitability. Plus, you can tell who works best at certain times and assign tasks accordingly.
Harvest
Screenshots
As of this writing, the app lacks a dedicated employee monitoring system. It only gives you an overview of what they have been working on. It doesn't have the screenshots feature, making it hard to get real insights into what teams are doing with their time.
Harvest offers basic team management, and you can see how everyone performs weekly, via the Team Overview tab. The work hours are divided into billable and non-billable, and you can compare the total hours to Capacity to see who over or underworks.
Apps and Websites Usage Monitoring
Likewise, Harvest does not track website and application usage. Instead, it breaks down the team's capacity to show, in detail, how much time was spent on each task or project.
The tool also lacks activity monitoring and productivity tracking features.
Timesheets and Reports
Traqq
Traqq offers detailed reports that are highly customizable. You can filter reports by date, individual, or group for an in-depth analysis of your company's performance.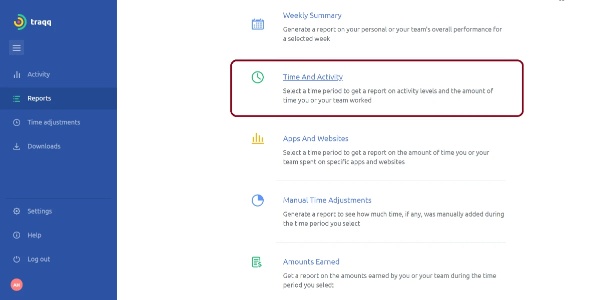 You can generate the following reports on Traqq:
Weekly Summary – Gives you an overview of your personal or team's performance for the selected week.
Time and Activity – Shows a detailed view of activity levels and the amount of time spent working over a selected period.
Apps and Websites – Gives you insight into app and website usage, including the time spent on each, for the selected period.
Manual Time Adjustment – Shows the total amount of time manually added to the timeline over a given period.
Amounts Earned – Keeps a record of the amounts earned by you or your team members for the selected period.
Idle Time – Generates a report showing how much time you or your staff were idle during the period you selected.
Once generated, you can export the reports via email directly from the platform. Also, you can save them locally as PDF or CSV files for later access.
Harvest
With Harvest, you can generate reports that indicate project progress and hours worked per week. You can also review the workload capacity for an individual or team. The reports let you visualize project progress and keep tabs on budgets.
Harvest offers the following reports:
Time Report – Shows the billable information for employees, tasks, projects, and individual clients.
Detailed Time Report – Breaks down the report to include details like the timeframe, clients, projects, tasks, and team.
Uninvoiced Report – Displays projects with uninvoiced hours, expenses, and amounts.
Expense Report – Gives you an overview of individual expenses. You can filter the report by clients, projects, categories, or team.
Contractor Report – See details about the hours and costs of the contractors you work with.
You can export these reports in CSV and XLS file formats to other departments or clients for analysis.
Pricing Plans
Traqq
When it comes to pricing, Traqq is the preferable Harvest free alternative. Not only is its premium plan more affordable, but all subscriptions offer the same features. If you're an individual or a team of three people, you can use Traqq for free and access all the premium features forever.
Premium Starter – Free for up to three users
Premium Teams - $6 per seat, per month
Enterprise – Custom pricing to match your needs
Harvest
Harvest has a free version for one user who is limited to two active projects. If you find this restrictive, you can upgrade to the paid version for additional features, including unlimited seats and projects.
Here's Harvest pricing plan:
Free – One seat, two projects
Pro - $12 per seat, per month
Traqq Vs. Harvest: Which Time Tracker Is Right for You?
Harvest has a free version for one user who is limited to two active projects. If you find this restrictive, you can upgrade to the paid version for additional features, including unlimited seats and projects.
Choose Traqq if you want:
A Harvest time tracking alternative with a dedicated dashboard that gives you an overview of your own or your team's performance at a glance.
A better way to monitor your remote teams' productivity without distracting them.
A free Harvest free alternative for teams of up to three members.
Choose Harvest if you want:
Basic time and project management features.
An app that supports integrations with other productivity tools