Free TMetric Alternative: A Side-by-side Comparison
Failing to keep account of your time is like spending money without a plan. You won't know where all your budget is going. Time tracking is a crucial business process that helps to eliminate poor management, procrastination, and time wastage. It also encourages self-discipline and self-improvement for individuals and teams.
Numerous tools offer time tracking features, and choosing the best can be somewhat tricky. One such application is TMetric. Apart from time tracking, it lets you create budget estimates for your projects and track tasks.
Even so, using TMetric has its own disadvantages. While it offers employee monitoring features, you must upgrade to its highest-paid tier to enjoy such benefits. If you're looking for TMetric alternatives, try Traqq. You get all premium features for free forever and without limitations.
To help you pick the best time tracking software for you, check out our analysis of Traqq vs. TMetric and choose one that fits you.
Disclaimer:
All the information provided in this article is published in good faith and for educational purposes only. We do not intend to imply that one product is worse than the other. The information is objective, well-researched, and unbiased to help you choose the right software for your needs. Traqq Inc. releases itself from any liabilities that errors, unintentional omissions, inaccuracy, and incompleteness in the content may incur.
Traqq is a powerful time tracking and productivity monitoring tool that helps streamline your business operations and boost efficiency. With this app, teams find it easier to manage their time and computer usage to implement better time management strategies.
Traqq is the best solution if you want to increase efficacy at work. Whether you're a freelancer or you're a full-time employee, the app provides advanced reporting capabilities with valuable insights on growth and profitability.
Some of the pros of using Traqq include:
A user-friendly interface that's easy to use
A lightweight desktop app to help you better manage your time
Time tracking and manual time entries
Ethical employee monitoring – screenshots are blurred to protect the user's privacy
Access to unlimited premium features on the free tier
Offline time tracking that synchronizes your data when you're back online
Neat timeline and diverse reporting
What Is TMetric?
TMetric is a timekeeping app designed to help you track your teams' working hours, time off, and project budget. It lets you monitor time spent on tasks and projects, and creates reports for analysis.
The tool also offers integrations with third-party applications like Google Calendar, QuickBooks, Jira, and GitLab.
Some of the pros of using TMetric include:
Managing employee time-off requests
Creating projects and setting up project budgets
Creating tasks and setting time estimates and deadlines
Monitoring employees' working habits
TMetric vs. Traqq: A Side-by-Side Feature Comparison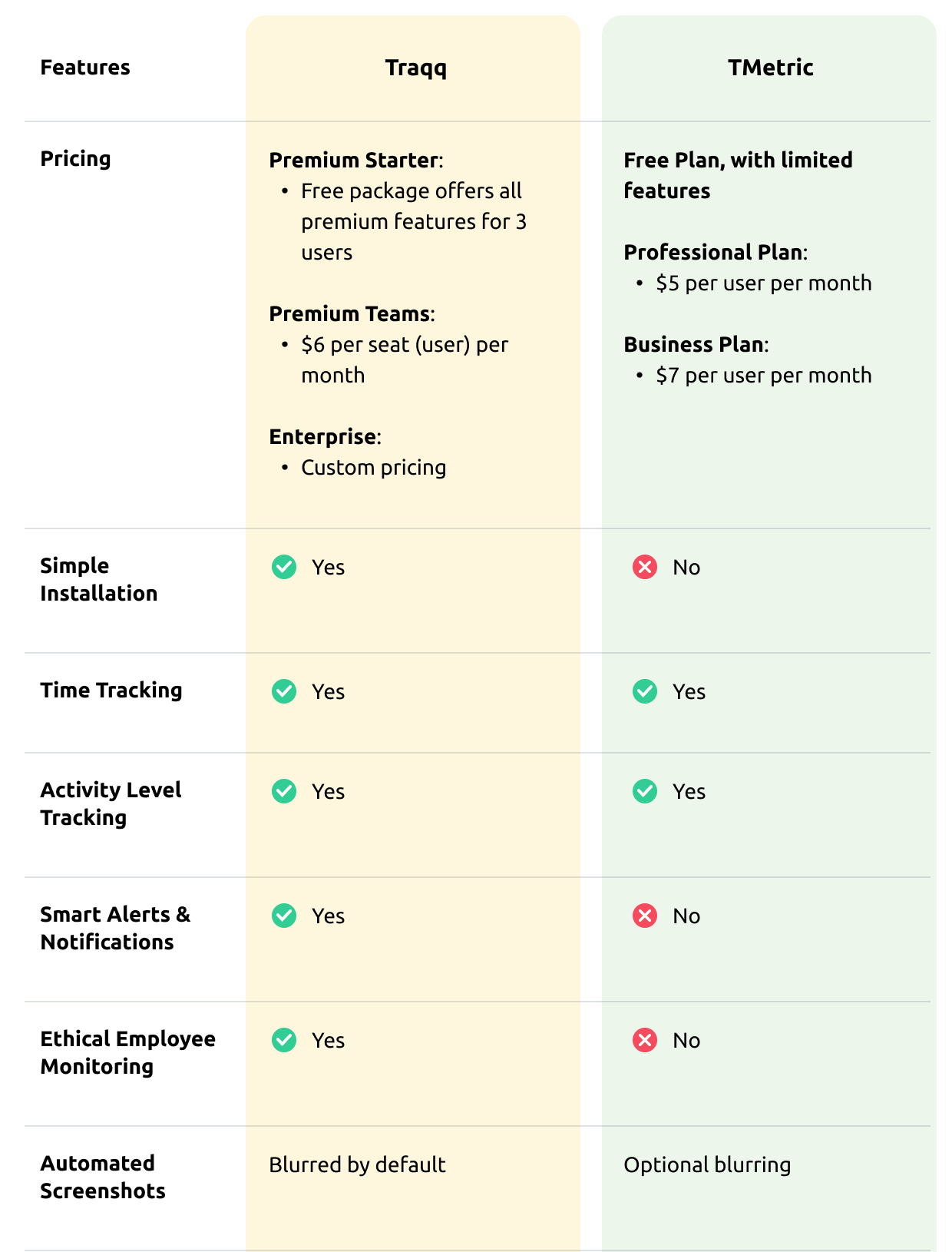 Why Traqq Is the Best TMetric Alternative
Here's an in-depth look at Traqq and TMetric, highlighting the main features of each tool.
User Experience
Traqq
Gathering data can only be worthwhile if it can be translated into meaningful information. Traqq offers a simplistic user interface with helpful insights into performance and productivity.
You don't get bombarded with unnecessary details that complicate data analysis. Setting up Traqq and getting started takes less than five minutes. You can invite as many people as you want to manage, encourage them to start tracking time and monitor everything on the platform.
Traqq offers a free plan for freelancers and teams of up to three members, where users get access to all the premium features. The app doesn't work like most time trackers that require you to upgrade to the paid version to access extra features. All users have unlimited access. You'll only need to upgrade if you're expanding your team.
TMetric
TMetric has a complex user interface, with plenty of details since it offers additional features like project and task management. You'll have to learn how things work on the app to fully understand how to use it.
From creating projects and breaking them down to tasks to tracking budgets and time offs, it will take some time to set it up.
Unlike Traqq, TMetric only allows users to access advanced features on the paid tiers. Meanwhile, expect the free plan to have the most basic time tracking features.
Time Tracking
To determine how profitable your projects are, you need to start tracking all the hours spent working. Here's what each tool offers:
Traqq
Automatic/ Manual Time Tracking
Once you install the Traqq desktop app on your computer, you're good to go. Click the Start button on the widget to clock in and start recording time. As the account owner, you can view everything on your timeline. This includes the top apps and websites accessed, total time worked, and the average activity of an individual or group for a specific period.
After activating the tracker, your activities are automatically tracked and the data collected in timesheets for quick analysis. The timeline shows your activity levels for every 10-minute block, and you can view the average daily activity as a percentage.
Manual Time Entries
As the ideal TMetric alternative Traqq works fully offline and monitors all your activities, provided you turn the app on. Not many time trackers offer this convenient feature. It means you can work from literally anywhere since the program doesn't rely on internet access.
All your activities, screenshots, and computer usage will be synced to your online account once you reestablish a good connection.
Moreover, Traqq lets you add or edit time to account for work hours spent away from the computer. It's a useful feature for teams that work in the field or take client meetings outside the office.
Idle Time Detection and Reminders
Traqq is all about time efficiency, and it wouldn't be complete without the idle time detection feature. Users get reminders when the tracker detects no activity while it's running. As a business owner, you wouldn't want to pay for unproductive time.
The idle time will appear on your Activity page, marked in red to signify a period of low activity. If the user chooses to remove the low activity screenshots from their timeline, they will also lose the attached time.
TMetric
Automatic/Manual Time Tracking
To start tracking time with TMetric, click the Start Timer button. It creates an empty time entry by default, which you can change later. The tool lets you log time only for the projects in which you're a member.
You can also track the time spent on other web apps by integrating TMetric with the associated app. The timer button appears on the app interface, so you can start or stop tracking via the web app.
If you want to continue working on an existing task, hover your mouse cursor over the corresponding time entry and select the 'Continue task' button. The tool will create a new time entry with the same tags, description, billing settings, and so on.
Manual Time Entries
TMetric allows users to add a time entry manually. You can do so via the timeline or the 'Add Time Entry' button at the top of your timesheet. You can also add breaks to your timeline and see a summary of the total break time during your workday.
Offline Tracking
You can track what you're working on without an internet connection. The tool records every activity, which will later be updated to the timeline.
Idle Time Detection
TMetric, like Traqq, will notify users of zero online activity while the tracker is running. Users get reminders to stop the timer if the user is idle. It shows you the 'Away time' and lets you decide what to do with it.
Employee Monitoring and Management
As a manager, you get peace of mind knowing that employees stay productive during working hours. Employee monitoring makes this easier without making them feel like they are being micromanaged.
Traqq
Traqq is a better alternative to TMetric when it comes to employee monitoring. The tracker offers elaborate team monitoring and detailed summaries of their performance levels. The account owner gets a general insight into an individual's or team's activity levels and total hours worked via the Dashboard.
You can select a period for the data you want to see and assess how well or poorly they performed. The activities are presented as a percentage, along with screenshots for accurate productivity evaluation.
You can calculate the overall worker input by comparing the total hours logged to the average daily activity.
Automated Screenshots and Screen Recordings
Screenshots on Traqq are blurred by default to protect user privacy. Sensitive information like passwords, private messages, and credit card numbers will be illegible. The program takes the screenshots automatically at random, within 10-minute intervals.
Users with admin-level access can disable the screenshot/videos feature via the 'Settings' option. A user can remove any screenshots they don't want to be viewed by the team leader or organization account owner.
However, doing so also deletes the time attached to the screenshot, which reduces the logged hours.
Apps and Website Tracking
The top ten applications or URLs you access during your working hours will be recorded. Users can view the summary of how much time they spent on each app or website on a pie chart.
Apps and websites monitoring is a handy feature to help you identify and eliminate time wasters in your work schedule.
TMetric
Screenshots
TMetric captures screenshots randomly every ten minutes, and you can view them on the Activity page. You can choose the person you want to remotely monitor and get details about what activities they engage in during working hours.
Apps and Websites Tracking
TMetric also collects data about the applications employees use and the websites they visit when working.
Users can see how much time was spent on each app or website in percentage form. You can filter the information to be displayed for a particular day and a specific person.
Productivity Tracking
As a company owner, wouldn't you want to know your team members' overall productivity and performance so you can weigh them against generated revenues? Both Traqq and TMetric offer productivity tracking:
Traqq
Accurate Activity Monitoring
Traqq measures the activity levels of your employees throughout the hours they have worked. You can analyze how they spent time on apps like Word, Adobe, Microsoft Teams, and so on. You can also view how long a user visited a website, including the browser used.
The pie chart lists them all down, along with the URLs, so you can check if users accessed any time-wasting apps like Facebook or Instagram. You will also review the amount of time spent on these programs.
To capture accurate activity levels, Traqq registers mouse clicks and keyboard strokes. Users can't increase their activity levels by power clicking since it's equipped with an anti-cheating algorithm.
TMetric
Activity Tracking
The Activity page shows a summary of all user activity, including apps and websites usage, screenshots, and activity levels. You can see the number of hours you or your team members were active and the total time spent on the computer.
The activity level is represented by a set of bars, which are displayed on the timeline.
Reports and Timesheets
Reports give you a summary of all the activities for a select period. They can be convenient for billing, performance analysis, or when calculating profits.
Traqq
Traqq is a TMetric alternative that offers a robust reporting system that is easy to comprehend. The tool automatically generates several types of reports, including:
Weekly Summary generates a report showing details of overall performance for a given week.
Time and Activity displays activity levels and total hours spent by team members.
Apps and Websites creates an overview of the apps and websites used during working hours, including the time spent on each of them.
Manual Time Adjustments show the amount of time added manually to the timeline for a given period.
Amounts Earned gives you an insight into how much every team member earned for the selected period.
You can easily share the reports by emailing clients directly from the platform. You can also save the reports in CSV or PDF file formats for further analysis.
TMetric
TMetric offers users various types of reports. These are:
Projects Summary Report shows summarized information on all the projects you're working on, including budgets, expenses, and billable time.
Tasks Summary Report gives a detailed report on the total hours spent by each team member on tasks.
Team Summary Report displays a summary of details about all the workspace members, including paid time off, billable time, and total amount.
Activity Summary Report contains information about all user activity, categorized according to the way time was added to the app.
Detailed Report shows daily time tracking details.
App Usage Report displays a summary of most used applications, as well as time spent on each app.
Which Time Tracker Should You Choose?
Choose Traqq if you want:

A simple time tracking tool that promotes ethical employee monitoring. Users can access all the premium features free.

Choose TMetric if you want:

A time tracker that also offers task and project management features.