The Top 15 Windows Time Tracking Apps in 2021
Using a time tracking app for Windows can boost your productivity and efficiency. A tool like this can help you understand where your time goes. It shows you how much time you spend on certain activities and what your common time-wasters are. Perhaps you're a freelancer working with multiple clients. Or you might be a manager in charge of a distributed team. Whatever the case is, using the right time tracking app for Windows will help you eliminate distractions and optimize your workflow.
We'll share some of the best options on the market to help you choose the ideal time tracker for Windows.
1. Traqq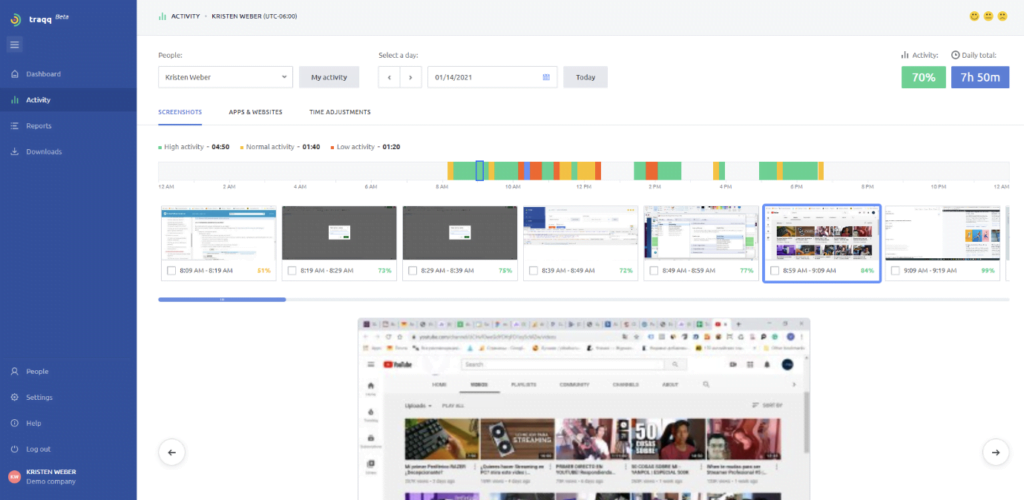 It's quite difficult to find a free Windows time tracker that offers comprehensive monitoring and reporting features. So, with its robust functionality, Traqq is indeed a rare gem. You can use it to track billable hours automatically. What's more, it helps managers ensure accountability and productivity among their remote employees. This employee time clock app also monitors the websites that the user visits and the programs that they use. Once you go to the dashboard, you will see what activities are taking up most of their time. This way, you can easily identify common time-wasters and address productivity leaks.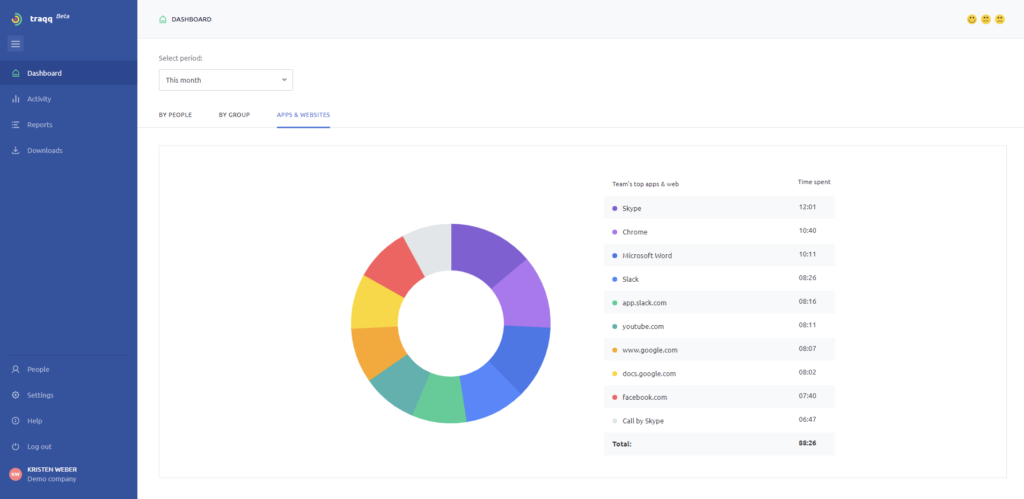 Even though Traqq is a tool for monitoring employees, it promotes ethical time tracking. All the screenshots and video recordings taken by the app are intentionally blurred. This way, sensitive information, like passwords and private messages, won't be legible. What's more, you can export timesheets to CSV files, making it easier to create accurate invoices. As of this writing, Traqq and all its features are downloadable for free.
2. Everhour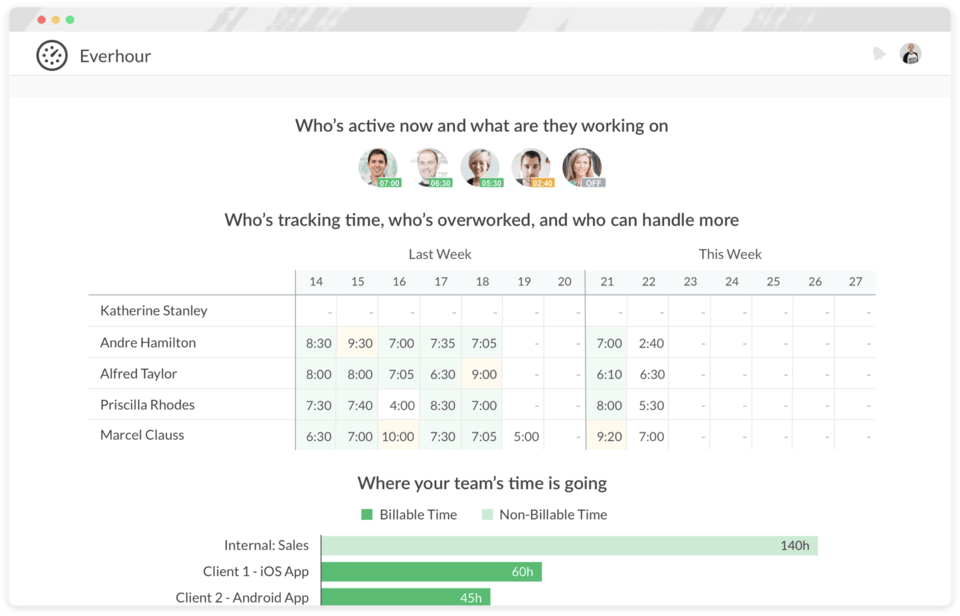 Everhour is a Windows time tracking app that you can sync with your project management tools. Some of the supported apps include Asana, Trello, Jira, Basecamp, and ClickUp. When you connect any of these programs to Everhour, you will see your projects in your time tracking software. Now, if you want to concentrate on your project management app, you don't have to worry about recording hours. For instance, in Asana, you will see Everhour's buttons such as Add Time, Start Time, Edit Time, and Add Estimate.
Everhour can also help you budget time for your team. You can use it to monitor employee availability. On the app, you can limit the number of hours a user can log per day or week. You can even schedule vacation days and thereby manage the workload for your team. Unfortunately, you can't use Everhour's timer when you're offline. So, it may not be applicable for certain industries.
3. VeriClock

VeriClock is cloud-based time tracking software for Windows. Its selling point is how it facilitates communication between employers and employees. Both parties can review their time records via the platform. What's more, it has a digital signature feature that allows employers and employees to sign off timesheets before processing payments. After all, certain jurisdictions require signatures on invoices.
VeriClock also has a mobile app. So, you can still log your work hours if you're working on your smartphone. Moreover, its TimeGuard feature will clock out the user automatically if they forget to do so at the end of the day. This way, you can ensure that your timesheets are accurate.
4. HourStack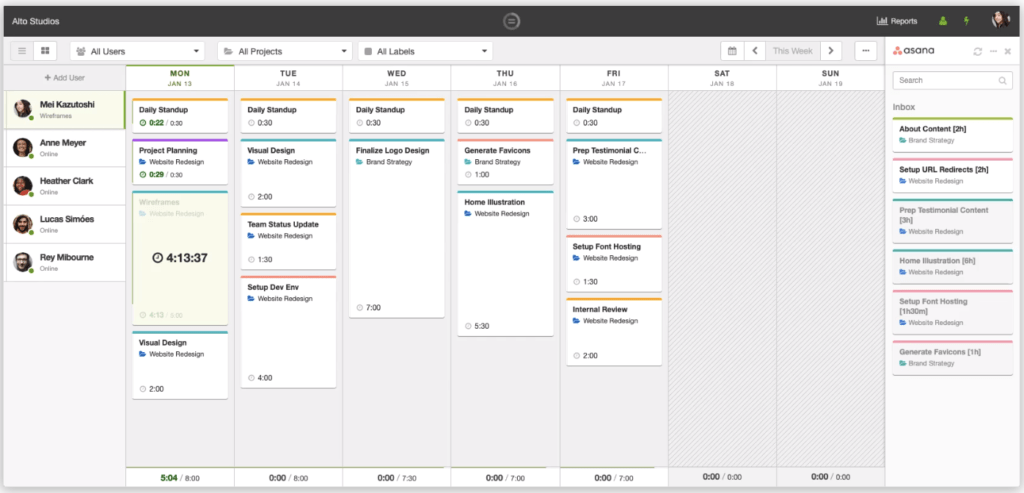 If you're a fan of time blocking, you will appreciate how HourStack was designed. It is one of the few time trackers that emphasize planning. You can assign time limits to every task, and once you start the timer, the app will keep you within the expectations you set. You can also color-code your tasks and projects for easy management.
HourStack also helps you maintain a healthy work-life balance. If you set a time limit for the day, the app will warn you if you're working overtime. You will receive notifications on the mobile app, or the hours will show up in red on the desktop app. Another great thing about HourStack is that it integrates with various productivity apps, including Google Sheets, Google Calendar, Trello, and Todoist. Now, if a program is not natively supported and you want to integrate it with HourStack, you can use Zapier.
5. ActiveCollab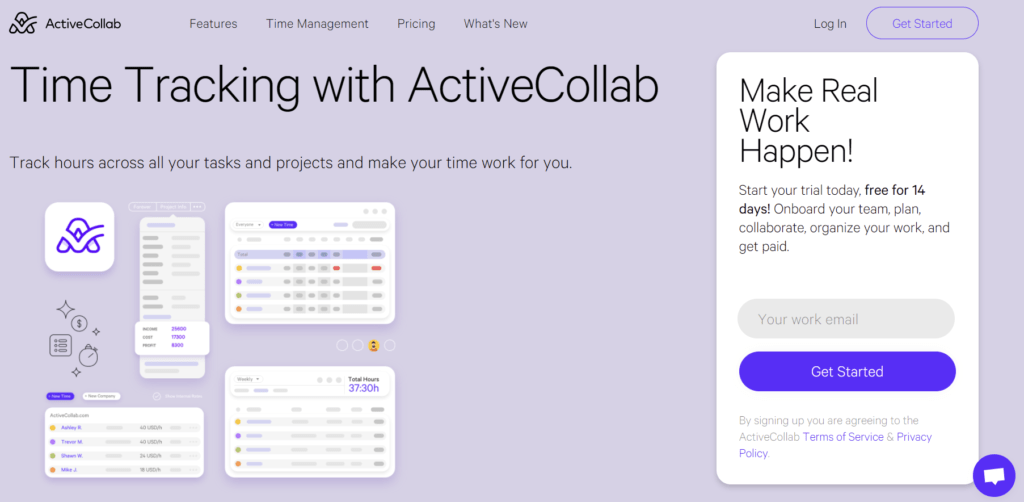 ActiveCollab is primarily a team collaboration and project management tool. However, it also has a time tracking function that can help you make invoicing easier. If you're a project manager, you can assign hourly rates to your team members. ActiveCollab also provides you with a visual analysis of how your employees are utilizing their time. This way, you'll gain an insight into your projects' profitability.
Do remember that ActiveCollab is primarily a project management app. Essentially, you're installing a program that is a lot more complicated than a time tracker. So, if you're not tech-savvy, you might have a difficult time installing it. You have to be ready for a steep learning curve. ActiveCollab is best for bigger teams that have access to professional IT help.
6. WorkingHours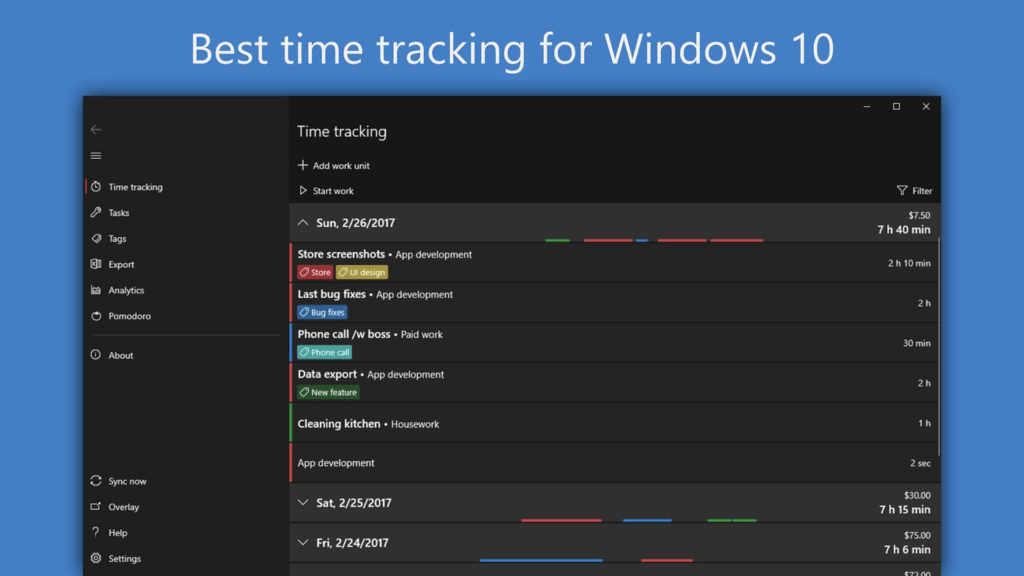 If you prefer monitoring activities and time locally, WorkingHours is one of the time tracking apps for you. You don't have to open the program just to start, pause, or stop the timer. You can access different functions using voice commands. Moreover, with its NFC and geofence tags, the app will automatically run when the user reaches a certain location. With special tags, you can adjust the earnings and recorded hours easily.
WorkingHours' special tags make creating reports and analyzing performance a breeze. You can filter work units and create graphs to discover how your team members spend their time and where your budget goes. While WorkingHours is a time tracking app for Windows, it also works across various platforms. It is available for computers, smartphones, and clouds (Google Drive, One Drive, Dropbox, and WebDAV).
7. RescueTime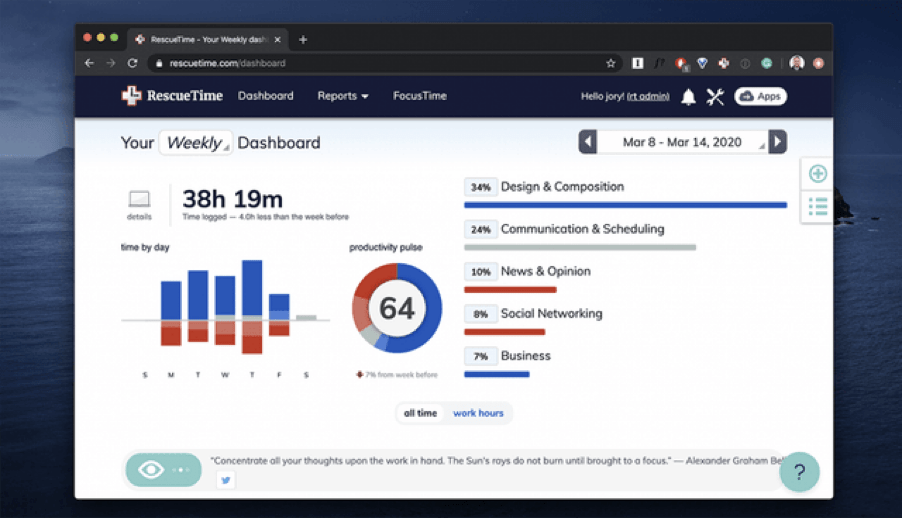 RescueTime is another top option for people in need of automatic time trackers. With its lightweight design, this app is easy to install. What's more, it won't hog your computer resources. It will run discreetly in the background and monitor your activities. RescueTime will record the time you spend on apps and websites. You can create a set of rules, and the app will categorize your activities based on it. For instance, RescueTime can classify Microsoft Word as "very productive" and Reddit as "very distracting".
One of the interesting features of this time tracker is its ability to block distractions. The app will prevent you from accessing distracting websites. Again, you can establish a set of rules that will classify particular websites as "very distracting". If you try to open these sites, you won't be able to get through because FocusTime will block them. You can also use Zapier to integrate other apps that are not natively supported by RescueTime.
8. Paymo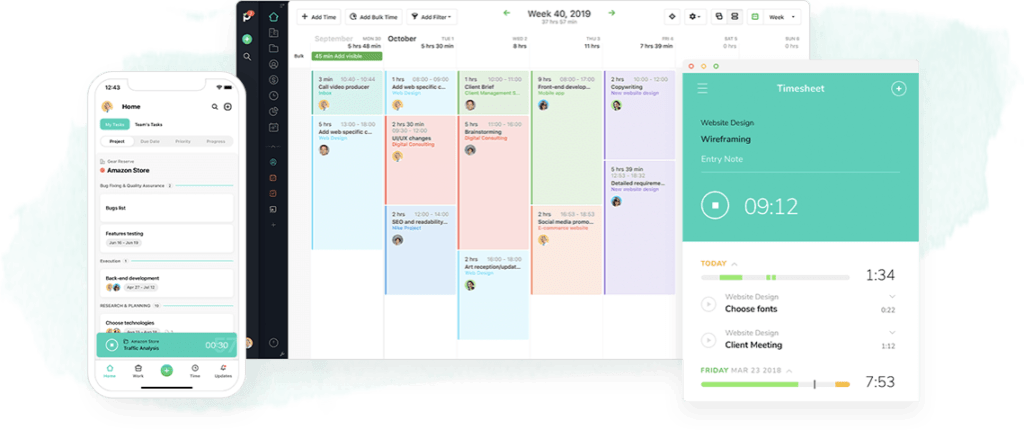 Like ActiveCollab, Paymo is a project management app with a time tracking feature. You can either access all its functionalities or just use it as a timer via the web or mobile platform. When you run the time tracking functionality, the app will monitor your activities. At the end of the day, you will see how much time you spent on certain tasks. This way, you can identify common time-wasters and address any unproductive activity accordingly.
If you're a solo freelancer, Paymo can be your ideal free time tracker for Windows. However, if you need more complex features, like expense tracking and invoicing, you need to upgrade to one of the paid plans. Other extra functionalities you can access include task scheduling, Gantt chart project planning, and progress tracking.
9. Manic Time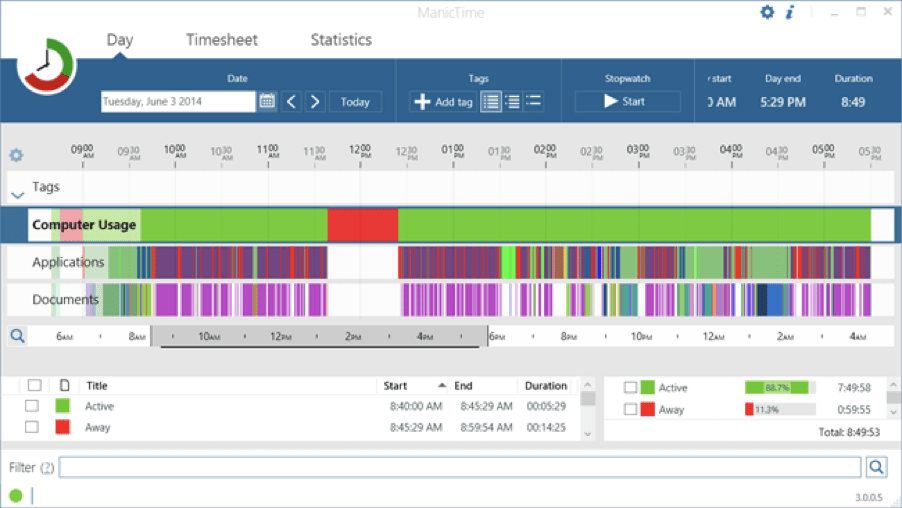 Manic Time is another tool for those who want to spare themselves from the drudgery of creating timesheets manually. With this app, your computer activities are tracked automatically. After collecting the data, you can use the tool to generate productivity reports. What's more, Manic Time lets you sync your activity data with the server regularly. So, if you're switching between different devices, you don't have to worry about losing your recorded time.
You can get Manic Time as an installable or a portable app. You can store it on a flash drive to track your billable hours on any device.
10. ClickTime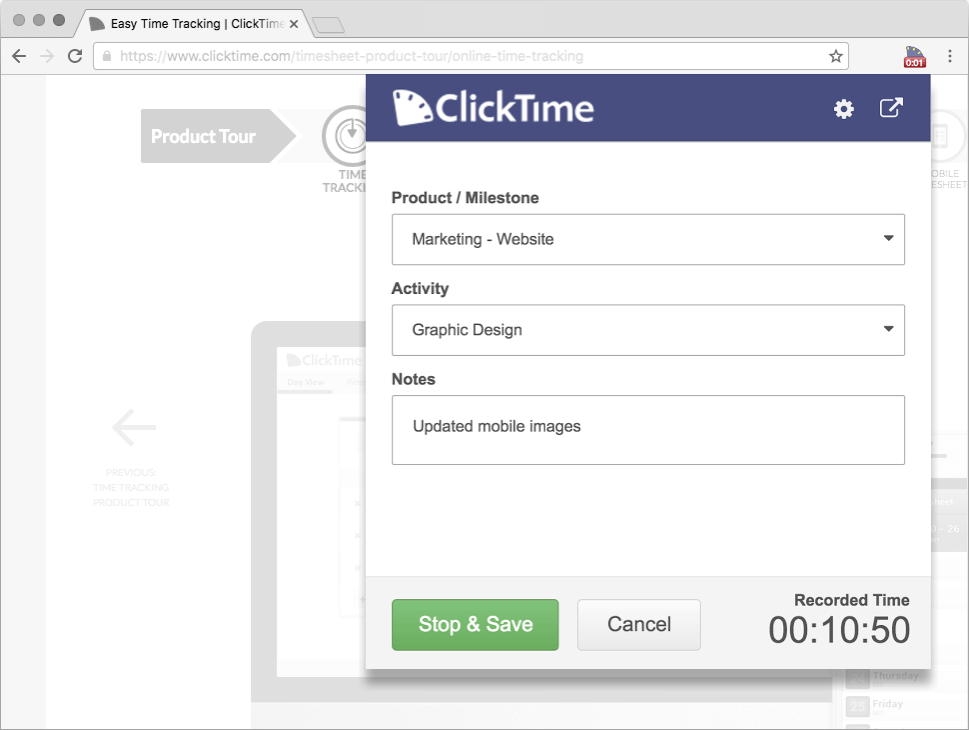 Aside from being a time tracker, ClickTime also functions as a simple accounting app. It lets you create expense reports easily. You can upload receipts and use the built-in budgeting feature to monitor your expenses with ease. As a project manager, you get a convenient tool for controlling your team's budget. Moreover, ClickTime helps you allocate time to your projects to ensure that you keep up with deadlines.
While ClickTime collects comprehensive data, it doesn't complicate things for the user. You can generate reports by person, task, and project, among other categories. What's more, the tool allows you to export your reports in various formats, including .html, .csv, and .pdf. However, do note that things can get challenging if you want to customize the reports according to your business needs. It will take some time to get the hang of the features.
11. ProofHub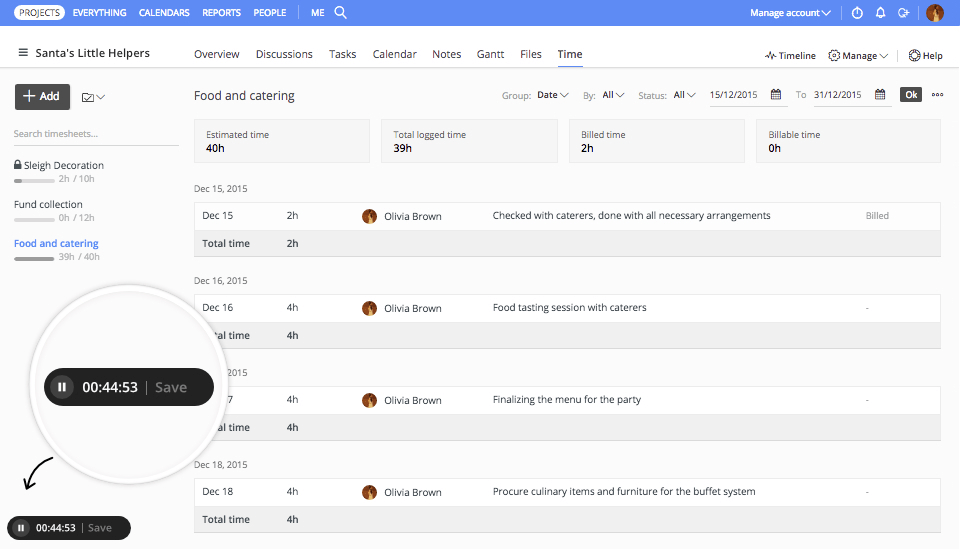 While you can use ProofHub for time tracking on a Windows device, the app also functions as a project management and collaboration tool. It has a user-friendly interface that gets everyone on the team on board in no time. With the tool's automatic time tracker, you start recording your billable minutes as soon as you begin working on a task. Now, if you have to work offline or you forget to turn on your timer, you can add entries manually. Your recorded hours will be stored in organized timesheets, making it easier for you to generate invoices.
With ProofHub's time reports, you can monitor individual productivity conveniently. If you want to simplify your invoicing and billing processes, you can integrate the app with third-party programs, like FreshBooks. You don't have to worry about paying a "per user" fee because you can get any of the plans at a flat rate. With the Ultimate Control package, you can access advanced features, like white labeling, network control, custom roles, and advanced activity logs, among others.
12. Grindstone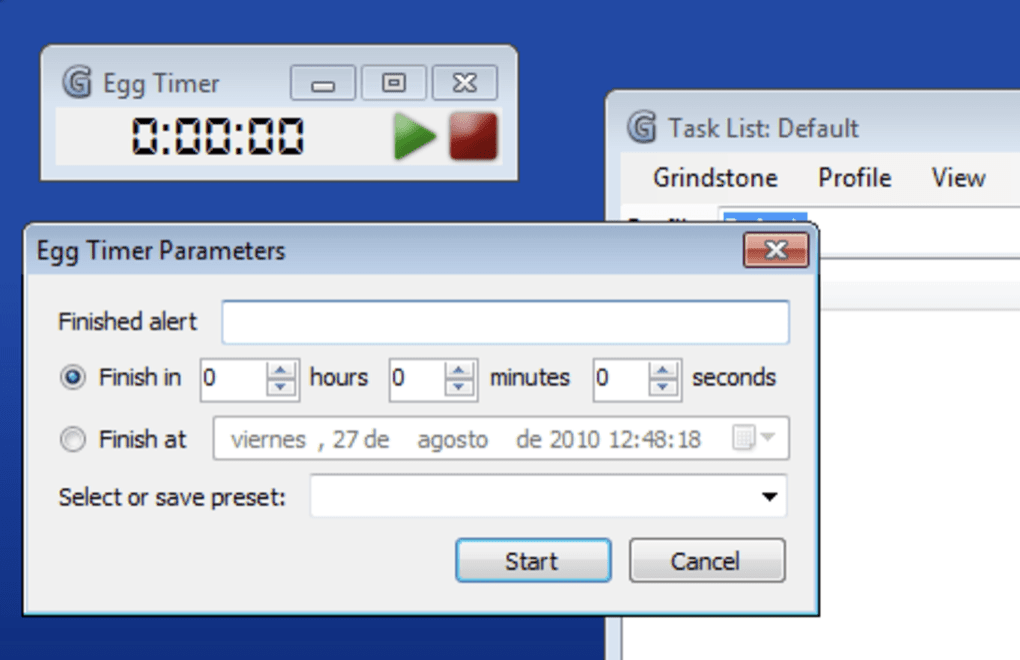 Grindstone is another free time tracker for Windows that has all the features you need for recording billable hours. Aside from providing you with automatic timesheets, this app also lets you calculate billable amounts and expenses. You can even generate detailed charts that show you how you're spending your budget and time. It also sends reminders for missing time records, upcoming deadlines, and exceeding estimates.
Expect Grindstone to support various invoicing and billing features. You can use the app to calculate what you charge your clients according to the work you performed. The program also allows customization of hourly rates and other details. If you need to, you can export the data and print it out. This way, you can have a hard copy of the billing information for future reference.
13. Paydirt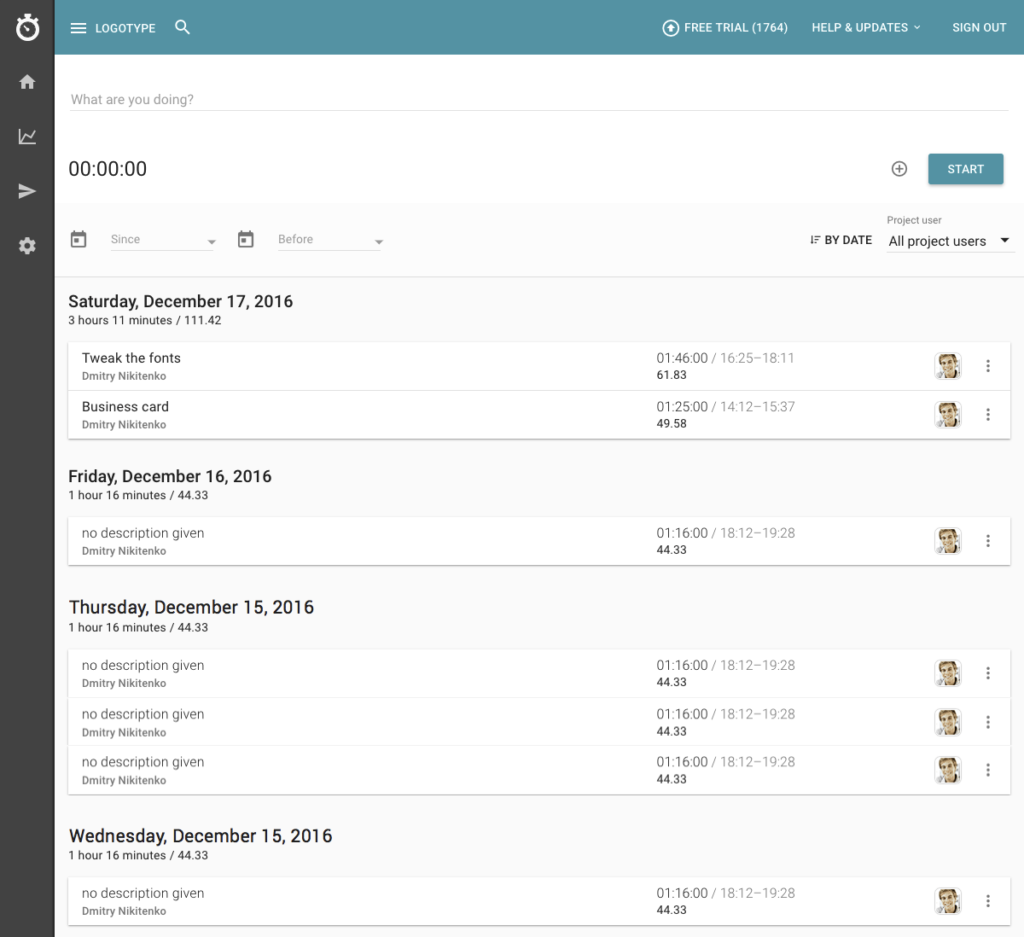 Whether you're a freelancer or you're managing a remote team, Paydirt can make time tracking and invoicing easy for you. Keep in mind that Paydirt doesn't have a desktop app, which means that you have to launch it from a browser on your Windows device. By installing Paydirt's browser extension, you will be able to access the tool's tiny timer. It also allows backlogging, which can be useful for forgetful users. Let's say after 30 minutes of working, you realize that you haven't switched on Paydirt. In this case, you can start the timer from 30 minutes back.
Paydirt also comes with expense-tracking tools and invoicing features. What's more, you can integrate it with Stripe, PayPal, Trello, Basecamp, and Zapier. Unfortunately, the biggest downside of Paydirt is that it doesn't support offline time tracking. So, if your network connection is unreliable, you might lose valuable billable hours.
14. TimeWriter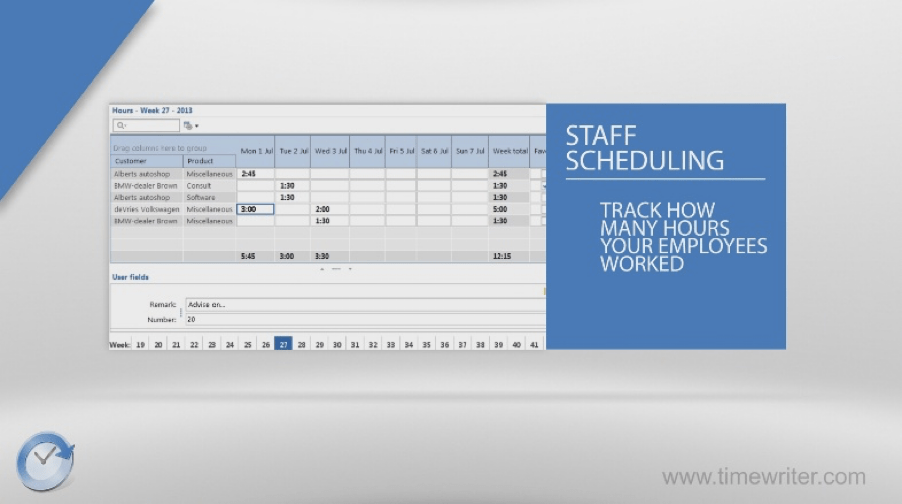 While you can use TimeWriter for Windows time tracking, you can also run the app on your Mac. Moreover, it is more than just a tool for recording work hours. The app comes with accounting features that make it easier for individuals and teams to bill their clients. TimeWriter also provides you with a quick glance at or an in-depth analysis of your productivity and profitability. What's more, since the app stores the data it records in the cloud, you can track time from anywhere. You can expect your information to be up to date even when you're switching from one device to another.
If you're an individual freelancer, TimeWriter is good enough as a free time tracker for Windows. However, if you need more advanced features for bigger teams, you should upgrade to one of the paid plans.
15. Timely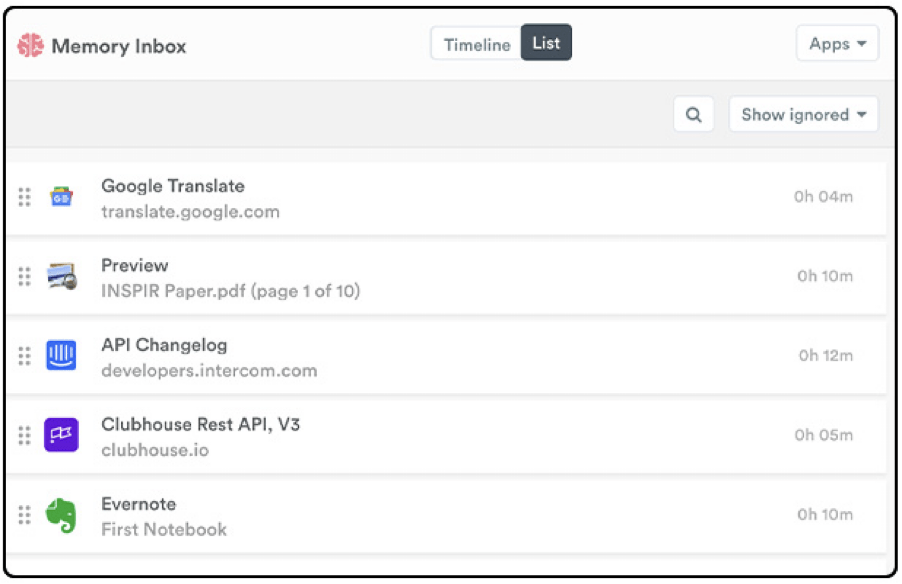 Timely is another time clock for Windows that lets managers and employees stay within their project budget. This app automatically tracks work hours and presents the data in an organized and neat timeline. This feature, known as Timeline, displays all tasks performed within a week in an easy-to-understand manner. It gives managers an overview of the planned hours along with the total time that their team worked within a particular period.
Budgeting time is convenient when you use Timely. For instance, if you have recurring tasks, you can copy them from one day to another. What's more, you can export your project plans and scheduled meetings to Google Calendar, Outlook, or Office 360.
Time Trackers for Windows: A Quick Glance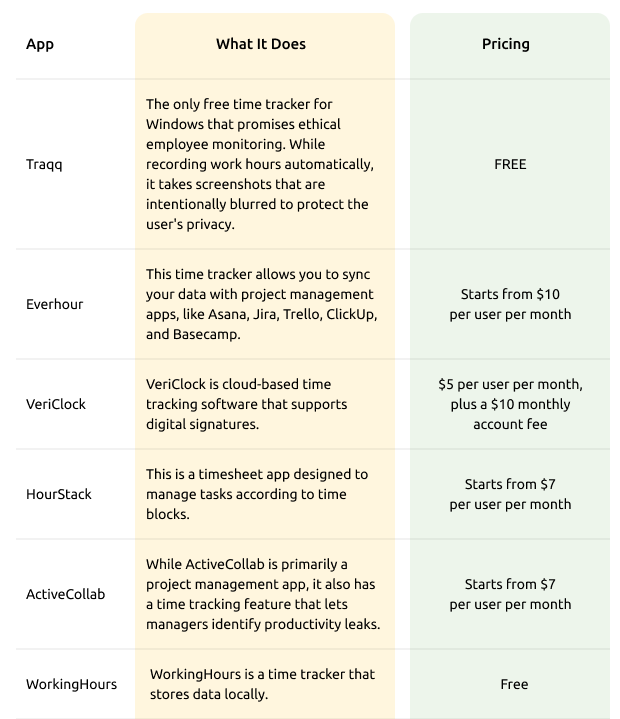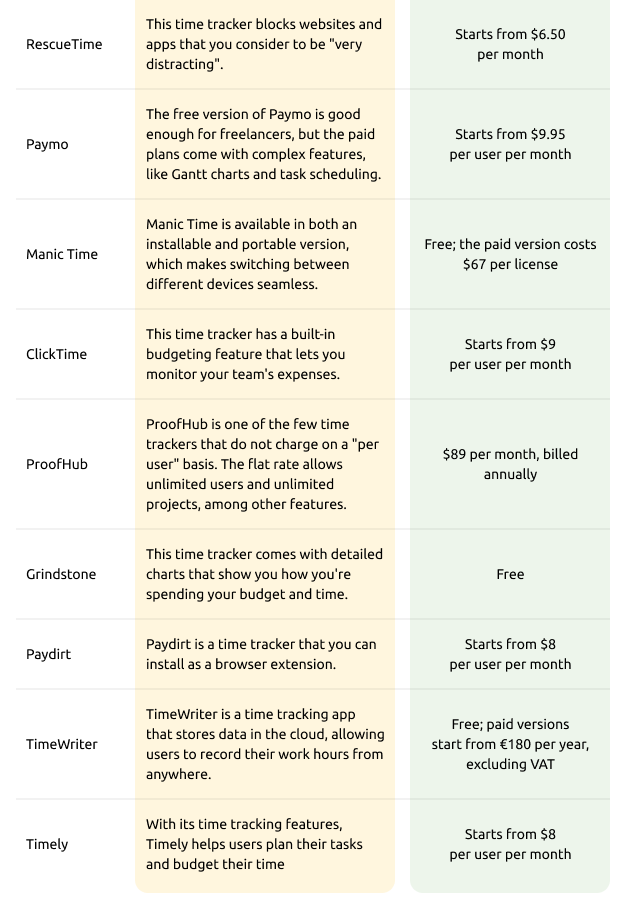 In Conclusion
Each time tracker has its strengths and weaknesses. Some offer basic timesheet features, while others provide more comprehensive employee monitoring options. What's important is that you choose the tool that will work best for your needs. While some of the apps we featured in this article offer free trials, most of them are available for a monthly fee. Thankfully, with Traqq, you can enjoy comprehensive time tracking and reporting features at no cost. You can access all its features without paying anything.