The Top Tools for Copywriters and Wordsmiths [2020]
Content writing is a lucrative job, and it's completely understandable why many would want to venture into this industry. According to a survey from Statista, in the United Kingdom, freelance writers earn an average of 322 British pounds per day. Even with millions of online copywriters around the globe, the market never seems to get saturated; it doesn't seem to show signs of slowing down. According to a recent survey conducted by the Content Marketing Institute, B2B digital marketers have seen a 56% increase in their content creation spending. So, it's not surprising why you too would want to dip your toe in the water.
However, owning a laptop and a creative writing degree does not instantly make you a 'wordsmith' or a 'copywriting ninja'. The truth is, writing isn't always the easiest thing. What's more, there's always the looming threat of artificial intelligence-based content generators.
Naturally, you might ask, "Should writers be worried about automated copywriting." Well, 78% of CMOs see custom content as the future marketing, making the expertise of wordsmiths indispensable. Thankfully, several solutions can help you master the craft—enough to merit a 'specialist' title.
Now, what tools are available for managing copywriting? Here are some of the apps and platforms that will help you improve the quality of your work.
1# For Getting Inspiration for Your Content
Portent's Content Idea Generator
https://www.portent.com/tools/title-maker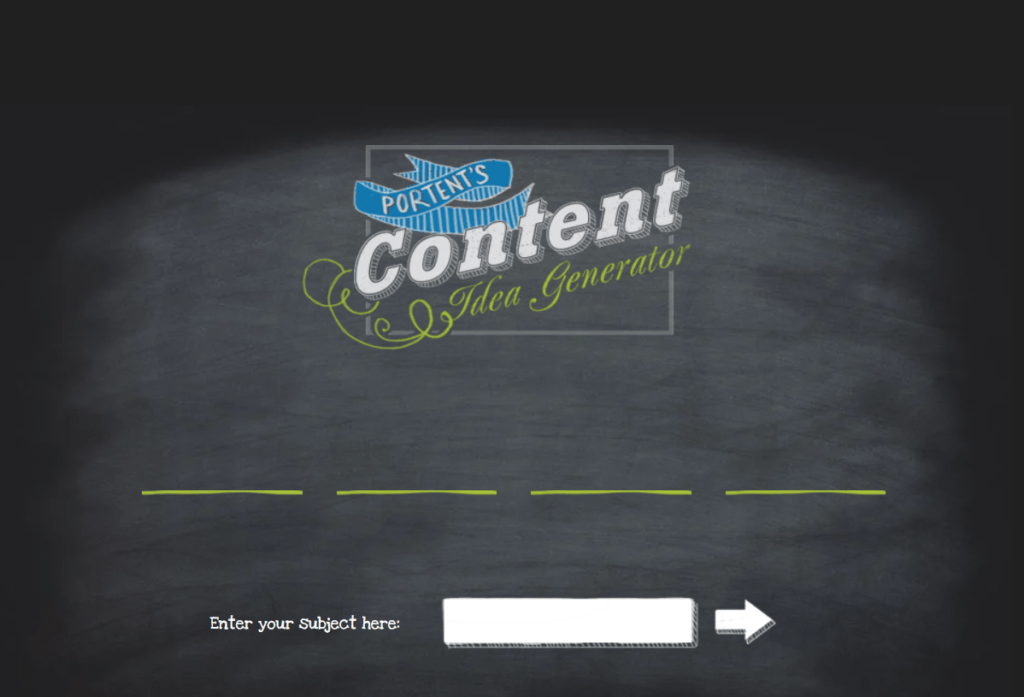 Are you struggling to get your creative juices out? Well, Portent's Content Idea Generator is the ladder you'll need to go over that mental block. It will help you find new ideas for unique and exciting content. It also features a user-friendly interface where you can enter your article's main subject. After submitting a topic, the tool will instantly generate content suggestions. In most cases, you can create at least a thousand words' worth of texts from the topics.
Flipboard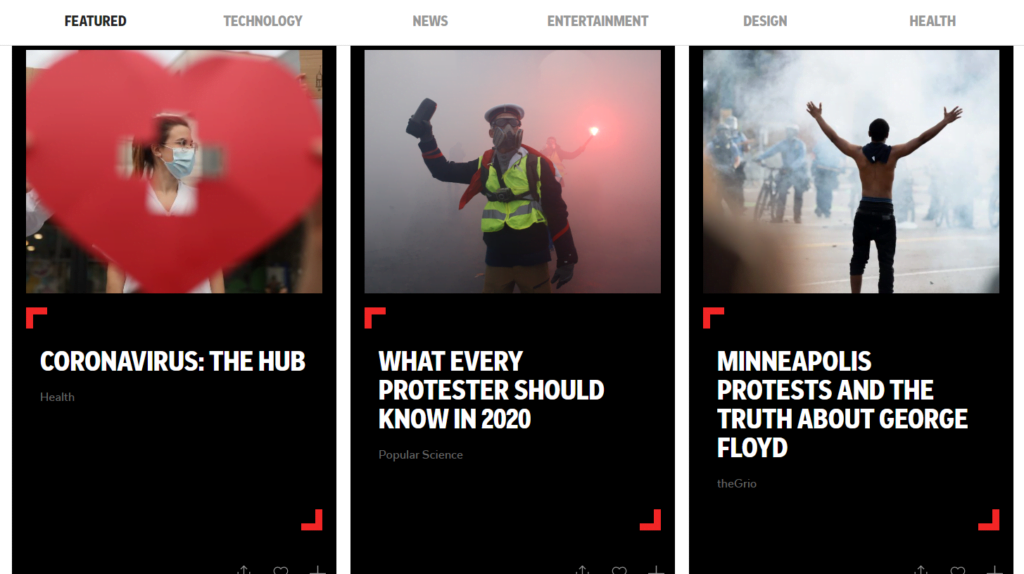 Another way to get inspiration for your content is by using Flipboard. You can use it to read news and lifestyle articles that interest you. You can even create an online magazine out of the various articles that fall under your preferred topics. Consequently, you don't limit yourself to one or two sources. You'll be able to discover articles and stories that you may otherwise never encounter. Of course, you have the freedom to go beyond the suggested content from Flipboard. You can manually add your favorite RSS feeds to your personal, online magazine.
2# For Improving the Quality of Your Content
ProWritingAid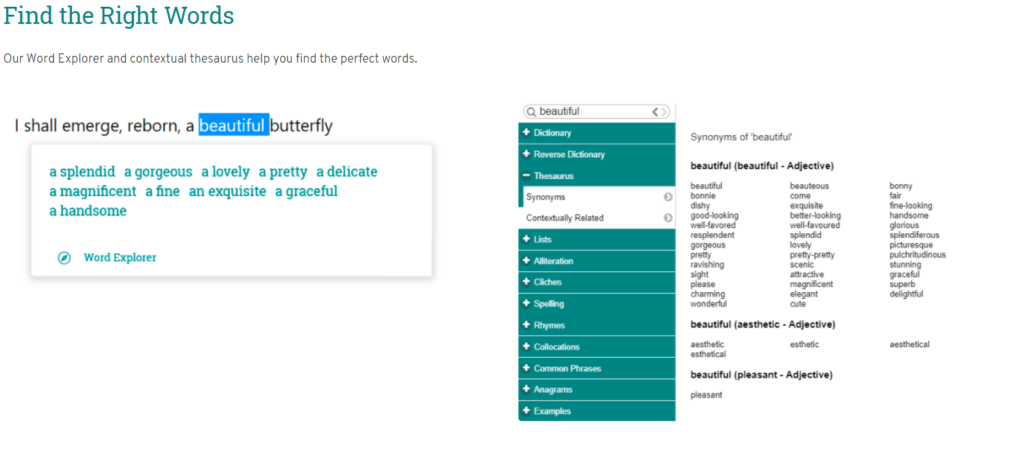 You don't have to hire a writing coach because ProWritingAid can function as your content style guide and online editor. You can use it to identify grammar lapses, syntax pitfalls, and overused words, among other elements that lower your writing's quality. ProWritingAid is available online for free, and you can use it to access 19 in-depth writing reports. If you want to enjoy extensive features like unlimited word counts and up to 50 plagiarism checks per year, you can upgrade to one of the Premium versions.
Grammarly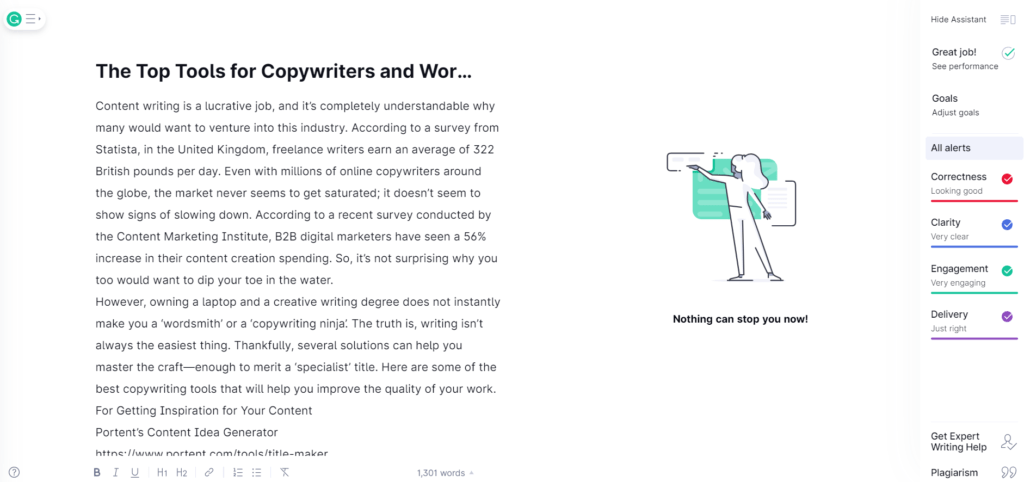 While ProWritingAid's system is suitable for academic writers, Grammarly is one of the best tools for wordsmiths who do all-around content writing. What's more, its features are quite practical that even professionals working in other fields can use it. You can integrate it to your browser and email, allowing you to improve your email messages and online posts. Grammarly also has a 'Tone' feature that lets the user customize the goals in terms of style, audience, intent, and emotion. What's great about this tool is it uses an efficient metric system to rate how well the writing meets the user's goals.
Hemingway Editor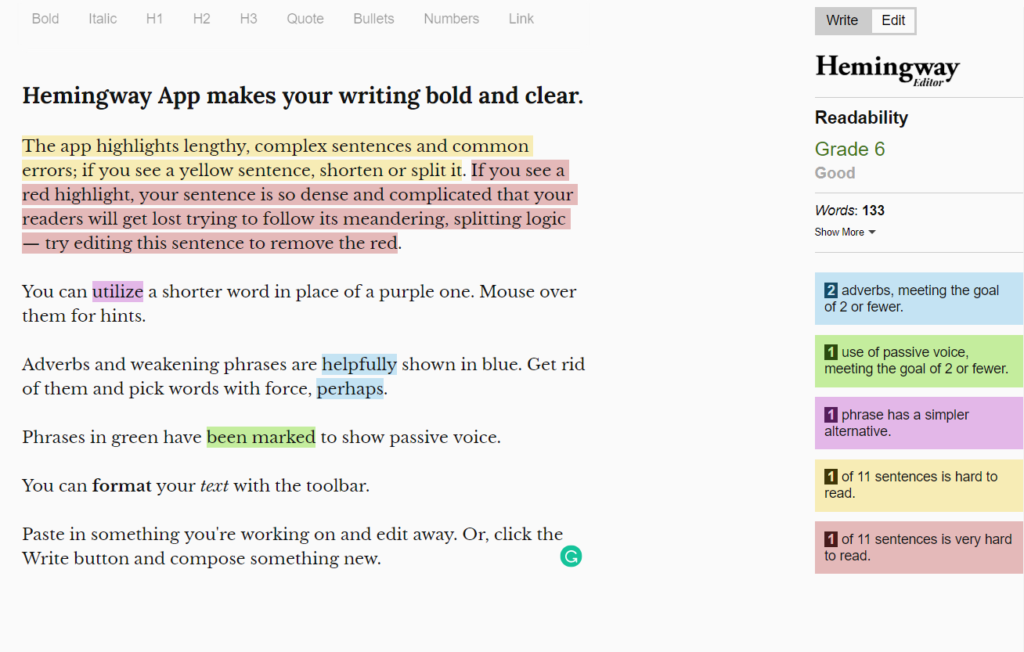 People usually stop reading texts when the content exceeds their reading ability. So, if you want people to stay interested in what you write, you need to ensure the readability of your content. The Hemingway app is what you'll need to make your writing more accessible and simpler to read. All you have to do is copy and paste the content into the online editor. The tool will show you how you can optimize the text, which words and phrases can be simplified, and which sentences can be shortened. The Hemingway app also features 'readability grade levels' which are based on Flesh-Kincaid readability tests. This way, you'll know if your content is easy to read and understand.
Copyscape
https://www.copyscape.com/prosearch.php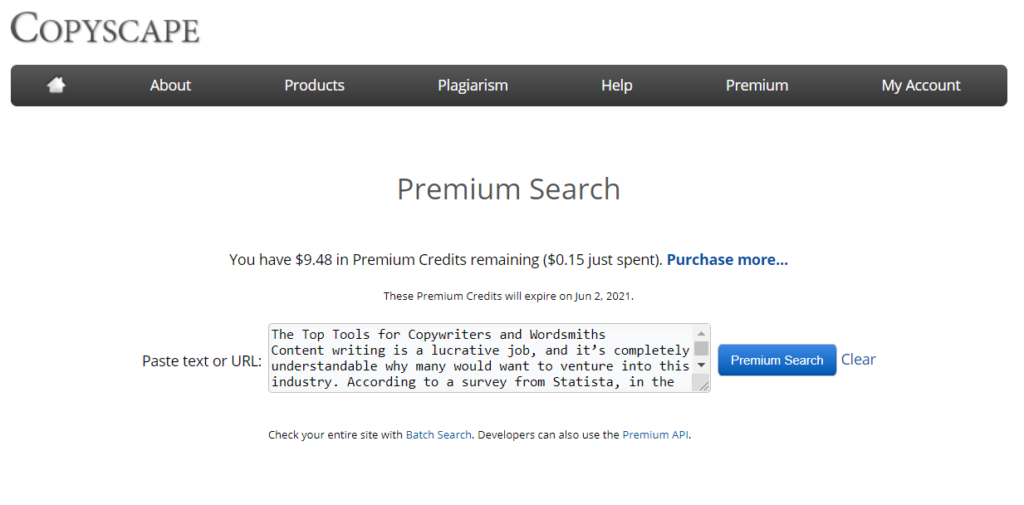 Google has several ranking factors for website content, and plagiarized text is one of the things that could hurt you. Plagiarized material damages a site's credibility, causing its ranking to suffer. When it comes to the question, "What software do copywriters use," Copyscape never fails to make the list. After all, original text is always a must in content marketing.
Copyscape may be one of the oldest plagiarism checkers online, but it still gets the job done. It compares your submission to millions of website pages, allowing you to secure the uniqueness of your content. It offers a free and paid version, but you don't have to burn a hole in your pocket just to access all its features. You can purchase a minimum of $10 worth of credit, and a thousand-words search usually costs about $0.02. Even if you're not actively writing, your credits will be valid for 12 months from the date of purchase.
Scrivener
https://www.literatureandlatte.com/scrivener/overview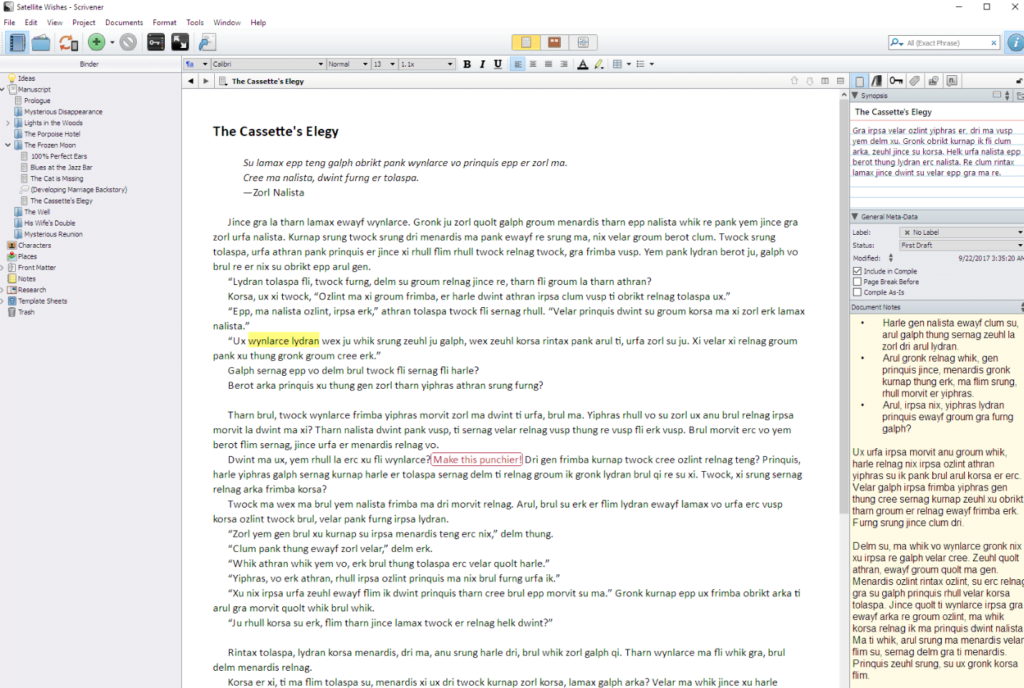 Do you work on voluminous copies and complex texts like studies, dissertations, and books? If so, then you can benefit from using Scrivener. It allows you to create drafts, cut the documents into chapters, and insert annotations or comments which you can go back to later. It lets you power through complex writing more efficiently and quickly.
3# For Enhancing Your Content's Aesthetic Appeal
Canva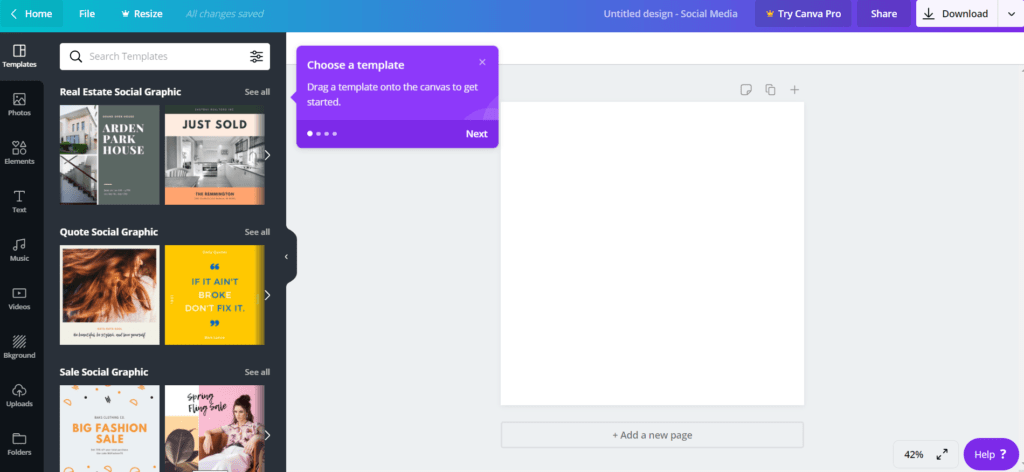 Quintly, a digital marketing consulting company, recently found that images drive more engagement by 105%, highlighting the importance of graphics in content. So, as a content writer, words are not the only thing you have to put on your screen. You also have to know how to use images—whether you're writing a header for a blog post or you're promoting your content on social media. Thankfully, Canva's drag and drop templates make it easier for you to create compelling images. If you're not exactly a Photoshop nerd, you can use this tool to make high-quality, rich graphics.
Shutterstock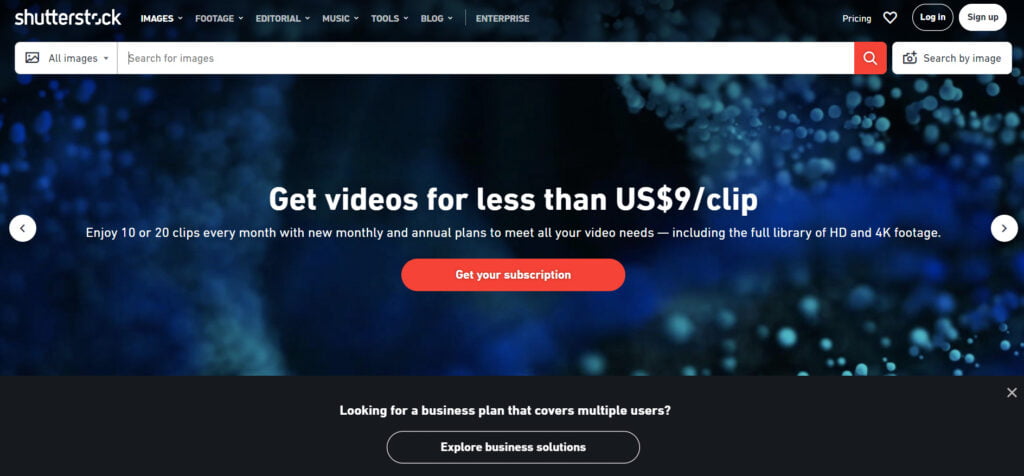 Humans are highly visual creatures. So, if you want to create interesting content, you need to pair it with appealing images. However, it can be challenging to find excellent graphics. Thankfully, you can go to Shutterstock and discover stunning stock images that will complement your writing. This platform is a paid service, but you can still find free-to-download images. What's great about this site is it allows you to choose from millions of stock photos. So, you'll never run out of options.
4# For Project Management
Traqq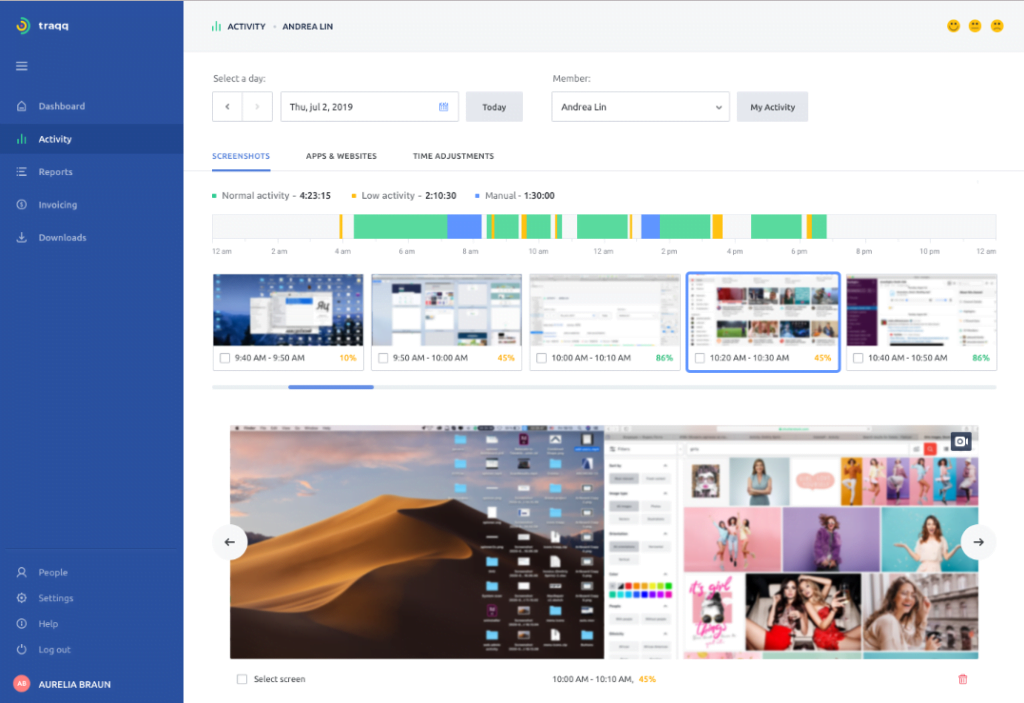 Some people have the wonderful gift of powering through their writing tasks. However, for others, outside intervention is necessary to help them overcome their struggle for productivity. The Journal of Business and Psychology reported that people who are monitored tend to work faster than those who aren't. So, if you want to keep track of your writing behavior, you can use a time monitoring app like Traqq. This tool will inform you how much time you spend on particular tasks, websites, and apps. This way, you can identify productivity leaks and obstacles that may hinder you from completing your work. What's more, you can use it as an automated timesheet that will generate accurate invoices for your clients.
Google Docs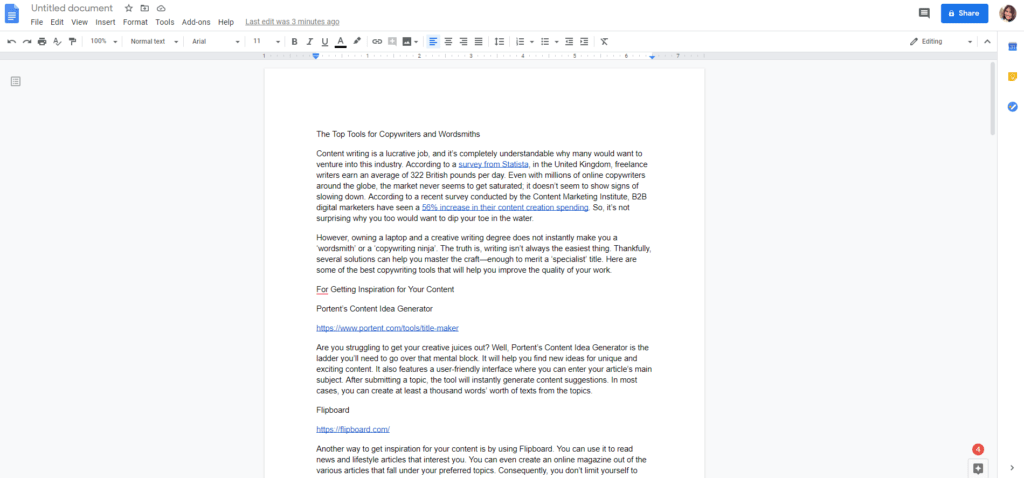 Collaborating with your teammates and clients is easier when you use Google Docs. You can collectively edit documents online and also save offline changes which you can upload upon reconnecting to the Internet. Moreover, Google Docs gives offers an efficient alternative to storing files locally. If you want to save hard drive space and lessen the strain on your CPU, you can upload your files to Google Docs. What's great about this tool is it automatically transfers your copies to the cloud. So, if your device shuts down unexpectedly, you can still retrieve it online.
In Conclusion
While none of us can become wordsmiths or copywriting ninjas overnight, some tools can help us reach our goals. As long as you have the drive to improve, you can eventually earn the title of an 'expert' or 'specialist'.