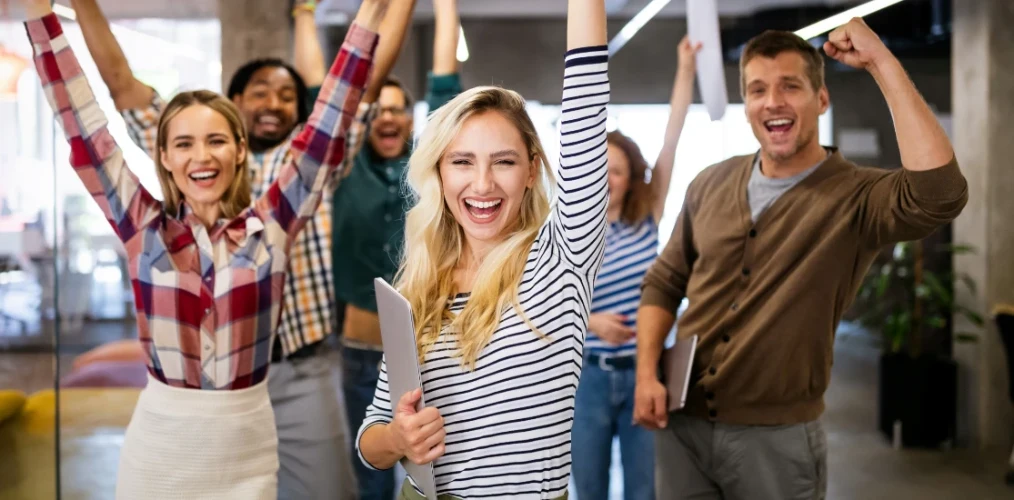 According to a Harvard Business Review report, people at high-trust companies report 74 percent less stress and 50 percent higher productivity at work. Employees are also 106 percent more energetic and 76 percent more engaged.
One way to build trust is by encouraging workers to socialize, and nothing works better than team building activities. These activities help new and existing employees to get to know each other better while learning about each other's strengths and weaknesses.
As a result, they can collaborate and coordinate more efficiently, leading to a boost in performance. Below, we've curated a list of team building activities that your employees will love, whether they work remotely or in-office.
Team Building Activities for On-Site Teams
There are various indoor or outdoor activities that your on-site workers can engage in during regular office hours or on a weekend. These activities can help your employees become better listeners and communicators.
1. Life Highlight Games
Objective: Team bonding
Number of participants: Small to large teams
Duration: 30 minutes
This is a simple but meaningful icebreaker activity that's ideal for small and large groups alike. Participants are asked to remember the best moments of their lives.
This can be anything from moments they've had alone or shared with loved ones and friends. The moments can also pertain to their professional or personal lives.
How to play:
Ask each participant to close their eyes for one minute and run through the highlights of their lives.
Ask them to decide which 30 seconds of their life they would want to relive if they only had 30 seconds left to live.
Now, ask each participant to review what their 30 seconds entailed and why they chose that event. This will allow coworkers to know each other on a more intimate level and get to feel each other's personalities and passions.
2. Code of Conduct
Objective: Build trust
Number of participants: 10-30
Duration: 30+ minutes
Code of Conduct is one of the best team bonding ideas for starting a workshop or event. It helps build consensus on shared group values.
Team members list what matters to them on a whiteboard. They must then discuss a few common values and beliefs about what contributes to a successful meeting. Establishing these values early in the event sets the right direction for running the meeting.
How to play:
Write down the words "Meaningful" and "Pleasant" on a whiteboard.
Ask each participant to say what they think will make the event meaningful and pleasant. Alternatively, you can ask them to write down their ideas on a piece of paper, preferably sticky notes.
Organize all the suggestions in the form of a mind map for easy visualization.
Make sure each participant has the same understanding of each suggestion. If not, alter the suggestion until you all reach a consensus.
Now, go through each of the suggested items, asking participants how they would ensure the idea is applied during the workshop. Record each idea.
All suggestions that are mutually agreed on as being "meaningful" and "pleasant" form the Code of Conduct. The team must uphold this code throughout the event or workshop.
3. Memory Wall
Objective: Foster relationships; build camaraderie
Number of participants: 5-50
Duration: 45-90 minutes
This is a physical team-building exercise that encourages people to relive their shared memories. Participants sketch their shared memories with each other and place them on a wall.
The memory wall remains up through the remainder of the workshop, serving as a focal point of the team's camaraderie.
How to play:
Provide each team member with sheets of paper, markers, and tape.
Ask them to take a moment to survey the room and write down positive memories of shared experiences while working together. Allocate 15 minutes for this exercise.
Once they have listed their memories, ask them to draw a few of these memories on fresh sheets of paper within the next 30 minutes. The drawings don't have to be perfect. They can be abstract renditions of their memories. They can collaborate with their partners with whom they have shared the memory.
Next, ask them to stick their memory drawings on the wall.
Request volunteers to approach the wall and expand on the memories they just taped to the wall with the entire team.
4. Shark Tank
Objective: Promote teamwork, collaboration, and outside-the-box thinking
Number of participants: Up to 24 participants – split into groups of two to six
Duration: 90 minutes
Shark Tank is one of the most popular TV shows that highlights entrepreneurship. This team-building activity encourages workers to think bigger and create an entrepreneurial mindset.
All participants must work as a team and share duties to be successful.
How to play:
Divide employees into groups of two to six.
Ask them to come up with an imaginary product and develop a pitch for it, just like what happens on the real show. The pitch to these mock-up products must be professional and should include:
Brand name
Brand slogan
Marketing plan
Financial plan
Select 3-4 team members to be the "Sharks" and give them imaginary backgrounds. They should also have an imaginary pool of funds to invest in the businesses.
Each team is tasked with developing a pitch and presenting it in front of the sharks. You can watch clips of Shark Tank together for inspiration.
The team that cashes in the most investment wins.
5. Board Games
Objective: Encourage teamwork; promote listening and communication skills
Number of participants: Teams of any size
Duration: Depends on the type of game
Nothing brings people together like board games. There are so many office-friendly options for you to try with your team. From Jenga, Pandemic, Code Names, or Apples to Apples, choose a game that your team will love.
All these games require teamwork to be successful. Board games are fun team building activities that you can do during a workday to help colleagues loosen up. It also promotes creative thinking.
6. Escape Room
Objective: Promote team effort and creative thinking; improve communication
Number of participants: Small to large groups; divide participants into groups of 3-6
Duration: Up to 90 minutes
Escape room challenges are popular these days and present excellent team bonding ideas that encourage teamwork and communication. The intention is to try to complete an escape-the-room challenge within a set time period.
Participants will be locked in a room and must find hidden clues, keys, or puzzles, and solve them to escape. Whoever steps out as a winner will depend on inventiveness and teamwork.
These games spark communication, and groups must strategize to accomplish the goals at each stage.
7. Save the Ball
Objective: Teamwork; coordination
Number of participants: Up to 24 people
Duration: 30 minutes
Save the Ball (also known as Hole in many) is a physical game that gets the entire team involved. The participants must try to balance a tennis ball on a tarpaulin with one or several holes cut into it.
They have to be good at verbal cooperation to win this activity. It's a great team-building exercise before an event starts.
How to play:
Get a piece of tarpaulin and cut a hole anywhere on it.
Divide the participants into groups of 4-8 people.
Ask each group to stretch the tarpaulin between them and then drop the tennis ball onto the tarp. The challenge is to ensure the ball doesn't fall through the hole.
The team that holds the tarpaulin the longest wins. If it appears to be too easy, cut several holes into the tarpaulin to make it more challenging.
8. Photo Finish
Objective: Improve team communication and coordination
Number of participants: 4-24 people
Duration: 20 minutes
A quick physical game that requires all team members to walk across the finish line at precisely the same time in a "photo finish". It's an excellent activity for testing coordination.
How to play:
Draw a straight "finish line" using masking tape, rope, or chalk.
Ask all team members to cross the finish line at the same time.
Take a picture of the team each time they cross the finish line until you find one that qualifies as a "photo finish."
As easy as it may sound, this game takes an immense level of coordination and strategy to pull off.
9. Sign Teams Up for Cooking Classes
Objective: Inspire teamwork, coordination, and communication
Number of participants: Teams of 4-8 people
Duration: Depends on the course
If your team members love to cook, taking a cooking class together can be so fulfilling. It's a great team building exercise for work that helps bond and learn more about each other better.
These classes don't focus on just an individual task – most of what they will be cooking requires multiple sets of hands, hence teamwork and coordination. Some of the great places to find these opportunities include Groupon and CourseHorse.
10. Team Lunch
Objective: Build relationships; improve team morale
Number of participants: 4+
Duration: 1-2 hours
Team Lunch is one of the simplest, yet most effective team bonding ideas that focuses on strengthening relationships and boosting morale. Employees will have a chance to get out of the office, socialize and enjoy delicious meals, which, of course, is covered by the company.
You can organize team lunch once per month, each time choosing a different venue. Let team members nominate the places to have lunch next.
11. Laser Tag
Objective: Build interpersonal relationships; improve communication and teamwork
Number of participants: 10+
Duration: 1-2 hours
Team building activities should be fun and exciting. Laser Tag is much like paintball, but without the risk of getting injured. It can be played indoors or outdoors, depending on the availability of facilities.
How to play:
Participants will be competing against each other in a series of game modes, including capture the flag, team deathmatch, and so on. Each participant has a weapon and a sensor that's fixed to the player's head or chest.
Players "kill" their opponents by aiming their weapons and hitting the sensors. The winning criteria will differ depending on the game mode.
Team Building Activities for Virtual Teams
Loneliness was reported as the biggest challenge affecting 24 percent of remote workers. The good news is that you can implement these remote team building ideas to encourage bonding and keep employees engaged.
12. Create a Virtual Break Room
Objective: Promote small talk and connections
Number of participants: All
Duration: 30 minutes
One of the things remote workers miss the most is the simple water cooler chats. With the physical element out of the picture, remote workers can use tools like Slack to hold water cooler talks.
Alternatively, you can set aside a few minutes for employees to talk about non-work stuff before jumping into a virtual meeting. They could discuss what they did over the weekend or share their pet stories and hobbies.
Finding time for small talk and casual check-ins goes a long way into growing relationships among team members.
13. Organize an Online Lunch Date
Objective: Allow team members to have fun and socialize
Number of participants: All team members
Duration: 60 minutes
Arrange a video conference once a month where the team links up via video conferencing over lunchtime. Team members can cook something special at home, order online, or go to their favorite café.
Virtual happy hours and virtual coffee chats are great alternatives to this activity.
14. Office Trivia
Objective: Ice breaker, improve cohesiveness among team members
Number of participants: All
Duration: 20 minutes
If you're familiar with the office trivia games, there's a variation for remote workers. Participants need to match the office with its owners based on the pictures provided. Sharing intimate workspaces can help employees open up.
How to play:
Ask participants to take pictures of their home offices and send them in advance. Now, get everyone together in a group chat. Choose one photo at random and share it with the group.
Participants need to guess whose office it belongs to. Keep playing until all team members are covered.
15. Online Games
Objective: Boost team communication; for fun
Number of participants: All
Duration: Depends on the game
Gaming sessions for remote teams are widely available and accessible. They offer the best opportunities for team bonding and camaraderie development. You can pair people up and encourage them to demonstrate clear organization and communication skills.
How to play:
Ask team members to select their favorite games and build a consensus on the ones that will suit everyone. Choose games that no one in the team has played before so that no one is disadvantaged.
Preferably, go for games that demand team efforts, such as Fortnite or Counterstrike. Pair up team members, mixing them up to get a good combination of skill and experience. For instance, you can pair a beginner with an expert player.
16. Virtual Fitness Club
Objective: Help team members achieve fitness goals
Number of Participants: All interested
Duration: Varies
Just because you can't go for a hike or bike ride with colleagues, that doesn't mean you can't achieve your fitness goals together, separately. Strava is a social fitness app that lets you easily track your physical activities – from bike rides to workouts – and share them with workmates.
You can check your personal achievements and keep up with your co-workers' accomplishments. You can also comment and give kudos to team members for hitting their targets.
17. Organize Remote Workshops and Classes
Objective: Professional/personal development, improve team morale
Number of participants: All
Duration: Varies
A whopping 92 percent of employees believe professional development opportunities are a big deal. By hosting fun workshops and classes, you can help team members achieve their personal and professional development goals.
You can partner with several websites that offer online courses. These websites allow individuals to track their progress and compare with teammates. Just be sure to let your team members choose the skills they want to develop.
It shouldn't be mandatory either. It's all about fun and making sure that everyone is willing.
18. True Lies
Objective: Foster relationships, icebreaker for new remote teams
Number of participants: All
Duration: 30 minutes
True Lies is an effective game that helps employees learn more about each other. Participants tell three truths and one lie about themselves, and members have to guess the truths and lies.
You first need to organize a video conference involving your entire team of remote workers. Ask each participant to write three true statements and one false statement about themselves.
Other team members have to guess which statements are true and which one is a lie. Whoever guesses correctly gets one point. In the end, the player who has accumulated the most points wins.
19. Remote Work Stations Tours
Objective: Team bonding, improve communication
Number of participants: All
Duration: 20 minutes
Working alone can get lonely and boring. A great way to cheer up team members is to ask them to do tours of their remote workspace or location over video. Encourage participants to paint a picture of who they are and what defines them.
What are their interests? Do they have any collection of items like Super Mario games or Funko Pop they'd like to show off? Tours not only help employees learn more about each other but also promote bonding.
20. Organize a Virtual Dance Party
Objective: Team bonding, help team members loosen up, build team morale
Number of participants: All
Duration: 15 minutes
Dance Party is one of the best team building ideas you can share with your remote workers. It involves starting off a virtual event or meeting with dance parties. All you have to do is start your video call with dance so that people can participate as they join in.
Use popular tunes like "Shake it Off" by Taylor Swift, "Yeah!" by Usher, or "Girls Just Want to Have Fun" by Cyndi Lauper.
What Is Team Building?
Team building in the workplace is a management technique used to improve the efficiency and performance of workgroups via different activities. These collaborative activities are designed to boost overall motivation and morale while promoting teamwork.
The core concept of team building is to increase cohesiveness and cooperation. Typically, team members engage in games and other physical activities to bond and learn how to work together. Organizing these events is helpful, especially since an Expert Market study reports that companies lose $420,000 annually due to miscommunication.
Team building also involves structured exercises and activities led by a selected team member. Organizations can also hire an external team of experts to facilitate team building.
How Does Team Building Work?
Generally, the team leader or manager will organize and facilitate a series of activities that promote workplace relationships. Employees get to know each other better and see each other in a different light.
This way, they get to form connections and bonds that will bring positive outcomes to a company. Businesses organize fun team building activities to bring desirable change in performance.
Team building exercise for work is crucial for any organization, and among other things can help develop skills like:
Communication
Problem-solving
Planning
Conflict resolution
Creative thinking
A cohesive team will communicate more effectively and collaborate more efficiently. Simply put, a team that works together, performs excellently and succeeds in most areas.
Frequently Asked Questions About Team Building
Q: Why is team building important?
A: Here are some of the top benefits of implementing team building activities in your company:
Build trust
Boost productivity
Promote healthy competition
Help employees acquire new skills
Foster company culture
Unlock leadership potential
Q: What are the 5 stages of team development?
A: Researcher Bruce Tuckman published Tuckman's Stages in 1965. His findings centered around the dynamics of team building. In 1977, Tuckman, together with Mary Ann Jensen (his doctoral student) added a fifth stage to form what we know as the five stages of team development.
These are:
Forming – Teams meet for the first time and are overly polite as they get to know each other. Since everyone is new, team leaders facilitate the introductions and allow members to share their skills and experiences.
Storming – Once team orientation is over, the initial feelings of excitement and politeness have likely worn off. Personalities may clash as team members openly exchange ideas and opinions. Conflicts, disputes, and competition may arise. Colleagues must learn to work together to overcome these challenges.
Norming – Teams have figured out how to cooperate and moved past their previous disputes. While there's a high chance of regressing back to the storming stage, new decision-making skills make conflict resolution easier.
Performing – Team members have grown fully accustomed to each other's strengths and weaknesses, and they trust each other. Performance is at its peak, and they can work efficiently without supervision.
Adjourning – Once the project ends, the team disbands. Members share the failures and successes of the project and discuss what can be improved for future projects. Depending on the level of attachment to each other or the project, team members may mourn when the group dissolves.
Q: What are the 4 types of team building activities?
The four main types of team building activities are:
Communication activities
Problem-solving activities
Trust-building activities
Adaptability and planning activities
Over to You
Team building should motivate people to work together and become better at communicating. It's all about fun and encouraging collaboration rather than competition.
As the team leader, be sure to inspire team members to work toward a common and shared goal or vision. Most importantly, make the team building activities fun – they will have more impact than serious ones.