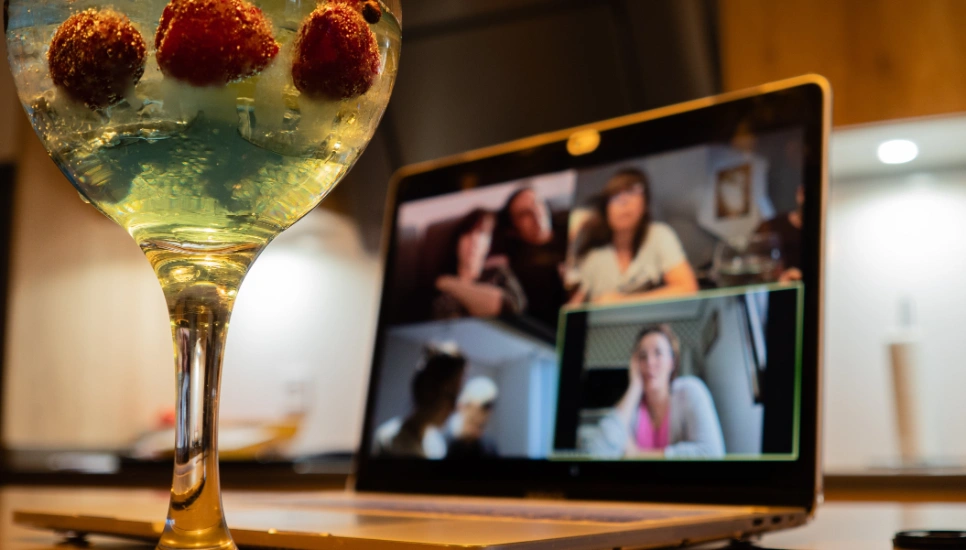 More than anything, retirement parties bring colleagues together to recount their best moments. These special events mark the end of a great career and the beginning of a beautiful, new life.
Even if your coworker or staff is leaving for another company, sending them off in style is an excellent statement of respect. In addition, it shows your organization's employee engagement culture and sense of gratitude.
Now, if party planning isn't your strength, you have a more significant challenge with a remote setup. That said, the tips in this article will make things look easy. You can marry the best parts of your virtual workplace with fun activities to touch up your staff's farewell party.
Now, here are some excellent virtual retirement party ideas that could help with planning your remote party.
1. Fun and Games
You can entertain party guests with exciting games that can get them laughing and interacting.
Unfortunately, while we've gotten used to virtual meetings, a party can be pretty awkward, especially the first time.
Games will go a long way to ease everyone into the party mood. Moreover, since they can be quite easy to execute, you won't have issues setting the theme for your retirement party. We've listed a few games that will spark the festive atmosphere.
2. Heads Up
Charades have become a staple of parties and get-togethers. Heads Up can be seen as the virtual take on the game. Like Charades, Heads Up makes for an excellent virtual party activity.
You can send a link to party participants and divide everyone into groups. Then, during the party, you pick from one of the many crazy categories, including Accents & Impressions, Act It Out, Animals Gone Wild, and a host of others.
Each guesser puts their phone on their forehead with the screen facing the rest of the team. Team members have to illustrate whatever it's on the screen, whether it's a dance, an impression, or an accent. You'll have to tilt your phone forward for every correct guess and backward if you guess wrong.
The game's hilarious categories and content should sway your party attendees with laughter in no time.
3. Organize a Virtual Escape Room
Escape rooms can be fun in a virtual environment if planned correctly. It's even better if you're familiar with the game. The virtual version works like the real thing, only that you and your team members and guests get to experience it through a camera.
You'll get a guide who'll lock themselves in a room. The room will have a camera with good viewing angles to show everyone around. You can then look for clues to help the guide out of the room. The process should span no longer than one hour.
As we mentioned, the escape room could be fun if it's planned well. So, make sure you organize everything with the guide well ahead.
4. Two Truths and a Lie
Two Truths and a Lie is a great bonding game that showcases how well colleagues know each other. The retiree can be put on the spot to share things about themselves, and everyone else gets to play along. They give three statements – one false and two true. Colleagues and family friends can then point out the wrong statement.
You can spice up the game by allotting a prize to whoever wins.
5. Countdown Quiz
Since the whole event is about the retiree, you can create a question-and-answer game centered around them.
Before the party, liaise with the departing employee to curate questions that colleagues should know answers to. These questions can cover their professional and personal lives, including their best and worst moments, milestones, and other info.
Each team member can pick a random number and answer the corresponding question. Share a countdown timer with everyone to moderate the game's duration. Each person should answer the question before their time is up.
You could also divide the party guests into groups to collaborate and answer questions. It could turn out to be another teamwork exercise to improve your staff's chemistry.
6. Help them Curate a Bucket List
There should be a session where everyone suggests what the employee should do in retirement during the party. Make it a fun activity. For example, travel experts in the team should suggest unique destinations to visit. Then, every other person can pitch in bucket-list-worthy areas to spend time in.
7. Surprise Phone-In
Get an unexpected friend, colleague, or family member to join the Zoom party. This could be a retired colleague, a family member who's a continent away, or an old-time friend they've been trying to reconnect with.
This means you have your work cut out for you. However, you should find the perfect surprise guest candidate after speaking to people close to the employee.
Make sure you hash out the details with the guest. Let them know the right time to phone in, and send a reminder during the party to make sure they'll show as planned.
8. Send Out Gifts
The send-off shouldn't end at the virtual party. You can deliver a gift to their home address, from a personalized travel bag to a wine mixer box.
Research and find out things that are important to them. For example, you can get them baseball or basketball tickets to watch their favorite team, arrange a wellness getaway, or sponsor a trip to somewhere on their bucket list.
9. Make a Video Montage
Everyone has to pitch in to make this happen. There are video montage tools like VidDay that allow you to share links to each team member. All they have to do is record their videos and upload them onto the site. They can make their recordings on their mobile phones or PCs.
Each video should be concise, and everyone should say one thing they'll miss about their retiring colleague. It won't be a lot of work once you get the help you need.
10. Photo Slideshow
When done correctly, photo slideshows can evoke emotions. You just have to know the right pictures and background jingle to put in the mix. Include photos from memorable moments, vacations, conferences, and even award ceremonies. Family pictures depicting happy moments can also be thrown in.
Google Slides and other tools can help create a beautiful slideshow.
You should present this toward the end of the party. This way, you'll be ending with an emotional farewell.
11. Dedicate a Blog Post or Internal Newsletter to the Employee
Most organizations send updates to staff through internal newsletters. These updates could include important info about a project going live or holiday breaks and other schedules. It could also be an excellent channel to honor and celebrate a retiree.
If your company runs such a blog, it's one thing to consider doing. Dedicate an entire blog post to the retiree's last day and include their career achievements and contributions to the company. Then, depending on their sense of humor, you can sneak in one or two fun roasts that show them in a good light.
However, don't just make it a bland post filled with texts. Instead, interview other coworkers and get them on the record to say they'll miss about the retiring employee. Then, collate photos to include in the blog, illustrating their best moments at work and home. It's a great way to appreciate the employee and show them their good work was noticed.
It doesn't have to end with the internal newsletter. You can send out a public announcement on your company's social media pages and website. This tells the world how you value each employee and your company's culture.
Why You Should Organize a Virtual Retirement Party
It's worth noting that about 10,000 baby boomers retire every day. The number of people retiring in that age group rose by more than 3 million in 2020. According to the United States Census Bureau, all Baby Boomers will likely leave the workforce by 2030.
Retirement is an extraordinary milestone. It's a watershed moment that drops the curtain on years of accomplishments and hard work. Virtual office or not, spending a few moments to commemorate that landmark with loved ones will be worth it.
You don't have to put that happy ceremony on hold because your organization is running a virtual office. We have to adapt to new working conditions to make sure certain traditions are kept alive. So, even if you have team members scattered across the world, you can organize and execute a memorable send-off.
A virtual party is certainly not the dream for most people. Anyone prefers holding hands, dancing with colleagues, giving toasts, and clinking actual champagne glasses. However, we can't just scrap the sacred retirement ritual because we now work from home.
A virtual retirement party is designed to honor a coworker and crown their career with jewels of recognition and gratitude. Also, what better way to help them transition to a life of leisure than tributes from loved ones and colleagues.
Additionally, it does a lot for your company. It boosts the spirit within the team as everyone works together to make it happen. It's also a statement to other employees that they'll be appreciated as well.
Notes to Help You Organize a Successful Virtual Retirement Party
Understanding the key ingredients of a retirement party is vital. Only the setup is changing here. While you're not catering to a menu and sitting arrangements, you have to plan things. From time management to the event's mood, you have to mix the right components to make it work.
So, here are things you have to keep in mind.
Honor the Retiree
The main reason you're throwing a farewell party is to honor the retiree. So, you have to create the event to show how you appreciate what they've done for the company. Make them understand that everyone recognizes their impact over the years. They should be the VIP and feel nothing less than special.
Indeed, the occasional joke and banter can spice things up. However, it should be to point out their great sides. Those moments where everyone toasts to the leaving employee should be appropriately managed. Make sure it's at the nucleus of the event.
Timing Is Important
One thing about remote work is that your staff could be scattered across different time zones. So, timing is essential for parties. You want to choose a time that's comfortable for everyone. Any schedule well outside working hours is fine. Weekends are an excellent time for these kinds of celebrations. It should happen when no one is too burdened by the goings-on of any project or fighting hard to beat a deadline.
Another important thing is to let your team members know in advance. This way, they can arrange their schedules to fit the party's timeline.
If you're planning a surprise virtual party, others should know well ahead of time. You can discreetly make arrangements with the retiree's family to know the proper schedule or adjust it for them. Telling them you have an important meeting on the date of the party also works.
Also, it would be great if the party coincides with their last day or week of work.
Plan all the Details
You have to plan if you want to make the send-off party everything you've imagined. This means sending out invites, deciding on a theme, and developing an activity catalog in time. Reach out for help well before the party if you feel out of your depth. A well-planned event will always show in its execution and reflects how much you care about the employee.
Be particular about things you want to do and stick to them. Making last-minute changes could derail the whole thing. Also, Zoom meetings are dynamic, and if you're not on a defined path, you could lose control of the event.
Keep it Short
Don't drag the party. The shorter the event, the more memorable it'll be. What's more, packing all those fun moments in a short time frame is enough for them to remember the event for the rest of their life.
That said, don't sacrifice essential bits for time. Having a detailed and ordered program will help. Try to allocate a fixed period for each event. For example, you can limit tributes to two minutes per person, and games should have time slots too.
The party should have a moderator or MC of sorts to execute the proceedings and stick to time.
Invite Close Friends and Family Members
The virtual ceremony shouldn't be limited to colleagues. Instead, invite the retiring staff's friends and family members to boost the social atmosphere.
While you're at it, remember you're not in a traditional setting. Zoom calls can get out of hand fast if they get too crowded. So, try to limit the family and friends to their inner circle.
If you're planning a surprise virtual party, your staff's family members should be in on the scheme. Notify them in time and arrange all the proceedings to make things smooth. Those without access to a device can join in after the party starts.
Maintain a Festive Mood
Try to maintain a cheerful and festive atmosphere throughout the occasion. Let every know before the time that it's a happy event.
Indeed, it's sad to see employees go, especially when they leave for another company or start their brand. That said, the party should be merry and all about their positive impact on the firm throughout their stay.
We're humans, and sober retrospection might creep in during tributes. However, as a moderator, you should be able to lighten the mood again during these instances.
Make it a Surprise
Surprise parties are usually challenging to execute in traditional settings. However, they can be pretty easy to plan in a virtual environment. You don't have to tip-toe around the employee to make clandestine arrangements with other colleagues. Moreover, since you're reaching everyone on the phone, they won't notice how you're suddenly buddying up with unlikely people.
The trick is planning ahead of time. You still have to collect information about them subtly without letting on your little secret. Then, you can get their family members in on the scheme as well. This way, it's a full-fledged fun party.
Executing the surprise should be a walk in the park. Just tell them in time about an important meeting. It could be to hash out their retirement package one last time. This way, they won't want to miss it for the world.
Final Words
Remember that planning is vital. You should also drop your work heart for this one. All the bureaucracies of office meetings aren't needed here. Start on a fun note and ensure you spend the day making the employee the happiest they've ever been.