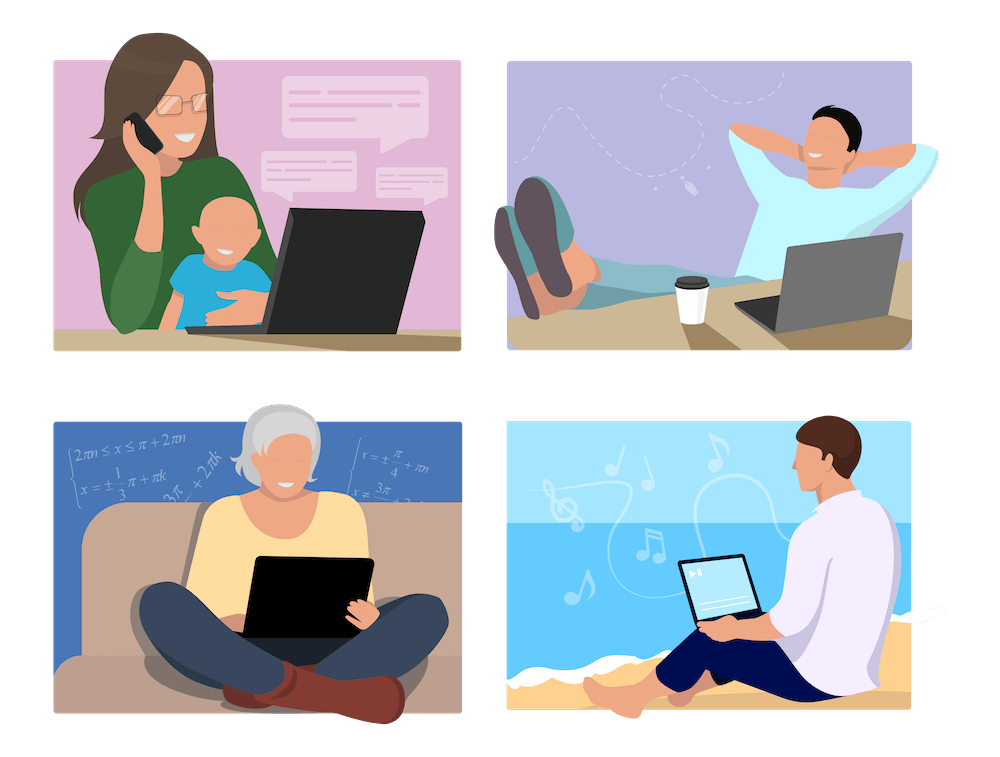 We're well a year into working from home, and many of us have realized the benefits of remote work. However, you probably got the memo from the company that everyone's going back to the office. Now, you're seriously thinking of moving on and finding an organization that will allow permanent remote work.
Remote Work Is Not for Everyone
If you thrive in an office culture that's full of social interaction, remote work will be particularly challenging for you. In 2018, human resource consulting company Randstad conducted a survey and found that 65% of employees aged 18 to 24 prefer a conventional office setup. High-profile companies like Google, Microsoft, and Apple led the remote work movement during the height of the pandemic. However, these organizations have recently announced that they are sending their employees back to the office and adopting a hybrid work model.
The key takeaway here is that remote work is not sustainable for certain people and particular work environments. Moreover, not everyone lives in spacious apartments where they can have an isolated home office—away from the distractions of chores, pets, and kids. In reality, very few people can maintain a work-life balance and stay sane in this environment.
You Must Have the Skills Needed to Work From Home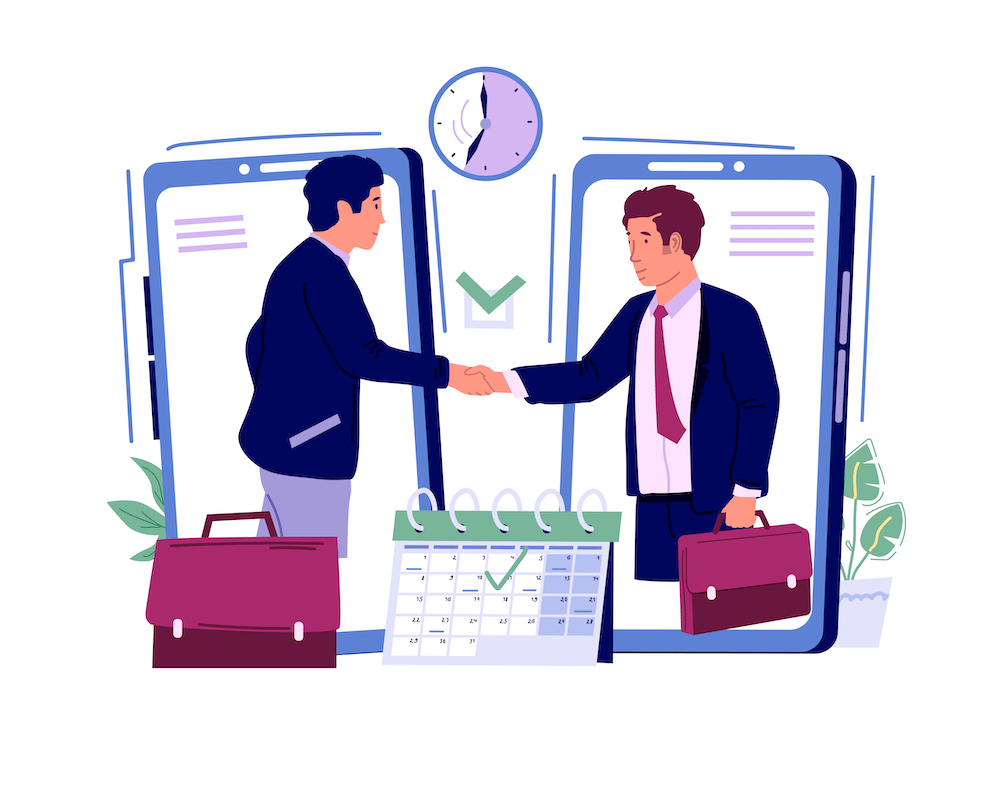 With remote work, there are no face-to-face interactions, which means monitoring employee productivity can be even more challenging. Meanwhile, people will have a hard time separating work and home life. Even documentation becomes more difficult to maintain. Now, if you are intent on securing a role that offers a permanent work-from-home setup, you'll need the best skills for remote work.
What Are the Qualities You'll Need?
Several companies were surveyed about the qualities they required from aspiring remote workers. For instance, recruitment platform Workable asked their employees what skills they had acquired or developed while fully working from home. Time management takes the top spot, while effective communication, adaptability, and other strengths follow.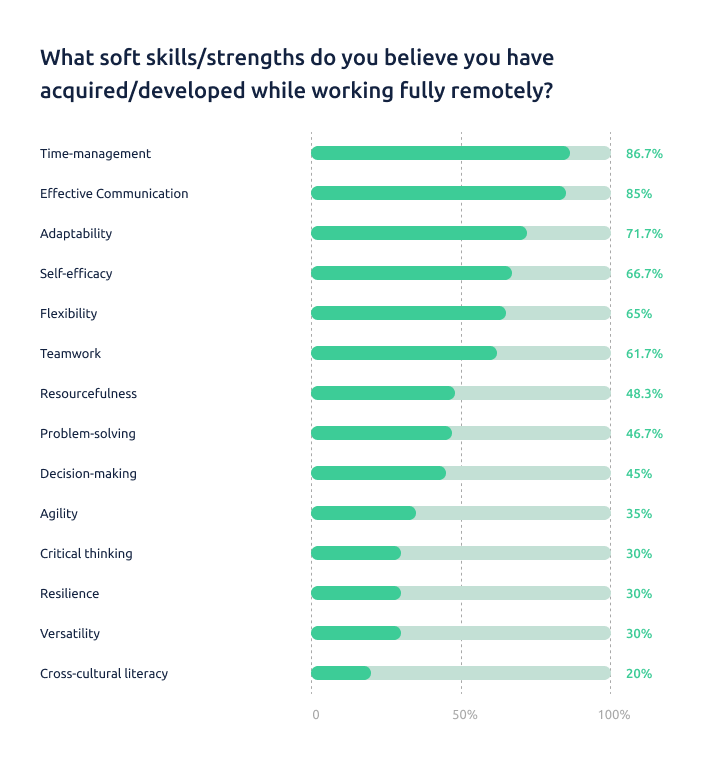 Let's take a closer look at these qualities and discuss other skills that you'll need for remote work.
Time Management
One of the invaluable skills you must have—whether working in-office or remotely—is the ability to manage your time. When you're working from the comfort of your home, your colleagues or manager won't be looking over your shoulder to keep an eye on your productivity. Moreover, you won't have that lingering feeling that your manager could pass by at any moment. Staying focused on your work will be totally up to you. You will be accountable for submitting all the tasks assigned to you.
Now, if you find time management a bit challenging, we recommend using apps that can monitor and boost your productivity. Identify your peak hours and try time blocking—dedicate chunks of time for focused work. You can also work in sprints while taking short breaks in between.
Pro Tip: Use a Reliable Time Tracker
One of the best ways to discover your peak productive hours is by using a time tracker like Traqq. This tool monitors how you work and gives you a visual representation of your productivity. When you go to the dashboard, you will see periods of high activity levels in green. Meanwhile, normal activity will be yellow, and low activity will be red. This way, you will know the best times to schedule cognitive-intensive tasks.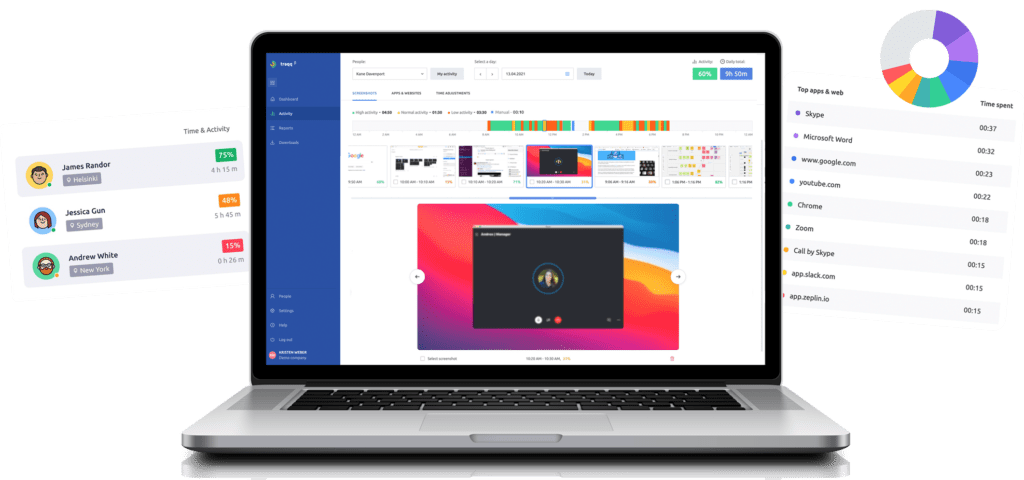 The best part about Traqq is that it offers more than just productivity monitoring. With this app, you can also identify what's wasting your time. It keeps track of the websites you visit and the programs you use. On the dashboard, you will see what's eating the biggest chunks of your time. This way, you will know if you're spending time on unproductive activities. What's more, you can download and access all Traqq's features for free.
Effective Communication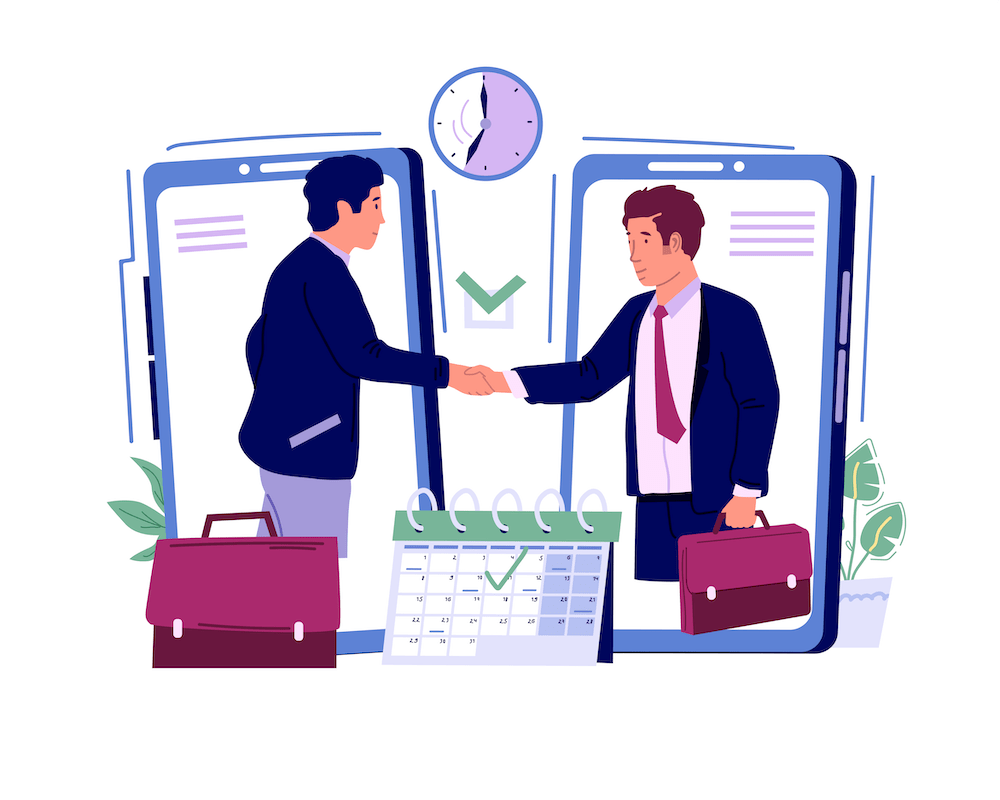 An Educational Testing Service study reveals that employers look for impeccable communication, collaboration, and problem-solving skills in job candidates. So, if you want to gain a competitive edge in today's global economy, you need to possess these qualities. After all, when you're working remotely, you need to stay in touch with your co-workers. Whether it's via online chat, email, video calls, or text messages, it's crucial for you to communicate with your team.
Make sure you know the most common tools used for collaboration and communication. When it comes to contacting your potential employer, you must be willing to conduct the interview on whatever platform they prefer. Of course, this skill goes beyond being tech-savvy—you also need to be responsive. Promptly reply to messages and make sure to check your email before sending it. Your message must be concise, clear, and grammatically correct.
Adaptability
When working remotely, you will discover that things change faster. You need to have the ability to adapt to changes and navigate a dynamic environment. For instance, according to Buffer's 2020 State of Remote Work report, distractions at home are among the biggest challenges of remote work. So, this means that you need to learn to adjust to domestic interruptions and find ways to keep them at bay.
Being adaptable may seem like a simple skill to develop. However, you'll need the right mindset and discipline to be able to achieve it. You can have a foolproof work-from-home routine, but you still need to ensure that you are flexible enough to adjust to unprecedented events.
Stress Management
Compared to employees who work in the office all the time, telecommuters and remote workers experience higher levels of stress. This is evident from the 2015 European Working Conditions Survey:
The same research reveals that working from home affects an employee's mental health. As such, if you want to thrive as a remote worker, you need to develop healthy coping strategies. You must be able to survive amidst the stressful nature of balancing home and work life.
Problem-Solving
When it comes to solving critical business issues, you need to know how to work collaboratively with your team. Regardless of the industry you're in, you can only be successful if you have collaborative problem-solving skills. Of course, you'll inevitably work with different sorts of personalities and skills. However, you must learn to draw from each other's strengths.
Now, this can be difficult to do when your colleagues are in different locations. In this case, your manager must set aside time for discussions and brainstorming. This way, you can come up with proactive solutions to challenges. Even when you're miles and miles away from your coworkers, you can still stay on the same page as long as you know how to collaborate.
Tech Savvy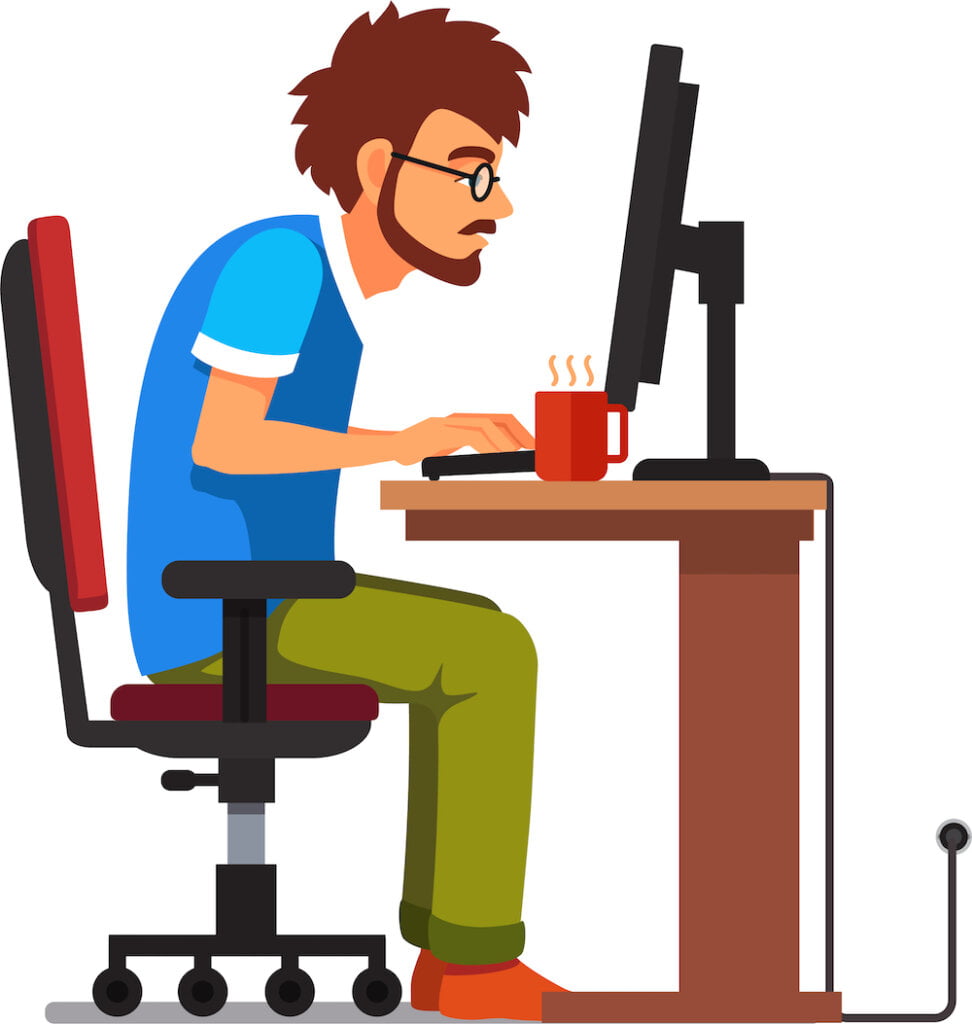 Working remotely also requires you to be comfortable with various software and hardware. Even if you don't hold a technical job, you still need to know how to manage by yourself without an IT professional within your reach. These days, being adept at CSS, WordPress, and HTML can help you gain a competitive edge. However, those skills are not entirely necessary. As long as you know how to troubleshoot basic network issues and you have a backup internet connection, you'll survive in remote work.
How Do You Cultivate These Skills?
Remember that professional skills are not innate—they are acquired through practice and experience. Here are some ways to develop remote working skills:
Respect Your Limits
You may be pressured to adapt to the current "always on" culture. However, it's unhealthy to stay accessible 24/7. If you want to thrive in a remote work environment, you need to learn to set boundaries and compartmentalize.
Never Stop Learning
Having a growth mindset is another way to cultivate the skills you need to become a successful remote worker. We cannot deny the fact that it's a dog-eat-dog world out there. So, you must be adaptable, and even if you fail, never stop learning. These days, educational materials are accessible and affordable.
Protect Your Mental Health
The thing about burnout is that when you start feeling its effects, it's likely too late to reverse it. So, learn to be mindful when you're getting stretched too thin. Remember to talk issues out with your loved ones or seek professional help. Indeed, you must keep up with this stressful and dynamic world we live in. However, don't forget to protect your mental health.
Conclusion
Remote workers are a different breed of employees. If you want to become a successful work-from-home employee, learn how to cultivate the skills we mentioned in this article. Of course, don't forget to use a tool like Traqq to become more efficient at your job.