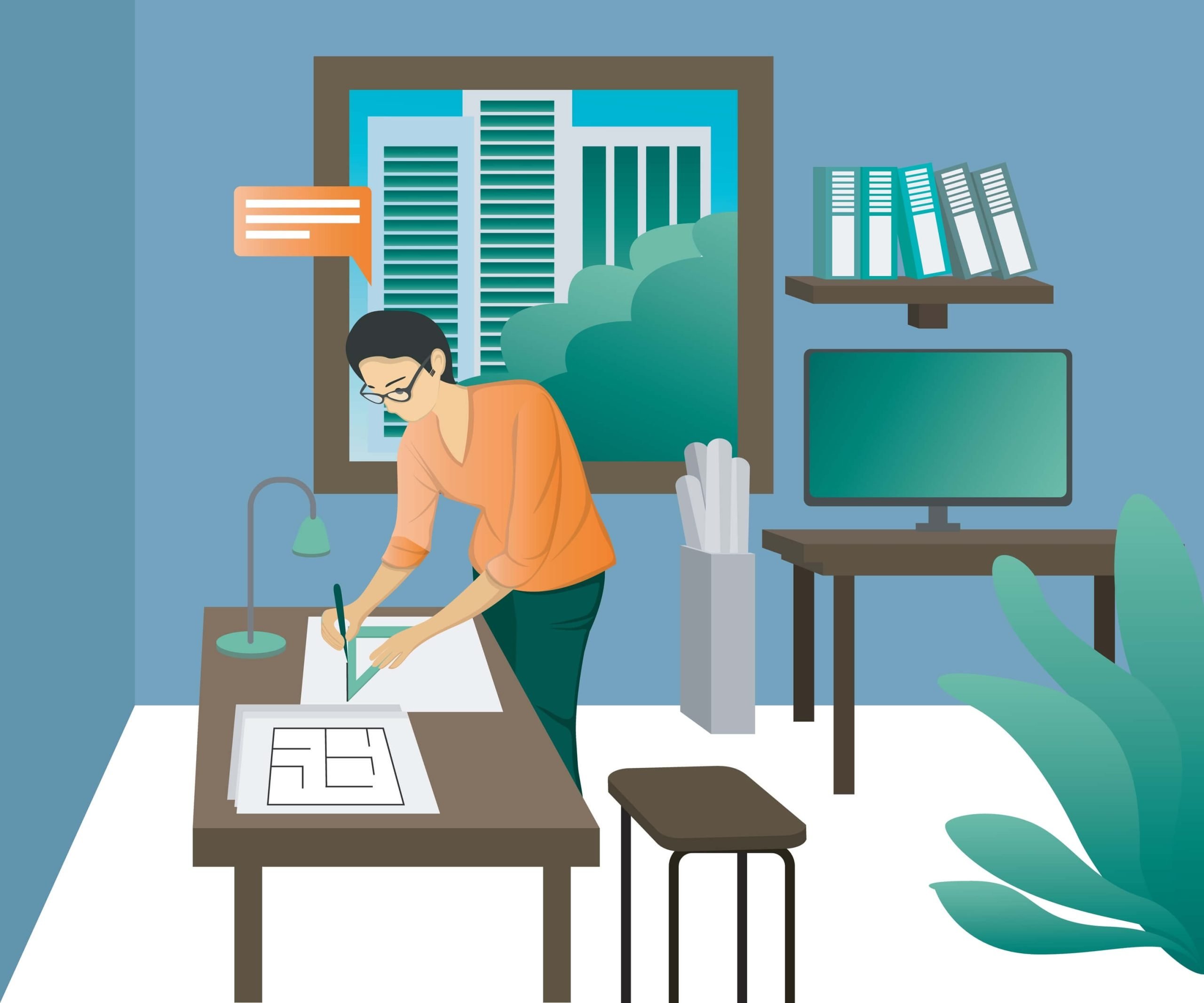 Architects juggle complex designs, meticulous planning, and client expectations, all within tight deadlines. As the demands of the profession continue to grow, harnessing time effectively becomes paramount. This is why time tracking software for architects has become an indispensable tool, revolutionizing the way they manage projects, streamline workflows, and maintain a competitive edge in the industry.
urs help you optimize your workflow and manage your time efficiently as an architect.
Time Tracking Software for Architects: Key Features to Look For
When selecting time tracking software for architects, it's essential to choose a solution that aligns with the unique needs and demands of architectural projects. Here are key features to look for in time tracking software:
The software should allow architects to track time at both the task and project levels. This granularity enables precise tracking of time spent on various design stages, client meetings, site visits, and administrative tasks.
Look for software that integrates time tracking with project management features. This allows architects to assign tasks, set deadlines, collaborate with team members, and monitor project progress alongside time tracking.
The software should be easy to navigate and use, even for those who are not tech-savvy. Intuitive interfaces streamline the time tracking process and reduce the learning curve.
Architects are often on the move. A mobile app version of the software allows for convenient time tracking from smartphones and tablets, regardless of location.
This feature can be a game-changer. Automatic time tracking uses algorithms to capture time spent on various tasks based on user behavior, reducing the need for manual input.
Robust reporting features enable architects to generate detailed reports on time spent, project progress, and team performance. Customizable templates help present data in a way that's relevant to clients and stakeholders.
Look for software that facilitates communication within teams. Features like comments, chat, and notifications help streamline collaboration and keep everyone on the same page.
The software should allow architects to translate tracked time into accurate invoices for clients. Integrations with invoicing tools can further simplify this process.
Given the sensitive nature of architectural projects, data security is crucial. Ensure the software provides encryption and follows industry best practices for protecting user data.
As architectural projects vary widely in size and complexity, the software should be flexible enough to accommodate different workflows and be scalable as the firm grows.
Look for software that offers a trial period. This allows architects to test its features and compatibility with their work processes before committing.
Best Time Tracking Software for Architects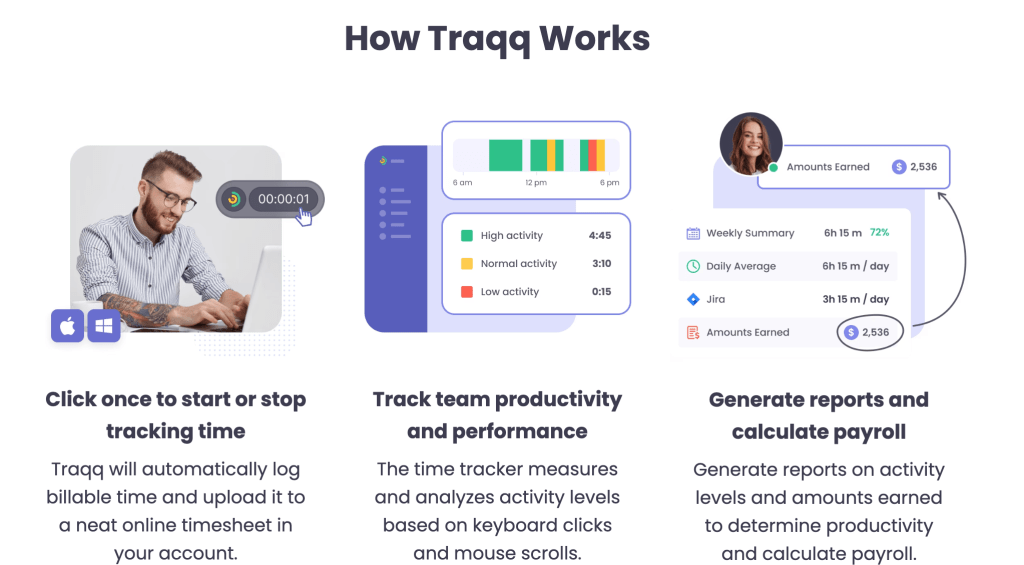 Traqq is a time tracking software designed with a focus on productivity and activity monitoring. It offers automatic time tracking by monitoring your computer usage and active applications. For architects, Traqq can be especially useful in gaining insights into how time is spent on various design software, drafting tools, and other applications crucial to the architectural workflow. It provides detailed reports that help architects understand where their time is being invested and identify opportunities for optimization.
Traqq's real-time activity monitoring also assists architects in staying accountable and productive during work hours. With its simple user interface and emphasis on privacy, Traqq is a reliable choice for architects seeking a straightforward yet effective time tracking solution that seamlessly integrates with their daily work routine.
Core features:
automatic time tracking
project and task tracking
screenshots and videos
detailed reports and activity levels
time tracking for remote teams
idle time monitoring
online and offline tracking
tracking on multiple devices
Pricing:
free for small teams (up to 3 people) with full functionality
$6 per user per month (up to 100 people)
Toggl

Toggl is a popular and user-friendly time tracking software that offers a simple interface for tracking time on tasks and projects. It provides both manual and automatic time tracking options, making it versatile for architects who need to switch between various design phases and project tasks.
Toggl's ability to integrate with project management tools and generate customizable reports makes it an excellent choice for architects seeking efficient project monitoring and client communication.
Core features:
task and project management
simple time tracking
Pomodoro timer
to-do lists
calendar integration
shareable reports and insights
cross-platform
Pricing:
PRO Plan (focused on time tracking): $10 per user per month
PRO PLUS Plan: $20 per user per month
BUSINESS Plan: $59 per user per month
Harvest

Harvest is known for its comprehensive time tracking and invoicing capabilities. Architects can easily track time spent on different projects and tasks, generate professional invoices based on tracked time, and even integrate expense tracking.
Harvest's intuitive reporting features help architects analyze their work patterns and make informed decisions about resource allocation and project management strategies.
Core Features:
time and expense tracking
project management
team collaboration
integrations
mobile app
one-click timesheets
integration with Asana, JIRA, Basecamp, GitHub and Quickbooks
Pricing:
Solo Plan (accommodating up to 3 users): 1st user at $12/month + $10/month for each additional use
Basic Plan (for 5 to 9 users): 1st 5 users at $49/month + $10/month for each additional user
Business Plan (designed for 10+ users): 1st 10 users at $99/month + $10/month for each additional user
Clockify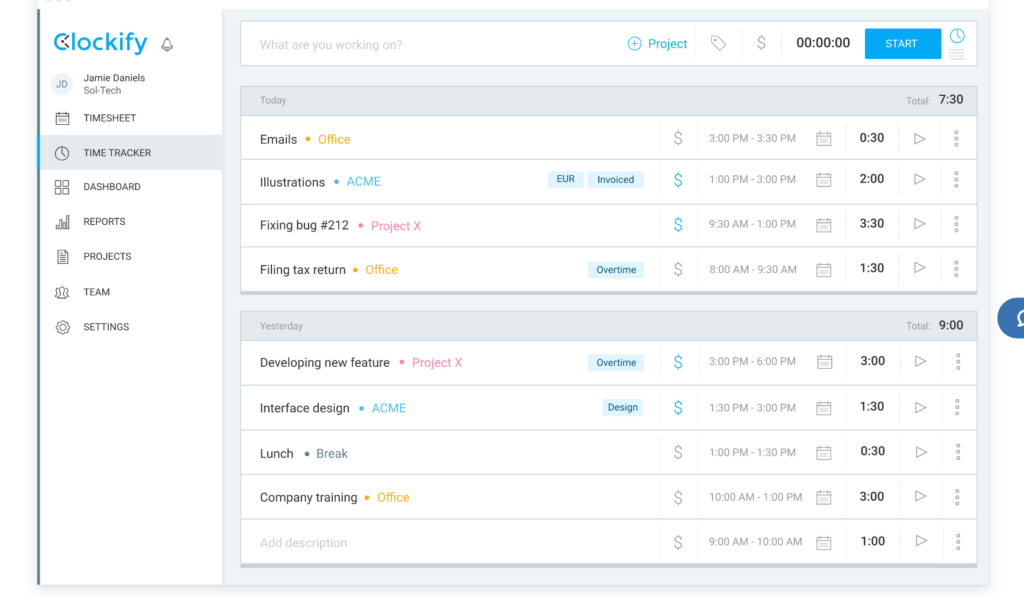 Clockify offers both simple time tracking and more advanced features, such as team collaboration and client billing. Architects can categorize tasks, projects, and clients to gain insights into where their time is being spent. With its free plan and affordable paid options, Clockify is a budget-friendly choice for individual architects and small firms looking to streamline their time management without compromising on features.
Core Features:
time tracking and reports
project and task management
time entry editing
mobile app
billing and invoicing
integrations with Trello, Asana, Slack, and more
Pricing:
Basic (administration) – $3.99
Standard (timesheeting and billing) – $5.49
Pro (productivity and profit) – $7.99
Enterprise (control and security) – $11.99
RescueTime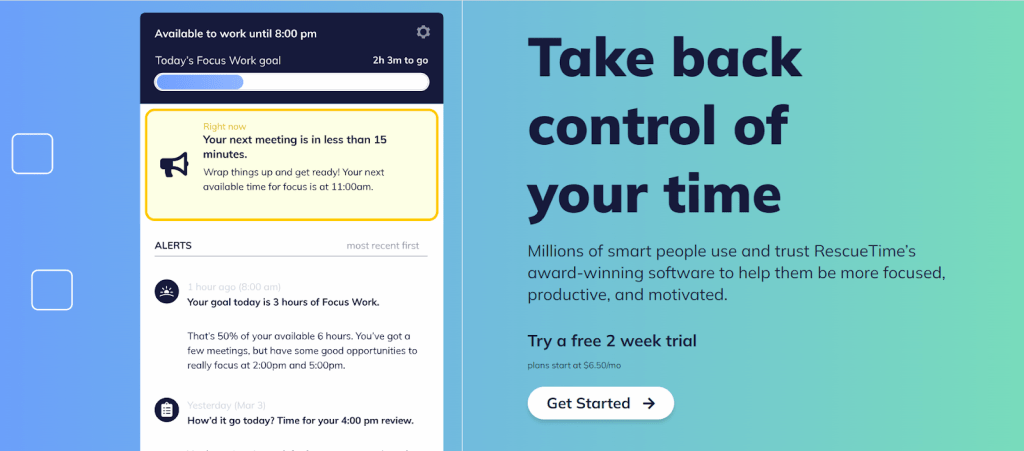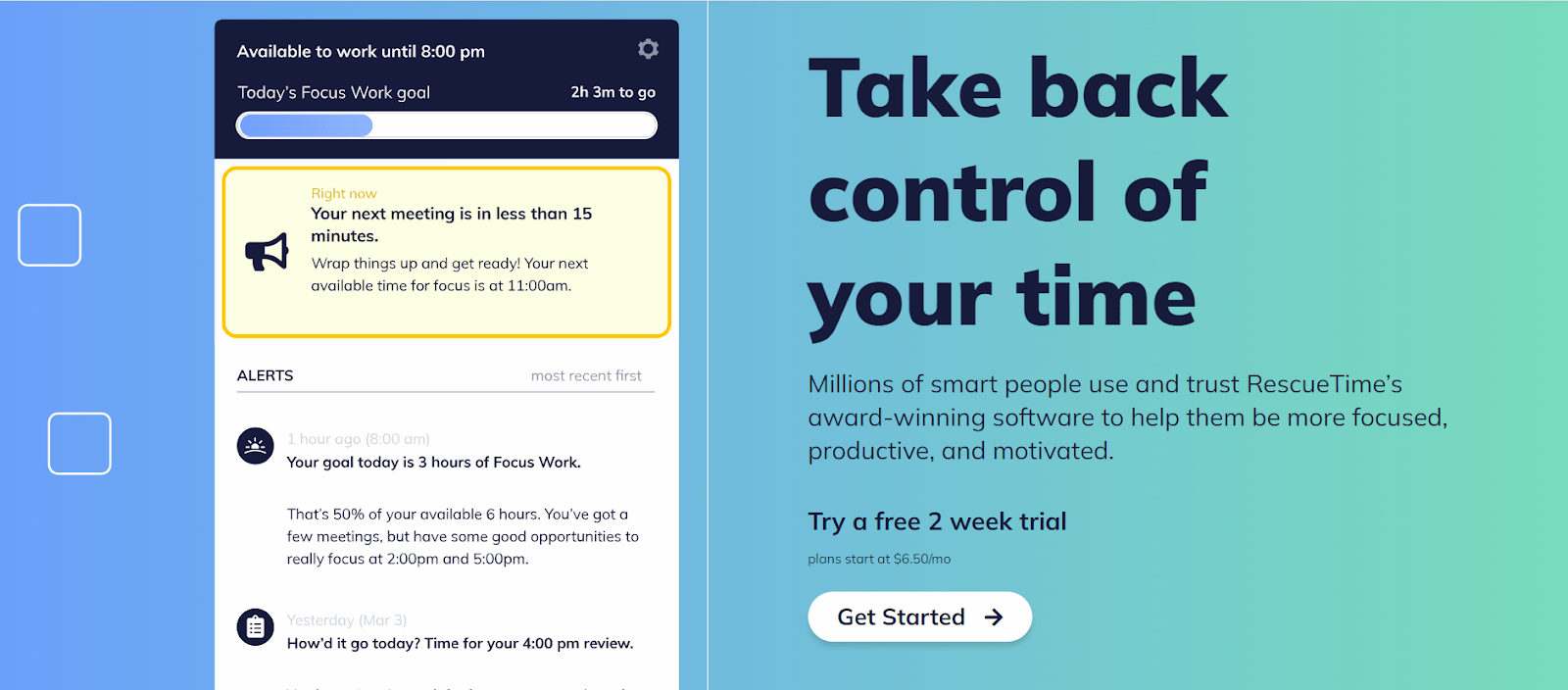 RescueTime focuses on automatic time tracking by monitoring your computer and app usage. This feature is particularly beneficial for architects who want to gain a comprehensive view of their work habits without manual input. By providing insights into productivity patterns and identifying time-wasting activities,
RescueTime empowers architects to optimize their daily routines and enhance overall efficiency.
Core Features:
time tracking and logging
detailed reports and analytics
category and activity tracking
distraction blocking + focus boosting
integrations with Integrated with Evernote, Slack, Google calendar, etc.
detailed reports with visualization
Pricing:
RescueTime Lite – free
RescueTime – $12 per user per month
Hubstaff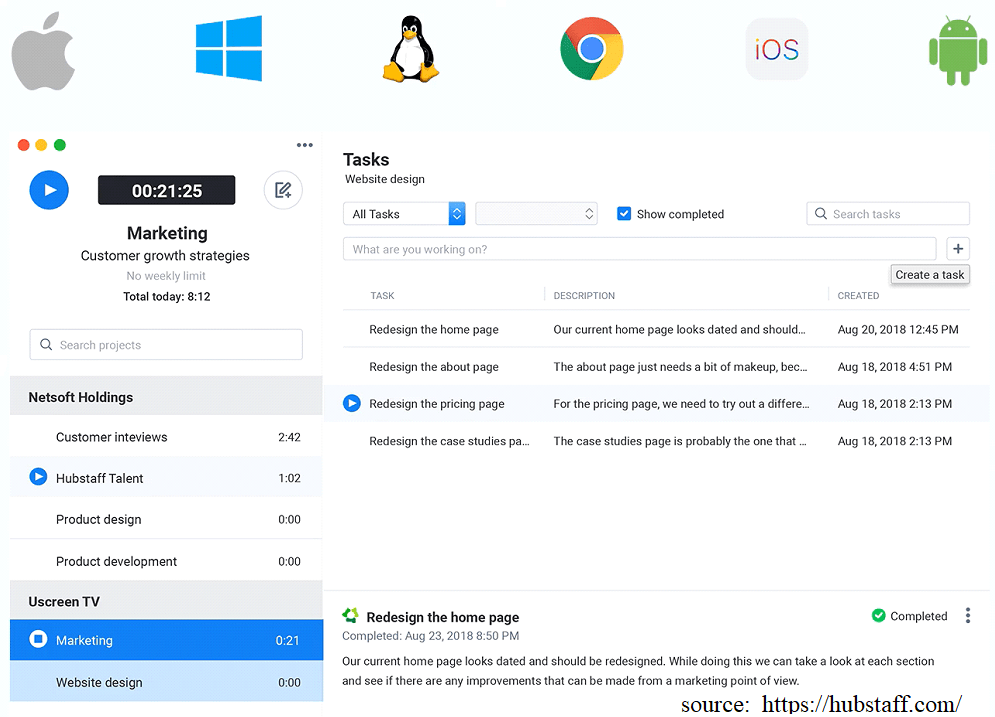 Hubstaff is designed for remote work and team collaboration, making it suitable for architectural firms with dispersed teams or freelance architects collaborating on projects. It offers time tracking, activity monitoring, and GPS-based tracking for on-site work.
Architects can use Hubstaff to not only track time but also ensure effective communication, task allocation, and productivity monitoring within their teams.
Core features:
time tracking with screenshots
simplified client billing
comprehensive team reports
customizable email reports
online timesheets
achievement badges
payroll and invoicing
expense tracking
GPS locations
Pricing:
Basic Plan: $49/month for up to 10 users
Premium Plan: $99/month for up to 10 users ($0.99 per additional user)
Monday.com

While primarily known as a project management platform, Monday.com integrates time tracking features that architects can leverage to monitor project progress and time spent on different tasks. With visual boards, automation, and collaboration tools, architects can use Monday.com to manage tasks, track time, and foster seamless communication among team members.
`Core features:
highly customizable project management
rule-based automation
200 + project templates
quick to set up
option to add budgeting functionality
live chat feature
Pricing:
Free for up to 2 seats
Basic – €8 per user per month
Standard – €10 per user per month
Pro – €19 per user per month
Enterprise – custom plan
ActiveCollab
ActiveCollab is a user-friendly time tracking software that architects can use to monitor and log their project hours. It helps specialists stay organized, bill clients accurately, and manage their workload effectively. With its straightforward interface and project integration features, ActiveCollab simplifies time tracking for architects, ensuring they can focus on their projects with ease.
Core features:
advanced time tracking and billing
task management with multiple contributors and deadlines
Gantt-style project planning
collaborative team calendar
document collaboration
Pricing:
5 Members: $25 per month
15 Members: $49 per month
30 Members: $99 per month
60 Members: $199 per month
Unlimited Members: $299 per month
Bill4Time
Bill4Time is an all-encompassing cloud-based time billing system that simplifies your billing procedures, boosts revenue recovery, and allows you to effortlessly oversee time and expenses from anywhere.
Core features:
tracking for billable and non-billable hours
daily/weekly/monthly summaries
client portal
invoicing and online payments
client management
analytics and reports
Pricing:
Pro Plan (small teams): $30 per user per month + $10 for each additional user
Enterprise Plan (large teams): $75 per user per month + $20 for each additional user
TimeCamp
Timecamp leverages robust time tracking features to enhance billing processes, evaluate project profitability, and simplify monthly employee payments. With its efficient time tracking capabilities, you can accurately invoice clients based on hours worked, ensuring you're fairly compensated for your services. Additionally, Timecamp provides valuable insights into project profitability.
Core features:
automatic time tracking
integration with payment gateways
project budget management
reporting features
mobile and desktop app
Pricing:
Free Solo Plan (for a single user)
Basic Plan (ideal for small agencies): $6 per user per month
Pro Plan (suited for medium and large companies): $9 per user per month
Everhour
Everhour is a versatile time tracking solution designed to seamlessly integrate with various task management tools. It caters to a wide range of businesses, making it an ideal choice for freelancers, small, medium, and large teams looking to efficiently monitor their time and productivity.
Core features:
automatic time tracking
budgets and billing
visual planning
expense management
simple invoicing
Pricing:
Free for up to 5 users
Lite: $5 per user per month
Team $8.50 per user per month
Timely
Timely is a time management tool that simplifies timesheet management by automating the process, enabling users to identify time-consuming tasks, distribute workloads effectively, and maintain comprehensive records of organizational activities, all without the need for manual timesheet creation.
Core features:
easy time tracking
automatic timesheets
scheduler feature
team dashboards
auto reminders
Pricing:
Moonlight: $7 per user per month with access to 5 active projects
Freelancer: $14 per user per month with access to 25 active projects
Professional: $23 per user per month with access to unlimited active projects
Growth: $99 per user per month for up to 50 active projects and five seats
Business: $299 per user per month for unlimited active projects
Deltek Ajera
Deltek Ajera is a specialized software solution originally crafted in 2004 to cater specifically to the unique needs of architecture and engineering firms. While it boasts a rich history of serving these industries, it's worth noting that due to its early development, some of its tools may now appear outdated or less user-friendly in comparison to more modern software options. However, it remains a valuable choice for businesses seeking software that bridges the gap between project management and accounting within the architecture and engineering sectors.
Core features:
time tracking + project management
real-time dashboards
accounting and billing
mobile app
workload forecasts
Pricing:
Deltek Ajera does not disclose its pricing publicly. To obtain precise pricing information, you'll need to contact the company directly for a customized quote.
Each of these time tracking software options caters to the specific needs of architects by offering features that enhance project management, resource allocation, client communication, and personal productivity. The choice ultimately depends on an architect's workflow, preferences, and specific project requirements.
Benefits of Time Tracking for Architects
Time tracking software provides architects with a systematic approach to project management, enabling them to allocate resources, set milestones, and meet deadlines more efficiently.
Let's say you're working on a residential project. The project involves several tasks, such as conceptual design, client meetings, drafting floor plans, and preparing construction documents.
Conceptual Design: Estimated Hours: 10
Client Meetings: Estimated Hours: 8
Drafting Floor Plans: Estimated Hours: 20
Preparing Construction Documents: Estimated Hours: 25
During the week:
On Monday, you spend 2 hours on conceptual design.
On Tuesday, you have a client meeting that takes 1.5 hours.
On Wednesday, you dedicate 4 hours to drafting floor plans.
On Thursday, you spend 1 hour finalizing construction documents.
On Friday, you allocate 2 hours to client communication and revisions.
At the end of the week, you log:
Conceptual Design: 2 hours
Client Meetings: 1.5 hours
Drafting Floor Plans: 4 hours
Preparing Construction Documents: 1 hour
Client Communication and Revisions: 2 hours
Total logged hours for the week: 10.5 hours
In your weekly review, you realize you've met the estimated hours for Conceptual Design and Client Meetings, but you've spent more time than expected on Drafting Floor Plans. This prompts you to adjust your future time allocation accordingly.
How Architects Track Time
Architects can employ a variety of methods and tools to track time effectively.
Manual Time Sheets: Architects may use paper-based or digital time sheets to manually record the time spent on different tasks and projects. This approach requires disciplined logging and can be prone to errors and inaccuracies.
Spreadsheet Software: Architects often utilize spreadsheet software like Microsoft Excel or Google Sheets to create custom time tracking templates. They can input project details, task descriptions, and time spent, allowing for easy data analysis and reporting.
Project Management Software: Many architects incorporate project management tools that include time tracking features. These platforms enable architects to allocate time to specific tasks, monitor progress, and generate reports. Examples include Trello, Asana, and Basecamp.
You may find this interesting: Trello vs Asana: Which Is the Best Project Management Software?
Integrations: Many architects integrate time tracking with other tools they use, such as calendar apps, project management platforms, and communication tools. This integration streamlines the time tracking process by automatically recording time spent on relevant tasks.
GPS and Location Tracking: For architects working on-site, GPS and location tracking can be utilized to monitor time spent at different project locations. This is particularly useful for accurately billing clients or tracking remote work.
Biometric Systems: In some larger architectural firms, biometric systems like fingerprint or facial recognition may be used to track employee attendance and time spent on different projects.
Time Tracking Software: One of the best ways to keep track of working hours is using dedicated time tracking software that offers advanced features like automatic time capture, integration with other tools, and detailed reporting. Apps like Traqq, Toggl, Harvest, and Clockify are designed specifically for efficient time tracking.
Conclusion
In the realm where design meets deadlines, time tracking software becomes an essential tool for architects. By harnessing these tools, architects streamline project management, optimize resource allocation, and foster transparent communication with clients. Precise time tracking enables architects to elevate productivity, enhance collaboration, and ensure efficient progress. As the architectural field continues to evolve, time tracking software stands as a pivotal asset, guiding architects toward improved project outcomes and personal growth. With a plethora of options available, architects can choose software tailored to their workflows, ensuring they remain at the forefront of creative innovation and professional success.
FAQ
Is There Free Time Tracking Software for Architects?
Yes, there are several free time tracking software options available for architects. Tools like Traqq, Clockify, and Hubstaff offer free plans with basic time tracking features. These plans are often suitable for individual architects or small firms looking to get started with time tracking without committing to a paid subscription.