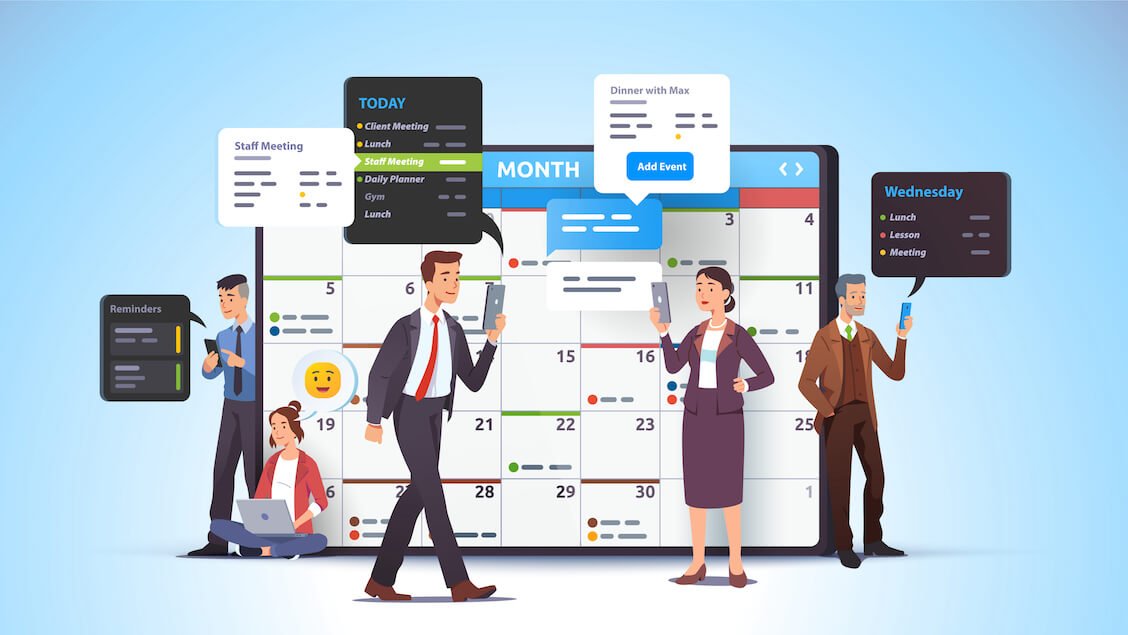 With technology advancing every day, it's becoming easier and more convenient to keep track of your daily tasks and appointments. According to a survey by ECAL, over 70% of adults rely on digital calendars to manage their routine.
Digital planners have taken the place of traditional paper planners, providing a more eco-friendly and efficient way of planning and organizing.
From features to design, we'll cover everything you need to know to find the perfect digital planner for your needs. Get ready to say goodbye to cluttered schedules and hello to a more organized life!
What Is A Digital Planner App?
A digital planner app is a software tool designed to help individuals plan and organize their daily tasks, appointments, and schedules.
These apps are available on smartphones, tablets, and computers and offer a range of features including task lists, calendars, reminders, and notes. Some digital planner apps also allow users to set goals, track their progress, and even integrate with other apps such as email and social media.
Top 10 Digital Planners for 2023
Here are some of the best digital planners you can download in 2023:
1. Best digital planner for iPhone: Fantastical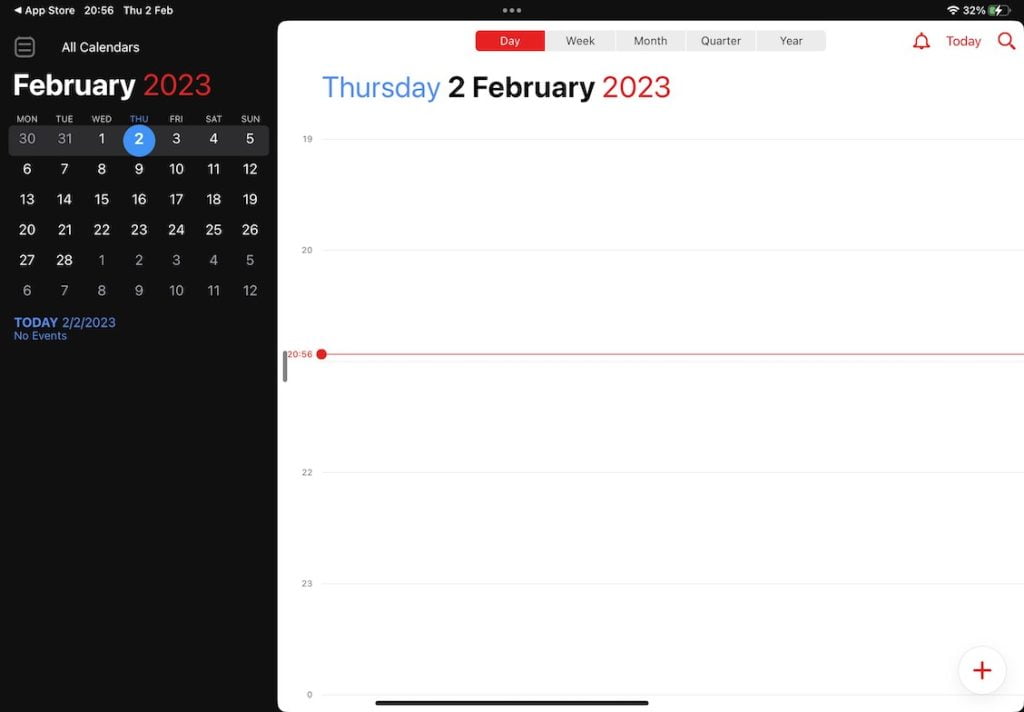 Fantastical, as its name suggests, is an exceptional productivity app in the iOS environment. Its beautiful and seamless navigation has made it the best choice for the iPhone. In 2016, it received the Apple Design Award, and in 2020, it was named Mac App of the Year. Additionally, the app offers seamless integration across Mac, iPhone, iPad, and Apple Watch.
Highlights:
Award-winning design
Outstanding user interface
Customizable interest calendars
Daily, weekly, monthly, and quarterly overviews
2. Best digital planner for iPad: Good Notes 5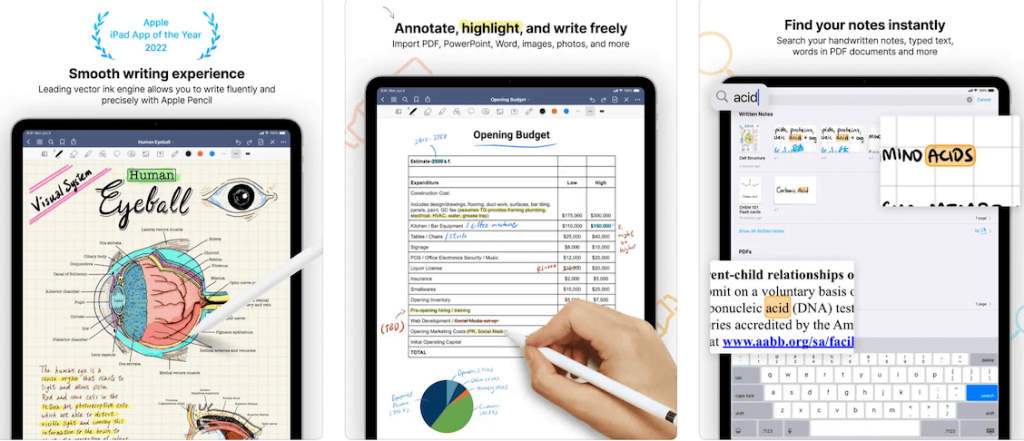 Goo Notes 5 was chosen as the best "Apple iPad App of the Year 2022" and is a top choice for a digital planner on iPad. With its intuitive and user-friendly interface, it provides a seamless experience for taking notes, organizing your schedule, and creating to-do lists. The app supports handwriting, typing, and image insertion, allowing you to customize your notes however you like.
Good Notes 5 also integrates with cloud services like iCloud and Dropbox, ensuring that your data is always accessible and secure. With its powerful features and ease of use, Good Notes 5 is a standout choice for anyone looking for a digital planner on iPad.
Highlights:
Personalization with colors, font style, and layout
Cloud synchronization with automatic updates
Task management with reminders
Note-taking: notes, ideas, and meeting minutes in one place
Integrations with your calendar, email, and other apps
3. Best digital planner for Android: TimeTune

TimeTune is a daily planner and time-blocking app for personal and professional tasks. It follows the timeboxing method and provides insights on your activities with weekly statistics.
The app's intuitive interface and customizable features make it easy to fit into anyone's schedule, whether you're a student, freelancer, or professional. With TimeTune, users can take control of their time, stay focused, and achieve their objectives with greater ease and efficiency.
Highlights:
Custom reminders with customizable sounds and vibrations
Clear insights and statistics
Built on time-boxing method
Popular among people with ADHD
4. Best digital planner for Mac: Structured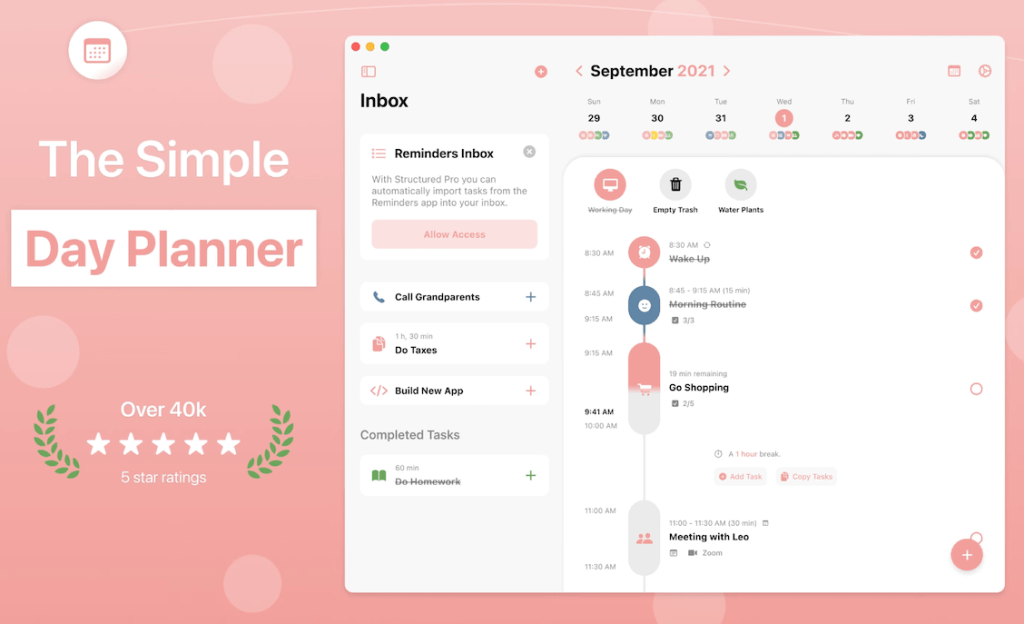 Structured is a visually-appealing digital planner that combines calendars and to-do lists in a user-friendly interface. With just a few taps, you can plan out your daily tasks and track your progress as you complete each one. The visual timeline helps keep you focused and on track, while suggested icons and customizable colors simplify the organization of work, school, and personal tasks.
Additionally, Structured supports almost 30 languages, making it a great option for non-English speakers.
Highlights:
Customizable reminders, recurring tasks, and timeline visualization
Ideal for personal and professional life organization
Best free planner for Mac due to creator's expertise in Mac/iOS development
5. Best digital planner for Windows: Microsoft Planner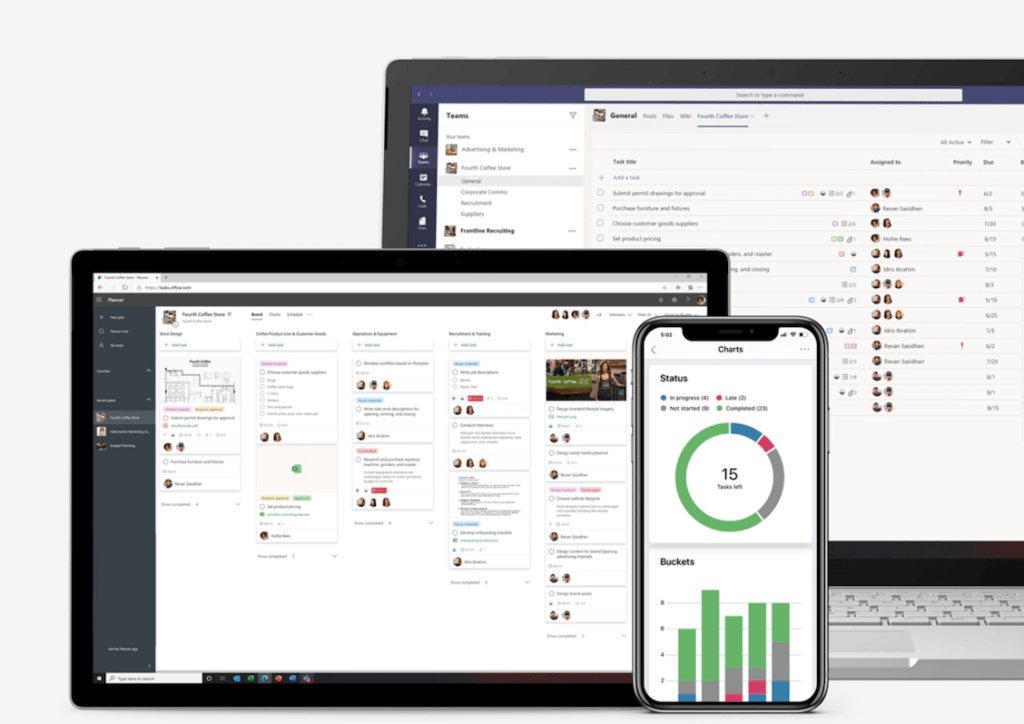 Microsoft Planner is a digital planner for Windows that is widely recognized as one of the best in the market. It provides an intuitive and organized platform for users to manage tasks and projects, collaborate with team members, and track progress. With its visually appealing interface and powerful features like checklists, calendars, and file attachments, Microsoft Planner is an excellent choice for individuals and teams seeking a comprehensive digital planning solution.
Additionally, its seamless integration with other Microsoft tools such as Teams and OneDrive makes it a popular choice for businesses.
Highlights:
Intuitive and organized platform for task and project management
Collaboration with team members
Visually appealing interface
Powerful features: checklists, calendars, file attachments
Seamless integration with Microsoft Teams and OneDrive
Popular choice for businesses
6. Best multi-platform digital planner: Notion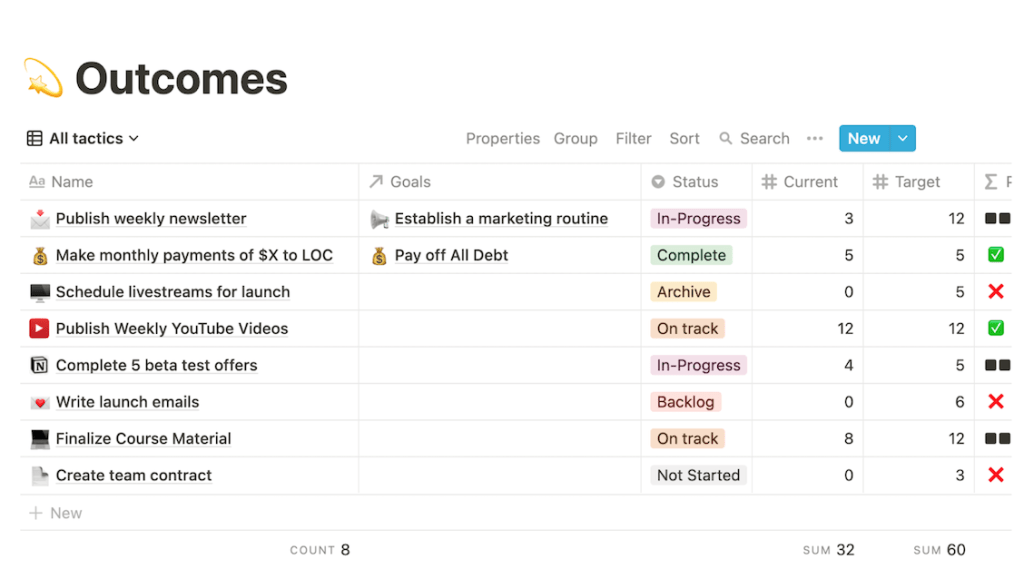 Notion is a versatile project and knowledge management tool, serving as a creative space for noting thoughts, collaborating with teams, and making lists.
It offers seamless cross-platform support for iOS, Android, Windows, and Mac.
Highlights:
Versatile, combining features of Google Docs, Dropbox, Excel, and Todoist
Cross-platform availability
Extensive template library
Notion Academy for learning and development
7. Best digital planner for teams: Asana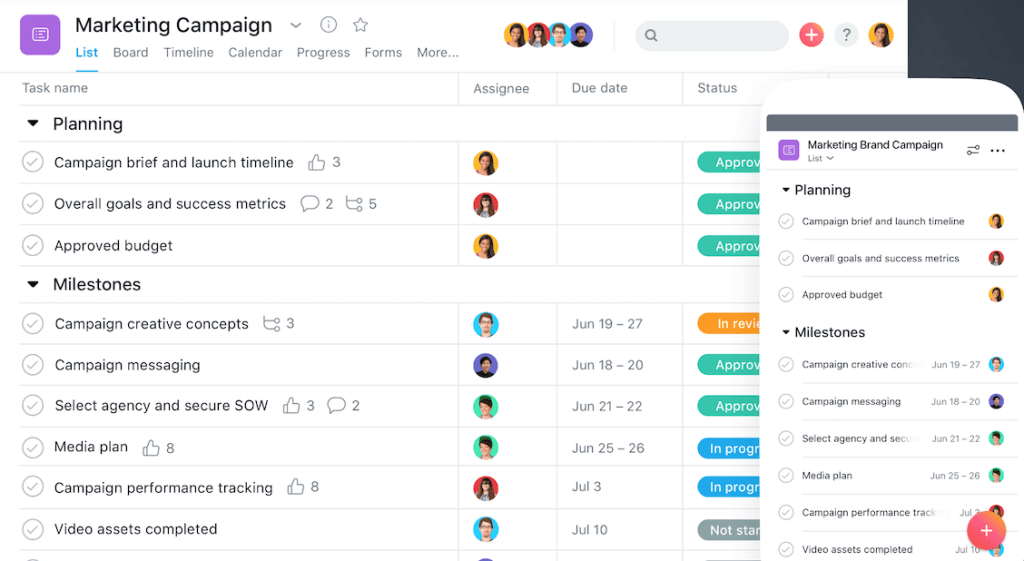 Asana is a robust project management tool, built to improve team collaboration and integrates with various apps.
We chose Asana as the best free planner for teams due to its user-friendly interface that facilitates collaboration, regardless of team size.
Highlights:
Superior Gantt charts
Workload overview for each team member
Collaborative task updates
File attachments with comment markup
8. Best digital planner for remote workers: Trello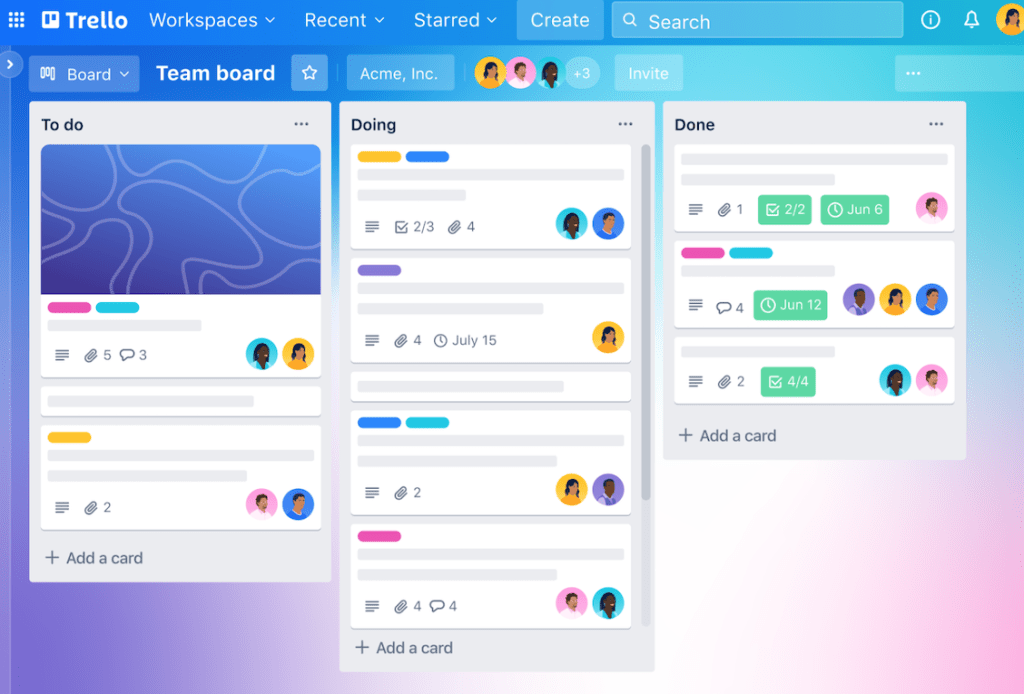 Trello is a popular digital planner for remote workers, offering a visual project management platform that helps organize tasks and projects in boards and cards. Trello is ideal for remote workers who prefer a visual way of managing their work and want to keep track of progress in an easy-to-use interface. The app is highly customizable, with features such as file attachments, checklists, labels, due dates, and more.
Highlights:
Visual project management
Customizable boards, cards, and labels
File attachments
Checklists and due dates
Collaboration with team members
Integration with other tools
9. Best free digital planner for students: iStudiez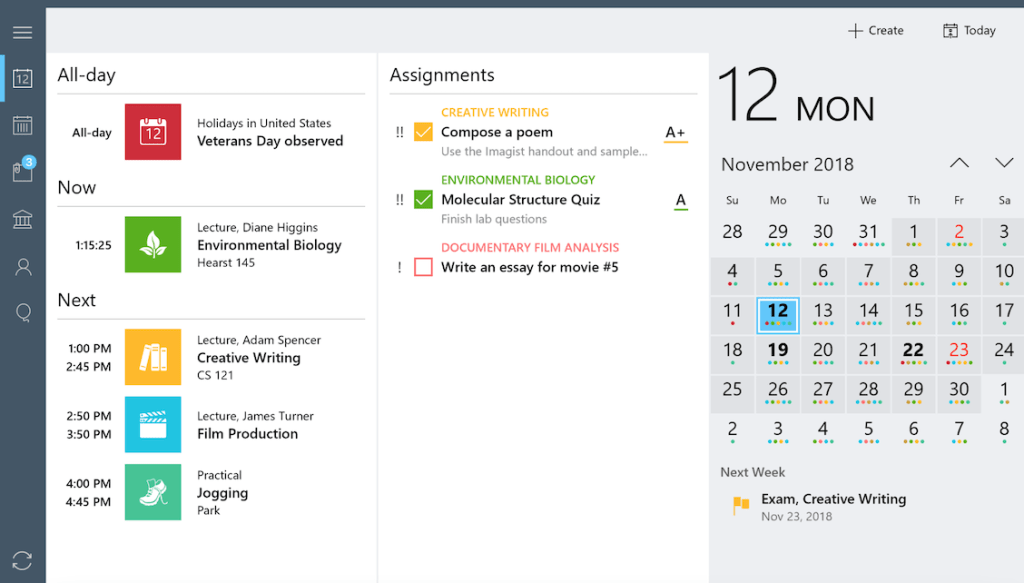 iStudiez is the top choice for students looking for a digital planner. It's designed specifically to meet the needs of students and help them stay organized. With iStudiez, you can easily input your class schedule, including details about the professor and their office hours. The app allows for customization, such as color coding different classes and adding icons for visual appeal.
Highlights:
GPA tracking
Tailored to students' needs
Color-coding of classes
Grades entry
Data syncing across devices
10. Best digital planner for people who have trouble concentrating: Lunatask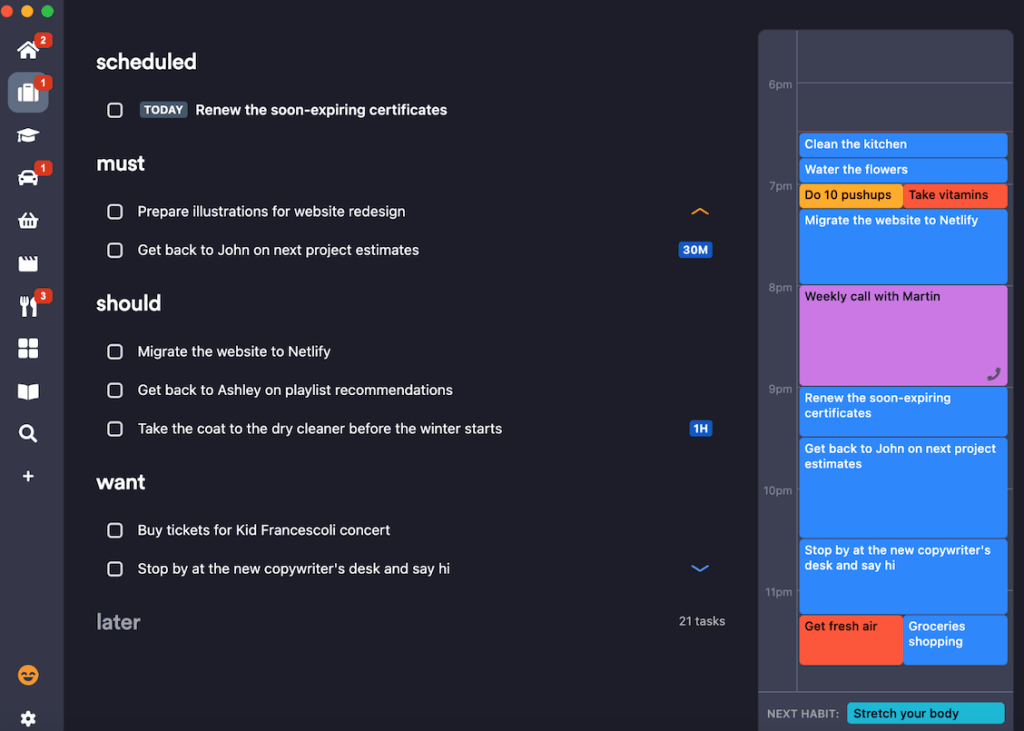 Lunatask is a multi-functional app offering encrypted to-do lists, notebook, habit tracking, mood monitoring, pomodoro timer, and journaling. It serves as a memory aid and mental health tracker.
Lunatask is a comprehensive, encrypted to-do and productivity app designed with ADHD in mind. It's a hidden gem that provides a clean and user-friendly interface along with various built-in time and project management tools such as Kanban boards, Eisenhower Matrix, and Pomodoro.
Highlights:
End-to-end encryption for secure data
Habit tracker
Note-taking function
Pre-made workflows for task grouping
Multiple integrations
Detailed documentation for easy setup
Lunatask is an all-in-one encrypted todo list, notebook, habit and mood tracker, pomodoro timer, and journaling app. It remembers stuff for you and keeps track of your mental health.
Use a Time Tracker for Better Planning: Traqq

A digital time tracker can greatly improve the planning process by providing an accurate and efficient way to track and manage time spent on tasks and projects. It allows for a better understanding of how time is being allocated, enabling individuals and teams to optimize their workload and prioritize tasks.
A time tracker like Traqq can also help you identify inefficiencies throughout your day and make the necessary changes. You'll have effortless access to real-time data and will find it much easier to stay on top of deadlines and make informed decisions.
Must-have Features to Look for in a Digital Planner:
Some of the key features to look for in a digital planner app are:
Task management: the ability to create, edit, and prioritize tasks and to-do lists.
Calendar integration: the ability to view and schedule appointments, events, and reminders.
Reminders: the ability to set reminders and notifications for tasks and appointments.
Notes and journaling: a place to jot down ideas, thoughts, and additional information related to tasks and appointments.
Goal setting: the ability to set and track goals, and monitor progress over time.
Customization: the ability to personalize the app with different themes, colors, and layout options.
Integration with other apps: the ability to link with other apps such as email and social media.
Accessibility: the app should be easily accessible across multiple devices and platforms.
User-friendly interface: the app should have a simple and intuitive interface, making it easy to use and navigate.
Having these features will ensure that the digital planner app covers all the essential aspects of personal and professional organization and can help individuals stay on top of their schedule and reach their goals.
Who Needs A Digital Planner App?
A digital planner app can be useful for anyone looking to stay organized and on top of their tasks, appointments, and schedule. Some specific groups of people who may benefit from a digital planner include:
Busy professionals who need to keep track of multiple appointments and deadlines
Students who need to stay organized with class schedules and assignments
Small business owners who need to manage multiple tasks and projects
People with busy personal schedules who need to coordinate family activities and events
People who struggle with staying organized and want a tool to help keep them on track
The convenience and accessibility of a digital planner app make it a popular choice for many people who want to streamline their organization and increase their productivity.
How to Choose the Best Digital Planner?
Here are some factors to consider when choosing the best digital planner:
Purpose: Determine what you want to use the planner for. Some digital planners offer basic scheduling features, while others offer more advanced features such as goal setting, habit tracking, and journaling.
User-friendliness: Consider how easy it is to use the planner and how intuitive its interface is. Make sure it is user-friendly and easy to navigate.
Synchronization: Check if the planner can sync across multiple devices, allowing you to access your schedule and tasks on the go.
Customization: Look for a planner that allows you to customize your layout and views, as well as add notes, attachments, and tags.
Integration: Consider if the planner integrates with other apps and tools you use regularly, such as your calendar, email, or task manager.
Price: Compare the prices of different digital planners to see which one fits your budget.
Customer Support: Look for a planner that offers excellent customer support and has a strong community of users who can provide support and advice.
Wrap-up
In conclusion, digital planner apps are pretty much a must-have in today's fast moving world. Fortunately, there is no lack of choice of digital planner apps — whichever devices you choose to work on. The best way to get started is to identify your goals and check our list for the best digital planner for your needs.