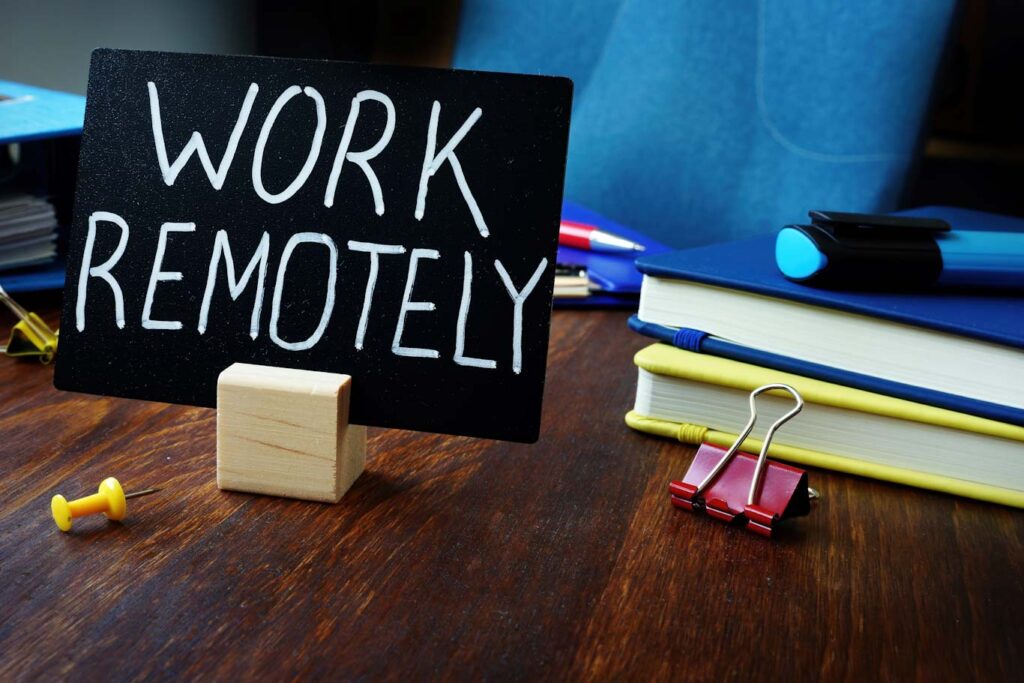 Even prior to the pandemic, the demand for remote work was experiencing rapid growth. A simple analysis of Google search trends over the last decade clearly shows an increasing number of people expressing interest in finding remote jobs online. A recent survey conducted by Buffer revealed that an overwhelming 99% of respondents expressed their desire to continue working remotely, at least for some period of time. The allure of remote work lies in its inherent flexibility, allowing individuals to allocate more time to their families and enjoy additional benefits. It comes as no surprise that even part-time work-from-home positions have become increasingly appealing to many. After all, the health risks, layoffs, and economic downturn have compelled millions of individuals to seek alternative career opportunities.
Pro Tip: Be Equipped to Work Remotely
Among the challenges of remote work is the process of tracking billable hours and creating invoices. To make it easier for you, we recommend using Traqq. This tool automatically tracks your work hours whether you're connected to the Internet or not. All you have to do is switch on the tracker and it will run discreetly. You can also use it to create invoices for your clients.
What's more, Traqq can help you guarantee accountability to your clients. The tool takes random screenshots and video recordings of your desktop. This way, you can promise your customers that every penny they pay goes to productive work. The best part is, Traqq is downloadable for free. You can access all its features without paying subscription fees!
The Best Remote Job Boards
If you're itching to ditch the office, then you should learn how to find remote jobs. Well, you can start by going through the top job boards that are popular for featuring legitimate remote positions. We've compiled the best platforms that will get you started with your dream of becoming a digital nomad.
Dedicated Work-From-Home Job Boards
1. FlexJobs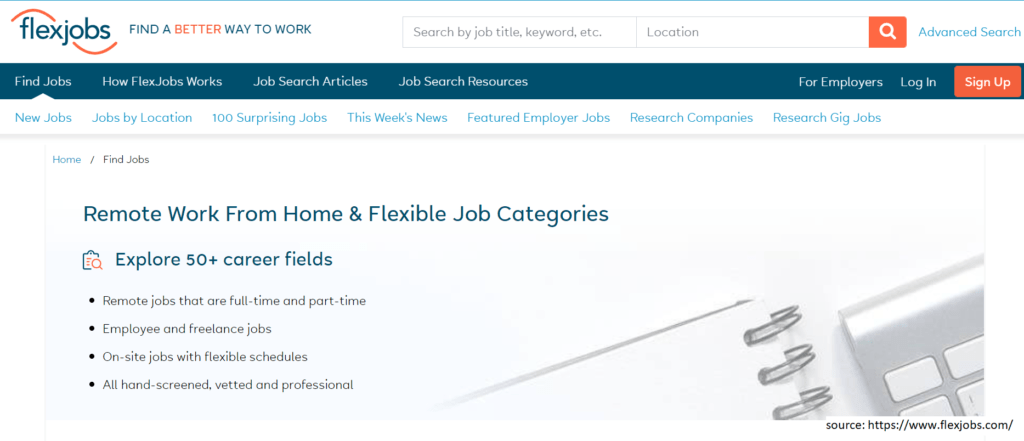 When you access FlexJobs, you will find over 50 categories of remote jobs. Positions are abundant and ranging from part-time and full-time work to one-off and ongoing projects. You can even build a career because there are entry-level to executive-level job openings. What sets FlexJobs apart from other platforms is its dedication to helping people connect with legitimate companies. It screens all the listings before posting them on the site. This way, you know that you're not wasting your time submitting applications for sketchy listings. You will find more than 20,000 work-from-home job postings on this site.
2. ARC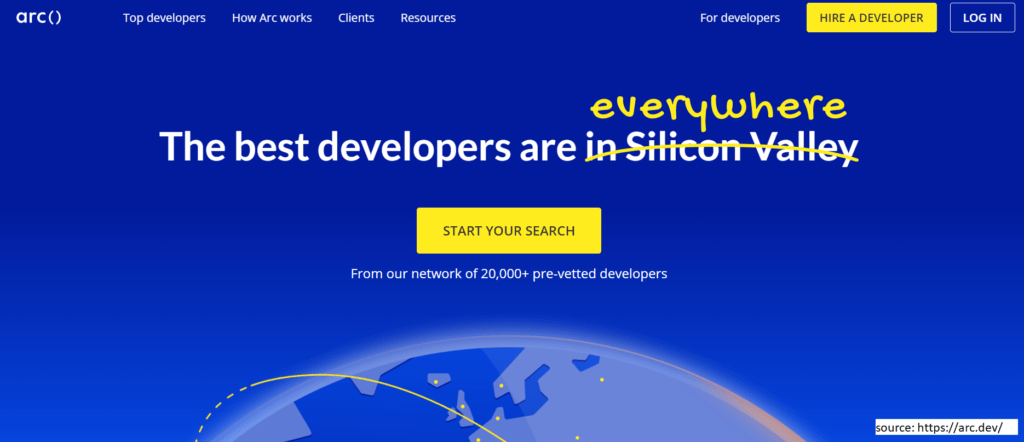 If you're a developer and you want to use a platform that exclusively features remote job posts, then try ARC. This site is also a good resource for people who are new to the tech industry. There are pages dedicated to remote internships and junior-level positions. The truth is, it's difficult to find entry-level developer listings that are open to remote work. However, ARC is a good place to start.
3. Remote.co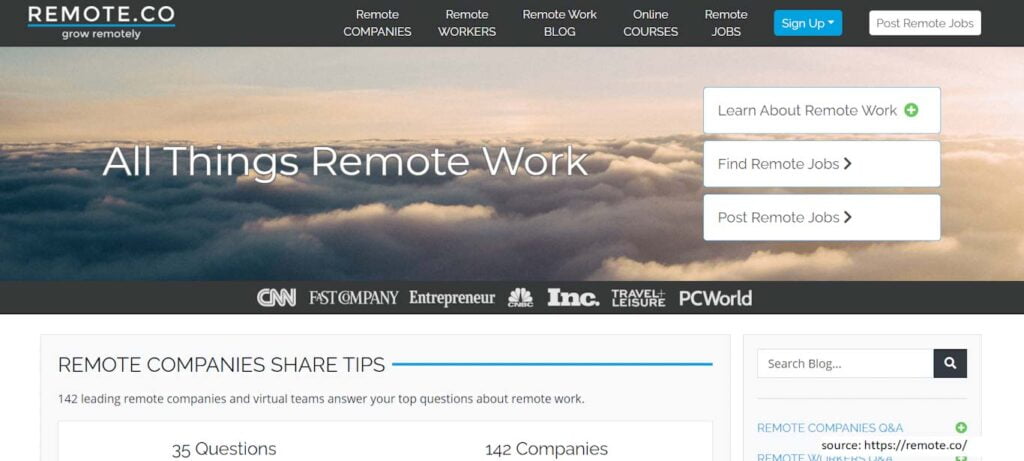 If you liked FlexJobs, then you will not be disappointed with Remote.co. The latter is the brainchild of FlexJobs founder and CEO Sara Sutton. What's different about this platform is it does not feature location-based, telecommute jobs. So, it is the go-to site for people who look for fully remote positions. You'll find various work categories, including healthcare, data entry, and teaching.
4. Virtual Vocations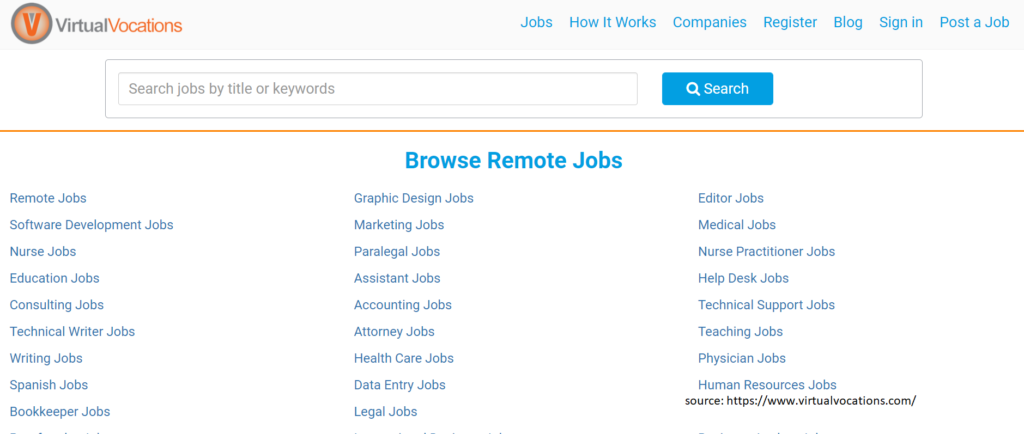 Over the years, Virtual Vocations has remained a family-owned website. When you access this platform, you will find over 40 different categories of remote jobs. You can use the search bar to find specific roles. If you prefer telecommuting, which will require you to go to the office occasionally, you can look for such opportunities. If you're struggling to get noticed by recruiters, you can also use Virtual Vocations' resume services. The site has a blog that offers advice for job seekers.
5. JustRemote

JustRemote promises a better job board that helps seekers find suitable roles easily and quickly. It features listings from various fields, including HR, software development, marketing, and design. If you want to telecommute, you can filter positions by location. Also, if you want to avoid time zone discrepancies, you can look for openings from specific countries.
6. Pangian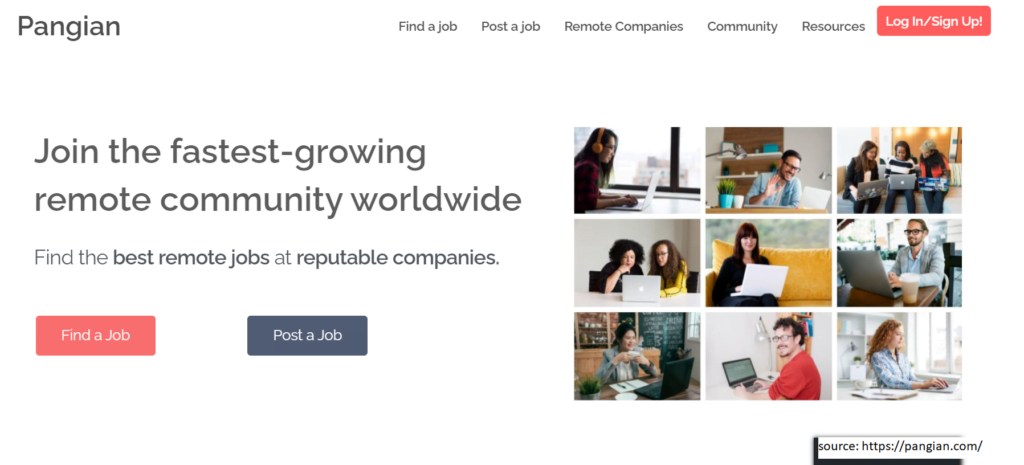 Pangian was founded by a remote worker, so you know that it was designed for digital nomads. You can find various listings on this job board, including openings in digital marketing, content creation, design, and web development. If you're not ready to find remote jobs yet, you can create an account and join Pangian's online community. This way, you can get insider tips on how to get your resume noticed online.
7. We Work Remotely

With over 2.5M monthly visitors, We Work Remotely boasts having the largest network of remote workers. You know that it is reputable because it is among the platforms used by big-shot companies like Amazon, Basecamp, and even Google. However, that should not intimidate you. We Work Remotely has a simple interface that makes searching for remote positions hassle-free. What's more, on this site, there are plenty of resources that will help you land your dream remote job.
8. Remotive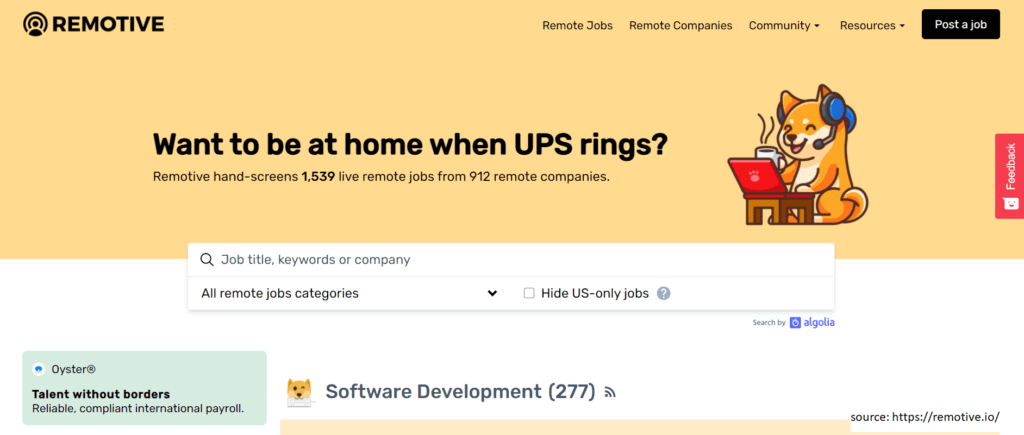 While Remotive is more known as a bi-monthly newsletter, it also has a job board that features listings from several categories. People usually go to this site to get tips on digital nomad living. However, you can also use the platform to secure a position in support, sales, marketing, and product engineering, among others.
9. Skip the Drive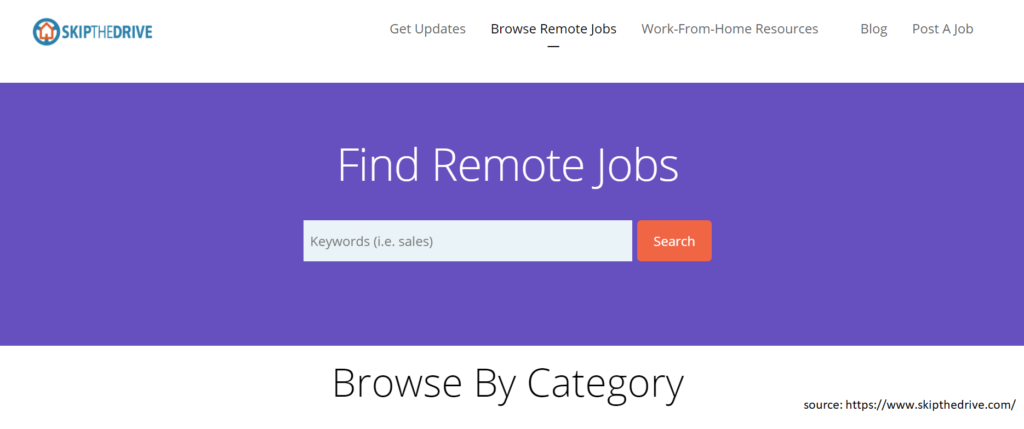 True to its name, Skip the Drive will help you find your dream remote job and avoid the daily commute. It simplifies the search process for job seekers by organizing openings according to categories. Skip the Drive also provides helpful resources for people planning to switch to permanent remote work. What's more, it has a job application tracking tool that will help you manage your resume submissions.
10. Remote OK

All of the job listings on Remote OK are tagged, which makes it easier for users to create filters for specific roles. With this feature, you'll be able to find jobs that were posted by your preferred recruiters. You can also search for listings by experience level and job type. There are plenty of openings for marketers, analysts, sales personnel, and developers, among others.
11. Working Nomads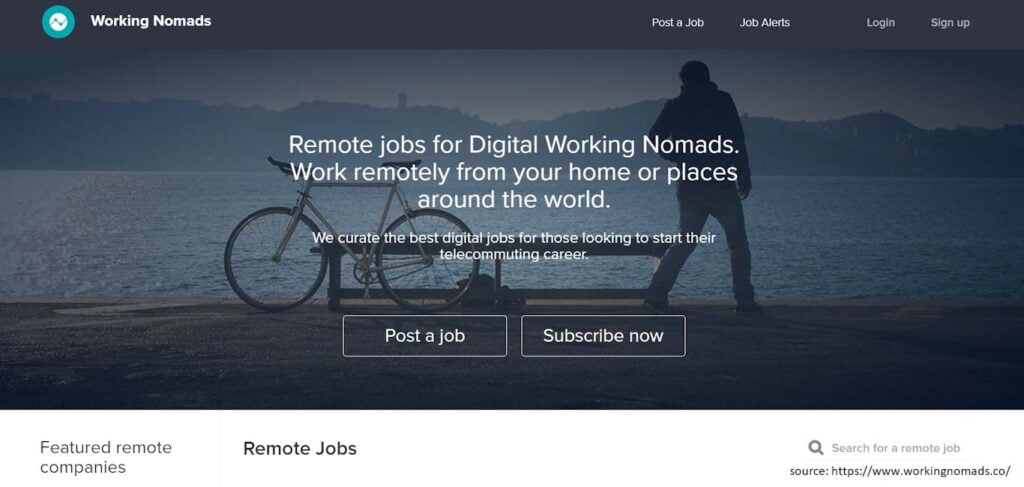 Working Nomads is another platform created by individuals who have an insatiable wanderlust. The site specializes in curating the most attractive remote positions online. Most of the listings here are related to web development. However, you will also find positions in management, marketing, design, and sales. If you want to be the first applicant, sign up for the daily or weekly email alerts.
12. Outsourcely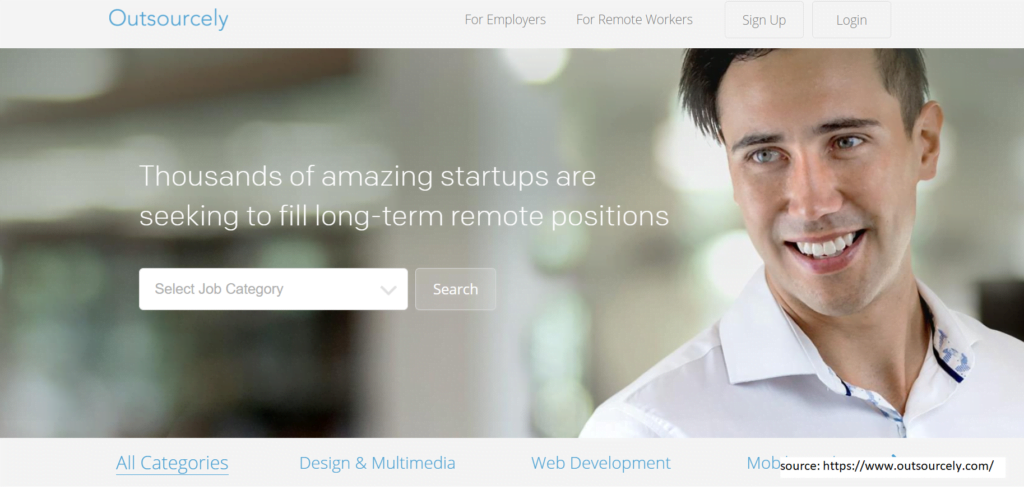 Outsourcely effectively connects remote workers with legitimate employers. Whether you're looking for a part-time or full-time position, you will discover plenty of job openings on this platform. The listings are organized into various categories, including customer service, administrative support, sales and marketing, and more.
13. Jobspresso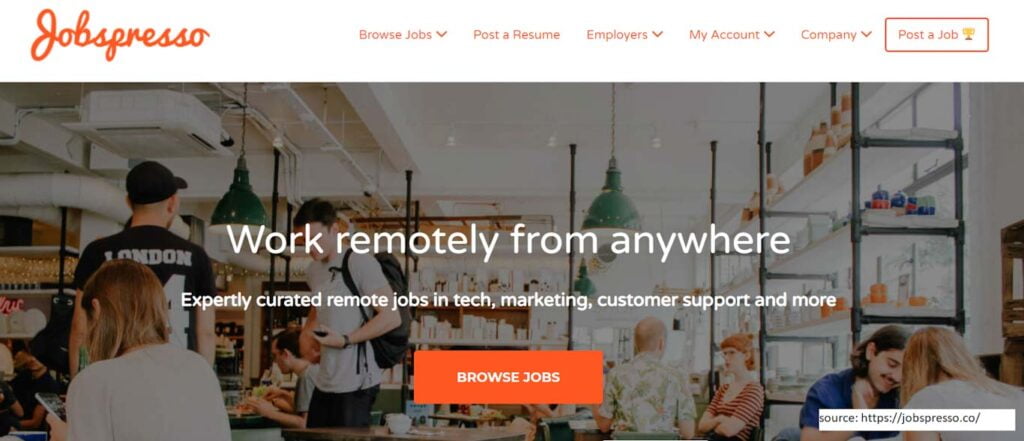 What's great about Jobspresso is its user-friendly interface. Its homepage is clean and simple, making it easier for job seekers to find the remote positions that they like. There are over a thousand openings in software development, content marketing, customer service, design, and sales, among other categories. What's more, some of the known brands in the digital realm use this platform to hire top talent. You will find roles offered by companies like Quora, Reddit, Yelp, and even Shopify.
Job Boards for Tech Professionals
14. PowerToFly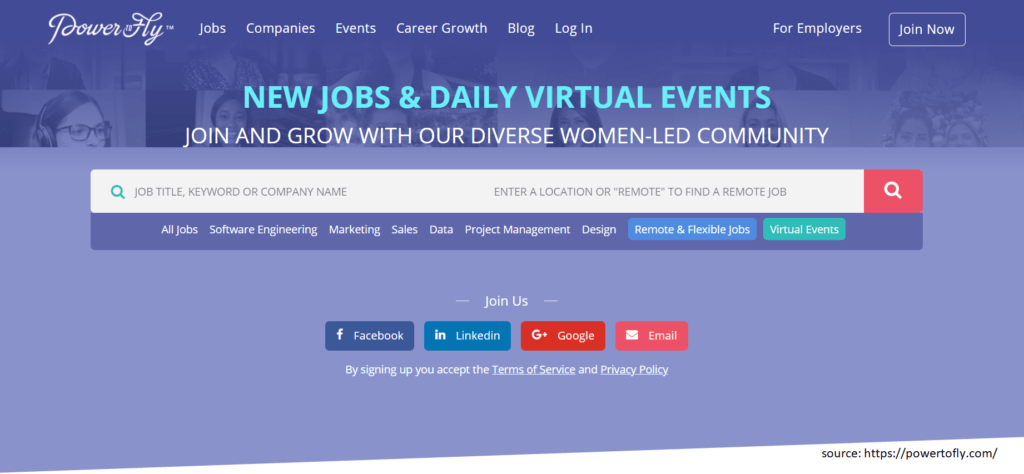 According to a study by Evia, only 20% of jobs in tech are held by women. PowerToFly aims to bring more career opportunities to female candidates who are interested in working in the industry. This site matches women in tech with legitimate remote IT jobs. You can join its talent database and then go through the vetting process. After that, you will be able to get connected with companies. Usually, the potential employer will offer a paid trial that will last around two to four weeks. If they are satisfied with your skills and services, they will hire you for a part-time or full-time role.
15. Dribble

If you're a graphic designer and you want your portfolio to gain a competitive edge online, publish it on Dribble. You can find remote jobs for UX designers, illustrators, web designers, and even product designers on this site. All you need to do is toggle the 'Remote-Friendly' switch to see all the job openings that allow flexible work locations.
16. Github Jobs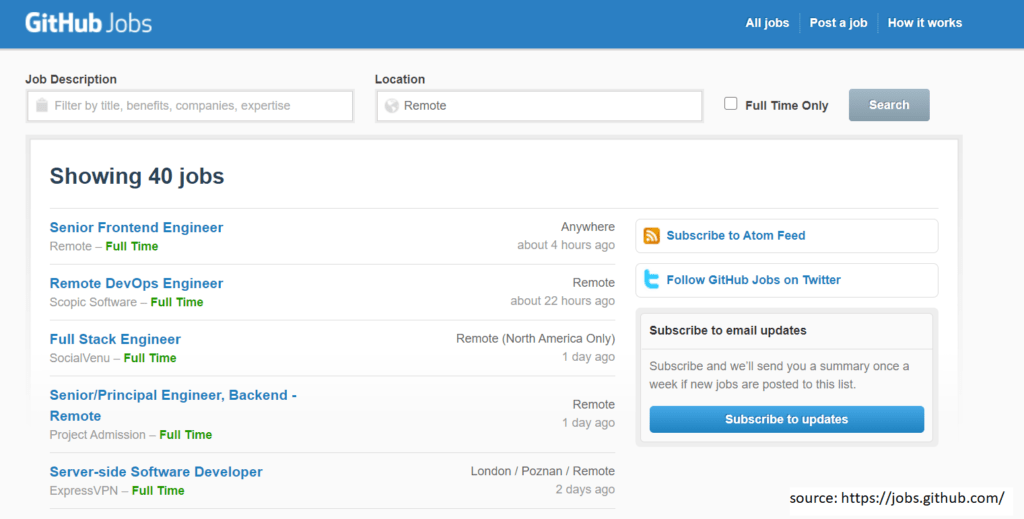 GitHub is more than a code hosting platform for collaboration and version control. It also has a job board that features roles for web developers, programmers, full-stack engineers, and other tech-related workers. If you want to secure a remote job, click the location search bar, then type "Remote" (no quotes). Doing so should show results for remote roles.
General Interest Job Boards
17. Indeed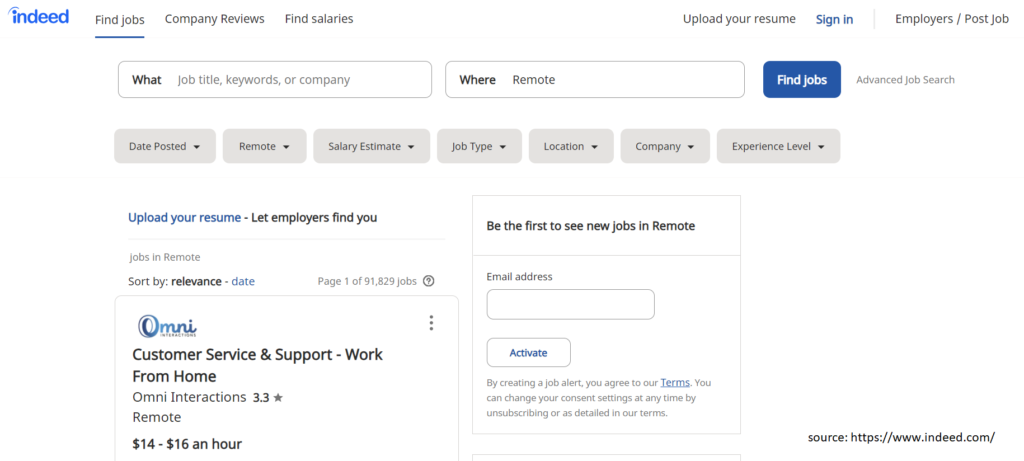 Indeed works like a search engine for job openings, indexing all work data from the Internet. There are thousands of listings across various work categories on this platform. You will also find remote positions on this site, including SEO expert, content writer, web developer, and other jobs. One of the unique features of Indeed is its rating system. Users who have worked for companies can leave reviews, which can help job seekers make informed decisions.
18. Amazon Jobs

As the largest online retailer and cloud service provider in the world, Amazon offers an abundance of work for people across the globe. While the company has physical offices in North America, Latin America, Europe, Asia Pacific, and the Middle East, it also hires remote employees. There are over a thousand virtual positions in job categories like software development, sales, advertising, product management, human resources, and more.
19. Glassdoor

Glassdoor is more known as a site where current and former employees can anonymously review companies. However, it also has a job board that features remote positions. What's great about this platform is you can easily see the average rating of an organization. By clicking a listing, you will see rating highlights for compensation and benefits, culture and values, career opportunities, and work-life balance. What's more, there is the 'Hiring Surge' feature, which lets you know if a company is actively recruiting employees.
20. No Desk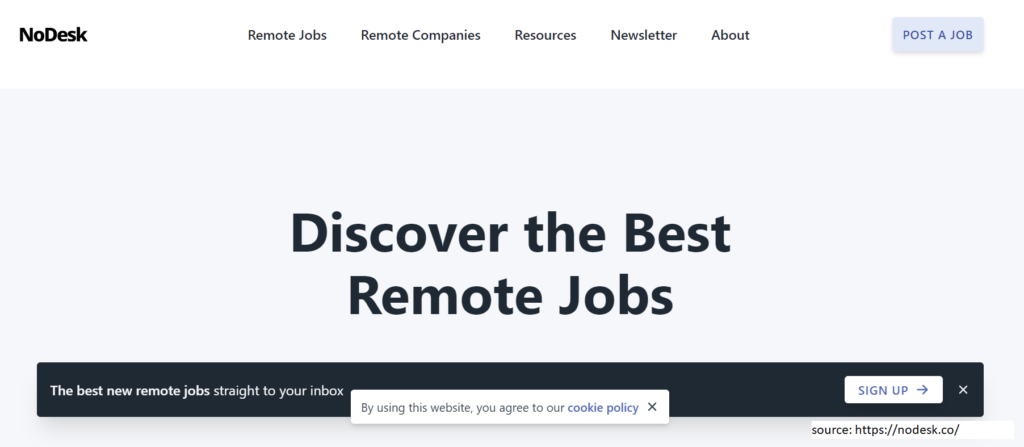 While No Desk doesn't have a comprehensive collection of job listings, its strength lies in being remote-centric. All positions featured on this site are open to applicants from across the world. You will find roles in design, customer support, marketing, operations, engineering, and more. If you're after positions in specific organizations, you can go to the Remote Companies page. The site has listings under Atlassian, Airtable, Kiva, Duolingo, Elastic, and more.
21. LinkedIn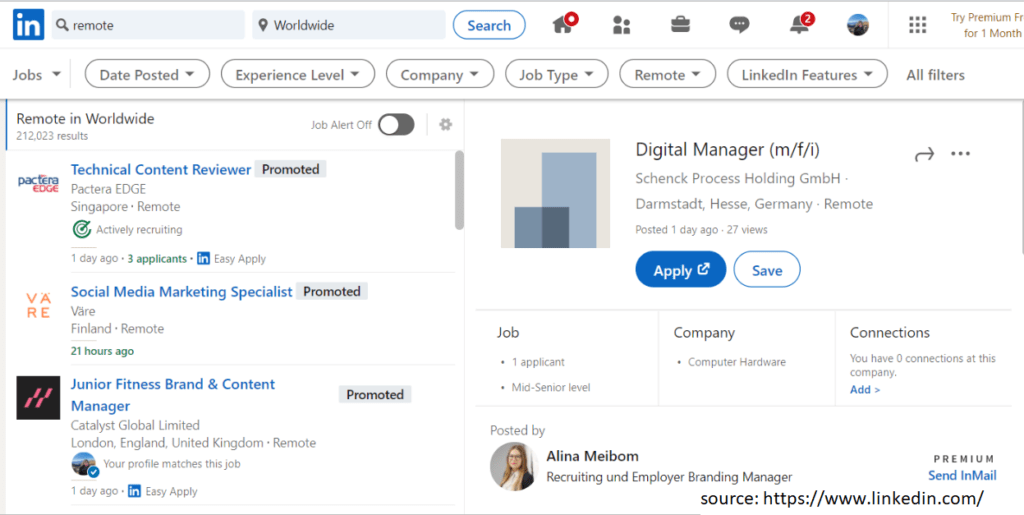 LinkedIn is a digital space for networking, so it only makes sense for it to have a job board too. This platform has a dedicated space for remote work. You can search for remote job openings in your location, or you can set the filter to "Worldwide". You'll find plenty of roles here, but the results are usually optimized for your LinkedIn profile. So, if you are a content writer, you will mostly see openings related to digital marketing. Each listing will indicate if the company that posted it is actively recruiting and if your profile matches the job.
22. ZipRecruiter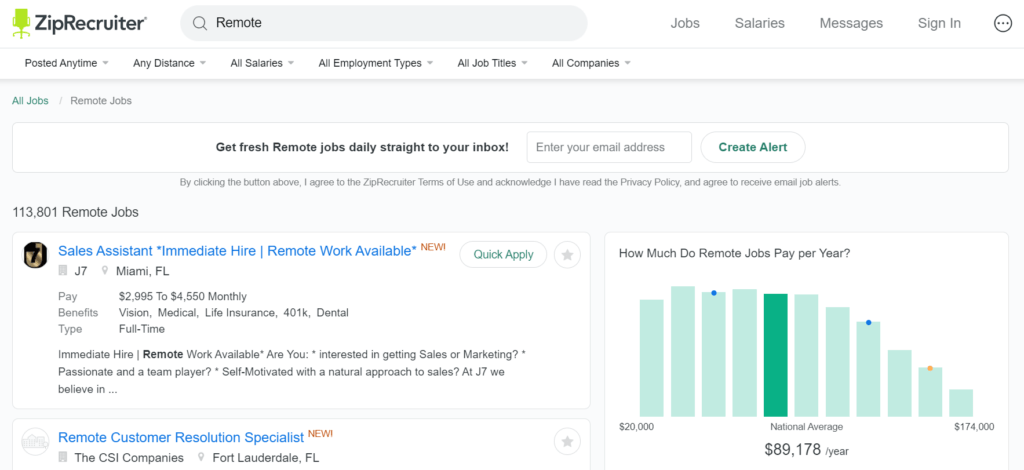 ZipRecruiter was launched as an applicant tracking system (ATS), but it eventually transitioned into an online job board. The site claims to have over 9 million jobs available, so you will be spoilt for choice. ZipRecruiter also has a comprehensive collection of remote positions. What's more, this platform is used by big names like Tesla, Netflix, Walmart, and Apple.
23. Idealist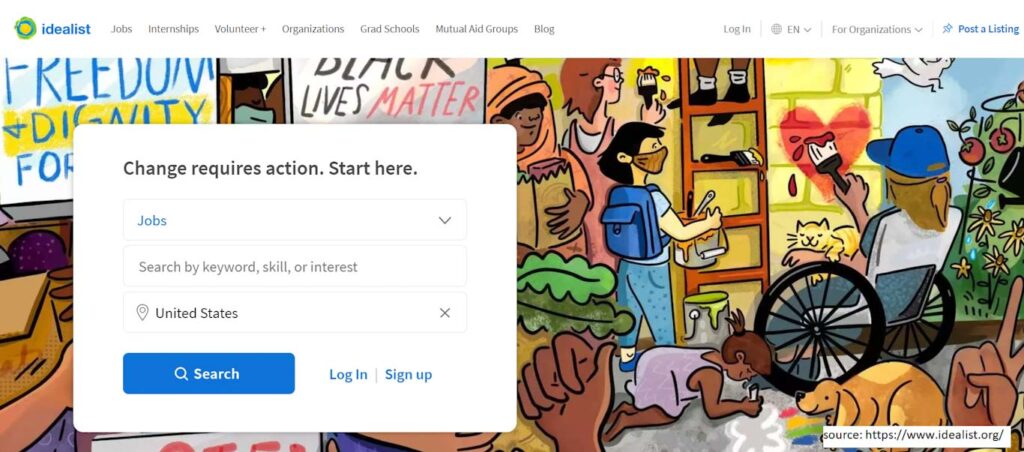 Idealist is not strictly for remote positions, but it still features hundreds of roles open for applicants around the world. When you get to the site, simply click Remote under locations. What's great about this platform is its commitment to making a difference in the world. All the jobs you will find on Idealist are with organizations that promote health, community development, climate change awareness, and more. It also features thousands of internships and volunteer opportunities.
Job Boards That Feature One-Off Remote Projects and Freelancing Work
24. Upwork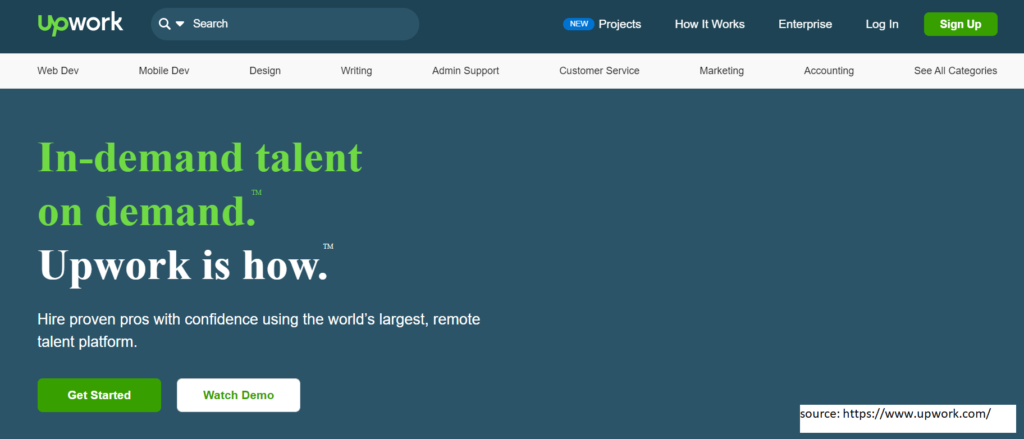 When it comes to remote work, freelancers usually go to Upwork. Formerly known as Odesk, this site has a suite of job categories that feature positions for copywriters, virtual assistants, and mobile app developers. Even big companies like Airbnb, Zendesk, and Dropbox use this platform to recruit remote freelancers. However, beware, because the site takes its hefty fees from your earnings. What's more, it can be difficult to get your profile approved.
25. Fiverr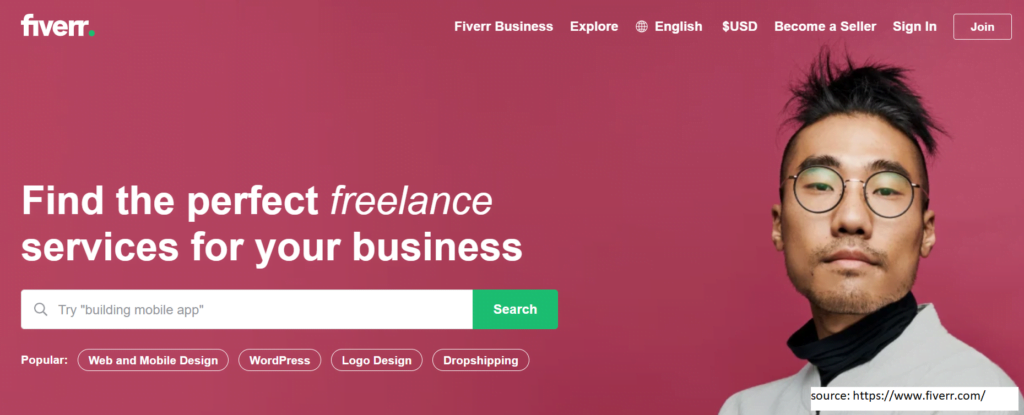 Fiverr is one of the best Upwork alternatives for individuals looking for remote job openings. You will find one-off projects on this site, including those that involve video transcription, audio editing, article writing, and more. It's called Fiverr because most listings pay $5 per task. However, it still features plenty of projects that pay higher fees.
26. Freelancer.com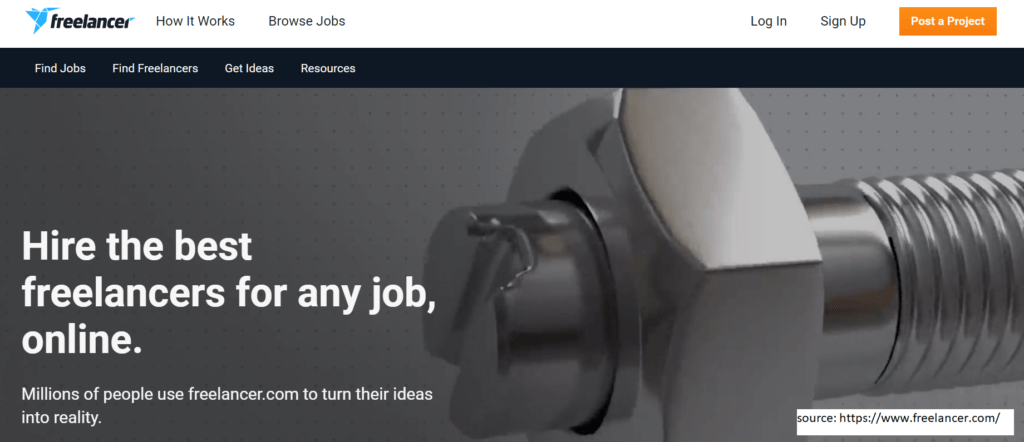 Freelancer.com boasts over 20 million users, making it one of the largest outsourcing marketplaces in the world. On this site, you will find a comprehensive collection of freelancing gigs for content writers, graphic artists, and software developers, among many others. You simply need to create a profile and you can start bidding on projects.
27. Gun.io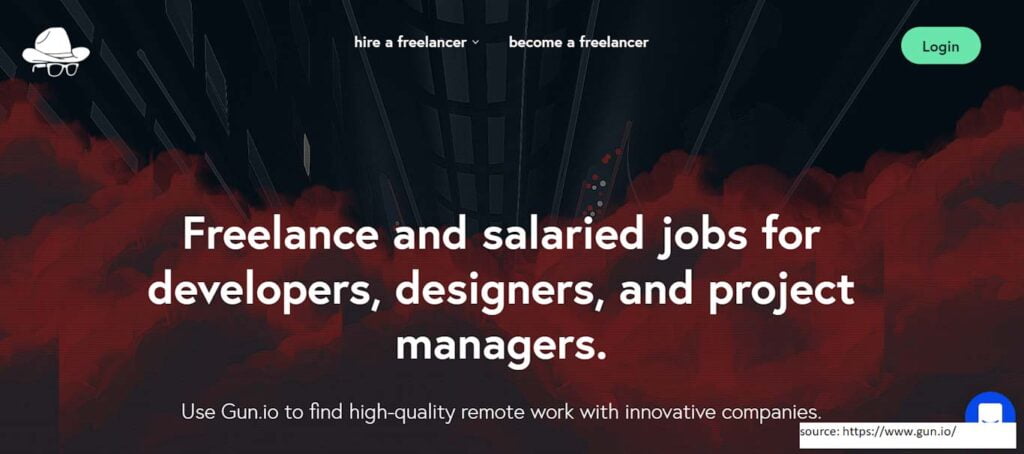 Gun.io is a site where highly skilled freelance developers find great clients who pay well. Before customers can find talent on the platform, Gun.io vets them. The site ensures that only serious recruiters will join the network. Meanwhile, freelancers can showcase their skills and achievements by creating a comprehensive profile. They can show their work samples and introduce themselves via video. Unlike Upwork, Gun.io does not deduct its fees from your earnings. You can receive exactly the rate you set on your profile because the fees are charged to the client directly.
Related articles
A Purple Squirrel: How to Become the Perfect Job Applicant
10 Best Resume Builders to Jumpstart Your Career