You want to get all your tasks done professionally, accurately, and promptly. However, despite spending long periods to plan every day, do you still find yourself accomplishing less than your expectations?
Many of us have been there at some point, and more people are probably still struggling. We all want to complete our tasks quickly so that we can reach our life, work, and family goals.
The question then is, "What do we need to start or stop doing to focus and make the most of our time?" How can we accomplish more within a short period?"
One of the ways you can achieve productivity is by using time blocking planner templates.
Good time blocking templates can help you to become more productive with the following assist features:
Creating a to-do list
Determining the exact time to spend on the tasks on your to-do list
Adding your responsibilities to your calendar
With block scheduling templates, you can finally take charge of your life. Moreover, you can focus on tasks that will add value to you in the long run. This way, you won't fall into the trap of doing trivial assignments with little to no returns.
In this article, we've listed nine of the best time blocking planner templates that you can start using to crush your goals. We have also attached samples you can use to create your time-blocking template.
Daily Time Planner Templates
Using the dailyblock scheduling template can help you to complete all your tasks for the day. Depending on the type, you can write your different responsibilities in the space in front of each time interval. Doing so will help you to prioritize your tasks and decide what to block time for first. Also, it will enable you to easily focus on the assignment at hand since you are working with a specific time range. However, remember that if you lag behind for a moment, it may distort the other events for the day.
Below are sample of the best daily time planner templates:
1. 15-Minute Daily Planner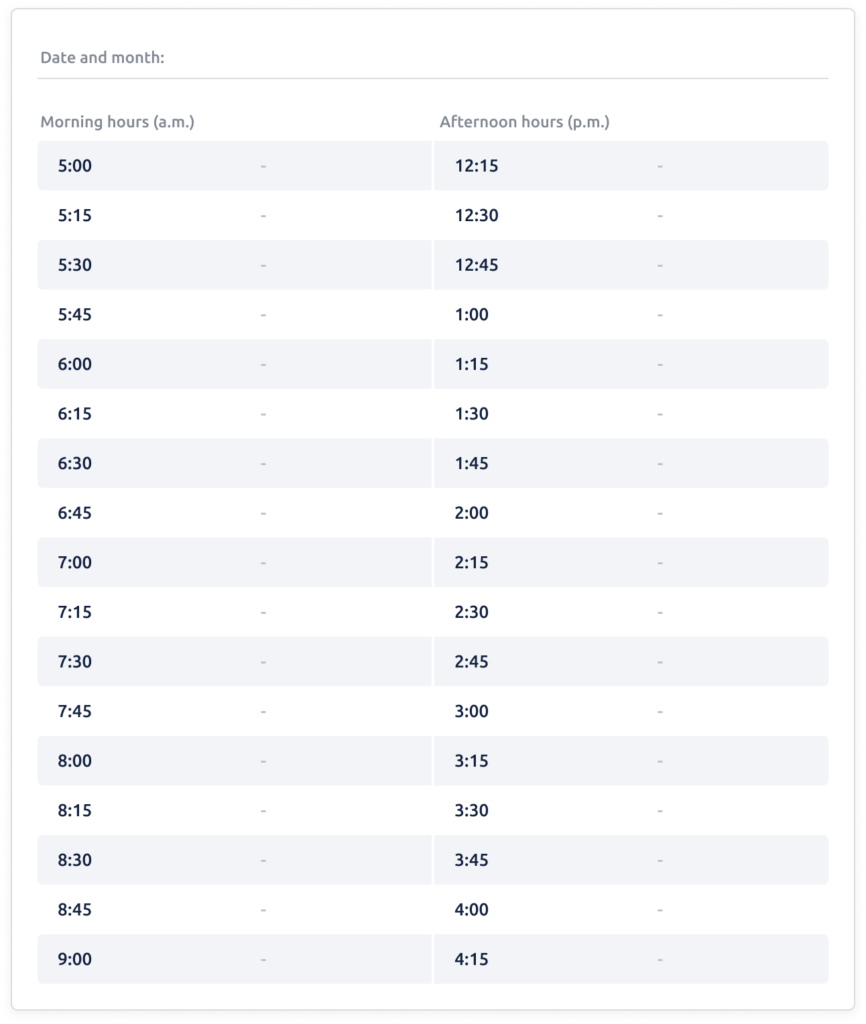 Do you often have many tasks to complete in a day? If you're always swamped with work, consider using this daily time planner. The 15-minute daily planner template comes with spaces to write your tasks for every time interval. All you have to do is determine the monthand the day, and then you can fill in all the things you want to accomplish every 15minutes.
2. 30-Minute Daily Planner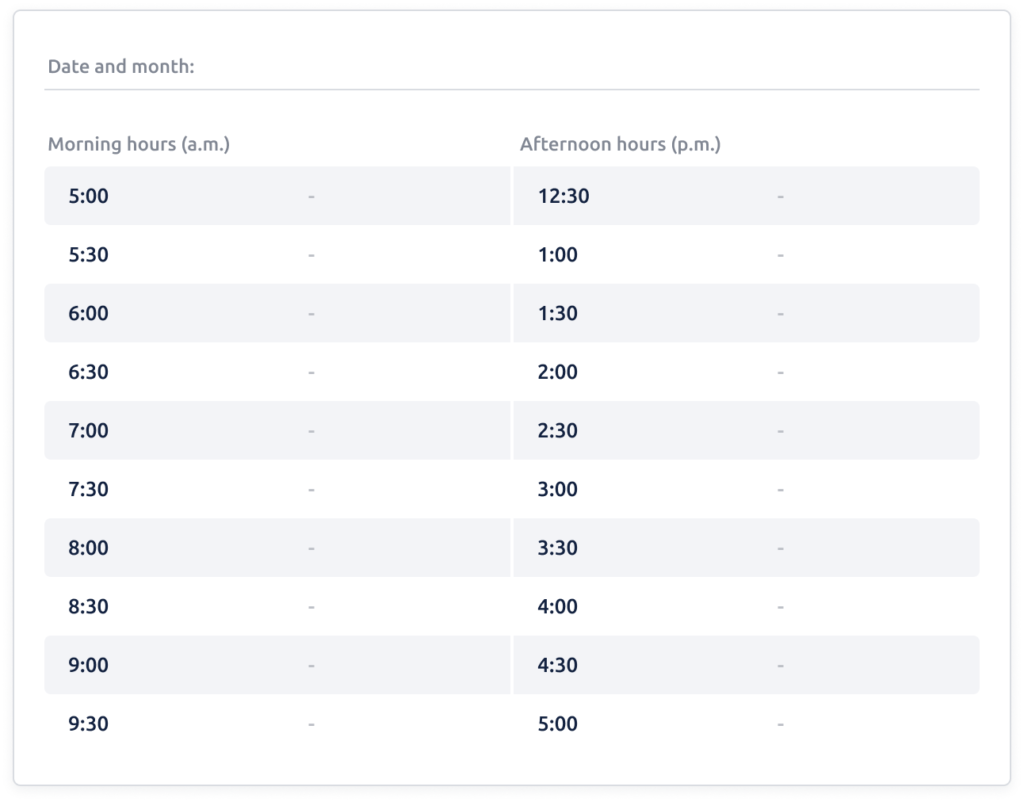 This template is similar to the 15-minute daily planner, but it's more useful if you want to focus a little more on the tasks for some reason. For example, if you do not yet have sufficient experience to complete a job, you may want to take more time to do it accurately. Like the 15-minute daily planner, it also comes with spaces where you can write your tasks for each 30-minute interval. You only need to select the month and the day you want to use the template.
3. 24-Hour Daily Planner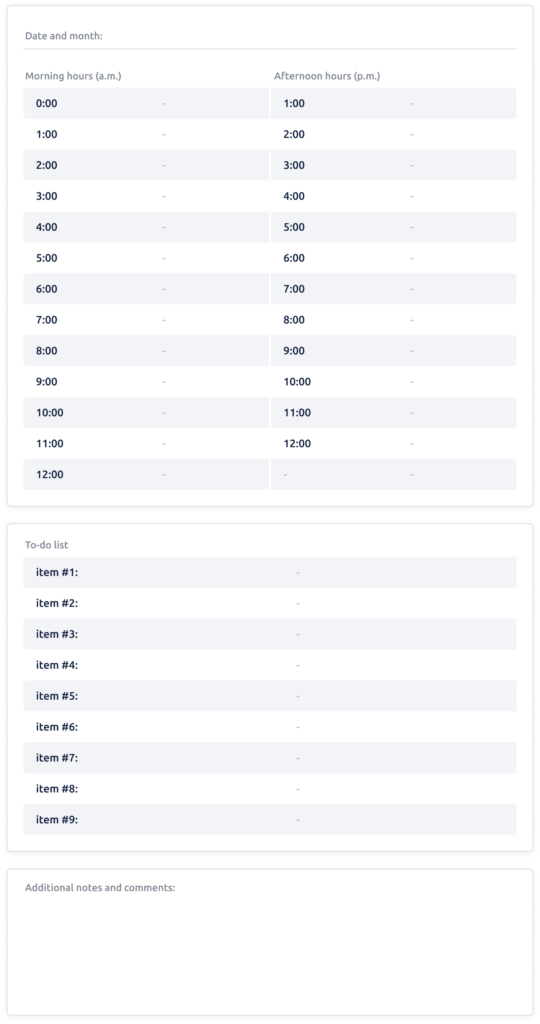 The 24-hour daily planner gives room for more details than the 15 and 30-minute time blocking templates. It is ideal if your tasks require the utmost attention to details, or if you have to learn something to complete your assignments well. Each hourly interval on this template also has a space in front where you can write down what you have to do within the hour. Freelancers who like to work at night may also find it useful for planning their activities until dawn.
Weekly Planner Templates
Weekly time management templates may be helpful if you are projecting results further than what you can achieve in a day. While your attention may be on what you accomplish per day, these templates will help you focus on weekly rewards you can gain.
Most people don't get by their weekly goals. Setting targets for a week can make people think they still have plenty of time. As such, they tend to do other things before getting on their tasks. Unfortunately, every second matters, and moments eventually become weeks. By the time most people realize that time is gone, there's hardly anything they can do about it.
However, these weekly planner templates are spaced with one-hour intervals so that you'll still feel the urgency to complete your tasks. Also, it will help you to be disciplined with your time each day.In this guide, we will provide you with block scheduling templates for weekdays only, all seven days in a week, and for tasks that you want to complete biweekly.
Below are samples of the best weekly time blocking templates.
4. Weekday Planner with 1-Hour Intervals
This weekday planner template is only useful for the workdays; that is, Monday to Friday. You can plan every task at work using this template. However, you may have to work with your boss and colleagues to identify your tasks for the week and what they expect from you each day.
After you have acquired this information, you will be able to prioritize your tasks for each day. Using this time blocking planner is a way to ensure your week is productive before you even start it. What's more, the hourly interval makes you not slack or give in to procrastination, which may often occur if you set weekday goals conventionally.
All you have to do is determine the month, week range, and date for completing the tasks.
5. All-Week Planner with 1-Hour Intervals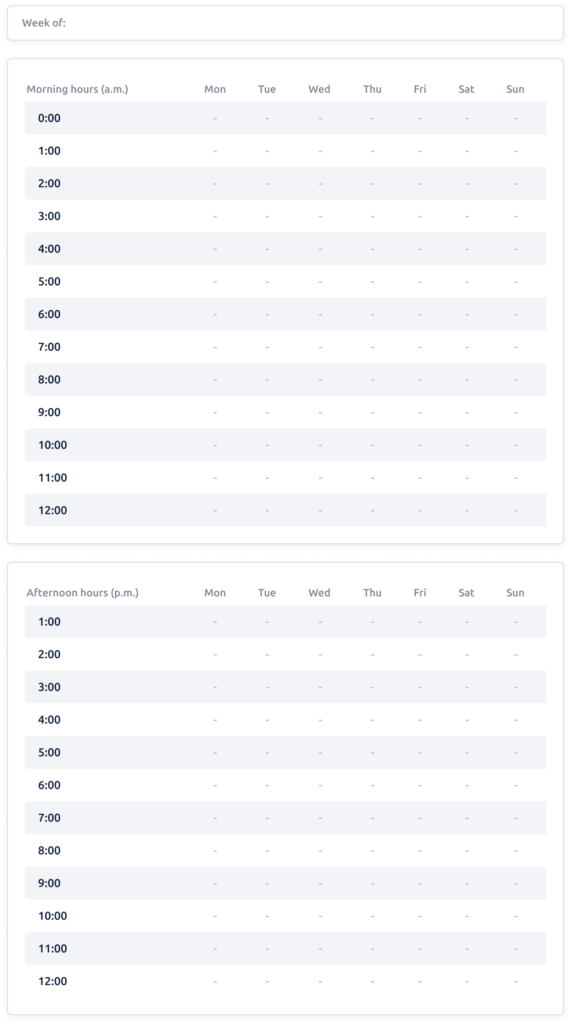 Do you prefer to work on weekends instead of taking a break like most people after a hectic week? It's not a bad idea, and this 7-day time blocking template can help you make it more meaningful. Like the 5-day (Monday to Friday) weekly planner, this template is also spaced hourly, spanning across the 24 hours in a day. There's a space in front of each interval where you can write down the tasks for each day.
Determine the date from the start to the end of the week and add the tasks you will execute in order of priority within each 1-hour interval.
6. Bi-Weekly Planner with 1-Day Intervals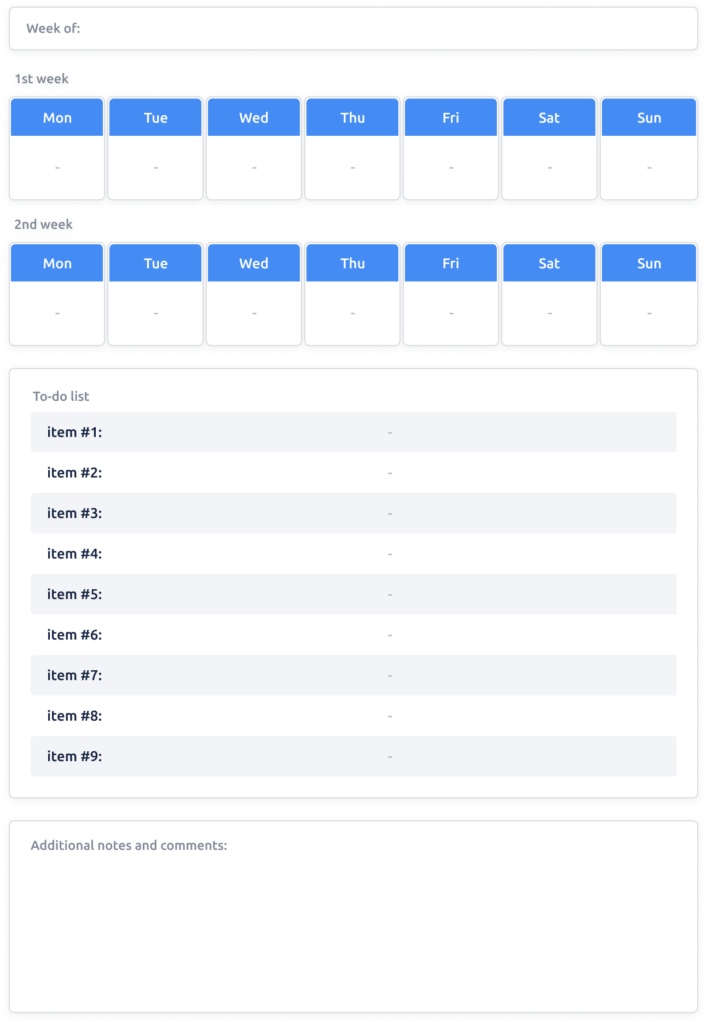 This weekly block scheduling template spans over two weeks with 1-day intervals. If you have to work on an important project alongside other small tasks, you will find this one useful. This template helps you specify what you must do each day relative to the project. For example, you can distribute the smaller yet important tasks across the 2-week span. This way, you can still accomplish them even while you're working on a bigger project.
You only have to determine the 2-week date range, and then you can add the tasks you have to execute for the two-week period.
Monthly Planner Templates
Using monthly time blocking templates is useful if you have a project to complete at the end of the month. Also, if some of your assignments span over a month, you can still use a monthly time blocker to ensure you execute it successfully.
Monthly planner templates usually span for 30-31 days, depending on the selected month. What's more, you can add several other months if your projects require a more extended period.
For most monthly time blocking templates, you can write down your tasks for each interval (usually a day). You can block time for those activities with the highest returns on your life, work, and relationships.
Below are some of the best monthly planner samples you can start using to complete all your tasks.
7. Monthly Planner Template with 1-Day Intervals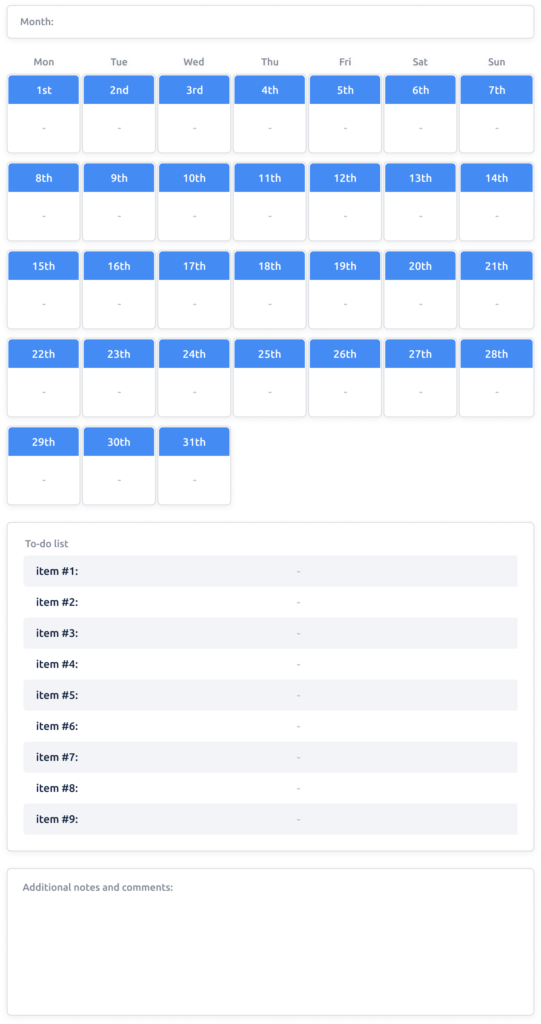 This is a useful template if you have one month to complete an important project. Start by setting a specific month. After that, fill in the tasks that you want to complete in that month for every 1-day interval.
8. 3-Month Planner with 1-Day Intervals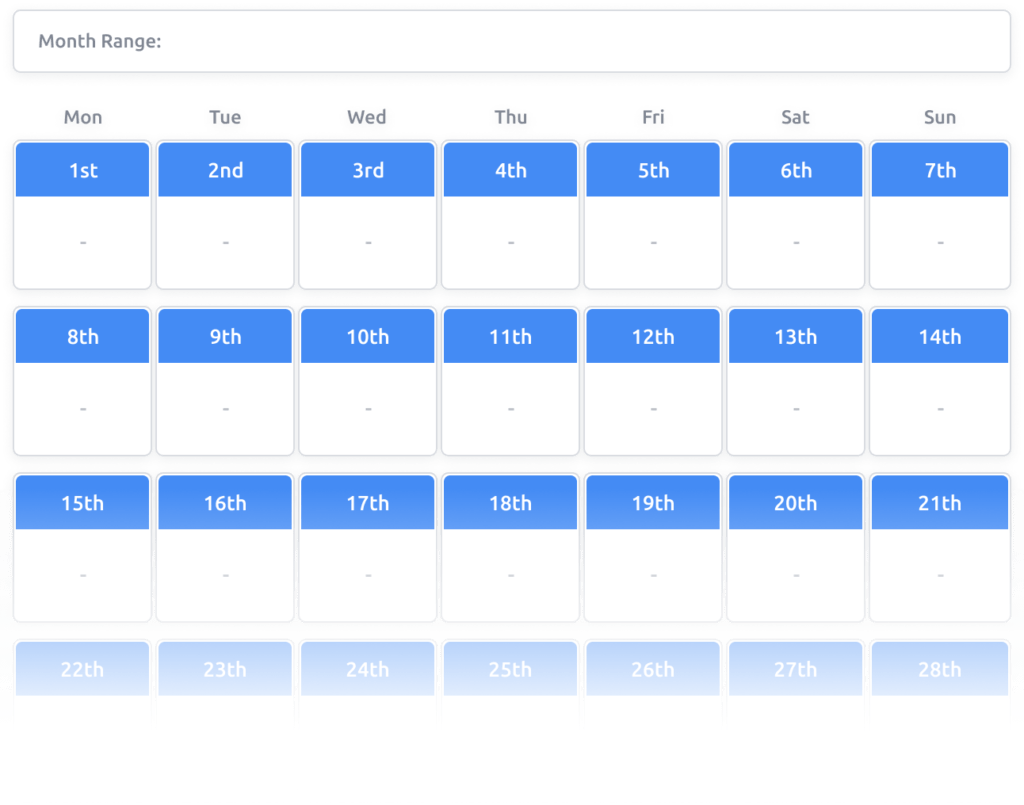 This 3-Month Planner template is similar to the regular monthly time blocker. However, it is broken down into three 31-day periods, especially for people with several projects to complete within a specified time frame.
To use this template, you only have to determine the month range before adding the tasks that will return the highest value for you. This planner sheet is perfect if you're working on a large project or merely perfecting your professional skills.
9. Year-Round Monthly Planner Template with 1-Day Intervals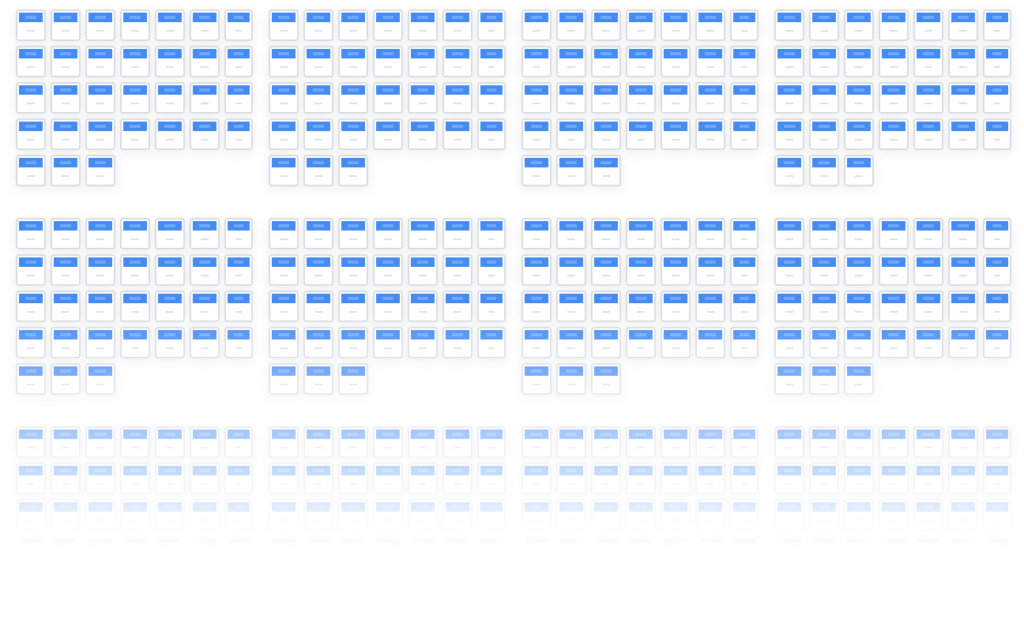 If you have the patience, time, and thoroughness to create an exhaustive plan for an entire year, this template is for you. It is broken down into 12 months and divided into 29, 30, and 31 days, depending on the month. To use this template, you have to determine the month range before adding the tasks that will return the highest value for you.
How to Use Time Blocking Planner Templates Effectively?
It's easy to yield to the temptation of not executing your plans for less-rewarding activities. To avoid this, use an effective time tracking software.
You can use this tool to monitor what you are spending most of your time on. That way, you'll quickly eliminate productivity leaks that won't help you accomplish your goals in good time.