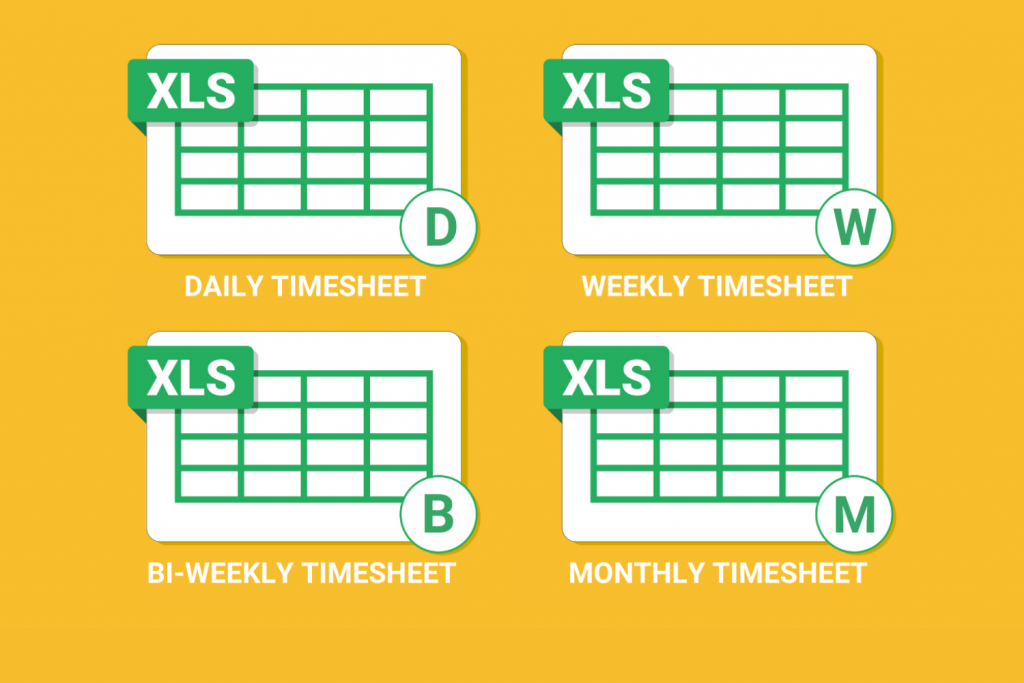 According to a Deloitte study, more than 40 percent of respondents said that manually loading data is the most time-consuming aspect of payroll processing.
Yet, 47 percent of business owners aged 50 or above prefer to track time on paper.
Daily timesheets provide a detailed breakdown of time spent on various tasks each day of the week.
They are ideal if you want to track how your employees spend their time on a daily basis.
You can record the start and end times of tasks, lunch and breaks for each workday.
You can also use them to capture employee overtime, vacation days, time off, billing rates, and even the activities they are working on.
Related: Free Monthly Timesheet Templates (includes User Guide)
The best part is that you can download free daily timesheet templates and start using them right away.
Why Use Timesheet Templates?
Imagine having to manually fill in timesheets every day of the week. It's tedious and will take up most of your time.
Not to mention, timesheets are prone to errors. A preset timesheet template is much easier and can calculate totals automatically.
The type of daily timesheet you need will vary, depending on the type of work you do.
Some daily timesheet templates divide total hours into regular hours and overtime and then calculate the amount payable using the specified hourly rate.
You can opt for a simple daily timesheet, a printable daily timesheet, or an online timesheet.
These timesheets need to be filled in daily and submitted to the manager or supervisor daily, weekly, or monthly for approval.
If you or the company you work for bills clients, daily timesheets are necessary to keep a detailed time log for each task you work on throughout the day.
Below, you'll find printable daily timesheet templates to match your specific needs.
Related: Free Weekly Timesheet Templates
Some templates only show the total number of hours worked each day or on each project.
Others display the daily clock in clock out times of each employee, and can include breaks.
Simply pick the timesheet template that suits you best, download it, and make the necessary edits.
Free Daily Timesheet Templates
Simple Daily Timesheet Template
Use this daily timesheet template to fill out time reports that show your employees' daily work patterns.
It captures when they started and finished work, time spent on breaks, and total worked hours.
It comes with a preset formula that automatically calculates the number of hours you should pay your employees.
Get your FREE simple daily timesheet template.
Daily Timesheet Template for Multiple Employees
This template is ideal if you manage a team of employees who work shifts.
All you need to do is fill in the total number of hours worked each day of the week.
It also gives the option to fill in the clock in and out times for each employee, along with time spent on breaks and lunch.
The template also includes a column for hourly rates, making it easier to get the total amount of money you should pay each worker.
Get your FREE daily timesheet template for multiple employees.
Daily Timesheet Template with Breaks
This daily timesheet Excel template allows you to record your daily clock in and clock out time and time spent on breaks.
It also includes columns for hours spent on sick days, overtime, and holiday.
It makes it easier to track an employee's attendance and absence to ensure accurate payroll.
Get your FREE daily timesheet template with breaks.
Daily Truck Driver Timesheet Template
If you own a delivery or transport company and pay your drivers by miles, this template is for you. Drivers can track time and miles throughout the day and calculate the total hours worked, as well as the total miles covered.
It also has columns to provide detailed descriptions of the trips.
Get your FREE truck driver daily timesheet template.
Daily Project Timesheet Template
Use the Daily Project Timesheet template to track a project's budget, expenses, and bill the client at the end. The template lets you manage multiple projects for your employees on different days and get the revenue for each project at the end of each workday.
It will capture the clock in, clock out times per project or client, hours worked, project cost, and billable time.
Get your FREE daily project timesheet template.
How to Use the Daily Timesheet Templates
You can customize the templates as per your preferences. You can add or edit information like:
Company name
Employee name
Manager/supervisor name
Today's date
When using timesheets, simplicity is key. Spreadsheets can be confusing for employees who don't have knowledge or experience using them. So, keep it simple and clear, so they know exactly where to fill in the data.
How to Create a Timesheet in Excel
It's much easier to use a template than to start from scratch. Simply download a timesheet template for free from this site and adapt it to your business needs.
How to Create a Timesheet in Google Docs
You can find several daily timesheet templates available free for download above. Go to File and select Make a copy. This allows you to access the template, so you can edit it and fill in the necessary data.
Pros and Cons of Using a Timesheet
Using daily timesheets to record your employees' worked hours has its advantages and disadvantages. It can be a great choice if you have few employees and a small budget. However, it might not be so friendly if you want to scale your business.
Check out the benefits and drawbacks of timesheets to see if it's a good match for your business.
Pros:
Cost-efficient. Timesheets are free to use. You can download the templates we've shared above or create one yourself based on your type of business. This means that it won't cost you a dime to start tracking time for your in-office or remote workers.
Ease of use. Most employees already know how to use a spreadsheet. They may only need some guidance on how to add formulas or pull reports. Otherwise, spreadsheets are fairly simple to use, especially if all employees have to do is fill in the details of their daily activities.
Project estimation. Timesheets capture data over time, which can be useful in future project planning, including cost estimation and profit projections. This way, you'll know exactly the budget you need for a new project and if the project will be profitable.
Cons:
There are several limitations to tracking time using timesheets:
Time-consuming. Tracking time always requires data modification. Sometimes, an urgent task might be given priority, or a project may take longer than planned. Modifying data manually can be very time-consuming and tiring. If these updates are not done on time, they might not reflect on the weekly or monthly payroll and can lead to payment disputes.
It's not easy to measure productivity. While daily timesheets capture the hours an employee has worked each day, it can be too complicated to analyze each month. It won't be easy to determine performance and productivity levels of each worker with so much data to work through. Plus, the analysis can be erroneous due to the sheer amount of data that needs to be analyzed.
It doesn't store historical data. Companies need historical data to learn productivity trends, record proof of work in case of discrepancies and calculate project estimates. However, this can be complicated when using timesheets. If you print the timesheets to fill manually, there's the risk of losing or misplacing the records. Even if you're using an online timesheet, to save space, old versions of the reports may have to be overwritten.
Inaccuracies. Timesheets are susceptible to inaccuracies due to human error when filling out the time details. Since you aren't tracking time in real-time, you'll have to rely on the accuracy of the employee's input, which can be incorrect. In addition, cases of time theft can increase since there's no way to prove if the logged hours are accurate.
Reporting can be messy. Manual time tracking systems like spreadsheets can be difficult to collate, organize and report, especially if you manage a large team. Due to the extensive data that you've accumulated over the weeks or months, pulling reports can be a hassle and time-consuming. Moreover, you can't generate automatic or scheduled reports when using timesheets.
The Best Alternative to Track Your Team's Time
You don't have to put up with the pressure of filling out a daily timesheet when you can automate the process. If you want a seamless, stress-free, and efficient alternative to tracking time, Traqq time tracker is your best option.
Related: 4 Time Tracking Spreadsheet Templates for Free
It automates time tracking software and lets you monitor employee attendance, capture clock in clock out time, and log work hours.
Traqq time tracker offers several benefits, including:
Low cost – you can use Traqq for free and still access unlimited features.
Data accuracy – it automatically captures and records time spent on projects and user activity.
Ethical monitoring – screenshots are intentionally blurred to hide sensitive employee details. Managers can still see work progress without exposing employees' privacy.
Internet usage – you can view what sites and apps employees use during work to understand their time usage.
Robust reporting — you can generate reports for each employee or the entire team to facilitate in-depth analysis for both management and clients.
Try Traqq for free and see for yourself how it can transform your company's performance.