The 18 Best Time Trackers for Your Mac in 2021
People think that working from home is such an easy job. Indeed, with no one watching you, you can do whatever you want. You can navigate Twitter for hours to end. You can play Fortnite whenever you want and beat those teenagers on home quarantine. Oh, and you can post hundreds of dance videos on TikTok. The point is, remote workers can get distracted easily. Even if you think you can pretend that Facebook does not exist, you may find it difficult to resist that enticing ping coming from your email or text message notification.
Now, if you're managing a remote team, it can be challenging to help them maximize their productivity. Well, if your employees are using Apple computers, you should introduce them to the best time tracking apps for their Macs. Such programs can help remote employees and freelancers who work on macOS focus on their work. A time tracking app for Mac can serve as a productivity assistant that boosts motivation and helps to deliver excellent results.
So, what are the top time tracking Mac programs? Well, we've compiled a list of the most highly reviewed apps in this post.
1. Traqq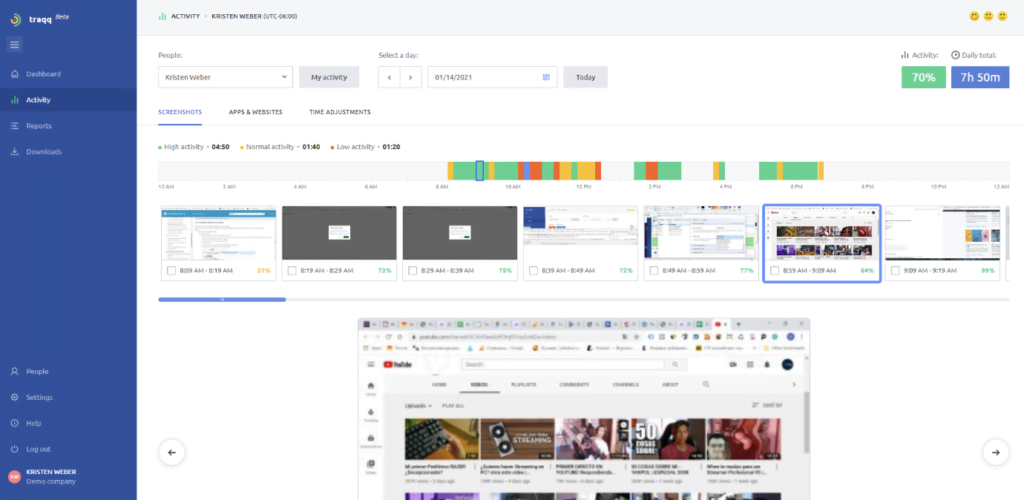 If you want to get detailed reports about your remote workers' activities without violating their privacy, then Traqq is the perfect tool for you. This time management app allows you to measure and analyze the activity levels of your employees. What's more, it monitors what websites and apps they frequently use. It simplifies the time tracking process while helping you identify activities that hamper productivity, and its stopwatch works both online and offline.
Traqq is one of the best employee time management apps for Mac users, especially if you're a freelancer or working remotely. If you're worried about spying, then this tool is perfect for you. Traqq promotes ethical monitoring by blurring and compressing all the screenshots it takes. You won't have to worry about it leaking your personal or sensitive data. What's more, it gives you freedom over what can be tracked. You can manually remove screenshots and recorded hours if you feel they shouldn't be included in the report.
Meanwhile, managers with admin-level access can remove the screenshot feature entirely if they think it's unnecessary. On the other hand, if they want to get deeper insights into their team's activities, they can make use of the screen recording feature: Traqq can take ten-second video recordings of a user's desktop. As a result, managers will have an idea of what an employee is doing at a given time.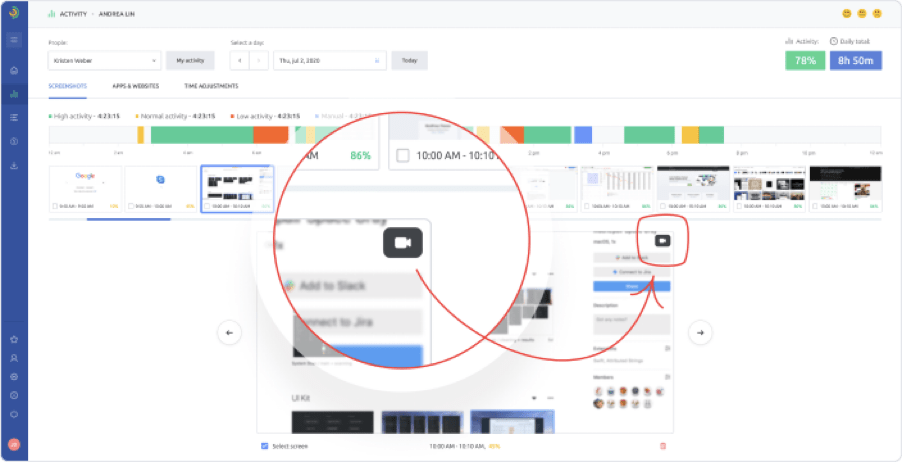 There are many other benefits you can get from Traqq. So, it is a Mac time management app that will bring the best value for your money.
Pros:
Traqq intentionally reduces the quality of the captured screenshots and video recordings to an extent that would prevent sensitive information from becoming legible.
The free version comes with all Premium features.
It takes a few clicks to generate comprehensive timesheets, detailed stats, and productivity reports.
Cons:
As of this writing, Traqq does not offer integrations with third-party apps.
Pricing:
Premium Starter – $0 for up to three seats (comes with all Premium features)
Premium Teams – $6 per seat, per month
Enterprise – Contact the sales team to get a customized plan for teams of over 100 people
2. Klok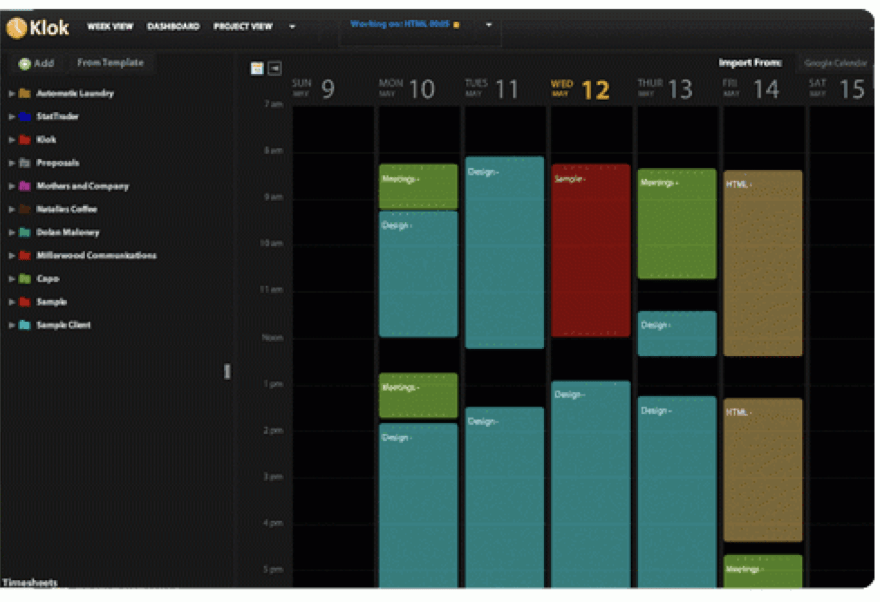 The creative types will appreciate Klok for its visual display of the recorded time and tasks. It allows you to organize the panels according to projects and clients. In a way, it is like the software version of Leslie Knope's differently colored binders. You can export timesheets from Klok and generate reports and invoices. What's more, if you need extended functionalities, you can integrate the app with other time trackers.
Pros:
You can use Adobe AIR to run Klok on most major desktop operating systems.
The app has an attractive and user-friendly interface, making it an ideal time tracker even for those who are not tech-savvy.
Klok also works offline, which can be useful when you don't have an internet connection.
Cons:
Some users claim that the app hasn't been updated in a while.
Adobe AIR dropped Linux, so you won't get support for that operating system.
Pricing:
Single User License – $19.99
Three User License Pack – $56.97
Five User License Pack – $89.95
Ten User License Pack – $179.90
30 User License Pack – $479.70
Klokwork Team Console Single License – $99.99
3. Timing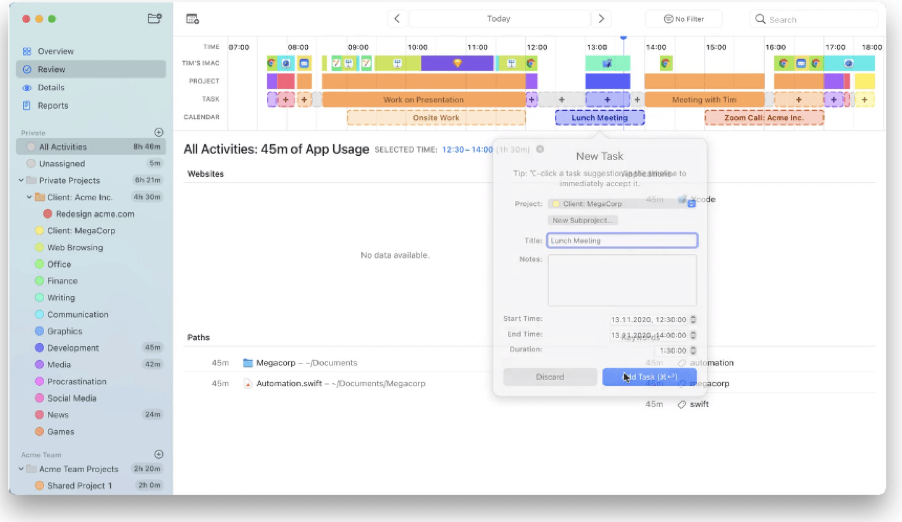 Timing is a time tracking app for Mac users who prefer digesting data in graphs. What sets this tool apart is that it doesn't have an on/off switch. Instead, the program runs round the clock. It's perfect for nitpickers who want to analyze everything they do on their computers.
Once you open Timing, you will see everything that you've been doing. You can get into the details as much as you want. What's more, the tool categorizes your activities into groups, like Games or Web Browsing. When you click a section, you will see how much time you spent on a specific application.
Pros:
The colored timeline makes it easier to view the timesheet reports.
Timing has a manual and automatic task categorization feature.
Users can expect immediate support if they have questions about the app.
Cons:
Data is not synchronized automatically if you use two or more devices.
It can be difficult to get the rules to work correctly.
Pricing:
Professional – $8.40 per user, per month
Expert – $11.40 per user, per month
Teams – $16.90 per user, per month
4. OfficeTime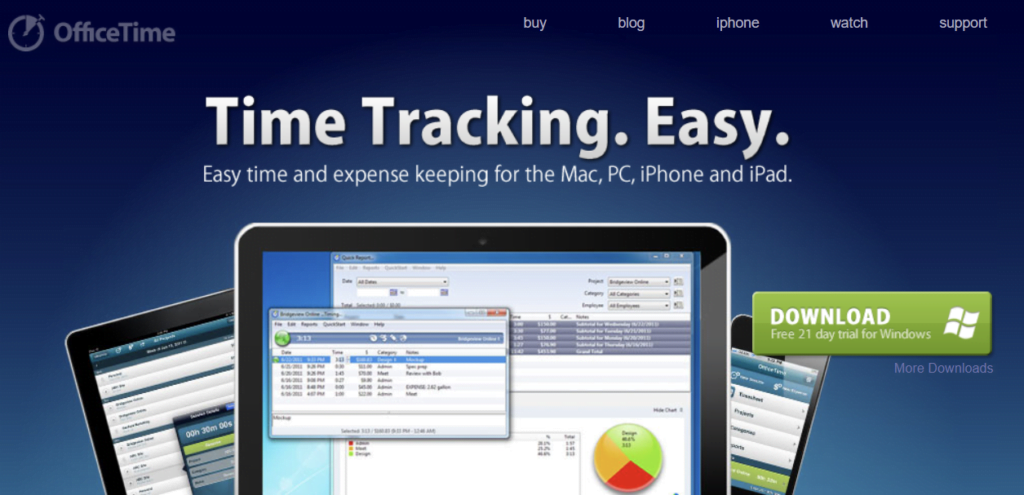 Some people prefer nothing too big or extravagant when it comes to time tracking apps for Mac. If you want a tool that has all the basic features you need, then consider getting OfficeTime. It simplifies the whole task monitoring process. All you need to do is click the top navigation bar on your Mac, select the project you want to work on, then start the timer. You don't even have to open the OfficeTime app just to begin tracking your hours. If you need to switch to a different project or you want to take a break, you can open the menu and select the appropriate option.
Pros:
The app is easy to use, so you can get it running in no time.
OfficeTime also works offline.
The app has user-friendly invoice and reporting tools.
Cons:
Some users say that OfficeTime's support for integrations is weak.
The app doesn't come with project-based billing.
Pricing:
Freelancer – $7 per month
Sunshine – $69 (one-time fee)
Business – $12 per user, per month
5. Tyme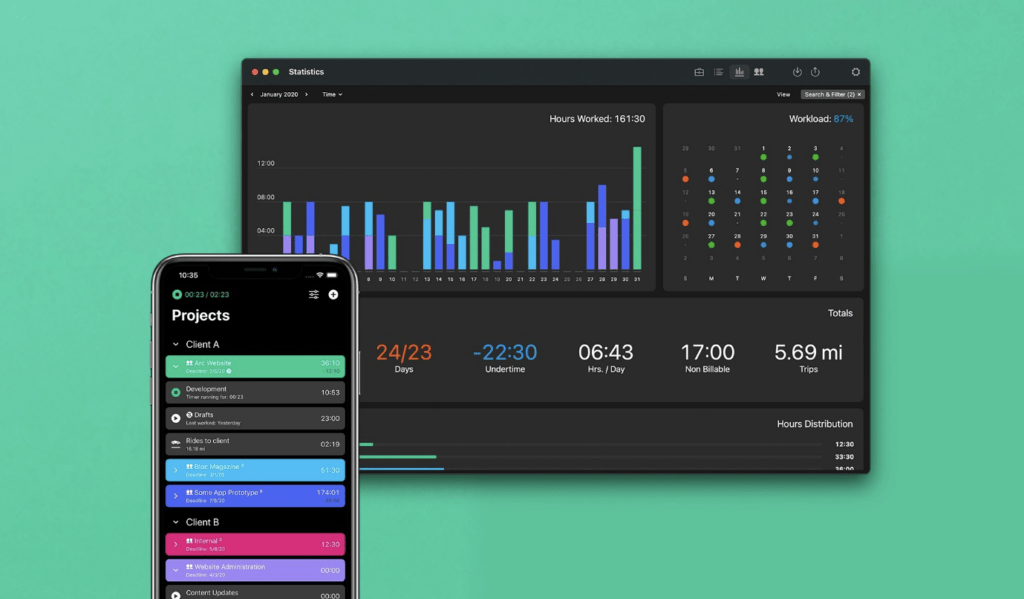 Creating timesheets is another tedious task added to the long list of duties that your remote workers have to complete. So, you'd want to make the process as simple as possible. Well, if you want to make Mac time tracking easier for your employees, you should use Tyme. It allows you to set up a custom keyboard shortcut to quickly launch the app. What's more, every action on the app has a corresponding hotkey. You may not even need to use your mouse to operate the tool.
You can get a quick overview of your current clients and your latest entries by looking at Tyme's dashboard. While it has a clean and minimalist interface, it gives you a comprehensive look at all your projects at hand. However, if you're working on two projects at a time, the dashboard may seem a bit cluttered.
Pros:
Tyme has an attractive and user-friendly interface.
You can sync your data across various Apple devices, including your iPhone, Mac, iPad, and even Apple Watch.
Cons:
The app doesn't offer channels for submitting bugs and errors.
Some users claim that the features do not justify the pricing plans.
Pricing:
Individual – $3.99 per month
Team – $3.99 per user, per month
6. Fanurio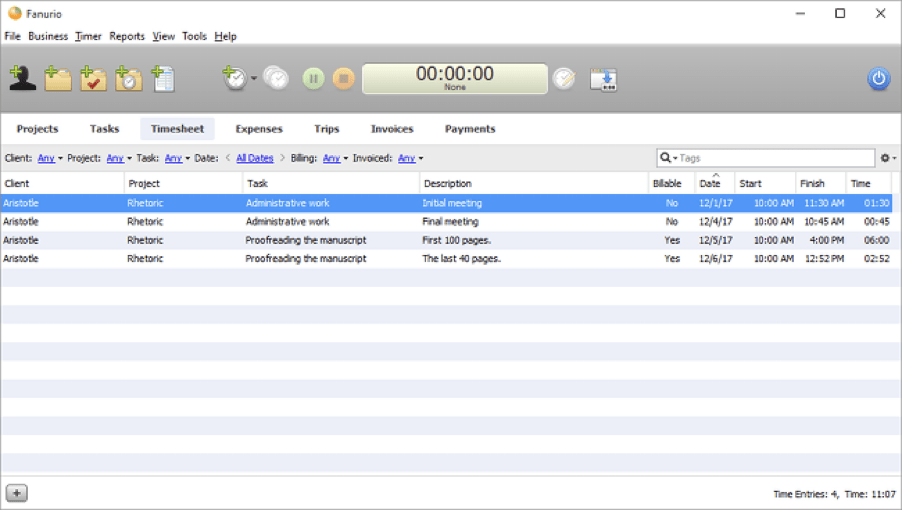 It is rare to find a free time tracker for Mac that has all the necessary features. In most cases, when you get a tool without paying, you can only enjoy limited functionality from it. Thankfully, there is budget-friendly time tracking software for Mac. For example, if you're managing a small team, or if you are a freelancer, consider using Fanurio. Its features are flexible. You can log work according to tasks or hours. Aside from that, you can record expenses for every project.
Once you use Fanurio, you can choose from various ways to track your work. You can always open the app to start the timer. However, you can also operate it via its icon in the Dock menu. If you want to know how much time has elapsed, you can look at the Fanurio symbol there.
Pros:
All the pricing plans come with a perpetual license.
Aside from macOS, Fanurio also supports Windows, Linux, and Unix.
The app has all the tools you need for managing time and processing your invoices.
Cons:
Fanurio doesn't offer support channels other than the online contact form.
Pricing:
Standalone (For individuals using a single computer)
Single User License – $59
Annual Maintenance Fee – $29 (Update) and $19 (Extension)
Server (For individuals and teams using multiple computers)
Single User License – $89
Upgrade from Standalone to Server – $30
Annual Maintenance Fee – $59 (Update) and $39 (Extension)
7. Billings Pro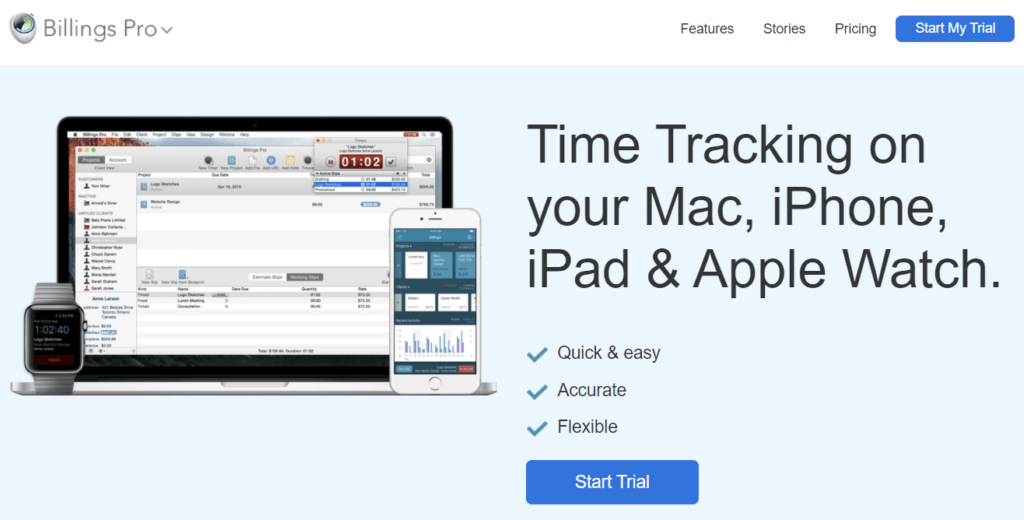 If you want a time tracker for your freelancing projects, then you should consider Billings Pro. With this app, you won't have to switch to different programs to track time, generate invoices, and process payments. You can use it for creating detailed timesheets, preparing estimates, sending invoices, and monitoring payments. What's more, you can install the app not only on your Mac but also on your iPad, iPhone, and Apple Watch. No matter what Apple device you're using, you'll always have your digital time tracker with you.
Pros:
The app is easy to set up, and you can even customize details like tax configurations.
You can sync the data across your devices.
Billings Pro has never failed to provide excellent support.
Cons:
The iOS app is volatile, and it doesn't provide options for saving an invoice in progress.
Pricing:
Freelance – $5 per user, per month
Professional – $10 per user, per month
8. atWork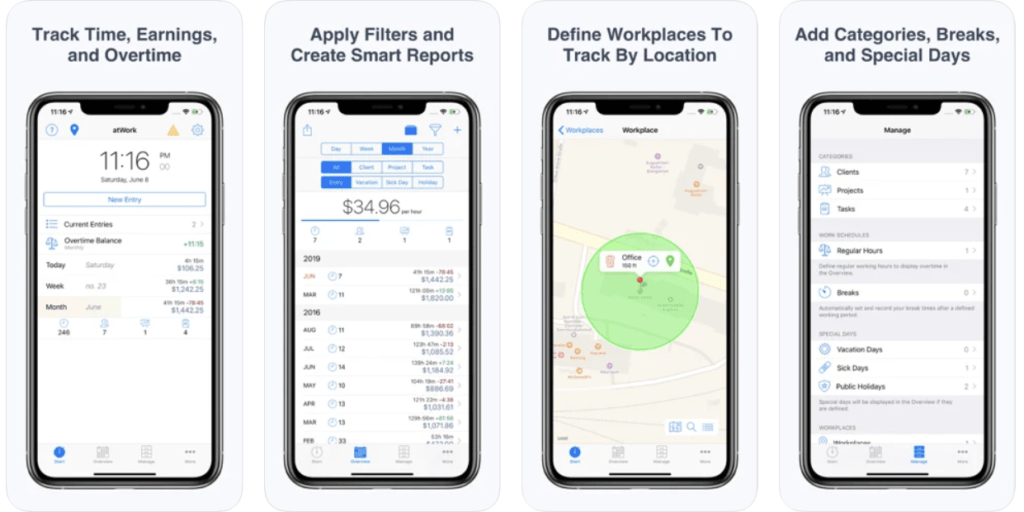 atWork makes it easy for iOS and macOS users to track their work hours, monitor their earnings, and boost their productivity. In case you forget to run the app, you can log time manually. You can assign a time entry to a project, client, or task. What's more, the app has a geo-tracking feature that starts recording time automatically as soon as the user reaches a certain location. Also, atWork lets you sync your data to your Apple Watch. This way, you won't have to bring your phone everywhere just to record your work hours.
You don't have to worry about losing your data when you switch between devices: atWork lets you back it up to iCloud automatically or manually. Moreover, it lets you export reports as CSV files.
Pros:
atWork has a simple interface, making it easy for new users to get the hang of its features.
It allows users to filter reports according to projects, clients, and even job sites.
Cons:
atWork doesn't have an online knowledge base. So, you may be on your own once you install the app.
Some users claim that atWork rarely responds to support requests.
Pricing:
Free to download
In-app purchases
9. timeEdition

timeEdition is another macOS and iOS time tracking app that aims to help people create accurate billing records. As soon as you start the app, it will start tracking the time you spend on your tasks. Now, in case you forget to switch it on or off, you can manually adjust your entries. Freelancers will appreciate how timeEdition color-codes tasks. What's more, the time tracker lets you set up deadline reminders. You can even add notes to your records if you want to.
If you start tracking time on your Mac and then switch to your iPhone, timeEdition will make the transition seamless. You can sync its macOS and iOS apps via Dropbox. This way, all the collected data will be available across your devices. You can even export reports as spreadsheets and synchronize the app with iCal.
Pros:
timeEdition has a clean, responsive, and efficient user interface.
The app syncs automatically with your calendar.
You'll get custom Siri command support when you install the iOS app.
Cons:
It can be difficult to navigate the user interface.
Pricing:
10. Tick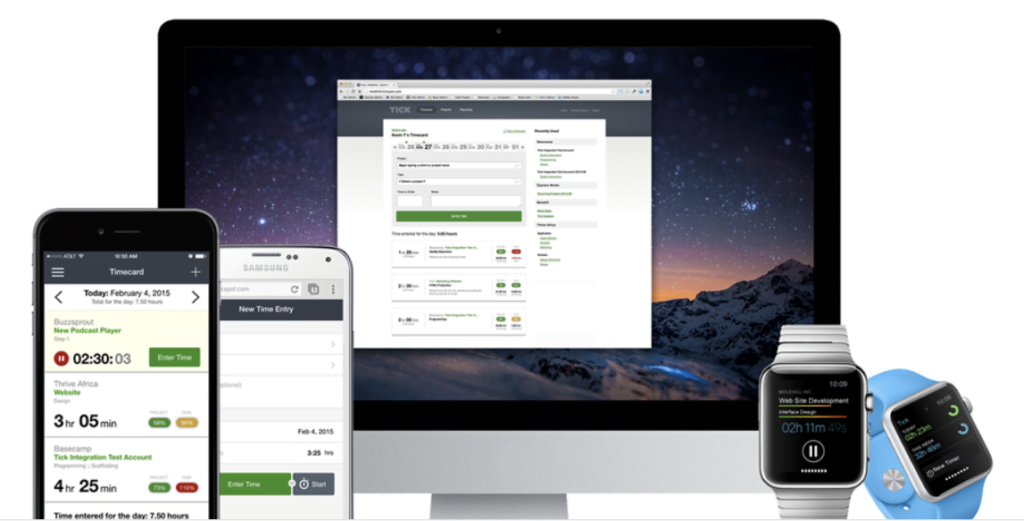 Sometimes, freelancers can get so engrossed in a project that they spend more time on it than they're supposed to. Now, if you're juggling multiple projects, then it can be difficult to balance your time between them. Well, Tick solves this problem by helping you budget your time for every project.
If you're managing a remote team, you will find Tick's reporting feature quite useful. You can compare the hours that every worker logged. Aside from that, you can easily switch between different view modes to see the amount of time you've billed for every client. The tool can integrate with FreshBooks and QuickBooks, allowing you to turn reports into invoices easily.
Pros:
Because you can access Tick via your mobile devices, you can keep tracking your billable hours no matter where you are.
Tick allows you to set time budgets for each task or project.
Cons:
The reporting function is complicated, and it doesn't let users export the data into an Excel file.
The shortcut menu cannot be customized.
Pricing:
All monthly plans allow unlimited users.
1 Project – Free
10 Projects – $19 per month
30 Projects – $49 per month
60 Projects – $79 per month
Unlimited Projects – $149 per month
11. On the Job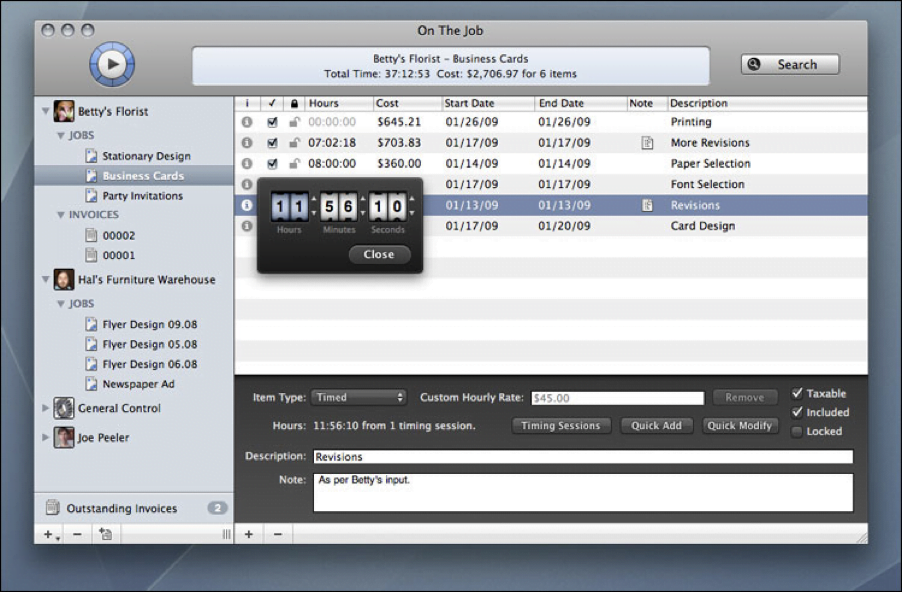 Anyone who hates disruptions will appreciate how discreetly On the Job tracks time. It sits quietly on the menu bar and records work hours without disturbing you with pesky notifications. Moreover, a new session is created automatically whenever you start the timer. Managers can customize the hourly rates and generate accurate invoices for their team members.
Now, if you're a freelancer, you can organize the details of your clients according to their names, hourly rates, and addresses. You can use different currencies, depending on where your customer is located.
Pros:
Because of On the Job's simple design, most users can quickly learn how to use it.
You can easily customize the invoices and export them as PDF files.
Cons:
Some users find the app's interface a bit dated.
The developers no longer provide support for the app.
Pricing:
12. HR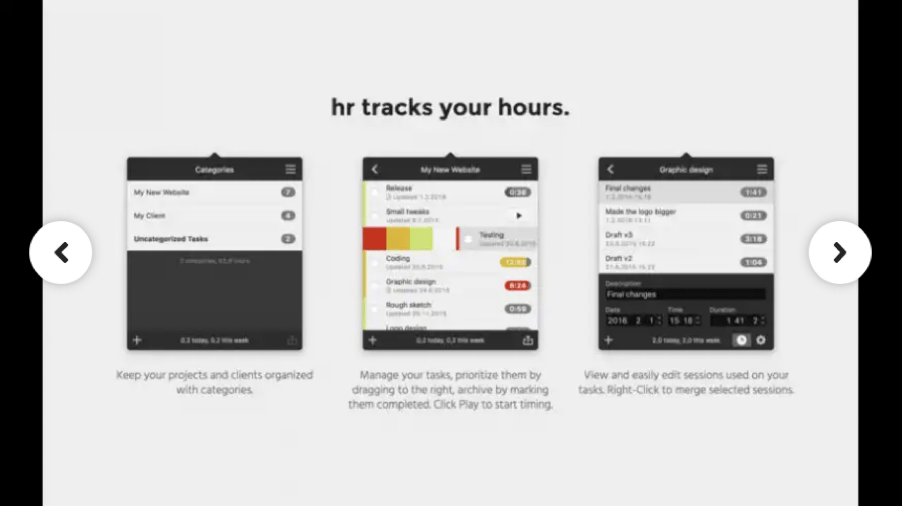 If you want a minimalist app to track your work hours, then check out HR. Once you launch it from the menu bar, it will run discreetly in the background. What's notable about this app is that it allows you to run several timers simultaneously. Moreover, if it detects idle time, it will pause automatically. You can also set it to run as a Pomodoro timer, reminding you to take a break after a specified period.
You can also use the tool to keep your project list organized. If you're a freelancer working with different clients, you can categorize them to keep corresponding time records distinct from each other. HR also offers convenient reporting by letting you export your data into a CSV file.
Pros:
HR's interface is simple and user-friendly, making it an ideal option for freelancers.
The app lets you run several timers, which can be useful in certain fields.
It comes with a Pomodoro timer, which allows you to work more efficiently.
Cons:
Some users reported that it can be confusing to navigate the different options.
Pricing:
13. Caato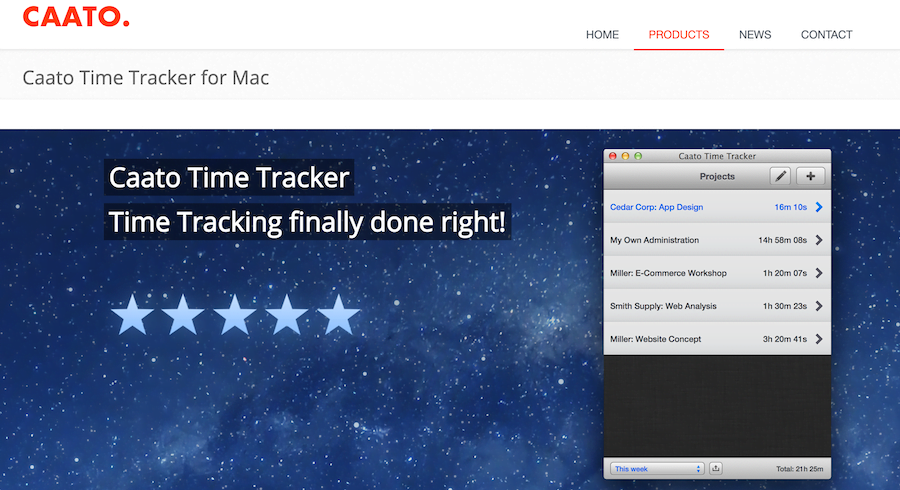 Caato is a free time tracking app for macOS. It was designed to spare users from recording work hours manually. With this tool, you can easily break down your projects by tasks. If you forget to turn on the timer, or if you work offline, you can adjust your entries manually. What's great about Caato is that it helps you track billable hours down to the second. Moreover, it lets you generate reports for specific projects, tasks, and date ranges. If you need to, you can export your report to a CSV file.
Caato is ideal for freelancers who need a tool that creates invoices for clients and measures productivity. This time tracking app for Mac has a clean user interface that shows data labels to help you easily identify tasks. Moreover, if you're paid at a daily rate, you can use the app's feature that automatically converts hours into days. However, remember that Caato is not an entirely free time tracking app for Mac. If you want to record hours for multiple projects, you'll need to upgrade to the Pro version.
Pros:
Caato has a user-friendly and highly professional interface.
The app allows you to track time for multiple projects.
You can convert the hours into days.
Cons:
You cannot expect to see all the tools and features on the free version.
Pricing:
Free to download
In-app purchases
14. FreshBooks Time Tracking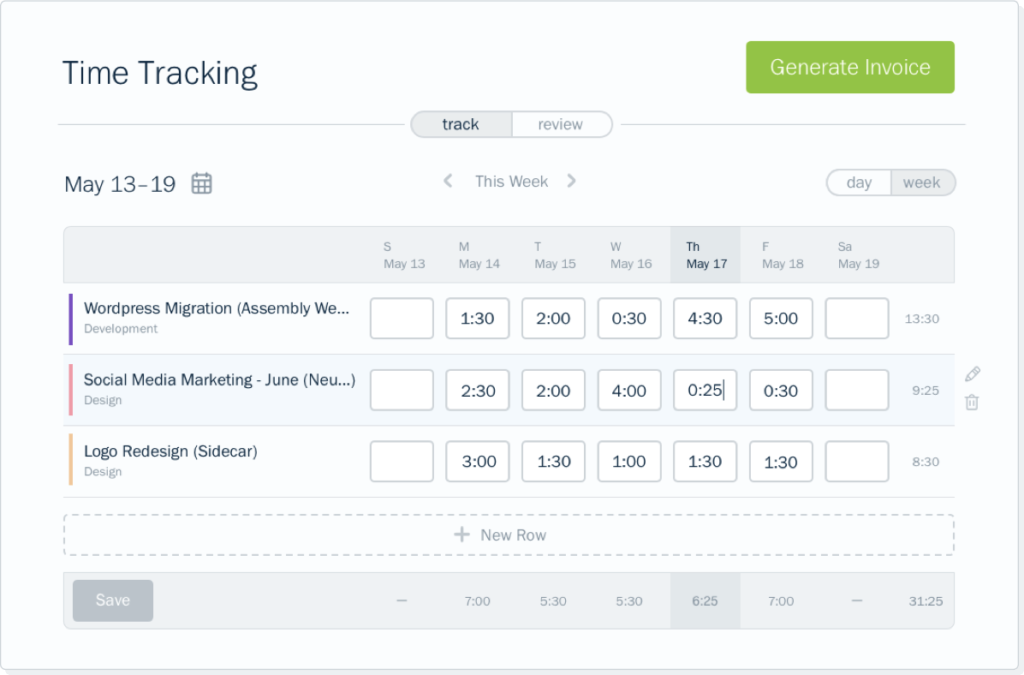 FreshBooks is more than just an invoicing app—it also has a time tracking feature. It lets you know how much time you're spending on projects and clients. Once your work is done, a single click will let you generate your invoice. On the app's dashboard, you can see how much time every task consumes. It provides you with an easy-to-follow breakdown of your hours, allowing you to work more efficiently.
If you're managing a team, you can also use FreshBooks' time tracker to monitor your employees' billable hours. It also lets you collaborate with your team on the same projects while monitoring hours. In a way, FreshBooks also works as a project management tool. Managers can see which tasks have been completed and which are overdue. A time tracking feature is available on all paid versions of the software. If you're not ready to pay for the app yet, you can use all its features for free for 30 days.
Pros:
FreshBooks Time Tracking has a user-friendly interface.
It comes with comprehensive invoicing and accounting features.
Cons:
It doesn't let you add notes about projects, which could be useful when you're trying to organize your tasks.
Pricing:
Lite – $7.50 per month (5 billable clients)
Plus – $12.50 per month (50 billable clients)
Premium – $25 per month (Unlimited billable clients)
Select – Custom pricing for businesses with more complex needs
15. Time Sink

Mac users can install Time Sink to better understand where they are spending their time. The tool monitors the apps that you use and the websites you visit on your device. Moreover, it automatically tracks the amount of time you spend on them. Now, if you're working on a task outside your device, you can create a separate timer for that activity. This way, the minutes will be added to your total billable hours.
If there are related tasks, you can put them in a group. Known as Pool, this feature lets you discover how long you've been working on a specific project. What's more, it also shows you the time you spend on non-productive activities. You can drag and drop activities to the Pool section of the app to start your productivity analysis.
Pros:
Time Sink shows you how much time you spend on particular apps, allowing you to identify common time wasters.
You can manually add time for activities done outside your device.
The app lets you generate productivity reports within a few clicks.
Cons:
You can only reach support via email.
Pricing:
Note: Users have to pay for the yearly updates, but the product comes with a perpetual license.
16. Timelime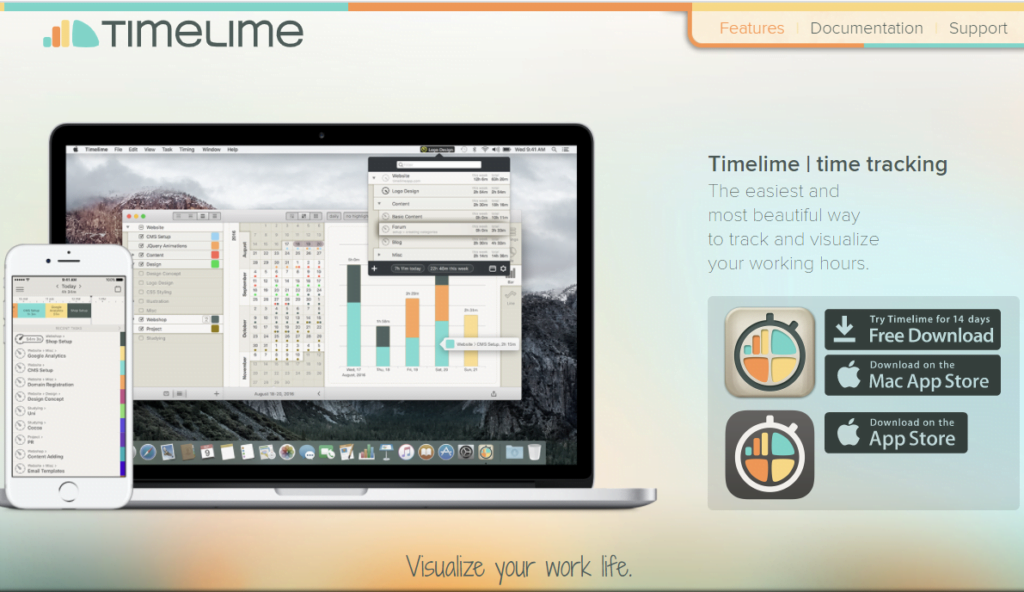 Timelime is another macOS and iOS time tracking app that allows seamless project monitoring across different Apple devices. So, if you're tracking time on your desktop but you have to move to your phone, you can rest assured that your data will be synchronized. What's more, Timelime offers additional helpful features. You can add notes to recorded hours and tasks, import and export data, and create backups, among others. This app is perfect for independent contractors, freelancers, office employees, and even students. As long as you need a tool that will monitor your daily activities and time spending, Timeline will work for you. It will help you increase your productivity by providing you with a visual representation of your time expenses.
Pros:
You can easily review productivity and time data by looking at the pie charts and graphs.
The app allows you to sync data for both iCloud and Dropbox.
Cons:
Syncing the data usually takes some time.
The app's performance can be unreliable.
Pricing:
Free to download
In-app purchases
17. Virtual TimeClock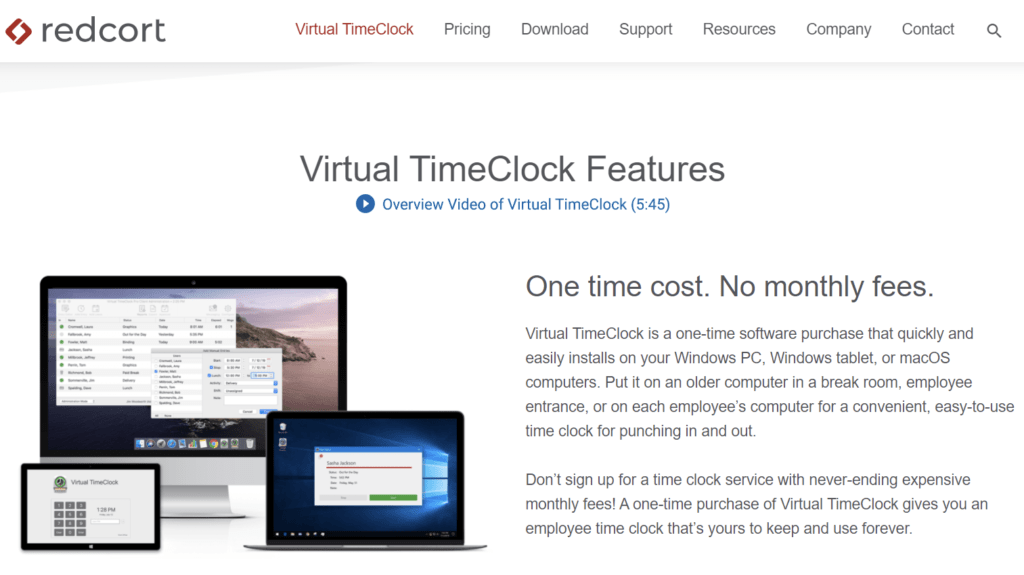 If you're looking for an easy-to-use Mac time tracking app, Virtual TimeClock is one of the best options. It's perfect for those who hate paying monthly subscription fees. With a one-time payment, you can access the time tracker's features. You don't have to manually track your work hours, which allows you to avoid various payroll hassles. Virtual TimeClock also comes with a free trial. So, you can test out its features before you pay the fee.
You can choose from three Virtual TimeClock versions—Basic, Pro, and Network. The number of features and users increases as you move to the higher app plans. No matter what version you choose, you can expect a time tracker that has excellent export options, a simple setup, and centralized management.
Pros:
You can easily convert the kiosk interface into an administrative screen, allowing you to review and generate reports conveniently.
Missed clock-ins can be added manually along with a note stating why the adjustment has to be done.
Virtual TimeClock is a lightweight app that can be installed within a few minutes.
Cons:
Since the app is not cloud-based, users cannot access it anywhere they are.
Pricing:
Virtual TimeClock Basic – $99 (1 computer, 3 employees)
Virtual TimeClock Pro – $195 (1 computer, unlimited employees)
Virtual TimeClock Network – Starts from $295 (multiple computers, unlimited employees)
18. Chrometa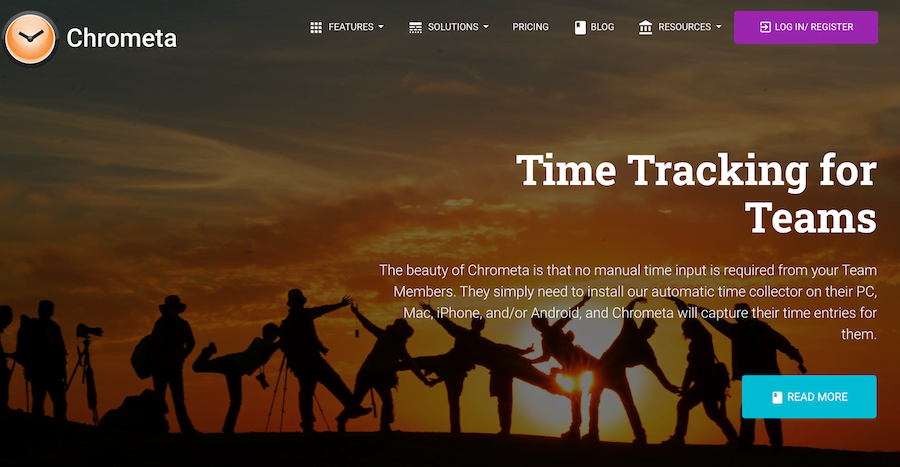 Chrometa prides itself on being a passive time recording system. It automates time tracking, eliminating any manual user input. Aside from being a Mac app, it also has an iOS version. So, if you're using your iPhone, your calls and texts will be added to your billable hours, too. After installing the app, you will be able to record activities on your device and log the data to the system.
You can also check the Summary feature to review all the recorded data, including web browsing, computer usage, and emails. Through the Move to Project option, you can manually add billable time to specific projects. What's more, you can export your data to your preferred project management app.
Pros:
You can always expect Chrometa's support to answer your questions or help you with your app issues.
The app also logs phone activity, which can maximize how you monitor your time.
Cons:
Chrometa always rounds up increments of time, which may lead to billing inaccuracies.
It's great for a single device, but using it on multiple devices can be complicated.
Pricing:
Standard – $19 per user, per month
Plus – $29 per user, per month
Premium – $49 per user, per month
Time Trackers for Mac: A Quick Overview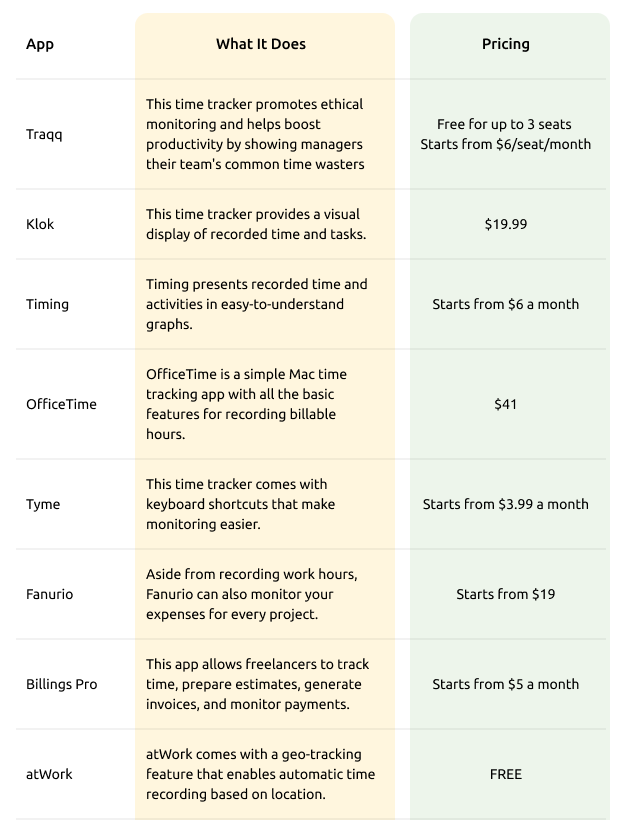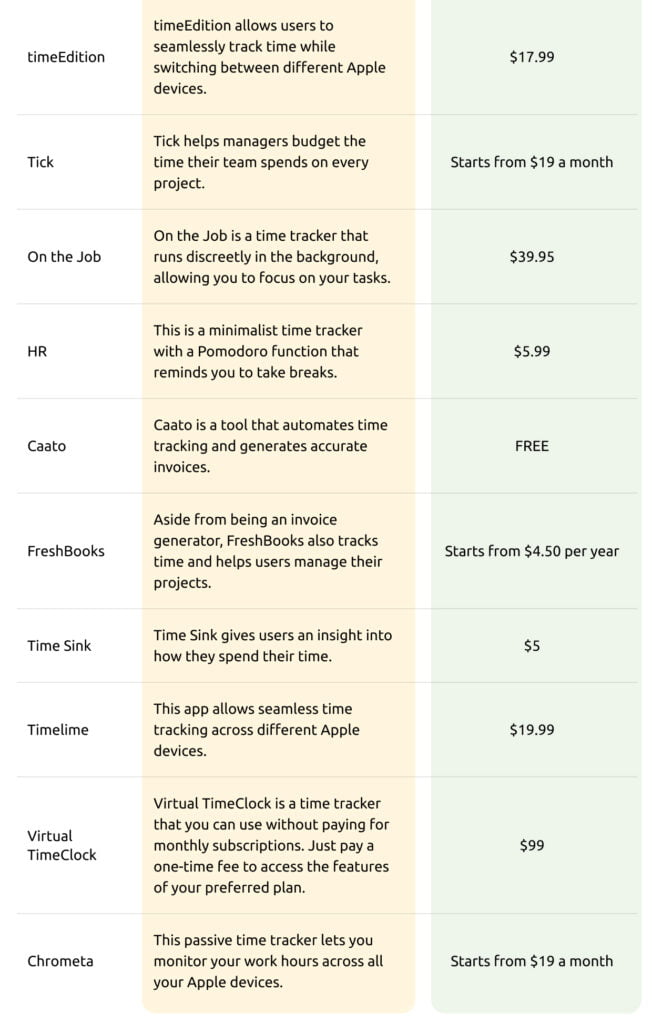 On a Final Note
With more people joining the work-from-home movement, more and more productivity tools are showing up on the market. What's important is that you choose the app that works best for all your needs. In this way, you can get the best value for your money while improving your remote workers' performance and productivity.