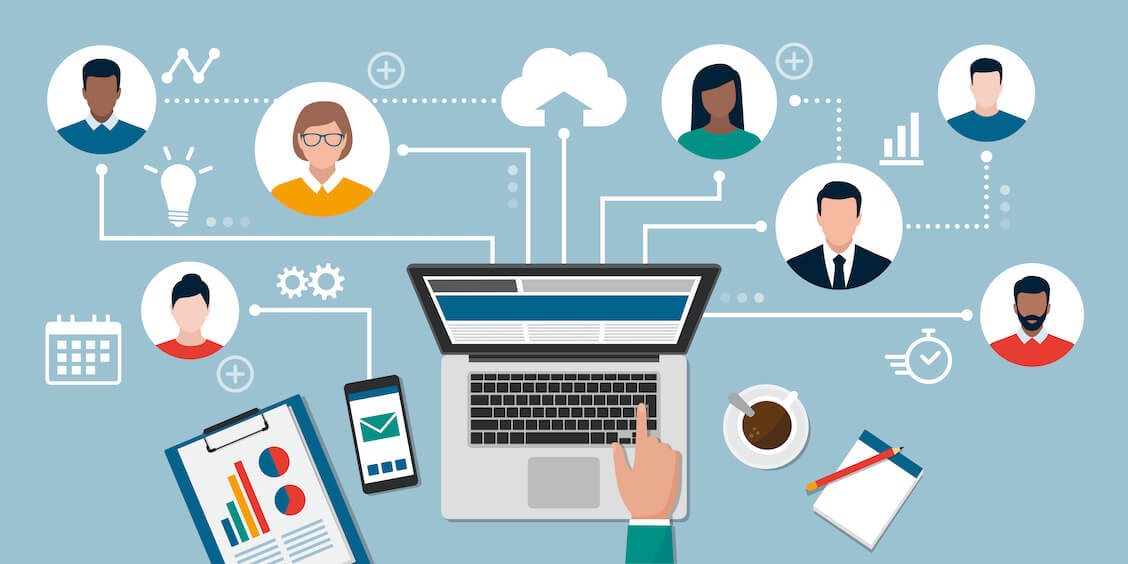 Managing a workforce can be a real challenge, especially when you're trying to juggle schedules, track employee hours, and forecast labor needs. But thankfully, there's a wide range of workforce management software out there to help lighten your load.
In this article, we'll dive into the world of workforce management and explore some of the best software solutions to help you keep your team running like a well-oiled machine.
What is Workforce Management?
Before we dive into the nitty gritty, let's take a step back and define what workforce management actually is. At its core workforce management is all about ensuring that your team's resources are used effectively to meet business goals. That might sound simple, but in practice, it takes juggling a lot of moving parts, like scheduling, time tracking and performance management.
To help you get a better understanding, here are some key components of workforce management:
Scheduling
Creating and managing work schedules for employees is crucial to ensure that the right people are working at the right time. This helps optimize productivity and minimize costs associated with understaffing or overstaffing.
Time and attendance
Keeping track of employee hours, breaks, and time-off requests is essential for accurate payroll processing. This also allows you to monitor employee performance and identify any potential issues, like excessive overtime or absenteeism.
Labor forecasting and budgeting
Predicting future staffing needs and aligning them with your budget helps you make informed decisions about hiring, scheduling, and cost control. This includes identifying peak periods and making sure you have enough hands on deck to meet demand.
Compliance management
Staying on top of labor laws and regulations can be a daunting task. But it is essential for avoiding fines and maintaining a positive reputation. Workforce management software can help you keep track of changing regulations and ensure that your business stays compliant.
Employee performance management
Improving employee performance is key to creating a happy, productive work environment. By setting clear expectations, providing regular feedback, and offering opportunities for growth, you can help your team members reach their full potential.
Now that we've got a solid foundation, let's explore some of the best workforce management software solutions on the web!
Best Workforce Management Software
To make your decision-making process a little easier, we've put together a handy table comparing these 8 tools, highlighting their pros, cons, best use cases, and pricing.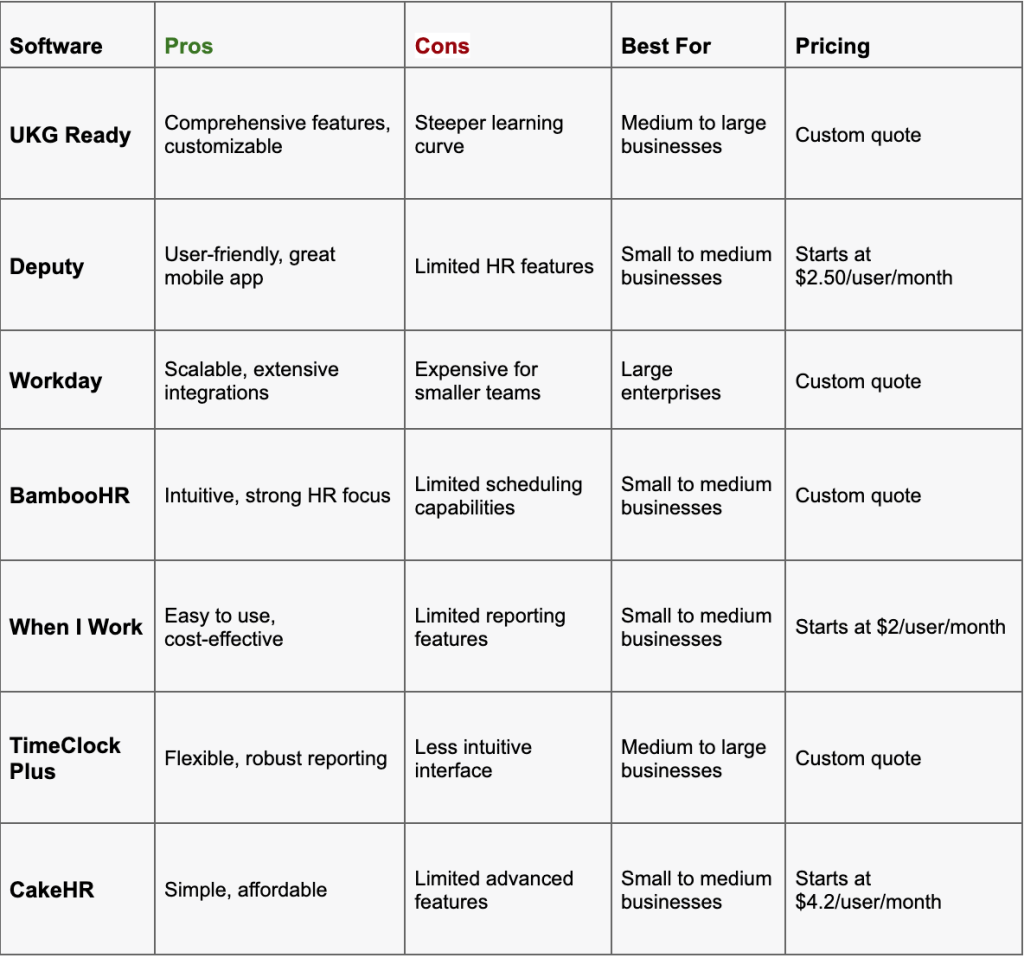 Let's take a closer look at each of them:
UKG Ready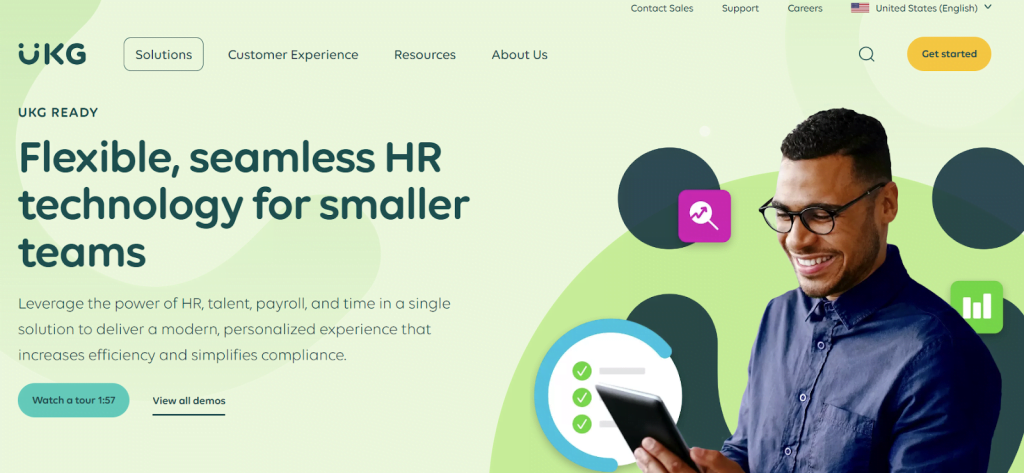 A comprehensive solution designed for medium to large businesses, UKG Ready offers a wide range of features, including scheduling, time and attendance, payroll, and HR management. It's highly customizable, allowing you to tailor it to your organization's specific needs. However, the software may have a steeper learning curve due to its extensive features, which might require more time for training and implementation.
UKG Ready can also be tailored to call center environments. Its advanced scheduling capabilities make it easier to manage complex shifts and breaks. Its real-time monitoring features help ensure agents adhere to their schedules. With Kronos call center workforce management software's robust reporting and analytics tools, managers can gain valuable insights into call center performance and make data-driven decisions to optimize workforce management.
Infinity
Infinity is a completely flexible and user-friendly project management tool that can easily act as workforce management software for businesses seeking to streamline their operations. With its infinite structure, time tracking and collaboration features, Infinity allows both managers and employees to stay connected and optimize their productivity. Infinity is a fully scalable tool that can adapt to business of all sizes and help with efficient employee onboarding and performance tracking. The app is available on web, desktop, and mobile apps, and comes with two pricing tiers: Basic and Pro.
Deputy
Known for its user-friendly interface and excellent mobile workforce management software, Deputy is a popular choice for small to medium businesses. It streamlines scheduling, time tracking, and communication, making it easy for managers and employees to stay connected. While it offers basic HR functionality, it doesn't have the extensive HR features found in some other solutions. Deputy's pricing is affordable and scalable, which makes it a great option for growing businesses. Deputy's mobile workforce management software app can be found on Google Play and App Store.
Workday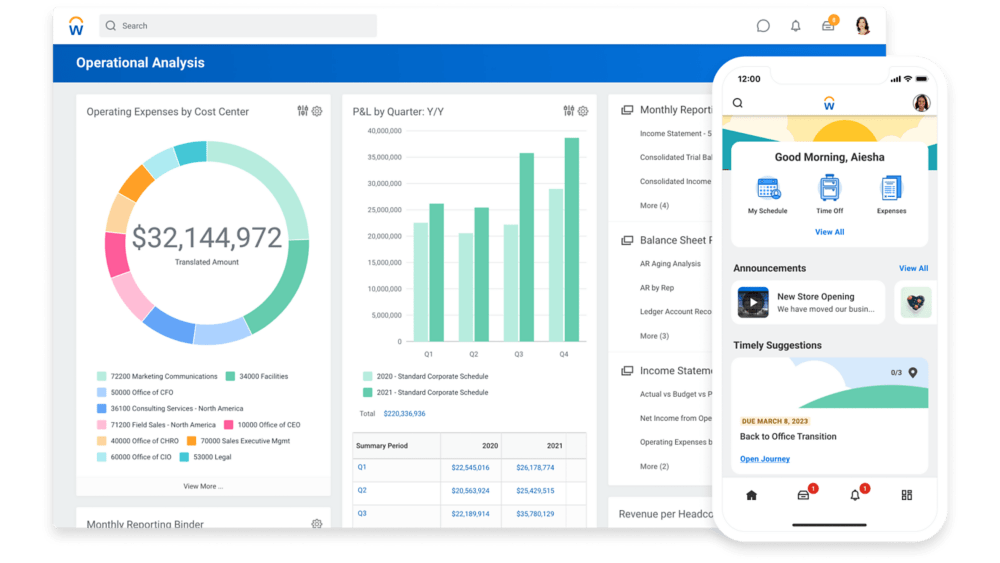 Workday is a powerful and scalable workforce management platform.It's mainly designer for large teams. Workday offers extensive integration capabilities with other systems, making it an ideal choice for organizations looking to centralize their workforce management processes. Workday has quite some features, including talent management, payroll, time tracking, and analytics. But it can be more expensive for smaller teams, so it's best suited for larger organizations.
BambooHR
BambooHR focuses primarily on human resources management offering an amazing solution for small to medium businesses. Employee self-service, benefits administration, and performance management features cover many HR aspects in-depth. While it does offer scheduling and time tracking capabilities, these features are not as robust as some other options. BambooHRs pricing is based on a custom quote, so you'll need to reach out to them to discuss your specific needs.
When I Work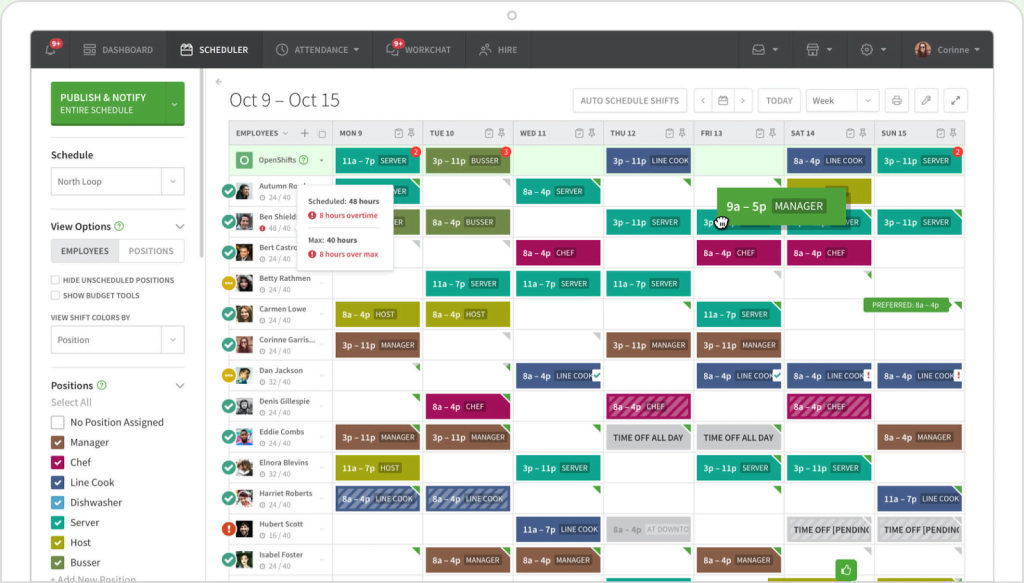 A straightforward and cost-effective solution, When I Work is perfect for small to medium businesses looking for easy-to-use scheduling and time tracking features. The platform allows for quick shift swaps and updates, making it simple for employees and managers to coordinate. Although When I Work has some reporting capabilities, they may not be as comprehensive as other solutions. The pricing starts at an affordable rate, making it a budget-friendly choice in my opinion.
TimeClock Plus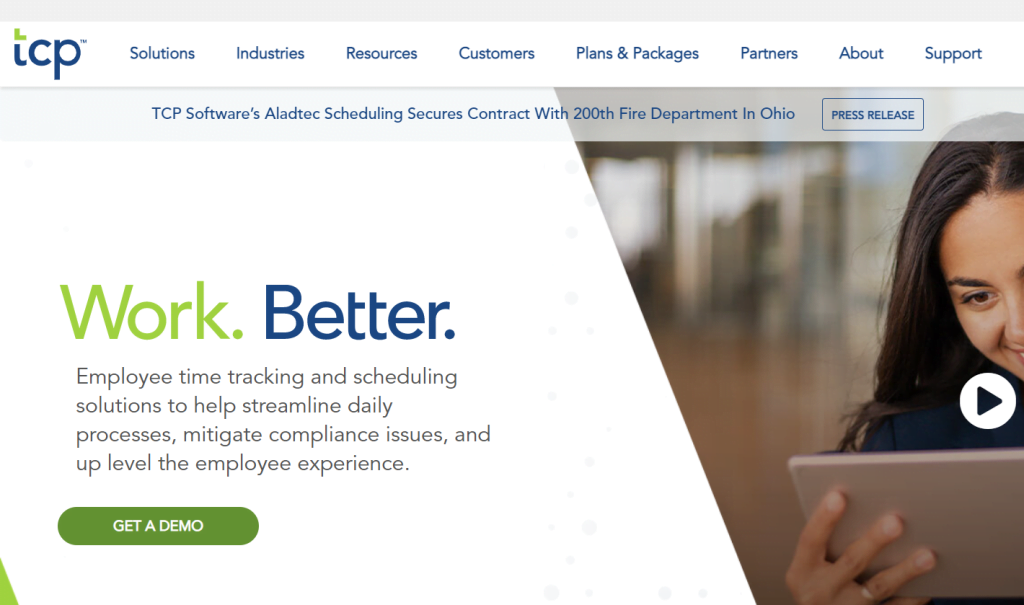 TimeClock Plus is a flexible workforce management tool designed for medium to large businesses. It offers robust reporting features, allowing managers to gain insights into employee performance and labor costs. While the interface might not be as intuitive as some other solutions, its flexibility and extensive features make it a solid choice for organizations looking to optimize their workforce management processes. Pricing is based on a custom quote, so you'll need to contact TimeClock Plus for more information.
SageHR
SageHR offers a simple and affordable solution for small to medium businesses looking to manage their HR and workforce management needs. It covers basic features like time tracking, leave management, and employee scheduling, but may lack some advanced features found in more expensive options. With its straightforward interface and affordable pricing, starting at $5.5 user/month, SageHR is a solid choice for businesses on a budget.
What to Look for in Workforce Management Software?
With so many options out there, it's important to know what to look for when choosing the right workforce management software for your organization. Here are some key factors to consider:
Ease of use: A user-friendly interface and smooth learning curve can make all the difference, especially if you have a diverse team with varying levels of technical expertise.
Scalability: As your business grows, you will need a tool that can grow with you. Look for a software that can handle an increasing number of users and features without breaking a sweat.
Integration capabilities: To streamline your processes, you'll want workforce management software which plays well with other tools you're using, like payroll and accounting systems.
Customization options: Every business is unique, so it's important to find a solution that can be tailored to your specific needs and preferences.
Security and compliance features: Protecting sensitive employee data is crucial, so be sure to choose a
tool that has robust security measures in place and helps you stay compliant with labor regulations.
Pricing and value for money: While the cheapest option might sound tempting, it's important to weigh the costs against the features and benefits the software provides to ensure you're getting the best bang for your buck.
Customer support and training: A strong support system can make all the difference when you're getting started with a new tool. Look for software with responsive customer service and resources to help you learn the ropes.
Armed with this knowledge, you're well on your way to finding the perfect workforce management software for your team.
The Benefits of Using Workforce Management Software
If you're still on the fence about whether or not to invest in workforce management software, let's break down some of the key benefits that'll make your life a whole lot easier:
Improved efficiency
With automated scheduling, time tracking, and payroll processing, you can say goodbye to tedious manual tasks and human errors. This frees up valuable time for you and your team to focus on more important matters.
Cost savings
By optimizing staff schedules and avoiding overstaffing or understaffing, you can reduce labor costs and improve your bottom line. Plus, better forecasting and budgeting can help you make smarter decisions when it comes to hiring and resource allocation.
Compliance
Staying up to date with ever-changing labor laws and regulations can be a headache. Workforce management software can help you keep track of these changes and ensure your business stays compliant, saving you from potential fines and legal troubles.
Employee satisfaction
When your team members have access to an easy-to-use scheduling platform and clear communication, they are way more likely to feel valued. This can lead to higher job satisfaction and reduce turnover.
Data-driven insights
With great reporting and analytics features, workforce management software can help you uncover trends and insights about your team's performance. It enables you to make more informed decisions and drive constant improvement.
Scalability
As your business grows and evolves, a good workforce management tool should be able to grow with you. This means you won't need to switch platforms when you reach a certain size or expand into new markets.
Time Tracking Solution for Workforce Management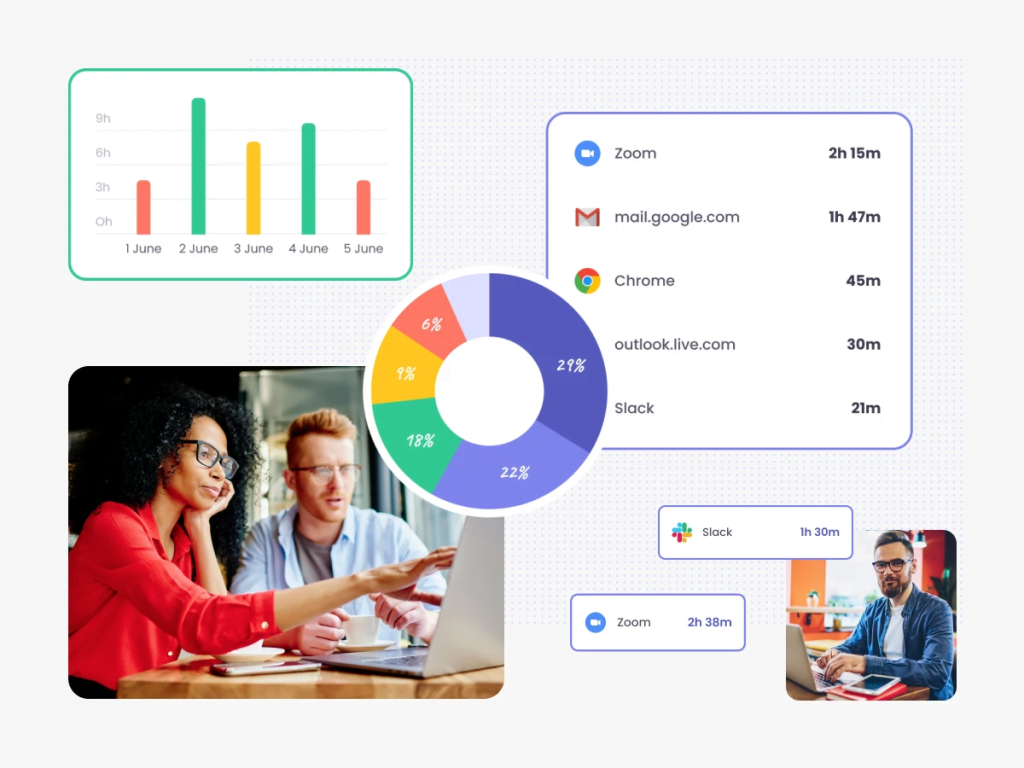 One essential aspect of workforce management is time tracking. Traqq time tracker is a greatly designed software to help businesses keep tabs on employee hours, productivity, and project progress. Most importantly it is lightweight and its user-friendly solution offers features like automatic time tracking, screenshot capture, and detailed reporting.
Traqq is very useful for remote teams as it allows managers to monitor productivity and ensure that everyone is staying on task. It also integrates with popular project management tools, making it easy to streamline your workflows and keep your team on the same page.
By incorporating Traqq or a similar time tracking solution into your workforce management strategy, you'll have greater visibility into your team's performance and be better equipped to make data-driven decisions.
FAQ
What Is Good Workforce Management?
A good workforce management system is one that helps you efficiently manage your team's schedules, time tracking, and other essential tasks while reducing labor costs and streamlining communication. It should be user-friendly, customizable, and scalable to grow with your business. Additionally, a good system will offer robust reporting features to provide valuable insights and help you make data-driven decisions.
What Is the Best Free Workforce Management Software?
While many workforce management software solutions offer free trials or limited free plans, it's challenging to find a completely free, full-featured option. That said, some affordable tools, like When I Work and Homebase, offer free plans with basic scheduling and time tracking features. It's essential to weigh the features offered against your organization's needs to find the best fit for your budget.
How Much Does Workforce Management Software Cost?
The cost of workforce management software varies greatly depending on the features offered, the size of your team, and the provider. Some solutions have monthly subscription fees, while others are priced on a per-user basis. You can expect to pay anywhere from a few dollars per user per month to hundreds of dollars for more comprehensive solutions. It's essential to compare different options and request custom quotes to find the best fit for your budget.
What Should I Look for in Workforce Management Software?
When choosing workforce management software, factors such as ease of use, customizability, scalability, features, integrations and support because reliable customer support is essential in case you encounter any issues.
What is SAP Workforce Management?
SAP Workforce Management is a comprehensive software solution from SAP, a global leader in enterprise software. It's designed to help organizations optimize their workforce by providing tools for scheduling, time and attendance tracking, labor cost management, and analytics.