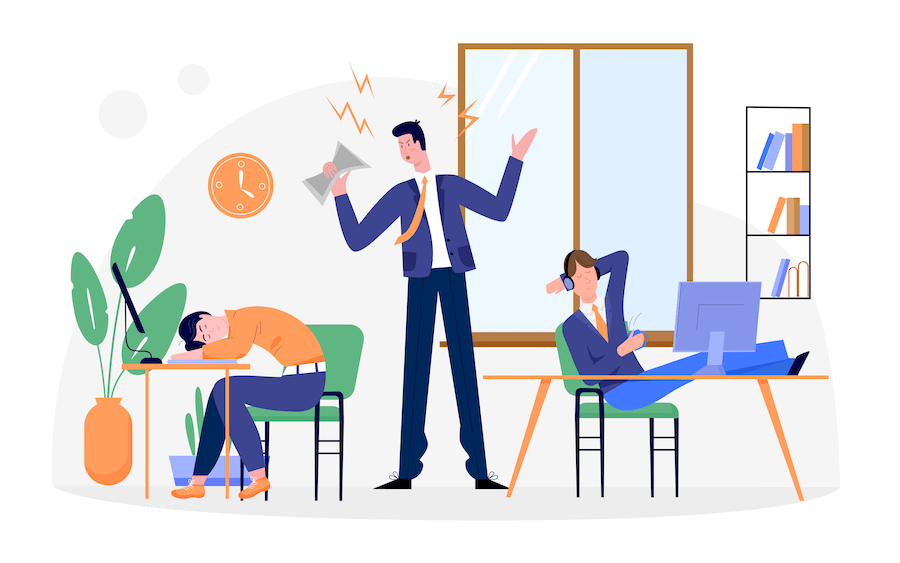 Do you always wonder how your employees spend their time at work? Do you doubt if the hours you pay them for go to productive work? Well, there are many ways to uncover the truth. However, using a work time tracker is one of the most efficient ways to monitor your employees' performance. And one of the best tools for this is Traqq.
Whether you're managing a small startup business or working in a large company, Traqq will be a good fit for your specific needs. By using this job hours tracker, you can monitor the time invested in each project and task, and receive an unbiased, accurate, and transparent report of employee productivity.
Aside from functioning as a working hours log, Traqq also monitors the websites your team visits along with the apps they use. You will get real-time insights into your operations, allowing you to budget your time and allocate tasks accordingly.
How Can You Track Work Hours?
Using Traqq, you can monitor your employees' activities and measure their overall productivity based on detailed reports. What's unique about this work hours tracker is that it promotes ethical monitoring. Your team can rest easy knowing that their employer is not spying on them.
As soon as the user clicks Start, Traqq will begin logging time automatically and taking screenshots randomly. You can check the dashboard to see what activities take up most of your employee's time. However, Traqq is designed to protect their privacy. The captured video recordings and screenshots are intentionally blurred. Their quality is reduced to an extent that would prevent sensitive information, like passwords and private messages, from becoming legible.
Traqq is more than a work hour tracker—it is also a tool for improving team efficiency. This app will help you identify common time wasters that may hinder your employees' becoming productive. The tool analyzes their activities and gives you valuable insights, allowing you to approach every issue with data-driven solutions.
Track Ongoing Activities and Boost Productivity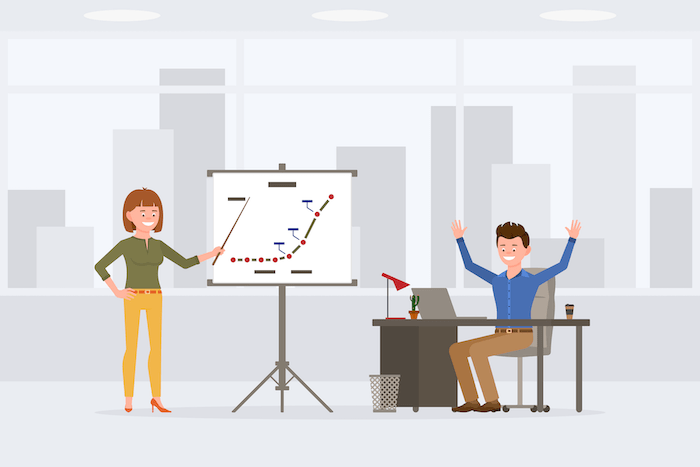 Another great thing about Traqq is it gives you various ways to monitor your employee's productivity. As we've mentioned, it allows you to get insights into ongoing tasks through screenshots. You can view the apps and the websites they have opened at a given time. However, that's not the only way you can track performance.
With Traqq, you can quantify how active your employees are. The tool analyzes keyboard movements, scrolls, and mouse clicks. On the dashboard, you will see their activity levels. Periods of high activity will be shown in green, while normal and low activity will be shown in yellow and red respectively.
The intuitive dashboard will also inform you of when your employees clocked in and out. Now, if you want to know what they are doing at a given period, you can click the screenshot. You will either see a still image randomly captured during the time or you will see a 10-second video recording of their desktop. By getting an idea of your team's working habits, you can streamline business processes and come up with achievable goals.
You can then discuss the data you've collected with your employees and share strategies that will boost their overall performance. By ethically monitoring their activities during work hours, you can help them become more productive without bringing down their morale.
How Traqq Promotes Ethical Monitoring
When it comes to workplace monitoring ethics, Traqq raises the bar. Indeed, productivity and efficiency are important in ensuring the success of a company. Even so, managers should always foster a healthy company culture. As such, it's important to find a work hour tracker that protects the morale of workers. Instead of spying on employees in the workplace, Traqq simply observes performance markers.
Blurred Screenshots and Video Recordings
Indeed, Traqq takes random screenshots and ten-second video recordings. However, the app intentionally blurs the images and videos to an extent that would prevent sensitive information from becoming legible. In essence, managers are unable to read private messages and passwords. Instead, they will only get an idea of what a person is doing at a given time. This way, there will be no ethical issue regarding privacy in the workplace.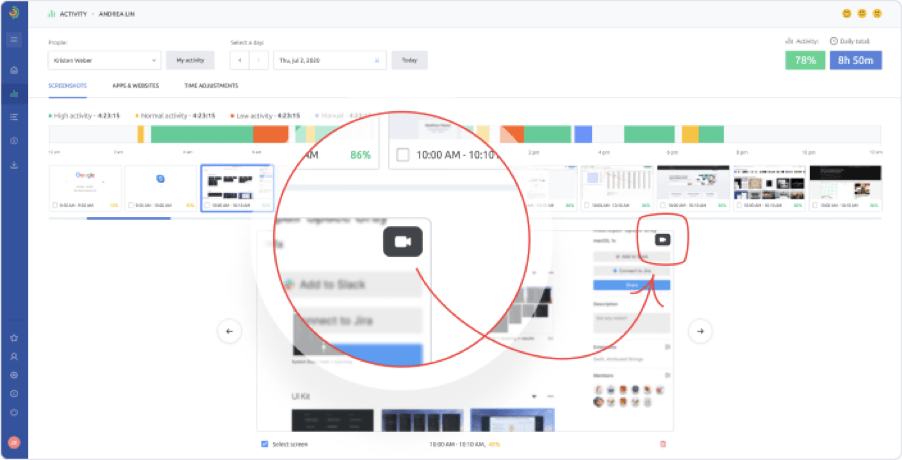 Delete Screenshots and Video Recordings
Another way Traqq upholds excellent employee monitoring ethics is by giving people control over their data. For instance, users can delete screenshots. Let's say they forgot to turn off the tracker and browsed social media, thinking that their activities were not being recorded. They can go to the dashboard and select the screenshot they want to delete. However, note that every screenshot corresponds to a ten-minute interval. So, removing the image will delete the recorded time too.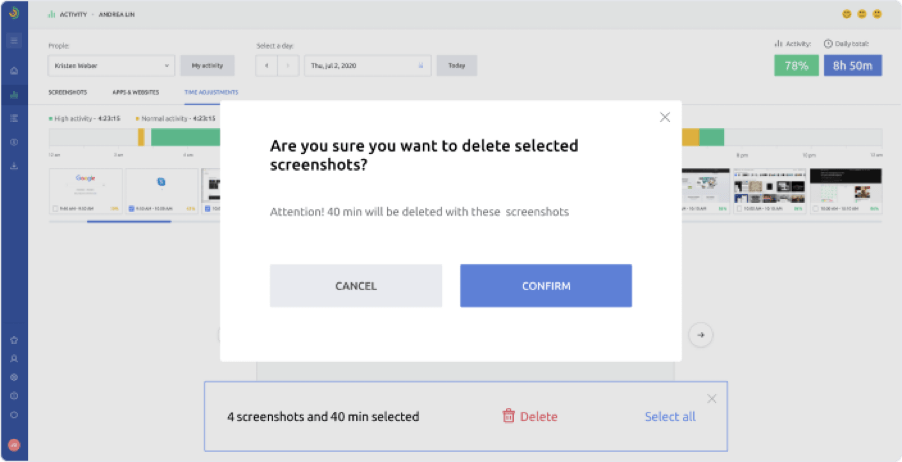 Choose When the Tracker Records Data
As an ethical employee monitoring software, Traqq lets users decide when their activities will be tracked. If you wish to do some online shopping or social media browsing, all you need to do is turn off the monitoring app. When you want to get back to work, you can click Start on the desktop widget. You will not be forced to perform work-related activities all the time. After all, the app gives you the freedom to choose what will be recorded.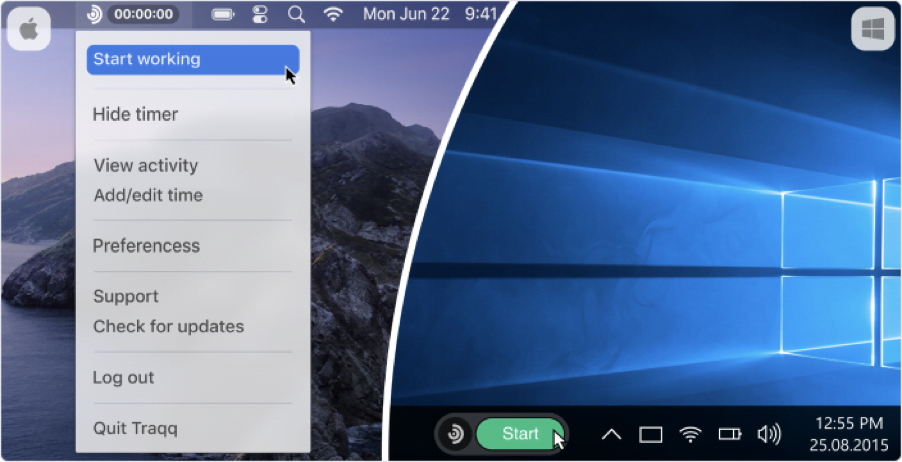 What Are Traqq's Hour Tracker Features?
Traqq is a lightweight time tracking app that is compatible with Windows and macOS. Here are some of its employee monitoring features:
Time management – The app allows you to manage your time wisely by showing you how you spend it working, taking breaks, or loafing around.
Offline time tracking – Traqq works regardless of whether the user is connected to the internet. Even if they are offline, the app still creates a work hour log that syncs once they have a good internet connection.
Remote monitoring – The app takes random screenshots that will help employers acquire data for improving engagement, transparency, and security.
Detailed reports – Traqq will measure and analyze the activity levels of everyone on your team. At the end of the week or month, you can go to the dashboard and export the data as a PDF or CSV file.
By recording your team's working hours, you will be able to optimize your business' profitability and performance.
How Can You Start Tracking Work Hours?
It's easy to start tracking your time with Traqq. All you need to do is go to the website and create a free account for your organization. Invite your employees via email and ask them to install the employee monitoring tool. Once everything has been set up, all they need to do is click Start on the desktop widget. As a manager, you can go to the dashboard to view productivity reports and timesheets.
Create a free Traqq account now and start tracking your work hours!