Remote work has been a trend since 2017. Many companies, big and small, were experimenting with this new way of operation. However, However, the Covid-19 pandemic hit and didn't spare any workplaces.
As the virus spread rapidly and unpredictably, companies were forced to confront a new reality. Their usual way of doing business may no longer be feasible. Governments and health organizations around the world advised people to stay home, practice social distancing, and avoid large gatherings. This new reality created a conundrum for companies relying on in-person collaboration.
But as the saying goes, necessity is the mother of invention.
Organizations began to explore ways to keep their businesses running while keeping their employees safe. They turned to technology as a solution, using virtual meeting platforms, collaboration software, and cloud-based tools to stay connected and work together from afar.
But many companies found the transition bumpy. Technical glitches, communication breakdowns, and a sense of isolation took some getting used to.
However, as time went on, a new routine emerged. Employees set up home offices, began to schedule virtual meetings, and started finding ways to collaborate and communicate with each other despite the distance.
Regardless of the challenges, working remotely has some unexpected benefits. Without the need to commute, employees have more time for self-care, hobbies, and family. Without the distractions of an office, they may be able to focus better on their work. And without the constraints of geography, companies can access a wider talent pool, potentially making their workforce more diverse and inclusive.
So while the COVID-19 pandemic may have forced companies to work remotely, it also sparked a creative and innovative shift in the way we work.
Some companies and employees still face remote work challenges
Some years after the pandemic, some companies and professionals are still struggling to get remote work right. Before anyone can enjoy the benefits of working from home, they must understand and find a way around these issues.
Let's cover those issues and how they affect remote work.
Communication
Remote work can create communication challenges, especially when team members are in different time zones or don't have access to the same communication tools. Misunderstandings can occur, and important messages can get lost, misinterpreted, or delayed, leading to confusion and frustration.
Also, since in-person interaction is no longer possible, it'll be difficult to convey and pick up non-verbal cues through facial expressions and body language. These methods of communication often come in handy and help workers understand each other better.
Collaboration
Collaboration is also more difficult when team members are not in the same physical location. Working on projects together and coordinating efforts can be challenging, which can lead to delays and decreased productivity.
For example, team members may not know when their colleagues are available to handle critical requests.
Managing workload
Without the usual office structure, remote workers may struggle to manage their workload and set boundaries between work and personal life. Knowing when to stop working can be challenging, leading to burnout and decreased productivity.
The absence of traditional workday commutes and routines often leads remote workers to believe they have more time to complete their work. As a result, they may not prioritize their tasks as effectively as they would in an office environment. They may also procrastinate tasks until they are close to their deadlines. This behavior can lead to missed deadlines and a backlog of work that can be overwhelming and difficult to manage.
Technology issues
Technology is critical for remote work but can also create challenges when it fails. Slow internet, outdated software, and hardware problems can all lead to frustration and delays.
Managing and supervising remote teams
Managing and supervising remote teams requires different skills than managing an in-person team. Managers must ensure that team members are staying productive and engaged, even when they are not physically present.
Managers may end up micromanaging employees and disrupting their work with constant calls. This behavior could end up causing a breakdown in trust and motivation to work.
What's more, supervisors and employers may find it difficult to measure work hours, engagement, and productivity. Employee management may no longer be efficient as it gets difficult to understand workers' schedules and work patterns.
Trust and accountability
Without direct supervision, it can be more challenging to establish trust and accountability between team members. Managers must find ways to ensure that team members are delivering quality work and meeting deadlines while also allowing them the freedom to work independently.
But it's not that simple. Remote work presents the unique challenge of potentially dealing with staff spread across different time zones. As such, managers may not be available to provide oversight when some workers are on duty.
There are also concerns about workers abandoning their duties since they have the freedom to choose their hours.
Time management
Remote workers must be self-motivated and able to manage their time effectively. Without the structure of a traditional office environment, it can be easy to get distracted or procrastinate, leading to missed deadlines and decreased productivity.
Also, workers may struggle to align their schedules with the rest of the team, primarily when they work in different time zones.
Work-life balance
While remote work can offer greater flexibility, it can also make it difficult to disconnect from work. Without clear boundaries between work and personal life, remote workers may work long hours and risk burnout.
Onboarding
Onboarding new team members can be more challenging when working remotely. It can be difficult to ensure new team members receive the necessary training and support to succeed in their roles.
Security
Remote work environments can be vulnerable to cybersecurity threats, as team members may be using personal devices and networks that are not secure. This pattern can put sensitive information at risk and create other security concerns.
On one hand, many workers lack the training to maintain strict security policies. On the other hand, employers often adopt tech tools with below-par security modules and infrastructure.
Privacy concerns
We mentioned that companies began to rely on tech tools to facilitate the work process. These tools include employee monitoring applications such as time trackers. They help companies calculate a worker's billable hours and keep them accountable.
But as it turns out, workers have privacy concerns about monitoring applications. These concerns can negatively impact their engagement and productivity.
When employees feel that their privacy is being invaded, it can lead to a lack of trust between them and their employer, resulting in feelings of resentment and disengagement.
Remote workers may also experience anxiety and stress due to the fear of being constantly monitored, making it challenging for them to focus on their work.
What's more, employee monitoring tools can reduce autonomy. As employers gain more control over remote workers' work processes and schedules, employees will begin to feel less invested in their work.
Staying on track with Traqq – an innovative employee time clock app
Traqq's Time Tracker feature offers a convenient way of managing your working time. While preserving the main benefits of remote work – flexible schedule and workplace of your choice – the free time clock app helps plan your day in advance and stay on track with your current tasks.
With the built-in timer, you always know how many hours you have already spent working and how many are left. It's like a clock in clock out app, but better.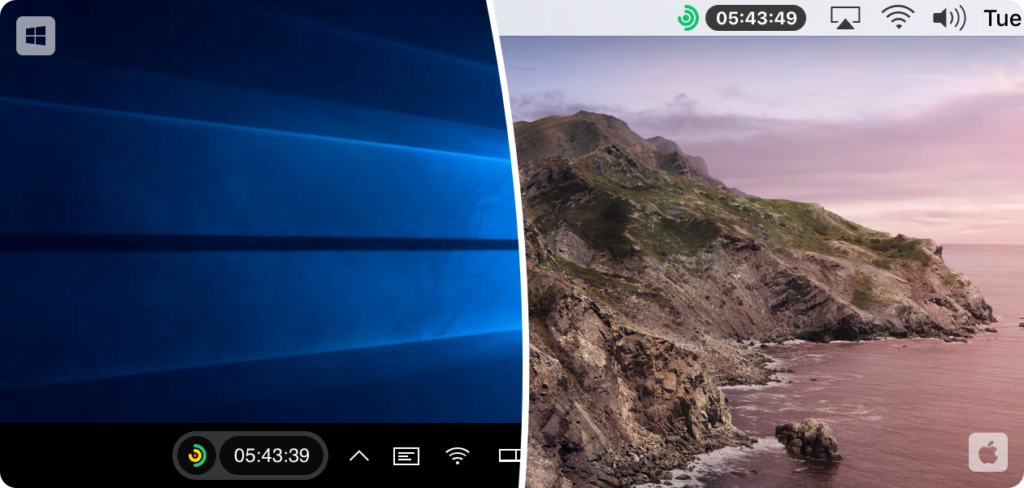 In case you would like to be kept in the dark, you can hide the timer by clicking on the icon in the tray and selecting the appropriate setting.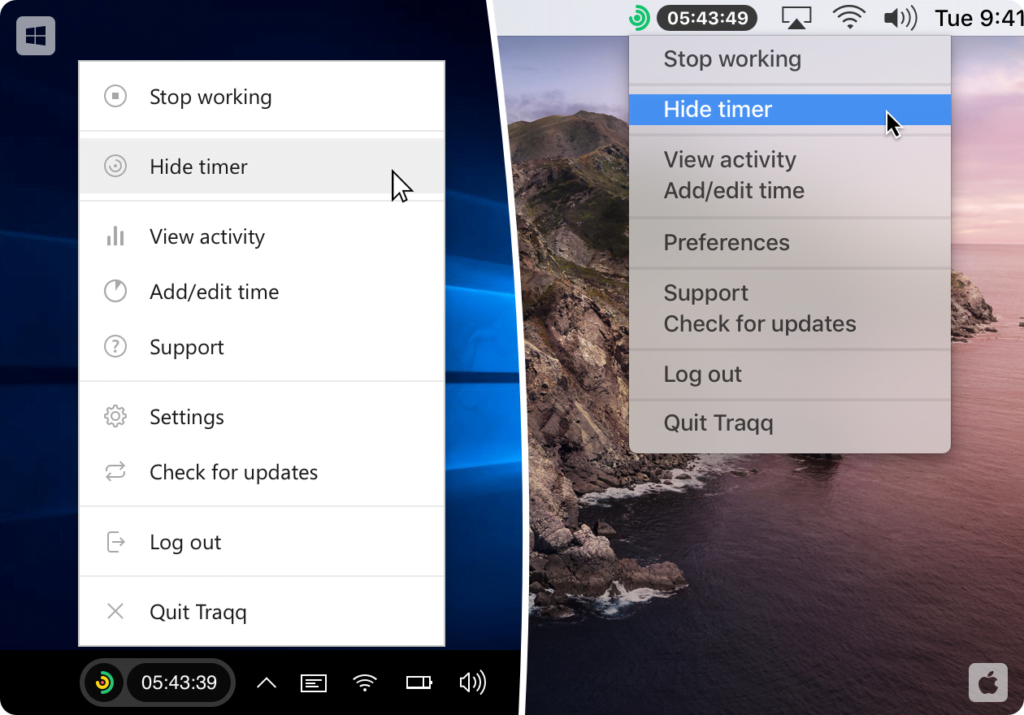 You control time
As remote work implies a lot of self-discipline, the same goes for time management – you are your own manager. The best part is that all you need is just two buttons to clock in and clock out in the app – Start and Stop.
Whenever ready, start tracking your work hours with a simple click on the Start button in your tray. Take coffee breaks as often as you like by pausing (stopping) the tracker. Finish your day by stopping the tracker and quitting Traqq. It takes a second with this time clock app.

Traqq'ing offline
Traqq doesn't need the Internet to keep running, so in case you decide to work from a desert island, the clock will still be ticking. Your data will be synced to your account as soon as you establish a strong connection.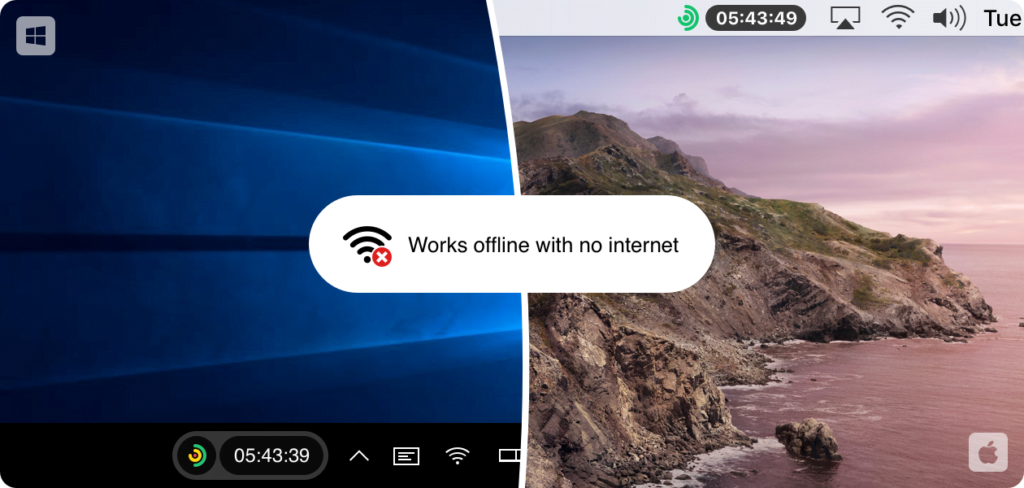 Traqq's got your back..and time
Don't waste a single minute of your work – with its Smart Alerts, Traqq will remind you to turn the tracker on in case you forgot to do so. On the other hand, Traqq will not let you slack off by detecting low activity on your computer and offering to turn the time clock app off.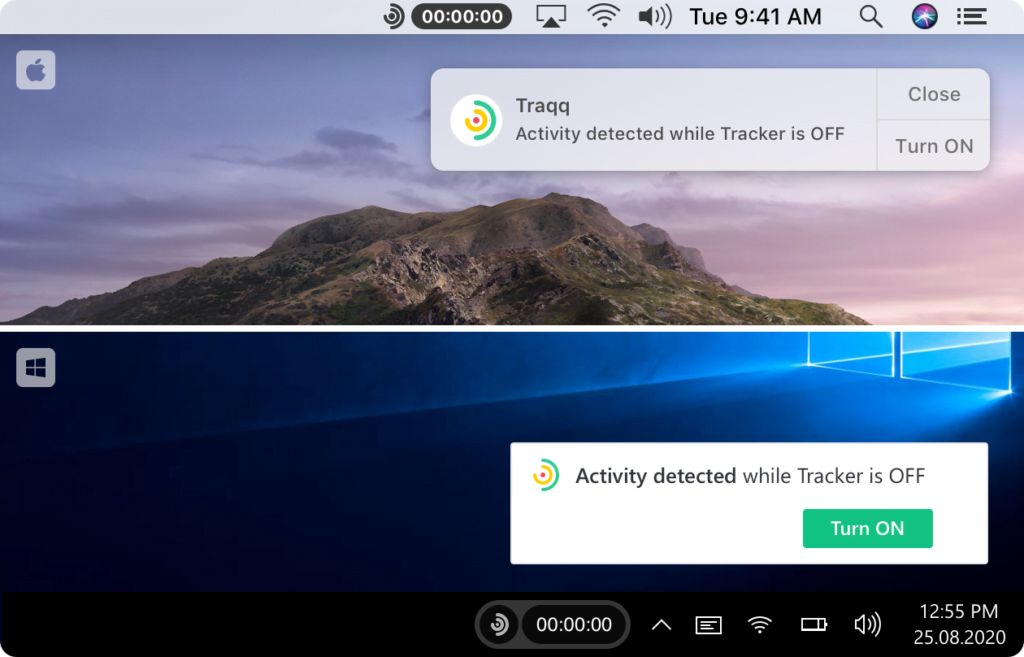 It will also keep you updated on the number of hours you've already spent working by sending hourly notifications.
What's more, the manual editing feature is particularly helpful for remote teams, as it allows team members to log missed billable time due to unexpected incidents or spontaneous meetings. This feature helps to ensure that team members are compensated for their work and that the organization is not losing revenue due to missed billable hours.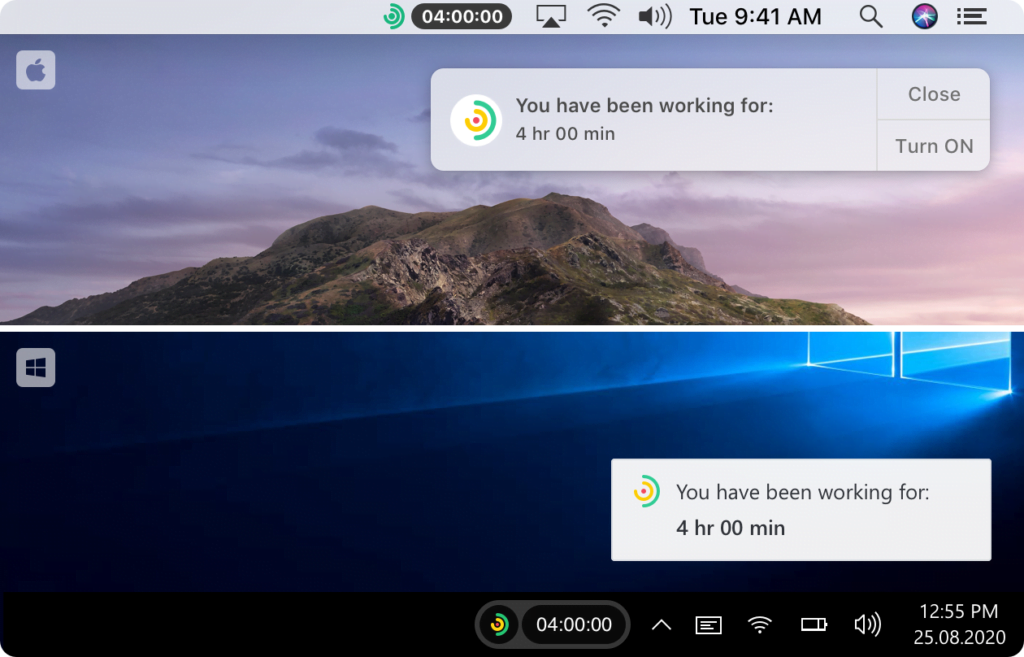 Optimized Team Management
Many features in Traqq are designed to help improve team management for remote teams in several ways.
First, the roles and permissions feature allows team managers to set up different access rights and monitoring options for team members, depending on their role in the organization. This allows managers to delegate responsibilities effectively and ensure that everyone is working on tasks that align with their skills and abilities.
Second, the tracking settings feature provides team managers with the ability to monitor and track the productivity of team members. This helps to ensure that remote team members are working on tasks as expected. It also provides valuable data to help managers identify areas where team members may need additional training or support.
Boost accountability
Traqq's features promote transparency and accountability in team management. With the time tracker, screenshots, video recording, activity monitor, assessment, and app analysis features, team members are aware that their activity levels are being monitored. This awareness will motivate them to stay on task and be more productive.
Additionally, Traqq allows managers to provide feedback and guidance to team members based on their productivity data.
Protect your team's privacy
Privacy protection is one of Traqq's most important principles. The tool is designed to ensure employees don't give away sensitive data.
Traqq implements several measures to maintain and preserve confidentiality. Firstly, it does not capture big screenshots which renders private screen contents invisible, and it also blurs the 10-second screen records. This means that managers and supervisors can monitor employee work processes without accessing their screen contents.
Secondly, Traqq avoids using intrusive functionalities such as controlling the computer's webcam or saving keystroke data, thereby guaranteeing maximum privacy for workers.
Traqq time securely
Traqq's security architecture incorporates a multi-layered security system that operates on a resilient distributed infrastructure. The security measures include leveraging a cloud service provider, namely Amazon Web Services (AWS), to store screenshots in a secure manner.
AWS was selected primarily because it complies with ISO 27018, a standard that prioritizes the protection of personally identifiable information in the cloud. Furthermore, AWS follows the EU-US Privacy Shield framework for transatlantic data transfers, which reinforced the decision to use their services.
You can learn more about Traqq and how it monitors users' activity, or sign up for Traqq right away.