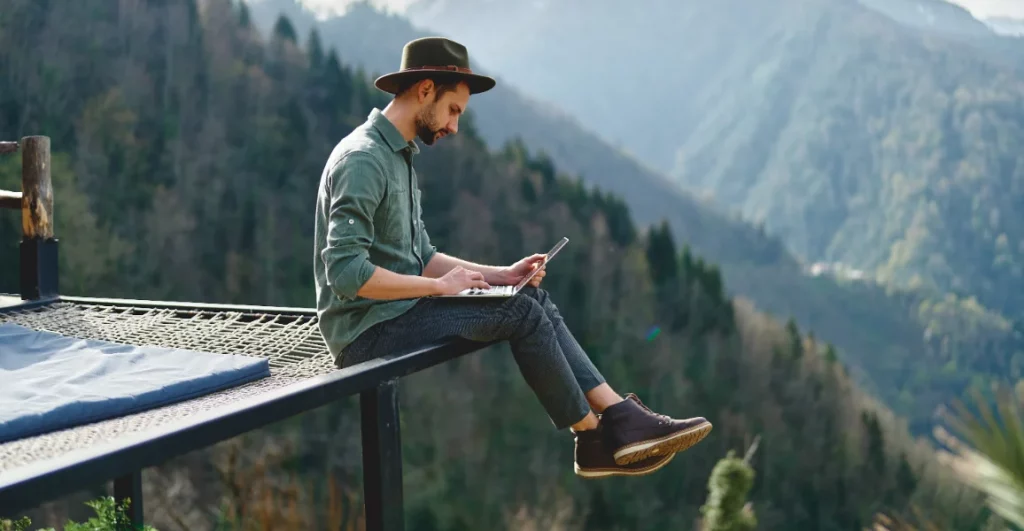 The freelance platforms market size is expected to grow from $3393.5 million in 2020 to $9192.9 million in 2027. With more and more people venturing into this industry, you need to find ways to create a freelancer portfolio that will stand out.
At one point, every successful freelancer assembled an effective portfolio. So, how do you create one that will attract new clients?
In this post, we're going to share some actionable tips that will help you secure high-value contracts. This article specifically caters to writers, graphic designers, and videographers who want to assemble an excellent freelancer portfolio.
Freelance Portfolio Explained: Why Is It Important?
A freelancer portfolio proves that you can deliver what you promise. If you were to hire someone, you'd also want to see their work.
So, if you want to secure specific projects, you need to show samples of your work that highlight your skills and expertise. This means that you must define your unique selling points (USPs) to build a compelling portfolio.
When creating your freelancer portfolio, you must avoid describing your services using generic industry lingo. Don't go for vague terms like "freelance writer" or "digital marketer". Instead, use the niche that you want to target. For example, you can use "technical copywriter" or "SEO specialist". Eventually, these skills will define your brand in the freelancing market.
Here are some tips on creating an effective freelancer portfolio:
1. Determine Your Areas of Expertise
According to the University of Toronto's Global Survey on Freelancing, the freelancing industry is made up of a heterogeneous community. There are tech geniuses, architects, rocket scientists, musicians, and full-stack developers, among many others.
It's a wide world out there, and Fiverr Workspace reports that 61% of freelancers specialize in two to three skills. So, if you're building your portfolio, you should start by making a list of your areas of expertise. For instance, if you're a writer, your skills may include proofreading, writing long-form blog articles, or creating academic papers. Meanwhile, if you're a developer, you can identify the programming languages you're proficient at.
The Average Number of Specializations Per Freelancer
5% – 1 skill
61% – 2-3 skills
34% – over 3 skills
Source: Fiverr
Once you've determined your specialties, you can put together samples of your work that suit those specific skills. Don't forget to highlight projects that you were especially interested in. Your enthusiasm will show through your portfolio.
As you go along and acquire new skills, don't forget to update your list. Make sure you review this list at least once a year. After all, many fall into the dangers of complacency. Keep growing and never stop learning. Along the way, rid your portfolio of old projects that are no longer relevant to your skill set.
2. Know What Your Clients Need
According to an Upwork survey, 63% of freelancers increasingly believe that having a diversified portfolio secures more clients. So, it's only natural to find as many channels as possible to publish their work. These days, it has become the norm to have an online freelance portfolio.
If you're targeting tech-savvy clients, you should have one too, no matter what niche you're working in. When you invest time in developing a user-friendly and appealing online portfolio, you're also showing off your tech skills. You are telling potential clients that you have these skills:
Acquiring a domain and hosting
Designing a website
Navigating and operating a CMS
If you're a writer and you're targeting top-tier publications, you should spend extra time tailoring your portfolio according to the specific client's needs and brand. Remember that editors receive hundreds and hundreds of proposals each day. So, they can quickly spot story pitches that were copied from the Internet or have been used over and over.
Remember that there's always a reason why you're not getting leads during the portfolio-sending stage. It's possible that your neatly designed online portfolio is an issue for recruiters or clients. Perhaps, they prefer online forms that collect data into a single spreadsheet. In any case, you should always consider what your potential clients need when submitting your portfolio.
3. Choose the Most Critical Elements
Indeed, a portfolio is a collection of your freelancing projects. However, it's still more than that. You can create an impressive portfolio, but that won't matter if the hiring manager or client is less familiar with your niche. As a freelancer, it's your responsibility to bridge that gap.
Make sure you explain or describe the projects in your portfolio. This way, your potential client won't need to clarify details like your niche expertise, working style, or rates.
Your portfolio should:
Show how you can contribute to easing your client's workflow
Instead of highlighting your strengths, explain what you can do for your clients. Let's say you're a content writer. Of course, you're inclined to brag about how you can write compelling copies. However, it's better if you tell them that the content you write can increase their conversion and email open rates.
Allow clients to contact you with ease
Your clients should find your contact details on your portfolio. This way, it will be easier for them to get in touch with you when they're interested in your services.
Explain your services
Be specific about the type of projects you can handle and the kind of clients you'd like to secure. Let's say you're a graphic artist. If you want to design logos and social media marketing materials, say so.
Moreover, explain what you had to do to complete your past projects. Your portfolio would also be a good space to describe your work style.
4. Have Different Versions of Your Portfolio
According to the same Fiverr Workspace survey, 70% of freelancers work on two to four projects at a time. So, if you're planning to follow suit, you should have different versions of your freelancer portfolio. You wouldn't want to send the same samples to the different industries, right?
Let's say you specialize in graphic design and UX design. You may be able to create appealing and compelling images for brand logos and packaging. However, those samples wouldn't be useful if you're targeting a client who needs a UX designer.
Indeed, it takes so much effort and time to create separate versions of your portfolio. However, if you want to go after different niches, you should be prepared to make such an investment.
5. Always Update Your Portfolio
According to an Upwork survey, 70% of full-time freelancers invest in skills training regularly. So, if you want to remain competitive, you need to keep on learning.
Of course, as you expand your skill set, you must update your portfolio. After all, your clients wouldn't want to see old projects that do not reflect your current abilities. Here are some tips you can follow:
Look at your existing project descriptions and update the expertise and skills to meet the current demand.
Delete projects that are not relevant to your current skills and expertise.
Refresh the design and layout of your freelancer portfolio.
As a bonus tip, we recommend having a portfolio mindset with every project you handle. Think of the task as another sample you can add to your portfolio. Indeed, every project contributes to your growth and experience. However, it can also be valuable to you as you compete with other freelancers in the market.
So, push for excellence with every work you accomplish. Ask for permission from your client to include your project in your portfolio. As soon as they allow it, take a screenshot and paste the link.
6. Select the Tools for Building Your Portfolio
You've already collected samples of your work, but how do you build a portfolio? Well, there are several tools that you can use to create an organized, professional, and aesthetically pleasing portfolio. Here are some examples:
Site Builders Like Squarespace, WordPress or BOWWE
Freelancer platforms like Upwork let you host your portfolio. So, if you use these sites, it will be easier for clients to review your services and rates.
However, if you want to take a personalized approach, you can choose a website builder like BOWWE, Wix, Squarespace, or WordPress. These sites already have portfolio templates that you can use to get started. You simply need to update the layout to suit your samples and branding.
Portfolio Builders Like Adobe Portfolio and Krop
Do you plan on creating a website solely to host your portfolio? If so, you can also use third-party tools that specifically let you create beautiful and simple web portfolios. Here are some tools to get you started as a freelancer:
Krop
Adobe Portfolio
Cargo
Fabrik
Other Platforms for Publishing Work
Having your own website to host your freelancer portfolio is always a great idea. However, if clients don't discover your work, it would be useless. So, you should also consider other places to publish your portfolio.
For instance, you can use your LinkedIn profile to upload samples of your work. Your Instagram stories can also serve as your portfolio. You can save them to your highlights so people can review them at any time. If you're a writer, you can upload your work on websites like Hubpages or Medium.
Try to showcase your work on as many platforms as possible. Doing so will increase the chances of new customers finding your portfolio.
Freelancer Portfolio Examples
At this point, you've probably decided what to include in your portfolio. You've also decided what tools to use to showcase your work. However, it's still a great idea to look at a good freelancer portfolio sample to get inspiration. Get inspired by going through some of the best UX portfolio examples.
For the Tech Writer
Nick Darlington
What's great about Nick Darlington's portfolio is it effectively showcases his writing niche. Darlington specializes in writing long-form content for B2B publications.
Writers understand how challenging it is to provide visuals for their work. However, Darlington worked around this by publishing magazine covers that featured his writing.
For the Videographer
Rick McClelland
As soon as you land on Rick McClelland's online freelancer portfolio, you will get an idea of the work he does. As a news and wedding videographer, he showcases his work by showing short clips on his homepage.
If a potential client is looking for a versatile videographer, they will be impressed with McClelland's portfolio. What's more, he adds a compelling call-to-action at the end of the page.
For the Art Director
Mekhi Baldwin
Mekhi Baldwin started as an industrial designer and worked with big names like Samsonite, The North Face, and Puma. As a designer and art director, Baldwin showcases his big projects and his work for various non-profit organizations on his online portfolio.
He effectively shares how well-rounded he is when it comes to his work.
For the Front-End Developer
Adam Rasheed
Adam Rasheed showcases the ideal freelancer portfolio sample by telling site visitors exactly what he does best. As you scroll through the homepage, you'll also see case studies of various projects he has completed. He even offers a simple yet compelling call-to-action that provides different ways to contact him.
For the Graphic Designer
Greg Wilson
Greg Wilson's online portfolio leans heavily on visuals, and it effectively showcases the artist's off-beat, quirky style. It will only take a few scrolls for anyone to learn about the kind of work he does. This is a freelancer portfolio sample that efficiently highlights the artist's niche.
Portfolio vs. Case Study vs. Testimonials: What's the Difference?
Once you start looking for freelancer portfolio examples, you'll also come across case studies and testimonials. Of course, you'll wonder what these are different from a portfolio.
A case study usually contains a review of a client relationship or a specific project. You use it to describe the approach you took to solve a particular problem. It also highlights the results you produced.
Meanwhile, testimonials contain statements from your past clients. They can include customer reviews, simple quotes, or even video recordings.
As we've mentioned, a portfolio is a collection of your work samples. You can also include case studies and testimonials in your portfolio. However, it's important to highlight your projects. So, this means that you have to include a gallery of photos, links to published articles, or a different way to show off your collection of previous work.
While having an effective freelancer portfolio is essential in securing contracts, it's equally important to show how disciplined you are. Working at your own pace and schedule can be challenging, especially when you don't have a manager to supervise you.
The best way to manage your time while juggling multiple projects is by using a time tracker like Traqq. This app lets you monitor where your time goes. All you need to do is click Start on the desktop widget and it will start recording your time.
Activity Levels
If you struggle with completing your projects, you can use Traqq to identify your most productive hours. It has a feature that monitors how active you are based on your keyboard movements and mouse clicks and scrolls. On the dashboard, you will see blocks of time that show high, normal, and low activity. This way, you can schedule cognitive-heavy tasks during your peak productivity.
URL and App Monitoring
Traqq also monitors the websites that you visit and the apps you use. At the end of the week, you can go to the dashboard and generate a URL and App report. The app will show you the top ten websites and apps that you use. This way, you'll know if you're mostly cyberslacking or doing actual work.
Secure High-Value Freelancing Contracts Today
Any freelancer dreams of bagging a great interview and securing high-value clients. Remember that it takes excellent presentation skills and a lot of effort to achieve this. You can start by having a compelling freelancer portfolio. Of course, don't forget to accompany that with the right tools to complete the job while exceeding expectations. For instance, you can use Traqq to track your work hours.