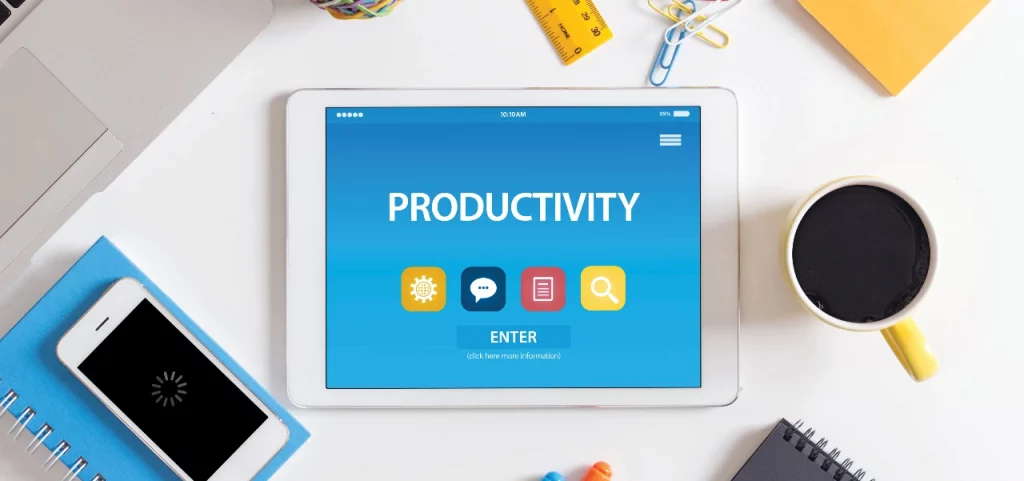 According to a report from Pew Research Center, 77% of employees browse social media during office hours. So, a productivity tracker is a must in today's world! By providing valuable insights into individual and team workflow, productivity trackers offer businesses the ability to streamline operations, identify bottlenecks, and boost overall efficiency.
In this post, we'll show you some of the best productivity trackers, exploring their benefits, challenges, and best practices for implementation. By understanding the nuances of productivity tracking, businesses can harness its potential to foster a culture of transparency, collaboration, and success. We will also teach you how to track productivity with the right tools.
Top 10 Productivity Tracking Apps
1. Traqq
When it comes to boosting productivity, there's no app that can beat Traqq. This lightweight time tracker is easy to install and use. It will automatically launch as soon as your system boots. Once you activate it, it will run discreetly in the background.
Traqq will monitor the apps your employees use and the websites they visit. At the end of the day, you can take a look at the dashboard and see what activities consume most of their work hours.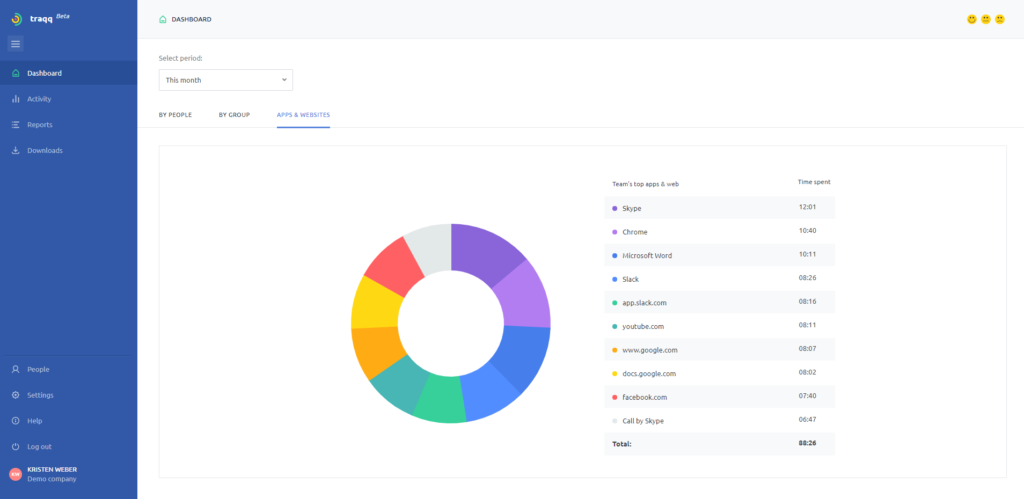 Another great thing about Traqq is that it visualizes individual and team productivity. On the dashboard, you will see how active your workers were during the day.
Traqq monitors your activity levels based on your keyboard movements and mouse scrolls and clicks. Periods of high activity will be color-coded as green. Meanwhile, normal activity will be seen as yellow and low activity as red. Consequently, you will also be able to identify peak productivity times and schedule tasks accordingly.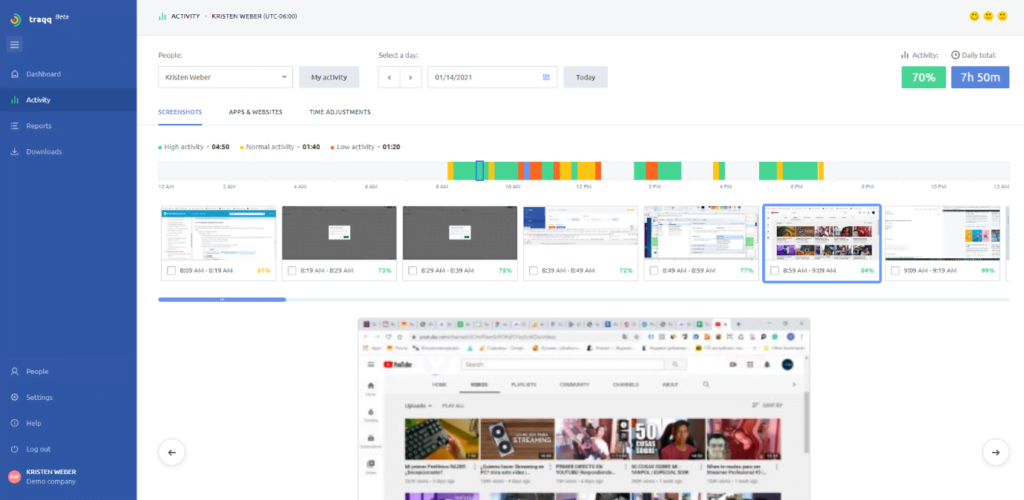 The best part about Traqq productivity tracker is that it promotes ethical time tracking. Although it takes screenshots and video recordings, it won't infringe your employees' privacy. Traqq intentionally blurs the images and videos to an extent that prevents sensitive information (i.e. passwords and private messages) from becoming legible.
What's more, the data is transmitted via servers that use military-grade encryption. So, while you're making an effort to boost your team's productivity, you can rest easy knowing that their information is secure.
Platforms
Windows, macOS, and Web Browsers
Notable Features
Customizable employee monitoring – managers can choose which user or group to track
Ethical employee monitoring – screenshots are blurred to protect privacy
Efficient productivity monitoring – measure and analyze activity level
Pricing
Premium Starter – Free for up to three users
Premium Teams – $6 per user, per month
Enterprise – Customizable package for up over 100 users
What Users Have to Say
✔ "Easy to use, if there is any kind of bug, customer support answers the same or next day (they are located in Australia so that is reasonable). One or two clicks to do everything."
? "The reports by default make you select employees instead of displaying direct reports automatically but that's something they could be fixing in the future."
2. Hours

If you're looking for an employee productivity tracker without complicated features, then Hours is one of the first apps you should consider. You can install it as a mobile app, and it will allow your workers to quickly switch between tasks while still logging their time.
Countless research has shown that humans are highly visual creatures. So, you will likely appreciate how Hours lets you color-code projects and tasks. You can easily differentiate them because there will be a specific color assigned to each item. The app also has a timeline feature that lets you make adjustments to your recorded timestamps.
If a person forgets to start their time tracker, Hours will send them a reminder. Unfortunately, since the tracker is only available as a mobile app, people may forget to activate it when they're working on your computer. Also, while the tool efficiently tracks time, it may lack some of the features you'll need to improve work efficiency.
Platforms
iOS and Web Browsers
Notable Features
Allows you to measure time spent on various tasks
Notifications to ensure you don't mistakenly log
Compatible with Apple Watch
Pricing
Hours Personal (only the app)
Hours Pro
Monthly plan – $8 per month
Annual plan – $80 per year
Hours Teams
What Users Have to Say
✔ "The reporting functionality has been much improved (my needs as a solo user are limited but real) since my last review below and I've had only rare crashes."
? "Suddenly you can't use the app anymore without logging into an account. I didn't have an account and don't want one."
3. Timely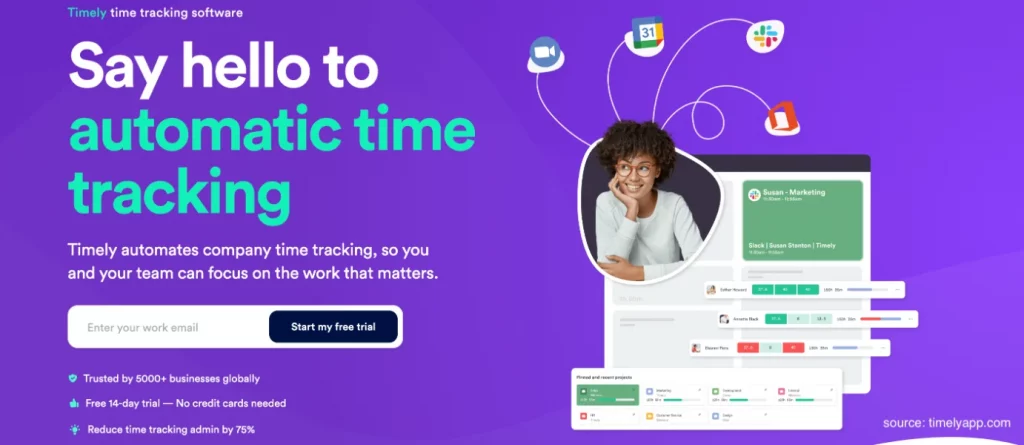 Timely's selling point is how it streamlines tracking for all work-related activities. This automatic tracking software can monitor emails, meetings, GPS locations, websites, and documents. So, you can rest easy knowing that everything your team does during work hours will be added to their billable time. This way, they can avoid getting interrupted and stay focused at work.
Once you've tried Timely, you will quickly learn that it needs very little interaction. Just keep it running, and at the end of the month, you can use it to generate a report on billable work.
Timely also provides you with a visual representation of everything you and your team have accomplished for the day. This app even has an AI feature that learns how you work over time. Eventually, it will draft entries for you, allowing you to save time. Timely's flexibility makes it perfect for individuals and even for small-to-large enterprises.
Platforms
macOS, Windows, Linux, Android, iOS, and Web Browsers
Notable Features
Automated time tracking functionality
Detailed reports and timesheets for billable and non-billable activities
Comprehensive dashboard for efficient team collaboration
Pricing
Starter – $10 per user, per month
Premium – $18 per user, per month
Unlimited – $26 per user, per month
What Users Have to Say
✔ "The thing I loved the most is that Timely will provide an invoice for tax purposes and to send to customers if need be. Setting up in general was fun and easy, definitely cut my time down in half."
? "I would like to see more integrations with other apps to solve workflow issues. I've run into issues with the mobile access – it can be buggy."
4. Tick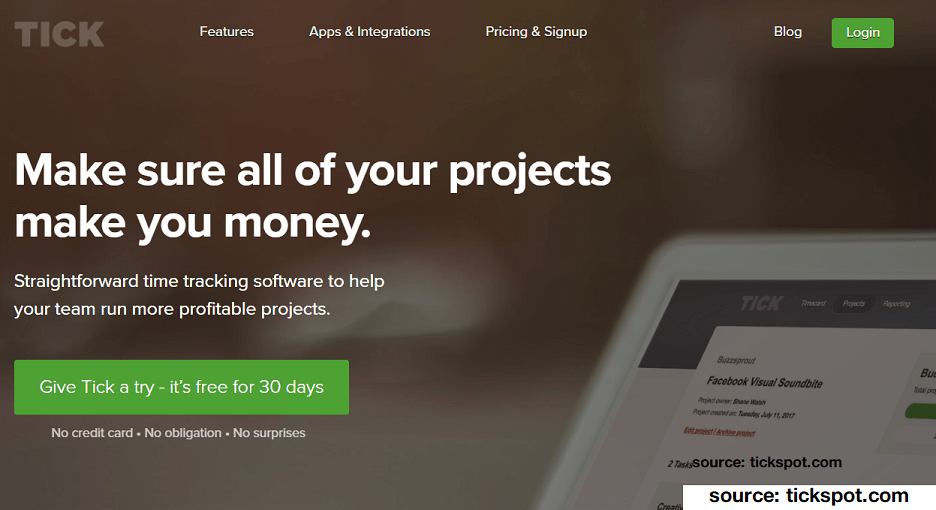 Meeting deadlines and project requirements is also part of ensuring productivity. With Tick, you can achieve that. What's great about this product is it has integrated apps for computer desktops, browsers, and mobile devices. So, you can easily monitor employee productivity even when switching between your PC and smartphone.
Tick also allows users to integrate project management programs like Asana, Basecamp, and Trello. As a result, you will be able to streamline your workflow. Tick is perfect for freelancers and organizations looking for a user-friendly productivity tracker.
Platforms
macOS, Windows, Android, iOS, and Web Browsers
Notable Features
Recurring projects can auto-reset every month
Features for tracking time against estimated project budget and timeline
Authorized team members can manually add time to projects
Compatible with Apple Watch
Pricing
1 Project – Free
10 Projects – $19 per month
30 Projects – $49 per month
60 Projects – $79 per month
Unlimited Projects – $149 per month
What Users Have to Say
✔ "I really like the fact that there is a free version which is really handy. It's really important to understand, as a manager, how the team is doing and where is the most time being utilised in."
? "The large range of options to break down projects into smaller segments and sub projects/tasks often distorts from the bigger picture and bogs you down in detail unnecessarily."
5. BeeBole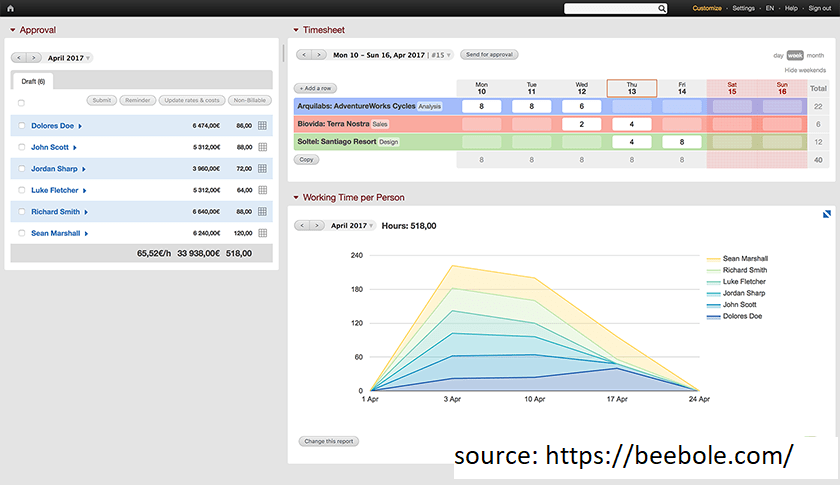 BeeBole is a productivity tracking software that lets you track work hours and projects. What you'll like about it is that you can customize it according to your needs. For instance, you can use it as a timesheet tool for your employees.
Now, if you're a freelancer, BeeBole can track time for your projects, sub-projects, and different clients. You can even use it to manage leaves of absence and vacation days.
By going to the dashboard, you will get a glance at billable hours for the day, week, or month. As a manager, you can check the status of a project, overtime work, and team/employee performance. It also has features that allow bulk reviews and approval of timesheets.
BeeBole streamlines business operations by generating reports on budgets, workforce resources, profits, and margins. It's perfect as a simple time tracker, yet it is packed with features that enable managers to improve team productivity.
Platforms
Android and Web Browsers
Notable Features
Customizable KPIs for comprehensive reports
Integration with Microsoft 365 and Google Suite
Compliant with GDPR and DCAA
Pricing
€6.99 per user, per month
What Users Have to Say
✔ "The fact that it saved HOURS from my usual hustle and once you customize it, it really works FOR you."
? "Changing past submitting time sheets is a bit difficult, but did not happen frequently."
6. Now Then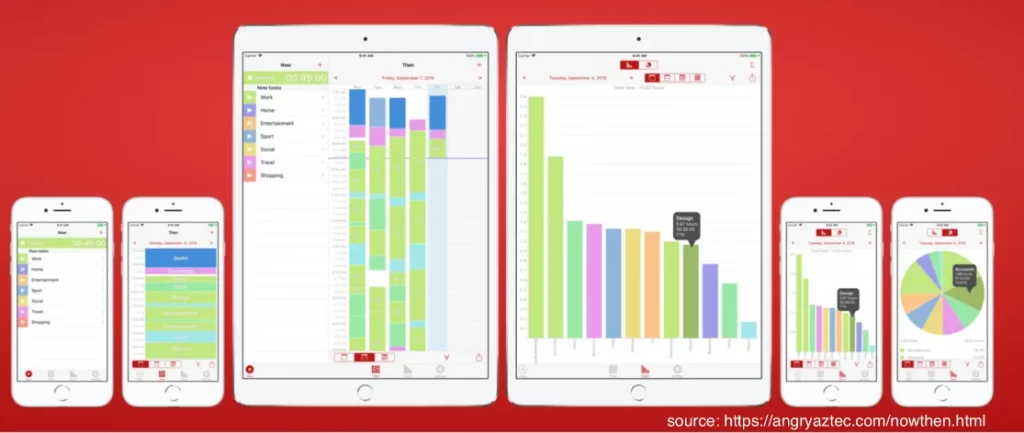 Another useful solution for people who want to track their productivity is Now Then. It doesn't restrict you to a particular template. With Now Then, you can customize your task list and switch between different activities with ease. It's a great way to keep track of how you use your work hours.
Now Then is perfect for individuals who tend to switch between multiple projects. You'll love the app's simplicity. What's more, you can quickly correct the data during instances where you forget to flip the log to another project. After all, it can be difficult to keep on logging time when you're moving back and forth between separate tasks. The tool's simple interface will prove to be effective for you.
Platforms
iOS
Notable Features
User-friendly and intuitive interface
Features for tracking time spent on specific activities
Hierarchical task list that can be customized according to the simplicity or complexity of a project
Pricing
What Users Have to Say
✔ "The app is just what I need for easy flipping between multiple projects that I have to account for for two different employers. It also makes it VERY simple and fast to correct the occasions I forget to flip the log to a different project."
? "It's not perfect. iCloud data sharing is flaky. I mainly use the app on my iPad, but on occasion I'll use it on my iPhone. Pretty much every time, the data is not current on the phone. I have to go into the settings and switch off iCloud, switch it back on, and wait for the phone to download the data."
7. Momentum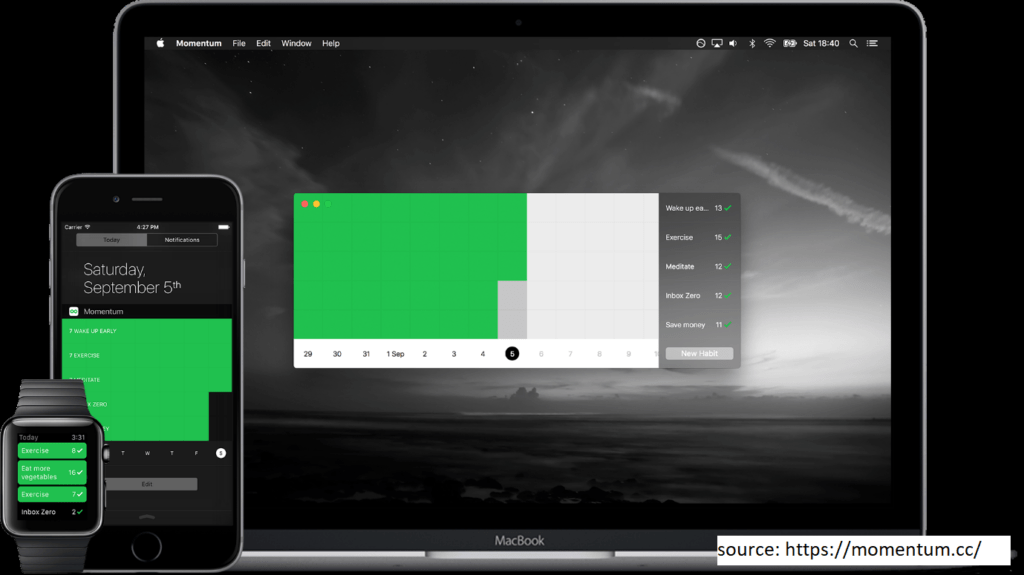 When it comes to monitoring team productivity, Momentum is one of the best tools you can use. As a habit tracker, this app records the time a person spends on particular tasks. Its main objective is to help people develop great time management habits.
If you're familiar with the 'don't break the chain' principle, you will easily understand how Momentum works. Whenever you complete a habit, you will see the chain on the app growing longer. The tool provides visual stimulation to help you stick to productive behaviors and routines.
Unfortunately, Momentum is only available on macOS and iOS. Moreover, it tends to be confused with the Momentum browser extension, which also functions as a productivity tool. So, it somehow caters to a certain niche. Even so, the app seamlessly integrates with iCloud sync. As such, you can check off your habits with ease even when you're switching from your Mac to your Apple Watch or iPhone.
Platforms
macOS and iOS
Notable Features
Daily reminders to ensure every habit is remembered
Progress reports that can be exported as a spreadsheet
Write or dictate notes for easier journaling
Pricing
Free with in-app purchases
What Users Have to Say
✔ "I've used the app for 3 months so far and it has really helped me to track and stay committed to my hobbies. Great UI design too."
? "I like to explore the app but when I tried to add and edit the habits, it's crashing randomly."
8. HourStack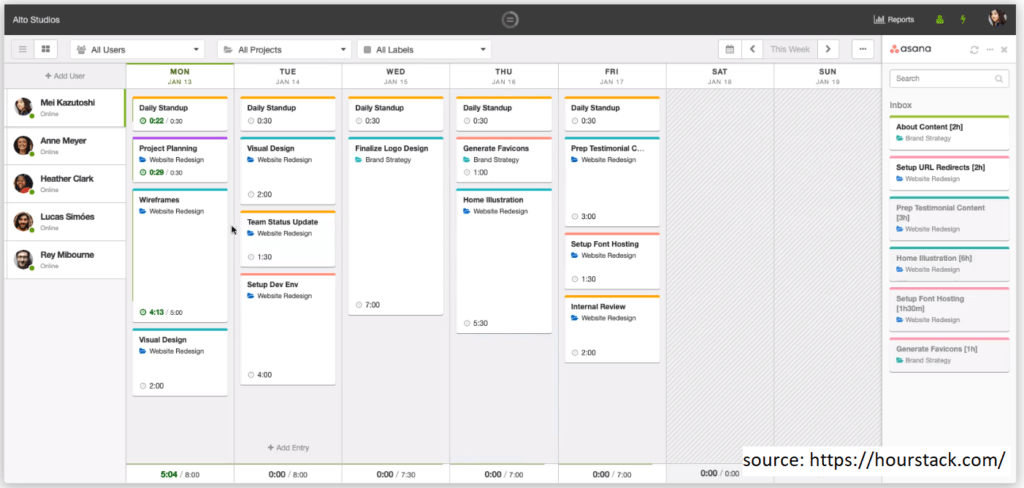 If you've tried many time tracking tools before, you will find the design of HourStack quite refreshing. It is one of the few apps that integrate the concept of time blocking with its interface. With this type of design, there's an emphasis on planning your time before you begin your work.
For instance, you can allocate time blocks on your calendar for projects you can complete later in the week. You must give a task a rough estimate of how long it will take you to complete it. Once you run HourStack, the tool will keep you within the time limit you set.
Like other productivity tracker apps, HourStack lets you create a visual representation of your tasks and projects. You can even color-code and label entries to easily differentiate them. What's more, the app integrates with various productivity tools like Bitbucket, Asana, GitHub, Google Sheets, and Trello, among many others. Now, if the app isn't supported natively, you can use Zapier to connect it.
Platforms
macOS, Windows, Linux, and Web Browsers
Notable Features
User-friendly time and productivity tracking
Comprehensive workspace with tools for organizing tasks
Detailed reports with actionable insights for boosting efficiency
Pricing
Personal – $12 per month for one user
Team – $15 per user, per month
What Users Have to Say
✔ "The reporting feature is really easy to use and provide useful daily and weekly review information. In reports, I really like seeing planned vs actual times – it helps me improved my estimations."
? "The only thing I can remotely complain about is the week-based interface, where you need to 'rollover' open items to the next week, then disperse from there. No big deal, just adds an extra step."
9. RescueTime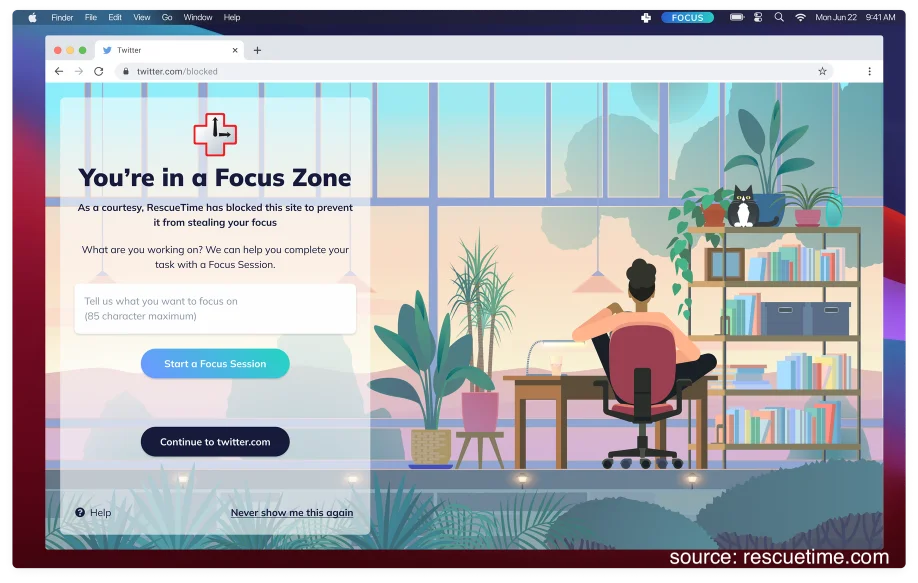 If you're looking for a productivity app that works on just about every platform, then consider using RescueTime. It works on Windows, macOS, Linux, Android, iOS, Chrome, Firefox, and even Brave. After installing this tool, you can let it run in the background to monitor your computer usage. The data will be transmitted via RescueTime's secure servers, which you can see on the web-based dashboard.
RescueTime will record how long you use apps and visit websites. Based on a set of rules, the tool will classify your activities as "distracting" or "productive". What's more, RescueTime can help you ignore distractions. It has a feature called "FocusTime", which blocks unnecessary websites to let you finish your work. Before you get to work, you can decide what websites to block and even add exceptions.
Are you using Office 365, Outlook, or Google Calendar? If so, then you can create an event and type "#focustime" (no quotes) to schedule FocusTime sessions automatically. By doing so, you allow the feature to block distracting sites automatically during the scheduled time.
Aside from that, RescueTime has a Slack integration that sends notifications and updates on your work. This way, your teammates know that you're deep into work and that you shouldn't be interrupted.
Platforms
macOS, Windows, Linux, iOS, Android, and Web Browsers
Notable Features
Comprehensive reports containing daily efficiency and productivity analysis
Eliminate distractions by blocking access to specific websites
Features for setting daily task goals
Pricing
RescueTime Lite – Free
RescueTime Premium – $9 per month
RescueTime for Teams – $9 per user per month
What Users Have to Say
✔ "The reporting feature is really easy to use and provide useful daily and weekly review information. In reports, I "It helped me in managing my time and properly allocating the hours in my day. Rescue time is just so amazing that it showed me where I was spending much of my time on."
? "You'll see where you are wasting too much time, and what you have to cut out in order to stop losing attention on what really matters. Tip for the development team."
10. Qbserve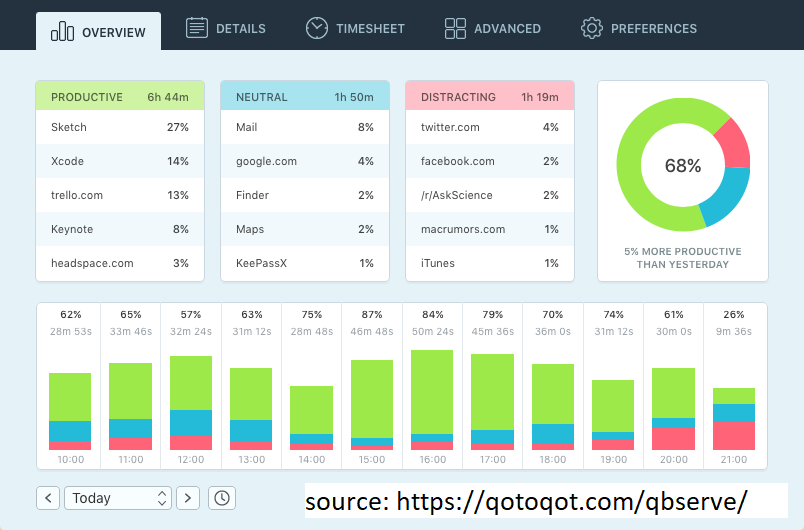 Exclusively designed for macOS, Qbserve is a productivity tracking app that is especially helpful for people who want to mitigate procrastination. This tool will only start recording time once it detects the keywords you set for documents, apps, and URLs. At any time, you are free to modify the keywords or add new ones.
Let's say you added the keyword 'time tracking'. Now, if you watch a YouTube video with time tracking as the topic, it won't be counted as a non-productive activity. The time you spend watching that video will be added to your billable hours. Meanwhile, if you watch videos about carpentry, for instance, Qbserve won't track the time.
Productivity Institute founder Dr. Donald Wetmore shared that the average worker gets interrupted 50 to 60 times a day. So, if your employees often get distracted, then Qbserve may be able to help them focus.
We all understand how disruptions can be among the biggest productivity killers. One moment you are researching a topic on the Internet, and the next you're already sucked into a black hole of celebrity gossip sites.
Observe is a simple productivity tracker that will monitor your behavior and identify your common time wasters. However, keep in mind that this app only works when you're online. So, if you are in a meeting or you're taking calls, the time won't be added to the billable hours.
Platforms
macOS
Notable Features
One-time fee
Track time and productivity based on specific keywords
Pricing
What Users Have to Say
✔ "Automatically adding activities to projects based on rules (like the title or the path of the open document), but also being able to manually add them is a bliss."
? "The only thing missing for me was a way to log idle time, e.g when you are away from your computer in a meeting."
What Makes a Great Employee Productivity Tracker?
With a time tracker, you can create accurate invoices instead of manually calculating the time it took you to complete a task. By using a monitoring app, you are establishing yourself as a trustworthy professional. What's more, it helps you make better business decisions. Because you identify productivity leaks, you can analyze how you can eliminate time wasters for optimum efficiency.
In choosing the best productivity time tracker, consider the following features:
Automatic time recording – Once you start the tracker, it should record billable hours automatically. It should run discreetly in the background without disrupting your work.
Manual edits – We should not forget about human error. Sometimes, employees can forget to turn on or switch off their time tracker. As such, the app should allow users to manually add time and remove recorded minutes. Of course, this feature can also be useful for roles that require workers to step away from their computers. After all, jobs in sales and similar fields involve travelling and meeting clients. These are productive times that should be included in invoices too.
Reports – A time tracker is only as good as its reporting features. So, it must have a comprehensive dashboard that provides insights into a user's productivity and earnings.
Exportable data – After collating the time spent on work, you should be able to take action on the data. The app should allow you to export data to CSVs, PDFs, or Google Sheets. This way, you can easily share the information with the right people.
In Conclusion
Indeed, every productivity tracker app has its strengths and weaknesses. It's up to you to decide which one will work best for your needs. However, it's always advisable to try out a product before making a long-term commitment. Now, if you're ready to boost your productivity, we recommend that you download and install Traqq today. Up to three seats can use the app for free. So, with this tool, you have nothing to lose!