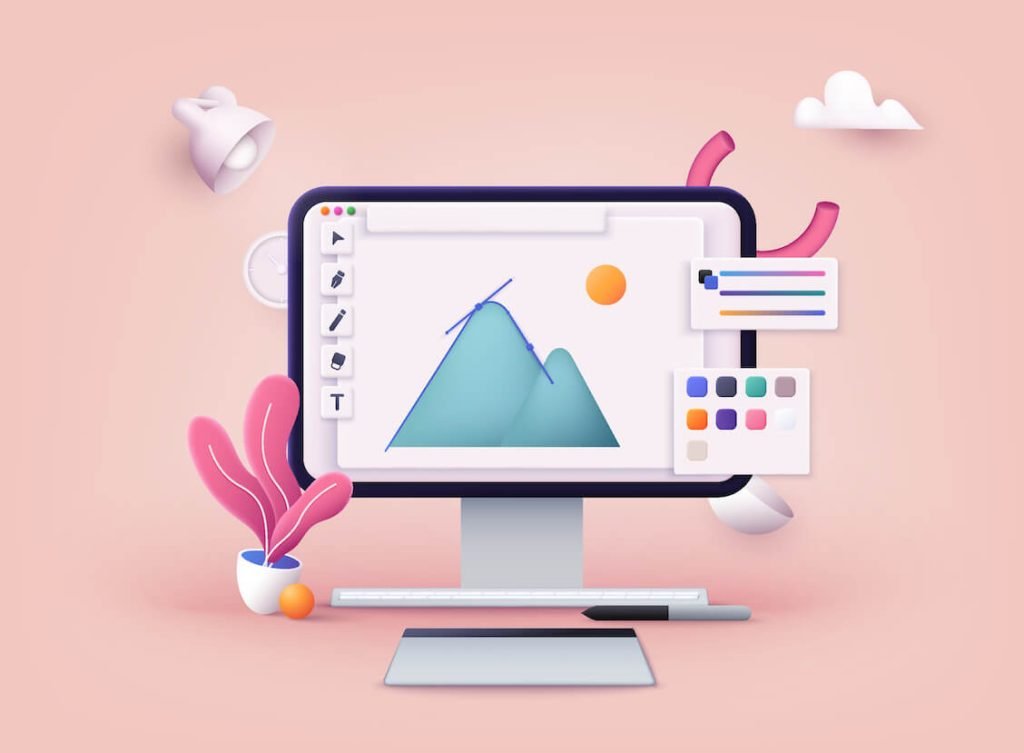 Time tracking software holds significant value for designers striving to balance creativity with efficiency. In the realm of design, where projects are dynamic and deadlines are paramount, effectively managing time becomes a crucial skill. In this guide, discover how time tracking software tailored for designers can revolutionize project management, enhance client collaboration, and provide invaluable insights for optimizing both creative output and business success.
Why Designers Should Track Time
Tracking time is a strategic imperative for designers, offering a multitude of benefits that foster creativity, efficiency, and professional growth.
Efficient Workflow: Time tracking helps designers manage their work more efficiently, ensuring tasks stay on schedule.
Accurate Billing: Designers can invoice clients accurately based on the time spent on projects, building trust and transparency.
Project Insights: Tracking time provides valuable data on project progress, enabling better decision-making and timely adjustments.
Resource Allocation: Designers can allocate time effectively across different tasks, optimizing productivity and meeting deadlines.
Improves Productivity: Time tracking highlights productive patterns and areas for improvement, enhancing overall creative output.
Client Collaboration: Transparent time tracking fosters better communication with clients, demonstrating dedication and professionalism.
Balanced Creativity: By managing time, designers can strike a balance between creative exploration and timely project completion.
How Designers Can Track Time
Designers have various methods to effectively track time, tailored to their unique creative processes and preferences:
Some may find it easier to maintain traditional timesheets, either digitally or on paper, noting start and end times for each task or project.
Many project management platforms include time tracking features, streamlining project management and time monitoring in a single interface.
Some design software offers plugins that integrate time tracking directly into the design workflow, ensuring seamless tracking without switching applications.
If collaborating with clients, use platforms that combine project management and time tracking, offering transparency and efficient communication.
Install browser extensions that enable designers to track time spent on specific web-based tasks or projects.
Finally, for comprehensive time tracking, specialized time tracking software may be the best option. These tools offer features like project categorization, task tagging, and detailed reporting.
What Features to Look for in Time Tracking Software for Designers
When choosing time tracking software for designers, it's important to consider features that cater specifically to their creative workflow and project management needs. Here are key features to look for:
Project-Based Tracking: Look for software that allows designers to assign time entries to specific projects and tasks. This helps in understanding how time is allocated across different design projects.
Client and Project Management: The ability to organize clients and projects, set deadlines, and manage project details can help designers stay organized.
User-Friendly Interface: Intuitive navigation and ease of use are crucial for designers to quickly record their time without disrupting their creative flow.
Customizable Categories: Designers often work on various aspects like concept development, design, revisions, and more. Look for software that lets them create custom categories for accurate tracking.
Integration with Design Tools: Integration with software like Adobe Creative Suite or Sketch can automatically track time spent within design tools, reducing manual entries.
Time Entry Flexibility: Software should allow designers to enter time manually, through timers, or even retroactively, accommodating different work habits.
Reporting and Analytics: Robust reporting features help designers analyze time spent on tasks, identify productivity patterns, and allocate resources effectively.
Mobile and Cloud Access: Access from mobile devices and cloud synchronization ensures designers can track time even when on the go or switching devices.
Collaboration Features: When working in a team, features like team collaboration, project sharing, and task assignment can be valuable.
Invoicing and Billing Integration: Integration with invoicing and billing tools simplifies the process of turning tracked time into accurate invoices.
Notifications and Reminders: Automated reminders for tracking time or switching tasks can help designers stay disciplined with their time management.
Security and Privacy: Ensure the software follows security protocols to protect sensitive client data and project details.
Trial Period and Support: Opt for software that offers a trial period to assess its suitability. Also, consider the availability of customer support for any assistance.
By prioritizing these features, designers can find time tracking software that aligns with their workflow, improves productivity, and enhances project management capabilities.
Best Time Tracking Software for Designers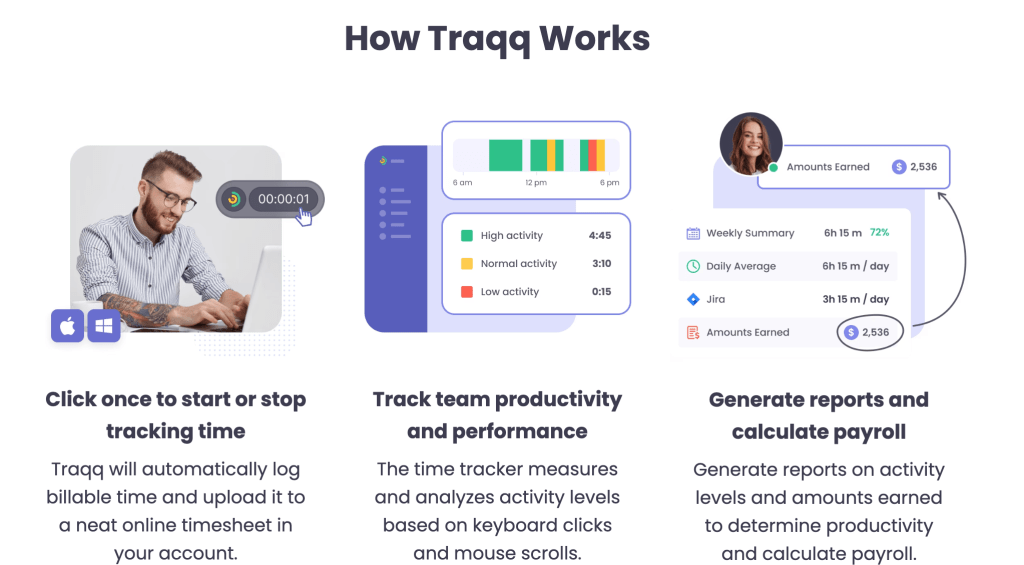 Traqq is a comprehensive time tracking software designed to monitor productivity, track tasks, and manage projects efficiently. It offers automatic time tracking, manual entries, and integrations with popular project management tools.
Why It's a Good Choice for Designers:
Traqq's automatic time tracking, which captures your activity without manual input, is especially helpful for designers who want accurate insights into their workflow. It also provides detailed reports that assist designers in identifying areas for improvement and optimizing their creative process. With its focus on productivity monitoring, Traqq empowers designers to manage their time effectively and make informed decisions to enhance their work output.
Pros:
Accurate tracking for work hours with detailed reports
Screenshots and screen video recording for ultimate accountability
All needed functionality for remote teams
Sophisticated team productivity reports
Cons:
Limited integrations with other apps
Pricing:
free for small teams (up to 3 people) with full functionality
$6 per user per month (up to 100 people)
Trustpilot Rating: 4.7 (Excellent)
What Users Say:
"Traqq's strength lies in its ethical tracking feature. Smart solution for both management and employees, providing a way to respect the employees' privacy and efficient accountability. While the ethical tracking feature is commendable, it would be good to be able to customize it on some occasions." Ayla Aslanbayli, Trustpilot
2. Toggl

Toggl is a popular and user-friendly time tracking tool. It offers a simple interface that makes it easy for designers to start and stop timers, allocate time to specific projects, and analyze their work patterns.
Why It's a Good Choice for Designers:
Toggl's simplicity and flexibility are ideal for designers who want to focus on their creative tasks without being burdened by complex features. Its reporting and analytics also help designers gain insights into their time allocation and productivity.
Pros:
Intuitive design and simple dashboard
Advanced reporting features
Provides insights into future task planning
Cons:
Limited functionality with a free version
Pricing:
PRO Plan (focused on time tracking): $10 per user per month
PRO PLUS Plan: $20 per user per month
BUSINESS Plan: $59 per user per month
3. Trustpilot Rating: 4.7 (Excellent)
What Users Say:
"I've been using this tracker for a few months now. I've tried the chrome extension, the web version as well as Windows desktop version and they all work great. Zero complaints so far. Very intuitive and easy to use." Ismail, Trustpilot
3. Harvest

Harvest is a comprehensive time tracking and invoicing software. It offers project management features, integrations with various tools, and insightful reports for designers to manage their time effectively.
Why It's a Good Choice for Designers:
Harvest's project-based tracking, invoicing integration, and intuitive interface make it a solid choice for designers who want an all-in-one solution for time management and client billing.
Pros:
Simple and flexible
Strong financial integrations
Billable time tracking
Cons:
No timer on notifications on some devices
Pricing:
Solo Plan – from $12 per user per month
Basic Plan – from $49 per user per month
Business Plan – from $99 per user per month
Trustpilot Rating: 3.8 (Great)
What Users Say:
"I have only positive things to say about harvestapp. We use it for time tracking in my company, the product is simply great, and their support is excellent." Thomas Poulsen, Trustpilot
4. Clockify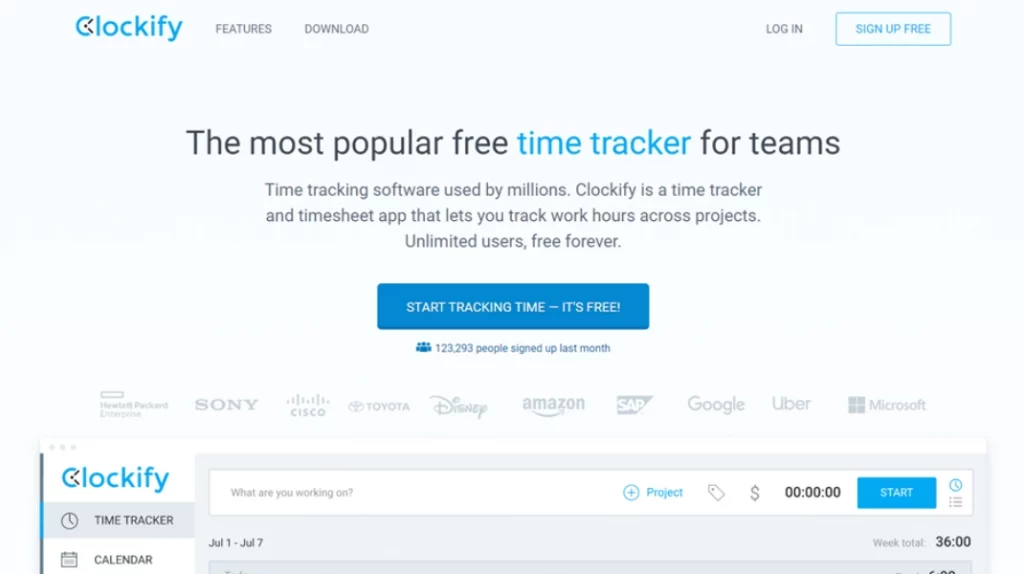 Clockify is a free time tracking tool with a focus on simplicity and customization. It allows designers to track time across various projects, create reports, and export data for analysis.
Why It's a Good Choice for Designers:
Clockify's simplicity and the fact that it offers core time tracking features for free can be attractive to freelancers and small design teams. Its flexibility in creating custom categories suits designers' varied tasks.
5. ClickUp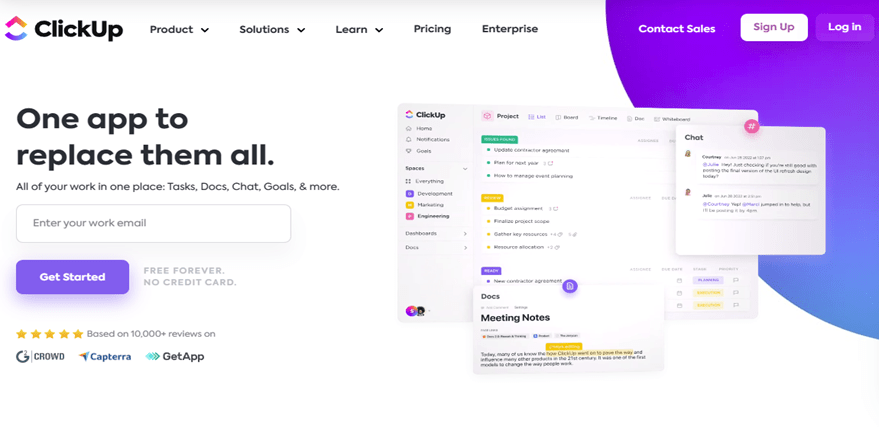 ClickUp is a project management platform that includes time tracking features. It's designed to streamline collaboration and task management for designers working in teams.
Why It's a Good Choice for Designers:
ClickUp's integration of time tracking with project management helps designers manage their tasks, projects, and team communication in a single platform. This is particularly useful for designers involved in complex projects with multiple stakeholders.
Pros:
Unlimited time tracking on free and paid plans
Team chat feature
GPS tracking in Pro and Enterprise versions
Cons:
No shift scheduling tools
Lacks integrations and payroll features
Pricing:
Basic – $3.99
Standard – $5.49
Pro – $7.99
Enterprise – $11.99
Trustpilot Rating: 3.6 (Average)
What Users Say:
"We have been using Clockify for over a year at Assuaged.com. It's not easy to build and scale a business, especially with college students that are need of hours towards graduating with a college degree. With Clockify we are able to easily and seamlessly track student hours and PDF print hour reports to provide to the universities that work with us. We have used other time tracking softwares that were expensive and not user-friendly. Every ounce of money that goes towards this type of software is literally an investment that is worth spending! Thank you Clockify for your excellent customer service. We love and appreciate you!: Cynthia Cherise Murphy, Trustpilot
6. RescueTime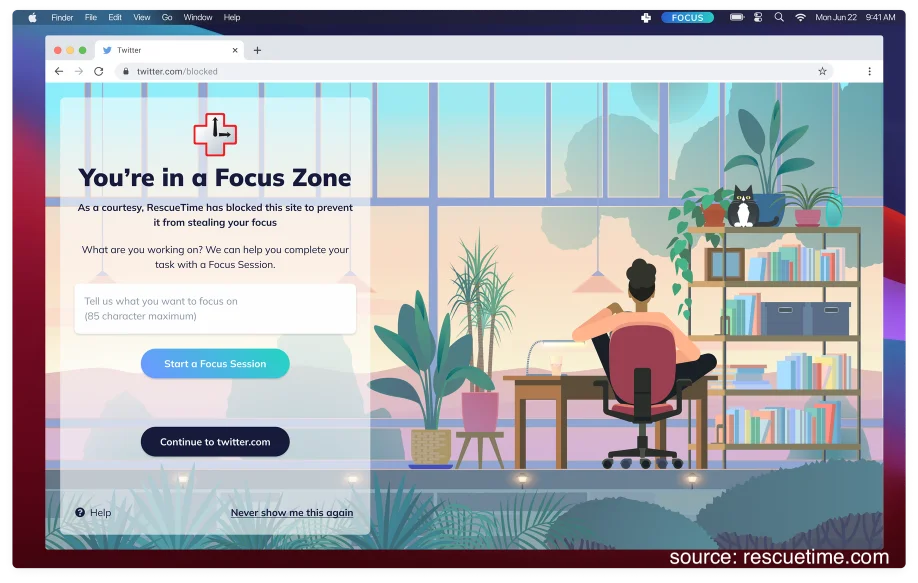 RescueTime is a time tracking and productivity tool that provides insights into how users spend their time on digital devices. It offers data-driven insights for improving productivity.
Why It's a Good Choice for Designers:
RescueTime is beneficial for designers who want to gain a better understanding of their digital habits and identify time-wasting activities. It helps designers make informed decisions to optimize their workflow.
Pros:
Featureful free plan
Unlimited Gantt charts
Team chats in real time
Cons:
Notable learning curve
Limited project management features
Pricing:
Unlimited – $7 per month per user
Business – $19 per month per user
Business Plan – $29 per month per user
Enterprise – custom
Trustpilot Rating: 3.4 (Average)
What Users Say:
"I like this platform, but it seems that ClickUP is going to be too heavy for regular users. I mean, there are a lot of functions and automation features, but if a user wants to use only task management options, they need to navigate through many additional functionalities. It's not good from a UX standpoint. But, overall, I still like this platform. I wish you significant growth, guys!" Tim Rogers, Trustpilot
7. Hubstaff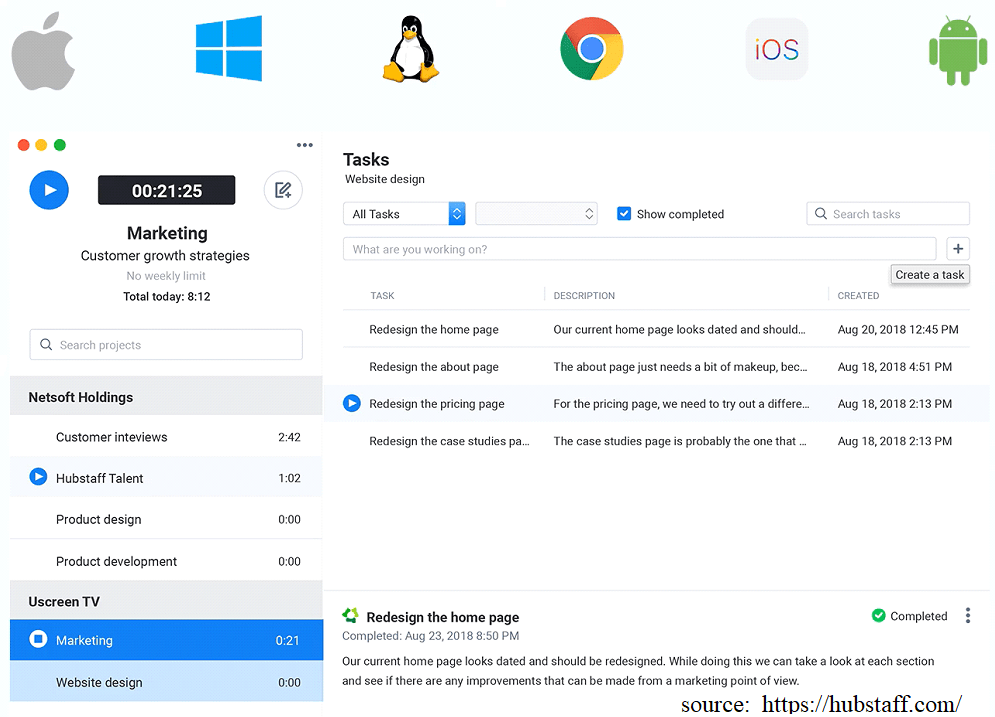 Hubstaff is a versatile time tracking and team management tool. It offers features like project tracking, screenshots, and integrations to monitor remote teams.
Why It's a Good Choice for Designers:
Hubstaff's combination of time tracking, project management, and remote team monitoring makes it suitable for design agencies or remote design teams. It helps managers keep track of projects and team productivity.
Ultimately, the best time tracking software for designers depends on individual needs, preferences, and the scale of their work. Consider factors like simplicity, integration with design tools, project management capabilities, and reporting features when selecting the right fit for your design workflow.
Pros:
Location tracking
Integration options with other apps
Detailed reports
Cons:
UI can be complex to navigate
Pricing:
Basic Plan: $49 per user per month
Premium Plan: $99/month for up to 10 users ($0.99 per additional user)
Trustpilot Rating: 4.3 (Rating)
What Users Say:
"Quick, friendly, patient support. the product is great, UX a bit weird, but once you figured things out, your employee productivity goes through the roof! Markus, Trustpilot

8. Everhour
Everhour simplifies time tracking, providing an effective tool to monitor your project's time allocation and identify where your efforts are primarily focused.
Why It's a Good Choice for Designers:
Everhour proves to be an excellent choice for designers thanks to its seamless integration with popular design tools like Photoshop, Canva, and Figma. These integrations let designers effortlessly monitor your time spent on each design application, eliminating the need to constantly switch between multiple apps or tabs.
Pros:
Multiple design app integrations
Advanced reporting tools
Invoicing and billing features
Cons:
Comes with a learning curve
Some features are only available via subscription
Pricing:
Free
Lite – $5 per user per month
Team – $8.50 per user per month
Trustpilot Rating: 4.4 (Excellent)
What Users Say:
"Having used several other time keeping tools, I've found Everhour to be a step above the rest. It's easy to use, and has features I didn't even expect, like showing me how profitable I'm being for a given time period, based on billable hours and the pay rates of contributing contractors. Everhour has been a real time saver for me."
9. TimeCamp
TimeCamp is a versatile time tracking app that caters to the needs of individuals, teams, and businesses. It offers a straightforward and user-friendly interface, making it easy to record and manage work hours. With TimeCamp, users can track time spent on various tasks, projects, and clients, helping improve productivity and budget management.
Why It's a Good Choice for Designers:
TimeCamp is an excellent choice for designers due to its seamless integration with popular software, precise time tracking capabilities, and the ability to facilitate accurate client billing. It also offers insights into productivity and supports collaboration for design teams, making it a valuable tool for optimizing workflow and project management.
Pros:
Automatic time tracking
Accurate reports with productivity insights
Billing and invoicing functionality
Cons:
Mobile app can be a bit clunky
Some features are only accessible via subscription
Pricing:
Free
Basic – $7 per user per month
Pro – $10 per user per month
Enterprise – custom
Trustpilot Rating: 3.2 (Average)
What Users Say:
"None of your great qualities matters if you fail to keep your word. I have had members disappear from the team, time tracking records vanish and data get lost. Worst of all, when moving a team member into the team we lost all her time-tracking data – something you explicitly state in your message would not happen. These are fundamental issues. Having said all of this, i still choose to use the platform as i think it is brilliant when it works. It integrates straight into Trello and Xero and helps me manage my teams' performance as well as invoice clients." Willem, Trustpilot
10. MyHours
MyHours is a user-friendly time tracking app designed to help individuals and teams efficiently manage their time. It offers straightforward time tracking features, allowing users to easily record hours spent on tasks and projects. MyHours also provides insightful reports and analytics, helping users gain a better understanding of their time allocation. With its user-friendly interface and flexible features, it's a practical choice for freelancers, small businesses, and remote teams seeking to improve time management and productivity.
Why It's a Good Choice for Designers:
MyHours is an excellent choice for designers due to its user-friendly interface, project-based tracking, and invoicing capabilities. It simplifies time management, making it easy to track hours and generate invoices for design work.
Pros:
Easy time tracking
Detailed productivity reports
Integrations with popular apps via Zapier
Cons:
Interface may take some time getting used to
Pricing:
Free
Pro – $7 per month per user
GetApp Rating: 4.8
What Users Say:
"I love that the user interface is so slick and simple. The application is fast and the reports are great and save me a lot of time at the and of the month." Ofir.A, GetApp
Conclusion
To sum up, choosing the right time tracking software is vital for designers. Each option, like Toggl, Harvest, Clockify, ClickUp, RescueTime, Hubstaff, and now Traqq, offers unique features that suit different design needs. Whether you need simplicity, project management, productivity insights, or team coordination, these tools have you covered. The best pick depends on your specific design tasks and workflow. So, select wisely and watch your design efficiency grow!
FAQ
How Do You Track Design Time?
Tracking design time involves using time tracking software to record the amount of time you spend on various design tasks and projects. You can manually start and stop timers, enter time entries, or use automatic tracking tools to monitor your activities. This helps you understand how much time you allocate to different design tasks and aids in improving your time management.
Is There Free Time Tracking Software for Designers?
Yes, there are free time tracking software options available for designers. Clockify and Traqq, mentioned earlier, are examples of tools that offer free plans with basic time tracking features. While they might have limitations compared to paid versions, they can still be valuable for freelancers and small design projects. Always review the features and limitations of the free plan to ensure it meets your needs.