Top 10 Free Keyloggers for Employee Monitoring in 2021
There has been an ongoing debate about the ethics of monitoring in the workplace. Many instinctively associate this practice with intrusive espionage and abusive micromanagement. The topic has become even bigger amidst the COVID-19 pandemic. While government units implemented social distancing regulations, many companies resorted to remote work. Now, millions of employees have made their homes their offices.
Of course, managers still expect their employees to work efficiently in this setup. However, they now face the added struggles of housekeeping and homeschooling kids. Most workers are no longer within company premises and even under business hours, the lines continue to blur. So, where does this scenario leave employee monitoring? Can businesses still ensure accountability among their remote workers? How can they achieve this?
Employee Monitoring with Keyloggers
There are plenty of liabilities to consider when letting your workforce operate remotely. With no one to supervise them in person, a more stringent risk management plan should be put in place. Businesses have to address liabilities like data theft, moonlighting under company hours, damaging communications, and illegal behavior like drug abuse or embezzlement. With all the risks involved in remote work, you've probably considered looking into the keylogging trade.

Some companies have clauses in their recruitment contracts that require their employees to install a keylogger. This piece of software tracks keystrokes, emails, visited websites, and even passwords. As of this writing, no federal law has been passed to interpret the use of keyloggers in the workplace — even discreetly — as illegal. So, as long as a company installs keyloggers without the purpose of trespass and abuse, then the practice is completely legal.
What Are the Top 10 Keyloggers that You Can Use for Free?
If you're still on the fence about whether you'll invest in a premium keylogger, then we have a solution for you. You can try the best free keyloggers and see if the product is something that can bring value to your company and operations. Here are some of the highly rated names on the market:
1. Spyrix
http://www.spyrix.com/en/spyrix-free-keylogger.php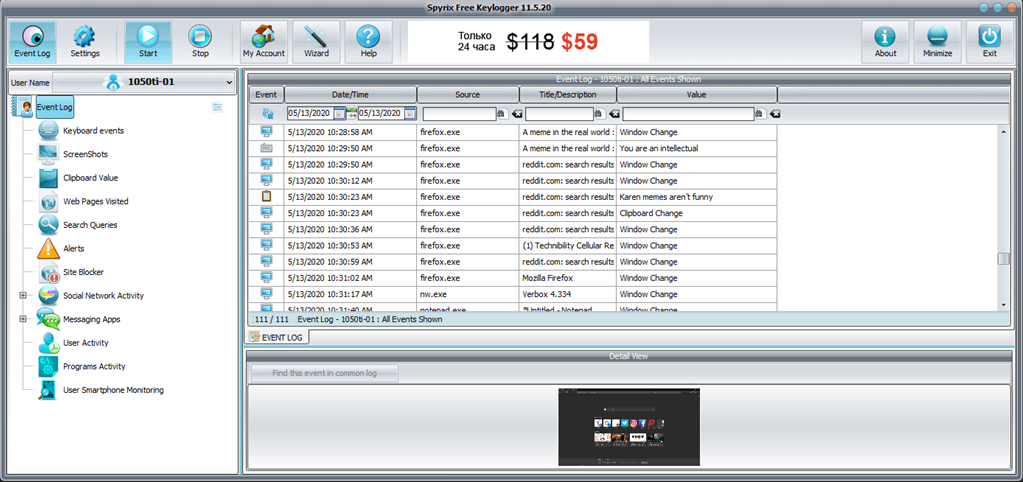 Spyrix is among the best keyloggers for Mac and Windows. While it gained popularity among over-zealous parents, it can also be used in corporate settings. This keylogger can support 12 languages, making it ideal for companies that manage geographically scattered workers. Once installed, Spyrix will monitor and record every installed application and program running on the device. It will take screenshots of active windows and even removable drives and peripherals like printers. It also records keystrokes and clipboards.
Pros
⦁ Free to install and use
⦁ Can be used alongside Internet filtering tools
⦁ Hidden monitoring feature

Cons
⦁ Anti-virus can flag it as malicious software
⦁ Social network and instant messaging monitoring is only available in the paid plan
2. Refog
https://www.refog.com/free-keylogger.html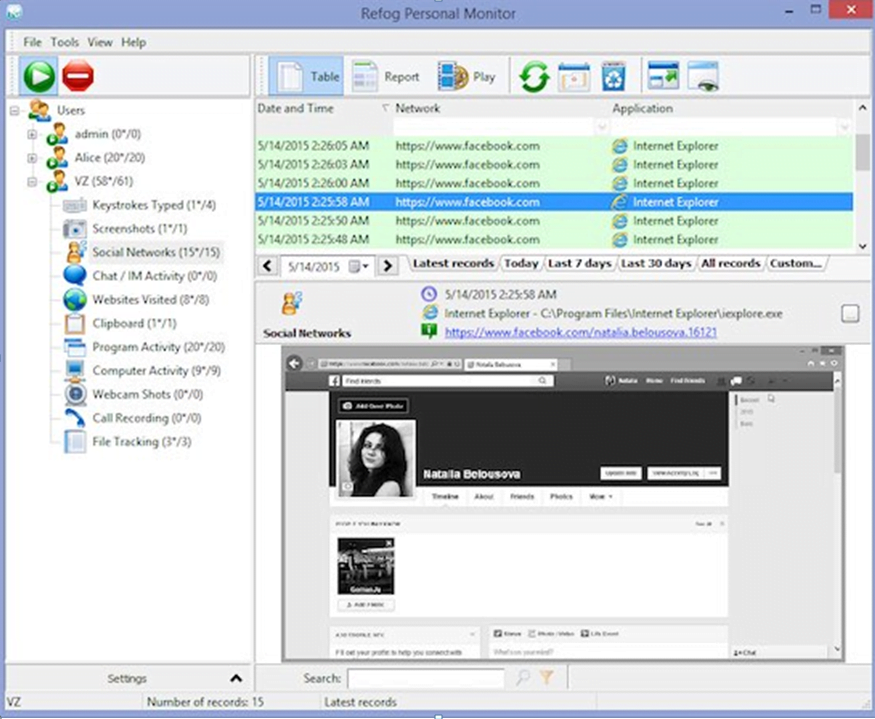 You don't need complex tech skills to operate Refog. It has a user-friendly interface, making it the best remote keylogger for beginners. With this tool, you can gather information like web browsing history and even typed text. It records a user's keystrokes on social media sites, web pages, and even in chats. All the while, it indicates the time of visit or use. What's more, Refog can track actions and file activities, including anything copied, pasted, and deleted.

Pros
⦁ Can record a comprehensive amount of activities
⦁ User-friendly interface
⦁ Provides real-time remote viewing
⦁ Offers accurate time monitoring
Cons
⦁ No remote reports for the free version

3. Ardamax
https://www.ardamax.com/free-keylogger/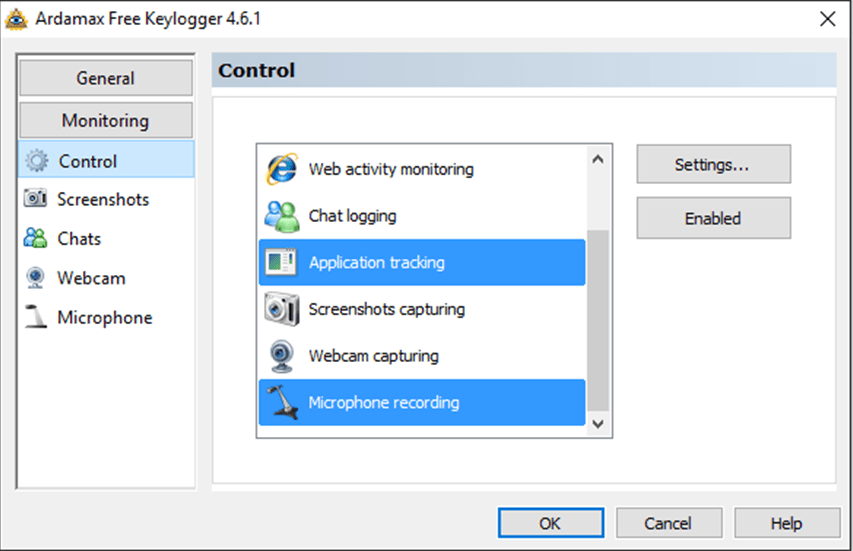 Ardamax is another remote keylogger freeware with an easy-to-use interface. It can take screenshots, record audio, track keystrokes and clipboards, and even monitor app and website usage. While it doesn't track emails, attachments or downloaded files, it can still record keystrokes and web addresses. It can run stealthily, but managers also have the option to keep it visible on their employees' device.
Pros
⦁ Can capture mouse click activity
⦁ Easy to install yet offers high performance
⦁ Provides support for more than 20 languages
Cons
⦁ Lack of complex built-in reports generation
4. Actual Keylogger
https://www.actualkeylogger.com/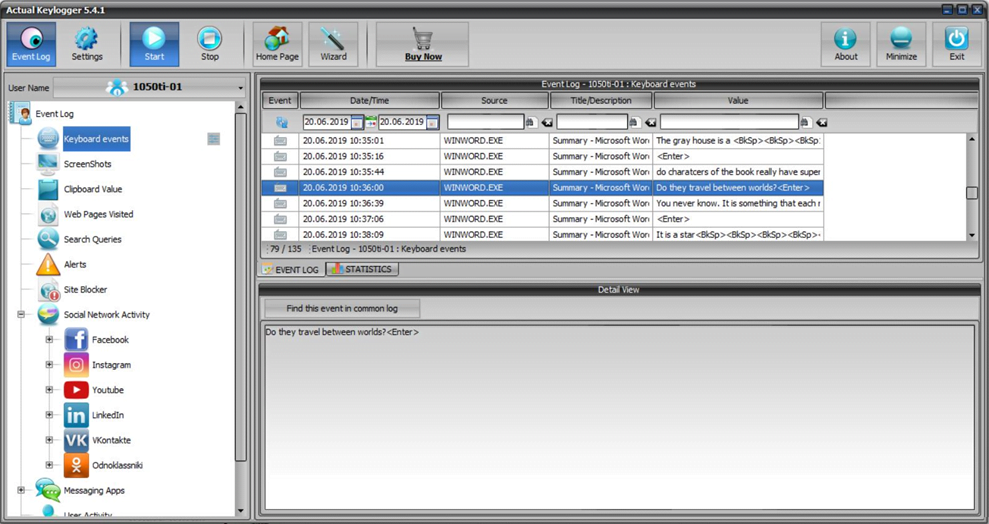 The interface of Actual Keylogger doesn't differ too much from what other similar tools have. Its dashboard also displays the events with their corresponding description and timestamp. You can configure the tool to monitor messaging apps and social network sites under separate categories. What's more, Actual Keylogger lets managers set a website blacklist with categories ranging from gaming and adult sites to shopping and social media, among others.
Pros
⦁ Available in 12 languages
⦁ Can track system inactivity time
⦁ Offers clandestine operations
Cons
⦁ Cannot track file activities
⦁ Cannot block specific programs
⦁ Doesn't record mouse screen clicks
5. Iwantsoft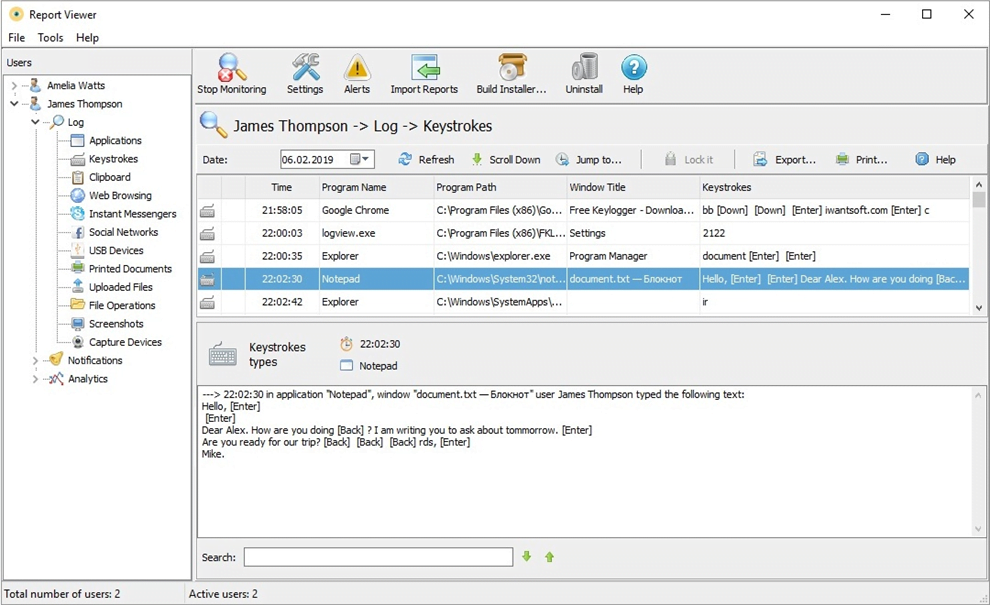 While Iwantsoft may not be the best free keylogger for Mac, it is an efficient tool for monitoring activities on Windows. It can record keystrokes, app activities, web browsing history, and even clipboard content. What's more, it can block unnecessary websites and apps.
Pros
⦁ User-friendly interface
⦁ Can generate comprehensive reports
⦁ Can operate in stealth mode
Cons
⦁ Cannot record mouse screen clicks
⦁ Doesn't track file activities or content copied from documents
6. Revealer Keylogger
Note: No official website.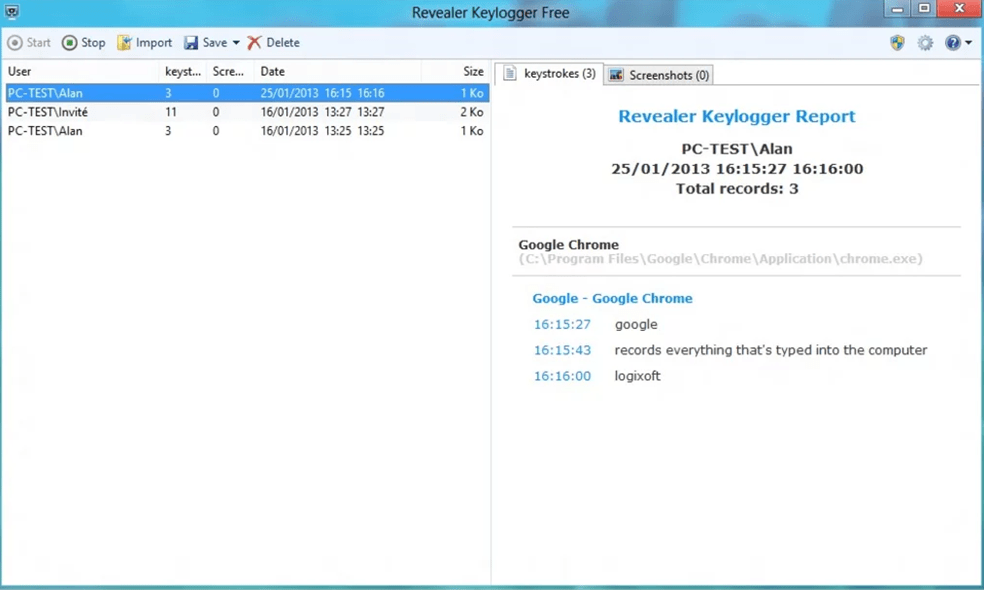 Revealer Keylogger is one of the best Mac keyloggers that offers support for multiple language and password protection. What's more, it's also compatible with Windows devices. It lets you configure the tool's startup settings and even allows you to run it with elevated privileges. It can record keystrokes and also track applications and programs used.
Pros
⦁ Easy-to-use interface
⦁ Active features in the free version are fully functional
Cons
⦁ Most features, including screenshot capture, are available in the paid version
⦁ Features available in the free version are too basic
7. Real Free Keylogger
Note: No official website.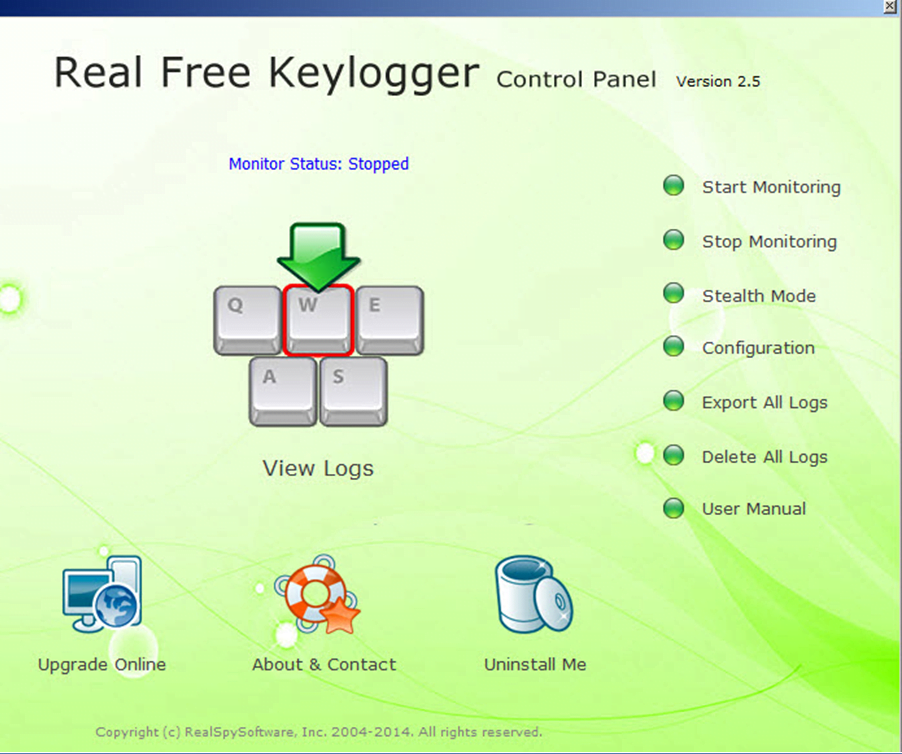 The strong selling point of Real Free Keylogger is how it records all keystrokes. Unlike other tools that have a selective tracking feature, this keylogger will monitor all the activities you need. What's more, managers can set a password so that they can exclusively access and view the logs.
Pros
⦁ Can log all keystrokes
⦁ Highly intuitive interface for easy navigation
Cons
⦁ Stealth mode is only available in the paid version
⦁ Lacks the advanced options that other keyloggers have
8. Kickidler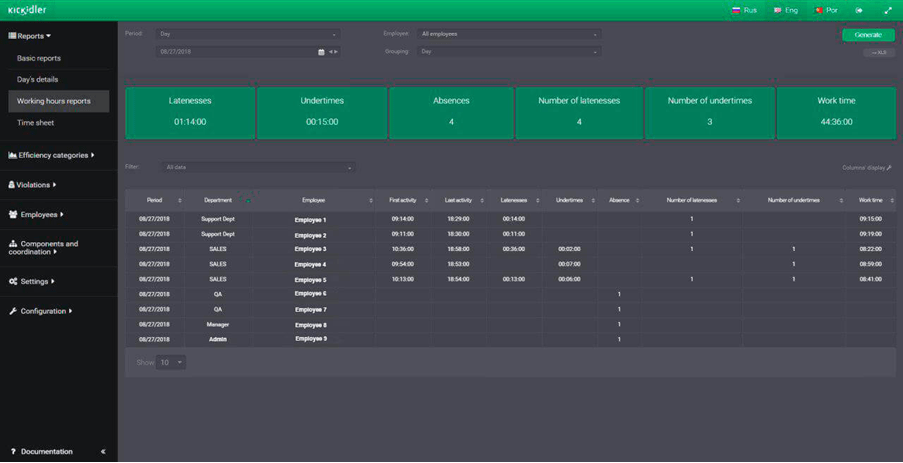 Teams with no more than six remote employees can use Kickidler for free. What's great about this tool is it allows remote access. So, if you notice any suspicious keystrokes or activity, you can take over the user's device to prevent further damage.
Pros
⦁ Won't come in conflict with antivirus
⦁ Easy to set up and manage
⦁ Excellent integration
Cons
⦁ No traffic or email monitoring features
⦁ Last software update was in 2014
9. BlackBox Security Monitor Express
Note: No official website.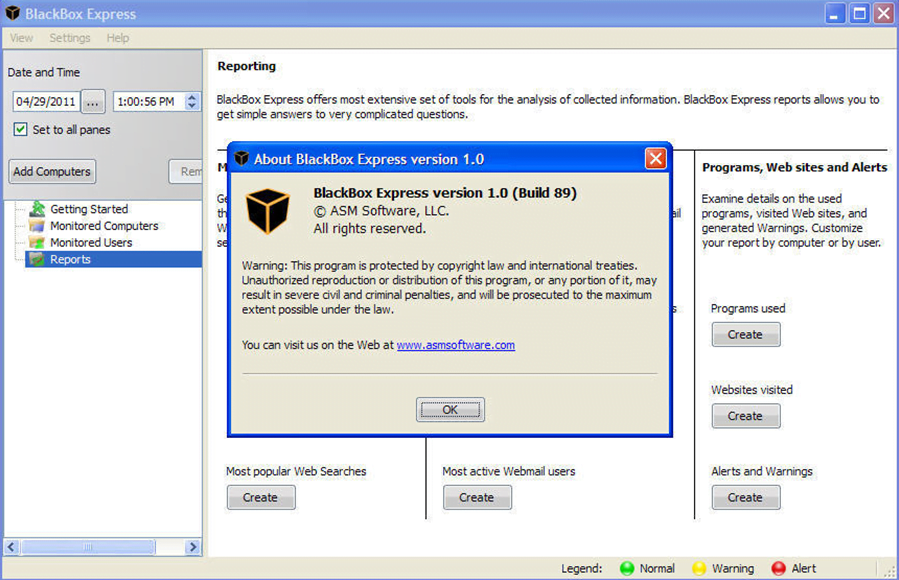 BlackBox Security Monitor Express can efficiently monitor activity and app usage. It can also record keystrokes and capture screenshots. If you need to monitor the emails sent and received by a user, this tool can be a great option.

Pros
⦁ Configurable warnings and alerts
⦁ Can monitor all network traffic

Cons
⦁ No hotkey for launching the tool
10. Best Free Keylogger
Note: No official website.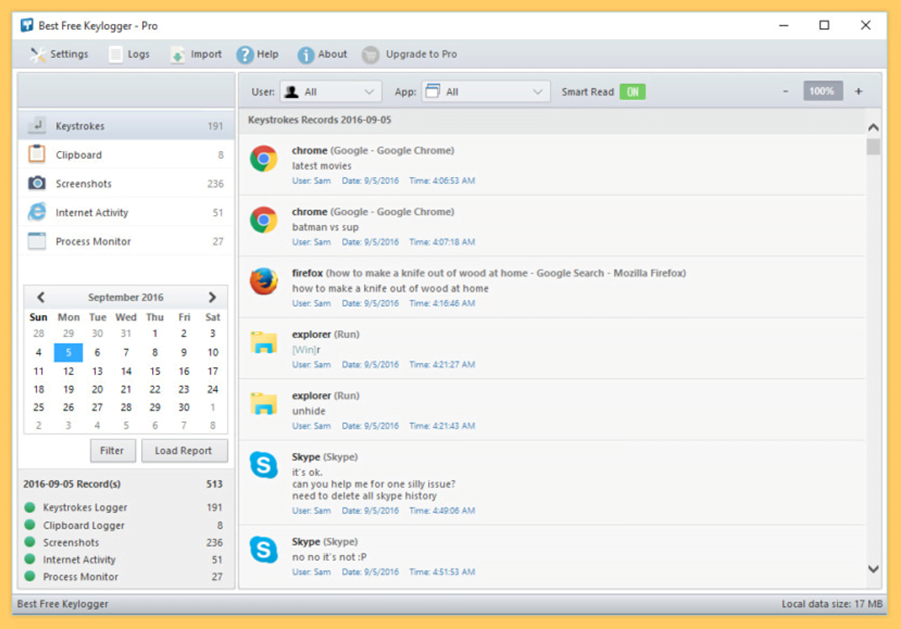 Best Free Keylogger is an intuitive monitoring tool that is available in free and paid versions. You can use it to record keystrokes, clipboard content, running apps, and Internet activity. What's more, you can delete the recorded logs remotely.

Pros
⦁ Password protected upon installation
⦁ User-friendly interface

Cons
⦁ Limited number of screenshots per day
⦁ Premium tech support and invisible mode only available in the paid version

Using Keyloggers Is Legal, But Is It Ethical?
The legal freedom to monitor employees' activity is a powerful tool. As with any weapon, the best keylogging software is only as good as the motives of the person using it. Technically speaking, companies have the right to and ownership of the hours employees spend at work. However, when tracking and monitoring are overdone, they damage employee morale and hamper productivity.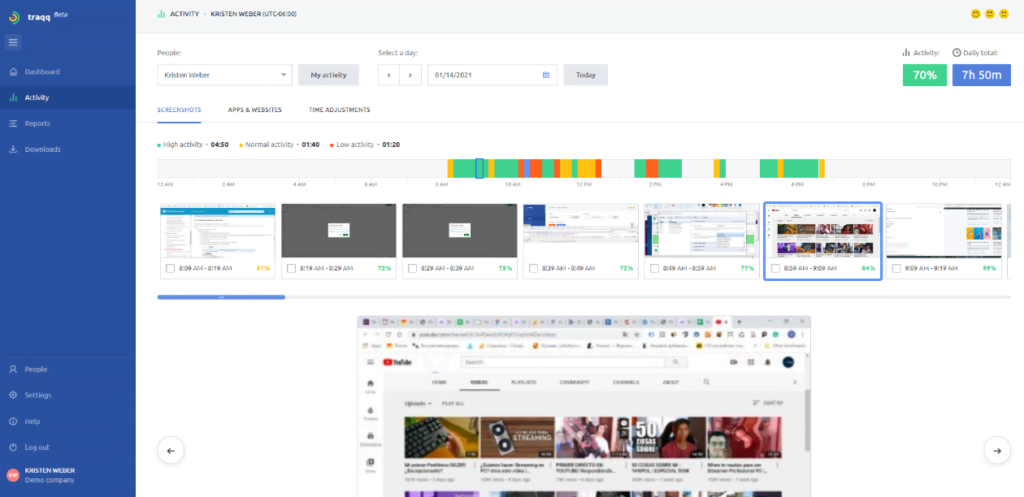 Most keyloggers have no limitations when it comes to recording keystrokes. These tools can even record passwords and usernames. When sensitive data falls into the wrong hands, it can lead to serious repercussions. Now, if you want to ensure accountability without infringing on your workers' privacy, you must choose a tool that promotes ethical monitoring.
Take Traqq as an example. Indeed, this time tracking program collects screenshots and video clips. However, the tool reduces their quality to the extent that would prevent compromising sensitive data. Aside from that, the data stored in the cloud is protected with military-grade encryption. You can ensure accountability and security without infringing on privacy. Now, that's ethical employee monitoring.