12 Clock In Clock Out Apps in 2022
Did you know that 49% of U.S. employees admit to committing time theft?
In a 2017 survey by Quickbooks and Pollfish, 46% of guilty respondents add between 15 and 60 minutes to their timesheets.
This is the reason why an automated employee clock in clock out app system is important to any business.
Aside from monitoring worker performance, a time clock system will also protect your company's resources.
A clock in clock out app is beneficial for employees, who can use it to clock in and out of work, check their schedules, and track the hours worked – which will help them know how much they have earned.
So, in this post, we'll show you the best clock in and clock out apps available today.

#1 Traqq – Free Clock in Clock out App for Businesses and Freelancers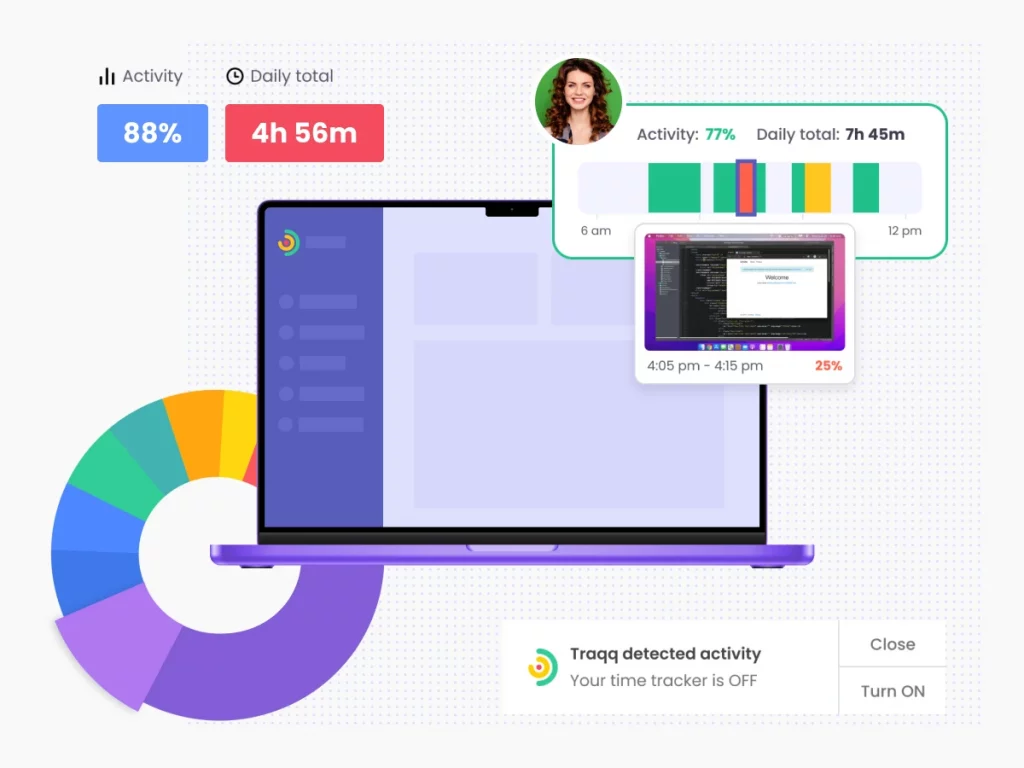 Traqq is an innovative time tracking app that contains an employee clock in clock out system. The software offers both employers and employees the benefit of tracking productivity and ensuring accurate billing.
The built-in timer allows you to track your working hours and stay ahead of your tasks. For freelancers, this will ensure fewer disputes.
The clock in clock out feature is simple to use. All you need to do is click "Start" when you begin your shift and "Stop" when you are done for the day.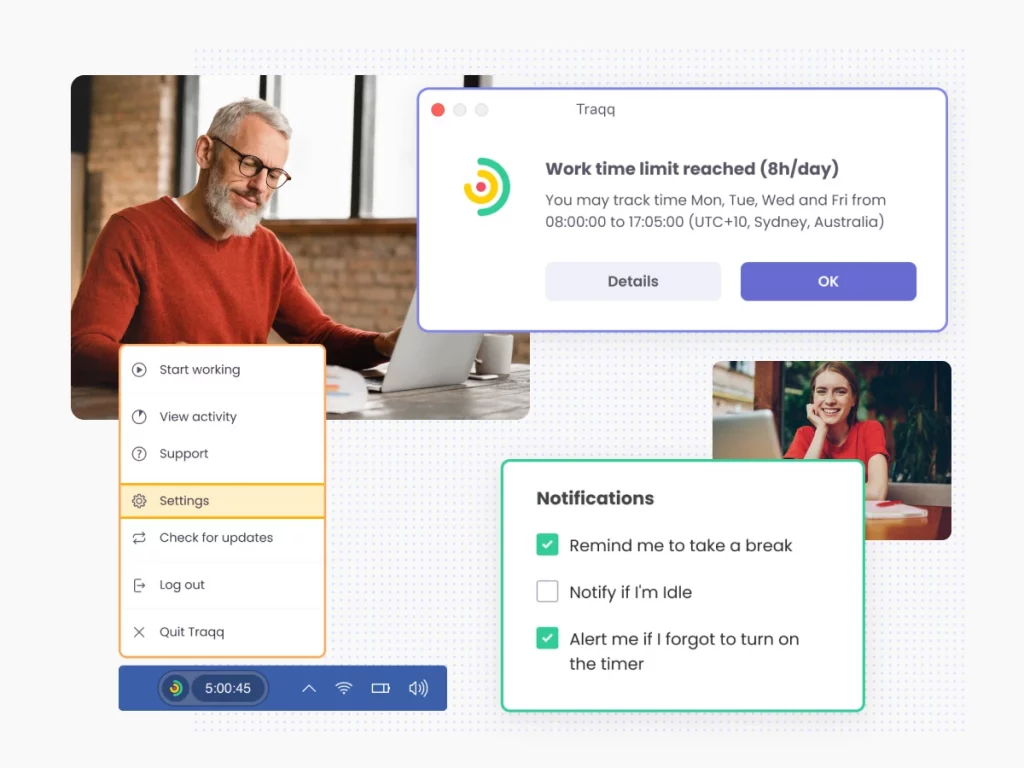 Traqq is more than just a clock in clock out app. It helps you monitor employee activity and analyze your workers' performance levels.
Additionally, employees can track their productivity and adjust time manually to account for billable hours – for instance, when in a meeting. That info will come in handy when calculating billable time and during invoice processing.
Pros:
The app blurs the screenshots and video recordings to protect the privacy of users.
You can download it for free with no feature limitations.
It lets you generate comprehensive productivity reports.
Cons:
The program is still in its beta phase, so the desktop widget can be buggy at times.
Pricing:
Premium Starter – $0 for up to three seats (all Premium features included)
Premium Teams – $6 per seat, per month (up to 100 users)
Enterprise – Custom pricing available for teams of over 100 people
What Users Have to Say:
Positive
"Easy to use, if there is any kind of bug, customer support answers the same or next day (they are located in Australia so that is reasonable). One or two clicks to do everything."
Negative
"Traqq is still in development and could use a lot more integrations"
*Overall ratings were based on Capterra and G2 reviews.


#2 Open Time Clock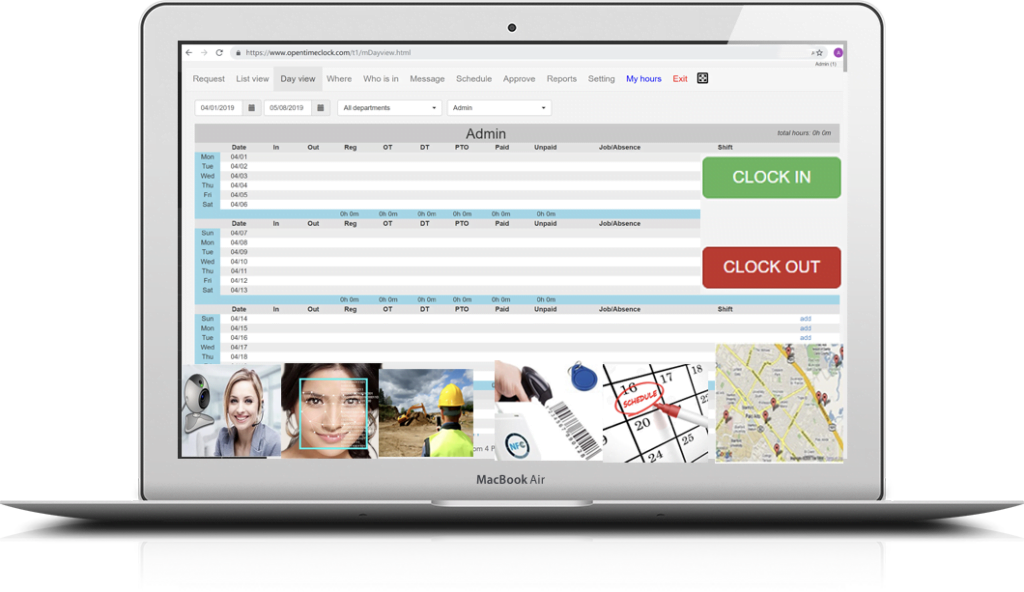 If you need a clock in clock out app with attendance management features, consider using Open Time Clock.
You can also use it for employees who are always on the road because it comes with GPS tracking.
Open Time Clock even makes logging in and out easier because it lets users punch in using a barcode or RFID. With this work clock app, managers can also track absences, vacation days, and regular shifts.
Pros:
This free clock in and out system simplifies how you track billable hours.
It has a user-friendly dashboard that makes timesheet generation and payroll processing easy.
You can add an unlimited number of managers and employees.
Cons:
Open Time Clock does not have a shift scheduling system.
Some users complained that at times, the clock didn't appear in hours.
You can only get customer support via email.
Pricing:
Free Plan – $0 for unlimited users
Paid Plan – $25 per company, per month
What Users Have to Say:
Positive
"Satisfied and will surely recommend to other companies. Very affordable in pricing."
Negative
"The PTO accruals are a bit tricky with carryforward time off. But if you are a small business you should be able to take the time to make it work."
#3 Time Clock Wizard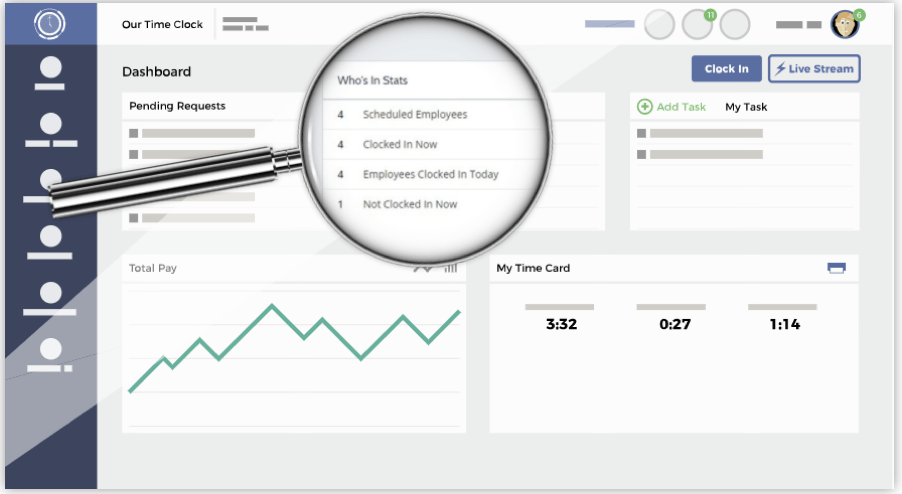 Time Clock Wizard is another free time clock app that you can use for tracking attendance.
As a manager, you can use this tool to check your team's logged time. You can even learn where they punched in and what device they used to do that.
The free version of Time Clock Wizard has everything you need in a clock in clock out app. However, if you need advanced functions like shift scheduling and timesheet reports, you need to upgrade to one of the paid plans.
Pros:
Anyone who has used it said that it made clocking in and out easier.
Employees can check Time Clock Wizard to see their vacation credits, eliminating the need to go through their supervisor or HR.
Within a few clicks, you can access all the reports, making payroll processing quick and easy.
Cons:
You can't fix errors yourself—you need to go through your manager or system admin.
The vacation scheduling section can be confusing if you're using it for the first time.
You have to manually type the hours on Justworks because Time Clock Wizard won't sync with the payroll platform.
Pricing:
Free – $0 for unlimited users
Value – $14.95 per month for unlimited users
Pro – $29.95 per month for up to 50 users
Enterprise – $99.95 per month for unlimited users
What Users Have to Say:
Positive
"The software has very useful functions and a good number of them. It does what it's meant to do by providing accurate timekeeping; it also has a very good mobile app."
Negative
"Only one complaint is that we are unable to set standard "Employee Permissions" such as clocking in/out of a mobile device."

#4 FindMyShift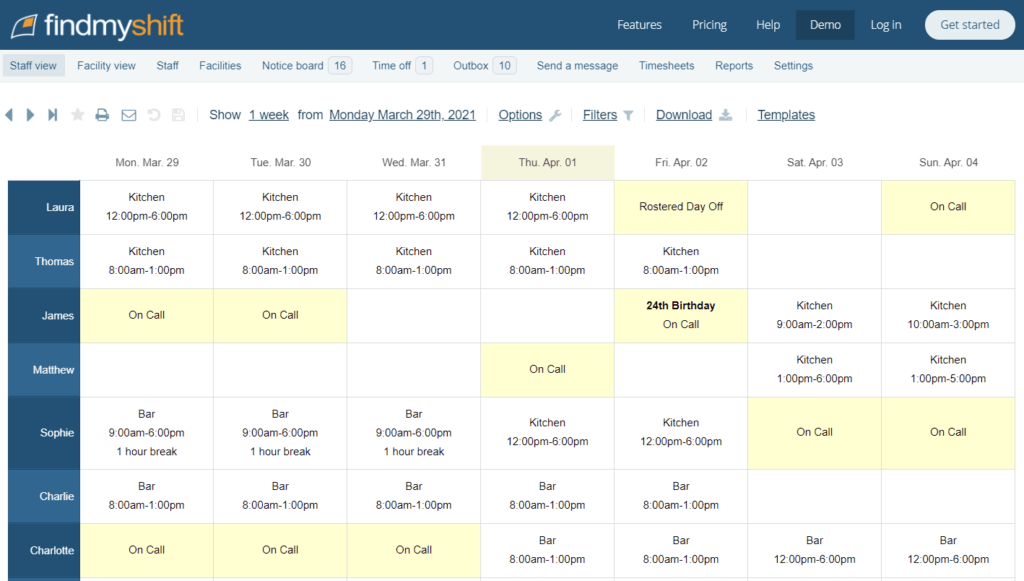 FindMyShift is a clock in clock out app that can help you manage employee shifts. On the dashboard, you will be able to see when your team members punch in. This allows you to ensure accurate records for payroll processing.
On the free version, you can enroll up to five users. Now, if you want to access advanced features like payroll calculation, real-time reporting, and a customizable database, upgrade to one of the paid plans.
Pros:
You don't have to commit to a long contract—you can cancel the plan anytime you want.
FindMyShift's color schemes make it easier to differentiate employees.
This time tracking tool has a user-friendly interface, which makes clocking in and out easy.
Cons:
While you'll receive email notifications, the messages are usually confusing to read.
Things get complicated once you try to customize the client charge-out rates.
You may have trouble using the vacation scheduling system.
Pricing:
Free – $0 for unlimited users
Starter – $25 per team, per month
Business – $40 per team, per month
Enterprise – $70 per team, per month
What Users Have to Say:
Positive
"I know having 8 employees isn't much but, on some jobs, I have to hire freelancers and delivery people so this software works out great. Everybody checks their schedule online and we are set."
Negative
"Sometimes, email notifications are confusing to read also the app becomes a little unclear with what day your shift is allocated."
#5 On the Clock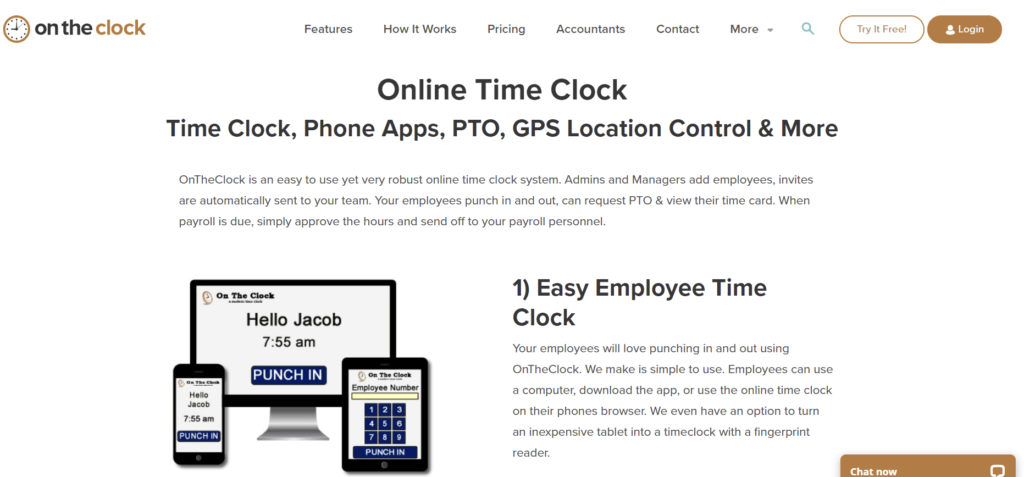 For advanced clock in clock out features, consider using On the Clock, which is an online clock in and out app.
It can also function as a tool that helps you make sure that everyone clocks in and out from an approved location. It has a geofencing feature that limits punch-in permissions to specific areas.
Moreover, it has a GPS tracking feature that allows managers to monitor their employees' whereabouts. This technology is on the rise, with one in three employees getting geotracked at work.
With the free version, you can register up to two users.
Pros:
Managers and HR practitioners will love how user-friendly the interface is.
Because On the Clock's interface is self-explanatory, you don't have to train your employees to use the program.
You can send an invite to your employees, allowing them to download the app on their phones.
Cons:
The vacation scheduling feature doesn't appear automatically.
Certain navigational aspects of the reporting feature can be a little confusing for employees.
Some non-tech-savvy users complained that they had trouble finding where to access the clock-in and clock-out functionality.
Pricing:
Free for up to two users
Paid plans start from $9 for three users, per month
What Users Have to Say:
Positive
"I do not have to go through a training process with my employees it's very self-explanatory I love that you can send your employees an invite to download the app and it pops up on their phone."
Negative
"I used to have to track down timesheets and worry I might be missing one. Now I can do payroll from anywhere I have access to a computer."

#6 ClockIt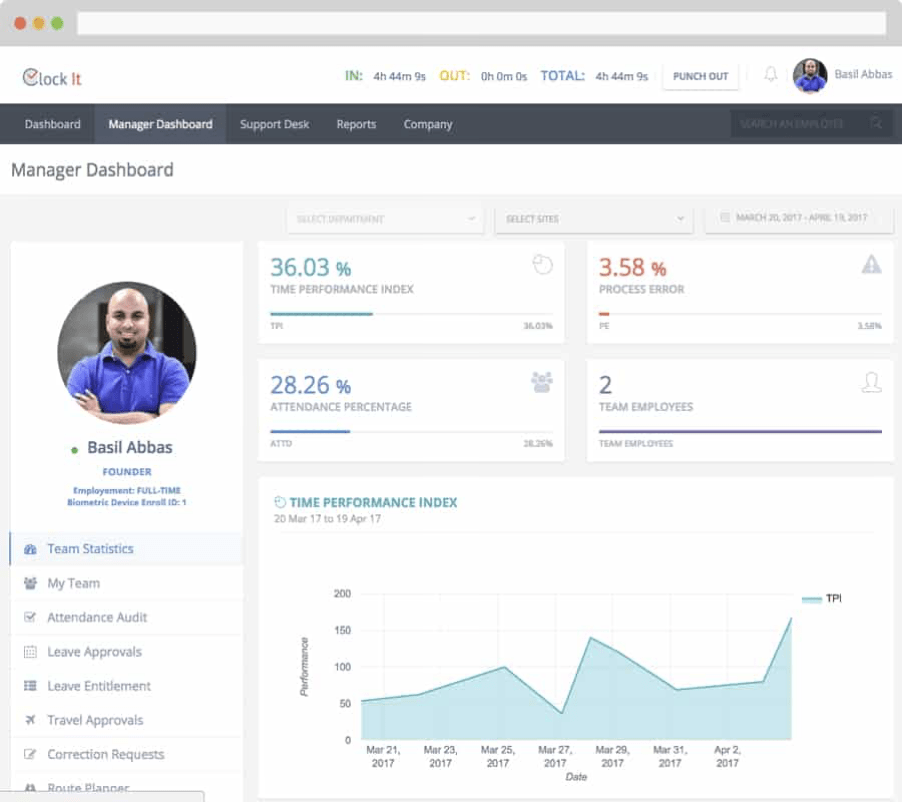 For anyone interested in time tracking and attendance monitoring, ClockIt would be a great option for a clock in clock out app. This tool makes it simple and convenient for employees to punch in and out from a manager-approved location.
Even with the free version of ClockIt, an unlimited number of team members can access the clock in function.
However, once you start paying the monthly fee, you can enjoy advanced features like workforce automation, reporting, GPS tracking, and vacation monitoring.
Pros:
Since ClockIt is a cloud-based program, employees can access it anywhere as long as they have internet access.
Its customer support team is very responsive.
ClockIt has an attractive and user-friendly interface, making it a great option for smaller offices.
Cons:
The drag-and-drop function of the scheduling system is not flexible.
While the clock in and out feature is useful, you can get confused with the time templates.
It takes multiple steps to edit the time punches.
Pricing:
XS – $29 per month for up to ten users
S – $49 per month for up to 20 users
M – $99 per month for up to 50 users
L – $199 per month for up to 100 users
What Users Have to Say:
Positive
"I love that there is a free version for our small company of two employees and that I can use it at the free level until we need to grow to include more employees."
Negative
"I don't like how long it took me to figure it all out or the format in which I get the hours. I still have to do my own calculations and that's a pain."
#7 When I Work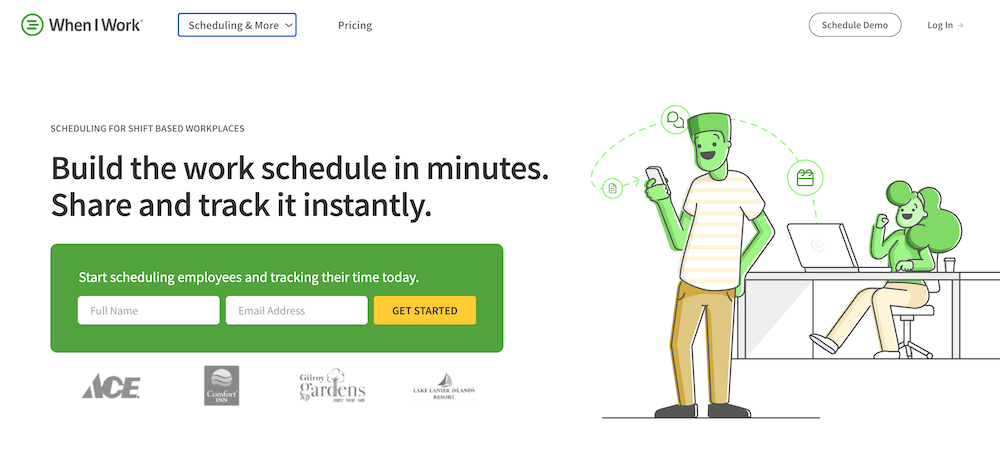 With When I Work, you can get an employee clock in and clock out app that doubles as a tool for coordinating tasks and shifts. It even has a messaging feature that makes requesting and approving/rejecting vacation days easier.
On the free version, you can enroll up to 75 users as long as they are in the same location.
Now, if you're managing a remote team and your employees work from different locations, we recommend that you opt for one of the paid plans (Basic, Pro, and Enterprise).
The subscription plans let you access an extended number of features, including labor reports, overtime management, and task lists, among others.
Pros:
It's easy to use, and employees can access the scheduling system at any time.
You can create schedule templates for different groups, but you can still tweak them as needed.
Employees can access When I Work and indicate their availability.
Cons:
When I Work is one of the free time clock apps that offer limited functionality.
You can only get support by submitting a ticket.
All the features in the shift scheduling section require manager-level approval.
Pricing:
Small Business – $4 per user
Enterprise – Customized package available upon request
What Users Have to Say:
Positive
"When I Work allows me to keep track of my work schedule seamlessly. I have recommended it to a few of my friends who are not the greatest with time management."
Negative
"Sometimes on the android app its signs you out or completely fails to load. Re-opening the app usually fixes it but it can be frustrating."
#8 OpenSimSim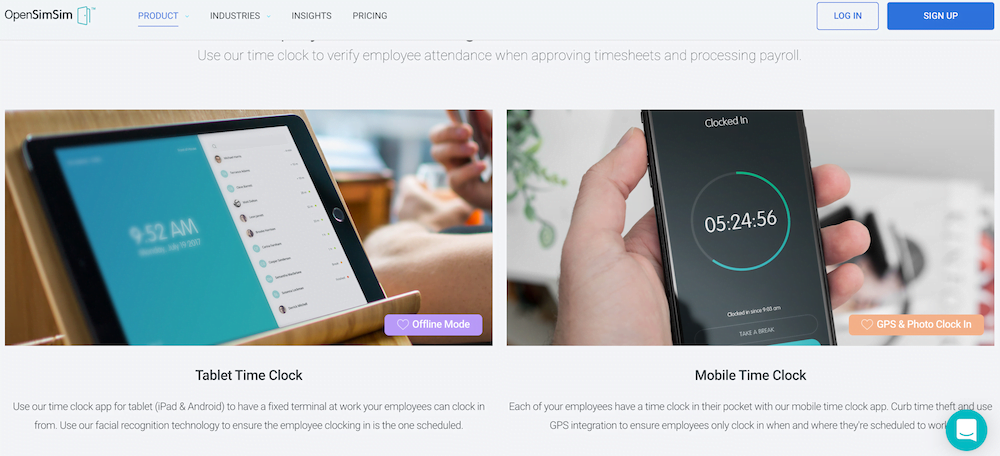 OpenSimSim is another clock in and out app that lets managers coordinate shifts while fostering effective communication. With this tool, you can get insights into your team's cost, labor, and overtime indicators.
As such, you can make data-backed decisions on improving internal operations. What's more, you can use this app on various devices and platforms. So, with OpenSimSim, you can expect convenient team management.
With the free version, you can enroll an unlimited number of users. However, if you upgrade to one of the paid plans, you can get additional features, such as automated clock-outs, tardy notifications, and payroll reporting.
Pros:
Instead of individually creating schedules every week, you can copy and paste them.
It is easy to set up and use.
When managers publish a schedule, their employees will get notified.
Cons:
Some users found message retrieval from the app a bit cumbersome.
It can be challenging to retrieve old messages from the program.
Managers still get notifications for shifts that aren't available anymore.
Pricing:
Basic – $0 for ten scheduled workers in a single location and department
Starter – $12.99 per location, per month
Premium – $33.99 per location, per month
Enterprise – Customized package available upon request
What Users Have to Say:
Positive
"Scheduling works flawlessly, we were able to do sub schedules under a department which helps keep things manageable. The timeclock feature has everything you would expect from an expensive solution at a fraction of the cost."
Negative
"I wish I could drop or swap shifts when outside of their "listed availability" with other people without needing to have a manager assist. This has been troublesome. Also, an in-app contact list with phone and email would be nice to have as well."
#9 Homebase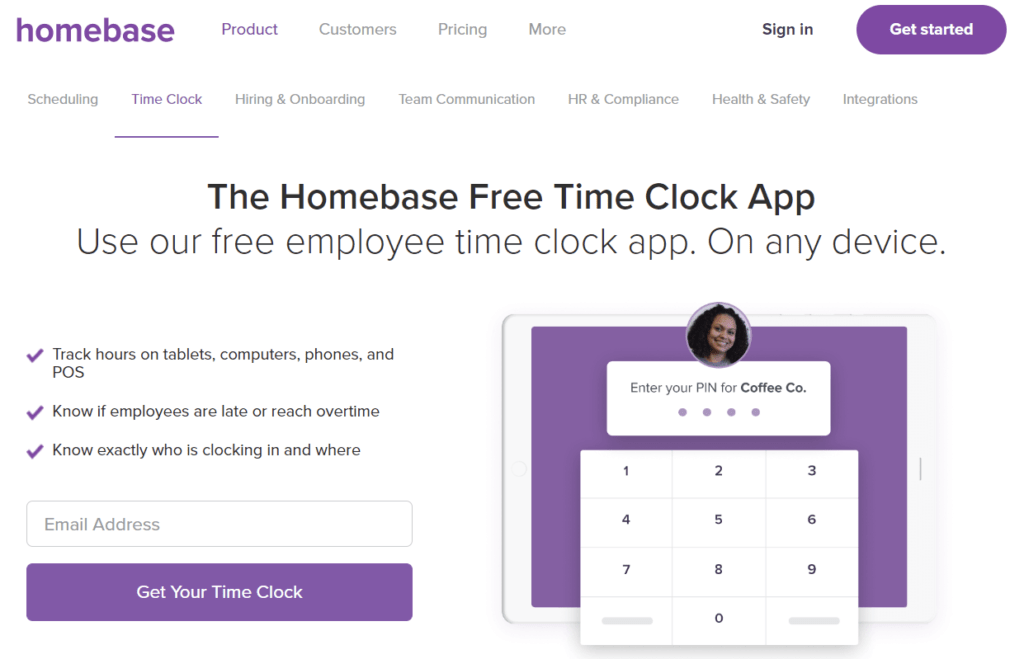 With Homebase, managers can get insights into when and where their employees start their workdays. As such, they can easily identify if anyone is late or working longer than they should.
In many ways, the Homebase clock in clock out app can provide you with the support you need to comply with overtime regulations.
As long as all your team members are in the same location, you can enroll as many users as you want in the free version of Homebase.
Now, if you upgrade to one of the paid plans, you can access advanced scheduling, messaging, and labor cost control features.
Pros:
The clock-in function is robust, but the flexible scheduling and attendance features are what many users love most.
Users can clock in via the phone, tablet, or desktop app.
Employees can use Homebase to schedule their availability and vacation days.
Cons:
If you accidentally delete a time log, you cannot undo your mistake.
The mobile app can be problematic for non-tech-savvy users.
If there are glitches or bugs, you have to reinstall Homebase.
Pricing:
Essentials – $14 per location, per month
Plus – $35 per location, per month
All in One – $70 per location, per month
What Users Have to Say:
Positive
"The ability to use a phone, tablet, or computer as a timeclock is awesome. I have 3 stations where they can clock in, 2 were already there, just downloaded the app to make them a time clock too."
Negative
"No option to put a reason why an employee is not working their normal scheduled day (PTO, bereavement, medical leave, etc.)."
#10 Replicon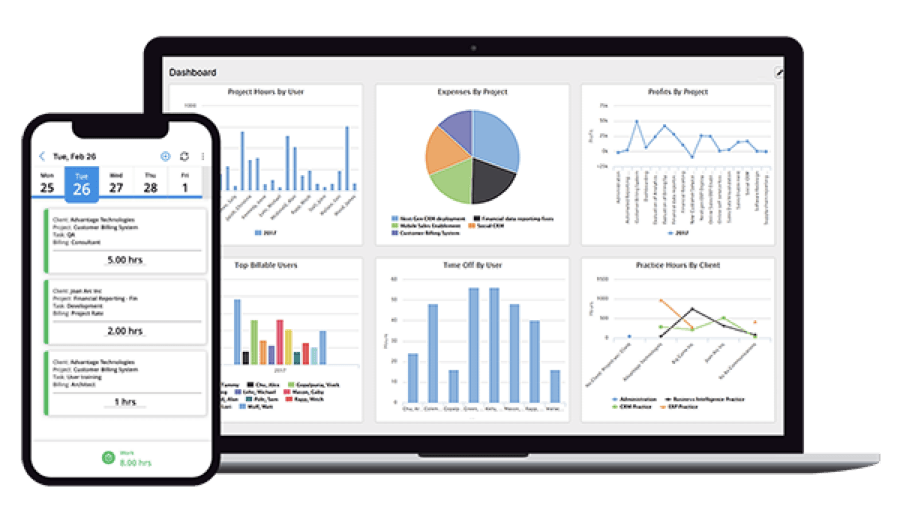 You can finally say goodbye to paper time cards and Excel spreadsheets once you start using Replicon. This clock in clock out app offers a centralized system for running payroll, reimbursing expenses, and billing clients.
Whether you're in the office or on the go, you can monitor your employees' time and attendance.
Pros:
Whether you're handling hourly, salaried, or contracted employees, you can customize Replicon according to their attendance statuses.
The reports present accurate information on business costs, including employee payroll.
You can rest assured that Replicon's support team will work on any issue you encounter with the app.
Cons:
Adding users to the dashboard can be complicated.
While Replicon allows integration with third-party apps, the process can be quite complex.
It can be confusing to set validation rules for the timesheet.
Pricing:
Small – $30 per month for up to five users
Medium – Packages start from $8 per user, per month
Large – Packages start from $8 per user, per month
What Users Have to Say:
Positive
"We use Replicon without contractors to track project time and expenses. A very good tool for this type of activities and gives use useful reporting back to our customers."
Negative
"The main timesheet entry controls are not intuitive and not very customizable. The reports are the same problem and there are many limitations to how information is displayed and organized."
#11 TimeCamp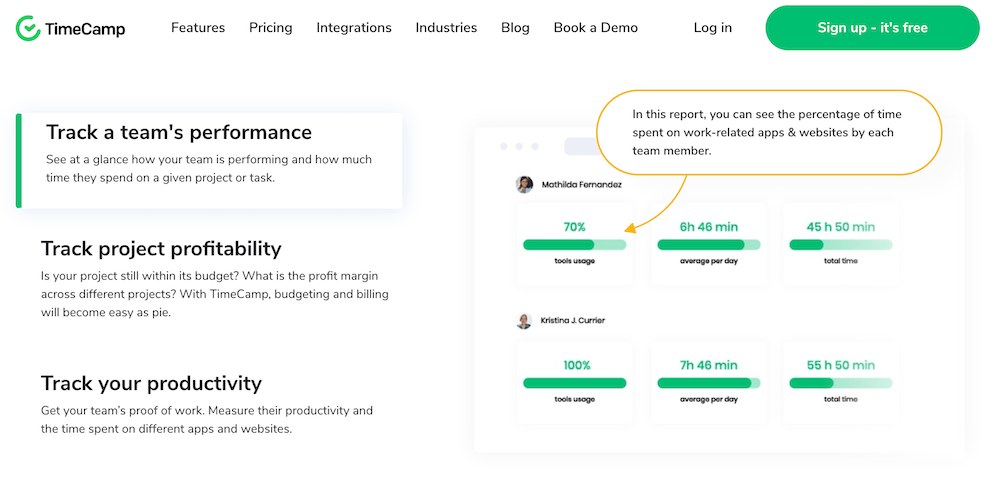 If you're looking for a clock in clock out app that also serves as a time and productivity tracker, you can't go wrong with TimeCamp. Its attendance tracking feature works for teams of all sizes, whether they are working in-office or remotely.
With TimeCamp, keeping track of your staff whenever they enter or leave the office has never been easier.
You can review their attendance by checking when they turned on/off their computers and how much active time was registered. Plus, employees can easily apply for leave or vacation without the hassle of filling out paperwork.
What's more, TimeCamp works on every device. So, whether you're working on a desktop PC or using a smartphone to complete your tasks, you can clock in and out with ease.
The free version allows you to enroll an unlimited number of users. However, you can access advanced features like invoicing and timesheet approvals if you upgrade to the paid version.
Pros:
You can integrate TimeCamp with your favorite project management software.
The free version of the app has everything you need in a clock in clock out program.
TimeCamp sits quietly in the taskbar, ensuring minimal disruptions.
Cons:
Some users complained that setting up the automatic time tracking feature could be a bit challenging.
The free version does not give you a peek into all the features you can get from the paid plans.
Pricing:
Free – $0
Basic – $7 per user, per month
Pro – $10 per user, per month
What Users Have to Say:
Positive
"I love TimeCamp because it allows me to track time worked and the profitability of specific projects. This helps with our efficiency and lets us see where to add and reduce resources."
Negative
"It was a bit expensive for the money, but we were desperate, so we used this product for a few years while we searched for another product to replace it."
#12 Clockify – A Popular Clock In Clock Out App
While Clockify does not allow automated clock-outs, it's quite useful for recording work hours. What's more, the app lets you organize and review time records by tag, task, or project.
The user-friendly reporting feature allows you to analyze performance data. Besides, it supports third-party app integration, making project management more convenient.
Pros:
You can use the app's basic clock in and out features for free.
The mobile app is lightweight, and it won't take up much of your device's space.
The pricing plans are inexpensive, making this app an ideal choice even for small and startup companies.
Cons:
You cannot store report templates. So, every time you create a report, you have to set the criteria.
The browser integration can be buggy and problematic.
The mobile app is not always synchronized with the web app.
Pricing:
Basic – $3.99 per user, per month
Standard – $5.49 per user, per month
Pro – $7.99 per user, per month
Enterprise – $11.99 per user, per month
What Users Have to Say:
Positive
"You can do all the calculations within the app and it helps in billing and invoicing. Best of all, the basic features that you need are all included in its free version."
Negative
"For me, the only downsides have occurred after user error. If you forget to start or stop the timer, it's rather difficult to edit your time within the app."
The Benefits of Clock in Clock out App
Technology has transformed the process of recording employee attendance, making it easy, convenient, and digital.
If you still clock in manually using time tracking spreadsheet, what happens when you forget to do that several times a week? You will resort to guesswork, and that can lead to inaccurate billing. Of course, that's just one mistake of using pen and paper.
To avoid errors and payroll inaccuracies, you should use an employee clock in clock out system.
These systems give businesses all the tools they need to track and manage employees' time. Managers can view log-in and log-out data and even organize time-off requests.
Some benefits of tracking employee time with an app are as follows:
Low error rates – With an app, the likelihood of making an error is low. While it might not eliminate all mistakes, you can be sure of accurate information most of the time.
Automated processes – As soon as an employee clocks in, the time tracker starts to record their work hours. Since the process is automatic, everything—including activity levels—is recorded. This way, it becomes easy to analyze the timesheets, subsequently saving hours that you would have otherwise spent combing through Excel sheets.
Accuracy – An employee time clock app takes the guesswork out of the equation. It records all the hours worked, down to the second, giving you accurate reports.
Real-time data – You can see how many hours each employee has worked and how much you need to pay at any given time. The data is real-time, and you don't have to wait until the end of the week or month to calculate payments.
Flexibility – If employees work in the field, they can add additional information as needed to account for hours spent on business-related activities, like meeting clients.
Types of Employee Time and Attendance Solutions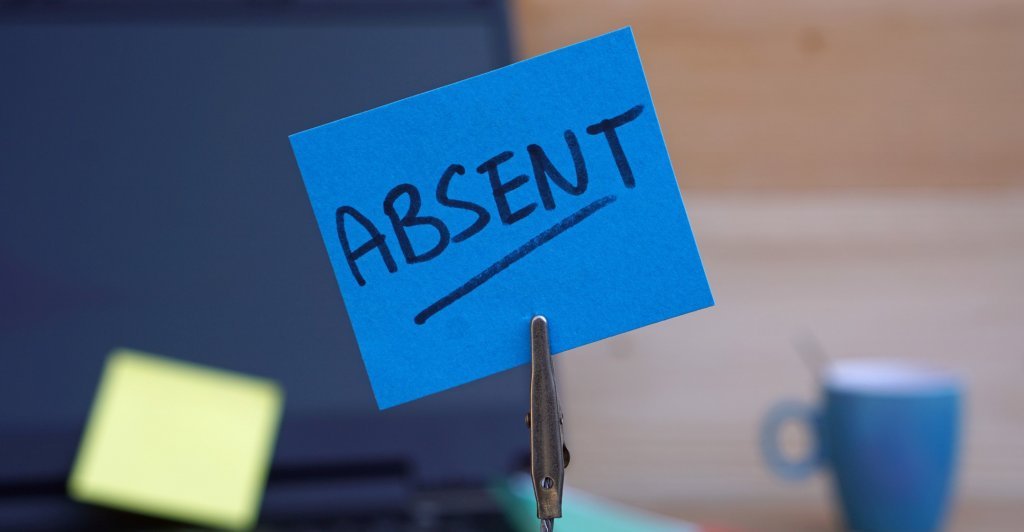 There are several types of employee time and attendance systems that you can implement in your company. They range from the traditional pen and paper method to advanced employee monitoring software solutions. Each has its pros and cons, and it all boils down to which type will be perfect for your kind of business.
Here are the most common types of employee time and attendance systems:
Spreadsheets – Google Docs, for instance, comes with Google Sheets, which makes collaboration easier. If you are highly skilled, you can create macros and formulas to track hours. The spreadsheet shows who made the changes and when, thus allowing you to track changes whenever they are made.
Biometric and fingerprint systems – These systems require employees' photos or fingerprints when they clock in, thereby allowing fingerprint clock-in and clock-in by face recognition. Other systems use time clock hardware where employees place their hands in the scanning area and get instantly clocked in.
Web-based systems – Time and attendance tracking systems can be integrated into computer systems, and they are ideal for both remote workers and in-office workers. Employees can clock in and out, track their work progress, and request time off, among other functions, via the platform. These systems can be accessed from anywhere so long as there is an Internet connection.
Mobile-based systems – Just like web-based clock in clock out systems, mobile-based systems ensure that employees can clock in and out from wherever they are. You will even find GPS tracking apps that allow management to see where employees logged in from.
Before you choose the kind of clocking system to implement in your company, you might want to think about your business needs. Since each business has a unique setting, what works for one company may not work for another.
Things to Consider When Choosing a Clock In and Clock Out Applications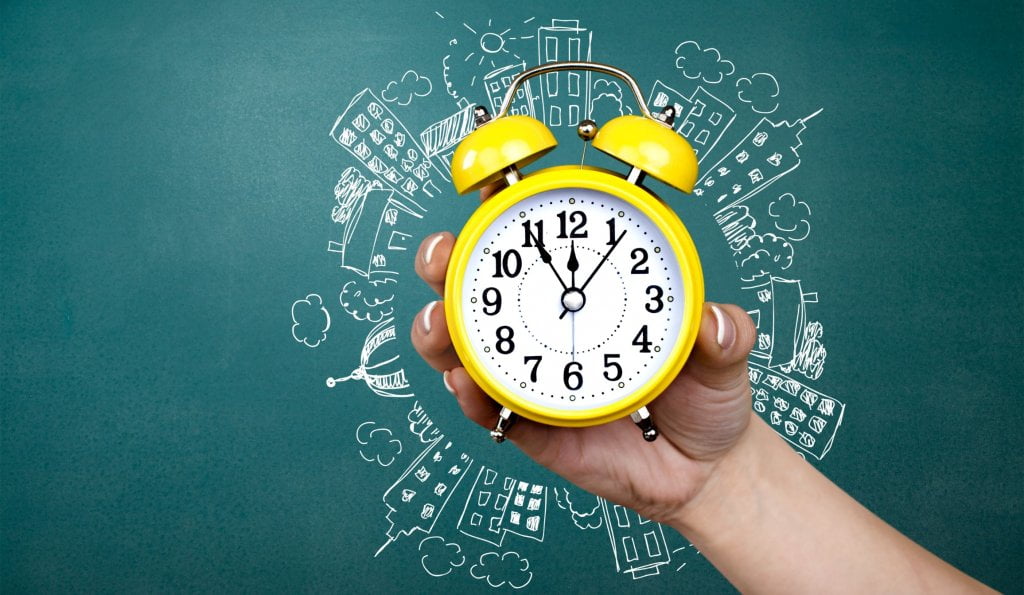 Here are some of the factors to consider when choosing an employee clock in clock out system:
Do you only want to track time, or do you also want to monitor employee activities?
Do you need photo capture? An app like Traqq randomly takes automated screenshots in the background, making it easy to track employee productivity. This way, you don't need to micromanage employees since you can see what they are working on right from the app. Don't worry – the screenshots are blurred to hide sensitive employee data. You can also take video recordings if the option is enabled by the account owner.
What problems are you trying to solve in your company? For example, if buddy punching is a real issue with your employees, time clocks can help resolve this problem.
The right clock-in clock-out system will have all the features that you need to run your business seamlessly. Some of the features to look out for are as follows:
Easy customizations
Mobile support
Task tracking and activity monitoring
A timesheet calculator
Time adjustment options
Automated payroll processing
Smart alerts and notifications
Reporting features
How to Implement an Employee Clock In Clock Out App System
Ensure Transparency
Before you introduce a clock in clock out app to your team, make sure they understand why you want them to use it. More often, employees feel like they are being spied on by management through time tracking apps.
Since you don't want them to start thinking you don't trust them, honesty is your best policy.
In reality, time trackers are used for employee monitoring, not spying. They help managers know how working hours are spent so that they can estimate the time it takes to complete projects.
With that information, clients can be charged accordingly. It is especially useful for remote workers working from different geographical locations – it makes collaboration easy.

Make it clear how using a clock in clock out system is also a good thing for them by sharing some of the benefits they stand to gain.
Remind Employees to Clock In and Out
It is important to track time daily. When starting out, employees can easily forget to clock in and out. Every second counts, so remind them to clock in as soon as they get to the office (or start work if they work remotely) and to clock out the moment they call it a day.
Use the Clock in Clock out App Company-Wide
If you make only certain departments use a clock in clock out system, employees in those select departments might feel scrutinized and start thinking they are being targeted. While this might be true, you don't want to make it so obvious!
It is better to introduce the system to the entire company. Plus, it makes it easy for your HR and accounting departments to get all the data they need from one platform.
Keep Communication Lines Open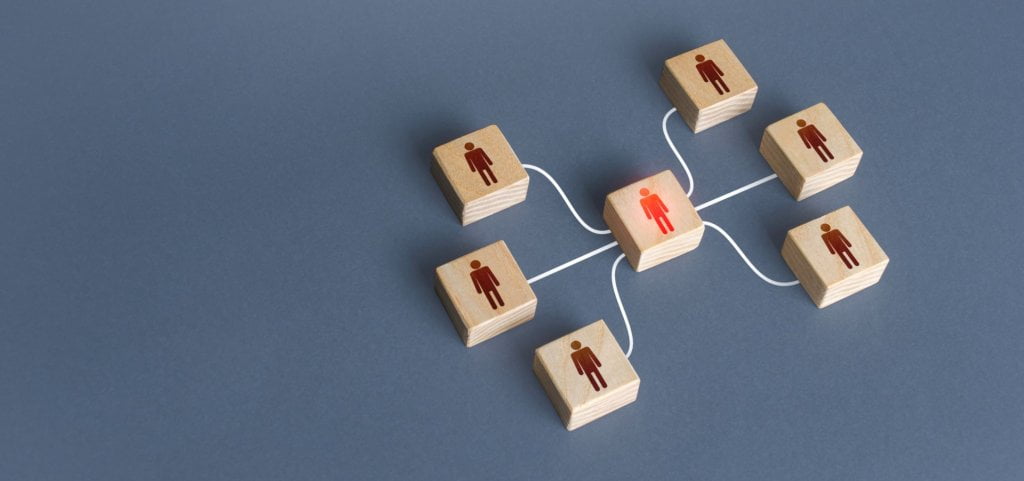 To enhance transparency, allow employees to contribute to various monitoring aspects, like customizing the time clock system.
For example, you can ask them to think of categories that should be added to or removed from the system. A time tracking system should be flexible and customizable to fit your specific business needs.
You can include categories like 'Meetings', 'Employee Training', 'Copywriters', 'Designers', and so on. Keep in mind that not everything needs to be tracked. Things like bathroom breaks need not be tracked.
Without further ado, here are the top 10 time clock apps that you can check out right now:
Wrapping Up
There you have it! Employee time tracking has greatly advanced in recent years. If you are still using pen and paper, you are missing out on the convenience that digital clock in clock out solutions are offering. So, make the switch today and see what difference that makes for you and your business.