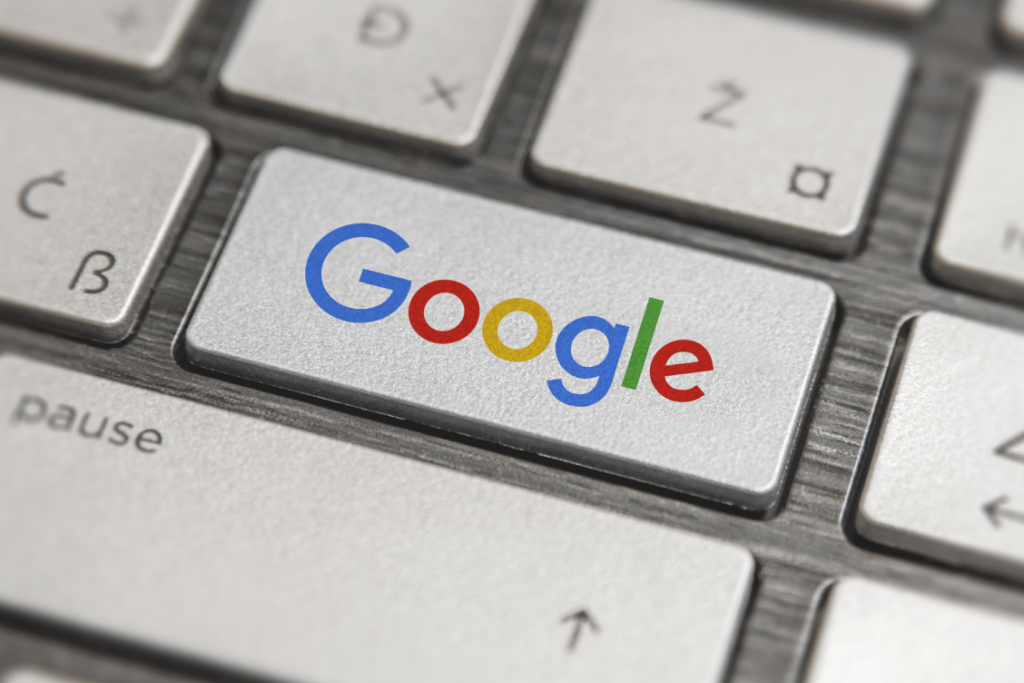 According to Axelos' 2019 PPM Benchmarking report, four out of five project managers can't get by without project portfolio management. Indeed, having the right tools can make your life easier.
Now, due to the prominence of Google productivity tools, most PMs assume that Google is a one-stop-shop when it comes to managing projects.
So, does Google have a project management tool?
Google doesn't have a dedicated project management tool, but you can use some of its apps such as Google Sheets and Office Suite to manage projects.
Google's online office suite is offered for free, and it enables effortless collaboration and integration with other Google productivity apps. Let's take a closer look at what this Google project management tool offers.
Google Sheets as a project management tool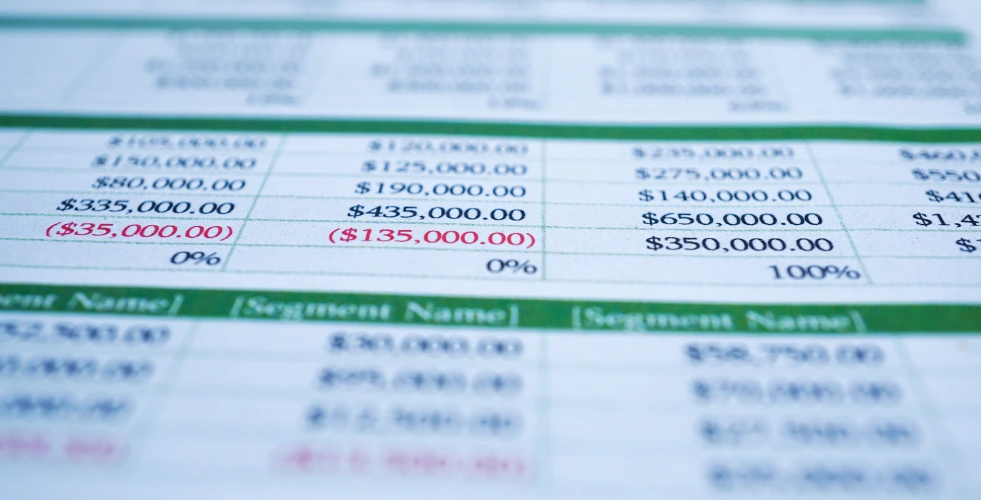 To some extent, we can agree that Google Sheets is one of Google project management applications that allow PMs to collaborate and communicate with their teams. However, it is important to point out that it is not a dedicated project management application per se. Rather, it is simply a spreadsheet that allows users to outline project plans and stay organized.
When choosing a project management tool, don't select one blindly and then try to fit it into your project or team. It works the other way round. After you outline your project needs and how you want your team to handle the project, you can find an application that suits the needs of your organization.
If you want a tool that easily integrates with your goals, consider one that is well maintained and constantly updated. That said, you may want to pay close attention to the features that the tool brings to the table. Therefore, let's elaborate a little further about some of the features that come with Google Sheets.
You can use Google Sheets as a web or mobile application. If you use Chrome OS, you can use it as a desktop application. Google Sheets is designed for ease of use. It is a great option – especially for those who use Google products. You can use it to generate reports, charts, graphs, and a lot more. Plus, it integrates with Gmail.
It comes pre-loaded with features that can help you and your team to create, edit, and share spreadsheets in real-time via any computer, smartphone, or tablet. The best part is that you don't need advanced knowledge to use these features, thanks to Google Sheets project management templates that make your work even easier.
Gantt Chart Template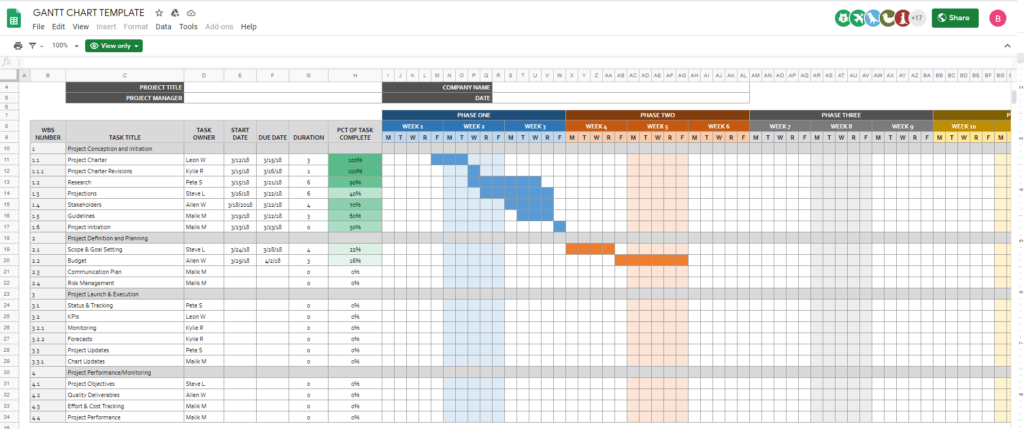 Gantt charts are quite helpful in planning and scheduling projects. They display tasks and events against time. Moreover, they give you a visual view of the tasks, where each activity is represented by a bar.
With a Gantt chart, you can monitor various activities. For example, it shows when a specific activity is set to begin and end, how long it will take, and, most importantly, where activities overlap with other activities.
If that sounds too complicated, don't sweat it. Google Sheets Gantt Chart Template simplifies it all, and you can track the progress of your tasks on the spreadsheet.
Project Timeline Template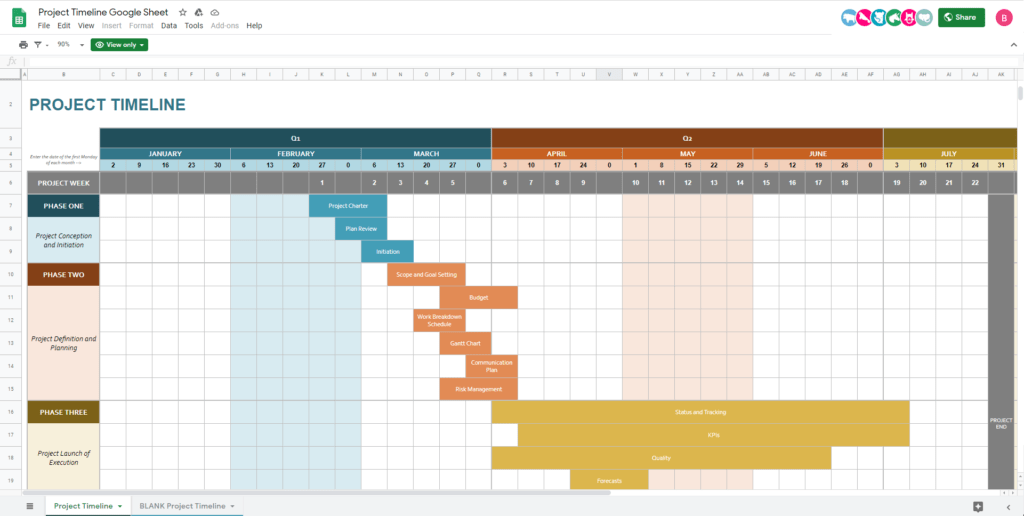 A PwC study of over 10,640 projects found that 97.5% of projects fail to meet original targets in budgets and deadlines. Indeed, it's crucial to monitor schedules when you're managing a project.
Google Sheets Project Timeline Template allows you to create a schedule, track events, and visualize the tasks and milestones of your project. You can easily see the deadlines and outcomes of each project in stages. That's a great way to boost efficiency and convenience.
You can create your own Google Timeline template, or you can use this one from Google's gallery.
Project Tracking Template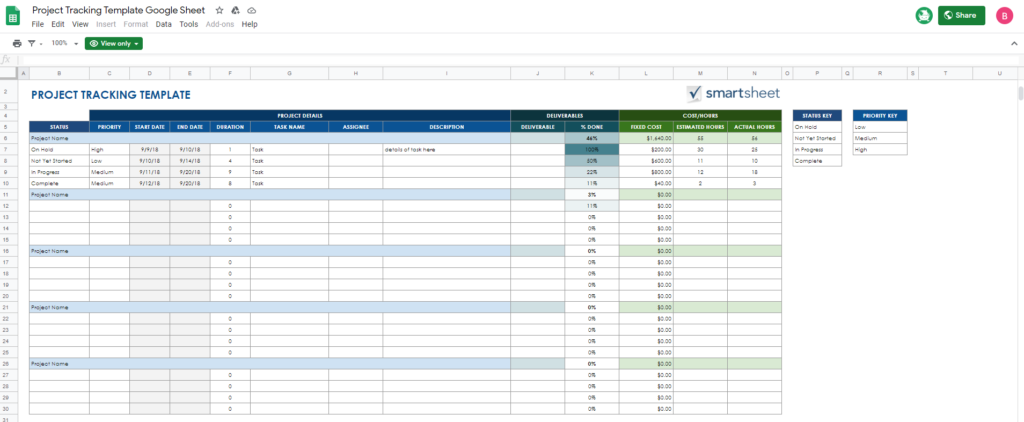 Aside from setting your deliverables and using different colors for different stages or categories, Project Tracking allows you to track your deliverables and set priority levels for your tasks.
There is also Google Docs for project management, which allows users to create and edit documents in real-time. It is a great tool for document management, and if you are working as a team, you can easily see who made what change and when it was made.
If you don't like the final version, you can simply revert to the previous version. Google Docs also eliminates the nightmare of downloading documents whenever you receive an email. Now, all team members can comment and edit in real-time, making team collaboration a breeze.
Here are other Google productivity apps worth checking out:
Google Drive. You can organize files with ease and access them from any device. Additionally, you can share documents with anyone and even collaborate on them.
Google Slides. It is a useful tool when you want to create a presentation that will make your vision and goals clear.
Google Calendar. This time management tool allows you to keep track of events and projects. You can also access the calendar from multiple devices regardless of your geolocation.
Google Keep. If you want a checklist app that also doubles as a note-taking tool, Google Keeps is a good option. It allows you to take notes using various methods, such as lists, audio, images, or regular text. Like any other Google tool, your team can access Google Keep from any device.
Google Chat. You need to communicate regularly with your team if you want better engagement and collaboration. That's where Google Chat comes in. Now, you don't have to craft a long email explaining different points when you can just use this real-time chat app. However, people prefer more popular alternatives like Slack and Skype.
Google Project Management Tools Alternatives
The good news is that there are plenty of free project management tools that you can start with as you learn the ropes on how to become more organized and get the job done right. However, it is important to be aware that these tools cannot substitute a lack of skills or knowledge – they are there for convenience and better management of your team and projects.
When looking for the best project management software, here are some features that you should consider:
Reporting and project tracking capabilities. To monitor your team's performance, you need a tool that allows you to track their progress, manage timelines, and measure quality of work.
A check-off system where employees can mark projects as completed as soon as they are done.
Productivity tracking. As a team manager, you must be able to track your team's time to allow for accurate billing. You are not running a business if you can't tell whether the business is profitable or not.
Team collaboration and communication. Your team can only work in harmony when communication is effective. That's one of the key pillars that will boost your team's efficiency, performance, and productivity.
Time tracking. You must be able to track the time spent on various tasks, measure billable vs. unbillable hours, and prepare accurate invoices.
If you find Google project management tools too limited, here are some dedicated tools that offer better and more advanced features:
The best part is that the time tracker works even when you are offline and syncs all your data when you get back online. You can add or edit time manually to ensure that every minute of your work is recorded.
Choose Traqq if you need a simple yet fully customizable activity monitoring, project management, and time tracking app.
Asana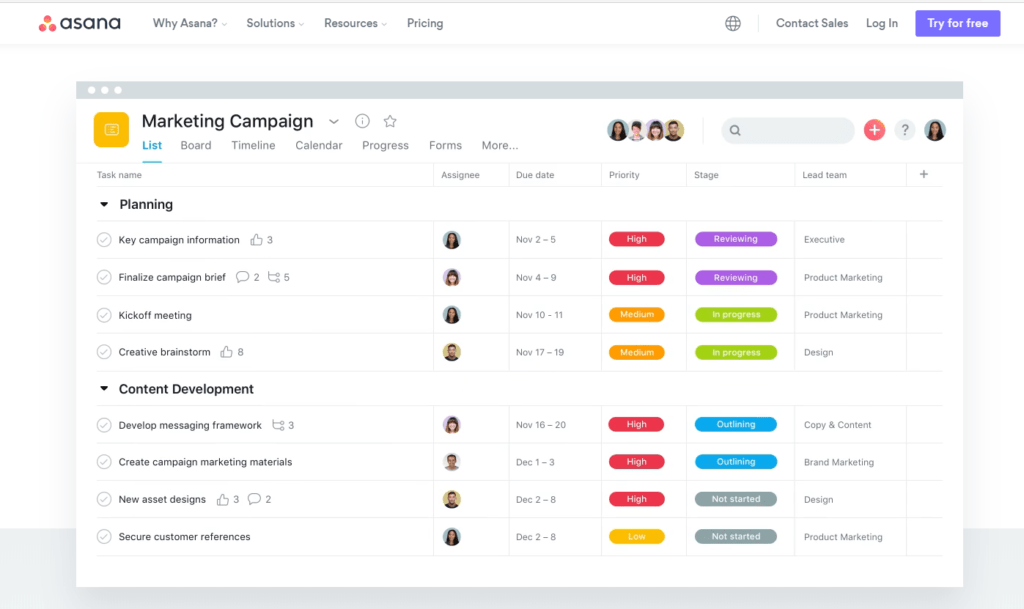 If you are looking for a project management tool that lets you break your projects down into sub-lists and sections, Asana offers that and much more. This app lets you not only create to-do lists but also add and rearrange them while collaborating with your team at the same time.
It lets you monitor the progress of projects via the dashboard and see which projects have been completed already. The free plan has basic search features and includes unlimited projects. If you want advanced search, task dependencies, and project timelines, consider upgrading to the premium plan, which costs $9.99 per user per month billed annually.
Trello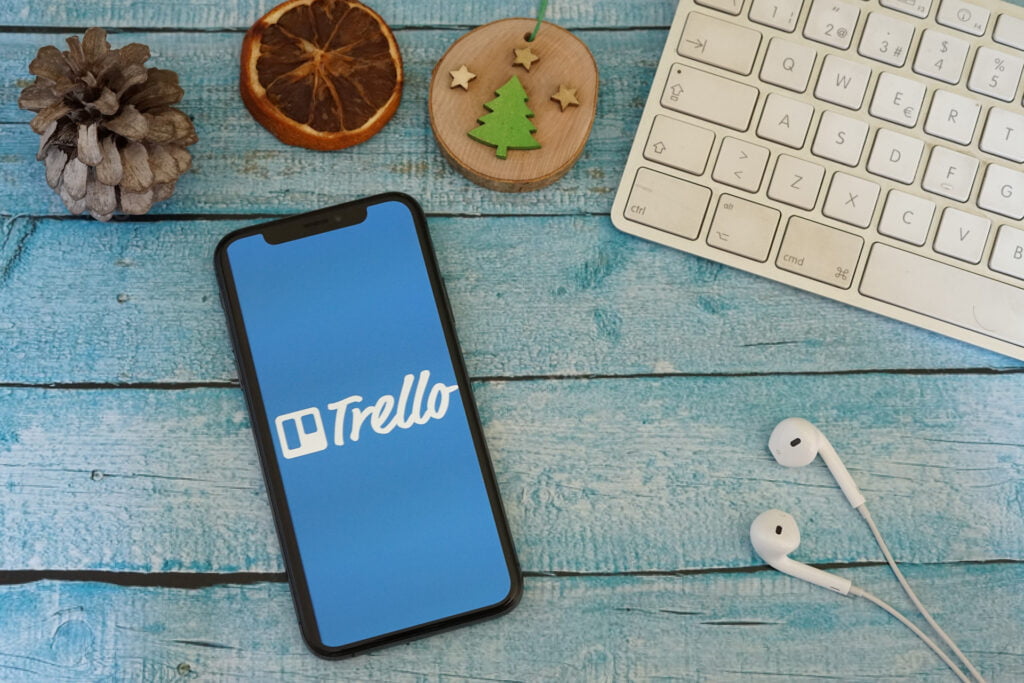 Kanban teams will find it easy to organize projects on Kanban boards on Trello. If you are a freelancer, Trello can prove useful for planning your assignments on your personal board. For teams, the tool creates a seamless pipeline for collaboration.
With Trello project management, you can customize your tasks according to stages, like To Do, Doing, and Done. You can also add tasks along with due dates, comments, and checklists and drag them to their corresponding lists.
The notification menu displays comments that mention you, allowing you to keep track of everything that's going on with your team. The free plan offers unlimited boards and users. But, for additional features, consider upgrading to the Business Class plan priced at $9.99 per user per month (billed annually).
Teamwork Projects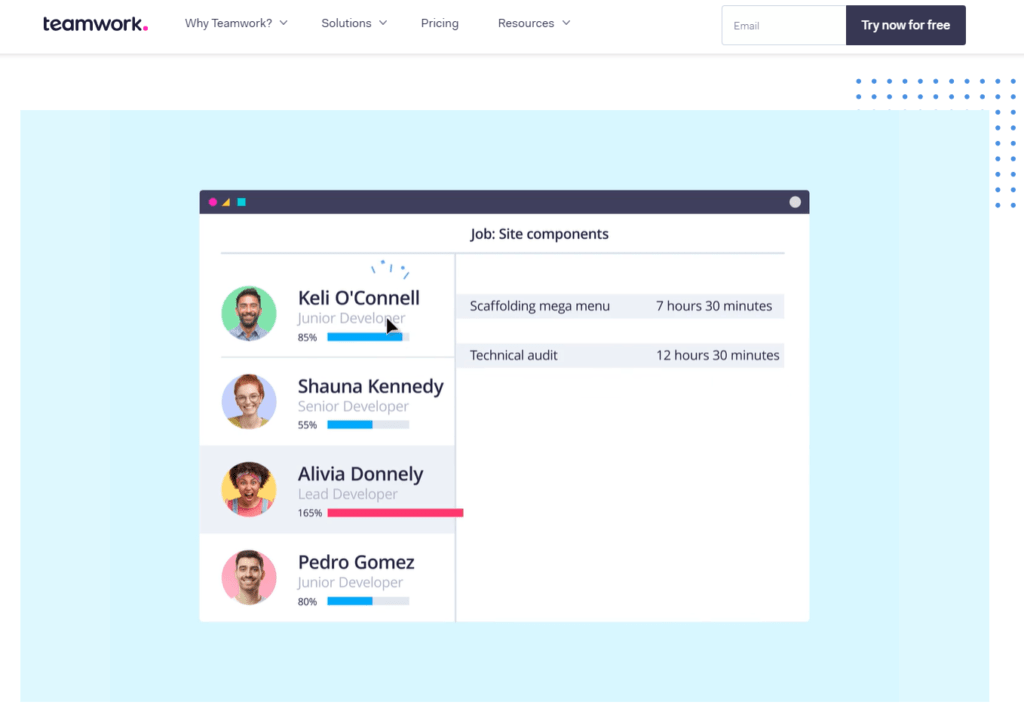 Teamwork projects is a free cloud-based project management solution that comes with key features like Gantt charts, task management, Kanban boards, time tracking, resource management, and reporting/project tracking.
Teamwork Projects has a free plan that offers 100 MB of storage, five users, two active projects, and email, phone, and live chat support.
Wrike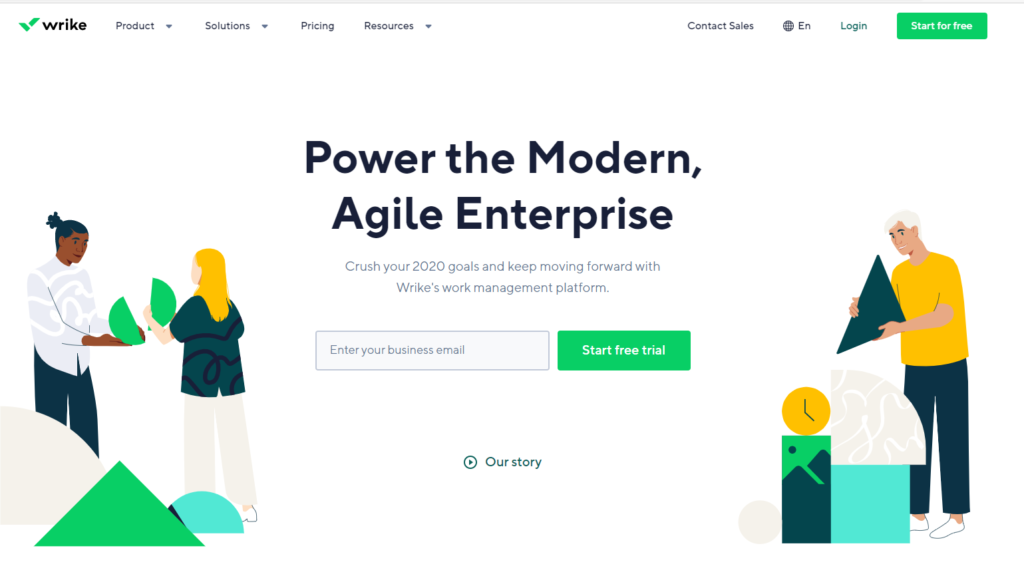 On its free plan, Wrike allows up to 5 users and offers features like task management, real-time activity streams, project board view, and file sharing.
You can monitor active and overdue tasks via Wrike Project Management. It also lets your team update the status of projects at various stages, using statuses such as New, In Progress, On Hold, and Cancelled. You can use color-coding to easily create weekly reports.
While you can get much done with the free plan, opt for the premium plan if you want features like Gantt charts, custom dashboards, and time tracking.
Teamwork Projects has a free plan that offers 100 MB of storage, five users, two active projects, and email, phone, and live chat support.
Bonus Tip: Boost Project Management Efficiency with Traqq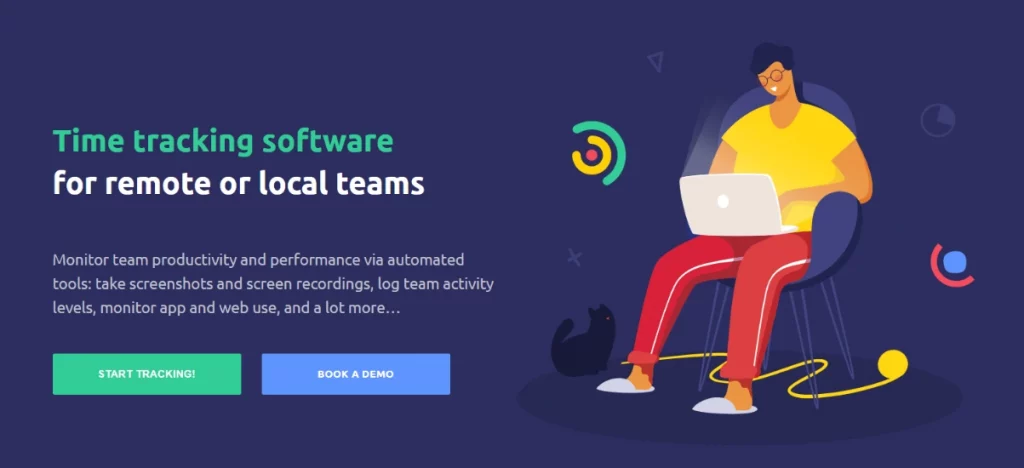 While Traqq is not a project management app, it can help boost your team's efficiency. As a project manager, you know how crucial it is to understand each employee's workload. You need to know if a person is overloaded with tasks or just procrastinating.
With Traqq, you can monitor every worker's productivity and activity levels. The app records the top ten apps they use and the websites they visit. What's more, you will see their activity levels and know if they are working or just cyberloafing.
As a result, you will notice if anyone's getting overwhelmed with their workload. Moreover, you'll be able to efficiently assign tasks to your team members.
In Conclusion
While Google Sheets as one of the Google project management tools might provide some basic features for planning, scheduling, and organizing projects, you need powerful task tracking software that offers a productivity boost for you and your team.