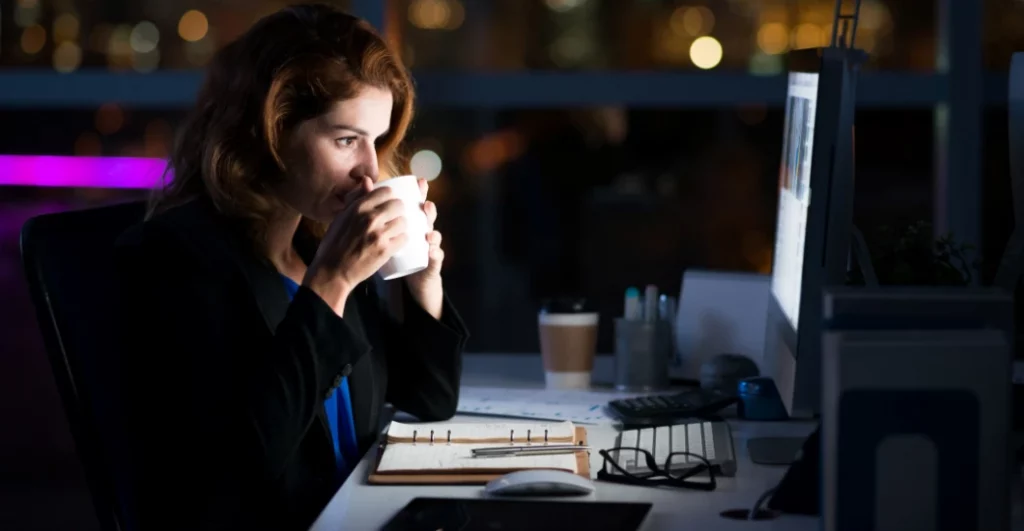 We cannot deny the many benefits of being a morning person. However, do you cringe whenever someone says that rising with the sun is the key to success? Perhaps no matter how much you try to work in the morning, you're more energized when it's all dark and quiet outside.
Now, you might ask, "Why am I more productive at night?" Well, several studies have proven that some people are genetically hardwired to be night owls. In a way, if you try to become an early bird, you're going against nature. So, allow us to convince you to embrace your internal clock as we explain how you get more done during late nights.
"Why Do I Work Better at Night?"
This question is asked by millions of people around the world. The thing is, the corporate world is organized around a 9 to 5 schedule, but some people have natural sleeping cycles that do not synchronize with the typical office hours.
If you're familiar with the circadian rhythm, you know that people have different sleeping and waking cycles. Also, your body clock can be affected by environmental factors like heat and light.
1. Your Chronotype Dictates It
To understand why you work better at night, you should also know the different types of circadian rhythms. Known as "chronotypes," they describe when you naturally wake up and fall asleep. They also determine your peak productive times. Here are the different chronotypes:
● Early Birds
● Night Owls
● Outliers – those who don't fall under the two categories
Genome-wide analyses of chronotypes revealed we are predisposed to feel more alert in the morning or in the evening because of certain genetic markers. Now, are you still asking, "Why am I more productive at night?" Well, as we've mentioned, you're simply born that way. Even so, there are several other reasons why you're more efficient during the wee hours of the night. Here are some of them:
2. Your Ultradian Cycles Manifest Themselves in the Evening
There are 90-minute periods of heightened productivity and focus within a circadian cycle. Referred to as "ultradian cycles," these bursts of energy allow your brain to perform at its best. So, it's not right to assume that your energy steadily depletes throughout the day until you feel tired and sleepy.
With your ultradian cycles naturally occurring during the night, you feel refreshed and active in the evening. While this is not good for the natural sleeping pattern, it is still something that early birds do not possess. They only have their bursts of energy when they wake up in the morning. On the other hand, even after a long day at work, you can still have an active nightlife.
3. You Thrive Amidst the Tranquility and Peace of the Night
A University of California, Irvine study found that on average, knowledge workers have 11 minutes of focus periods in between disruptions. With the constant emails, messages, phone calls throughout the day, do we really get more things done?
On the other hand, during the night, when most people are asleep, you don't get as much digital disruption. As a result, you can concentrate for hours on end.
4. You Concentrate Better with Longer Hours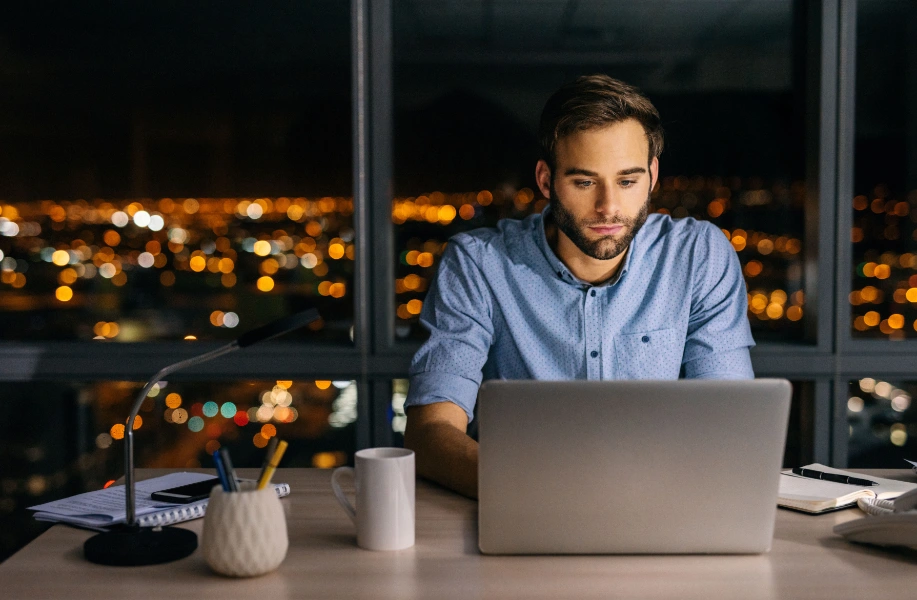 Researchers from the University of Liège in Belgium conducted tests on how 15 night owls and 16 early birds could perform during long hours of work. In the beginning, both chronotypes had similar levels of concentration and productivity. However, around the tenth hour, the early birds started to lag behind.
The researchers used MRIs to monitor brain regions responsible for a person's ability to pay attention and focus. So, if you find yourself working better in the evenings, it's probably because as a night owl, you can maintain concentration after long hours of work.
5. You Are More Creative at Night
Unique creativity spikes may be the answer to the question "Why am I more productive at night?" Researchers from the Catholic University of Sacred Heart in Milan found night owls to be more creative thinkers.
So, you shouldn't worry about being more efficient during the night. After all, you're more likely to arrive at out-of-the-box solutions than early risers.
6. Your Sleeping Schedule Is Flexible
In his book Sleepfaring: A Journey Through the Science of Sleep, neuroscientist Jim Horne explains that night owls tend to have an easier time adjusting to a 9 to 5 schedule. So, even if you need to adjust your work hours to accommodate your morning-centric colleagues, you can remain productive.
What's more, you still get your evening energy boosts. Therefore, you can put in extra effort and tie up any loose ends during the night.
Should You Force Yourself to Change?
Being active at night should not be given a negative connotation. Considering it a "bad habit" seems to be an outdated thought. Moreover, it shouldn't be a factor in hiring or rejecting job candidates. After all, a German study says that about 20% of the population are true night owls.
With the rise of remote work, it's also possible that the 9-to-5 schedule is slowly dying out. More companies have access to global talent, allowing them to hire people from different time zones. Therefore, the digital corporate environment is looking more favorable for night owls.
So, should you force yourself to turn into a lark? Well, before you make any decision, consider the following:
You Are Genetically Predisposed for Late-Night Work
If you notice that at least one of your parents is a night owl, then you're likely to be an evening person too. Researchers at the Salk Institute for Biological Studies have located the gene responsible for starting our body clock from its restful state.
Your biological clock initiates physiological functions that tell you when to wake up and when to sleep. Since this quality is caused by genetic material, it can be transferred as easily as hair color from parents to the child.
Statistics Say You Are More Intelligent
A British study shows a correlation between adaptive behavior and a higher IQ with the genetic predisposition of being an evening person. Moreover, one of the researchers, evolutionary scientist Satoshi Kanazawa, classifies this characteristic as the "evolutionary novel". This means that higher intelligence among nocturnal adults is a deviation from our ancestors' common behavior.
You Succeed More Often
If you're a night owl and you seem to be hitting a slump most of the time, it's only natural for you to doubt this. However, when you look at the background of some successful people, you will realize that this statement holds some truth.
Some famous night owls include Winston Churchill, Barack Obama, Marcel Proust, Charles Darwin, and Elvis Presley. In an article published in The Independent, neuroscientist Jim Horne shares:
"Evening types tend to be the more extrovert creative types, the poets, artists and inventors, while the morning types are the deducers, as often seen with civil servants and accountants. We have looked at morning and evening types and we found that personalities tended to be different. Evening types were more social, more people-oriented. They will probably be good at cryptic crosswords, while morning types go for the more logical ones."
So, if you're a night owl, your success will still depend on the industry you choose. Remember that some of the famous larks include Thomas Edison, Condoleezza Rice, and Napoleon.
Is Being a Night Owl Bad?
While there are several benefits to being a nocturnal being, you should remember that it still comes with health risks. If you don't structure your work and end up working late, your body will suffer the consequences.
While Kanazawa says that being a night owl is "evolutionary novel," it still doesn't mean that it is the standard. You may be genetically predisposed to being active in the evenings, but the daytime lifestyle is still deeply embedded in your DNA.
It is true that modern society provides means of accommodating a nocturnal lifestyle. However, it is still evolutionarily early for the human body to completely adapt to this way of life.
A study published in the Current Sleep Medicine Reports revealed that there are several health risks associated with being a night owl. Some of these health issues include sleep apnea, anxiety, type 2 diabetes, and hypertension.
A 2010 study published in Chronobiology International revealed that night owls are more susceptible to depression than early birds. Moreover, two factors can cause this health problem. Vitamin D deficiency and less sunlight exposure can lead to depression.
While these reports seem alarming, you shouldn't panic. Instead, you should use the information to manage your time and take better care of yourself. Understanding the health risks can help you become proactive in avoiding the consequences of being a night owl.
Night Owl Tips: How to Stay Productive and Healthy
It's possible to succeed and stay healthy as a night owl. If you're a business owner or a freelancer, it will be easier for you to structure your schedule. Here are our tips:
Track Your Productivity Levels
You have to know when your energy levels are high and low. One of the ways you can do this is by experimenting with different sleep patterns.
Every week, you can try a new pattern, monitor how you feel, and keep tabs via a journal. If you wake early and you still feel groggy throughout the day, then being a morning lark may not be the best option for you.
You can also use various methods and tools to monitor when your focus is at its optimum levels. For example, you can try timeboxing to add some linearity to your list of tasks.
However, if you want an easier way to gather accurate data, we recommend using a time tracking app like Traqq. All you need to do is click Start on its desktop widget, and the tool will automatically log your work hours.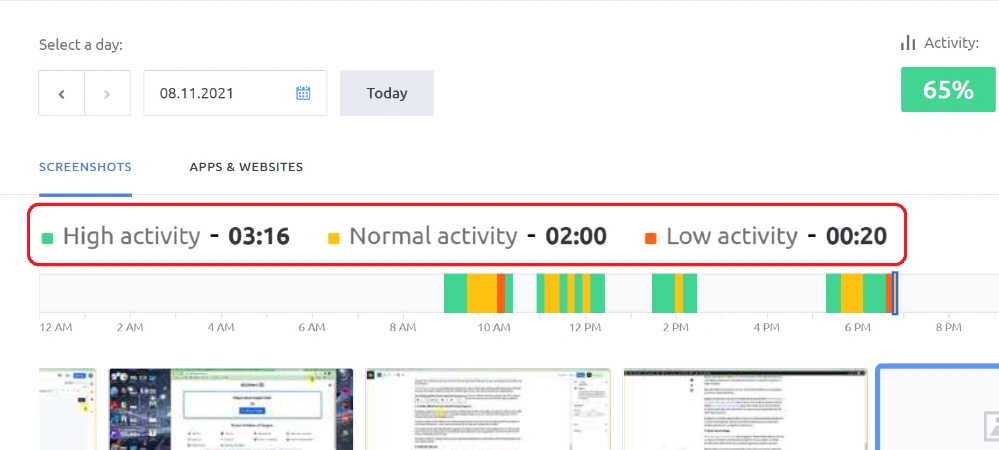 Traqq also tracks activity levels, allowing you to determine your peak productive times. On the dashboard, you will see periods of high activity in green. This way, you will understand the times when your concentration is high or low. Up to three users on a team can download and install Traqq for free. So, you've got nothing to lose.
Have a Routine
You may understand your chronotype, but the key to being productive is having a healthy sleep routine. Have a regular schedule for going to bed and waking up. By doing so, you will feel well-rested and refreshed whenever you start your day.
Request a Later Start
If your company allows flexible work hours, then do not hesitate to ask your manager for a later start. However, when asking your boss, make sure you articulate your reasons properly. This way, they won't think that you simply want to sleep in and be lazy.
Many companies allow alternative work hours, but if yours doesn't, you can consult HR. You may end up finding a compromise. Also, consider whether your organization depends on synchronous work. If so, it may be difficult to get a late start if your colleagues are asleep during your peak hours.
Be Proactive in Caring for Your Health
A Ludwig-Maximilian University study found that night owls tend to cope with stress by smoking and consuming alcohol. Apart from the erratic sleeping behavior, the aforementioned factors can bring more health complications to a nocturnal adult. Therefore, if you want to be productive and healthy, you need to be careful about what you drink and eat.
You can start by eating brain-boosting foods. Make sure you get enough vitamin D by jogging or leisurely walking outside. Also, even when you're working during the night, avoid carbonated drinks, caffeine, and alcohol.
The Bottom Line: Reasonably Embrace Being a Night Owl
We cannot deny that some people are predisposed to be more efficient at night—even research backs that up. That is why you need to understand what your chronotype is. This way, you won't have to force yourself to work during early mornings in the hopes of reaping its benefits.
If you fight nature, you may end up doing harm to yourself. However, if you embrace being a nocturnal worker, then make sure you are doing your best to be productive and healthy. There are plenty of ways you can take care of yourself while working during the wee hours of the night.