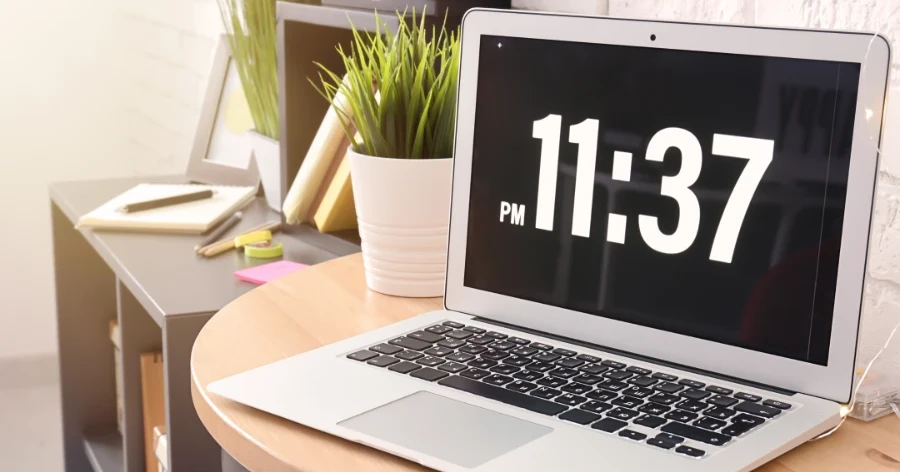 Whether you're running a small, medium, or large business, time is valuable in everything you do. That's why timekeeping is an essential part of your organization's work process.
However, all this cannot be possible without the right timekeeping app. Such a tool makes it easier to keep track of employees' clock in and clock out times.
With such data, you can plan projects better and estimate work hours for future projects more effectively.
In this post, we delve deep into time keeping, what it means and its importance to a business. We also explore the top timekeeping apps that you can employ in your company for efficient time management.
What we cover in the article
What Is Time Keeping?
Timekeeping refers to the process of tracking time spent by you or your employees on work from start to finish. This includes recording the arrival and departure of your workers, whether in-office or remote.
The process of timekeeping can help employers understand how company time is spent, and who's working at any given time. Now, if you manage your time flawlessly, you can achieve what most people struggle with: productivity.
The Importance of Time Keeping in the Workplace
Regardless of the nature of your work, it's crucial to monitor an employee's billable time. Otherwise, how else would you determine:
Employee attendance
Accurate billing
Leave days for your staff
Task assignments
Project progress
In essence, an excellent time-keeping system gives you an overview of staff coverage. You can easily detect tardiness and absence patterns. You can then use the detailed time records to identify areas of weakness in your work process. The data will also help you determine when to take disciplinary actions.
Proper time management heavily contributes to the overall success and growth of a business.
Here are some of the top benefits of timekeeping:
Improve Work Management
To effectively plan and set up work processes, you must define time estimates and deadlines. This becomes easier once you've collected data from previous projects since you'll know how much time is normally required to complete such a task.
Accurate Accounting and Payroll Processing
A good timekeeping system ensures you pay your workers on time, based on the work rendered. The system streamlines the billing process and improves its accuracy, eliminating arguments or issues of time theft.
Better Staff Evaluation
Timekeeping gives you access to vital data that makes it easier to determine your workers' time in and out habits. You can then identify who arrives late or overworks, addressing issues as they arise.
Proper Work-Life Balance
One study by Deloitte found that work-life balance is the second most important factor after salary that millennials consider when weighing career options. Good time management skills can help you achieve high-quality work in less time.
In turn, you'll have more leisure time that you can spend with loved ones or on hobbies. Consequently, you'll come back to work feeling more energized and motivated.
Less Stress
The Centers for Disease Control and Prevention (CDC) reported that 40 percent of employees cite their jobs as the top stressor in their lives. The major contributing factor to workplace stress is poor time management.
However, once you master timekeeping, you'll know the specific time you need to start and finish each task. You can then prioritize tasks accordingly, making your workdays less stressful.
Better Career Opportunities
As an employee, how you perform your work says a lot about your professional reputation. Establishing yourself as a dependable, reliable employee who always submits high-quality work on time can help improve your career opportunities.
Methods of Timekeeping in the Workplace
The various timekeeping methods available have different functionalities, depending on the type of data you need to collect. Here are the most common ones:
Paper Forms. This method involves manually filling time details on a piece of paper and then handing it over to the supervisor. You may require a stopwatch or phone to measure the time it takes you to complete a task or an activity. Then, you write down that time.
Spreadsheet. With this method, you manually add time to a spreadsheet template when you start working and the time you finish the project. Most people use Excel spreadsheets.
Timecards. Employees fill out time cards by hand, indicating the time they started work and when they finished. A company must have a good system in place to manage time cards for this method to be efficient. Otherwise, time theft and errors can be rampant.
Hand scanners. Employees place one hand on a scanner when they clock in and again when they clock out. This method is more convenient compared to time cards, and fraud is less likely.
Time clocks. Time clocks offer an efficient way to track employee work hours. A person clocks in at the start of their shift and clocks out when the shift is over. This method accurately records time worked and ensures you pay for actual work hours.
Time keeping software. Most companies have switched to time keeping apps that automatically record an employee's work hours. Its main appeal is accuracy and detailed records that you can use to analyze different aspects of your workers or work processes.
It's also beneficial to team members since it provides proof of how long they have worked on projects, minimizing disputes.
The various types of time tracking software include:
Manual time keeping software, where you start a timer when you start working and stop it once you're done.
Automatic time tracking app, which doesn't require much input from your side. The app automatically records the time you spent working.
Time keeping as part of a project management solution. On top of tracking time, the software also lets you create and assign projects, collaborate, and get an overview of the entire workflow. Some even let you track attendance, capture billable and non-billable hours, and set budget limits.
Top 5 Time Keeping Apps of 2022
| | | | | | |
| --- | --- | --- | --- | --- | --- |
| Timekeeping Apps | Traqq | Toggl | Harvest | MyHours | Hubstaff |
| Why We Love it | Best free and simple time tracking | Best for work schedule | Best for expense tracking | Best for billing | Best for mobile and field teams |
| Starting price | $6 | $9 | $12 | $6 | $7 |
| Manual time tracking | ✅ | ✅ | ✅ | ✅ | ✕ |
| Automatic time tracking | ✅ | ✅ | ✕ | ✕ | ✅ |
| Invoicing | ✅ | ✕ | ✅ | ✅ | ✅ |
| Ethical employee monitoring | ✅ | ✕ | ✕ | ✕ | ✕ |
| Team management | ✅ | ✅ | ✕ | ✅ | ✅ |
| Productivity tracking | ✅ | ✅ | ✕ | ✅ | ✅ |
| Screenshots | ✅ | ✕ | ✕ | ✕ | ✅ |
| Apps and website monitoring | ✅ | ✅ | ✕ | ✕ | ✅ |
| Integrations | ✕ | ✅ | ✅ | ✅ | ✅ |
1. Traqq: Best Free Time Keeping App
Price: Free, $6/user/month
Platforms: Web, Desktop app (Windows, macOS)
Pros:
✔ User-friendly interface
✔ Smart alerts and reminders to turn the timer on or off
✔ Premium features are available for free
Cons:
⊗ No integrations
Traqq is a simplified time tracking app for small, medium, and large teams. The tool is ideal for remote and in-office setups and captures all work hours to the minute.
Users can generate detailed reports and take advantage of its invoicing features, meaning you can bill clients directly from the app. It also allows you to monitor app and website usage. So, you can account for how you spend your time.
The most interesting part about Traqq is that it promotes ethical employee monitoring. This means that while it takes random screenshots every ten seconds, each image is intentionally blurred.
Any personal details like passwords and private messages remain hidden, protecting your employee's privacy. Even so, you can still get a hint of what they are working on. As such, you can detect whether they are doing something inappropriate or suspicious during work hours.
What's more, users have the choice to delete the screenshots, along with the captured time. It even works both online and offline, so you can still track your activity even in areas with no internet access. Once you have a stable connection, all the data is synced to your online timeline.
What Users Say
"Traqq has made my work experience as a freelancer much easier and well organized. It allows me track my time, manage my clients, generate invoices and track expenses most effectively."
"What I didn't like is that it doesn't have integration with Upwork now, so whenever I have an hourly contract with any client, I can't use Traqq for it."
2. Toggl Track: Best for Work Schedule
Price: Free, $9/user/month
Platforms: Web, Desktop (Windows, macOS, Linux), Mobile (Android, iOS), browser extensions
Pros:
✔ Browser extensions for added convenience
✔ Reliable customer support team
✔ Project planning and budgeting features
Cons:
⊗ Pricey premium plan
Toggl Track has an attractive user interface that's easy to use. It tracks every app and website you use for more than ten seconds and records the data in time format. Of course, its core function is to track the time you spend on each task to help you become more efficient.
On top of that, it lets you organize your day via its calendar functionality to ensure you don't overbook yourself. You can also generate reports for convenient invoicing at the end of the month.
Toggl Track aggregates all data into the dashboard, giving you a clear insight into the work schedule, so you can distribute work accordingly. This ensures no one is overworked or underworked.
What Users Say
"Toggl is very easy to use with a quick set up. It walks you through how to use it. I like the weekly hour email which is generated."
"If you have clients looking for screenshots of your work, it does not have the capability."
3. Harvest: Best for Expense Tracking
Price: Free, $12/user/month
Platforms: Web, Desktop (Windows, macOS), Mobile (Android, iOS)
Pros:
✔ Features designed specifically for freelancers and contractors
✔ Efficient invoicing and reporting
Cons:
⊗ Complex user interface
Harvest provides your business with a full set of features, including time tracking, productivity reporting, invoicing, and integrations with other apps. It lets you track time from your desktop or mobile and integrate time into your existing work process.
You can generate reports that make it simple to analyze time versus budget to understand the profitability of your projects. Its invoicing function lets you bill clients confidently, thanks to accurate timesheets. Meanwhile, the integrations with PayPal and Stripe ensure faster payment.
Harvest makes it easy to keep track of your team's capacity to get insights into their work habits and how you can improve performance.
What Users Say
"I love the interactive and tech-savvy feel, everything about this product is functional and enjoyable."
"It is way too expensive, competitors like Clockify have been way more cost-productive for our student team."
4. MyHours: Best Time Tracking App for Billing
Price: Free, $6/user/month
Platforms: Web, iOS, Android
Pros:
✔ Advanced customization abilities
✔ Detailed, customizable reports
Cons:
⊗ No scheduling functions
MyHours is a simple time tracking app that also lets you organize projects and generate reports. You can use it from anywhere, thanks to its mobile apps. The tool offers users the option to manually add time entries or track time using the built-in timer.
MyHours lets you set up project budgets and get alerts when you're about to exceed them. You can even add detailed descriptions, attach files, and include styled notes on your logs and expenses.
Other notable features include tracking employee attendance/absence, billing clients, and calculating project profitability. There are even options to schedule client reports to be sent out each week or month.
What Users Say
"My hours is easy to keep open on my browser window and quickly track projects for various clients, each billed in their own way and at their own rate."
"The invoicing feature has limited customisation (That needs to be fixed pronto!) -The mobile app is functional but very limited."
5. Hubstaff: Best for Mobile and Field Teams
Price: Free, $7/user/month
Platforms: Web, Desktop (Windows, macOS, Linux), Mobile (iOS, Android)
Pros:
✔ GPS tracking
✔ Integrations with dozens of other apps
✔ Automated reporting and payroll
Cons:
⊗ Lacks customization abilities
⊗ Screenshots only available on desktop
Apart from time tracking features, Hubstaff offers employee monitoring and project management features. It works best for construction workers, sales teams, and delivery personnel since it provides location-based tracking. GPS technology allows managers to see where employees are based at any given moment.
Users can edit time entries manually and provide explanatory notes. The tool automatically creates reports, which can help in expenses management, performance tracking, and simplified payroll.
Its integrations with PayPal, TransferWise, Payoneer, and Bitwage streamlines payments once timesheets are approved.
What Users Say
"Easy to use, stable desktop app, great visualizations and statistics, many possibilities for integration with another tools."
"Some functionalities within this product are not fully customizable (e.g. idle time is set to min of 5 minutes), more flexibility would be great."
Other Useful Time Keeping Apps
6. QuickBooks Time: Best for QuickBooks integration
Price: $20/month, plus $8/user/month
Platforms: Web, Mobile (iOS, Android)
Pros:
✔ Ability to call to clock in
✔ Geofencing features
Cons:
⊗ Base fee makes it pricey
⊗ No free plan
QuickBooks Time not only records time entries but also comes equipped with robust reporting features for extensive analysis. One outstanding report is the Scheduled vs. Worked Report, which lets you compare scheduled and worked hours for a given period. You can filter options by week, pay period, or custom range.
The best part about QuickBooks Time is the ability to integrate with the QuickBooks suite. Since most companies use QuickBooks for accounting, the time tracker is a great addition to existing solutions.
The app offers other features like invoicing, project management, expense tracking, and employee monitoring. Users also get access to add-ons like Punch In/Punch Out Time Card and Manual Time Card, Timesheet Editor, Time Slider, and Paid Time Off Tool.
What Users Say
"The ease of use for time tracking and the auto-syncing with QuickBooks Online. The support from TSheets is outstanding and that is the NUMBER ONE reason I stay with TSheets."
"When you open up QB Time from QuickBooks, the interface can be a bit cumbersome, confusing and feels different than QB Online."
7. Timely: Best to Organize Everything Around a Calendar
Price: $10/user/month
Platforms: Web, Desktop (Windows, macOS), Mobile (Android, iOS)
Pros:
✔ Team creation abilities
✔ KPI tracking to monitor team performance via key metrics
Cons:
⊗ No offline mode
⊗ Limited scheduling flexibility for different time zones
Timely uses AI technology for intelligent time management. The tool automatically compiles your work. Based on past work patterns and edits, it suggests time entries and attaches project tags. As a result, you'll achieve automatic time tracking that can improve your workflow.
Beyond time tracking, Timely allows you to monitor team performance by checking which tasks employees spend time on. You can check team activity in real-time and KPIs and use important dates from your calendar or email to easily define project schedules.
What Users Say
"Timely lets me work without worrying about time tracking. I review and assign the time I've worked comfortably at the end of the day. Timely tracks everything automatically. The reports are a breeze too!"
"Timely is not the best when it comes to managing several time zones .The sync up time if you use it on multiple devices can be improved."
8. Everhour: Best for Agile Teams
Price: $8.50/user/month
Platforms: Desktop (Windows, macOS), iPhone app, browser extension
Pros:
✔ Flexible reporting
✔ Compatible with most browsers
Cons:
⊗ No time editing option from an extension panel
Everhour offers simple time tracking for recording total work hours. Users can log and monitor time spent on projects manually as well. Agile teams will find it useful thanks to the ability to embed directly into several widely used project management tools like Basecamp, Trello, and Asana.
With Everhour, you can eliminate guesswork with its resource planning functions, which enables you to accurately plan costs and staffing needs. The tool also offers optional screenshots, expenses tracking, projects billing, and task management.
What Users Say
"Overall experience has been really good! I'm now invoicing clients more efficiently and no longer wasting time trying to remember how long each task took me."
"The Reports function could be better. It's not quite as user-friendly as I would like it to be."
9. Timeneye: Best for Integrating with Project Management Tools
Price: $7/user/month
Platforms: Web, Mobile (Android, iOS)
Pros:
✔ Support for several integrations
✔ Automated and manual time tracking
Cons:
⊗ Unintuitive mobile apps
⊗ No start and stop stamping
Timeneye is an excellent time keeping app that offers plenty of ways to set up your timers and reminders. Like Harvest, you must set up your tasks and projects before you can start to track them.
Timeneye also offers project tracking and reporting tools, as well as, budget notifications and a calendar dashboard.
What Users Say
"Easily track your time to a project and has great integration with other programs."
"I wish there was also an option for international work teams that displays multiple different time zones. My companies work with clients all over the world and sometimes it gets difficult to remember what time it is where."
10. DeskTime: Best Time Tracker for Detailed Visuals
Price: Free, $7/user/month
Platforms: Desktop (Windows, macOS, Linux), Mobile (Android, iOS)
Pros:
✔ Productivity tracker
✔ Pomodoro timer for reminding users to take breaks
Cons:
⊗ Limited features on the free plan
⊗ No automated alerts and reminders
DeskTime is one of the well-known timekeeping apps. It's an automatic time tracking software that starts to log hours as soon as you turn on your device and stops when you switch it off. This ensures accurate capture of the time spent working online.
The tool comes with a Pomodoro timer to ensure teams take the deserved breaks after a specified time interval of 52, 60, or 90 minutes. The app provides in-depth reports showing the applications your team members used during working hours. So, you can find and eliminate time wastage.
One drawback with DeskTime is that it lacks the ability to track productivity when managing several different activities.
What Users Say
"Overall, I have learned to use DeskTime as a tool to know where I should be prioritizing my work and where I should be cutting time."
"If your team is working on multiple project for multiple clients, understanding which screenshot belong to which project is not an easy task."
11. Replicon: Best Time Tracker with Multi-Feature Solutions
Price: $40/user/month
Platforms: Web, Mobile (Android, iOS)
Pros:
✔ Scalability for accommodating companies of all sizes
✔ AI for intelligent time management
Cons:
⊗ Complicated user interface
⊗ Outdated design
Replicon centralizes time data, giving users the ability to manage payroll, bill clients, and reimburse expenses from one place. You can also easily manage employee time and attendance, including on the go, with its mobile apps.
Apart from workforce management features, Replicon can track regular and overtime hours, as well as billable and non-billable time. The tool can transform timesheet data into metrics for costs, billing, payment, and utilization, providing users with valuable insights.
What's more, you can streamline your workflows by connecting Replicon with your existing business solutions.
What Users Say
"The latest version of Replicon automatically saves timesheets. No more timing out! It's very easy to track time, billable or non-billable, by client, task, project and activity."
"Sometimes the system will glitch and the time tracking will be off."
12. ATracker: Best Intuitive Time Tracker
Price: Free, $4.99 one-time cost for iOS users, and $2.99 one-time cost for Android users
Platforms: Web, iOS, Android
Pros:
✔ Incredibly easy to use
✔ Fully customizable setup
Cons:
⊗ Only ideal for tracking multiple tasks
⊗ No support for running multiple timers simultaneously
ATracker offers advanced customizable settings that allow you to better organize your tasks. The tool has over 800 icons to visually represent your tasks and uses color-coding and tags for easy visualization. It's an excellent option for people who really want to get in-depth details about their workday.
The app offers task-switching capabilities and accurately tracks the time for each activity. Thanks to the ability to sync with iCal, you can compare planned activities with actual time usage. Plus, you can set alarms for specific events and tasks.
What Users Say
"A perfect app for anyone interested in self improvement or just to see where you spend your time. The small price for premium is well worth it."
"The app is clunky but its speed has improved marginally. It breaks down after every other action. It's not particularly intuitive."
13. Tick: Best for Improving Productivity
Price: Free, $19/month, min. 10 projects
Platforms: Desktop (Windows, macOS), Mobile (iOS, Android), Apple Watch, Browser extension
Pros:
✔ Instant budget feedback
✔ Multiple timers for multiple tasks
Cons:
⊗ Not the best user interface
⊗ Limited team management features
Solo entrepreneurs and teams alike can use Tick to track time against a set budget. The user interface may not be as attractive as Traqq's, but it gets the job done without distractions.
You can use multiple timers for multiple tasks or a single timer to get insights into how long the entire project took to complete. Plus, you get instant budget feedback to help you stay on track.
Tick uses a timecard, which involves three steps:
Project selection
Task selection
Time entry
You can then add notes and use timesheet reporting for budget feedback or other insightful data.
What Users Say
"Easy to use. You can set a time budget for your project that you are working on and helps you track how you are utilizing your time. The custom report feature is also very handy."
"The UI or visual need a update or modern style for the better way to many people love it."
14. RescueTime: Best for Minimizing Distractions
Price: Free, $9/user/month
Platforms: Web, Desktop (Windows, macOS, Linux), Mobile (Android, iOS)
Pros:
✔ Website blocking for focused work
✔ Productivity score
Cons:
⊗ No report exporting abilities
⊗ No automatic invoice creation
If you want a time tracking app that helps you focus on improving your productivity, try RescueTime. It's an automatic time tracker that works on every device. To get started, install a tiny monitoring app on your computer. The software then works in the background, observing your computer usage.
The Rescue Assistant then takes over, helping manage your daily work process, reports, and goals. You can access the Assistant on your desktop's taskbar, system tray, or menu bar. You'll start getting alerts when you get distracted or multitask more than usual.
Based on your habits, the tool suggests the best times for focused, uninterrupted work, so you can be more productive. An interesting feature about RescueTime is the web-blocking feature that keeps you distraction-free and focused for work.
What Users Say
"I used this app to track my digital footprint and it helped me to change how much time I sped on social media."
"Can be a bit slow when trying to view monthly or yearly stats Lacks a single-page view for all the activities on a given day – only by category."
15. TrackingTime: Best with Unique Approach to Time Visualization
Price: Free, $7/user/month
Platforms: Web, Desktop (Windows, macOS), Mobile (Android, iOS), Chrome and Firefox Extension
Pros:
✔ Excellent reporting and sharing functions
✔ Project management features
Cons:
⊗ Data export and integrations available in paid plans
⊗ No monetary budgets
TrackingTime gives users a view of the total worked hours and all the tasks currently in progress. It even features communication functions that let you assign tasks and collaborate with your team.
Users love it for its extensive cross-functionality, including extensions for Chrome and Firefox. What's more, the web-based tracker syncs with mobile apps to keep track of projects on the go.
With TrackingTime, you can monitor project budgets, payroll, client bills, and productivity analytics. The tool also lets you track employee attendance, breaks, and overtime hours.
What Users Say
"I love TrackingTime! It always saves me from pulling out a watch and manually creating a spreadsheet in order to track everything!"
"I would love for there to be reminders. Sometimes I forgot to start and end tracking, so had to go back in and manually edit the time."
Take Control of Time
If you haven't invested in a time-keeping solution, you're missing out on vital time data that can help you boost productivity. A time tracking app can automate reporting and invoicing to simplify your work process. Plus, you'll manage your time – and those of your employees – as well as resources better.