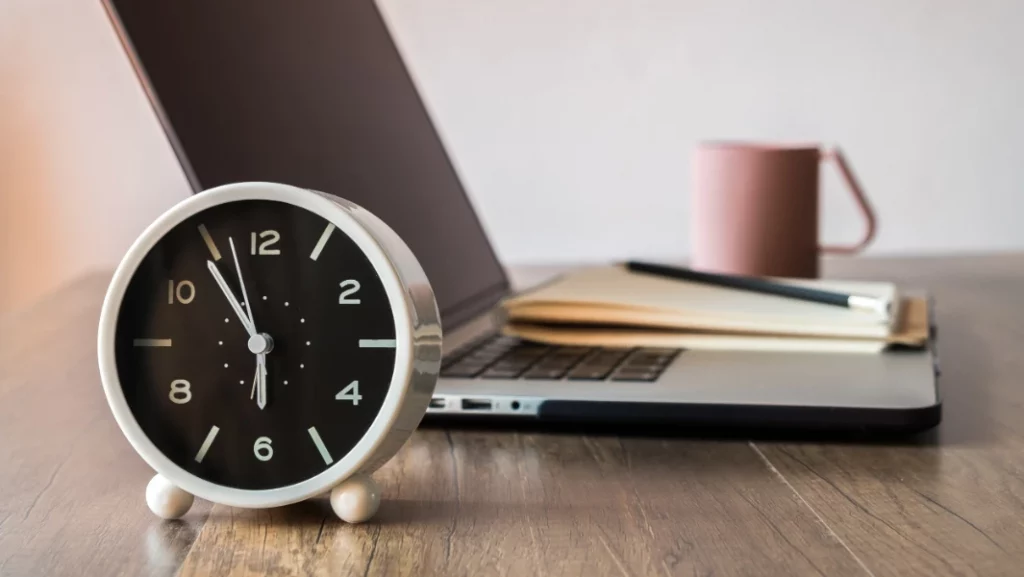 Are you ready to supercharge your productivity and maximize your billings? According to a study conducted by And.co, a staggering 70% of freelancers handle two to four projects simultaneously. That's where time tracking apps come to the rescue! Whether you're a freelancer, entrepreneur, or professional looking to manage your time effectively, the best app to track time can be a game-changer.
In this article, we'll explore the best time tracker apps that will help you stay organized, focused, and ultimately boosting your productivity. So, if you're ready to take control of your time and unlock your true potential, let's find the perfect companion to streamline your workflow, enhance your accuracy, and supercharge your billing process.
5 Best Personal Time Tracking App of 2023
Here are the best time tracking tools you can check out:
Traqq – Best free time tracking tool for time and productivity monitoring
Toggl Track – Best time tracking app for simple time logging
TopTracker – Best time tracker for freelancers
MyHours – Best time tracking app to boost profits
Hours – Best time tracking software for Apple users
Let's take a detailed look at each personal time tracking app.
Traqq: Best personal time tracking tool for time and productivity monitoring
Price: Free, $6/user/month
Platforms: Web, Windows, macOS
Traqq is a feature-rich time tracking app built with the user in mind. This intuitive and user-friendly program is easy to set up. Its free plan supports unlimited projects, clients, and team members to help you measure productivity and profitability.
Using Traqq is effortless because it doesn't require much from you. Simply start the timer when you begin working and stop it once you're done. You don't need to create projects or tasks before you can start to track time.
Thanks to Traqq's powerful reporting feature, analyzing your projects and billable time has never been easier. You can generate the following reports to get insights into your overall workflow processes and performance:
Weekly Summary – shows your overall performance for the selected week.
Time and Activity – shows details on your activity levels and the amount of time you worked for the selected period.
Apps and Websites – provides details on the amount of time spent on specific apps and websites.
Manual Time Adjustments – displays how much time was manually added during the selected period.
Amounts Earned – displays the total amounts earned during the chosen period.
The reports on Traqq are highly customizable, and you can even export them in .csv format, for easy sharing with your clients.
Notable Features:
Manual time tracking
Offline tracking
Apps and websites monitoring
Manual time adjustments
Custom reports
Team management
Automated screenshots
Productivity tracking
Pros:
Customizable and detailed reporting
Best value
Client invoicing
A generous free plan
Cons:
No integrations with third-party apps
Toggl Track: Best time tracking app for simple time logging
Price: Free, $10/user/month
Platforms: Web, Windows, macOS, Linux, Android, iOS, browser extension
Toggl Track is an excellent personal time tracking app with a unique user interface that offers an effective way to monitor billable hours. Like Traqq, Toggl Track has an idle detection feature that spots inactivity and alerts you to pause the timer or continue working.
With Toggl Track, you can start tracking time right away with a single click. It comes with the Pomodoro timer, which you can use to maximize your productivity. The app also lets you record your tasks for different projects and generate invoices right from within the platform.
What's more, you can access a detailed overview of your project timelines in reports and export them to clients.
Notable Features:
Integrations with multiple tools
Pomodoro timer
Pop-up reminders
Project budgeting
Reporting
Billing and invoicing
Pros:
Simple user interface
Quick to set up and get started
Support for various devices
Cons:
Pricey
No time-off management
No scheduling
TopTracker: Best time tracker for freelancers
Price: Free
Platforms: Web, Windows, macOS, Linux
TopTracker, designed by the popular freelance platform Toptal, is a completely free time tracking app for personal use. The tool is built specifically for freelancers and lets you track time with ease via hotkeys.
TopTracker offers a centralized view of all your current projects to help you optimize your productivity. You also get detailed reports showing your productivity for the different projects. On top of that, you can process payments and invoices and get paid via Payoneer.
Notable Features:
Activity level tracking
Time tracking
Free invoicing and payments
Reporting
Automatic idle detection
Screenshots
Pros:
Completely free for unlimited projects
Flexible time and activity tracking
Cons:
Limited reporting features
MyHours: Best time tracking app to boost profits
Price: Free, $6/user/month
Platforms: Web, iOS, Android
Time tracking can be a complex and time-consuming process. MyHours simplifies this, so you can better manage your projects and improve your profitability. The tool offers advanced customization options, including styled notes on your logs, custom keywords, and file attachments.
With MyHours, you can create projects and assign tasks. You can then track project profitability and get reminders when you're about to exceed budgets. Apart from tracking expenses, the tool also lets you set billable rates and manage rate changes with ease.
Its reporting functionality is quite advanced with plenty of features to get all the details you want. If you just want to see the time spent on projects, you can generate real-time pivot tables or download a weekly timesheet.
Notable Features:
Automatic time tracking
Task templates
Project budgeting
Expense and time tracking
Invoicing
Workflow management
Pros:
Automatic report scheduling
Enables easy client handling
Cons:
Hours: Best time tracking software for Apple users
Price: Free, $8/user/month
Platforms: Web, iOS
Hours is ideal for anyone looking for a time tracker that offers basic time tracking functionality. It gives users a clearer view of project tasks using colors. This personal time tracking app lets you accurately record your total work time across your projects for improved time management.
Editing timestamps is seamless on the app, allowing you to account for all your work hours. The Mac time tracker also lets you customize invoices by adding work hours and timer notes. Its reporting feature makes it easier to analyze data, thanks to the thoughtfully designed visualizations.
Notable Features:
Invoicing
Time tracking
Reporting
Timesheet entry
Automatic data backup
Pros:
Strong task visualization
Support for macOS and iOS
Customizable invoices
Cons:
Only works on Apple devices
Limited reporting features
Timular
Price: $9/per user/per month
Platforms: Web, Windows, MacOS, iOS, Android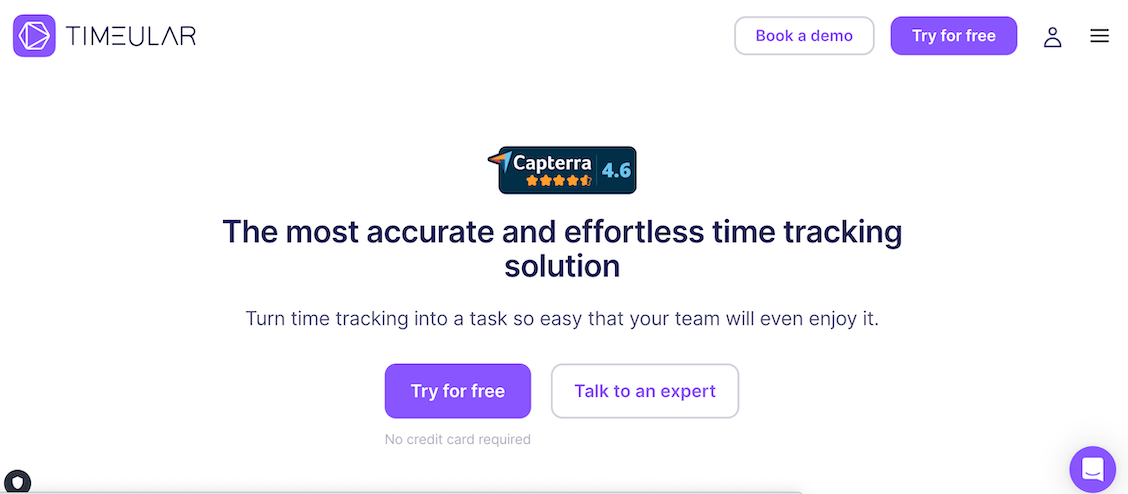 Timular is a comprehensive time tracking app that offers a range of features designed to help users efficiently monitor and manage their time. The app provides a one-click time tracking feature, allowing users to quickly start and stop tracking with minimal effort. This simplicity ensures that users can focus on their tasks without getting bogged down in complicated tracking processes.
One notable feature of Timular is its idle detection capability. This feature automatically detects periods of inactivity and prompts users to either pause the timer or continue working. By doing so, Timular helps ensure that time tracking remains accurate and that users can effectively manage billable hours.
Notable Features:
User-friendly interface
Idle detection feature
One-click time tracking
Pomodoro timer for enhanced productivity
Task recording for different projects
Invoicing and billing functionality
Integration with various tools
Pop-up reminders
Project budgeting capabilities
Detailed reporting feature
Exporting reports for clients
Pros:
Idle detection feature
One-click time tracking
Project budgeting capabilities
Detailed reporting feature with export options
Cons:
Higher price point
No time-off management
Lack of scheduling functionality
What Makes a Great Time Tracking App?
A personal time tracking app is a must-have for anyone serious about monitoring their productivity and performance. However, with hundreds of apps in the market today, which criteria make the best personal time tracking software?
Some of the key features to look for include:
Real-time and manual tracking. Most time tracking apps track time in real-time, showing you how much time has elapsed for the project/task that you're currently undertaking. Some time trackers offer automatic time tracking, while others let you track time manually. Manual time trackers allow you to start, pause, or stop the timer whenever you want.
Offline time tracking. Remote working allows you to work from anywhere even when you're traveling. Most time tracking tools work online, meaning you'll need an active internet connection to record time. Look for an app that also supports offline tracking. A great example is Traqq, which records every minute worked offline and syncs that data with your online account the instant you reconnect. This way, your offline activity is captured, and you don't have to worry about losing a single minute of worked hours.
Applications and website monitoring. It's common to get distracted when working online. A tool that tracks your app and website usage gives you insights about time wastage, so you can adjust accordingly.
Integrations. You probably are using a number of productivity tools. A time tracker that supports integrations with your favorite tools like QuickBooks, PayPal, and Slack will make your work more seamless.
Invoice processing. If you bill by the hour, check if the personal time tracking software can generate an invoice with your hours.
Insightful reports. A time tracking app is useful in data analysis. Find one that offers detailed reports that are easy to generate and interpret. Also, consider a tool with flexible and customizable reports.
Intuitive features. Most people prefer a simple time tracking tool that is easy to use. The interface should be user-friendly and easy to navigate. A time tracker that requires a steep learning curve can be overwhelming and even frustrating.
Manual time editing. An excellent timer should let you edit logs and add a block of time to account for work away from the computer.
On top of that, you may want time tracking software that supports idle time detection, smart alerts, and expense tracking.
Time Tracking App for Personal Use
Come to think of it, as a contractor or freelancer, you probably bill by the hour 90 percent of the time. So, your focus should be to track your projects/tasks and how much time you spend on each.
Investing in a personal time tracking app gives you a clearer picture of your work process. It plays a crucial role in helping you achieve your goals and measure your success.
A time tracker can help you boost your productivity in the following ways:
Get a better understanding of how you spend time: With no way of keeping tabs on time management, you won't know if you're spending too much time on emails, and not enough collaborating with your clients. Keeping track of your activity log helps you identify which tasks are taking up too much time, so you can adjust this time for better productivity.
https://traqq.com/blog/wp-content/uploads/2023/01/banner-man-solid-shirt.webp
Adjust your work schedule: Once you visualize how you spend your work time, you'll be able to make adjustments that will improve your productivity and your profitability. Besides, using the data collected by your personal time tracker helps you determine which tasks need to be prioritized. As a result, you'll better organize your work schedule, which can significantly boost your performance.
Apart from boosting productivity, a time tracker lets you generate different reports. The data is essential in measuring your performance and what actions you can take for further improvement.
With a time tracker, you can generate daily, weekly, monthly, or custom reports based on projects, tasks, and timesheets. The best part is that you can send the reports to your clients as proof of work. This establishes trust and transparency. More importantly, the reports ensure accurate payments.