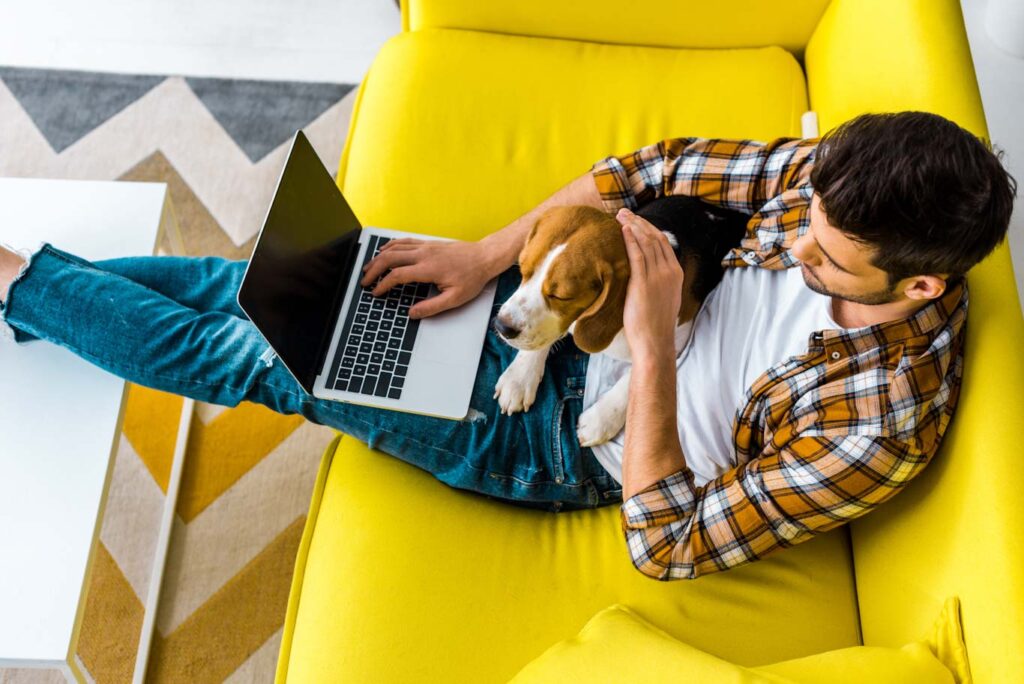 Working from home was a growing movement even before the world was hit by the coronavirus pandemic. A Switzerland-based study found that about two-thirds of the total population around the world worked remotely at least once every week. The numbers multiplied fast in 2020 as the working-from-home economy started to take shape. By mid-2020 a whopping 42 percent of the U.S. labor force was already working from home full time.
Even with the ongoing vaccination campaigns raising hopes of the world returning to normalcy, the remote working revolution is here to stay. Undoubtedly, working remotely comes with many perks, like the freedom to set your working schedule, avoiding commute time, and spending more time with family. However, there's also the dark side of loneliness and low engagement.
To effectively manage team members and maintain the human connection, work-from-home tools have never been this crucial. In this post, we've compiled a list of must-have remote work apps that will boost your team's performance and productivity.
The Best Tools for Project Management
For seamless workflow, improved coordination, and better team collaboration, you need a project management software that offers all the features you need. Here are some of the most advanced tools to make the entire process less messy and complicated.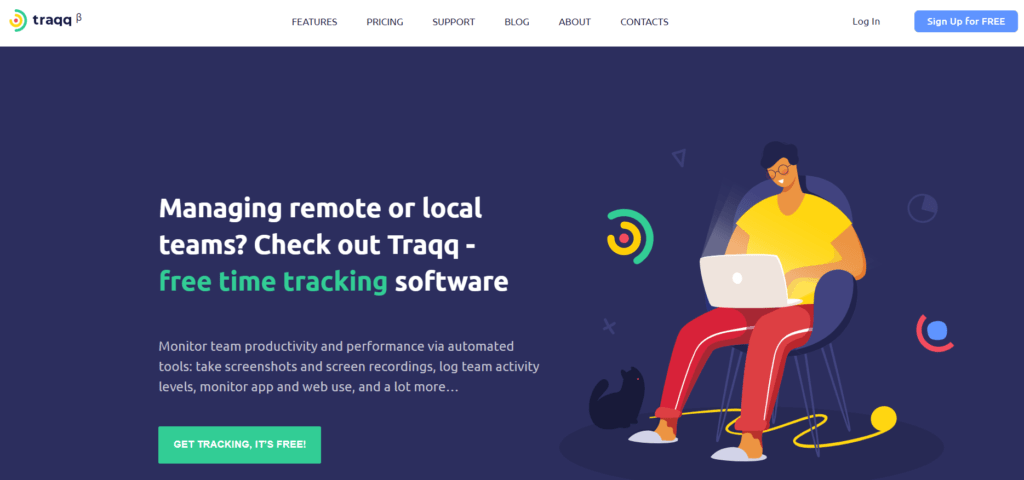 Now that telecommuting and working remotely are widespread, there's a need for a specialized collaboration tool for remote teams. Traqq simplifies the process by bringing everything to one easy-to-manage platform.
Team leaders can monitor the activities of each user via the random screenshots taken in the background. Even so, the images are blurred intentionally to avoid exposing any personal or sensitive information of the worker. Monitoring screen activity (keyboard and mouse clicks) encourages transparency from the employee's side and ensures that the employer's time is properly utilized.
Traqq is packed with plenty of useful features, like app and website tracking, activity level monitoring, reports, time tracking, and invoicing. Even if you manage distributed teams, you can generate a weekly or monthly report showing a summary of each employee's activity levels and the total hours worked. This data can come in handy when assessing your company's overall efficiency and profitability.
Indeed, Traqq is the ideal time tracking app for Mac and Windows.
You can also analyze detailed data of each employee to determine how well or poorly they are performing. The visual boards show you in an instant who is working on what and their progress. This helps you to collaborate with team members to adjust timelines and ensure seamless workflow. Traqq, which is also a time tracker, can be useful when tracking the number of hours you've spent on a particular task or project. With its weekly and monthly reporting function, you can have the data you need to create accurate invoices.
That's not all. You can use the timer as a reminder to take regular breaks after, say every 25 or 45 minutes, to avoid burnout.
Whether you want to track the number of hours worked, monitor the progress of a team or an individual, generate reports, or track time, Traqq can help you with most areas of project management. This tool makes time tracking for freelancers and organizations easy and convenient.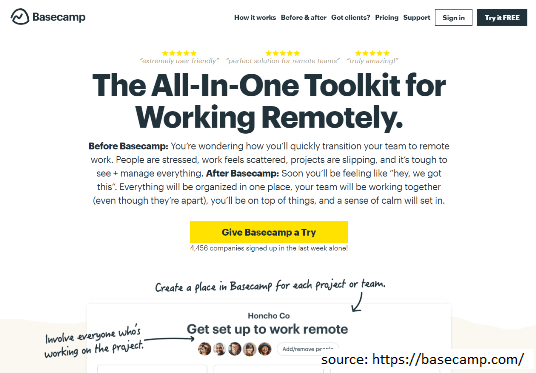 Basecamp is a project management and team communication tool that makes collaboration easier for team leaders, employees, and freelancers. This productivity tracker comes loaded with a range of useful features for scheduling, meetings, task organization, and assignment tracking.
The platform helps teams to stay organized, work together as a team, and become more productive. That said, Basecamp lacks some essential features like time tracking and external integrations that might be useful when managing teams and projects.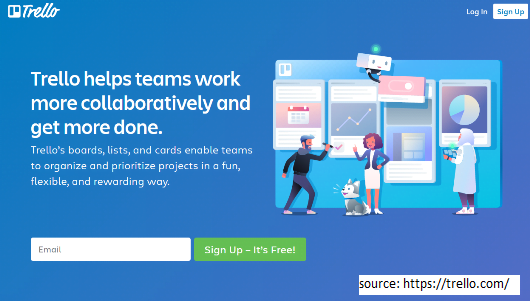 Trello is another useful work-from-home tool that's designed for team collaboration. It's a project management software that visualizes tasks on digital boards, columns, and cards for easy assessment and analysis. Tasks are divided into different parts, such as "To Do," "Doing," and "Done" for easy tracking.
Trello shows the work progress, and lets teams prioritize tasks in a fun way. The software supports integration with popular web services and apps like Dropbox, Google Drive, Asana, Evernote, and Microsoft Teams.
The Best Focus Apps
One of the greatest challenges of working from home is distractions. Focus apps help to block these distractions so that you can concentrate on your projects. Of course, you'll need a dedicated workspace that's conducive to work. To help boost your focus, here are some of the best remote tools to consider.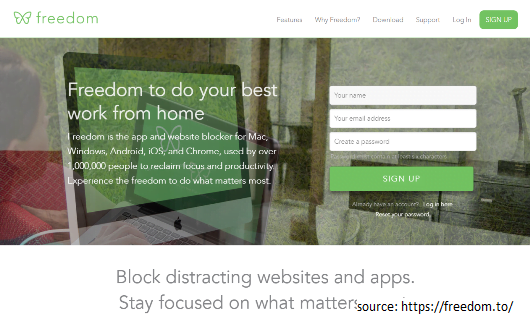 Websites are known to send random notifications that can interrupt your work. Additionally, emails can cause distractions when you just want to focus on your work. Freedom helps to get rid of these distractions by blocking apps and websites from sending notifications.
The app works across multiple platforms and even allows you to sync blocks on all your devices, giving you complete control of distractions. The app offers additional features like Advanced Scheduling and Locked Mode.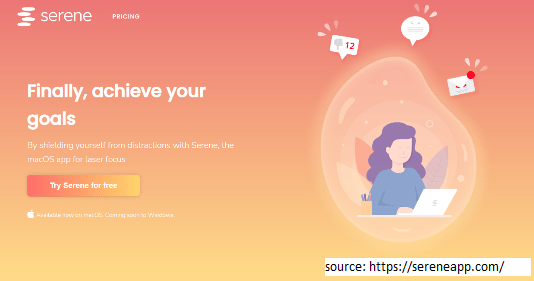 Like Freedom, Serene blocks distractions from websites and apps to encourage complete focus on your most productive hours. The app goes beyond just blocking distractions. It helps you to take regular short breaks in power sessions of 20-90 minutes.
It also doubles as a day planner that lets you set daily goals so you can focus on hitting your targets. Freedom has a music feature that lets you listen to calm music that will keep your mind from wandering. Currently, the app works only on macOS and is available to try for free.
The Best Tools for Video Calling and Team Communication
Communication is crucial for team collaboration, engagement, and ensuring a smooth workflow. A company that's efficient at communicating can easily maximize team performance and boost productivity.
Here are the top communication tools to consider: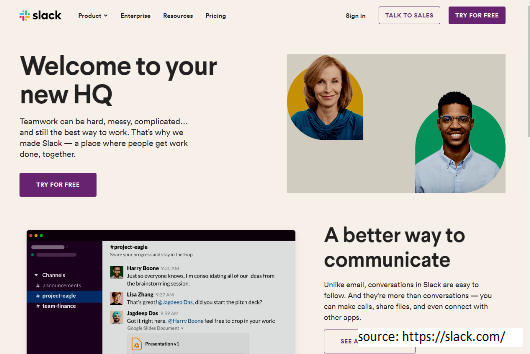 Slack is one of the most popular collaboration tools for remote teams. The application focuses on eliminating confusion by giving teams a better way to communicate. It organizes everything in a central space by categorizing topics, projects, and documents into channels. This way, teams can easily locate the information or file they need.
Slack has messaging, voice, and video functionality for enhanced communication. Plus, it supports integrations with over 2,000 apps, web services, and other tools for working from home, including Jira, Zoom, OneDrive, Google Drive, Dropbox, and GitHub.
You can use Slack for free, and when you want to scale, you can try out one of their paid plans, starting from $6.67.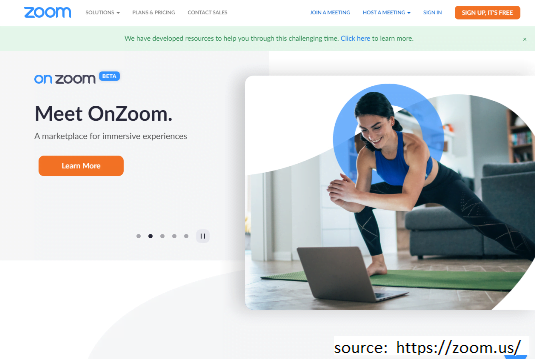 Since the onset of the pandemic, Zoom has grown tremendously in popularity. The app supports holding virtual meetings from a computer, tablet, smartphone, and even voice via dial-in phone.
Zoom allows you to share your screen with teammates, enabling you to collaborate on projects and presentations.

Microsoft's Skype offers a convenient way for teams to communicate and collaborate on tasks and assignments. It allows you to host virtual meetings of up to 100 people and even create group chats. The app also provides instant messaging services.
Skype works across all devices, and you can even use it to call landlines and mobiles from anywhere in the world.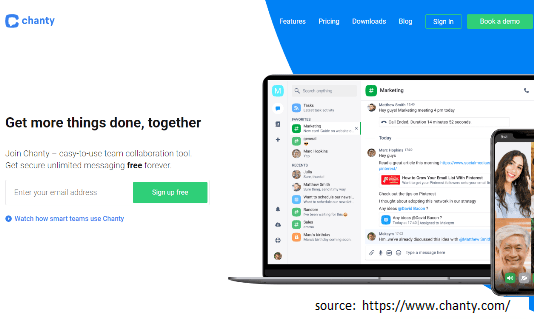 Chanty offers a central platform for instant messaging and team collaboration that's similar to Slack. However, it provides additional project management features. For example, team leaders can create and assign tasks to teams or individuals and manage teams using the Kanban board view.
Chanty lets you import your message history from other apps like Slack, HipChat, and Flock directly to the app. Unfortunately, its features may seem limited, especially if you've tried other project management tools in its class.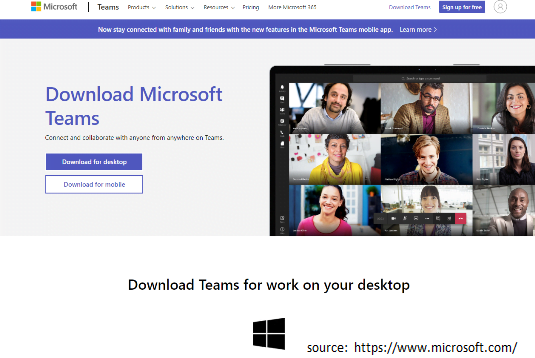 Compared to Skype, Microsoft Teams offers a wider range of collaboration features. Teams or individuals can use the app to stay organized, collaborate on notes and documents, access or share files in real-time, and instantly shift from group chat to video call.
Microsoft Teams integrates with Microsoft 365 to give you access to advanced collaboration features through other Microsoft apps.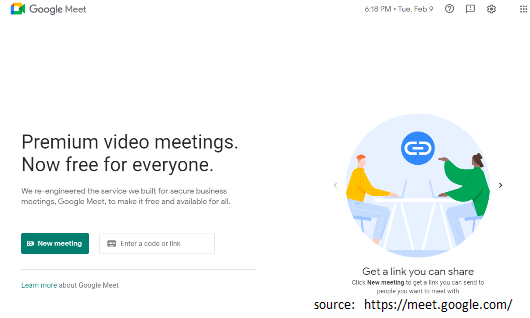 Google has become a household name in most areas of the digital platform. Google Meet is a rebrand of Google Hangouts that offers a more refined video conferencing software. The app offers features like screen sharing and group video calls and comes at no cost at all.
The Best File Sharing and Cloud Storage Tools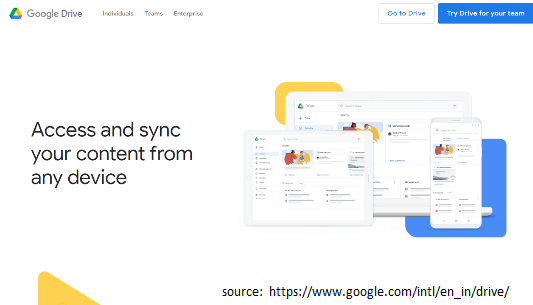 For individuals and businesses looking for an easier way to store and share files online, Google Drive is one of the best options out there. The software makes it easy to store, share, and collaborate on files across all devices. It integrates with remote work tools that you already use, like Microsoft Office, Slack, and DocuSign.
Google Drive is available for individuals, teams, and enterprises. The free plan offers 15 GB of free storage and is ideal for individuals who work mostly with documents. For more storage space, you'll have to upgrade to one of the paid plans.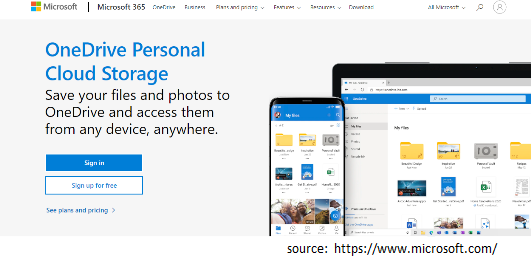 OneDrive is a direct competitor to Google Drive and works well with Microsoft suite of apps, including Skype and Microsoft Office. OneDrive lets you save everything from your documents to photos and videos and access them from any location. However, it offers less storage space of only 5 GB compared to Google Drive's 15 GB.
If you use a Windows computer, OneDrive comes preinstalled in the operating system. All you need to do is create an account and start using it. The app automatically uploads files and folders on your computer to the cloud and organizes them in neat folders for ease of access. If you want a more seamless experience, subscribe to one of the Microsoft 365 plans.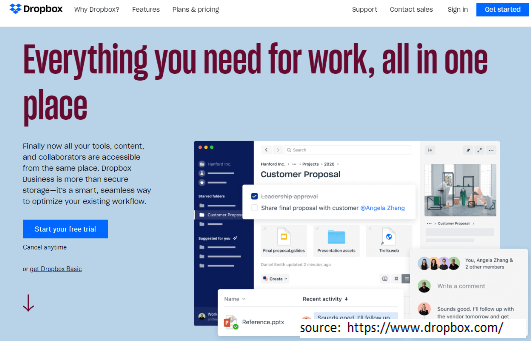 Dropbox offers cloud storage and file synchronization services for individuals and businesses. The software also centralizes everything you use to manage your teams into one platform for simplified team collaboration. While Dropbox offers some advanced features, it comes at a higher cost compared to OneDrive and Google Drive.
Other Remote Work Tools Worth Checking Out
There are dozens of tools that can help you stay organized and become more efficient while working from home. Some of the ones you should definitely check out include:
Grammarly – for writing and editing
Evernote – for note-taking
Giphy – a free gif collection tool
LastPass – password manager
Toggle – time tracker
RescueTime – time tracking tool
Noisli – background sounds to boost your focus
GitHub – for designers and developers
Fyle: for a seamless expense management process
Wrapping Up…
The shift to remote work can pose several challenges for individuals and teams. However, with the right remote collaboration tools, you can work more effectively and boost your performance and productivity.