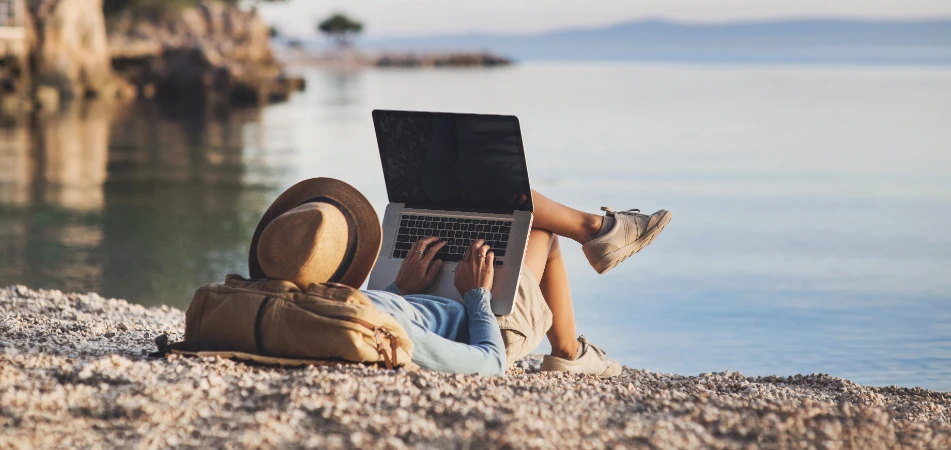 During the height of the pandemic in 2020, the Bureau of Labor Statistics reported that 31.3 million Americans either suffered a pay cut or lost their jobs.
Two years into the COVID-19 crisis, many businesses have returned to full-blown operations. Even so, some positions and roles may still take time to come back.
When U.S. workers were losing their job, the buzz around freelancing became even stronger. According to Upwork, there was an 8% increase in full-time freelancers in 2020.
The truth is that flexible work is not a new trend. Over the recent years, many have discovered the benefits of becoming their own boss and setting up an office anywhere.
So, if you're thinking of leaving your full-time job, this article is perfect for you. We're going to discuss how to become a freelancer in 2022 as well as what you need to do to get started.
What Is Freelancing?
Freelancing is a profession based on contracts and projects instead of full-time recruitment in an organization. Freelancers use their experience and skills to offer services to one or multiple clients.
In basic terms, you're not committing to a single employer. Instead, you're working with various clients and taking on different tasks. The number of projects you can accept depends on your capacity to meet deadlines.
Usually, freelancing involves taking gigs that let you work from home. However, not all freelancing projects are work-from-home jobs. For instance, those working at live events have to be at the venue to fulfill their role.
Here are some of the terms you may encounter once you start working as a freelancer:
Contract job – Instead of being a permanent employee, you're accepting temporary contract jobs.
Contract work – This is an alternative term for a contract job.
Independent contractor – This is another term used to refer to a freelancer. A contract with an individual or an organization specifies this person's work conditions.
Contract-to-hire – This role begins as a freelance position, but it eventually becomes a regular, full-time role if the person fulfills all the conditions.
Contract consultant – This is someone that a company hires temporarily for consultations on specific concerns.
7 Easy Steps on How to Become a Freelancer
Perhaps, you want to become a freelancer because you want an extra stream of income. Or, you might want to have better control over your time and earnings. Whatever your reason may be, these tips will help you get started in the world of freelancing.
First Step: Identify Your Specialization
If you want to become a successful freelancer, you need to specialize in a single field. Whether it's editing podcasts or bookkeeping, you need to narrow down an area that you're good at.
Payoneer's 2022 Global Freelancer report says that the fields with the highest demand are finance, programming, and marketing. They are also the highest-paying and fastest-growing specializations globally.
While these fields are in demand right now, they are not the most popular. The report adds that 22% of freelancers prefer graphic and web design while 10% feel more fulfilled with content writing.
Second Step: Determine Your Freelancing Skills
When you want to define your specialization, you need to ask yourself:
What are my interests and skills?
Can I make a living out of my interests and skills?
Do my interests and skills give me enough motivation to start a freelancing career?
So, the second step to starting your freelancing journey is picking the skills that can enable you to provide services. Perhaps, you're good at active listening, which can help you snag transcription projects. On the other hand, you might have a more complex skill like software development.
What's important is to determine what you're good at and check if that skill has considerable market demand.
Third Step: Become an Expert in Your Field
The gig economy is made up of competitive individuals who are on a constant journey of improvement. So, if you want to keep up, you need to brush up on your knowledge and enhance your skills.
Those who are planning to enter the freelancing field wonder if formal education is necessary to secure projects. Well, according to a 2020 Upwork report, freelancers value skills training over formal education. As you can see, once you get into the field, you'll quickly learn that your abilities and not your qualifications define your career success.
So, it's important that you expand your skill set and ensure that you have a history of accomplishments in your chosen specialization. Even so, remember that this principle does not apply to all clients and niches. In some cases, clients may require you to have formal certifications.
Don't worry if you don't hold formal certifications. There are plenty of online platforms that offer courses in various specializations. If you go to Udemy, Edx, or Skillshare, you can quickly find courses that offer certificates upon completion.
Fourth Step: Determine Your Rates
Once you've identified your area of expertise, the next step is to determine your rates. You need to maximize your potential pricing structure without deterring potential clients. So, during this phase, you need to conduct some competitive research. Check out what other people in your field are charging for the same services you offer.
According to a 2015 Payoneer survey, freelancers charge an average of $20.62 per hour. That rate goes up in certain specializations. For instance, if you provide legal services, you can expect at least $31 per hour.
In any case, remember that different factors determine how much a client is willing to pay. Your experience, the complexity of the project, the industry benchmark, and the client's geographic location are some of the things to consider.
Don't worry if you're not yet confident with your pricing structure. Eventually, you can change your rates as you get to know the scope of your responsibilities.
Fifth Step: Build a Freelancing Portfolio
Sometimes, no matter how well you market your skills, it's still not enough to secure a project. After all, clients need to see a portfolio that proves your proficiency in your field. So, when starting as a freelancer, don't forget to set one up.
One way to build your portfolio is by creating a website that will display your expertise and past projects. Another option is to use third-party platforms for hosting your portfolio.
If you're a photographer, Unsplash is a great site for you. If you are a graphic designer or any type of creative professional, you can create your online portfolio on Behance. It's also not uncommon for freelancing sites to have built-in sections for showcasing portfolio items.
Let's say you're planning to secure web design projects. In this case, you can create mockups on Renderforest and use them as samples.
Now, if you've worked with clients before and you want to use your previous creations for your portfolio, don't forget to ask for permission. You'd harm your integrity if you share a confidential project with other people.
Sixth Step: Determine How You'll Secure Projects
Anyone who has considered freelancing has wondered how to find clients and secure projects. If there's no demand for your specialization, becoming a full-time freelancer is not a good option for you.
Now, before you resign from your stable job, get to know how freelance professionals find clients. According to a Payoneer report, 71% of freelancers go through online marketplaces to secure projects or gigs. Meanwhile, others depend on traditional means like word of mouth, referrals, and social media.
These days, online freelancing platforms have enabled individuals to get their start as independent contractors. However, most people make the mistake of going on Freelancer.com or Upwork. Remember that once you get on these platforms, you're up against millions of freelancers from around the globe.
There are also bidding wars that make the competition even fiercer. Other freelancers will keep on lowering their rates just to secure projects. So, it's better for you to turn to Upwork alternatives that are newer and unsaturated.
Seventh Step: Advertise Your Freelancing Services
Because you're still a new freelancer, you haven't built an online reputation. It's important that you develop a work history and credibility that will encourage clients to hire you.
For some, creating an account on freelancing platforms and sending proposals to clients would suffice. However, if you want to go the extra mile, you should maximize all options for advertising your services.
For instance, you can publish your skills and specialization on Instagram. Many freelancers in the creative field have secured projects by posting their work on that social networking site. Meanwhile, you can also use LinkedIn to build your professional network. Most of the time, recruiters use this platform to find qualified remote workers.
What Are the Pros and Cons of Freelancing?
The same 2015 Payoneer survey revealed that 54% of freelancers are unsatisfied with their work and income. It goes to show that this career path is not for everyone. So, before you decide to embark on this journey, make sure you have weighed the pros and cons.
What Are the Advantages of Freelancing?
Choose Who You Work With
When you're tied to a company, you don't get to choose who you work with. However, if you're a freelancer, you have the freedom to select your clients. What's more, you can work with as many people as you like. According to a 2018 FlexJobs survey, 36% of freelancers can manage two to three clients at a time.
How Many Clients Can Freelancers Handle at a Time?
Source: Flexjobs
Control Your Schedule
Because you are not tied to a company, you get to choose what your freelancing schedule should look like. On some days, you can work on a passion project. Then, if you procrastinated on an assignment, you can pull an all-nighter to meet your deadlines.
You can even work on the weekends if you want to have some free time during the weekdays. Now, if you want to go to a café or take a random, leisurely walk, you're free to fit them into your schedule.
Have Better Chances of Earning More
According to a survey conducted by Freelancermap.com, 59% of freelancers say that they earn more than their colleagues who are tied to a company. So, the perception that independent contractors are strapped for cash is quite outdated.
If you've been hustling for some time, you will understand how the business works. As such, it will be easier for you to mark up your rates. Besides, you can avoid spending gas money because you don't have to drive to work every day.
What Are the Disadvantages of Freelancing?
Your Work Can be Inconsistent
One of the disadvantages of freelancing is the fact that finding consistent and stable work can be challenging. The same 2018 FlexJobs survey revealed that 65% of freelancers consider finding clients as the biggest challenge of their work.
Sometimes, you start a project, but then a few weeks or months later, your client will pause it. In other instances, you get to finish a project, but it can be challenging to secure a new one.
Filing Taxes Can be Challenging and Complicated
If you're working for a single company, your taxes will be straightforward. However, once you start freelancing, things will get more complicated.
For instance, if your client sends you deposits or checks, they may do so without deducting the taxes. So, you'll end up declaring everything in your income and including the amount in your tax due.
You Will Handle Everything
You're essentially running a business when you're doing freelance work. So, you will be responsible for marketing your services, finding clients, billing clients, and processing taxes.
If you want to make the entire process easier, you need to have the best tools for freelancers. For instance, if you're billing clients by the hour, you should have a time-tracking app like Traqq. All you need to do is click Start and the app will log your work hours.
At the end of the week or month, you can go to the dashboard to generate timesheets. What's more, you can export the report for easier invoice processing. You can even prove accountability because Traqq takes random screenshots of your desktop.
Be Prepared to Become a Freelancer
Remember that not everyone is built for freelancing. However, if you have the right tools, skills, and motivation, you just might make it in the industry. Once you've gotten a hang of the process, you can build a successful career out of freelancing.