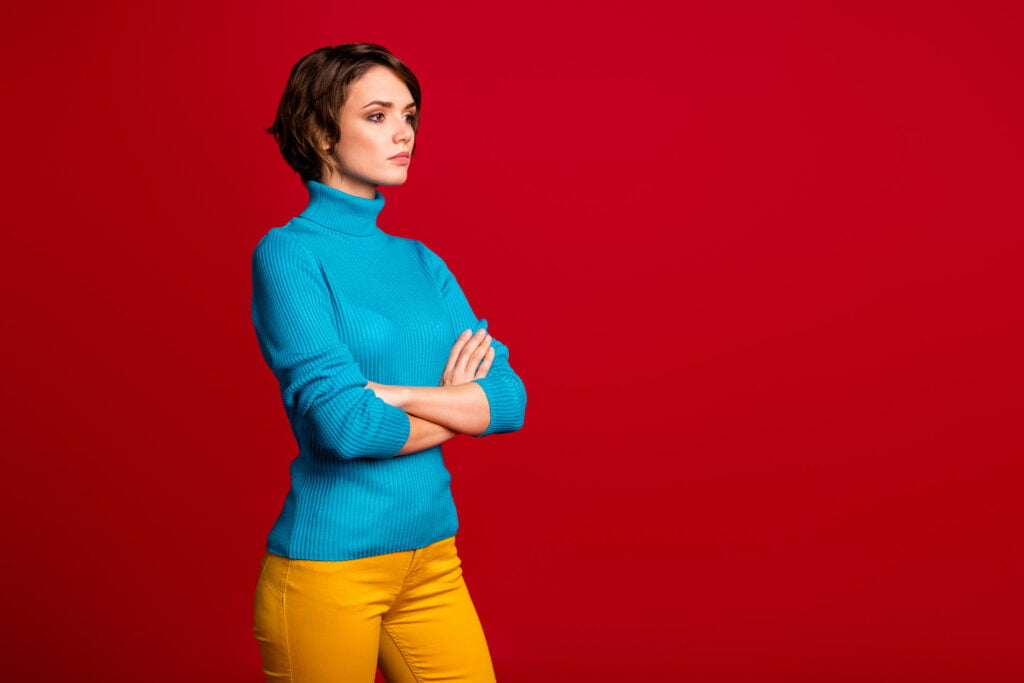 In today's competitive business environment, graphic design plays a big role in helping any company stand out. It is a crucial tool in ensuring that you communicate your brand efficiently and accurately. It is an art form that has a specific objective and purpose. Which is why at Traqq, we invest in quality remote talent who can produce awe-inspiring, aesthetically pleasing, and systematic graphic design materials. Working with skilled freelancers from around the world allows us to explore opportunities for creativity and even put our time tracking software to test.
Now, if you are looking for great graphic design talent or if you're searching for inspiration for your portfolio, then you've come to the right place. We've curated some of the best freelance graphic design portfolios we've found on the web.
Alex Coven
https://www.alexcoven.com/
A freelance graphic designer, typography expert, and front-end developer from Chicago, Alex Coven features simple yet succinct art work on his website. What's excellent about his design is he can effectively convey a message through the right images. For instance, he describes himself as someone who 'wears three hats.' He illustrates that by featuring an image of three hats that describe his three specializations—graphic design, web developing, and typefaces.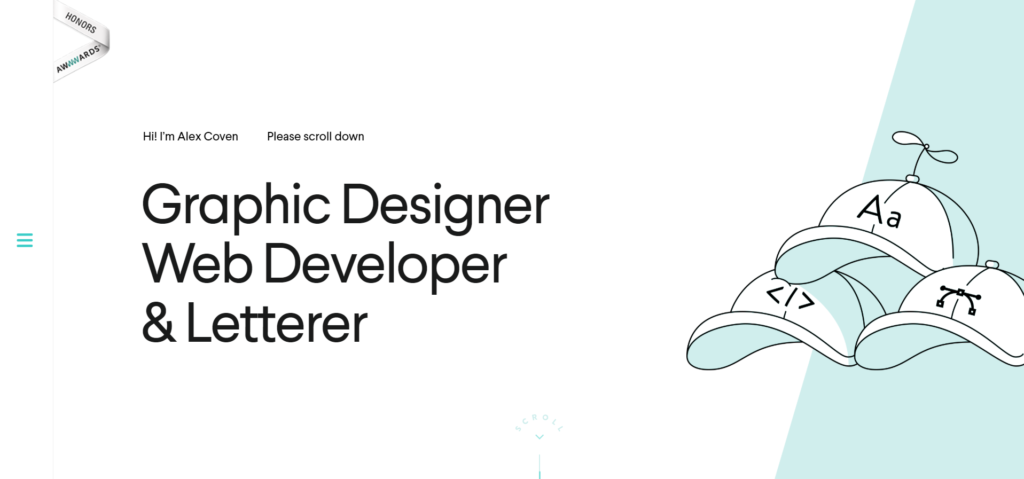 Jon & Leigh Hicks
https://hicksdesign.co.uk/
If you've used the Mozilla web browser or email client before, then you've encountered Jon Hicks' work. He is responsible for rendering the Thunderbird and Firefox logos. At the moment, he is operating Hicksdesign with Leigh Hicks. All the while, he works as Opera's desktop design lead. His website graphical design perfectly illustrates his artistic style. He has been accepting freelance design projects since 2010. Aside from Mozilla and Opera, his other notable clients include Spotify, MailChimp, and Skype.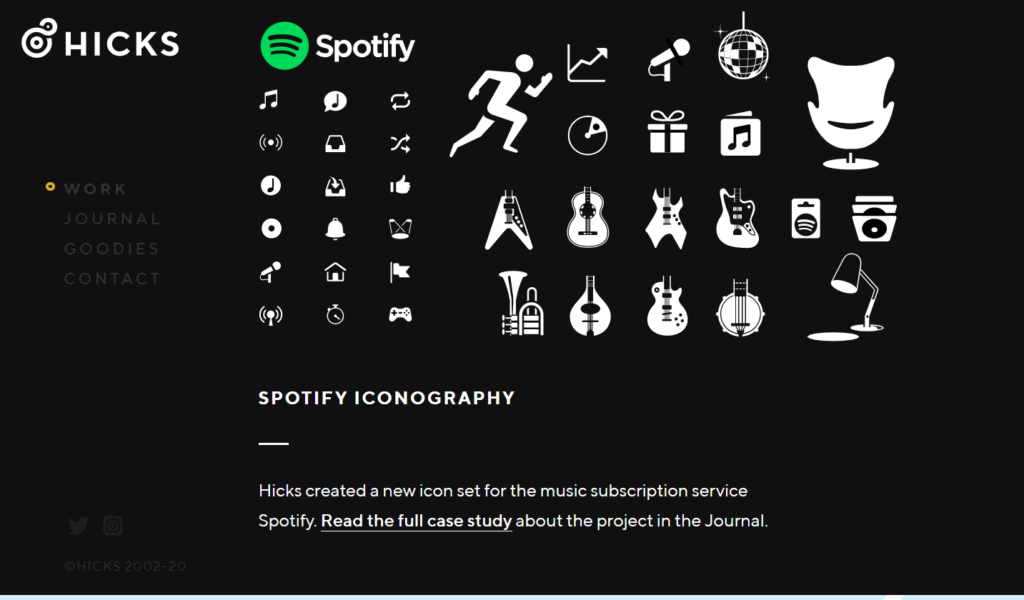 Rafael Kfouri
https://www.rafaelkfouri.com/
It can be difficult to find excellent graphic designers' websites that can wonderfully execute a one-page portfolio. However, Rafael Kfouri does this excellently by featuring an impactful collage of his previous works. The images take the screen's entire width, featuring a small area in the sidebars for the project description. Kfouri understands that his potential clients are naturally after the visual appeal of his work. As such, he lets the visitors take their time to view his comprehensive scope of work. Some of Kfouri's notable clients include Louis Vuitton, Adidas, Bauhaus, and Xbox.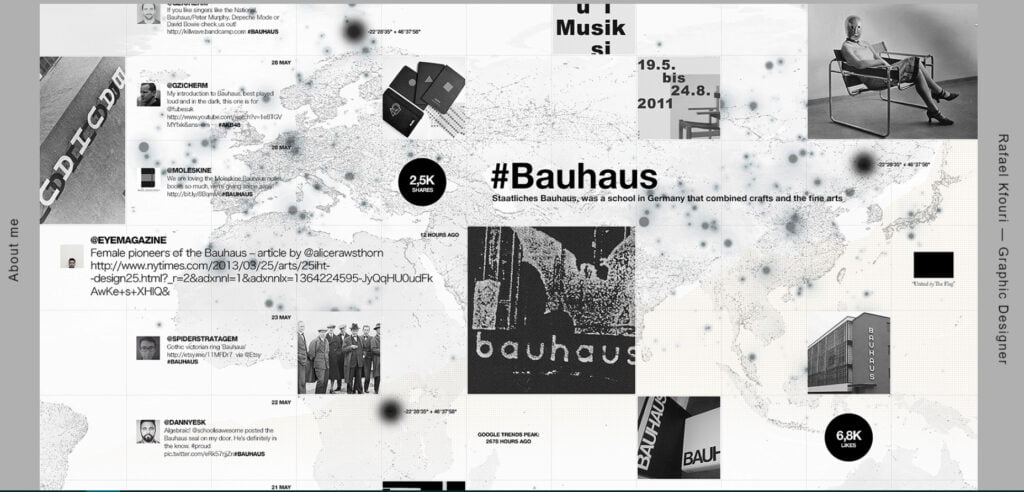 Flamy
http://fla.my/
These days, a lot of businesses look for freelancers who also function as a one-stop-shop for web design and development. Now, if you offer both services, you already have an edge over the competition. However, freelancers Kenneth and Chai brings their game a notch higher by presenting their complementary skill sets effectively on their site. Their graphic design website features how their coding and UX specializations come together to create a functional and aesthetically pleasing result.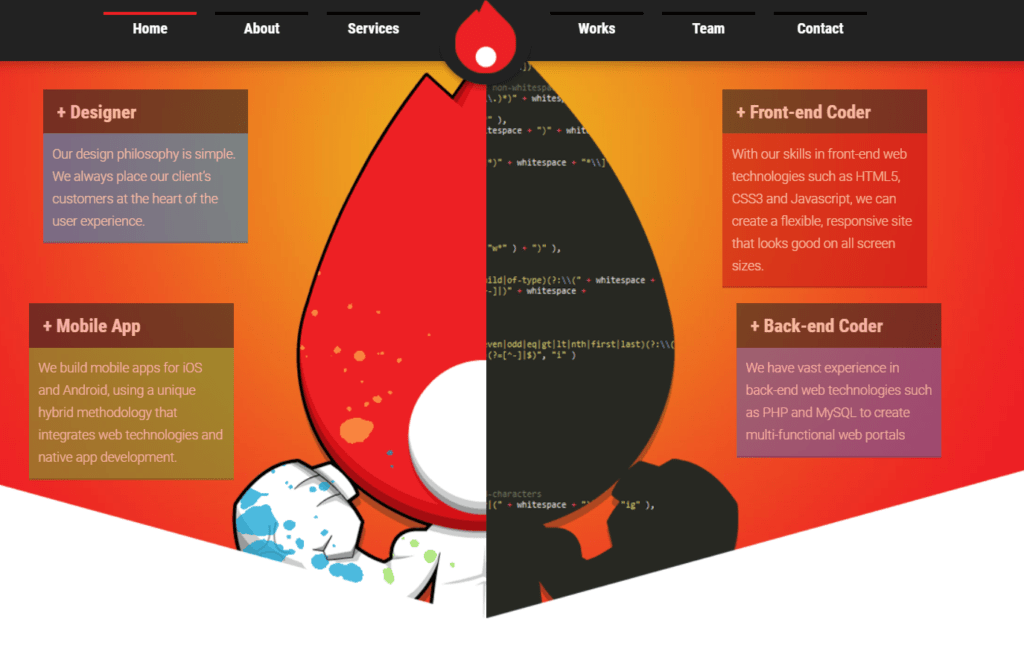 Stefanie Buckler
http://stefaniebrueckler.com/
Austrian illustrator and designer Stefanie Buckler specializes in editorial design and branding. Her passion for building strong and cohesive brands through practical yet aesthetically pleasing packaging and typography shines through on her graphic design website. There's a touch of timeless elegance to her website, which showcases how her artistic style can appeal to a wide range of audience. There's something enticingly attractive with the muted color palette and the grid-based, minimalist layout.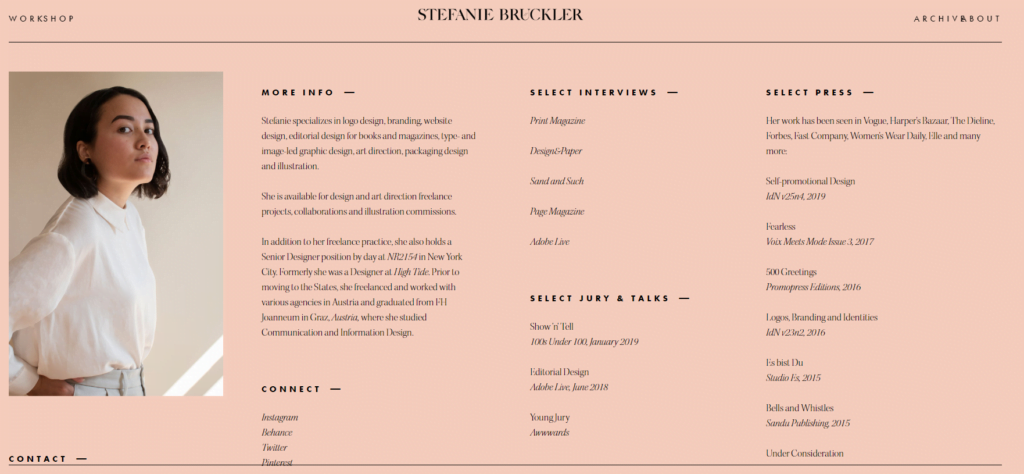 Peter Komierowski
http://peterkstudio.com/
Peter Komierowski is a Vancouver-based visual artist who specializes in interface design, illustration, and branding. What's great about his graphic designer website is it takes a bold approach. It utilizes negative space very well by featuring a small number of logos. The layout works brilliantly as it showcases the quality and strength of Komierowski's work. Some of his high-profile clients include the NBA, The Huffington Post, YouTube, and Telus, among many others.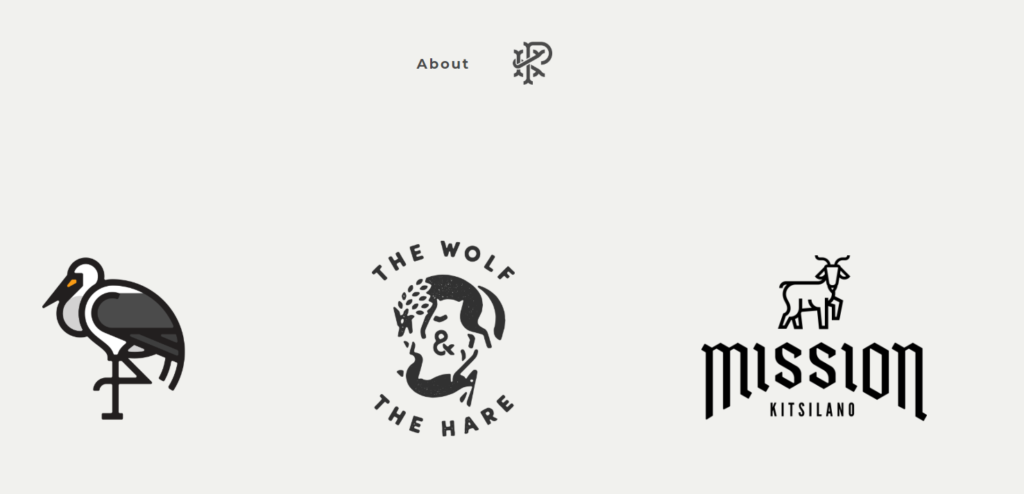 Edwin Tofslie
Edwin Tofslie is one of the founders of BUILT, a company that provides consultancy and design services. He takes a tailored approach, depending on the type of client he works with. His portfolio is one of the few graphic designer websites that wonderfully showcases an artist's varying work styles without making the layout look cluttered. Of course, this skill is evident in the long list of high-profile clients he has worked with. His portfolio includes big-brand names like Microsoft, Old Spice, Nike, Pepsi, and Google, among others. As of this writing, his old website is undergoing a revamp in anticipation of the domain's 20th anniversary. Nonetheless, we can expect something compelling and stunning from his new site design.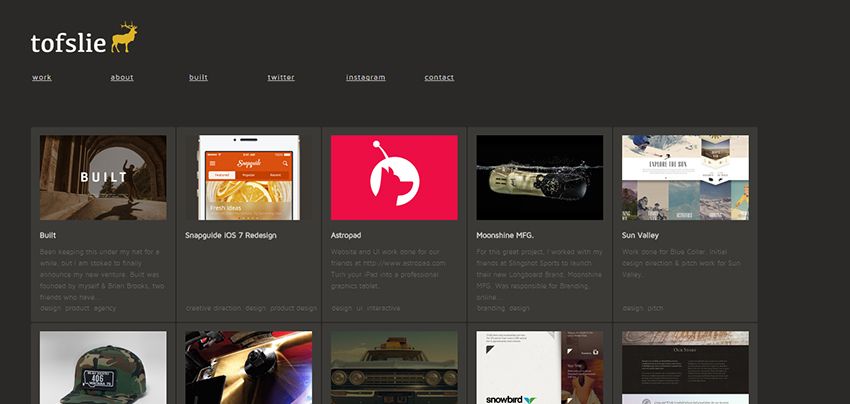 Grant Burke
Grant Burke used to be an in-house artist for agencies and big corporations, but now, he runs his own web design and branding studio. We all know that the best graphic design websites are image-heavy. However, Burke acknowledges the importance of text in optimizing his site. His site is the ideal illustration that you don't have to sacrifice visual aesthetics for content. His portfolio features a lot of text, but when you browse through the site you will see an incredible selection of his graphic design work. When you hover your mouse over a project, you'll be able to read its summarized case study. His site is the perfect model for sharing enough details about a graphic designer's work.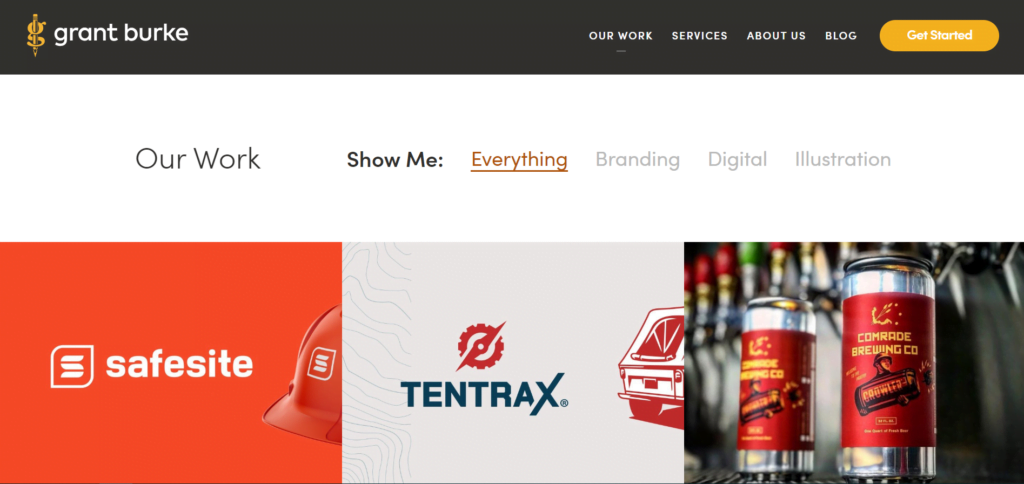 Alessandro Scarpellini
https://alessandroscarpellini.it/
When it comes to sophistication, Alessandro Scrapellini's portfolio is the freelance graphic designer website you should use as a reference. You won't be disappointed with this site because it showcases a clear sense of Scrapellini's creative personality. The website features a sleek yet compelling layout with samples of the artist's work contained in a slideshow. The site may not be comprehensive, but it will give you an idea of how to market yourself as a minimalist and elegant graphic designer.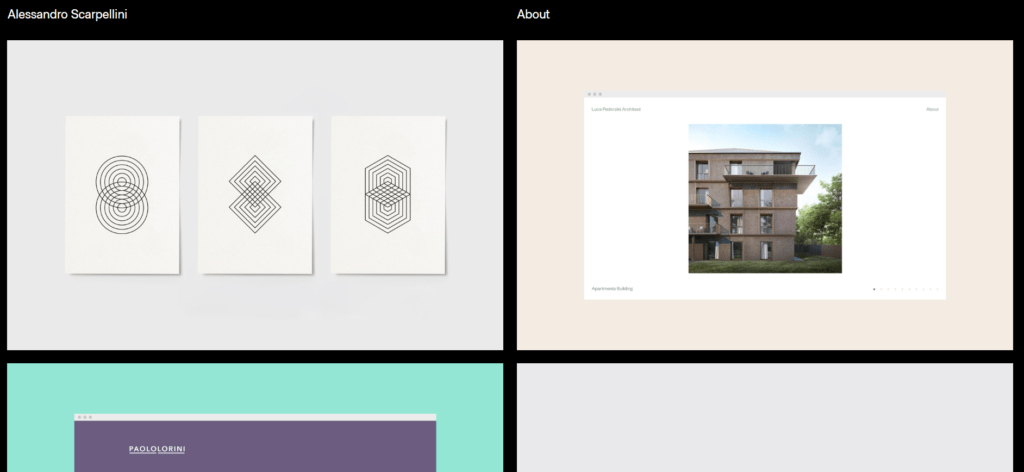 Tips on Creating Excellent Graphic Design Websites
Once you join the freelance graphic design realm, you will quickly discover that you are competing with a great number of artists around the world. Because information technology is rapidly growing, the demand for excellent websites and graphics is increasing. Now, if you want to stand out from the crowd, you need to ensure that you've got all the elements you need to grab the attention of potential clients. So, here are some tips you can follow in creating an excellent graphic design website.
Tip 1: Gather Your Best Works that Showcase Your Range of Skills
When it comes to quality and quantity, you should always choose the former. Go through your previous projects and choose the strongest ones. Try to focus on working your graphic design portfolio around those selected works. Ideally, your spread should include your most impressive and sharpest 10 to 20 designs. Remember that potential clients have to go through various portfolios. So, make the first few projects count.
Tip 2: Look for the Right Platform to Show Your Portfolio
In the long run, you will get your money's worth when you invest in a custom domain URL and a quality website. Having these for your portfolio is a perfect demonstration of your professionalism. With a website that you can call your own, you can customize your portfolio according to your business needs. You can design the pages and layout according to your taste and creative personality.
Tip 3: Showcase Your Personality
By looking at the list of graphic design portfolios we featured in this article, you'll know how important it is to showcase your personality in your website. If you try to copy someone's portfolio to a tee, then you won't be able to grab the attention of your potential clients. Remember that there's only 'one' you in this world, and that gives you enough edge against your competitors. It is alright to get inspiration from other designers, but you must still ensure that your website reflects who you are as an artist.
Tip 4: Include Side Projects
Every year, people flood car shows to witness the concept vehicles that big names in the auto industry will feature. These companies may or may not have plans to manufacture and release these concept cars, but they still showcase them anyway. Car manufacturers do this as a way to illustrate how they can push the boundaries of vehicle technology and design.
The same should be true with your portfolio. When it comes to client projects, your creative prowess is restrained according to the preferences of your customer. Now, when you show your side projects in your portfolio, it demonstrates your ability to juggle multiple things at once and your willingness to take an initiative. Include some work that illustrates your creative and experimental ideas. Who knows? You might find a client who is interested in exploring how far your imagination can go.
Bonus Tip: Maximize Your Productivity
Whether you're working with a remote graphic designer or you're a freelance web artist, you must admit that there are productivity challenges you will face. Now, you need a tool that will help you set your focus straight throughout the workday.
There are plenty of programs out there, but the time tracking software from Traqq gets the job done without complicating the process. It has a simplified stopwatch that you or your freelance graphic designer can use online and offline. What's more, it monitors the time a person spends on certain projects, activities, tasks, apps, and websites. This way, you'll identify areas where you can improve in terms of productivity. With the help of a task monitoring app, you can show potential graphic design clients that you can balance multiple projects at once.