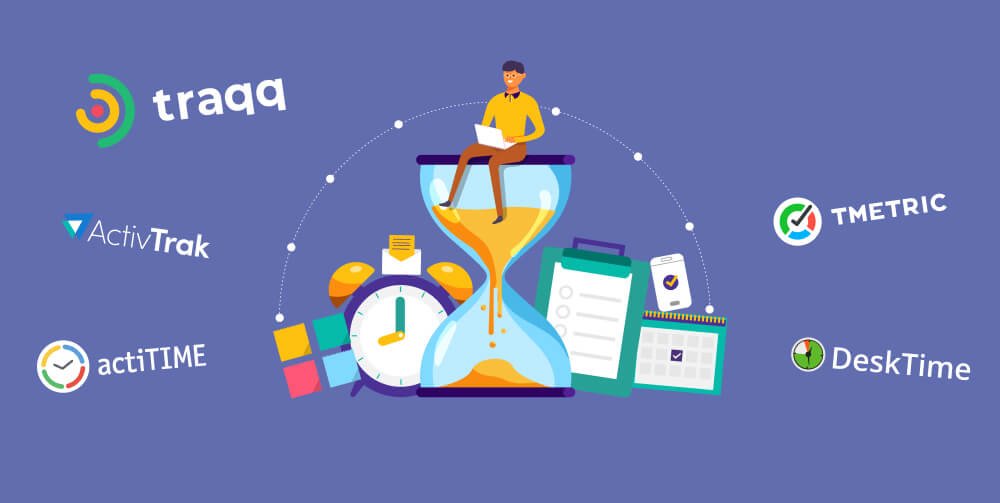 On average, an employee spends 2 hours and 53 minutes a day genuinely on productive work, according to the VoucherCloud survey.
Most people use billable time to check their social media accounts, read news websites, or chat with colleagues.
Naturally, there's always been some mistrust between managers and workers. So, to ensure accountability, many companies have turned to employee monitoring software.
In this post, we are going to share the top 10 employee monitoring software. We've chosen them based on their feature sets, overall intuitiveness, and functionality.
We've also included other workplace surveillance apps that may suit the needs of some companies.
First 10 Employee Monitoring Software
Traqq – This app is one of the few time trackers that takes screenshots yet promotes ethical employee monitoring.
Monitask – This employee monitoring software helps managers track and improve workflow.
Time Doctor – This program comes with tracking features that allow comprehensive activity analysis.
Workpuls – If you want an efficient tool for tracking project progress, this app is a great option.
ActivTrak – This tool comes with a stealth monitoring feature, allowing managers to get an accurate view of employee activities.
RescueTime – This worker monitoring app can block distracting programs and websites.
Clockify – This app's dashboard gives managers an overview of what employees are working on, allowing them to assign tasks efficiently.
DeskTime – This employee monitoring app comes with a built-in Pomodoro timer which ensures that users take breaks when needed.
TMetric – Aside from being a worker monitoring tool, this program also comes with features that help managers monitor expenses and project budgets.
Connecteam – Supervisors can organize and manage shift schedules with this monitoring program.
1. Traqq – Best employee monitoring software for ethical tracking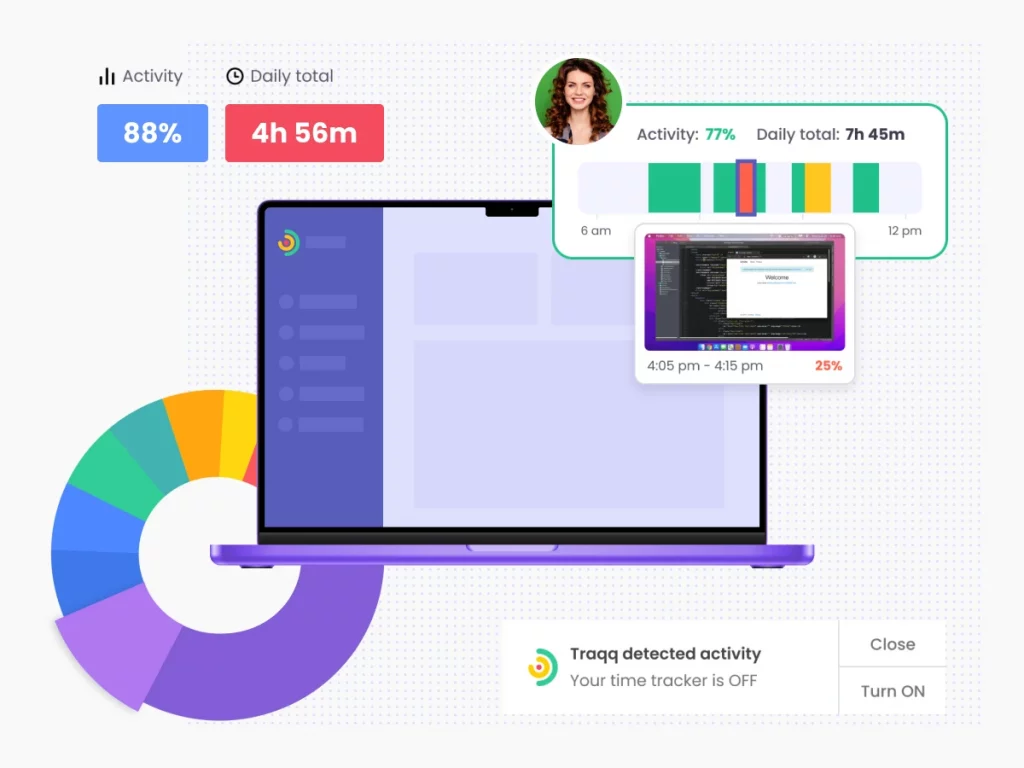 Any company aiming for success should focus on efficiency and productivity. However, managers must not forget about nurturing healthy company culture. Now, Traqq is the app that truly raises the bar in terms of employee monitoring ethics.
The app was not designed to spy on employees. Instead, it monitors performance markers without damaging worker morale.
Screenshots and Video Recordings Are Blurred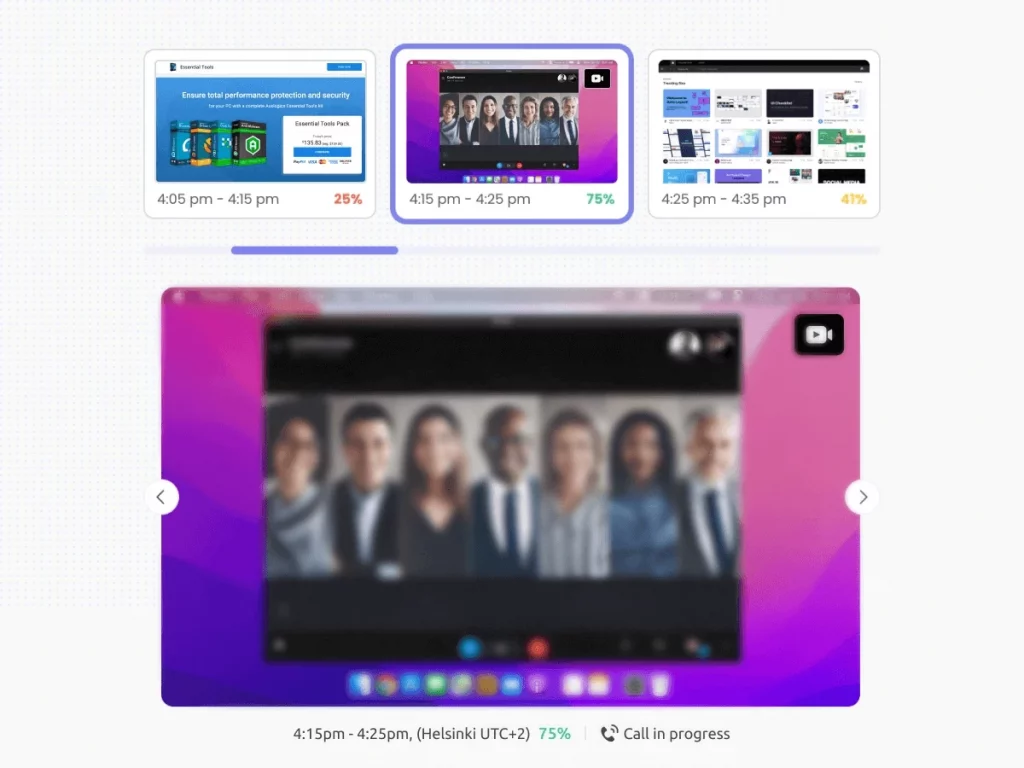 While Traqq takes ten-second video recordings and screenshots, it doesn't compromise employee privacy. The quality of the images is intentionally reduced to prevent sensitive details, like passwords and messages, from becoming legible.
Screenshots and Video Recordings Can Be Deleted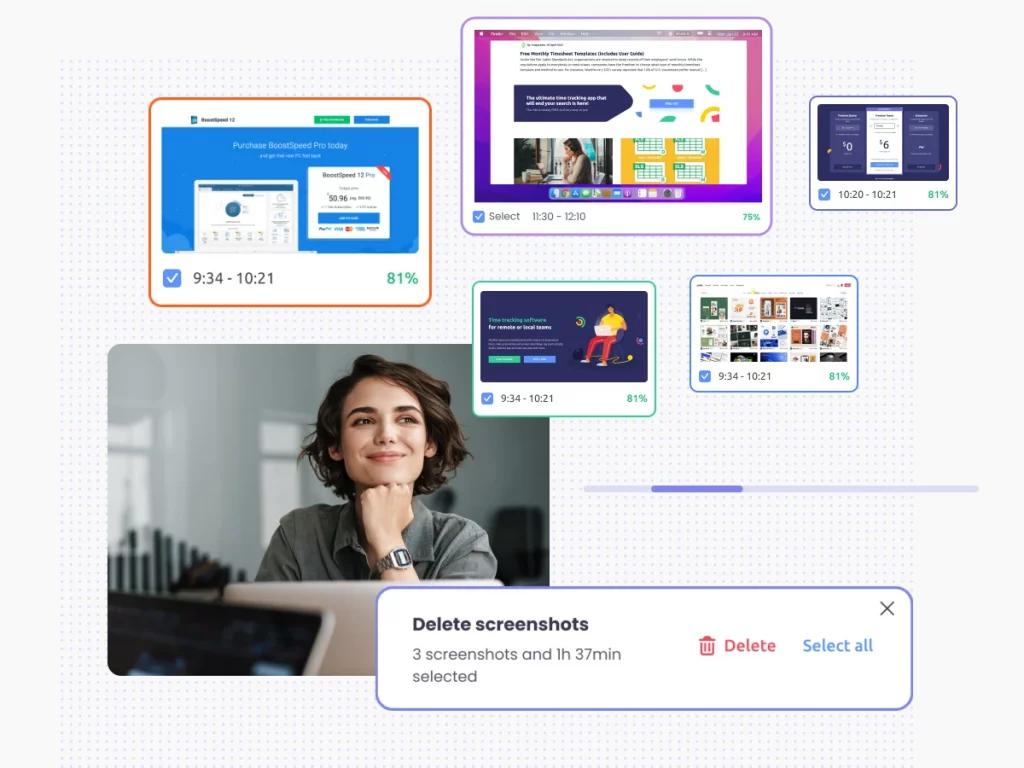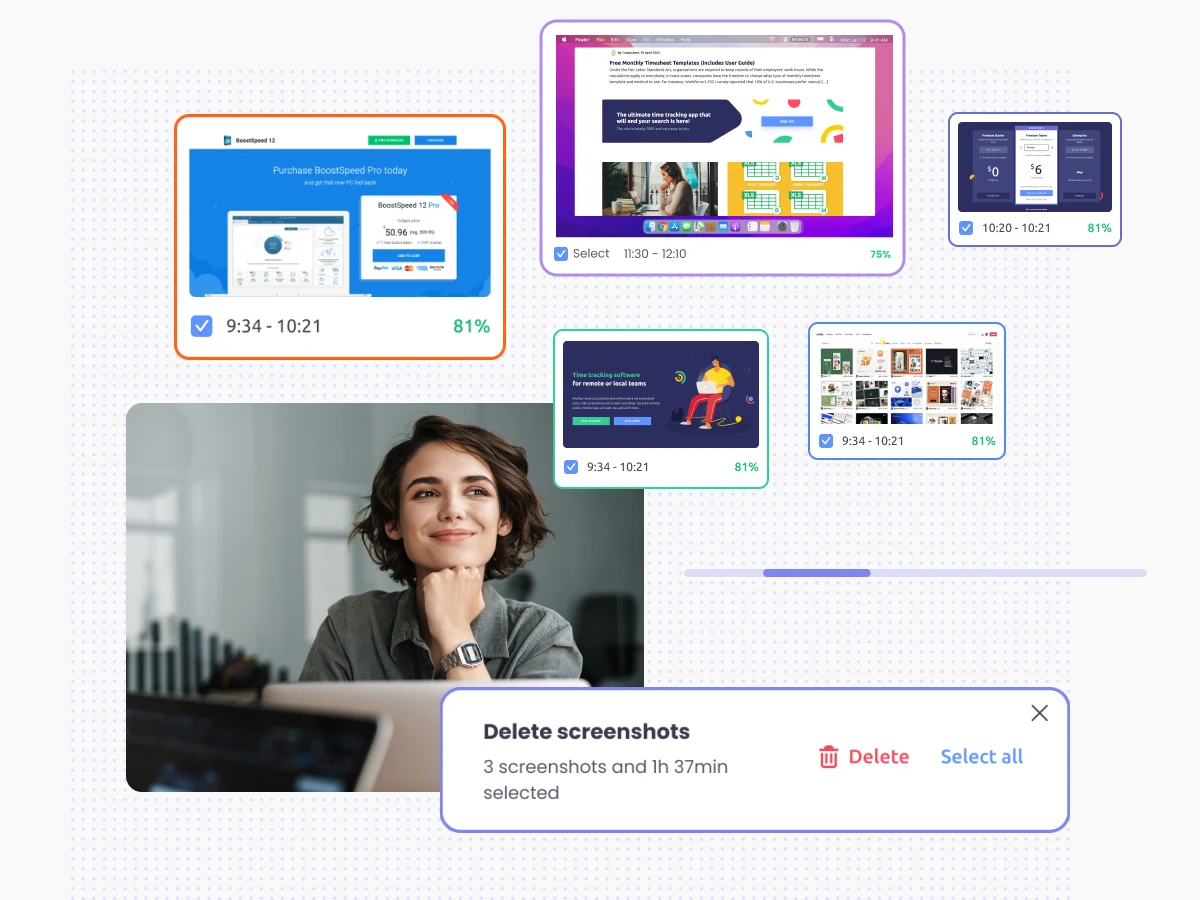 Traqq also remains an ethical employee monitoring app by giving users control over their data. They have the freedom to delete screenshots and video recordings anytime they want.
Monitoring Is up to the User
Users can also choose when their activities will be monitored and recorded. They can turn off Traqq if they wish to shop online or browse social media.
Platforms:
Notable Features:
Offline time tracking
Website and app monitoring
Comprehensive productivity reports
Random screenshots and video recordings
Pros:
Ethical employee monitoring features
Free for up to three users
Exportable timesheets and productivity reports
Military-grade encryption
Cons:
No mobile app
No support for integrations
Pricing:
Premium Starter – $0 for up to three seats (comes with all Premium features)
Premium Teams – $6 per seat, per month
Enterprise – Contact the sales team to get a customized plan for teams of over 100 people
What Users Have to Say:
Positive
"What I like most is the very detailed information activity reported in this app. I like that even during the idle time, the screens were captured which gives a reason why the user is idle and it blurs the screen of users to protect their privacy. I like the report feature as it is very convenient for the users to extract."

Negative
"I would guess that people that are not committed to the work will have a lot of problems, because Traqq keeps track of your browsing history and if you are doing something different that you are saying you will get caught. For honest hardworking employees, it is a win-win scenario…"

INFOGRAPHIC: Employee Time Tracking Statistics

2. Monitask – Best for tracking workflow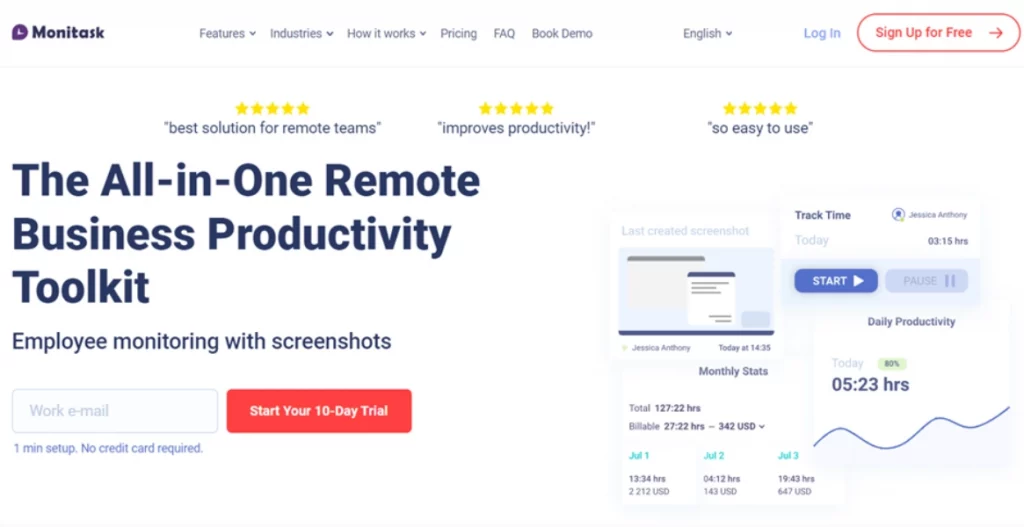 Aside from being an employee monitoring app, Monitask also functions as an automatic time mapping tool. Users don't have to manually enter time for projects.
What's more, Monitask comes with comprehensive reporting options. Managers can track project progress and identify activities that are eating up too much time. This way, they can streamline workflows and improve inefficient processes.
Platforms:
macOS
Windows
Chromebook
Web Browsers
Notable Features:
Screenshots at random intervals
Clock-in/clock-out system
App usage monitoring
Mouse and keyboard movement tracking
Project management features
Pros:
User-friendly and intuitive interface
Impressive customization options
Regular alerts and notifications
Cons:
Limited historical data for time tracking
No option for adding non-billable time
Lack of integration with project management platforms
Pricing:
Pro – $5.99 per month
Business – $8.99 per month
Enterprise – $19.99 per month
What Users Have to Say:
Positive
"It helps me gain the trust of my boss who is also checking my timeline. I would highly recommend this software to my colleagues who are looking for reliable employee timesheet monitoring."

Negative
"There is no mobile app for employees, those who work 'on-the-go' can't track their timing. Also, there is still room to improve in the reporting section."

3. Time Doctor – Best for analyzing employee activities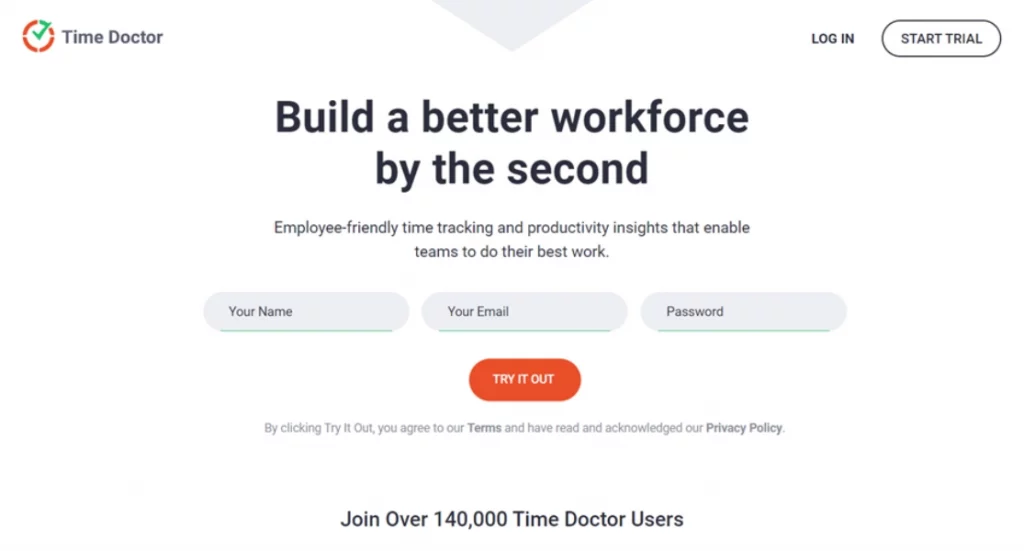 There are several reasons why some people consider Time Doctor to be one of the best employee monitoring software out there. Aside from online timesheets and payroll integration, this app also has an activity tracking feature. So, managers will know if their workers are spending time on YouTube, Facebook, and other non-productive sites.
The dashboard also contains data that will help you analyze employee performance and behavior. As a result, you can spot and curb activities that do not contribute to overall efficiency. Moreover, you can ensure that your team will complete projects on time.
Platforms:
macOS
Windows
Linux
iOS
Android
Web browsers
Notable Features:
Random and automated screenshots
App and website monitoring
Integration with payment platforms like Payoneer, Wise, and PayPal
Pros:
User-friendly and intuitive interface
Time tracking on mobile apps
Webcam snapshots and desktop screenshots
Cons:
Slow customer support response
Expensive pricing plans
Distracting alerts
Pricing:
Basic – $7 per user, per month
Standard – $10 per user, per month
Premium – $20 per user, per month
What Users Have to Say:
Positive
"Super easy to use and it gives me the insight I need from my team members' performance and their productivity. Also, the attendance report is great and it has the option to download the reports in PDF or CSV format, which works perfectly for me."

Negative
"The only con that I observed as a user is the 'display of activity bar'. It stays on top and sometimes becomes quite irritating. There's an option to hide it but the chances are that sometimes you forget to turn Time Doctor on. Likewise, the breaktime monitor is a bit irritating."

4. Workpuls – Best for monitoring task progress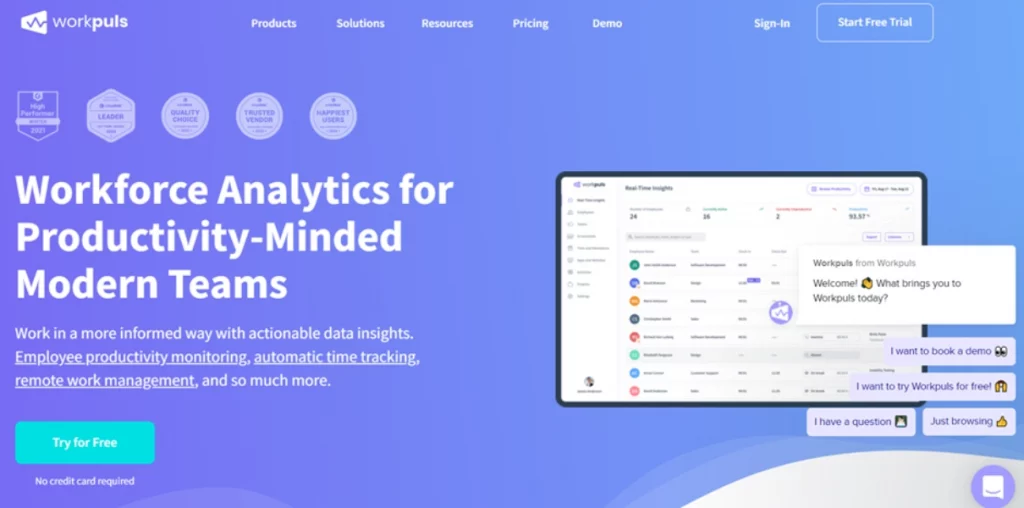 If you want employee computer monitoring software that gives you a detailed analysis of your team's activities, consider using Workpuls. As a result, managers can efficiently schedule tasks. What's more, it takes random screenshots to give supervisors an idea of what an employee is doing at a given moment.
Workers don't have to deal with manual time tracking because Workpuls also performs automatic time mapping. If you need extended functionality, you can add productivity apps via Rest API integration.
Platforms:
Windows
macOS
Web Browsers
Notable Features:
Time mapping function
Rest API integration
Random screenshots
Pros:
Customizable time tracking and monitoring features
Website/app tagging for easier identification of non-productive activities
Data dispute management
Cons:
Limited reporting details sent via email
Inefficient macOS version
Pricing:
Employee Monitoring – $6.40 per user, per month
Time Tracking – $8 per user, per month
Enterprise – contact the sales team for custom pricing
What Users Have to Say:
Positive
"Workpuls is one of the best software I have used to increase productivity. Workpuls sends a random screenshot every 5 minutes, along with capturing the use of mice and keyboards that will directly show the productivity of the employee."

Negative
"The Clock In time does not get updated immediately with the system time. There is a lag and it takes about 24 hours to update to the workstation time zone."

5. ActivTrak – Best for stealth monitoring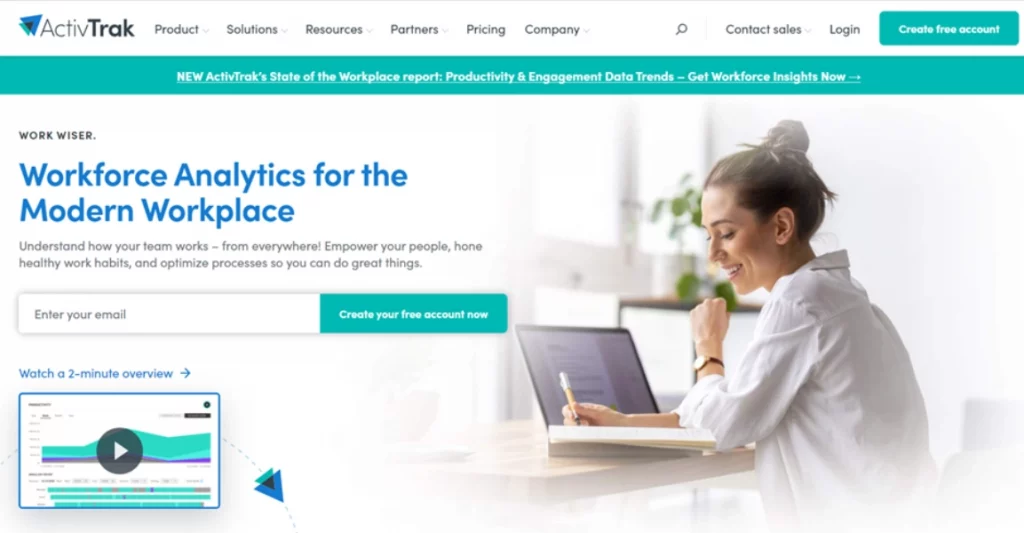 ActivTrak is an employee monitoring app with features that allow managers to analyze worker performance. They can also configure the app to let it operate in stealth mode before deploying it. With this, workers won't know that they're being monitored, allowing managers to get an accurate view of their performance.
You can even customize ActivTrak and set triggers that will prevent users from accessing certain applications, websites, and files. As such, employees can focus on their tasks. Moreover, you can prevent viruses from infiltrating your network.
Platforms:
macOS
Windows
Android
iOS
Notable Features:
Notifications for suspicious activities
Remote termination of applications
App and website monitoring
Pros:
Detailed reporting data
User-friendly interface
Real-time productivity monitoring
Cons:
Not ideal for a single user
Slow dashboard and report loading
Memory-hogging app
Pricing:
Free – $0 for up to three users
Advanced – $9 per user, per month
Premium – $15 per user, per month
Enterprise – contact the sales team for custom pricing
What Users Have to Say:
Positive
"ActivTrak gave us further insight as to what our staff really does throughout the day, applications they run, and aided with compliance."

Negative
"I really hate the annual auto-renewal. Nobody likes to be surprised by an invoice before they are able to evaluate their licensing situation."

6. RescueTime – Best for blocking distractions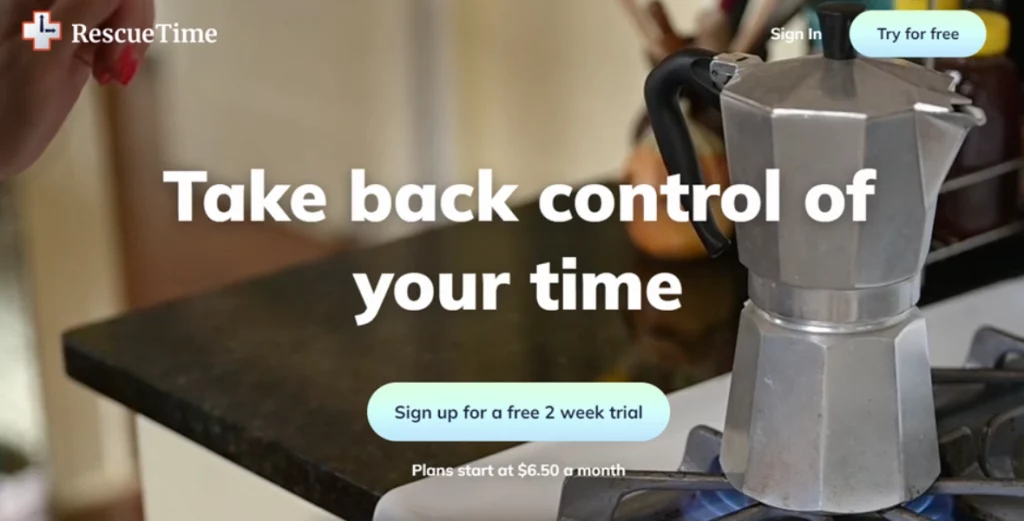 RescueTime keeps employees focused on completing tasks by blocking distracting websites and apps. Managers can access the recorded productivity data of individuals and entire teams. They can also filter reports based on the time spent on a specific website, task, and application.
What's more, managers can configure alerts to ensure employees get back on track. This feature can be useful when people spend time on certain applications or websites longer than necessary. The app will provide a detailed analysis of daily activities and weekly productivity.
Platforms:
macOS
Windows
Linux
Android
Web browsers
Notable Features:
Customizable notifications and alerts
Productivity reports based on activities
Historical trend reports
Pros:
Website/app blocking
Self-gamification for encouraging productivity
Desktop, web, and mobile app synchronization
Cons:
Expensive paid plans
Complex navigation features
No option for assigning tasks
Pricing:
Lite – Free for one user
Team plan – $6 per user, per month
Premium plan – $9 per month (billed annually)
What Users Have to Say:
Positive
"RescueTime is a great tool when it comes to keeping track of your precious time online. It monitors each and every website you visit and the apps you use."

Negative
"The information architecture and content on the dashboard page is the biggest problem, a simple redesign could do miracles."

7. Clockify – Best for Task Management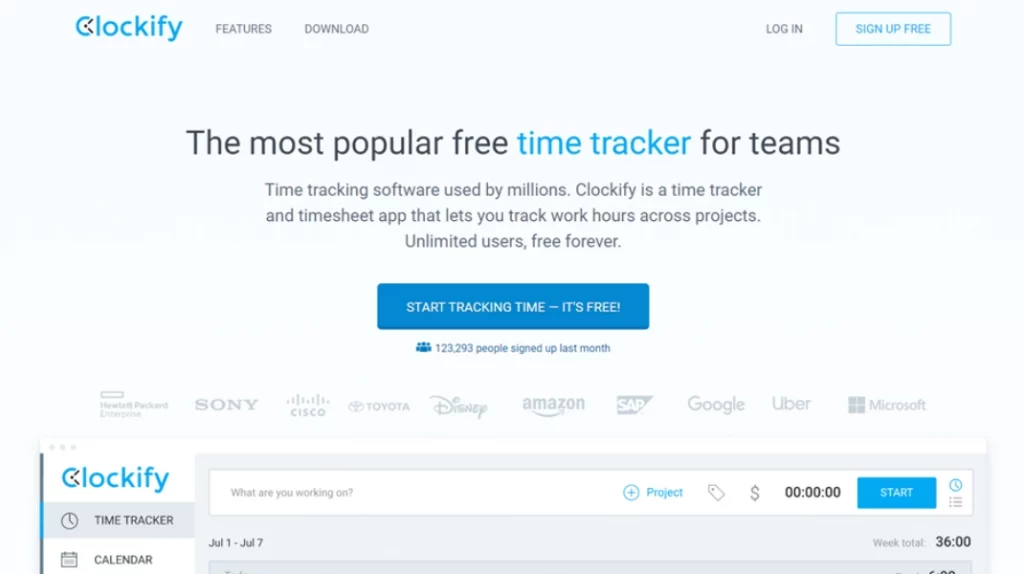 Clockify is one of the best employee monitoring software for ensuring productivity. Its user-friendly dashboard allows managers to determine what people are working on. What's more, they can monitor project progress to keep everybody on track.
Clockify also has a calendar feature that lets managers schedule activities and tasks. Now, with the monitoring option, they can compare their employee's activities to what they were scheduled to do. This way, workers will stay on track with business goals.
Platforms:
macOS
Windows
Linux
Chromebook
iOS
Android
Web browsers
Notable Features:
Detailed activity and project reports
Multiple browser support
Weekly summary reports
Pricing:
Free plan – Unlimited users
Basic plan – $4.99 per user, per month
Standard plan – $6.99 per user, per month
Pro plan – $9.99 per user, per month
Enterprise plan – $14.99 per user, per month
Pros:
GPS monitoring for mobile employees
Cloud-based app that allows access from anywhere
Multiple pricing plans
Calendar feature for visually tracking time and locations
Cons:
Lack of attendance management features
No scheduling options
What Users Have to Say:
Positive
"Thanks to so many filtering and grouping options, you can track and monitor how you spend your time, in different aspects. You can have time reports by different sorting options such as projects, tags, clients, tasks or names, etc. Besides, you can monitor 3 categories in one screen."

Negative
"The mobile app wasn't always synchronized with the web app. An option to add users that cannot edit time tracking is missing (at least in the free plan) – we use it to track working hours for a client and want to collaborate with them. Location-based tracking would be appreciated."

8. DeskTime – Best for keeping a balance between work and rest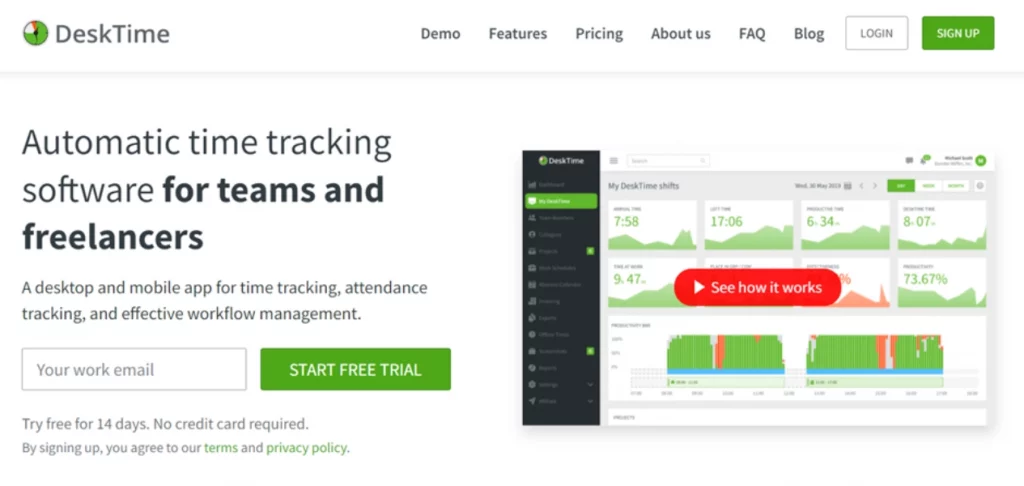 DeskTime functions as employee computer monitoring software while keeping teams on track with their project budgets. Moreover, managers can use it to ensure that workers are working and taking their necessary breaks.
The app monitors desktop activities to optimize efficiency. Meanwhile, its built-in Pomodoro timer ensures that employees rest at regular intervals. With the Leave Calendar feature, workforce scheduling will be done efficiently. Everyone can also view the calendar, allowing managers and workers to coordinate vacation days.
Platforms:
Windows
macOS
Linux
Android
iOS
Web Browsers
Notable Features:
Configurable screenshots
Private time feature that allows employees to do non-work-related activities
Leave Calendar feature for coordinating time-offs
Pros:
Customizable reports
Highly reliable customer support
Built-in Pomodoro timer
Cons:
Complex and confusing charts
Limited data export options
Pricing:
Free – $0 for one user
Pro – $7 per user, per month
Premium – $10 per user, per month
Enterprise – $20 per user, per month
What Users Have to Say:
Positive
"Available screenshots every 15 minutes. Ability to enter manual entries especially when the app fails to connect. Reports for the most productive and least productive."

Negative
"Desktime is used to monitor our remote workers but we know the system can be cheated. We definitely think this program should have an alert system when the same screenshot has been up for 45 minutes."

9. TMetric – Best for monitoring expenses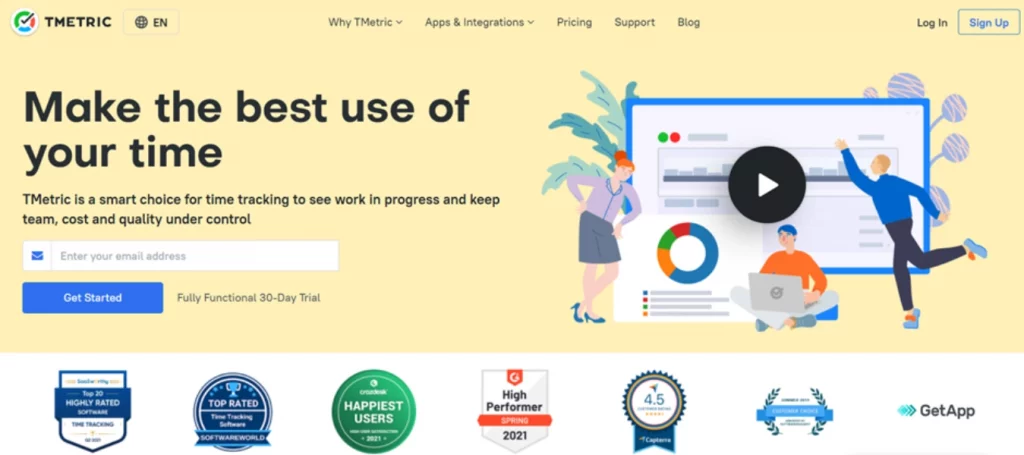 While TMetric primarily lets you track your team's billable time, it also helps you monitor business expenses per project and/or account. You'll also see how much you're charging per client and how much income you're earning per project.
At the same time, TMetric provides you with comprehensive productivity monitoring data. This way, you can ensure that you're paying your workers accurately. Even freelancers and contractors can benefit from this feature because they can access detailed reports of their billable time.
Platforms:
macOS
Windows
Linux
iOS
Android
Web browsers
Notable Features:
Simple time tracking for easy client invoicing
Budget, expenses, and client rate monitoring
Customizable productivity reports
Pros:
Integration with over 50 third-party apps
Offline time tracking
Highly intuitive user interface
Cons:
Random updates
Frequent app crashes
Pricing:
Free – $0 for up to five users
Professional – $5 per user, per month
Business – $7 per user, per month
What Users Have to Say:
Positive
"Also supports tracking time in applications for billing and reporting. This is more automated and allows for fine-grained monitoring if that is needed in your business."

Negative
"It often crashes, breaks or bugs out, leaving myself and my team unable to track our hours in the software. It only breaks every three weeks or so, but I suppose I did expect it to work ALL the time."

10. Connecteam – Best for shift and GPS tracking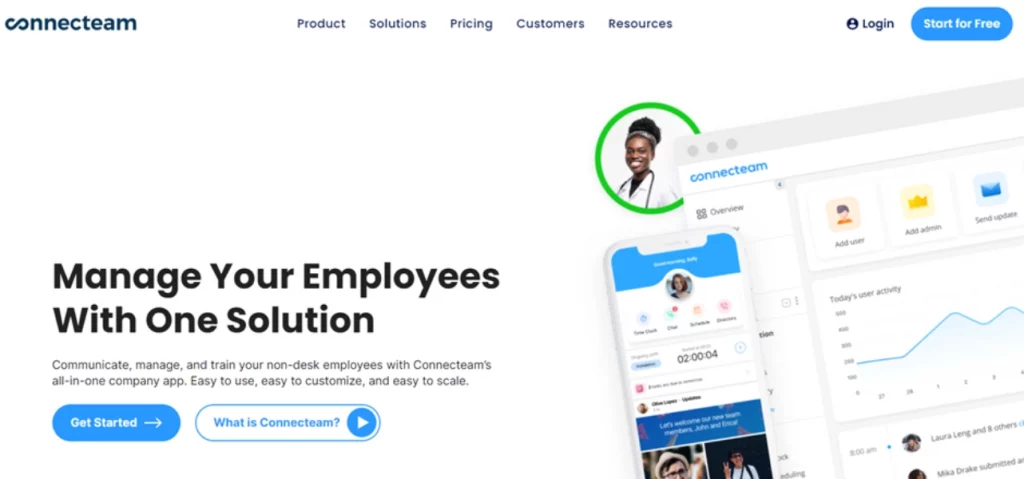 Connecteam comes with a collection of employee monitoring features, including attendance management and time tracking. The app allows you to organize and review shift schedules. This way, you can ensure that there are enough hands working on your crucial projects. You can even use the app to send your employees newsletters, announcements, and updates.
If you want to keep track of people working off-site, Connecteam is a great employee monitoring software. It has a mobile app that allows field managers to check completion rates and even share important files with team members and shareholders.
Platforms:
macOS
Windows
iOS
Android
Notable Features:
Shift scheduling
Online forms and checklists
Task management tools
Customizable training courses
Pros:
Training and certification tracking
Customizable online survey forms
User-friendly interface
Cons:
Limited reporting features
Lack of automatic scheduling
Limited customer support channels
Pricing:
Free – $0 for up to 50 users
Basic – $39 per month
Advanced – $79 per month
Expert – $159 per month
What Users Have to Say:
Positive
"Only add the functions you want. Not encumbered by bloatware or features we will never use. – EXTREMELY intuitive. Once you create an account, do the 5-minute walkthrough and you feel confident enough to manage your company."

Negative
"What I like the least about this software is that some things are found in very weird locations (Why is Geo-Fencing in time clocks and not in settings under job scheduling?). I also wish there were training videos for employees."

Employee Monitoring Software Apps
| | | | |
| --- | --- | --- | --- |
| Time Tracker | *Overall Rating | Free Users | Upgrade Cost |
| Traqq | 5 | 3 (with access to all Premium features) | $6 per user, per month |
| Monitask | 4.8 | None | $5.99 per month |
| Time Doctor | 4.5 | None | $7 per user, per month |
| Workpuls | 4.8 | None | $6.40 per user, per month |
| ActivTrak | 4.6 | 3 | $9 per user, per month |
| RescueTime | 4.6 | 1 | $6 per user, per month |
| Clockify | 4.7 | Unlimited | $4.99 per user, per month |
| DeskTime | 4.5 | 1 | $7 per user, per month |
| TMetric | 4.5 | 5 | $5 per user per month |
| Connecteam | 4.8 | 50 | $39 per month |
*Overall ratings were taken from Capterra.
Other Notable Employee Monitoring Apps:
VeriClock – This employee monitoring software allows workers to clock in and out via a web browser, smartphone, or even an SMS.
BambooHR – This cloud-based employee monitoring app lets managers onboard new hires, track billable time, and run payroll.
Deputy – This tool is an integrated task, time, and schedule management app that helps managers streamline workflows.
Pivotal Tracker – This employee computer monitoring software also serves as a visual guide for tracking a project's progress.
Hubstaff – This app monitors productivity while managing timesheets, billing, and payroll.
SentryPC – As an employee monitoring app, this tool blocks access to distracting websites while logging keystrokes.
InterGuard – Designed to monitor productivity for remote teams, this program works on Windows, macOS, iOS, and Android.
Work Examiner – What's great about this employee computer monitoring software is that users can use it after paying a one-time fee.
Controlio – This cloud-based program monitors and records activities on an employee's computer.
FlexiServer – This employee monitoring software tracks application usage, attendance, and even sick leave.
What to Consider When Choosing a Workplace Monitoring App
Employee monitoring tools should foster the growth of a company. However, not all apps can help an enterprise achieve its goals. You need to choose the right one that fits your needs. In general, these are the qualities you should watch out for when choosing a workplace monitoring program:
User-friendly interface – Employee monitoring should improve workflow, not make it more complicated. So, the app you choose must have an intuitive interface that makes time tracking simple.
Screenshots – To get an idea of what a person is working on, you need an app that will take random screenshots. It's even better if the employee monitoring tool can take video recordings of a user's desktop.
App and URL tracking – The program should also be able to log the apps that employees use and the websites they visit. This way, you can identify common time wasters and improve workflow.
Performance analytics – How do you ensure that your employees are productive throughout the day? Well, a monitoring tool should track activities and provide managers with comprehensive performance analytics.
Comprehensive reports – These days, you cannot measure productivity through a single metric. So, your monitoring app should cover various reports, including billable time, app and URL usage, idle time, and others.
Employee Monitoring FAQs
Q: What is employee monitoring in the workplace?
Because of the pandemic, many companies were forced to operate remotely. As such, there has been a growing demand for digital tools that will allow enterprises to monitor employee performance, billable time, and work in progress. Usually, the tracking method used by a company depends on its operational needs.
Q: Is employee monitoring software legal?
In general, companies won't be penalized for using employee monitoring software. However, there are still certain legal considerations when tracking worker activity. For instance, the Fourth Amendment prohibits employers from unreasonably confiscating and searching an employee's personal items. Moreover, the Data Protection Act of 1998 requires U.K. companies to protect their workers' sensitive and personal information.
Q: What does employee monitoring software do?
Employee monitoring software can automatically track the websites visited by employees along with the apps they use. This tool can also record billable time while logging how active a user is based on their keyboard movements and mouse clicks.
Q: How do you track employee activities?
The best way to track your team's activities is by using a reliable employee monitoring tool like Traqq. This app records the top ten websites and apps that a worker uses during office hours. What's more, it monitors activity levels based on mouse clicks and keyboard movements. All the while, it promotes ethical time tracking. The screenshots it takes are intentionally blurred to protect employee privacy.