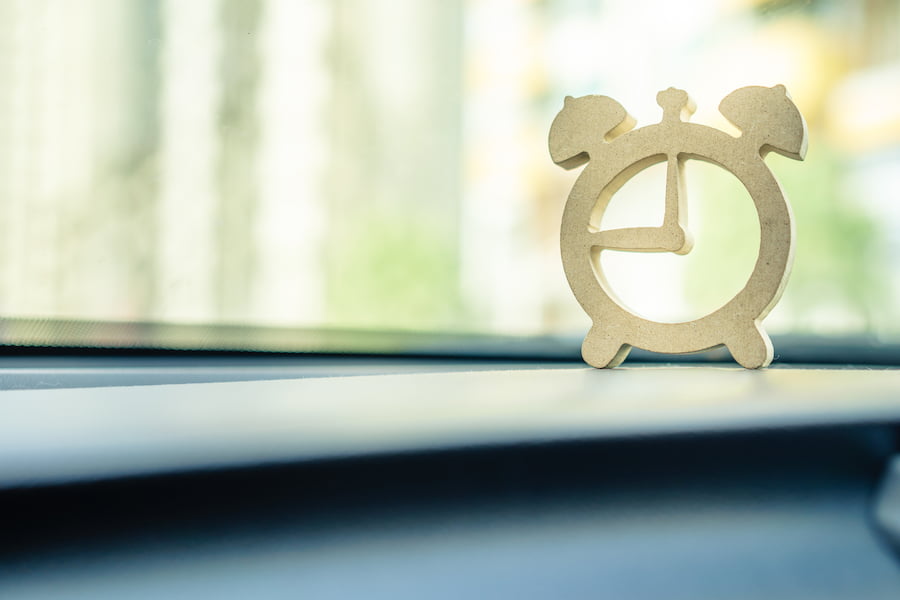 If you pay your employees by the hour, it's crucial to know much time they take to complete a project. Keeping a work hour log makes it easier to measure productivity and profits, as well as, help you stay organized. Tracking your team's time is also essential for accurate payroll processing.
For salaried workers, the process simply requires one to clock in at the beginning of their shifts and clock out at the end. Other jobs are more complex, especially if employees are working on different projects for different clients throughout the day. To efficiently record time spent on a project, you need a reliable employee monitoring software like Traqq.
Even if you don't follow strict clock-in and clock-out times, keeping track of how much time employees spent working can be useful when tracking your success. With such information, you can unearth weaknesses in your team and find ways to improve their performance and time management.
What Is a Working Hours Log?
For any organization to run efficiently, there must be a system to track employee attendance and performance. A working hours log is a work-time tracking system that records your employees' attendance and helps you track their efficiency and productivity.
Also known as a work hour log or timesheet, such a system records when your employees clock in, take a lunch break and clock out. In other words, it helps you know how your staff spend their time while at work.
Even if you don't bill by the hour, you still need an app for logging hours. This way, you can effortlessly record work hours on all your projects and generate detailed time reports to show your clients.
As a business owner or freelancer, Traqq lets you share time reports with clients to ensure transparency and accurate billing.
For the employee, the tool helps you identify time wasters so you can make smarter decisions about how you use your time.
Why Keep a Working Hours Log?
Employers implement work log apps for several reasons. You want to know if workers are doing what they are supposed to do without supervision. You'll also be able to figure out how much time and resources go into tasks every day.
Here are some of the ways your business benefits from using a work logger app like Traqq:
Calculate Billable Hours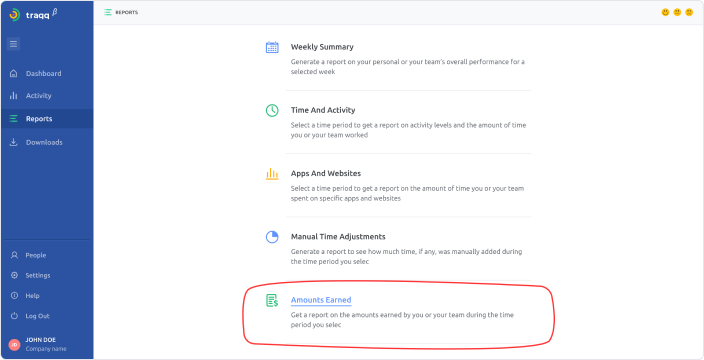 Billable hours are the total number of hours charged to a client. Before starting a project, a client must agree to a set rate for each hour. After the project's completion, a tool like Traqq helps you bill them based on the exact number of hours spent on the project.
Tracking employee time for billing is crucial if you want to accurately record the total hours worked. This helps you determine exactly how much to charge your clients. It also eliminates guesswork and ensures every minute is accounted for.
Calculate Your Profits More Accurately
As an employer, your profits are determined by several variants. One of them is how effective your team collaborates and how well they manage time. With Traqq, you can generate weekly reports that show how many hours an employee spent on a project/client over a given period. You can then use the info to set more accurate and profitable rates.
If you work with freelancers, the time tracking app essentially helps you understand how much time goes into a project and makes billing easy.
Additionally, the time tracker helps you know exactly how many people should be working on a project. As a result, you're able to maximize resource management and profits.
Identify Your Best Performing Clients and Projects
As noted, knowing how much time is needed to complete a project can help measure profits. For example, you can compare the total hours spent on a project to the revenue numbers.
These comparisons can give you insights into projects or clients that are most profitable or require more time. In the long run, you can make sound decisions for your business.
Identify Your Best-Performing Workers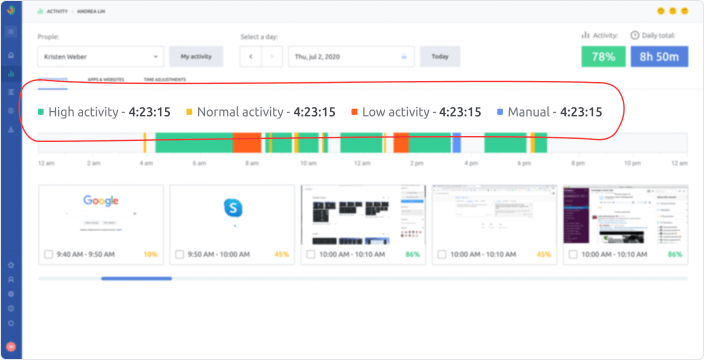 Nothing presents your employees' performance as accurately as a time tracker. Traqq captures all hours spent working and neatly organizes them under the Activity tab. Since numbers don't lie, it becomes easy to find your most and least productive workers.
The Activity tab also shows their work progress so that you can estimate how far from the deadline your team is. Learning how your employees operate helps you identify tasks they are most efficient doing. Such insights ensure fair work distribution and happy employees who are more likely to perform better for doing what they love.
Get Better Time Estimates
Even an experienced project manager can find it hard to estimate how much time and resources a certain deliverable would require. Some types of creative work, such as design, can be difficult to estimate.
That's why we recommend creating a working hours log using Traqq. Over time, all the records provide historical data on exactly how much time certain projects require. Now, let's say you get a project that you have tackled before, like making a new logo or Instagram campaign. You can easily estimate how long it will take your workers to complete the project.
Although projects are unique, historical records make it less complicated to get accurate estimates. What's more, since the time records remain in the company, they will prove useful even when you hire a new project manager.
Improve Employee and Project Management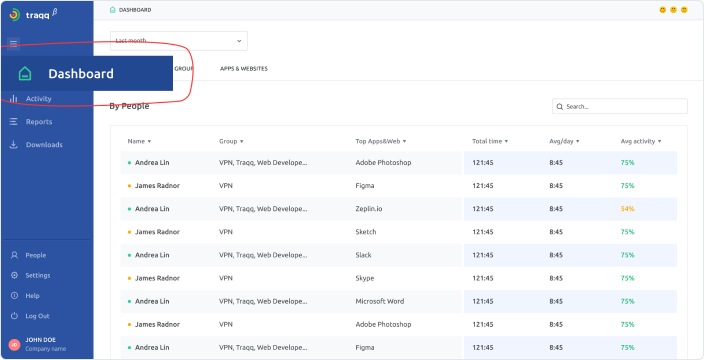 The historical record of tracked time is not only beneficial when calculating profits but also in tracking productivity. The timesheets make the process of reviewing employees' performance simpler. You can check on the efficiency of a team or an individual on a given week and know what needs adjusting.
Work hours log can also bring to light employees working overtime often to meet their work demands. This way, you can act early before your employees start complaining of burnout.
You can also compare a team's or individual's performance from the previous week and act accordingly if you notice a drop in productivity.
How to Create Work Hour Log
Whether you're a startup or a Fortune 1000 company, implementing the Traqq time tracking system can help you save time and money. The app is customizable to fit any business model and solve the inefficiencies of other time logging methods.
Traqq is a modern app with the necessary features to track productivity, ensure accurate reporting, and streamline payroll processing.
Here's a list of Traqq's top features:
Timelines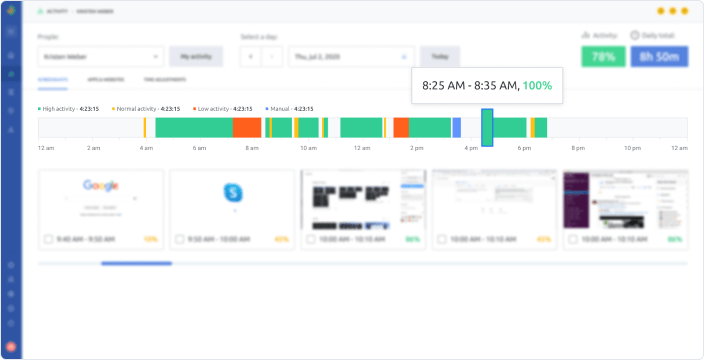 After assigning tasks, Traqq simplifies the process of tracking your workers' progress via a detailed timeline.
This shows an employee's activity every 10 minutes, in percentage, for quick insights. The software takes random screenshots showing the activity level of each worker. Any gaps in the timeline signify periods when the tracker was turned off or when your employee wasn't working.
Keep Track of Frequently Used Websites and Apps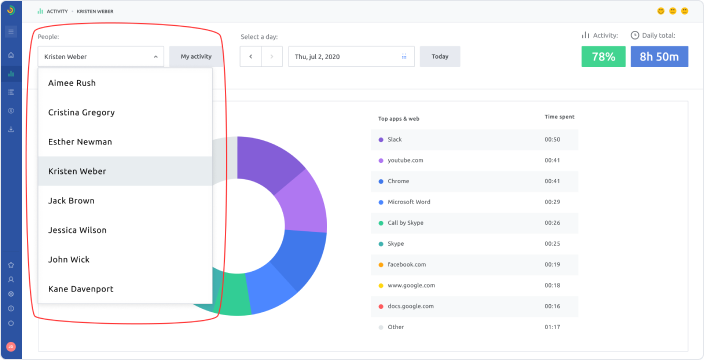 To keep tabs on how employees spent company time, you can view a summary of the apps and websites they use during work hours. You'll be able to determine how many hours each employee spent on non-work-related stuff and identify inefficient workflow processes.
The Ethical Approach to Employee Monitoring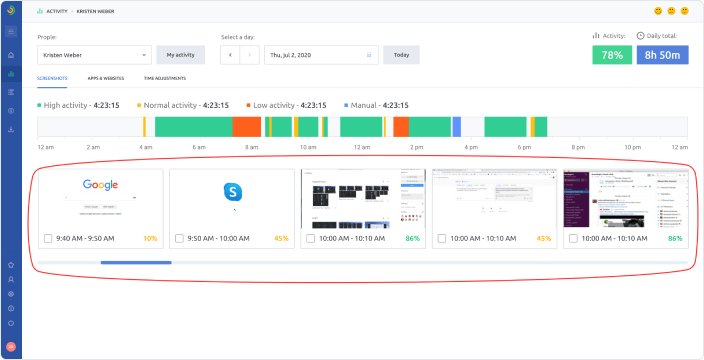 Traqq work hour tracker guarantees ethical employee monitoring. While the tool gives you real-time insights into work progress by taking random screenshots of the user's screen, all images are blurred. This way, employees' privacy is protected.
The screenshots can help you check work progress and identify time wasters interfering with your employees' efficiency.
Adjust Time Manually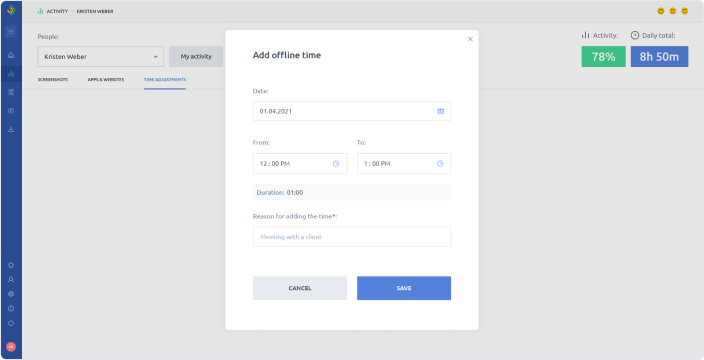 An added advantage of using Traqq is consistency when it comes to time tracking. Let's say you go out to meet a client and want to add the time spent on that meeting as billable hours.
Simply go to the Time Adjustment tab and select "Add time". The app lets you select a date for your manual time adjustment and give a brief explanation for adding the time.
Traqq offers a simple and effective way to keep a work hours log, giving you real-time insights into your teams' productivity. You can see the times when they are most productive and implement a better work schedule.
Avoid the inaccuracies and complications of a manual working hours log by switching to an automatic time tracking app like Traqq. Not only will you save time but also gain more clarity into your employees' productivity. Assigning tasks will be a painless process, and you'll have historical data to help you estimate future labor costs of projects.