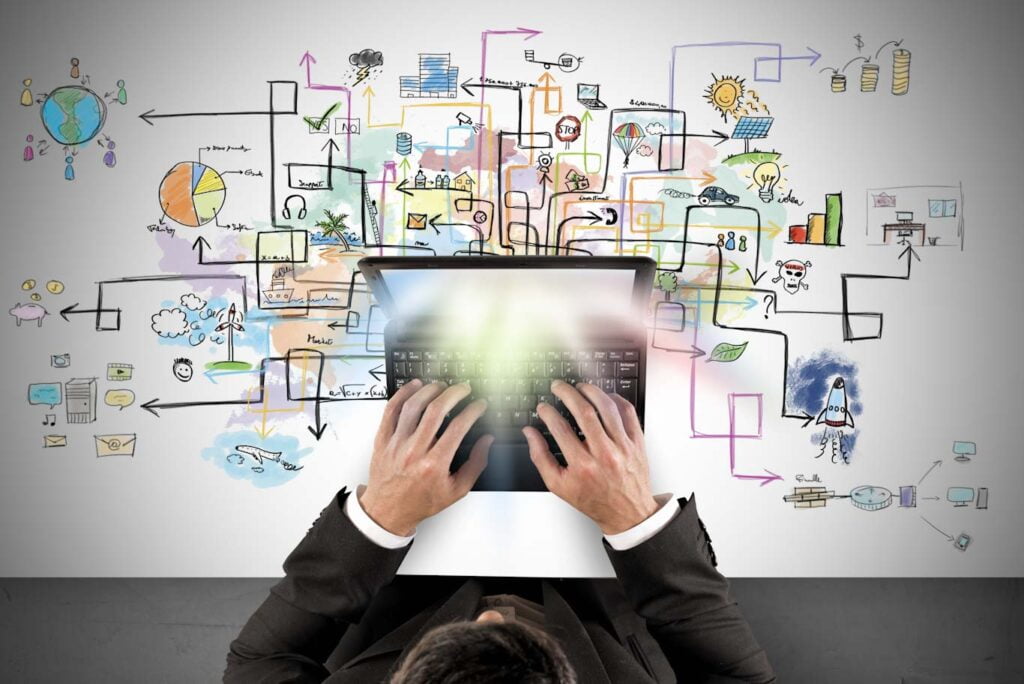 Even those who manage a small business may experience struggles when they try to organize their workflow. Now, if you have the same problem, you've probably heard of Trello and Monday.com. Naturally, you're wondering, "What's the difference between the two?" Well, we're here to help. In this article, we will explain the strengths and weaknesses of the two project management tools.
What Is Trello?

If you know what a Kanban board is, then you are likely to find it easy to use Trello. Owned by tech giant Atlassian, this project management software lets users handle individual tasks. It allows users to visualize every aspect and stage of a project's workflow. This way, team members assigned to particular tasks can track their work easily. Fun fact: The name 'Trello' was derived from the word 'trellis,' which is a framework for supporting climbing plants or fruit trees.
What Is Monday.com?

As a work operating system (Work OS), Monday.com lets you create tools to organize and manage everything you do at work. You can use it for workflows, projects, and everything in between. What's great about Monday.com is its intuitive design, which can be beneficial for teams of all sizes. You can adjust it to your team's changing needs, and use it to collaborate smoothly, ensure transparency, and automate repetitive tasks.
While Monday.com is primarily a project management tool, you can also use it as an ad campaign manager, CRM, bug tracker, and more. Even government agencies use it to organize and manage their activities for fighting COVID-19.
Monday vs. Trello: What to Expect
While Monday.com boasts of advanced functionality, Trello's selling point is its stripped-down approach to project management. Here are some of the things to expect from the two tools:
Trello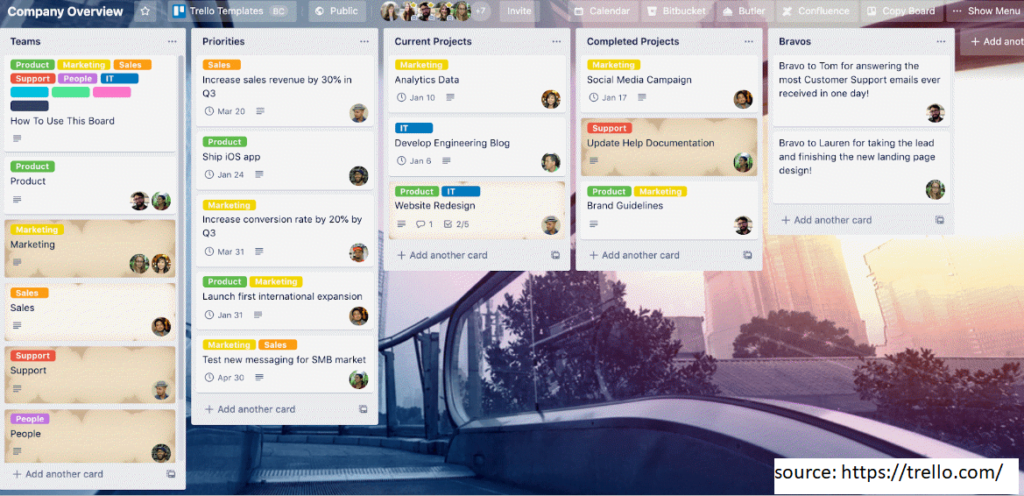 When it comes to Trello project management, you will have visually appealing yet simple Kanban boards. There are vertical lists where you can place the tasks or "cards," depending on their status in the lifecycle of a project. You can move the tasks from column to column as the project progresses. While almost everything on Trello is managed through Kanban boards and cards, you can still expect other features like:
Collaboration – Users assigned to a card can write comments or respond to tags. They can also tag other users.
Scheduling – Task prioritization can also be done on Kanban boards because users can assign deadlines to cards. They can also customize labels.
File sharing – Users can attach files and other cards to tasks. If a file's size exceeds the maximum limit, they can add a link to a file storage service. They can link Google Drive, Dropbox, and OneDrive folders to Trello cards.
Mobile app – Even teams on the go can use Trello on their phones or tablets thanks to the mobile app. The iOS and Android versions are downloadable for free.
Unfortunately, when it comes to analytics and reporting, Trello can be disappointing. You can get details about cards and export the information into a spreadsheet. However, that's all you can expect. Now, if you are running a complex project, reporting can be crucial. You can always get a "power-up" for that, but you need to pay for the extra feature.
Monday.com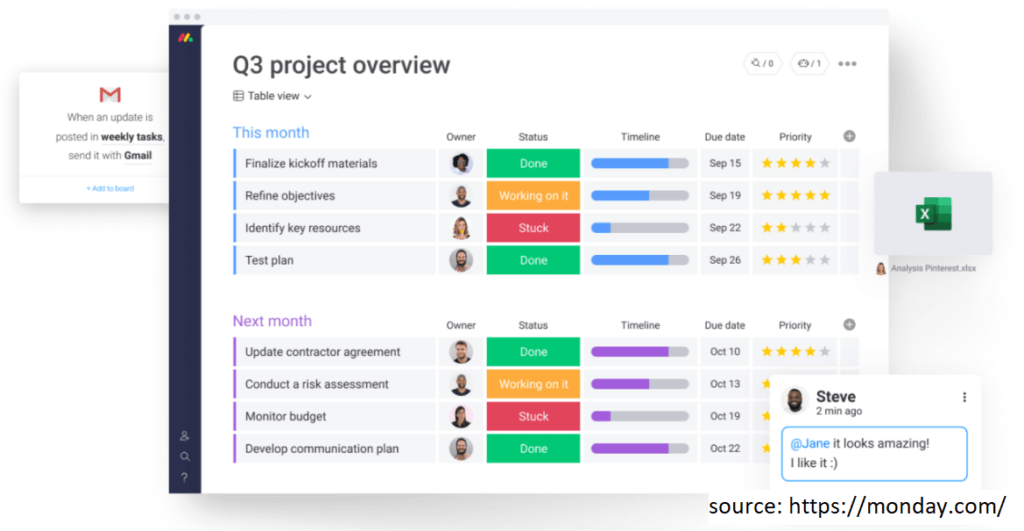 You can also organize projects in a Kanban style on Monday.com. However, the platform also offers various roadmap templates. You can manage projects via the Timeline, Chart, Calendar, or Map View. On Monday.com, you can list items on boards known as "pulses". These pulses show the progress of tasks within a project lifecycle. Other features you can expect include:
Time tracking – If you're using the Pro or the Enterprise plan, you can add a time tracking function to your project schedule.
Team calendar – The Calendar View lets you see tasks that have to be completed within weeks or months.
Resource management – Use the pulse system to create custom boards and track resources for projects.
Mobile app – You can also download the iOS and Android versions of Monday.com.
When it comes to analytics and reporting, Monday.com outperforms Trello. You can easily acquire key performance indicators (KPIs) for a project. With a few clicks, you can get reports on overall progress and budgets.
Monday.com vs. Trello: Pricing
Most of the time, the number of users and features is what determines the pricing of a project management platform. Before choosing a tool based on price, you must identify your exact requirements. This way, you won't waste your budget on unnecessary user licenses or functionalities.
Trello

Trello offers three pricing plans:
Free – This plan comes with unlimited cards, unlimited lists, ten boards per team, 10MB per file attachment, and one Power-Up per board for free.
Business Class – Priced at $12.50 per user per month, this plan comes with 250MB per file attachment, unlimited Power-Ups, and 100+ app integrations, among many other features.
Enterprise – The price starts at $17.50 per user per month, but the fee becomes lower with more than 300 users. It has the same features as the Business Class plan, but it offers exclusive options like unlimited command runs, attachment restrictions, organization-wide permissions, and more.
The pricing plans of Trello are somewhat similar to what other project management tools offer. However, what sets it apart is its two-factor authentication.
Monday.com

You can get decent access to Trello's boards for free. However, if you want to use Monday.com, you need to pay even for the basic plan. Here are the options:
Basic – The pricing starts at $24 per month for three users. This plan comes with 200+ templates, unlimited boards, 20+ column types, and a dashboard for one board.
Standard – The prices start at $29 per month for three users. With this plan, you can have the Timeline & Gantt Views, the Calendar View, guest access, 250 automations, 250 integrations, and a dashboard for up to five boards.
Pro – The pricing starts at $48 per month for three users. This comes with time tracking, unlimited guest accounts, private boards, ten dashboards, unlimited file storage, and more.
Enterprise – You need to request a quote for this pricing plan. With this plan, you can have advanced reporting and analytics, tailored onboarding, a dashboard for up to 50 boards, and multi-level permissions, among others.
Integration
No matter how powerful a project management system is, it still has limitations. Thankfully, integrations with other apps can let you access the functionalities you need. Even so, you should carefully assess the pricing plans. Some options have limits on integrations, power-ups, and plug-ins. Moreover, you may need to either pay a one-time fee or purchase a monthly subscription for third-party add-ons.
Trello
You can access over 100 integrations on Trello, and they fall under five categories:
Add-ons – These allow you to create and view burndown charts, generate recurring cards across various boards, or make a card from any webpage.
Connectors – You can connect Trello to any software using Unito, Zapier, or another third-party vendor.
Browser extensions – These can give you added functionalities, such as accessing boards through a Chrome pop-up. Extensions can also let you view grid lists and create Gantt charts.
Power-Ups – There are plenty of Power-Ups to choose from, including the Calendar View, Slack channel attachments, and Jira integrations.
Trello to Go – These are integrations that allow you to embed interactive Trello boards in Dropbox Paper, Microsoft Teams, Confluence, and Bitbucket.
For many, Trello's design is too simple. Despite that, you can still customize it according to your business needs. If you have expert coders in your team, you can let them create a suitable power-up.
Monday.com
Most of the integrations on Monday.com are similar to what Trello offers. However, there are even more options available:
Marketing – You can access functions like Facebook ads management and Mailchimp email campaigns.
Ecommerce – Monday.com also has integrations for tracking WooCommerce or Shopify orders, inventory, and products.
Sales – You can also manage Salesforce leads. Other integrations let you organize your sales funnels and pipeline.
If you don't find the integration you need on Monday.com, you can use Zapier or Unito to connect it to third-party applications.
Which Should You Choose?
Because of Monday.com's reporting and analytics, as well as its advanced features, it wins over Trello. However, the latter's strength lies in its simplicity. If you're running a startup or a small business, you may find it overwhelming to go through hundreds of features and integrations. When choosing the right project management tool for your team, make sure to assess your needs. Choose a product that will make daily operations easier and more efficient.
Pro Tip: Use Traqq for Efficient Project Management
No matter how carefully you organize your projects, you won't achieve great results if your team members do not use their time wisely. As such, we recommend that you use an employee monitoring tool like Traqq. This time tracker records the working hours of your team members. What's more, it monitors their activity levels based on their keyboard movements and mouse clicks. You will even know if they are wasting time on non-work-related activities. Traqq monitors the websites they visit and the apps they use.
As of this writing, you can download Traqq for free and access all its features.