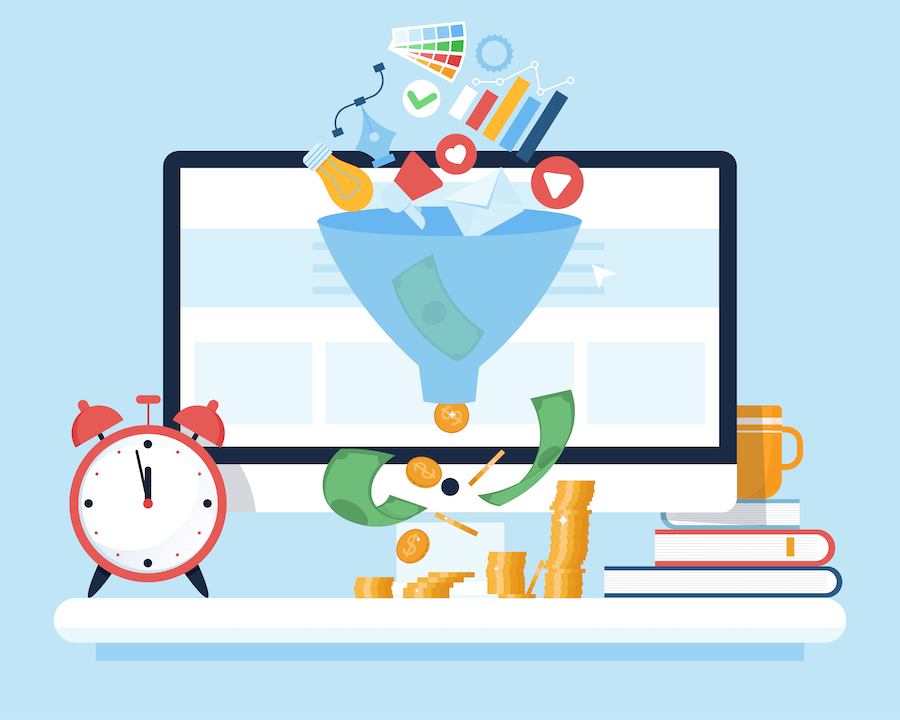 Before the advent of lead generation tools, lead generation was like eating Bertie Bott's Every Flavour Beans from the Harry Potter movie. You never knew which flavor you will get next, just as your sales reps had no way of figuring out whether the leads they are gathering are warm, cold, or simply random potential buyers that might not even convert.
However, modern customers are tech-savvy, intelligent, skeptical about the use of their data, and always online.
This calls for a highly versatile lead generation system that facilitates inbound and outbound customer acquisition, offline as well as online, and goes beyond cold customer reach-outs.
This is where the lead generation software comes into the picture!
Here, we discuss how lead generation tools transform your lead gathering and nurturing vitals, followed by some of the best options for every generation activity.
Let us begin with a brief overview of the lead generation software.
What is Lead Generation Software?
Lead generation software generates leads online and facilitates inbound and outbound customer acquisition, online and offline. They integrate technology and business processes and close the loop between sales (direct and indirect) and marketing. Lead generators drive higher-value business opportunities via opportunity management and improved demand creation.
Hence, they are great for both B2B and B2C companies!
Below, we discuss the best lead generation tools for different lead generation activities that you can start using now for short circuit lead generation.
Various Types of Lead Generation Tools
Lead generation is a collective of various customer acquisition efforts, such as email marketing, CRO tools, CRM tools, Live Chat, sales & marketing automation, etc.
Hence, we are sharing the top tools in each category to gather leads online and leverage them to steer your business towards sustainable growth.
Email Marketing
Despite being there for a quarter of the century, email marketing continues to be a leading tactic for lead generation. It is easy, economical, and can quickly spread the word among millions with just a few clicks. You can organize your contacts into different mailing lists and personalize your marketing emails accordingly.
Take a look at the top tools for email lead generation in the following section.
Mailchimp
Mailchimp is an excellent tool for email lead generation that allows you to create delightful and engaging marketing emails with custom branding features. It has an easy-to-use drag-and-drop editor and comes with a zero learning curve that allows you to create a content studio for all your images and files, and create stunning emails.
Unique features:
Transactional email
Marketing automation
Real-time analytics
Reason to buy:
Great for beginners
Easy integration
Ease of use
Pricing: There is a free version, and the paid plans start from $10/month/feature.
Mailshake
Mailshake is a powerful lead generator, especially for email outreach, that facilitates email optimization, personalization, and automation. What makes it even better is that it warms up your cold leads via multi-channel automated prospectings such as social media, phone calls, and emails. It offers impeccable split-testing and detailed stats into every lead gathering effort with insights into the major drivers.
Unique Features:
Drip campaigns and campaign management
Reporting and analytics
Event-triggered actions
Reasons to buy:
Easy customization
Excellent outreach campaigns
WYSIWYG editor
Pricing: Basic plans start from $39/month/user.
Sendinblue
Sendinblue is a perfect tool for digital marketers that offers all the digital tools under one canopy and offers great email marketing functionalities to attract and nurture leads. You can create professional emails in a few clicks with the drag-and-drop editor, personalize the content and send the messages with intelligent CTAs and engaging content. It offers marketing functionalities for multiple channels, such as phones and SMS.
Unique features:
Auto-responder
A/B testing
Email monitoring
Reasons to buy:
Budget-friendly
Actionable analytics and smart reporting
Efficient and effortless campaign scheduling and management
Pricing: There is a free version, while the paid plans start from $25/month/feature.
Mailjet
Mailjet lets you collaborate with your teams and create stunning marketing emails for grabbing more leads and converting them. It is an intuitive online email marketing software with responsive newsletter templates that can be personalized and customized. Additional perks include contact list management and role management.
Unique Features:
Real-time collaboration
Marketing automation
Transactional suite
Reasons to buy:
Contact list management
Custom branding
Spam blocker and better deliverability
Pricing: There is a free version available and a free trial period. Paid plans start from $8.69/month/feature.
Sales Automation Tools
The sales automation tools directly empower the sales team and automate the sales lead generation tasks, such as lead research and nurturing. They can tackle specific standalone tasks as well as take on an entire suite of customer-centric activities and integrate them into the existing CRM.
Some of the top sales lead generation tools are discussed below.
Customers.ai
Customers.ai is an advanced customer analytics platform that utilizes AI and data analysis to provide businesses with actionable insights into their customers' behaviors, preferences, and needs. By consolidating data from various sources, the platform offers a comprehensive view of each customer's journey, allowing businesses to make informed decisions and optimize their marketing strategies. Customers.ai also provides powerful tools for customer engagement and retention. Through its automation capabilities, businesses can deliver personalized communications, targeted offers, and relevant content to customers at the right time and through the preferred channels.
Unique features:
AI-Powered B2C Prospecting Data
Sales Outreach Automation
Advanced Customer Segmentation
Reasons to buy:
Find ideal customers
Accelerate email list growth
Quickly launch fully automated outreach campaigns
Pricing: There is a free version. Paid plans start from $199/month.
Dialpad Sell
Dialpad Sell is a sales dialer that helps you warm up cold calls with real-time sales coaching powered by AI. The tool lets reps know if they're speaking too quickly, using too many filler words, talking too much during a call, or how to handle objections.
Unique Features:
Call transcription
Native CRM integrations to automate data entry
Agent interface
Reasons to buy:
Team members can focus on their conversations
Automation for routine tasks
Audio video conferencing
Pricing: Pricing starts from $15/month/user.
Hubspot Sales
HubSpot Sales Hub charges up your sales process with powerful CRM and engagement tools. It offers robust sales analytics, smart reporting, and lead management. You can track the referrals, check qualified leads, manage your contacts, and leverage the performance metrics for keeping track of every sales rep.
Unique features:
Opportunity management
Customer database
Task management
Reasons to buy:
Deal pipeline organization
Track and manage relations with prospects
Automation for routine tasks
Pricing: Paid plans start from $45/month.
Pipedrive
Pipedrive is a robust lead generation platform that facilitates contact management, sales communication and allows you to focus on activities that transform leads into customers. You can track your clients, manage churn, and leverage chatbots to deliver swift responses.
Unique Features:
Asset management
Call-list management
Client matching
Reasons to buy:
Campaign management
Easy to use and configure
Comprehensive communication management
Pricing: The basic plan is priced at $12.50/month/user.
Live Chat Tools
Live chat drives most purchase decisions and allows your sales reps to resolve customer queries during the purchase or related to your purchase in real-time. Studies reveal that 38% of purchases are made due to the chat session itself. Check out the best live chat tools that you can use for lead generation.
ProProfs Chat
ProProfs Chat enables you to take your prospects to the sales funnel swift and efficient manner. You can engage your website visitors by sending chat invitations and leverage the powerful integration with CRM software. You can build strong relationships with prospective buyers and craft highly personalized journeys by drawing customer data for follow-ups and customer behavior.
Unique Features:
Custom branding
Website visitor tracking
Offline forms
Reasons to buy:
Centralized information on every client
Boosts customer engagement
Enables prediction of customer responses
Pricing: It comes as a free version and there is a free trial as well. Paid plans start from $9/month.
Comm100
Comm100 is a robust customer engagement platform that drives higher sales by boosting customer satisfaction levels. It works as a proactive reach-out to your website visitors and helps you resolve their queries in real-time. It offers smart chat buttons for all digital devices, such as mobiles, apps, and websites.
Unique features:
Co-browsing
Routing
Auto-translation
Reasons to buy:
Continuous sessions with multiple clients
Excellent integration
Activity-based lead generation
Pricing: Paid plans start from $29/agent/month. Free trials are available for every plan.
Intercom
Intercom is one of the most brilliant online lead generation tools that supports an innovative, customizable qualification section for user profiles and leads where you can capture essential information about your prospects. It also offers an automatic lead data gathering bot, operator, that captures all the details you require for meaningful conversations with your leads.
Unique Features:
Customizable lead bot
ROI tracking
Auto-responders
Reasons to buy:
Manual lead qualification during the chat session
Round-robin-based lead assignment
Track and optimize sales team performance
Pricing: Paid plans start from $59/month/agent.
Olark
Olark is an easy-to-use and one of the best online lead generation tools that collect email addresses, helps you build customer profiles with custom fields, and pass sales qualified leads for follow-ups. Olark's custom fields allow you to gather customer information ranging from their work details to personal favorites, such as their favorite color. Hence, it enables you to achieve customer engagement like never before.
Unique features:
Chat analytics
Chat tools
Automation
Reasons to buy:
Lets you pre-assign quick responses
Links sales to customer service
Enables exclusive customer experience
Pricing: Paid plans start from $19/agent/month. There is a 2-week free trial period.
Drift
Drift is a fantastic B2B lead generation software that reduces your bounce rates and converts your website visitors into warm leads. It is a smart conversational sales tool that allows you to offer direct and real-time service to your prospects right where they are.
Unique features:
Campaign personalization
Automated scheduling
Customer segmentation
Reasons to buy:
Improves lead nurturing and qualification
Contextual targeting
Scales well with your business
Pricing: There is a free trial, and pricing is available on calls.
Marketing Automation Tools
Marketing automation is one of the best techniques for lead generation, especially in the B2B environments. It unifies the lead generation process and allows you to take control right from website visitors' conversion into leads to nurturing them into loyal customers.
Check out the best B2B lead generation tools in this category.
Brame
Brame is a remarkable gamification tool, perfectly suited for interactive marketing campaigns and robust lead generation. It empowers you to create engaging and personalized gamified experiences using a range of game choices. Brame's intuitive drag-and-drop editor, accompanied by a minimal learning curve, allows you to build a comprehensive suite of campaigns tailored to your audience.
Unique features:
Advanced analytics for real-time lead tracking and insights
Gamified elements like quizzes and surveys that encourage lead interaction
Customizable games library to attract and retain leads
Reasons to buy:
Excellent for businesses wanting to boost engagement and generate quality leads
Easy integration with CRM and other marketing automation tools for efficient lead management
User-friendly design that makes lead-focused campaign creation straightforward
Pricing: Brame operates on a custom pricing model designed to align with your business and campaign needs. Contact their sales team for a discovery call to discuss detailed pricing. Live demos are also available if you wish to explore the platform's capabilities before committing.
Hubspot
HubSpot is one of the leading B2B lead generation software that offers effortless lead capturing, storing, and nurturing frameworks, such as forms, chatbots, live chat, popup forms, etc. It comes with a free HubSpot CRM that allows you to leverage the combination for devising a rock-solid lead generation system for your business.
Unique Features:
Lead forecasting
Internal chat integration
Document storage and management
Reasons to buy:
Diverse and actionable reports
Round-robin style workflows
Email marketing and response control
Pricing: The paid plans start from $45/month. Some free tools are also available.
Referral Candy
ReferralCandy makes your sales grow through word-of-mouth marketing. It automates rewarding your customers for referrals. Online stores use ReferralCandy to set up a referral program that boosts brand awareness, creates social proof, and increases customer retention. ReferralCandy connects instantly with popular e-commerce platforms (Shopify, WooCommerce, BigCommerce, Magento) or chooses custom API and advanced integrations.
Unique Features:
Email marketing
Advanced analytics
Insights into sales, traffic, and customers
Reasons to buy:
Allows automation of referral programs
High-degree of customization
Optimization for boosting sales
Pricing: Paid plans start from $49/month. A 30-day free trial is also available.
Marketo
Marketo is another comprehensive solution for lead management, lead scoring, email automation, analytics, and email marketing. You can attract leads via inbound and outbound marketing and improve the quality of captured leads as well. It comes with a lead generation database, a powerful analytics engine, and equips you with supporting content and lead-ready channels.
Unique Features:
Drip campaigns
Behavior analytics
Campaign segmentation
Reasons to buy:
Specific features for sales teams
Boosts conversion rates and sales funnel velocity
Enhances lead quality and quantity
Pricing: Pricing is available on call.
Bizible
Bizible is one of the smartest B2B lead generation tools that can fire up your ROI and business growth with its impactful marketing functionalities, such as sales insights, website personalization, and cross-channel engagement. It acts as a partner of your sales teams and reps to offer them direct tools to gather and nurture leads while sending smart pitches to predictive audiences.
Unique Features:
Content personalization
Advanced journey analytics
Account profiling
Reasons to buy:
Amazing visibility across different channels, pipeline, and campaigns
Unprecedented revenue growth
Automation for better control over every step
Pricing: Available on call.
CRO Tools
CRO tools allow you to identify the reasons behind the particular way your customers or website visitors are behaving. They come with advanced analytics and reporting features that allow you to find answers to different customer behavior patterns and improve your lead generation and nurturing practices.
Take a quick tour of the top Conversion Rate Optimization tools that you can start using now!
Qualaroo
Qualaroo is one of the most reliable lead generation platforms that helps you decode your conversion rate optimization pain-points and tackles your lead generation requirements. You can collect feedback in real-time from your website visitors and ask them contextual questions related to your pricing, products, etc., which help you learn more about customer behavior.
Unique features:
Advanced customer targeting
Sentiment analysis
Feedback management
Reasons to buy:
Short circuit lead generation via direct customer interactions
Personalized customer profiling
Surveys and polls for better customer understanding
Pricing: Paid plans start from $100/agent/month. There is a free trial period as well.
ProProfs Survey Maker
ProProfs Survey Maker is an easy-to-use and smart lead generation survey-making software that comes with lots of free templates, custom branding, and tons of question examples that you can choose for your survey forms. It is packed with many powerful features, like survey stats, survey embedding, response grading, and cross-device compatibility.
Unique features:
Site intercept survey
Mobile surveys
Question branching
Reasons to buy:
Multiple surveys can be created in minutes, like CSAT, and NPS
Detailed reports for better CRO
Smart website surveys
Pricing: Paid plans start from $50/month/agent. A free version is also available.
PicReel
Picreel is an online CRO tool that works wonders as a lead generator with its targeted offers and sales functionalities. You can grow your sales and leads by making the right offer at the right time to the right person. It comes with A/B testing, analytics, and personalization and gives a booster injection to your conversion rates. It effectively works on cart abandonment and encourages checkouts before exit.
Unique Features:
Website visitor tracking
Test scheduling
Audience targeting
Reasons to buy:
Firm grip over customer journeys
Perfect for website-based selling
Decodes website functioning and customer behavior
Pricing: It offers a free trial, while the paid plans start from $14/month.
Hotjar
HotJar is another commendable sales lead generation software that analyzes customer experience and offers stats to optimize your website for a better experience. It comes with form analytics, heat maps, session replays, on-site polls, etc., that allow you to track and analyze real-time website visitors' behavior. You can collect feedback from visitors and also leverage the opportunity to collect their details.
Unique features:
Multiple types of heatmaps
Visitor recordings that can be shared, downloaded, and filtered
Feedback management tools
Reasons to buy:
Comprehensive website studying and optimization
Various types of analysis for better understanding
Rich functionality even in the free version
Pricing: Paid plans start from $39/month, and there is a forever free plan as well.
VWO
VWO is an enterprise experience optimization and lead generation tool that offers several smart and intuitive functionalities, such as insights, testing, on-page surveys, heatmaps, etc. It allows you to curate smart digital experiences that engage your customers better and convert better. VWO offers a suite of multiple tools that come with customizable features for effortless lead management.
Unique features:
Experience management
Audience targeting
Session recording and management tools
Reasons to buy:
Campaign segmentation for better conversion
Data visualization across various custom parameters
Comprehensive dashboard
Pricing: Pricing starts from $99/month.
CRM Tools
CRM tools form a crucial part of the entire set of lead generation tools and help you generate and track sales leads throughout the sales pipeline. A majority of companies use CRM in unison with one or two of the tools mentioned above, such as email lead generation software and CRO programs, to develop a fool-proof and highly versatile lead generation system.
Take a look at the top CRM tools.
BigContacts
BigContacts is an easy-to-use prospect and customer relationship management software. You can track all contacts, calendars, and tasks and keep your prospects organized at all times. You can import spreadsheets, connect web forms, customize contact records to capture more leads and work on customer retention and conversions side-by-side.
Unique Features:
Prospecting tool
Pipeline management
Contact database
Reasons to buy:
Sales CRM and Marketing Automation
Customer, calendar, tasks, and contact tracking
Smart and comprehensive reporting and analytics
Pricing: Paid plans start from $10/month/user.
Hubspot CRM
HubSpot CRM is one of the most versatile lead generation tools that offer every department's capabilities: salespeople, sales leaders, customer service teams, operations managers, marketers, and business owners. With this tool, you can say bye to manual report updates and manual tracking of every person on your team or in your office. You can get complete visibility into your sales pipelines and get a real-time snapshot anytime you want.
Unique Features:
Meeting scheduling
Email and prospect tracking
Pipeline management
Reasons to buy:
Company insights and pipeline management
Internal chat integration
Cataloging and campaign management
Pricing: There is a free plan, free trial period, and the paid plans start from $50/month/agent.
Salesforce
Salesforce is a leading sales lead generation tool that helps you manage and track your leads, teams, customers, and various other business entities directly impacting your results. It is one of the pioneers in the modern-day business software segment. It offers smart integration and a diverse feature set for everyone on your team and in your business organization.
Unique Features:
Opportunity management
Quote management
Contact management
Reasons to buy:
Impeccable analytics
Functionalities for everyone and every business
Direct visibility of marketing activities across all channels
Pricing: Available on call.
Zoho CRM
Zoho CRM is one of the best lead generation tools that comes with many features, such as process management, analytics, performance management, and sales enablement, etc. It comes with salesforce automation, customization, and marketing automation functionalities for a 360-degree transformation of your sales lead generation.
Unique Features:
Predictive sales
Omnichannel tracking and management
Team collaboration
Reasons to buy:
Multiple tools and functionalities for all departments
Perfect for scaling
Smart CRM functionalities with a negligible learning curve
Pricing: While the paid plans start from $12/month/user, there is a free plan and free trial period as well.
Social Media Tools
Social media tools leverage social media's power to target, capture, and respond to new prospects, existing ones and explore potential audiences. These tools come with smart monitoring and targeting features and allow you to stay aware of every single social media mention.
Some of the best picks in the category are mentioned below.
AdEspresso
AdEspresso tool from HootSuite is a fantastic social media optimization tool that works well with major platforms, like Facebook, Instagram, and Google ads. Using HootSuite, you can create and test multiple ads in a few clicks and run them with various audiences to measure which one performs the best. It also offers in-depth analytics for a better understanding of customer preferences.
Unique Features:
Better user engagement
Content library
Monitor and track social media activity
Reasons to buy:
Monitors multiple streams in one window
A dedicated team managing all social media channels
Impressive cross-platform functionalities
Pricing: There is a free trial period of 30 days. Paid plans start from $49/month/feature.
Visme
Visme is an all-in-one visual content creation platform that allows your team to create stunning graphics, documents, presentations, and more than strengthen your visual brand and improve your online presence. Start with professionally designed templates across 40+ content types. You can also input your brand information for easy access while designing. What's more, you can incorporate millions of design elements like photos, icons, illustrations, and more; and come away with stunning visuals that help communicate with your team and your audience.
Unique features:
Data visualization
Document templates
Content database
Reasons to buy:
Audio file management
Collaboration tools
Smart graphic design experience for everyone
Pricing: Paid plans start from $19/month.
Buzzsumo
Buzzsumo is a cloud-based sales lead generator that helps you discover best engagement practices, outreach opportunities, and best content strategies for marketers. It aids in content discovery, monitors your online activity and content research. As you can discover high-performing content, you can discover more leads, identify influential people, and monitor trends.
Unique Features:
Customizable reports
Competitor monitoring
Configurable alerts
Reasons to buy:
Ease of use
Impeccable customer support
Excellent content research
Pricing: Paid plans start from $79/month/feature.
Discover.ly
Discover.ly is one of the best lead generation tools for leveraging social media for capturing prospects and gathering information. It works wonders with LinkedIn, as it shows the connections of the person being searched. It also shows the connections of that person on Twitter and Facebook.
Unique Features:
Social media tracking
Quick information gathering
Prospecting
Reasons to buy:
Simple yet effective Chrome extension
LinkedIn, Twitter and Facebook connections
Additional information on the customer profiles on social media
Pricing: Free of cost.
Top Lead Generation Tools: Limit the Clutter, Choose Well
Every business has unique needs for lead generation and might end up using multiple lead generation tools for each one of them. While you might buy as many tools as you want, it amounts to noise and clutter.
Hence, the best way to compile a reliable and powerful lead generation system is to populate your software suite as you scale and with tools that match your requirements. Identify the pain points of your current lead generation practices, find the tools to address them from the list mentioned above, and finally, choose the one that appeals to you the most.
Always remember, while quantity can matter for some time, quality takes you a long way!
Take a look at some FAQs for a better takeaway.
FAQs
What are the best lead generation tools?
The top 10 tools for online lead generation are:
Mailchimp
Sendinblue
ProProfs Project
ProProfs Chat
Intercom
HubSpot Sales, CRM
Marketo
Olark
Comm100
Salesforce

What is the best lead management software?
Some of the best lead management software are:
HubSpot Sales Hub
VWO
Marketo

How do I generate leads?
Lead generation is a cumulative result of different proactive ways to attract new customers. Some of the best ways are email marketing, conversion rate optimization, CRM, marketing and sales automation, and social media monitoring. Use those features with an online time tracking software and you can become efficient at generating leads.
The best way to generate leads is by investing in some reliable lead generation software that can cater to your unique business requirements.
What are the types of lead generation?
There are many types of lead generation, such as:
Outbound
Online
Events
Paid third-party leads
Direct emails
Referrals
Branding and Ads
Public Relations

What is the first step in lead generation?
An effective and robust lead generation process starts from lead acquisition which can in turn, be initiated by opting the right lead generation software, and customizing it for your business.