7 Best Automatic Time Tracking Software 
If you're not using time tracking software, it shouldn't come as a surprise that you still struggle to get your tasks completed on time. Come to think of it. How else can you get accurate estimates on the amount of time you spend on your projects? You probably waste a lot of time on unnecessary tasks without even realizing it.
Time tracking tools help you identify the times of day when you're more focused and motivated. They also show you the apps and websites you spend most of your time on to help you set your priorities right. You can then schedule your routine to work during the hours when you're most productive.
Automatic Time Tracking Vs. Manual Time Tracking
You can opt to use a manual time tracker where you manually report or fill in the time spent on a project on a journal. Let's face it. Most of us tend to be forgetful, and this can lead to inaccuracies when tracking work hours.
That's why automatic time tracking is recommended. Not only does such a system ensure a seamless workflow, but it also accurately captures all the time you and your employees spend on productive activities.
The good thing about using a time tracker is that it encourages transparency and prevents procrastination. Most importantly, it eliminates guesswork when it comes to calculating billable and non-billable time. For a company, this ensures that every dollar spent goes to productive work. Meanwhile, individuals and remote workers can be assured of their earnings.
Regardless of whether you work in an office or remotely, knowing how to manage your time will help improve your personal productivity. To help you get things done promptly, every single time, here's a review of the best automatic time tracking software of 2021.
Traqq – Best Employee Monitoring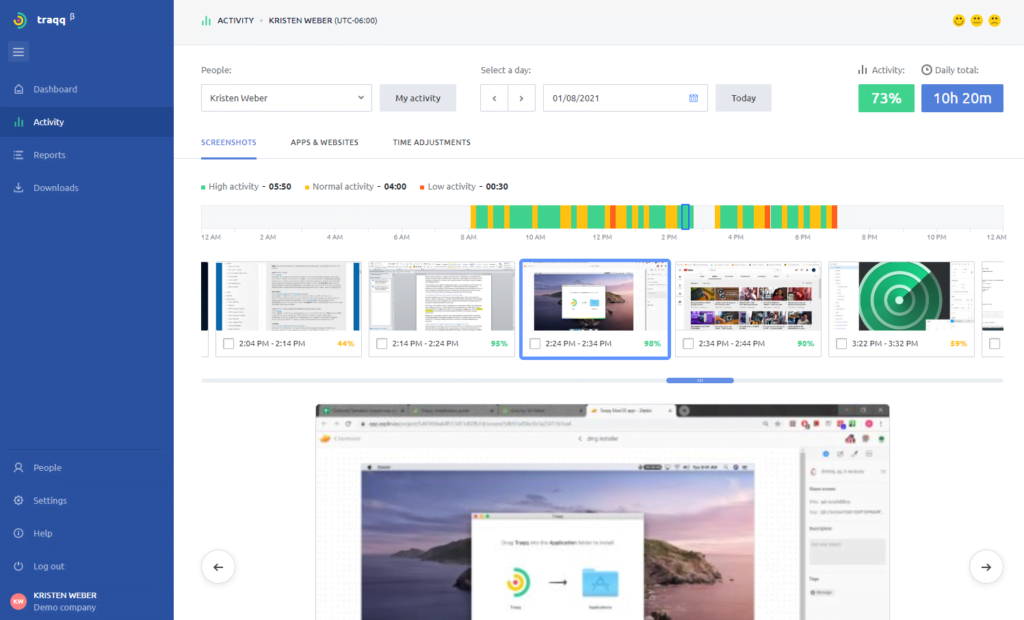 As an employer, the success of your business depends on teamwork and collaboration. This calls for a time tracking app that can record employee activity, without interfering with their tasks. Traqq has rich employee monitoring features to help track what they are working on, their performance, and progress.
The detailed stats and timesheets graphically display each employee's activity levels, making it easy for team leaders to analyze individual and overall team performance. Traqq also monitors what apps and websites are being used, encouraging transparency among team members.
The automatic time tracker simplifies the process of creating reports, which you can filter by different categories. With Traqq's smart notifications and alerts, you won't forget to turn on the timer when working, ensuring that every minute you work is recorded.
Traqq prides itself in ethical employee monitoring and blurs all screenshots and screen recordings to show only the necessary details. All sensitive information is blocked to protect the privacy of the workers.
Traqq's handy features include:
Activity monitoring
Time tracking
Manual time adjustments
Timesheets
Payroll management
Offline tracking
Productivity and performance analysis
Pricing:
Traqq offers a Premium Starter pack with a maximum of three seats (users) free of charge. The plan offers all the premium features and is ideal for small teams.
If you manage a team of at least four people, you can upgrade to the Premium Teams tier at only $6 per seat per month. You can sign up for a 14-day free trial to check out what it offers.
For teams of 100 people and above, you can contact the sales team for a customized plan that suits your company's needs.
Platforms:
Windows and macOS.
Traqq makes keeping records of hours worked and projects budgeting a breeze. It offers a bird's eye view of all employees' activities and progress for the day, week, or month for quick analysis.
Clockify – Free Time Tracker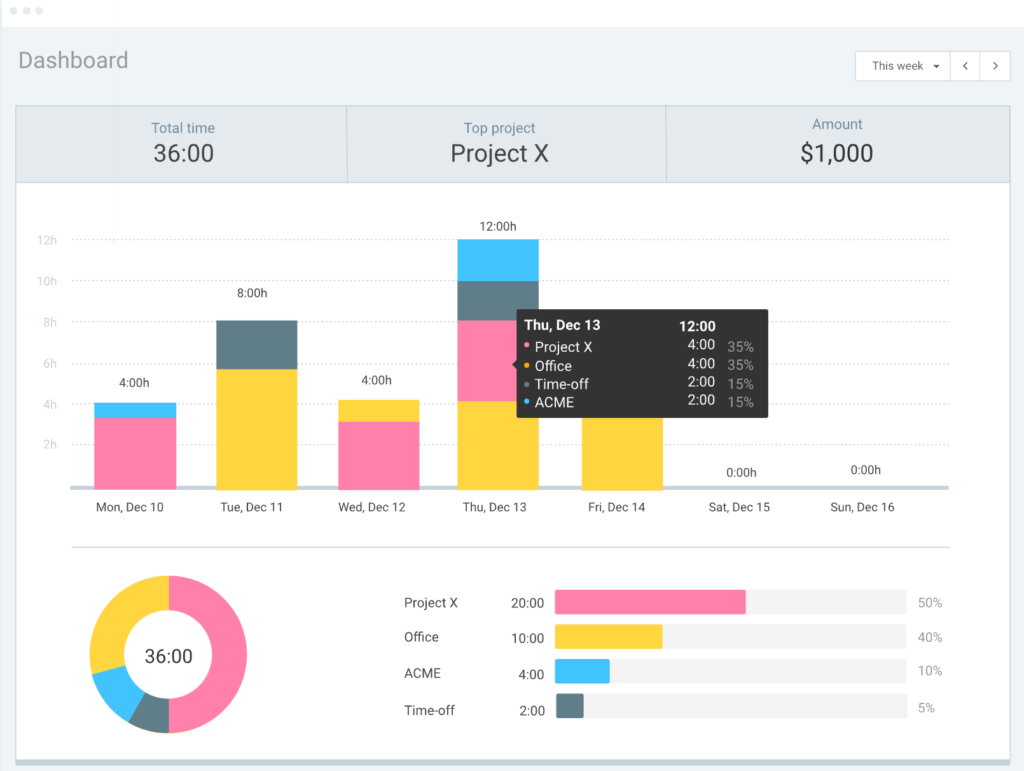 Clockify time tracking app is best suited for teams, students, as well as freelancers. It's a simple automatic time tracker that helps you and your teams log billable hours for all projects. Clockify, like Traqq, lets you record work hours using a timer and keep tabs on frequently used apps and websites.
The app shows you the total time spent on projects, what your team is working on, and what happens throughout the day. When it comes to reporting, you can filter the data by day, activity, or users. You can also share reports with your clients via a link. The tool even allows managers to track time on projects and set budget and time estimates.
Clockify's main features include:
Time tracking
Timesheets
Reports
Project management
Budget monitoring
Invoicing
Pricing:
If you find the free plan lacking, you can upgrade to one of the paid plans to get advanced features and more control:
Basic plan: $3.99 per user per month if billed annually or $4.99 if billed monthly.
Standard plan: $5.49 per user per month if billed annually or $6.99 billed monthly.
Pro plan: $7.99 per user per month if billed annually or $9.99 billed monthly.
Enterprise plan: $11.99 per user per month if billed annually or $14.99 billed monthly.
Platforms:
Windows, macOS, Web, Android, iOS, and Linux.
Clockify also offers integrations with web apps like Freshbooks, Jira, Trello, Gitlab, Basecamp, and so on.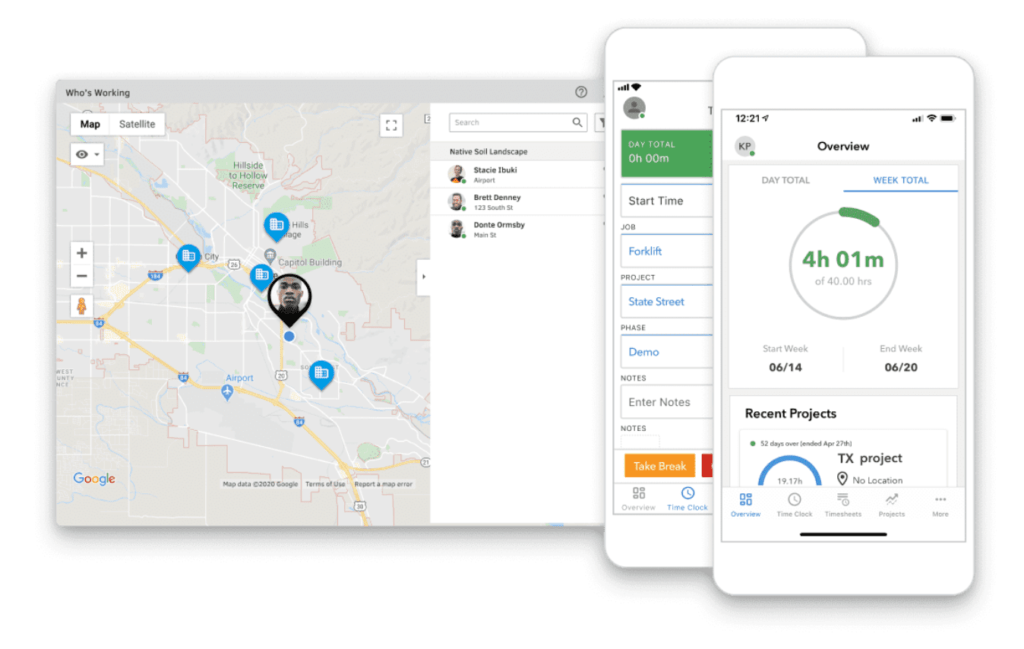 Formerly known as TSheets, QuickBooks Time is a time tracking software that allows employees to clock in or out from anywhere. The GPS and geofencing capabilities ensure that employers can see the exact location of each worker, improving team coordination and efficiency. This tool comes with a mobile timesheet app to ensure that employees get the job done no matter where they are.
It's ideal when managing a large team working in the field and is a favorite for property developers, construction companies, and other field-based businesses. QuickBooks Time's project reporting allows managers to see how much time employees spend on each task. With the report, they can create a payroll summary as well as plan on future projects.
Some of QuickBooks Time features include:
Employee scheduling
GPS time tracker and geofencing
Time clock kiosk
Alerts and approvals by text
Project tracker
Pricing:
Premium: $20 base fee per month, plus $8 per user per month.
Elite: $40 base fee per month, plus $10 per user per month.
All plans include one free admin, expert support, real-time reports, job and shift scheduling, and so on.
Platforms:
Web, macOS, Windows, Linux, Android, iOS.
Rescue Time – Best for Focus and Motivation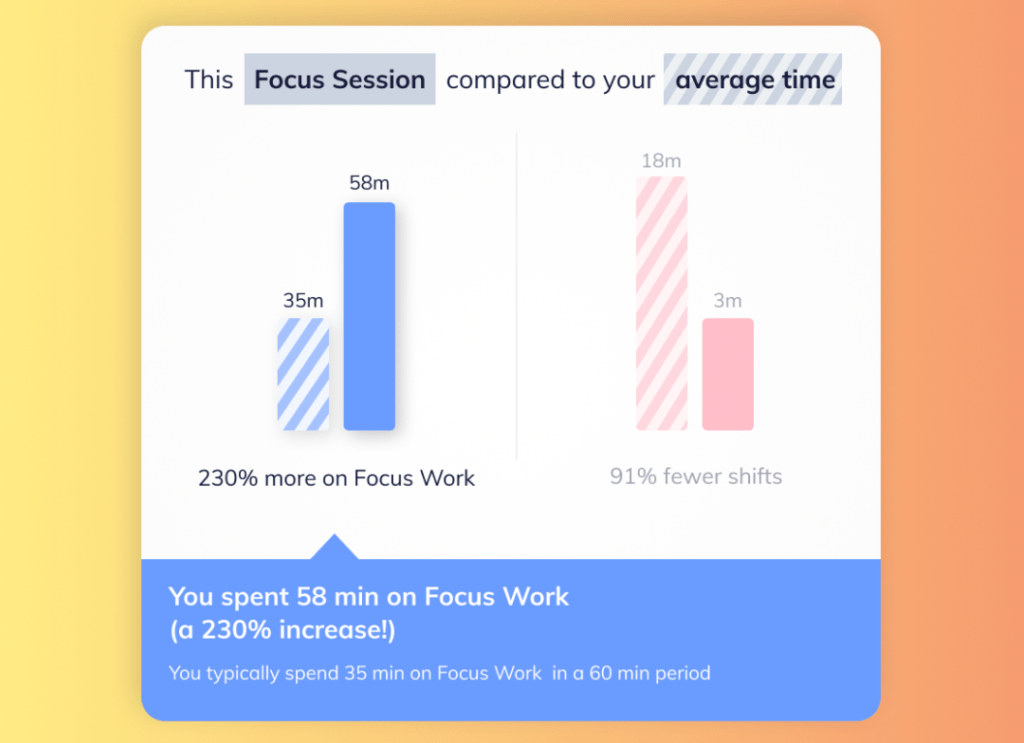 Rescue Time is an automatic time tracking app that works silently in the background. It's a site-blocking app that helps block distracting websites, so you don't get tempted to check your Instagram or Facebook often. When you activate a Focus Session, the app blocks sites that may negatively impact your productivity. As a result, you stay focused on your tasks and end up performing optimally.
Once installed, the program automatically analyzes your work style and meeting schedule. It then customizes a daily focus work goal specifically tailored for you. Throughout the day, you'll keep getting insights and nudges to help you stay on track.
Some outstanding features of Rescue Time include:
App monitoring
A comparison of Focus Session to your average time
Your workday summary
Pricing:
Lite (free plan): Users get access to all Rescue Time's core features and functionality. However, it comes with a few limitations. For example, you can only view your stats going back two weeks. File names are also not tracked.
Premium plan: $9 per month (billed annually).
Team plan: $6 per person per month.
Platforms:
Windows 10, macOS 10.12+.
Hubstaff – Remote Employees Time Tracking Software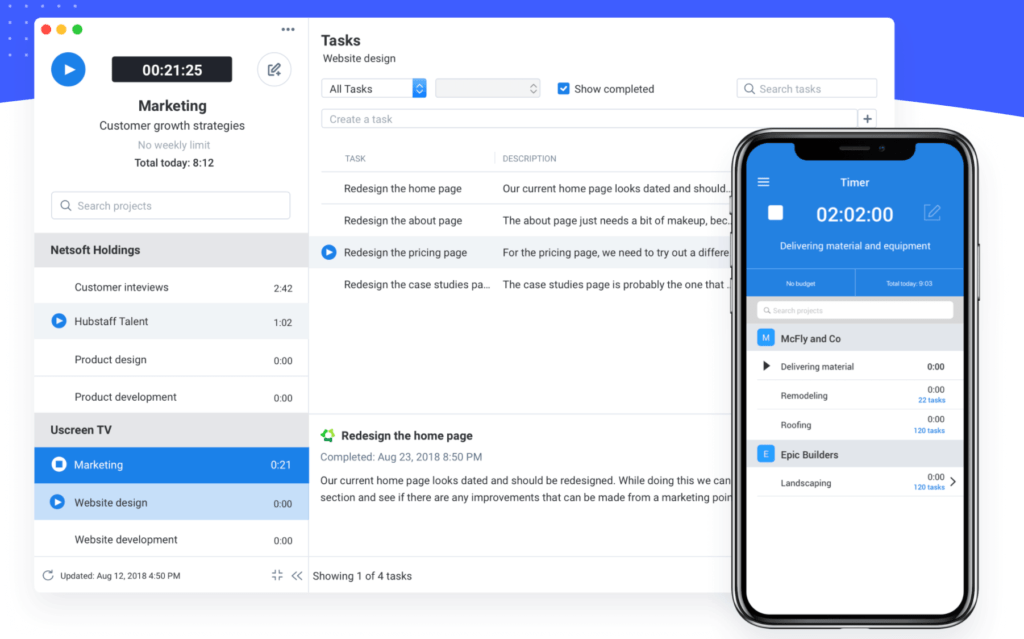 Hubstaff, like Traqq, offers features like employee monitoring and time tracking. It lets managers check in on what their workers are doing, allowing them to keep track of work hours and projects. It also lets employees manually adjust time entries and add descriptive notes.
Hubstaff supports automatic invoice creation, and lets you manage expenses, send invoices, and get paid directly through the tool. It also displays a list of apps and websites that team members use during their work hours. This gives you an insight into how teams spend time.
Hubstaff lets managers set budgets for tasks and projects, keeping overspending in check. The program has GPS and geofencing features that come in handy for field teams. Employees can automatically clock in or out based on their location. Like QuickBooks Time, you can also create shift schedules, get notified of missed or late shifts, and track attendance on Hubstaff.
Some of its main features include:
Employee scheduling
Payroll management
Time tracking
Employee monitoring
Online invoicing
GPS tracking
Reporting
Pricing:
Desk Free: The free plan supports only one user and has limited features.
Desk Starter: $7 per user per month and supports one integration.
Desk Pro: $10 per user per month. Users get unlimited integrations and more advanced features.
Enterprise: $20 per user per month with VIP support, higher limits on public API, and unlimited job sites.
Platforms:
macOS, Windows 10, Android, iOS, and Web.
Timely: AI-Based Time Tracker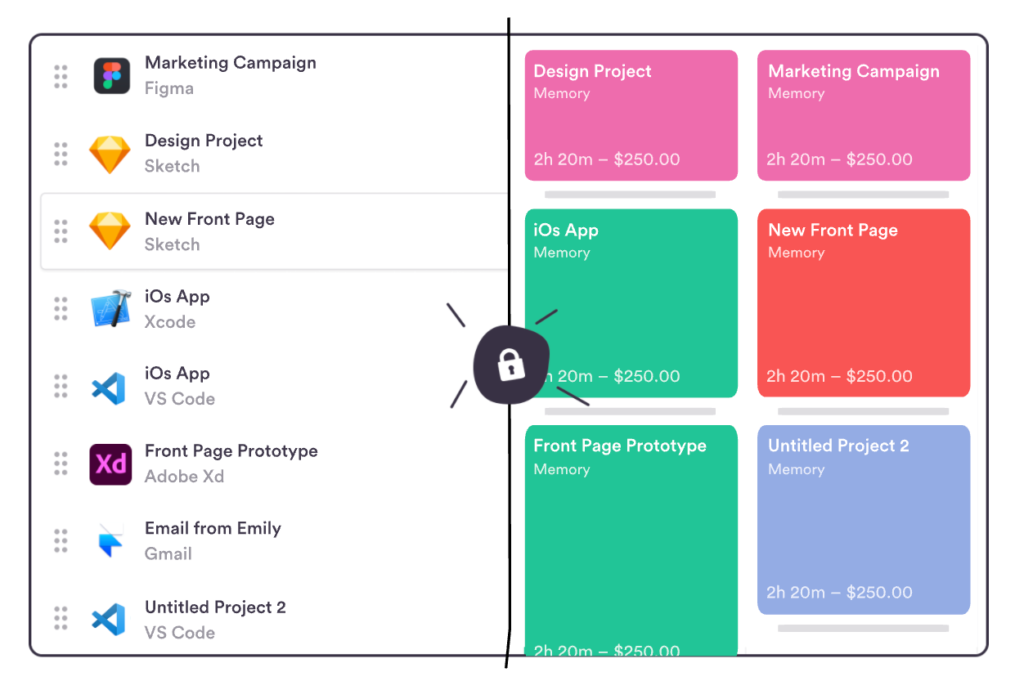 Timely is an AI-based automatic time tracking app that tracks time, projects, and teams. The software automates time tracking to ensure that teams waste no time on essential admin work. Timely works in the background, capturing work activity and letting you focus on what matters.
The app keeps tracked activity private to each user, who decides what they want to share. Since it records all hours worked, you're guaranteed accurate billing. Timely also creates timesheets automatically and records both the total hours worked and apps used while the tracker is running.
The platform lets you visualize your team's progress and performance and create custom reports that you can share with clients. Timely tracks time based on computer activity, making it ideal for contractors, remote employees, and consultants.
Some of the outstanding features of Timely include:
Automated time tracking
Project management
Employee tracking
Pricing:
Starter: $8 per user per month (billed annually) with limited projects and teams.
Premium: $14 per user per month (billed annually). Users get unlimited projects and teams.
Unlimited: $20 per user per month, with unlimited features.
Unlimited +: Contact sales for custom pricing.
Toggl: Best for Detailed Reporting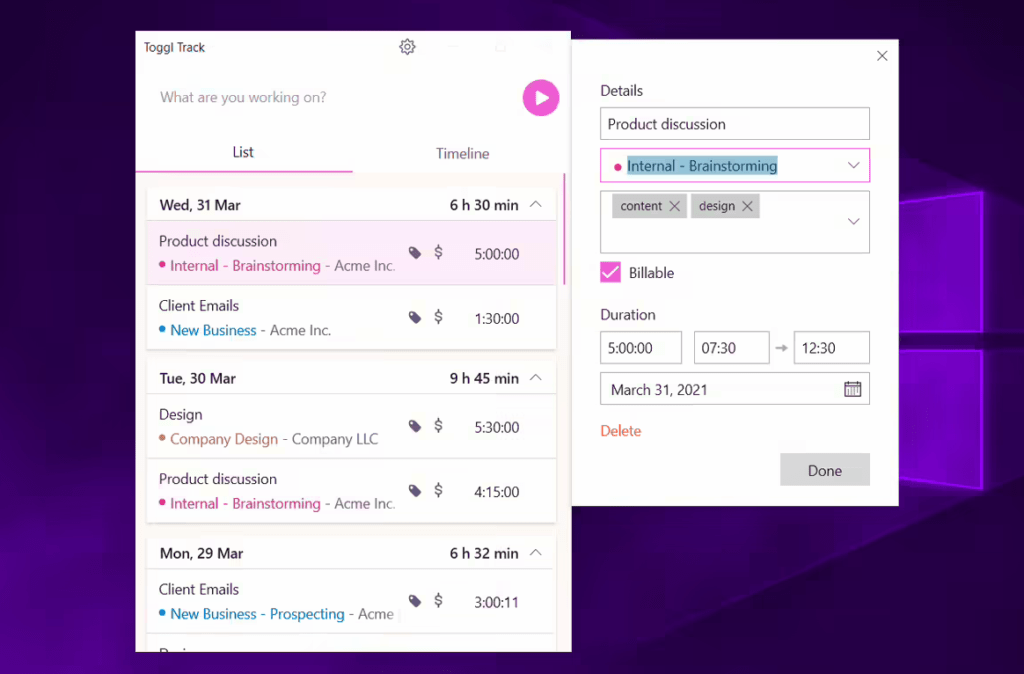 Toggl is a simple time tracking software designed to help individuals and distributed teams work efficiently and manage their time properly. This feature-rich app offers calendar integrations, one-click timers, and automated alerts that let you know when projects are near estimated completion.
You'll especially like Timeline, a background tracking feature that records time entries for any app or website that's open for more than 10 seconds. If you're among the forgetful lot, Toggl comes with an auto-tracker that prompts you to start logging your time.
If you use multiple devices, Toggl keeps the timer synced so you can keep track of tasks and projects from any device. You also get access to a basic Pomodoro timer to help you to stay focused on your tasks.
Toggl comes with a handful of features, including:
Time tracking
Reporting
Team scheduling
Team management
Project tracking
Revenue tracking
Pricing:
Free plan: Gives you access to features like unlimited time tracking, unlimited projects, and a Pomodoro timer.
Starter: $9 per user per month with additional features, such as billable rates and prepopulated project templates.
Premium: $18 per user per month with access to Jira and Salesforce integrations, among other advanced features.
Enterprise: Contact sales for custom pricing.
Platforms:
Web, macOS, Windows, Linux, Android, and iOS.
Conclusion
If you're the kind of person who wants to surpass expectations and overdeliver, keep tabs on your productivity with automated time tracking. With countless types of time tracking software, choose one or two that match your specific business or work model. Some of the features to look out for include accounting, monitoring, reporting, and scheduling.