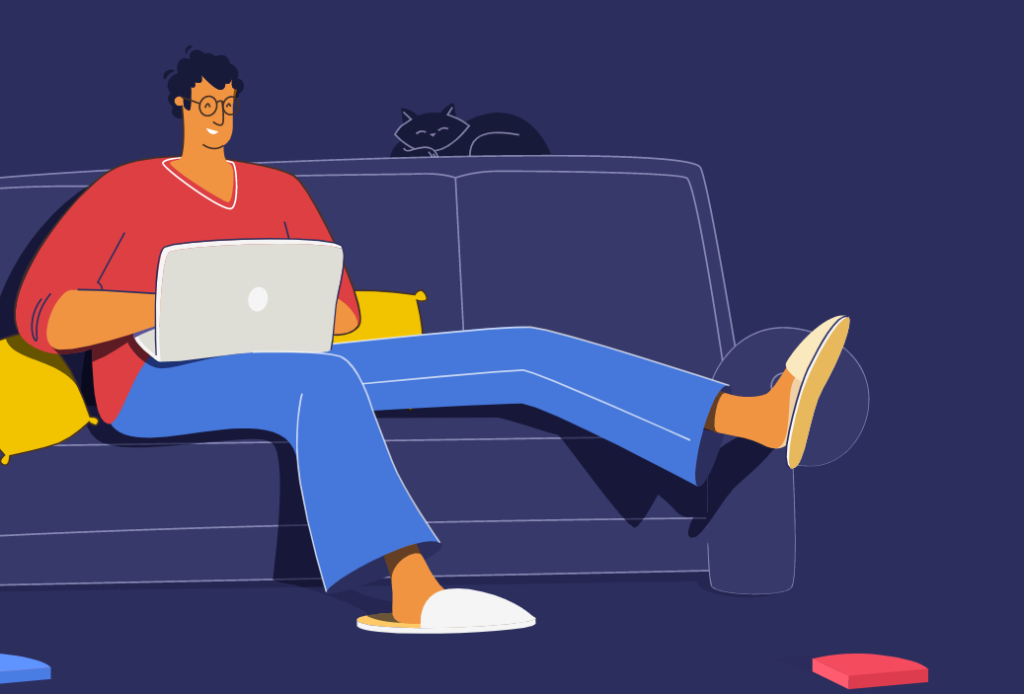 As the demand for telecommuters continues to rise, more and more people are opting to join the market. There may be plenty of job opportunities out there for remote workers, but often, the number of freelancers outnumber them. The competition has become fierce that when you observe the marketplace, it'll seem like you're watching National Geographic. It's like a wild safari out there—hyenas, cheetahs, lions, and leopards going against each other!
We like rooting for the wildebeest who tries to fight for its survival. Despite that, we know deep inside that it doesn't stand a chance against a ruthless cheetah. If you're a remote worker and you want to survive the virtual jungle, you need to find ways to climb up the food chain. While learning how to build and strengthen your skills, you also need to know about the latest gadgets that can contribute to your efficiency. Aside from that, you must keep abreast what's happening around the globe.
Now, what better way to get your game ready than to visit the best technology websites? It's time to pack your brain with all the tech knowledge you need to thrive in an ever-changing and highly competitive digital world. Here are some of the top tech web sites to bookmark.
To Get Guides on Gadgets, Apps, and Software
You can't blame technophobic people who think that one day, robots may take over the world and turn humans to slaves. It's pretty realistic with the current landscape of technology. However, we can always channel our inner Arya, aggressively train, and never let the complexities of technology overwhelm us. What do we say to the god of tech? Not today.
Here are the tech sites that offer a perfect balance of informative content and industry news.
1. MakeUseOf
What's great about MakeUseOf is it simplifies the process of learning for the overwhelmed technophobe. You can use it as an easy-to-follow guide while you journey through the arduous realm of modern tech. What's more, it features a section full of free eBooks on gadget and software tutorials. You can get good stuff for free, including choosing the best router for your lifestyle and how to use Snapchat.
2. TechnologyGuide
http://www.technologyguide.com
If you want to find a comprehensive library of technology tutorials online, you should visit TechnologyGuide. The site has an entire section dedicated to providing guides and articles under various subjects, including software and smartphones.
3. TechRadar
Now, if you want to get expert tech-buying advice, you should visit TechRadar. The site offers plenty of reviews and news on subjects related to technology. You can also get useful tips and tricks for gadgets, apps, and software when you access its 'How To' section.
To Know What's Currently Happening in Tech
If you don't want to get eaten alive by your remote co-workers during your virtual meetings, you need to keep abreast the latest in tech. It's always good to know about a new app release or a change in tech legislation. Here are some of the best tech news sites that provide valuable info:
1. Digital Trends
You'll find all sorts of information on tech on this site. However, what gives it a competitive edge is its reviews on products like cameras, headphones, and more. What's more, it offers a dedicated section for technology news under several subcategories. You'll love how user-friendly Digital Trends' site is. Whether you're a novice or an expert, you'll easily find what you need on its site.
2. Mashable
Aside from providing tech news, Mashable also features other topics like culture, science, entertainment, and business, among others. So, it is definitely among the tech websites worth using. You won't be disappointed even if you visit Mashable every day because the content is continuously rolling in. As such, you will always be updated with the latest happenings in the technology industry.
3. TechCrunch
When it comes best tech websites nowadays that offer the latest news, TechCrunch is always among those that lead the game. Whether you want to get info on tech legislations or startup news, this is the place to visit. You can even find startup funding announcements on this site. What's more, TechCrunch regularly organizes tech conferences in various locations around the world.
4. Term Sheet
http://fortune.com/tag/term-sheet/
Owned and operated by Fortune, Term Sheet offers a daily breakdown of competitive intelligence info in the tech industry. You can visit this site to get announcements on IPOs, capital deals, and fundraising, among many others. So, if you want to keep abreast the latest on tech finance and businesses, be sure to bookmark Term Sheet.
5. The Information
https://www.theinformation.com
If you devour data like a hungry wolf, then The Information may be your cup of tea. On this site, you can get long-volume content on various tech topics. You can get various news, announcements, and anything important happening in the industry. Remember that The Information is not for the light readers. It is for those who like to dig deeper through valuable tech info.
6. The Next Web
The Next Web was launched as a promotional channel for a tech event. However, the site quickly grew into a valuable resource for tech news, events, deals, and conferences. It is also the go-to site for market intelligence platform.
7. The Verge
When you visit The Verge, you will get more than tech. It features dedicated sections for various topics, including culture and cars. However, you'll likely find yourself reading through the tech section for hours to end. After all, it has subcategories that cover every niche in the technology industry. Whether you are a Microsoft or an Apple person, you will find the specific content for your needs and lifestyle.
8. VentureBeat
Tech enthusiasts, executives, and entrepreneurs alike can visit VentureBeat and get the latest on technology news. It is one of the best sites to help you stay in the loop and get informed. Without a doubt, you should visit VentureBeat if you want to make better tech-related decisions.
9. Wired
Anyone—even those not actively searching for tech info—has encountered Wired. It is a household name in the industry, and people across the globe rely on it for news on emerging technologies that may impact their lives. You won't get lost in the site because it is expertly organized and stacked with properly curated news on different topics, including gear, business, security, and transportation, among others.
To Discover New Devices and Gadgets
If you want other remote workers to eat your dust, then you'll need the proper arsenal to get ahead of the competition. Here are some of the sites where you can find the next great tech gadget:
1. Engadget
While Engadget is a reliable source for tech news, its strength lies in its comprehensive and honest reviews. Visit this site to discover helpful reviews on all sorts of gadgets, including smartphones and even wearable baby monitors.
2. Gadget Review
Gadget Review is another excellent technical web site for everybody. As its name suggests, it offers reviews on various tech products, services, and software. The site employs industry experts who test and evaluate the latest devices and gadgets available in the market. If there's a product you want them to feature, you can submit your suggestion through their site.
3. Gadgets to Use
Another excellent hub for tech-related information is Gadgets to Use. You can visit it to read relevant editorials, features, and interviews with experts in the industry. Don't forget to check out the Comparisons section because they pit similar gadgets against each other there. The reviews will help you make informed buying decisions.
4. Gizmodo
You will never run out of things to read on Gizmodo. The site specializes gadget-related topics, including information, reviews, and comparisons on the latest in the market. Once you leave the site, you will be satisfied with the accurate and honest opinions you've read. It showcases the latest devices—from toys and wearables to tablets and phones.
5. The Gadgeteer
What's great about The Gadgeteer is it has been around since the late 90s. So, you know that it is a well-established leader in the tech industry. You can visit this site if you want honest and trustworthy reviews of the latest gadgets in the market.
6. TheGadgetFlow
If you want to discover the latest gadgets on the market, then you shouldn't miss TheGadgetFlow. Aside from featuring product reviews, this site also shares crowdfunding projects that tech enthusiasts may be interested in.
7. Ubergizmo
Last but not the least, we have Ubergizmo, a gadget-centric site. It features in-depth reviews and news on the latest products in the market. Moreover, you can visit it to get helpful tutorials on a currently popular gadget or software.
There are plenty of tech websites that will help you climb up the food chain of the telecommuting industry. Now, if you want to become a predator instead of prey in the ruthless world of freelancing, we recommend that you find ways to enhance your productivity. One of the best ways to do this is by using a task monitoring app like Traqq. This tool allows you to track the number of minutes or hours you spend on certain apps and websites. In this way, you can identify how much time you waste on non-essential activities. What's more, you'll be able to practice discipline even when you're spending some time on the websites we featured in this article.