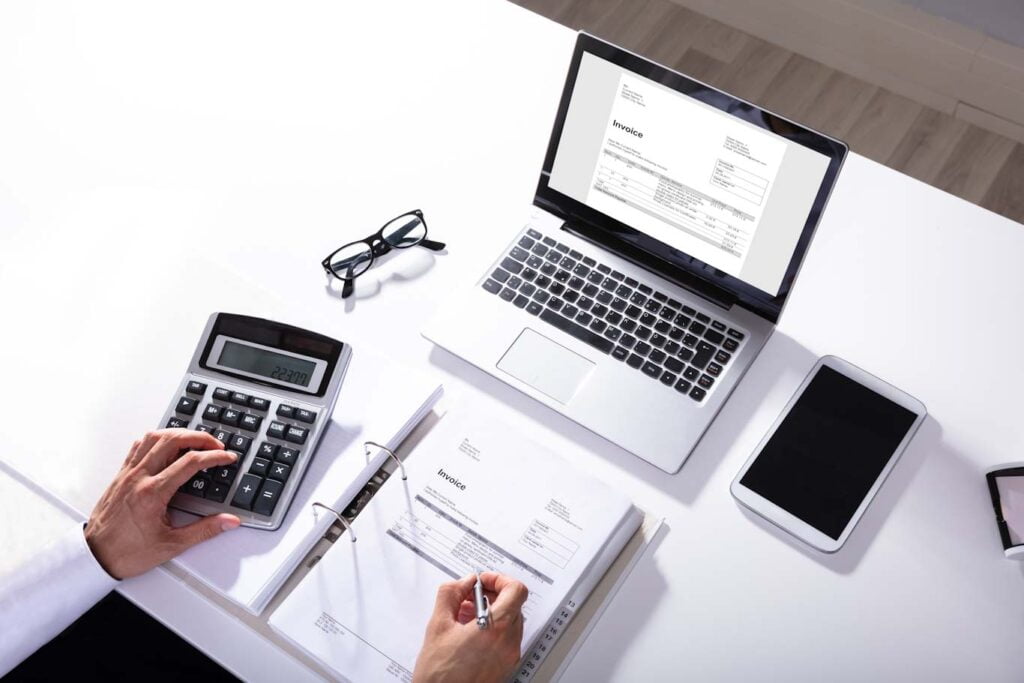 If you're a freelancer or you're running a small business, there are lots of admin tasks you need to perform. You need to organize your inventory, market to your clients, and, of course, get paid. You can only keep your work or business afloat if you get paid for your products or services. Now, if you want to get paid accurately, you need to invoice your customers. Even if you don't have accounting skills or experience, this can be easily done by using an invoice app.
With invoicing software, you can generate invoices and send them directly to your clients. However, these days, the options available take things a little further. You can now access various tools that simplify your business operations. For instance, some apps come with features that allow users to create proposals and estimates. Others even have employee monitoring and time tracking functions.
Once you start looking for the best invoicing app for your business, you will quickly find out that the process can be overwhelming. Well, worry no more because we've compiled the top products you can choose from in 2023.
Factors to Consider When Choosing an Invoice App
Your invoicing software should be able to create invoices faster than you could with your word processor. It should have an autofill feature that simplifies the process of entering data like customer and product information. Now, if you're offering digital services, ideally, you should get invoicing software with time tracking features. It will let you record the hours you spend on a project and will generate invoices automatically for you.
Moreover, the process should not be complicated—it should only take a few clicks. Whenever you need an invoice, you shouldn't have to type everything manually. You should be able to customize the app once, track projects, and then generate invoices with ease.
In this post, we've evaluated the unique features of the best invoicing apps. Moreover, we've listed the products that will bring you the best value for your money.
FreshBooks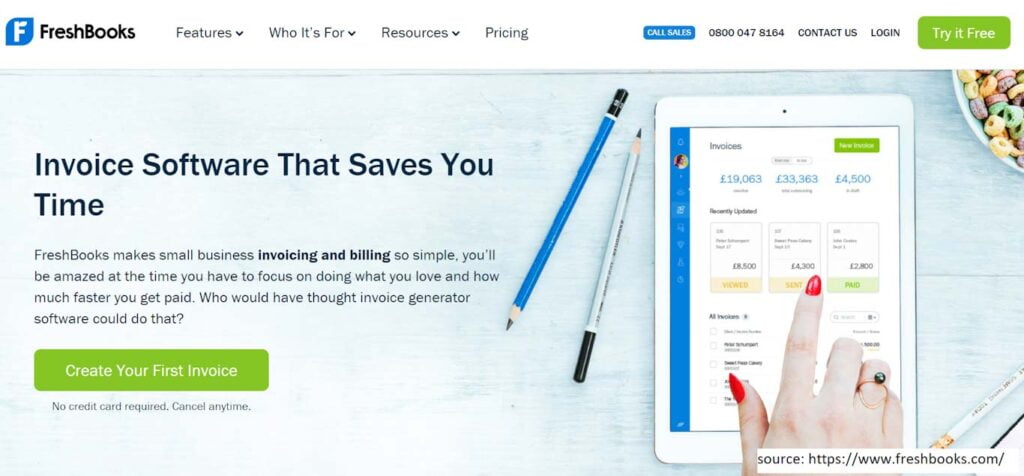 If you're a freelancer or a small business owner, you need an invoice app with bookkeeping features. Launched in 2003, FreshBooks comes with various accounting functions apart from invoicing. You can use it for journal entries, double-entry accounting, and bank reconciliations. Now, we understand that not everyone needs these features. Well, you can choose the Lite plan, which focuses on generating invoices.
This app lets you send unlimited estimates and invoices to your clients. Indeed, it's not surprising why millions of customers have chosen FreshBooks for their invoicing needs. Even so, this tool is far from perfect. The caveat is every plan only supports a single user. So, if several people handle the finances in your business, you'll need to subscribe to multiple plans.
Pros
Unlimited estimates and invoices
Reliable customer support
Cloud-based app
Over ten languages supported
Excellent mobile app version
Cons
Can be expensive
One user per plan
Wave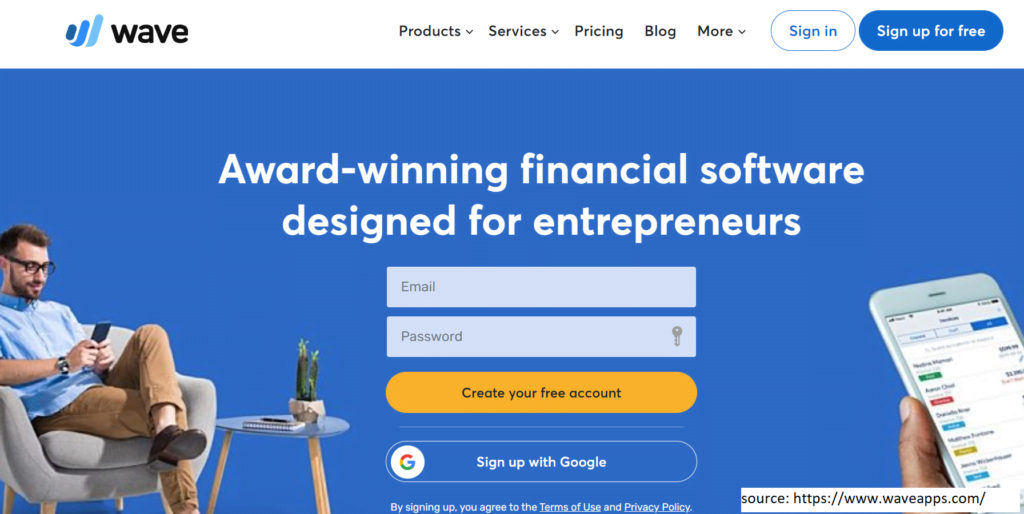 With over 3.5 million users, Wave is one of the most popular free invoicing software tools in the world. While this app is completely free, it does not have limits on contacts, invoicing, and other features. You'll only have to pay if you want to add professional bookkeeping, payroll, and payment processing. It's also worth noting that Wave is one of the few apps that have an integrated lending feature. Because of the H&R Block acquisition in 2020, people can also expect more updates.
Despite its qualities, Wave still needs to improve in quite a few areas. It doesn't have a project management feature. While it offers time tracking, the function is quite limited. Moreover, you cannot add multiple users, which makes it unscalable for larger businesses.
Pros
Free to use
Great transaction and invoice management
Simple user interface and intuitive navigation tools
Support for multiple currencies
Easy payouts
Designed for small businesses and freelancers
Cons
Limited features on the mobile app
No receipts on the Android version
Limited time tracking functionality
Invoicely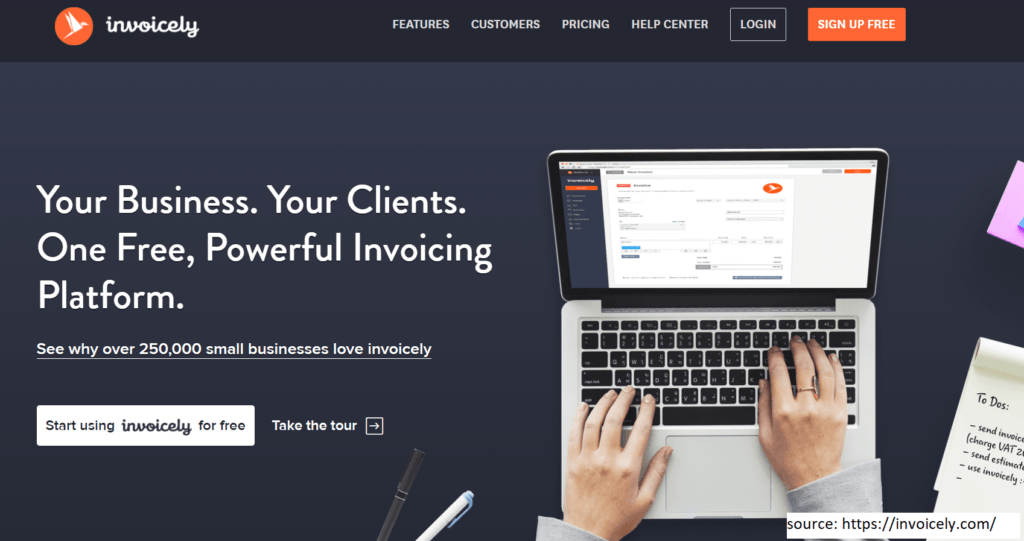 Invoicely has gone through multiple brand changes over the past years, but it remains a powerful and popular invoicing software tool. It features an intuitive and easy-to-set-up user interface. What's more, it supports multiple currencies and languages. With its free plan, you can generate up to five invoices. Now, if you run multiple businesses, you can still use it at no extra cost.
If you're a small business owner or a freelancer, Invoicely is one of the best options for you. However, if you need advanced features and multiple integrations, you're better off with a different invoicing tool.
Pros
User-friendly interface
Multi-currency and language support
Comprehensive reports
Cons
The free version doesn't come with custom branding
Limited invoice customizations
Limited time tracking functionality
InvoiceBerry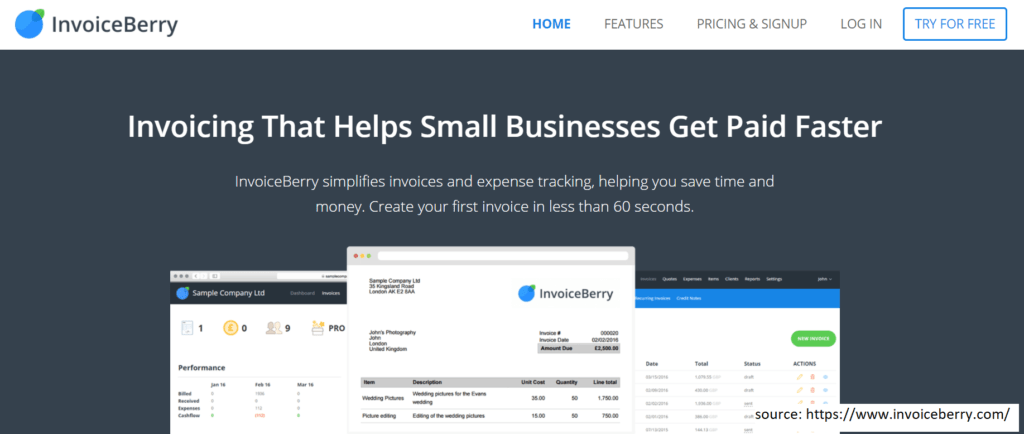 Remote workers and small business owners can benefit from the affordability and versatility of InvoiceBerry. It has a budget version that can be appealing to anyone who needs to generate and send invoices easily. You don't even have to assign invoice numbers manually because the tool does that for you. What's more, InvoiceBerry can be integrated with several payment providers. With this additional functionality, you can accept online payments easily.
What's even more appealing about InvoiceBerry is it can be configured to work with Zapier. With this service, you can easily integrate the app with your existing software to automate more tasks.
Pros
User-friendly interface
Support for multiple languages
Support for hundreds of currencies
Expense tracking
Cons
Unusable without an Internet connection
Kashflow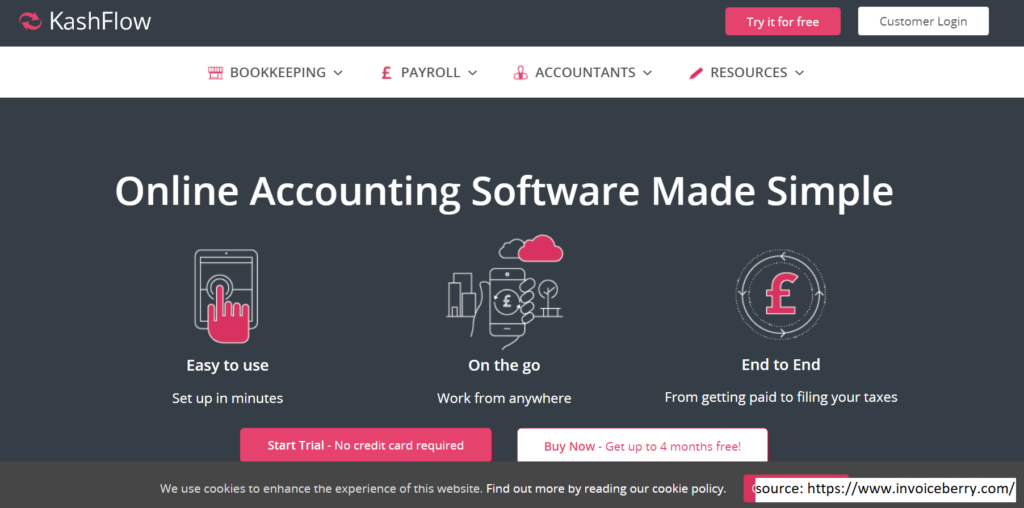 Managing your business finances is a lot easier when you use a cloud-based accounting tool like KashFlow. You would also find the backstory of this app quite interesting. Its developer, Duane Jackson, is a self-taught programmer who was incarcerated for a drug law violation. When he was released, he decided to turn over a new leaf by starting a career as a software developer.
If you're looking for an invoicing app that has VAT support and allows unlimited users, KashFlow is one of the best options for you. You can expect various great features, including expense tracking, contact management, and fixed asset management, among others. Despite that, KashFlow can still use some improvements in some areas. If you're based in the US, customer support may not be as reliable as for users in the UK. Moreover, the app can be glitchy at times.
Pros
Easy generation of invoices and quotes
Email integration
VAT support
Unlimited users
Cons
Navigation through the app can be confusing
Weak reporting functionality
AND.CO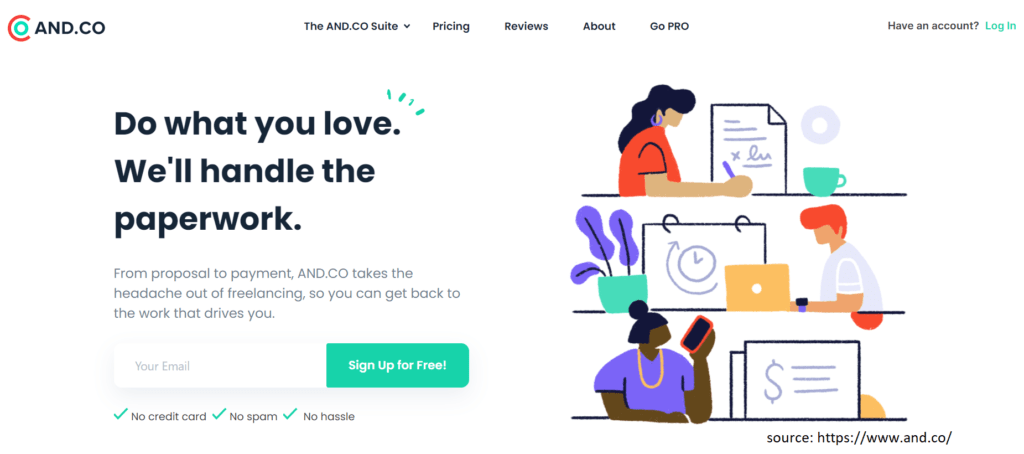 AND.CO can help you with time tracking, invoicing, and task management. Its features are designed specifically for freelancers. So, you will find everything you need to manage your projects and clients. You can use it to generate proposals, record work hours, create timesheets, and accept payments. What's great about AND.CO is it populates the details of the invoices based on your contract and project details.
AND.CO also helps you create contracts based on the templates provided by Freelancers Union. Of course, the templates are customizable. You can change the project fees and terms while selecting the clauses that apply to your operations. AND.CO even lets you collect e-signatures for your contract.
Pros
Designed for freelancers
Free to download and use
Provides customizable invoice templates
Comes with a timer
Generates proposals and contracts
Cons
Chat support is not available on weekends
Invoice2go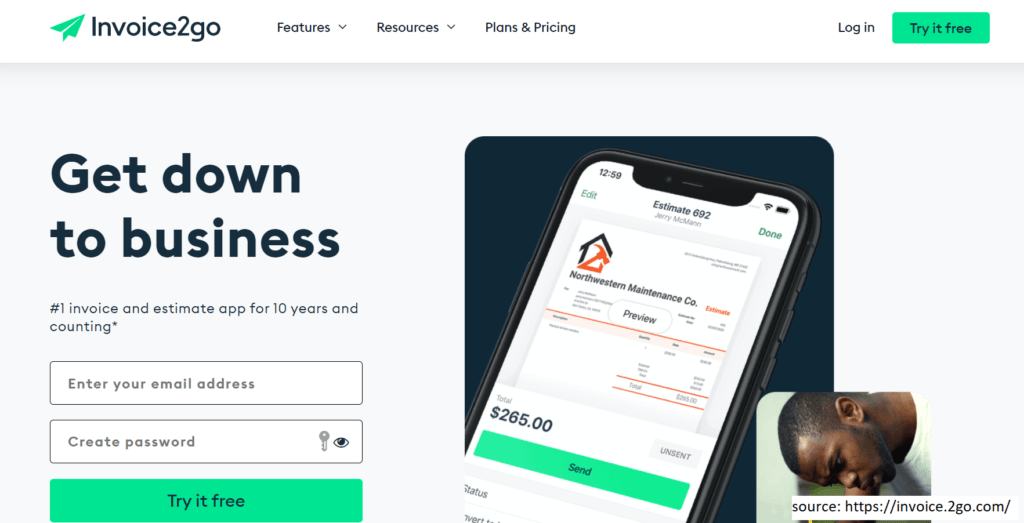 Some of your clients may receive heaps and heaps of emails, meaning your digital invoices may get lost in their inbox. Thankfully, Invoice2go helps get paid promptly. This tool allows you to send invoices using any messaging app on your smartphone. Whether you're using the Android or iOS version of the app, all the necessary details are present to let you create detailed invoices. Once you've generated an invoice, you have the option to send it via text, email, or any messaging app. So, if your client is active on Facebook Messenger, WhatsApp, or Google Hangouts, they will surely receive your invoice.
Another great thing about Invoice2go is how it protects sensitive data shared through messaging apps. When it comes to payments, the platform has a secure online portal that handles everything. Powered by Stripe, the platform ensures that all payment details are protected and safe.
Pros
Option for instant payment
Sends payment reminders
Easy to install, set up, and use on several devices
Cons
Recurring payments and receipts are available on the Unlimited plan only
Limited integration with other apps
Glitchy app
Pancake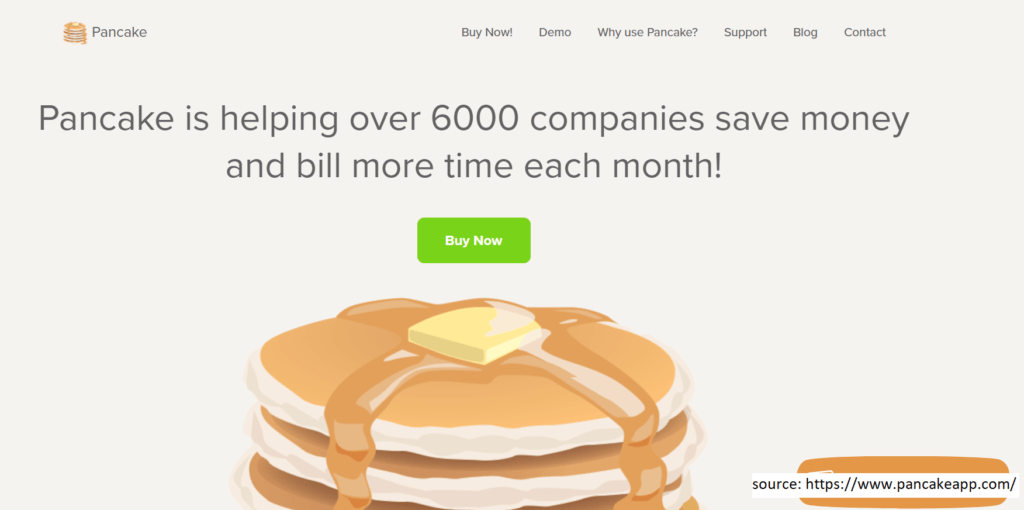 What's great about Pancake is it lets users run the app on their servers. As such, they don't have to worry about subscription fees. You only need to pay a one-time fee and the Pancake team will help you with installing the app on your server—for free. The theme is also customizable based on your branding. This way, whenever a client pays their bills on your site, they will have a consistent experience.
Using a single app, your team can record their work hours and even send estimates and invoices to clients. Meanwhile, customers can use the app to view their ongoing projects and pending payments. It streamlines the workflow for employees and clients.
Pros
Allows self-hosting
Available via a one-time fee
Front- and back-end customization options
Customizable page templates
Cons
No integration with Zapier
Lacks e-signature capability
Some details, including expenses and late fees, must be entered manually
Bill.com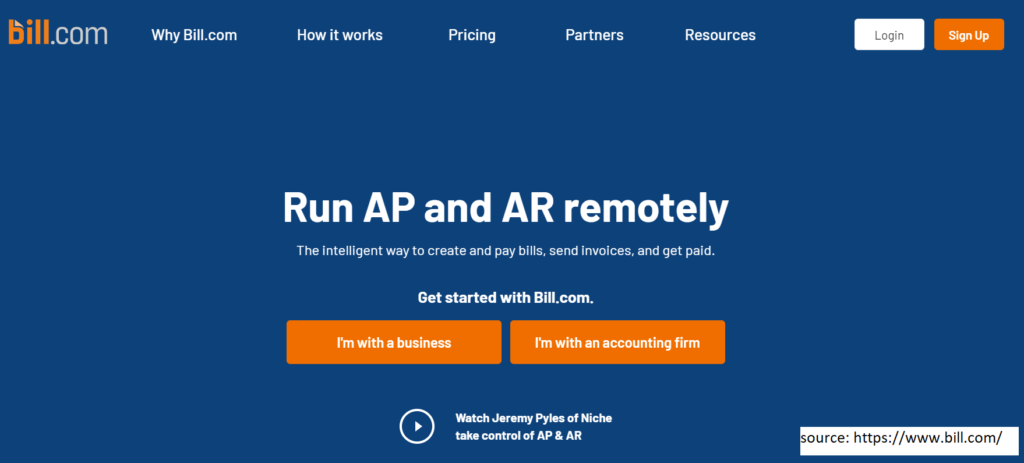 It can be challenging to keep track of online invoices. However, Bill.com makes the process easier by showing a progress bar with milestones. This way, you can monitor when bills are created, sent, approved, and settled. Both you and your clients can benefit from using this platform. After all, it makes your approval workflow easy through automatic routing. For instance, your client can add their preferred payment option to the workflow. Once the bill has been approved, the invoice will be submitted automatically to the accounts payable team. Then, the bill will be paid via credit card, ACH, or PayPal.
On the platform, you will see the progress of the invoice. You will also get an email that tells you the payment schedule and status. You may find the same invoicing features on other apps. However, Bill.com won't overwhelm you. The advanced features are presented in an intuitive and easy-to-understand manner.
Pros
Payments are FDIC-insured
Bank-level firewalls, security, and encryption
Customizable access levels
Simplified audits
Cons
Unreliable customer service
Limited reporting features
Create Accurate Invoices with Traqq
In today's digital landscape, businesses and freelancers must create accurate invoices. What better way to collect the necessary data than to use a reliable time tracker like Traqq? This tool automatically records working hours while monitoring the productivity of the user. With its reporting feature, you can see the number of hours a person spent working in a day, week, or month. What's more, the reports can be extracted as a CSV file, making invoicing easier.
You can download the tool and use all its features for free!