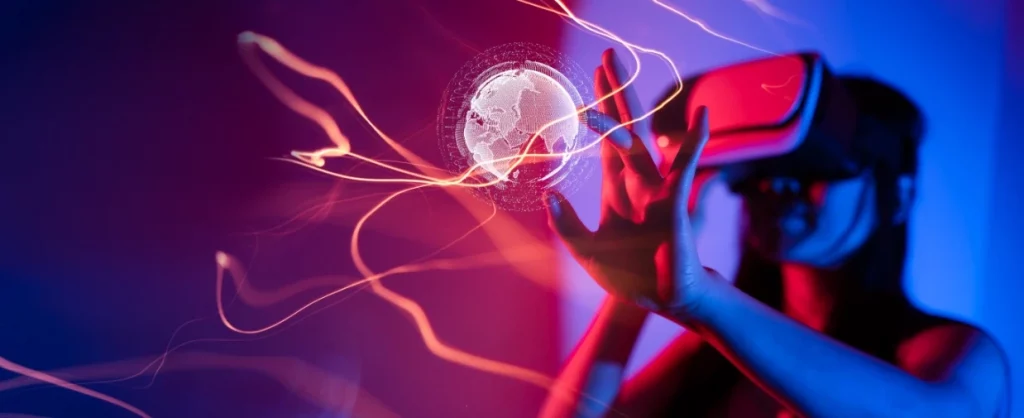 Technology is ever-changing, and the evolution of the metaverse is just one of the recent technological advancements in the world, specifically, the virtual world. The metaverse today is what social media was back in the 2000s, with big tech companies betting hard on its success.
According to DataReportal, 4.66 billion people globally use the Internet. That figure represents 59.5 percent of the world population, which is up by 316 million (7.3 percent) from 2020. Given that over half of the global population actively accesses the Internet, this new and transformative technology will have a huge impact on how humans interact.
Even renowned tech and business personalities like Bill Gates acknowledge that metaverse may alter how the world functions in terms of business and social interactions. So, who are the biggest players creating our virtual reality future now? Let's take a look.
Top Global Companies Leading the Metaverse Technology
So, who are the biggest players creating our virtual reality future now? Let's take a look:
1. Meta Platforms Inc. (Facebook)
Facebook Inc. recently publicized its name change to Meta Platforms Inc. to show its seriousness on metaverse technology.
Meta aims to transform how we live and interact by building 3D workrooms, virtual workspaces, and augmented reality headsets. The tech giant recently launched its VR meeting app, Horizon Workrooms. It's a digital space where people can meet, chat, and collaborate.
The platform is free to download on Oculus Quest 2. It offers features like hand tracking, spatial audio, avatars, and desk and keyboard tracking to create a more immersive way of communication.
Mark Zuckerberg noted that the metaverse "will feel like a hybrid of today's online social experiences, sometimes expanded into three dimensions or projected into the physical world."
Meta also recently reported that active users across its family of apps (WhatsApp, Instagram, and Messenger) have reached 3.6 billion each month. This, combined with manufacturing VR headsets (Oculus) and AR devices (smart glasses), shows strides in metaverse development.
Recent statistics by IDC revealed that Meta has a lead over its biggest competitors, accounting for 75 percent of global shipments of VR headsets.
Other notable projects include:
Horizon Marketplace – a platform where buyers, sellers, and creators can trade digital goods.
Project Cambria – a new, high-end VR headset that will be compatible with the Quest ecosystem, expected to bring exciting features. Meta says that the device will include eye and face tracking to make it more responsive to the user's commands.
VR Messaging – intended to help users connect in an immersive way.
Meta recently acquired Within, the creators of Supernatural, a VR fitness app. The acquisition indicates Meta's intentions at broadening its VR ambitions into the metaverse world.
2. Microsoft
Microsoft takes a more work-focused approach to build a metaverse that connects people virtually. In March 2021, the company announced its new invention, Mesh, which allows software developers to create apps that connect different devices to the same digital reality.
Mesh will be integrated into Microsoft Teams, allowing participants to use avatars to collaborate in a virtual space. Participants can also project themselves in their most lifelike, photorealistic self, using Holoportation technology. It enables people to interact as if they were there in the same physical room. Microsoft laid the groundwork for 3D technology when it acquired Altspace VR back in 2017
Mesh will be available in VR headsets, desktops, mobile devices, and HoloLens 2, giving users an immersive experience from anywhere. Remote teams will be able to connect, train, design, and get remote expertise digitally.
3. Apple
While Apple is notably absent in the race for AR/VR hardware, analysts highlighted that mass adoption of metaverse will "occur when Apple joins the race." According to Morgan Stanley, although Facebook owner Meta Platforms Inc. is an early adopter of the metaverse, things will only get real when Apple Inc. joins the club.
Apple is currently working on an advanced HMD Virtual Meetings App in readiness for the metaverse. In fact, Apple has already filed a patent that covers techniques related to a future Metaverse application.
A few developments show that Apple has been laying the foundation for a major product. Its new iPhones feature Lidar sensors, which measure the distance of an object – useful for location-based applications. Its recent devices also come equipped with ARKit, software that allows developers to create apps that utilize iPhone's sensors for accurate room mapping and localization.
These technologies point toward high-end headsets that combine AR and VR that could be launching later this year.
Apple is not big on early adoption. However, when it releases a new product, it tends to shake up the entire market, providing a new perspective for consumers and businesses.
4. Google
Google is not new in the world of augmented reality having launched Google Glass in 2013. While the product wasn't well-received by the general public, its headsets continue to be available for business use
This experience with augmented reality puts Google in a better spot to advance its computing style. Google CEO Sundar Pichai, in a Bloomberg interview, shared his views on the metaverse realm describing it as an "evolving computing in an immersive way with augmented reality."
Google's current focus is more on connecting people through augmented avatars, bringing together the physical and digital world. The company is yet to share its stake in the metaverse battle, but it has a team developing an operating system for augmented reality.
5. Epic Games
Epic Games, the company behind the big-hit video game Fortnite, is one of the leading metaverse companies shaping our virtual reality future. It is focusing on building a metaverse platform capable of supporting more than its current 60 million monthly users.
Fortnite CEO, Tim Sweeney, says that "it's no secret that Epic is invested in building the metaverse." Fortnite has moved beyond the traditional PC video game into a vast virtual world that lets people socialize over conversations rather than emoticons.
A case in point is the 2021 Travis Scott concert in Fortnite, where 12 million people were in the same virtual room.
Epic Games is also focused on making 3D, AR, and VR content accessible to the public and expanding the creator ecosystem. As such, anyone can create professional 3D content. In turn, this will help improve the quality of the metaverse experience.
6. Niantic
Niantic already has a footprint in augmented reality platforms, having developed games like Pokémon Go. The company recently unveiled Lightship AR Developer Kit (ARDK), making it available publicly for free. The technology makes tools to help developers create AR games.
Niantic has, from the beginning, been laying the foundation to become a metaverse company. It has several products already in the market like Ingress and Pokemon Go, which lay animations on top of the real world via software and smartphone.
Late last year, it announced that Coatue made a $300 million investment, saying it plans to invest in building the "Real-World Metaverse."
7. NVIDIA
NVIDIA is a world leader in computer graphics hardware, which puts it ahead of the curve when it comes to enabling the success of the metaverse.
NVIDIA enables other companies to build their own metaverses by providing the tools they need. One such tool is Omniverse, a real-time, open platform that lets creators, designers, engineers, and researchers collaborate in a virtual space to develop physically accurate simulations.
Developers and software providers can use the platform to build and sell Apps, Extensions, Microservices, and Connectors. The Omniverse ecosystem supports the live collaboration of users and 3D design tools, simplifying workflows.
8. Nike
Nike is a famous brand known for its footwear range and apparel. It's also a leading company for sports equipment and services. The renowned footwear giant is currently experimenting with metaverse technology in collaboration with Roblox.
Its virtual world, Nikeland, offers users free access to explore the immersive virtual experience. Within the game, your movements in real life translate to the virtual world to execute in-game moves like speed runs and long jumps.
To play, users must use accelerometers in their smartphones or tablets, which will utilize real-world movements to power online play.
People can also enter the digital showroom, where they can dress their virtual selves (avatars) in Nike's latest products. The company has already filed trademark applications for some of its famous brands, including Jordan, Just Do It, and Air Jordan.
Nike says it's hoping to connect with younger generations via gaming and virtual reality to market and sell its digital goods. The company announced it will increase athlete and product integrations within the gaming platform for better functionality.
9. Binance
We've already seen that blockchain and crypto play an essential role in the metaverse. People will need a virtual trading platform to help improve the interoperability between various metaverse ecosystems. Binance will help facilitate the process by creating the proper infrastructure that lets buyers and sellers trade virtual asset NFTs from different blockchains.
The Binance Exchange offers users a wide selection of metaverse token pairs. This creates liquid markets for the metaverse, thereby helping support the growth of this technology.
10. Roblox
Roblox is a gaming company that is popular with gamers around the world and is the brains behind games like Bloxburg and Meepcity. The company is already focusing on building metaverse spaces by enabling players to build virtual homes and engage in various tasks.
It allows people to do more things beyond gaming. Players can seek adventure or a job in the virtual world, try new clothes on their avatars, chat with friends, etc.
Paris Hilton, a U.S. reality TV star, recently launched a metaverse on Roblox, dubbed Paris World. Through her metaverse, Paris allows visitors to explore digital replicas of her Beverly Hills estate or visit the island in a luxury car or Sunray yacht.
Roblox boasts of hosting metaverse events like the Lil Nas X Concert that dazzled the entire world. If you missed it, here's the full show:
Metaverse Technology: Explained
If you haven't heard about the metaverse, it's a term coined by Neal Stephenson in his sci-fi novel Snow Crash, depicting an escape from reality. Today, the term takes a more modern meaning. It's an alternate world made more lifelike via virtual reality (VR) and augmented reality (AR), that users can access through various devices and platforms.
Metaverse users will be immersed in a 3D virtual realm, where they'll use an avatar to walk and interact with others in a virtual space.
The metaverse is the next big wave on the Internet, and once fully implemented, it will significantly expand the number of experiences used in everyday life. We are talking about virtual meetings, sporting events, and even weddings taking place in the metaverse.
In fact, online gaming companies like Roblox and Epic Games have already started shaping the future of gaming. People can now play, socialize, and even make a living selling digital wares.
Why Companies Are Interested in Building the Metaverse
Not long ago, COVID-19 raged across the globe, grounding businesses and life in general. It was the Internet and the resulting work-from-home technology tools that helped companies stay afloat, and perhaps, even expand rapidly. The business environment and other sectors like education and medical have since become more technology-intensive.
With the introduction of VR-based wearables, these sectors have the potential to advance even further. Almost everything from education to post-work routines to business meetings will have an alternate world (virtual world), where people can interact like in real-life.
The metaverse will not only hugely impact marketing, but it could also potentially lead to a rapid expansion of the world economy. Major tech giants like Meta Platforms Inc. have already entered the metaverse space, signaling it could be the new future. With the metaverse, it's not a matter of "if" but "when". Therefore, it makes sense for companies to build metaverse solutions themselves.
What Are the Uses of Metaverse?
The metaverse technology has gradually been in development, and when it's fully established, it will prove beneficial in many applications. Here are some of them:
Legal. While business transactions have already gone digital, using 3D will make it even more realistic and interactive.
E-Commerce. Companies should expect huge cost savings and a reduction in carbon footprint. Additionally, metaverse will provide a whole new revenue stream for digital marketers. For example, companies can sell digital assets in the metaverse. Moreover, the demand for virtual fashion will soar.
Sales and marketing. As a salesperson, you can connect with clients intimately without having to commute to meet them in person. All they need is a headset, and you can take them through your products using 3D presentations.
Human resources. Matt Burns, founder, and chief innovation officer of BentoHR says that any company that involves the complex assembly of machinery will greatly benefit from VR and AR training. Metaverse provides a platform where companies like Boeing can provide training using 3D technology to give employees "a step-by-step playbook on how to put together a jet engine."
Gaming. The immersive, 3D gaming environment offers users the closest experience to real-life gaming. More importantly, play-to-earn elements allow gamers to collect crypto and NFTs (non-fungible tokens) that can be sold in the market. Players can now engage in blockchain games and generate a steady stream of income. Top projects already taking advantage of the metaverse technology include decentral.games, TopGoal, Alien Worlds, and SecondLive.
Metaverse: Frequently Asked Questions
Q: What Is the Metaverse?
The metaverse is a 3D internet powered by virtual reality that connects people via digital avatars. It takes you to a digital world where you can explore and experience multiple activities and interact with others in real-time.
The metaverse is expected to bring huge changes in how we use the Internet in our day-to-day lives, as well as carry out business.
Q: How to Buy Metaverse Stock
You can buy metaverse stocks from popular options like NVIDIA, Roblox, Unity, and Meta (Facebook). You can purchase these stocks through metaverse Exchange Traded Funds (ETFs) or brokerages.
Q: How to Invest in the Metaverse
You can directly invest in the metaverse in three major ways:
1. Buy Metaverse Tokens
Metaverse tokens are a unit of currency that enables users to make digital transactions within the metaverse. Since the metaverse allows people to create, buy, and sell digital goods, tokens make these transactions possible. Some of the top metaverse tokens in the market include:
Decentraland (MANA) – market cap of $6 billion
Axie Infinity (AXS) – market cap of $5.9 billion
The Sandbox (SAND) – market cap of $5.37 billion
THETA (THETA) – market cap of $4.83 billion
Enjin Coin (ENJ) – market cap of $2.44 billion
SushiSwap (SUSHI) – market cap of $1.188 billion
2. Buy In-Game Non-Fungible Tokens (NFTs)
Non-fungible tokens or NFTs are unique cryptocurrency tokens that can be used to represent real-world items like tweets, video game skins, GIFs, real-estate, artwork, and more. They are not mutually interchangeable, meaning no two NFTs are similar.
NFTs are based on blockchains. Transactions are simplified by creating new markets without the need for intermediaries. NFTs allow real-world tangible assets to be tokenized so they can be bought, sold, and traded while eliminating the potential of fraud.
3. Buy Virtual Land in the Metaverse
You can purchase property in the virtual world. To do so, you must sign up with a metaverse platform like The Sandbox, Decentraland, or Axie Infinity. You'll then need a well-funded digital wallet. Decentraland lets you make an offer on the property within the platform, where the owner can either accept or reject your offer, just like in the real world.
Q: What Top Tech Companies Are in the Metaverse
Apart from big names like Meta (formerly Facebook), Microsoft, and Apple, there are other top players invested in developing metaverse. They include Nvidia, Decentraland, Niantic, and Unity.
Conclusion
While many developments are still in the pipeline, metaverse companies keep improving their virtual worlds. Enterprises are embracing the transition from a physical world to a virtual world, further accelerating its adoption. We've already seen celebrities and musicians holding concerts in the metaverse, and it's exciting to experience this innovation.
With meetings already happening in virtual reality, it's only a matter of time before the metaverse technology catches on.