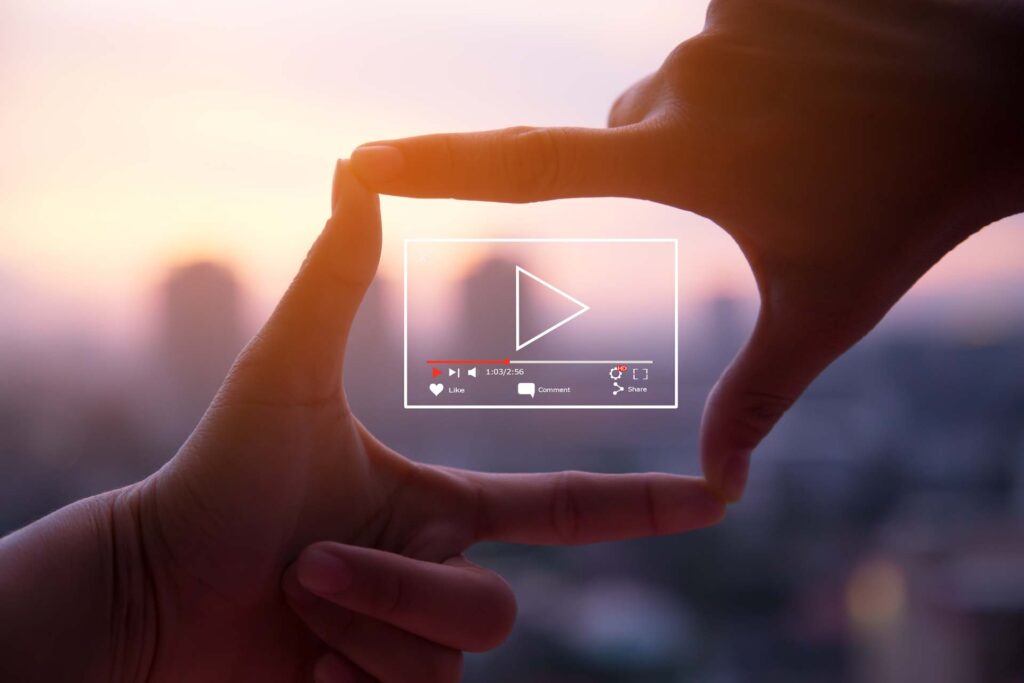 So, you've been paying for TV for a while now and you just hate it. You have heard about streaming services but are wondering which one to choose. Don't sweat it. We've got you covered.
Not long ago, you had to pay for a cable package to watch your favorite TV shows or hit the cinemas to watch movies. But those days are long gone, and now you can watch shows online for free, right from the comfort of your home. You don't even need a television to enjoy your favorite TV series.
Now you can stream TV shows online for free from your laptop, tablet, or even smartphone without too much hassle. And you can watch not just one episode but an entire series on the go while commuting to work, waiting in a queue for coffee at a local café, or enjoying the summer sun at an exotic beach.
There are hundreds of websites that give you online access to free TV shows as long as you have an active internet connection, but unfortunately, many of them are not trustworthy and are filled with annoying popup ads and notifications. Even worse, some redirect you to malicious websites that are likely to infect your computer with malware. Therefore, we recommend that you install reliable anti-malware software to protect your privacy and prevent malware attacks.
Disclaimer:
Traqq is not affiliated with the websites featured in this article. Moreover, our team does not verify whether these platforms carry the proper distribution licensing for the content they feature. We do not endorse illegal activities related to downloading or streaming copyrighted materials. As the end-user, you are solely responsible for your interactions with any form of media you access through the services or apps mentioned in this article. The websites referenced here are not hosted by Traqq, and this article is for educational purposes only.
Without further ado, here's a comprehensive list of sites that allow you to watch full episodes of your favorite TV series online for free without downloading them on your computer:
1. TubiTV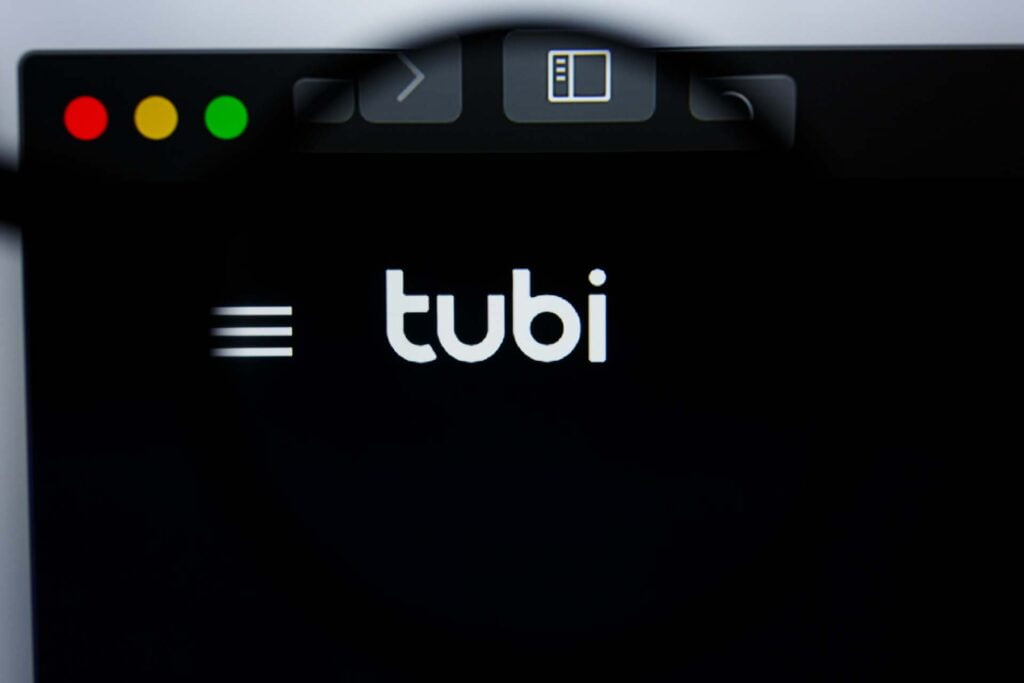 TubiTV is a free, ad-supported service that offers a hassle-free way to stream popular TV shows, including AMC's The Walking Dead and HBO's Game of Thrones, among many others. You also have the option to download each episode if you wish to save it for later.
TubiTV requires that you register a free account to enjoy all the shows on the website. The site is regularly updated with the latest episodes, so you can be sure not to miss any of your favorite TV shows.
The website makes it easy to browse through dozens of shows, and its owners claim that it is safe and legal. All the TV shows are free to watch. However, you have to contend with endless popup ads that keep springing up in the middle of shows.
Pros:
TV shows are frequently updated.
The website is safe and legal.
You gain access to unlimited content.
The website can be accessed from any device.
Cons:
The platform delivers targeted advertising.
The site tracks your viewing history.
There is no filter for TV shows and movies, which can make your search confusing.
2. Popcornflix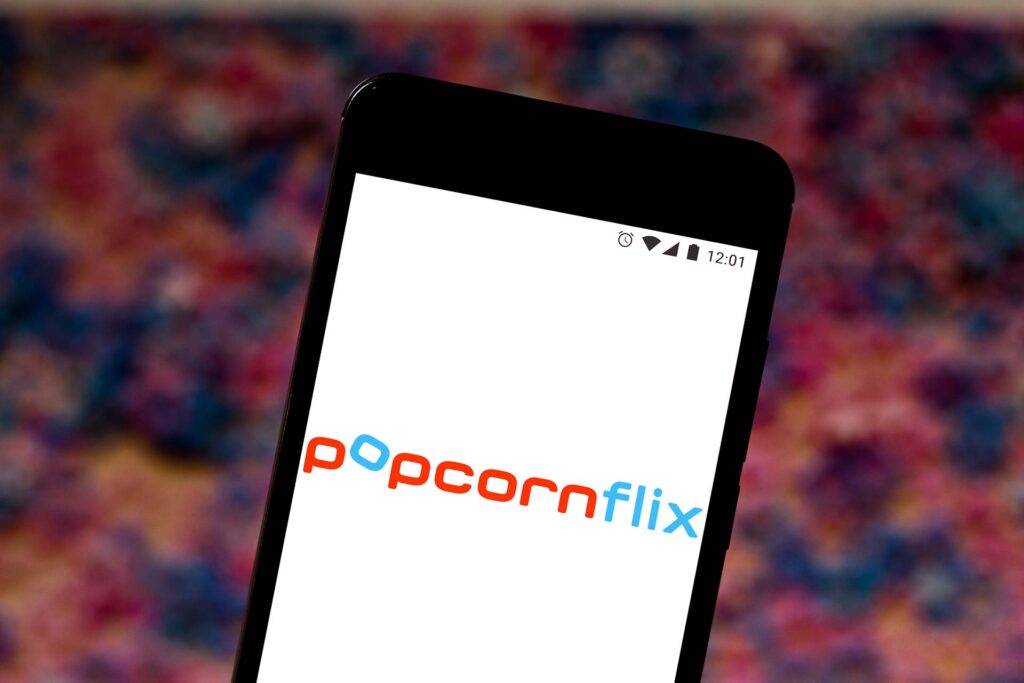 Offering a wide variety of TV shows and movies, Popcornflix makes it easy for users to find awesome content. Its user interface is uncluttered, and as soon as you launch the website, you will see two major options, namely TV and MOVIES.
Each category is divided into various subcategories containing shows and movies of different genres, including documentaries, comedy, romance, drama, horror, and action.
Looking for something funny? Select the "Viral vids" option and crack up watching dozens of hilarious videos.
Pros:
You gain access to a unique collection of movies and TV shows.
Episodes load instantly.
You can watch your favorite shows from any device.
Cons:
The platform lacks new content.
You are bombarded with annoying ads.
The platform lacks the filter feature, which makes it quite difficult to find what you're looking for.
3. Yesmovies.to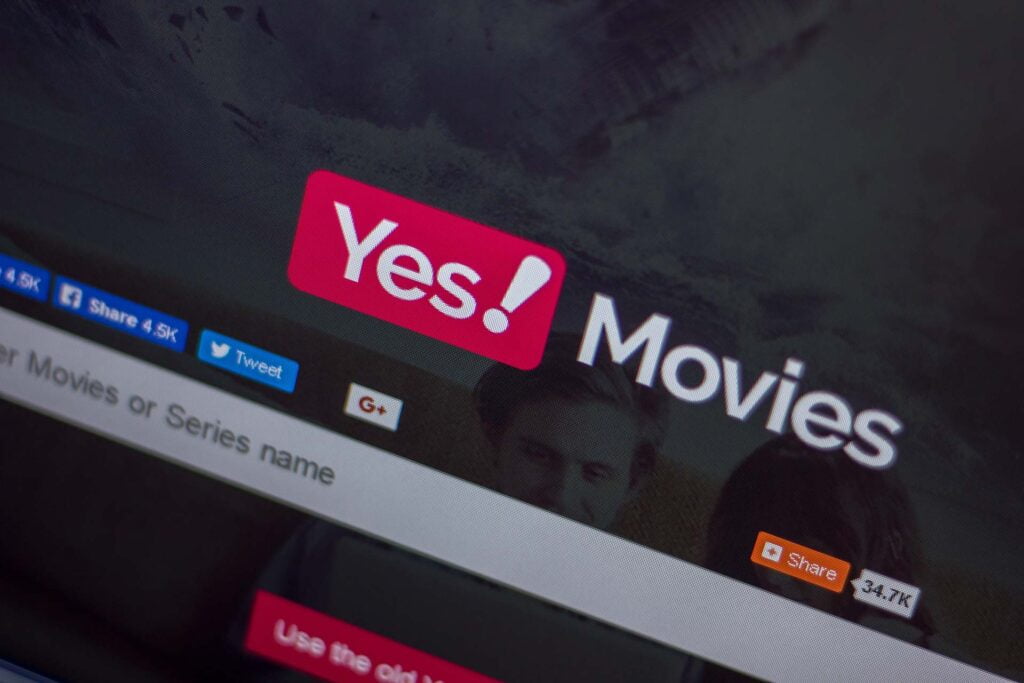 The first thing you will notice when you visit Yesmovies.to is the thumbnail display that makes it easy to select the series you want to watch. At the top of the page, you can easily choose the genre that you wish to watch or even filter TV series by country.
Additionally, the platform displays reviews and ratings from IMDB. You can hover your mouse cursor over any of the TV shows displayed to take a sneak peek at what the series is all about.
Pros:
There are not many pop-up ads or notifications.
The service contains quality content.
It doesn't require registration.
You can create a playlist.
The interface makes it easy to browse through the website.
Cons:
4. Crackle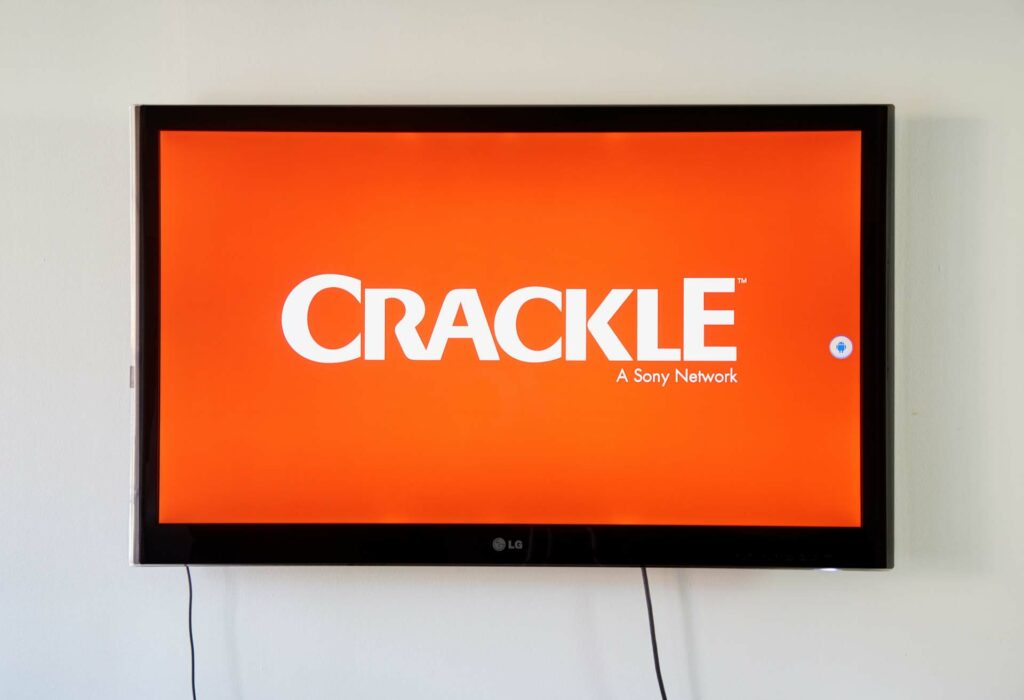 With Crackle, you get to enjoy hit TV series and movies without spending a cent. You can watch TV shows online for free via your computer or on your mobile device, so the service is easily accessible wherever you go. Like on any other free sites, you can expect some commercials to interrupt normal programming.
The platform is straightforward and easy to navigate, giving you an easy time to find the series that you want. To select a TV show, simply select the TV option at the top of the page, choose the genre, and look for your favorite shows. Alternatively, you can use the filter feature to quickly find the latest episodes, movies, trailers, and so on.
Pros:
The service offers a large collection of TV shows.
The service can be used across multiple platforms.
You are given access to the latest hit TV shows and movies.
Cons:
Crackle is only available for residents in the U.S and Australia.
The commercials can be quite loud and annoying.
5. ShareTV
ShareTV is not the usual streaming site that you'd expect but rather a search engine that lets you search for specific TV series or movies from other platforms. All you need to do is type the name of the TV show or movie you want to watch and click "Search". If the series is available, you'll be shown a list of platforms where you can watch it.
The site has quite an elaborate library of popular content and displays countdowns to the next episode. You can browse through 'Trending Shows' or 'What's New Tonight' to look for interesting content to watch.
Pros:
The service shows you when the next episode will come out.
There are lots of categories and filters for accurate search.
Cons:
Not all content is free to watch, and it's not easy to differentiate free videos from paid ones.
You get to use third-party websites rather than a single service.
Invasive ads may spoil your experience.
The user interface is busy.
6. CONtv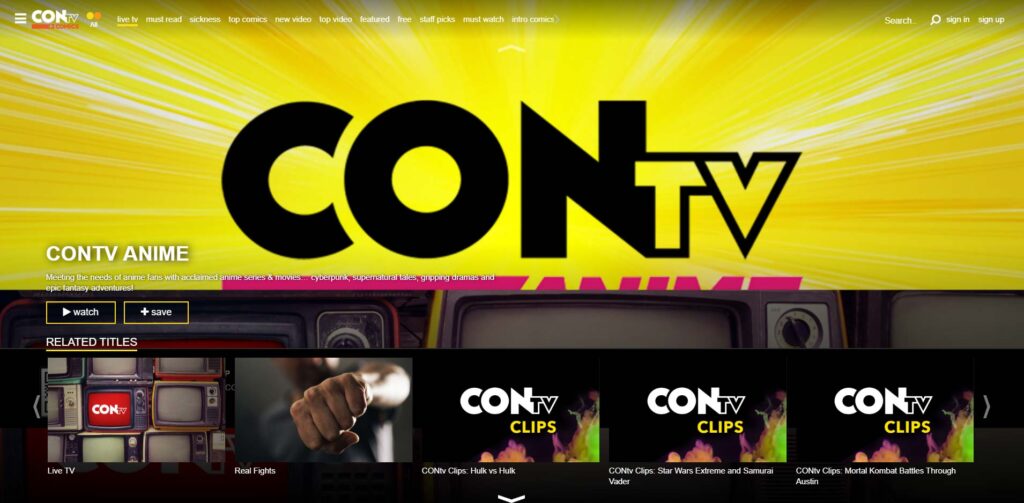 The good thing about CONtv is that it enables you to watch TV shows online without registering. Although the platform is widely known for distributing comic and anime content, you will also find multiple genres, including horror and sci-fi, there. The site offers basic services for free, but you can subscribe to premium services.
Pros:
The interface displays related titles.
CONtv is a great platform for Comic-Con content.
The platform provides quality, easy-to-access content.
Cons:
Not all content is free; you will need to subscribe to watch specific types of content.
Ads can be quite annoying, and you have to pay $6.99 each month for ad-free streaming.
The platform lacks the filter function.
7. Vudu
Vudu is a video-on-demand (VOD) streaming service that provides access to multiple TV shows and movies. You also get to watch TV shows online for free but with ads. The quality of shows on Vudu is high, and you get access to content from popular networks like Fox, HBO, and CBS.
To make your search faster, use the filter option to select TV shows by genre. The site makes it easy to choose whether to watch free content only or get access to paid content as well – all you have to do is check or uncheck the 'Free TV only' box.
Not sure what to watch? Don't worry. Simply browse the 'Most Wanted,' 'Recently Added' and 'Release Date' categories to get some ideas.
Pros:
The large collection of TV shows and movies is impressive.
You can filter out paid content if you only want to watch free content.
The service lets you download content to watch offline.
It allows you to easily filter TV shows and movies.
Cons:
You must create an account to enjoy shows on Vudu.
Free content is accompanied by numerous ads.
It's not exactly a good place to find the latest shows.
8. Yidio
Yidio, which stands for 'Your Internet Video', is similar to ShareTV in that it lets you search for and watch TV shows from third-party streaming services. Some of the sites include premium platforms like Netflix, Amazon, Showtime, and Hulu.
You'll find an option that allows you to watch TV shows online for free. The platform also offers IMDB ratings and reviews to give you a taste of what each show is about.
The site has a user-friendly interface, and options to filter content by genre can be found on the left side of the page.
Pros:
You can easily browse through the available content.
You are given access to various streaming services, both premium and free.
You can easily sort through various TV shows.
Cons:
The platform is filled with ads.
Some episodes are only short clips and not full episodes.
The service redirects you to third-party websites.
9. PlutoTV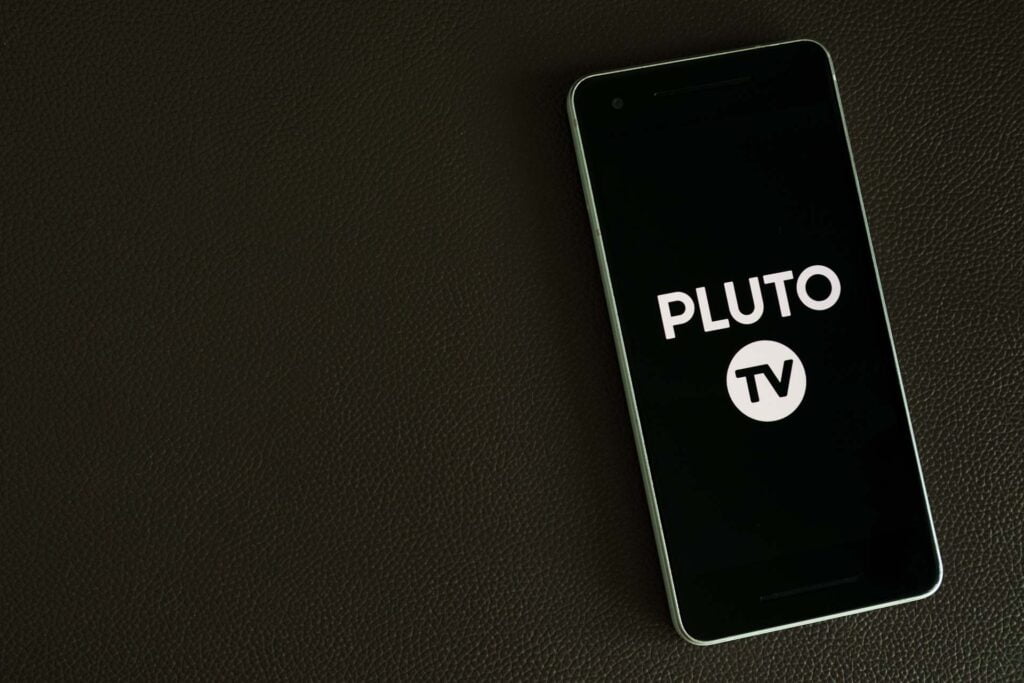 How about an option to stream live TV channels absolutely for free? Sounds interesting, right? That's what PlutoTV offers you. You will find tons of popular movie channels there, plus other channels like MTV, CBS News, CNN, and NBC News Now.
As you can see, it's not all about TV shows on PlutoTV. You get access to a variety of sports, entertainment, news, and comedy channels. No wonder PlutoTV is a popular on-demand streaming service.
Simply tune in and start watching anything you want. Unfortunately, the service is geo-restricted, which means it might not be available in your country.
Pros:
You gain access to on-demand and live shows.
The service is available across multiple devices.
It resembles the traditional cable television.
Cons:
It is filled with ads.
The service is geo-limited.
The website lacks an SSL certificate, making it unsafe.
10. 123movies
If you're looking for a Netflix alternative, 123movies is your go-to website. You can choose a movie of any genre you like, from any year, and the shows load pretty fast. If you want to sort movies by country, the platform makes the process a breeze. Plus, you can filter titles by genre, rating, popularity, and more.
123movies features a large selection of content and allows you to stream high-quality content, including 1080p.
The developers of this platform want you to enjoy hassle-free streaming, so you don't have to register for an account to enjoy the shows. On the right side, apart from the multiple genres, you can see the number of titles under each category.
Pros:
You get to enjoy a clean user interface.
The platform is easy to navigate.
The filter option makes it easy to find content.
Cons:
It is filled with annoying ads and popups.
The site redirects you to other sites.
11. Vumoo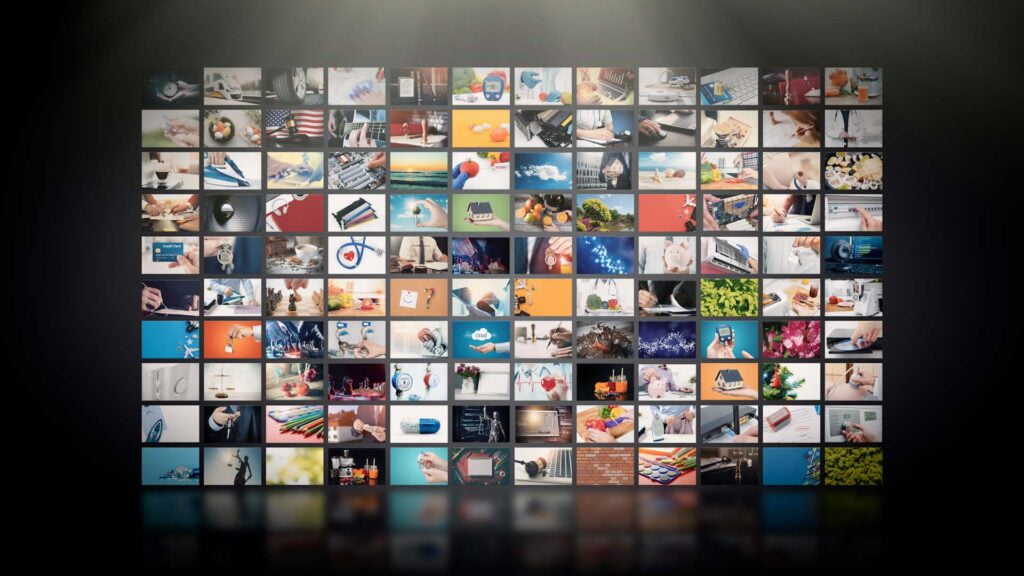 The uncluttered user interface is one of the greatest features of the Vumoo platform. The search feature is quite intuitive, and it starts displaying the available titles as soon as you start typing a query into the search box.
You don't need to sign up to enjoy shows on Vumoo. The episodes load pretty fast and open instantly as soon as you click on them. When you select a series, you can check out its preview and select any episode from the list.
Pros:
The service has a clean user interface.
Episodes load fast.
The search function shows you the list of available titles as soon as you start typing.
Two server links are offered to ensure smooth streaming.
Cons:
The service lacks the filter function.
Shows contain ads.
The website is not secure.
12. Shout Factory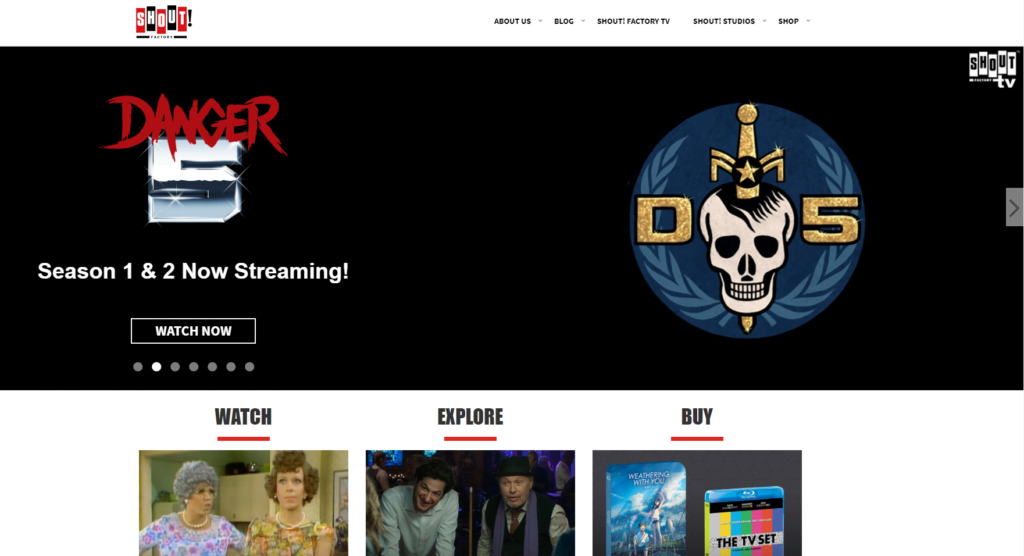 If you miss cult and classic TV shows from the '90s, Shout Factory helps you reconnect with the past. Unlike other sites, the platform offers some of the most well-known TV shows for free, but as you can expect, ads will keep ruining your experience.
To remove the ads, you have to pay a subscription fee.
Pros:
You can filter TV shows and films by genre.
You can watch TV shows online for free.
The service gives you access to cult and classic shows that are hard to find elsewhere.
Cons:
You can expect lots of ads.
You can't save content to watch later.
The site doesn't offer content suggestions.
13. FlixTor
FlixTor is among the top choices for streaming TV shows online. You can also access it to watch movies, but you have to acquire a VIP membership. It has gained a loyal following because of the impressive amount of content featured on the site. What's more, it consistently provides smooth playback, has a reliable search engine, and boasts a user-friendly interface. FlixTor's search engine is fully automated, allowing it to conduct scans of other streaming sites every hour.
Pros:
You get access to a comprehensive library of TV shows and movies.
You can watch content for free without creating an account.
The platform offers fast search results and smooth playback.
Cons:
You might get overwhelmed with the options available on the homepage.
14. Solar Movies
With Solar Movies, you can watch your favorite TV shows and movies anywhere you go. You don't even have to worry about dealing with a complex interface. What's more, you can start streaming content without paying a cent. This is also the reason why Solar Movies has garnered loyal fans around the globe.
Pros:
It features shows and movies from the best streaming platforms, including HBO, Hulu, Netflix, and Amazon Prime.
Its interface is easy to use, and you can simply type in the title of the content you want to watch to access it.
You can easily find information about a movie or TV show in the description section, which makes the selection process much easier.
You don't need to subscribe to the service, and you can access TV shows and movies for free.
Cons:
Many users complain that the site is full of bugs and malicious links.
The ads on this site have an auto-clicker. So, when they pop up, they automatically redirect you to a third-party website.
The number of countries where Solar Movies is accessible is limited.
15. HiMovies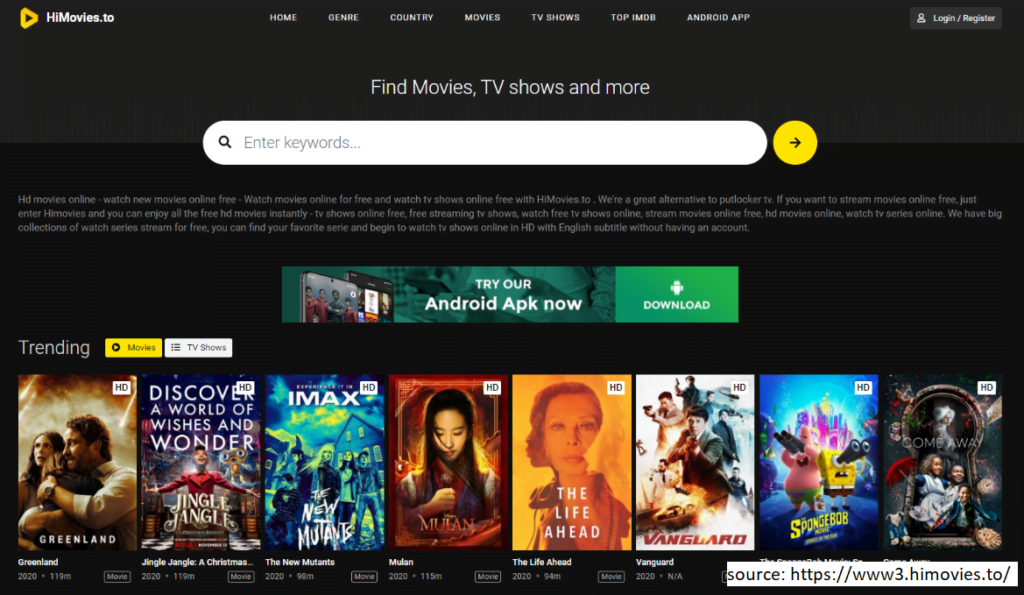 HiMovies may be new to the streaming game, but it's quickly proving to be a strong player. It features a comprehensive collection of TV shows and movies. What's more, its library is consistently updated with new releases. So, with access to HiMovies, you will always be up to date with the latest content from big picture companies and streaming sites. Even original titles from Netflix, HBO, Hulu, and Disney+ can be found on this site.
Pros:
It features a big collection of movies and TV shows from different genres.
The homepage organizes the titles according to the genre, country of origin, and IMDB ranking. So, it's easy for you to choose what to stream.
All the titles are accessible for free, allowing you to start watching right away.
Cons
The site is riddled with click redirects.
The pop-up ads may be annoying for some people.
16. SubsMovies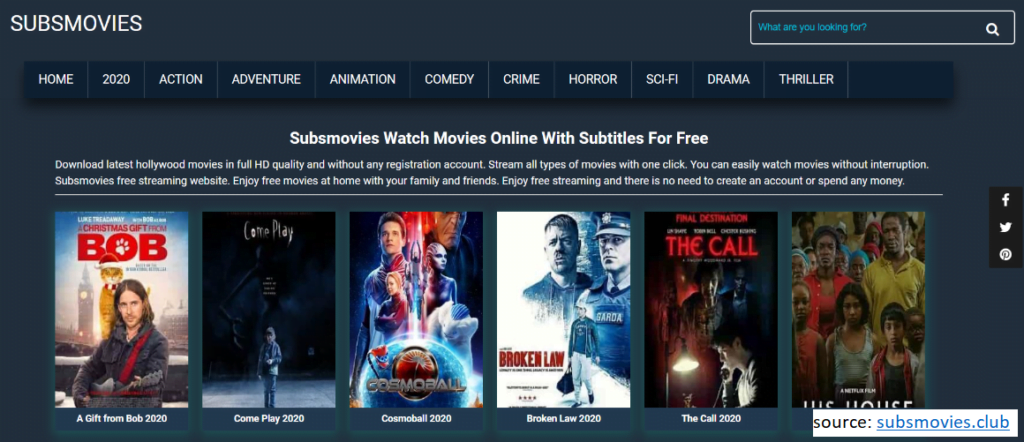 SubsMovies is perfect for those who prefer streaming TV shows and movies on a user-friendly site. The latest releases are featured on the homepage. However, if you're undecided about what to watch, you can view titles according to various categories. The homepage organizes content into different genres, including comedy, adventure, action, sci-fi, and drama.
Pros:
You can always expect to see the latest releases on this site.
You don't have to pay subscription fees to access your favorite movies and TV shows.
For eye comfort, you can use the site's Dark Mode feature.
Cons
It is riddled with ads that you can avoid only if you create an account.
17. Project Free TV
Strictly speaking, Project Free TV is not a streaming site. Instead, it indexes third-party websites, collating links under one roof. This is the reason why it can offer the benefit of a virtually endless library. Now, when it comes to the user interface, the experience offered by Project Free TV may not be the most intuitive or smoothest on this list. Frankly speaking, you'll find the other free streaming services we've mentioned to have a better design. Even so, the site won't bombard you with too many ads, and you'll appreciate that.
When you visit Project Free TV, expect to spend time on third-party sites. As we've mentioned, this site does not host any of the titles it features. So, it's worth remembering that there's no guarantee that there are no annoying pop-up ads on third-party sites.
Pros:
The main page features an excellent variety of content.
You can expect smooth and fast streaming as long as you choose the right source.
You'll find a large number of high-quality videos on this site.
Cons:
The links on Project Free TV are not verified. So, click at your own risk.
It does not have the cleanest interface.
18. Kanopy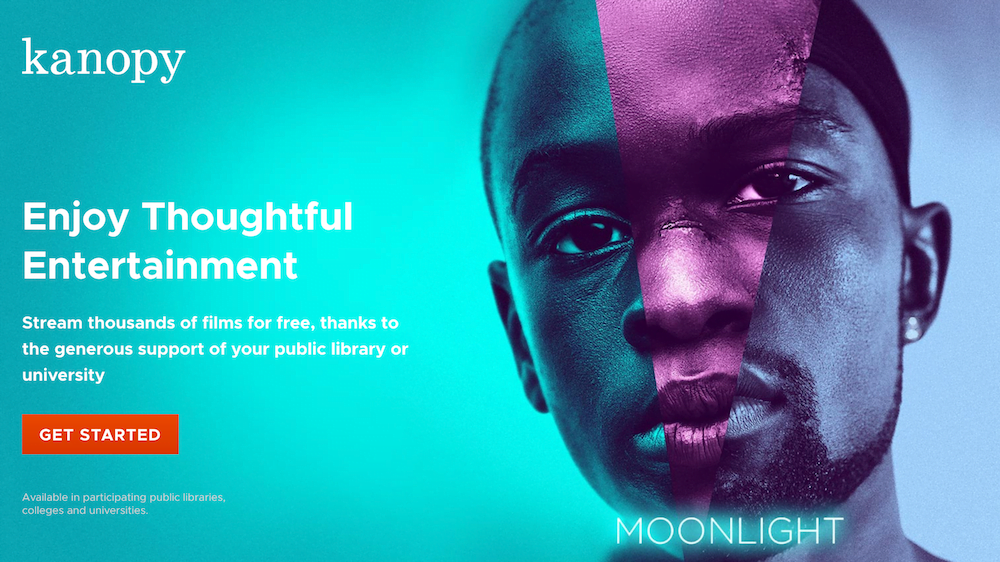 Kanopy is a California-based video streaming company that features a comprehensive collection of movies and shows. The best part is, as long as you have a library card or you're a college student, you can start watching videos on this platform for free. So, if you don't have a library card yet, better get one. Once you access Kanopy, you will be impressed with how massive the selection is. What's more, the streaming platform has versions for Android, iOS, Apple TV, Roku, and Fire TV.
Pros:
You can stream thousands of shows and movies on demand.
As long as you have a university email address or a library card, you can watch videos on Kanopy for free.
You don't have to deal with annoying ads.
Even with a single account, there's no limit on simultaneous streaming.
Cons:
If you're using a mobile device, you cannot download videos for offline viewing.
Some users claim that Kanopy does not offer many mainstream entertainment titles.
19. The Roku Channel

Unlike other streaming services, The Roku Channel does not license titles directly from production houses. Instead, the platform aggregates free streaming shows, live TV channels, and movies from other services. This way, you can access all the free content via a single platform. However, do note that this service is only available on Roku devices.
Pros:
You can access most of the titles for free.
The Roku Channel has an excellent selection of movies and TV shows.
You can also find a good collection of live streaming TV content.
Cons:
The service is only accessible on Roku devices.
There are premium portions of the service that you can only access if you pay.
The new releases are not available for free.
These are some of the top streaming services that allow you to watch TV series online for free. So, if you are stuck at home due to the lockdown brought by the COVID-19 crisis, now you know where to find your favorite shows.
Speaking of favorite shows, you know how easy it is to get immersed in a TV show or movie, only to discover that you're late to deliver your assignments. Don't let that happen to you. Make use of a time management app like Traqq to keep track of time and ensure that your free time doesn't creep into your working hours. Traqq is an efficient tool that works even when you're offline. It helps you to account for every minute and sends you notification and alerts if you forget to activate your timer.