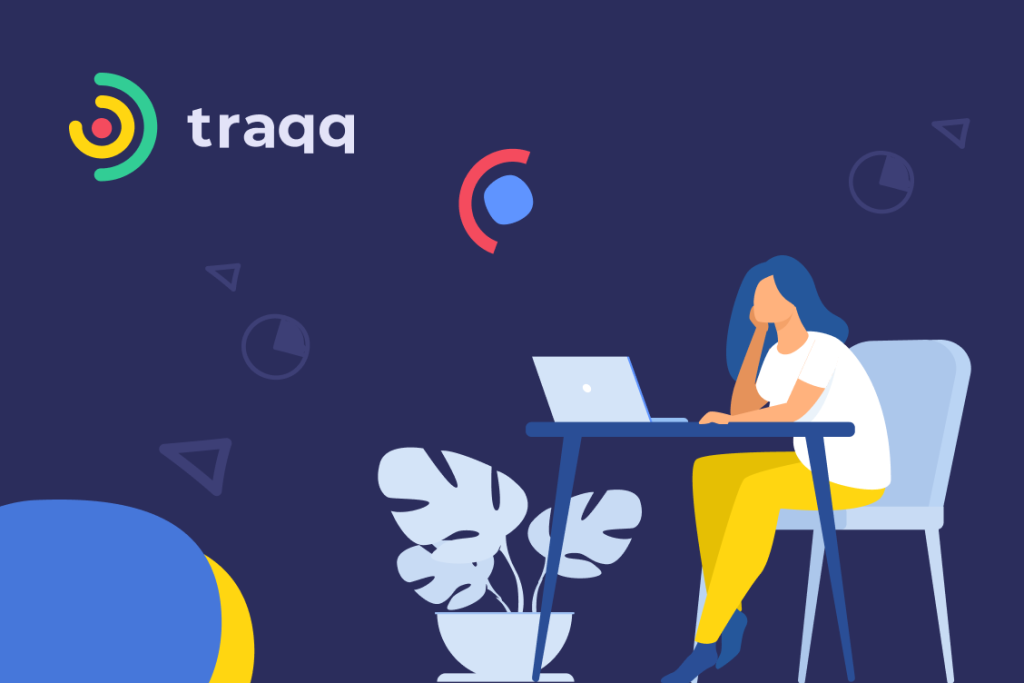 Congrats! You've finally decided to make time tracking convenient by installing Traqq. By choosing this app, you will have a productivity and attendance monitoring tool that is user-friendly and comprehensive. Remote team performance management has never been this easy! This simple time tracking app logs hours automatically and allows you to generate timesheets within a few clicks. Remember to sign in or sign up to download the app!
Why Traqq Is Your New Favorite Time Tracking App
We are aware that there are plenty of time trackers out there. Even so, we believe that the market is not yet saturated. We've done our research, and we know that there's a demand for employee monitoring apps that promote ethical and simple time tracking. Traqq has an easy-to-use interface, so it will only take you a few minutes to learn how to use it.
You are just a few steps away from using one of the most effective time tracking apps. Let's see what needs to be done to start tracking your billable hours with Traqq.
How to Create an Organization's Account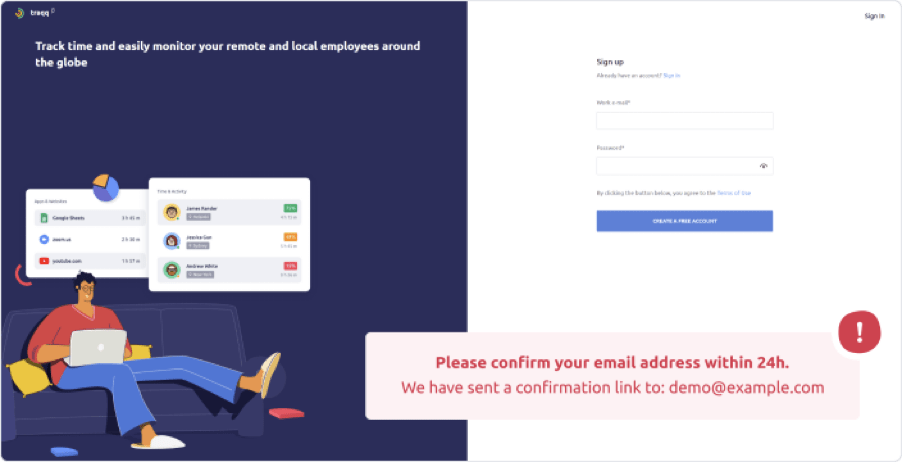 As of this writing, the full features of Traqq are offered to organizations. So, when you install the app, you'll need to sign up for an organization account. Register your organization on Traqq, and our team will send you an email with the confirmation link. Follow the instructions in the message to verify your account and add your team. Here is the step-by-step guide:
Step 1
Go to your inbox and open the email from Traqq.
Click the Confirm button in the message to verify your email address. You can also copy the confirmation link and paste it into your browser.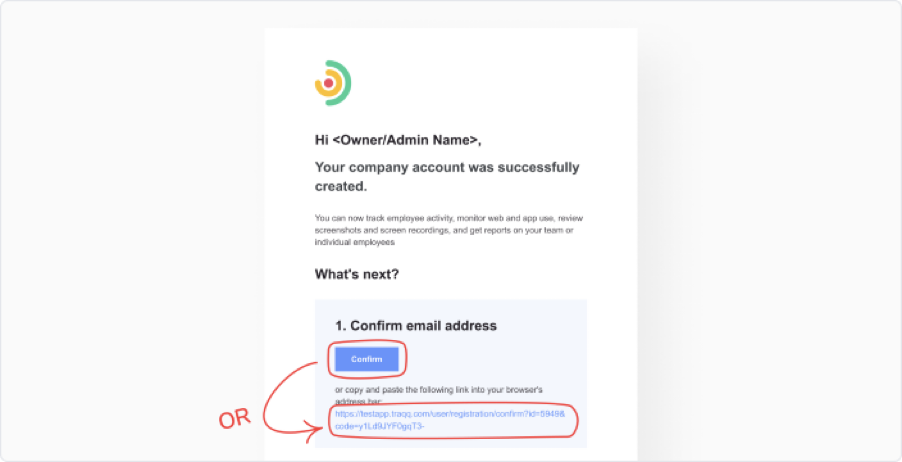 Step 2
Once you've completed the first step, a confirmation window will appear. You can proceed to the download instructions by clicking Continue.
How to Install Traqq
Follow the steps below to install Traqq:
Step 1
In your browser, go to Traqq's website and log in to your account.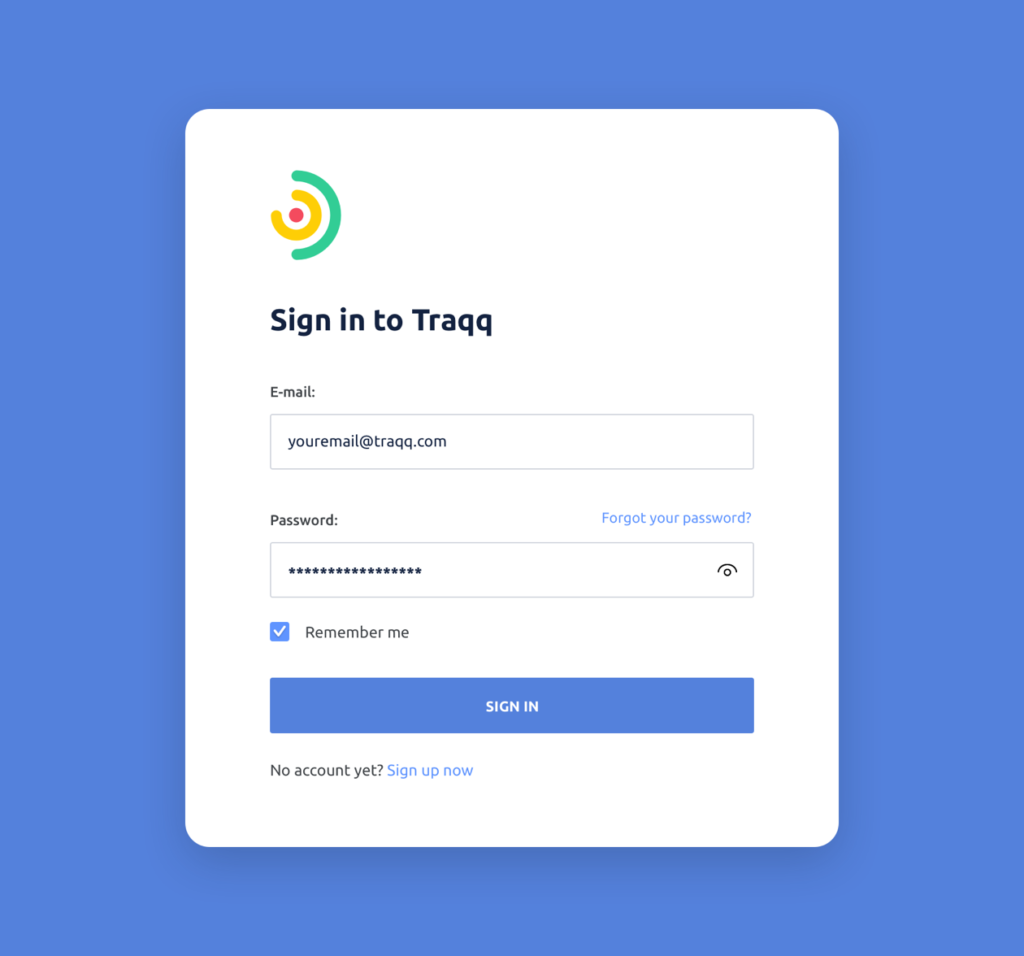 Step 2
You will be redirected to your Dashboard. In the left menu, click on Downloads.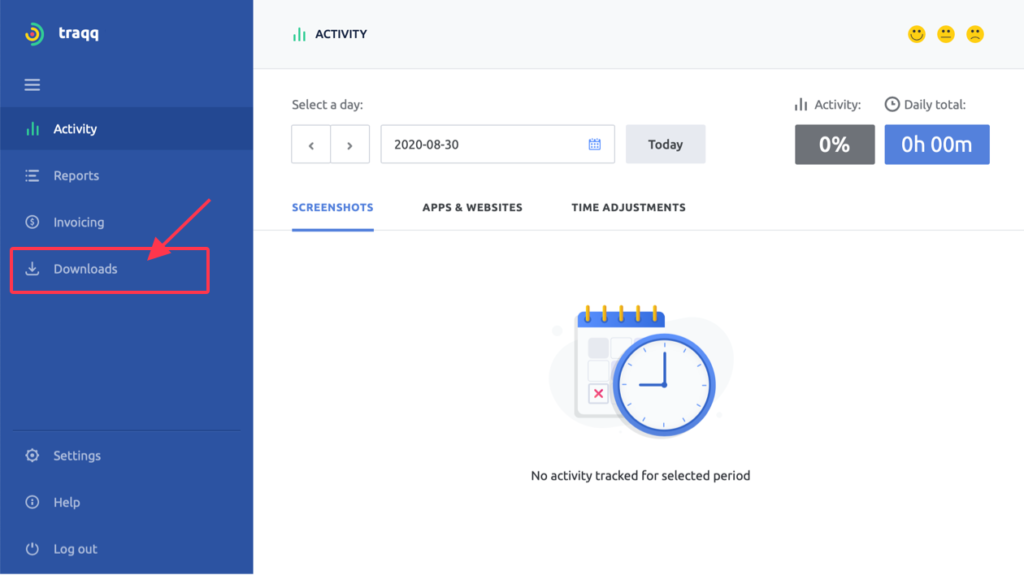 Step 3
Click on the download button next to the respective OS option – Windows or macOS.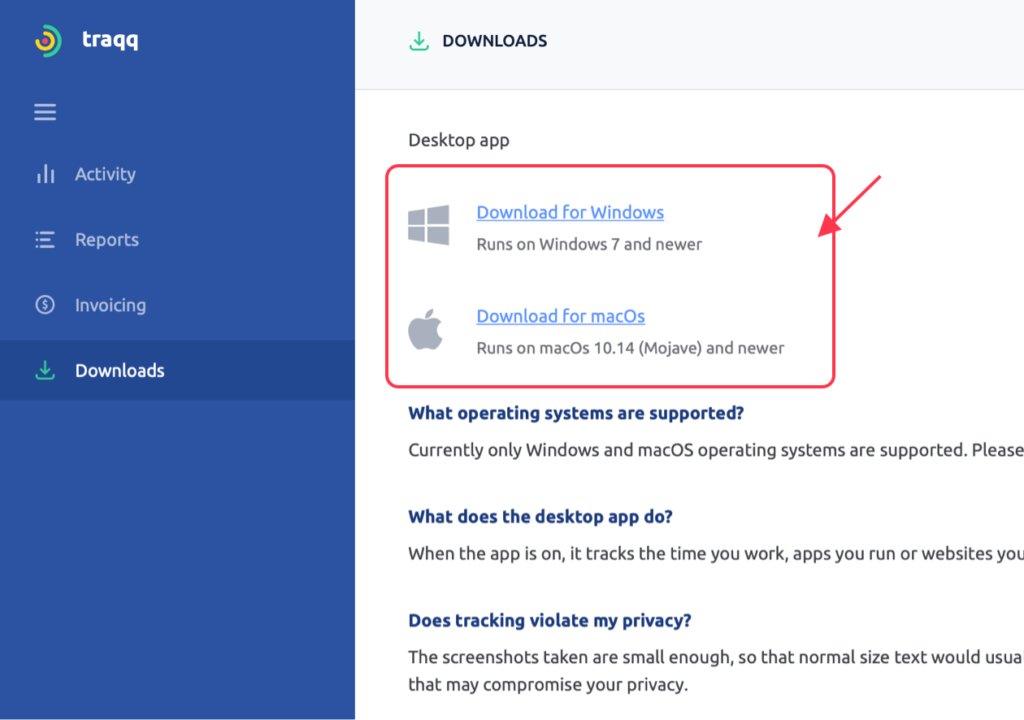 Step 4
Wait until the installation file loads.
4.1. For macOS users: double-click on the installation file and drag and drop Traqq to the Applications folder. Continue to Step 5.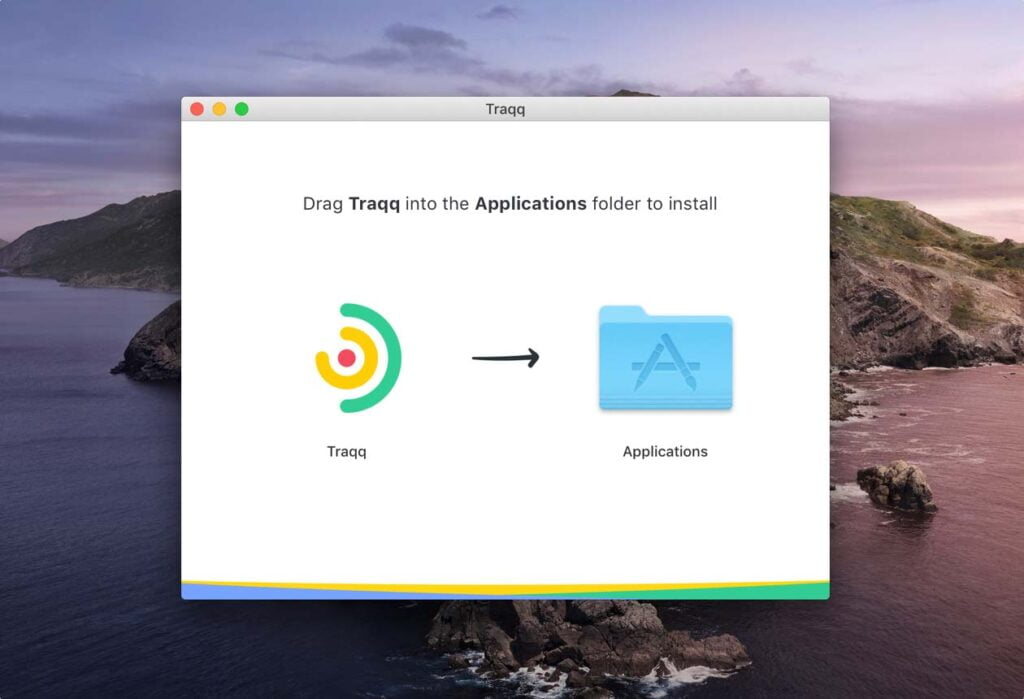 4.2. For Windows users: click on the file and allow Traqq to make changes to your computer and follow the installation process. It usually takes less than a minute to install our employee tracking software.

Step 5
Fill in your login credentials and that's it! You are done with the installation.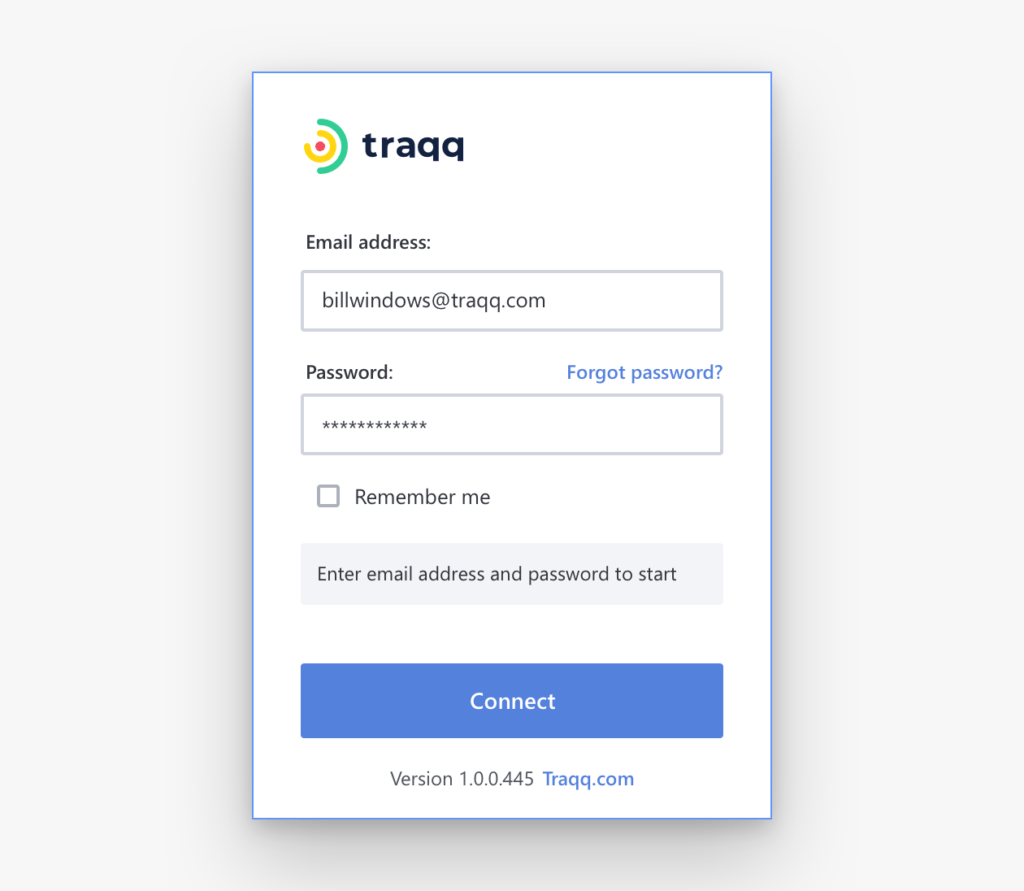 As advised on the screen, hover over the Traqq icon in your deskband or tray to start tracking your hours. You are all set!

What Operating Systems Does Traqq Support?
Our user-friendly desktop time tracker runs on the following operating systems:
Windows 10
Windows 8.1
Windows 8
Windows 7
macOS Big Sur
macOS Catalina
macOS Mojave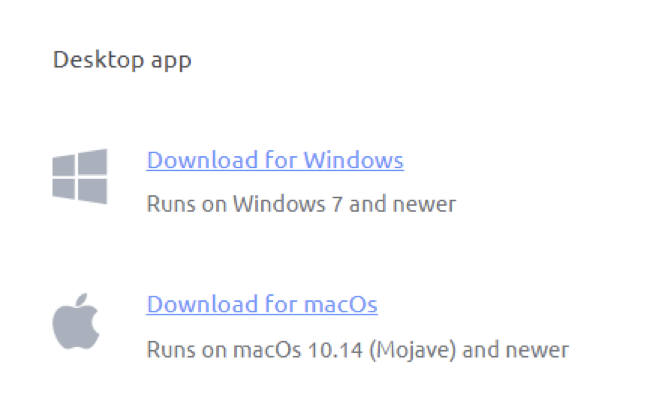 Traqq's online platform can run on all major browsers:
Google Chrome
Safari
Firefox
Internet Explorer
Edge
New Edge
How to Grant Tracking Permissions to Traqq
Since Traqq is a monitoring tool, your system may prevent it from running. To grant tracking permissions to Traqq, here's what you have to do:
Windows
Right-click Traqq's executable file and select Run as Administrator.
macOS
On macOS, you have to allow Traqq to perform screen recording. You may also need to go to Security & Privacy and grant tracking permissions to the app.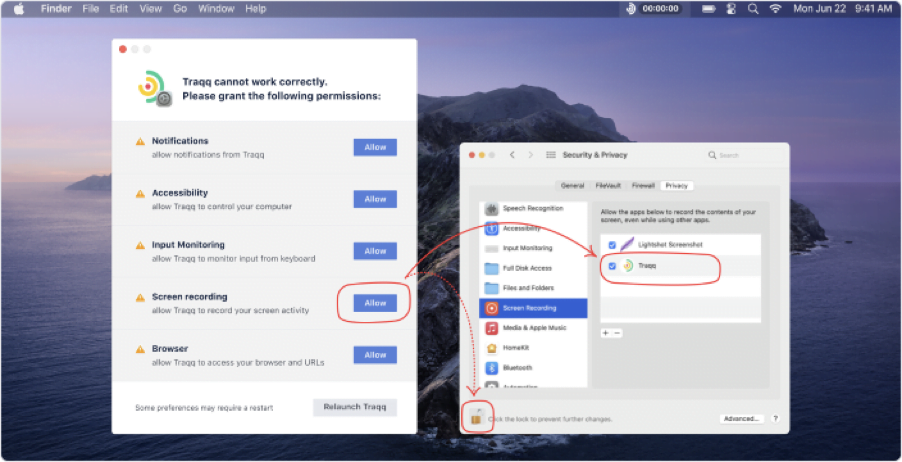 FAQ
Why can't I install Traqq?
If you have an outdated or cracked version of Windows or MacOS, or a system that's not compatible with our service, you may not be able to install the app. Currently, only macOS 10.14 Mojave and newer, and Windows 7 and newer are supported. Please contact support@traqq.com if you need assistance.
Why can't I open/execute the installer?
If you have an outdated or cracked version of Window that's not compatible with our service, you may not be able to execute the installation wizard. Please contact support@traqq.com if you need assistance.
What are the manual accessibility options I need to enable on macOS?
If you have denied Traqq access during installation, you will need to manually change that to allow the app to accurately track your activity. Please read how to grant permissions here
P.S. If you have any issues during the installation process, don't hesitate to contact our Support Team at support@traqq.com
Related posts