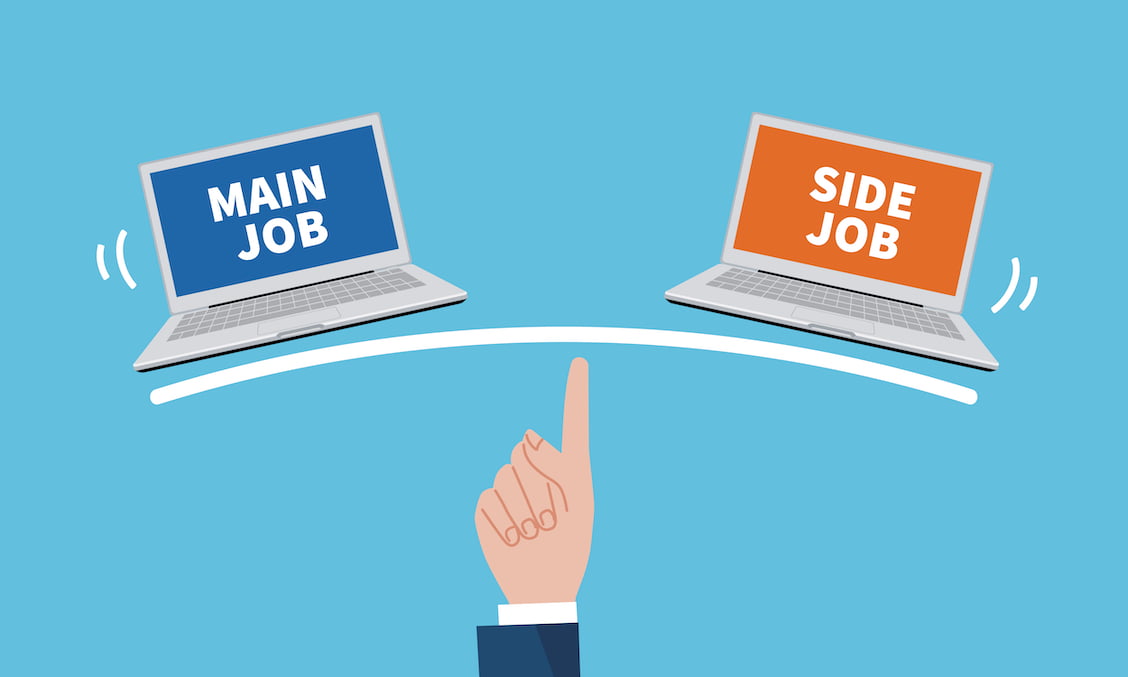 Are you looking for a flexible and convenient way to earn extra income? With the rise of remote work opportunities, it's now easier than ever to find second job options that fit your schedule and lifestyle. Whether you need some additional cash or want to pursue your passion outside of your primary job, here are 10 remote side jobs that can get you that extra income.
What Is a Side Job?
A side job, aka a side gig or a side hustle, refers to any type of work or employment that you undertake alongside your regular job or primary source of income. It is an additional way to earn money and pursue your interests or passions outside of their main occupation.
Side jobs can be part-time, temporary, or project-based and can range from freelancing, consulting, or starting a small business to participating in the gig economy through platforms like ride-sharing, delivery services, or online marketplaces.
10 Convenient Remote Side Gigs
Looking for convenient remote side gigs that require minimal experience? We've compiled a list of 10 opportunities that allow you to work from the comfort of your own home and earn extra income.
1. Virtual Assistant
As a virtual assistant, you can provide administrative support to individuals or businesses remotely. Tasks may include scheduling appointments, managing emails, conducting research, and more.
Salary range: $15 – $30 per hour.
Try these resources:
2. Online Tutor
If you have expertise in a particular subject, you can offer tutoring services online. This can involve teaching academic subjects, language lessons, or even providing music or art instruction.
Salary range: $20 – $50 per hour.
Try these resources:
Online tutoring platforms: websites like Tutor.com, Chegg Tutors, and Wyzant.
Education websites: many educational websites and platforms hire online tutors to provide academic support to students. Examples include Khan Academy, Study.com, and Udemy.
Freelance platforms: websites like Upwork, Freelancer, and Fiverr offer opportunities for freelance tutors to provide their services online.
School and university websites: some schools and universities offer online tutoring services to their students. Check the websites of educational institutions to see if they have any remote tutoring positions available.
3. Freelance Writer
If you have strong writing skills, you can offer your services as a freelance writer. This can involve creating blog posts, articles, website content, or even copywriting for businesses. Salary range:
Salary $0.05 – $1 per word
Try there resources:
4. Social Media Manager
Many businesses need help managing their social media presence. As a social media manager, you can create and schedule content, engage with followers, and analyze performance.
Salary range: $15 – $40 per hour
Try these resources:
5. Graphic Designer
If you have design skills, you can offer graphic design services remotely. This can include creating logos, marketing materials, website graphics, or even designing social media posts.
Salary range: $20 – $50 per hour.
Try these resources:
Freelance platforms: websites like Upwork, Freelancer, and Fiverr.
Networking: network within the graphic design community by attending design events, joining design forums or groups, and participating in online design communities.
6. Website Developer
If you have web development skills, you can build and maintain websites for clients remotely. This can involve creating custom websites, updating existing sites, or providing technical support.
Salary range: $25 – $70 per hour.
Try these resources:
Freelance platforms: websites like Upwork, Freelancer, and Fiverr.
LinkedIn: use LinkedIn's job search feature to find remote website developer positions.
Company websites: visit the websites of companies that offer remote work options, as they may have open positions for website developers.
7. Online Reseller
You can buy and sell products online through platforms like eBay, Etsy, or Amazon. This can involve sourcing products, managing inventory, and handling customer inquiries.
Salary range: Varies greatly depending on the products and sales volume.
Try these popular marketplaces:
E-commerce platforms: consider selling products on popular e-commerce platforms like Amazon, eBay, Etsy, or Shopify.
Wholesale marketplaces: explore wholesale marketplaces such as Alibaba, AliExpress, or DHgate.
8. Language Translator
If you are bilingual or multilingual, you can offer translation services remotely. This can involve translating documents, audio recordings, or providing interpretation services.
Salary range: $0.05 – $0.30 per word or $20 – $50 per hour for interpretation.
Try these resources:
Online job boards: Explore online job boards such as ProZ, TranslatorsCafe, and Gengo.
Freelance platforms: websites like Upwork, Freelancer, and Fiverr.
Localization and language service providers: localization companies and language service providers often require skilled translators
9. ESL Teacher
Share your language skills and become an online ESL (English as a Second Language) teacher. Teach English to students around the world, help them improve their language skills, and connect with different cultures. No teaching experience? No problem! Many online platforms provide training and resources to help you get started.
Salary range: $15 to $30 per
Try these resources:
ESL Job Boards: websites like Dave's ESL Cafe, ESL Jobs World, and TEFL.com specialize in advertising ESL teaching jobs worldwide.
Online Teaching Platforms: platforms like VIPKid, Teach Away, and others.
Language institutes and schools: check the websites of language institutes and schools in your target country or region. Many language schools hire ESL teachers for in-person or online.
10. Online Survey Taker
You can earn money by participating in online surveys and providing feedback on various products or services. While the income may be lower compared to other side gigs, it offers flexibility and can be done in your spare time.
Salary range: Varies based on the survey provider.
Try these resources:
Survey Websites: many websites offer paid survey opportunities to individuals: Swagbucks, Survey Junkie, Pinecone Research, and others.
Market Research Companies: market research companies often conduct surveys to gather consumer opinions and feedback.
Online Freelance Platforms: freelance platforms like Upwork, Freelancer, and Fiverr sometimes have listings for online survey-related gigs.
How to Find a Second Job?
Here are a few tips for finding aside gig:
Determine what skills or hobbies you have that can translate into a part-time job. Consider your experience, qualifications, and passions to identify potential job opportunities.
Look for jobs that offer flexible schedules and remote work options. This allows you to manage your time effectively and balance your primary job with your second job.
Reach out to your professional network, friends, or family members to inquire about any part-time job openings. Sometimes, word-of-mouth referrals can lead to great job opportunities.
Look for job postings in your local community. Check bulletin boards at community centers, local newspapers, or websites dedicated to advertising local job opportunities.
Explore freelance platforms like Upwork, Fiverr, or TaskRabbit where you can offer your skills or services on a project basis. This allows you to have flexibility in choosing when and how much you work.
Consider opportunities outside your current field. Be open to exploring new industries or roles that align with your skills and interests. This expands your options and increases your chances of finding a suitable second job.
Manage your time effectively: Ensure you have a clear understanding of your primary job's commitments and schedule before taking on a second job. Plan your time carefully to avoid burnout and maintain a healthy work-life balance. Time tracking tools like Traqq can be very helpful. Traqq, in particular, has been designed specifically for remote workers.
Prepare a separate resume: Tailor your resume to highlight the relevant skills and experiences for your second job. Emphasize transferable skills and showcase your ability to manage multiple responsibilities.
What to Look for in a Second Job
Here are some key factors to consider when looking for a second job:
Flexibility: Seek a job that offers flexible working hours or remote work options to fit around your primary job and personal commitments.
Compatibility with your schedule: Ensure the second job's schedule doesn't conflict with your primary job and allows you to manage your time effectively.
Skills and interests: Look for a job that aligns with your skills, experience, and interests to enhance your job satisfaction and motivation.
Income potential: Assess the income potential of the second job and determine if it meets your financial needs or goals.
Work-life balance: Find a job that allows you to maintain a healthy work-life balance and avoid excessive stress or burnout.
Personal fulfillment: Choose a job that gives you a sense of purpose and fulfillment, whether it's contributing to a cause you care about or utilizing your talents.
Exploring second job opportunities can open up new possibilities for quick and convenient remote work. With the flexibility and advancements in technology, it is easier than ever to find remote jobs that fit around your primary work or personal commitments. Remember to consider your skills, interests, and availability when choosing a second job. By finding the right fit, you can enjoy the benefits of remote work while achieving your personal and professional goals.
In Summary
FAQ
Is It Good to Have a Second Job?
Having a second job can provide additional income, skill development opportunities, and diversification of income sources. However, it also requires effective time management and may impact work-life balance. Consider tax implications and weigh the advantages and considerations based on your individual circumstances and goals.
What Is the Easiest Second Job?
The easiest second job varies depending on individual skills, preferences, and circumstances. However, some common options that are often considered relatively easy to pursue as a second job include freelance writing, pet sitting or dog walking, tutoring, driving for ride-sharing services, and online surveys or micro-task platforms. These jobs typically offer flexible schedules and require minimal upfront investment or specialized training. It's important to consider your own interests, abilities, and availability when choosing a second job to ensure a good fit for your circumstances.
How to Make Extra Income While Working Full Time?
To make extra income while working full time, consider freelancing, starting an online business, renting out property or possessions, taking on part-time jobs or gigs, or exploring passive income streams like investing or creating content. Choose an approach that aligns with your skills and interests, while keeping a healthy work-life balance.