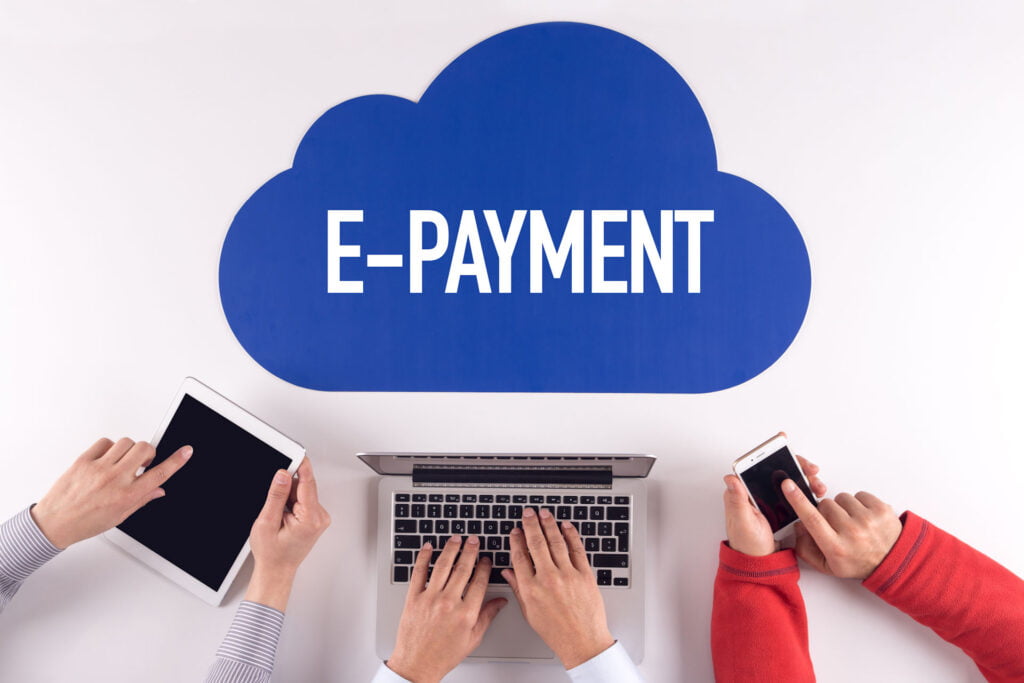 Managing a remote team gives you several advantages in terms of convenience. For one, you don't have to go through the hassle of visiting a bank just to process your payment. No matter where your freelancer is in the world, you can pay them right in the comfort of your home. You don't even have to get dressed to do it!
If you're new to the world of remote work, you may discover that there are plenty of virtual payment platforms available to you. Of course, if you want to make the most out of your time and money, you'd choose the one that offers the maximum benefits. You should consider the difference in processing, fees, and ease of use between the different payment platforms.
As such, we've put together this article to give you a comprehensive comparison of the top payment platforms online – PayPal, Payoneer, TransferWise, and Bitwage. Consider this the Super Bowl of virtual money transfer channels.
Here's a quick comparison of the payment channels' features: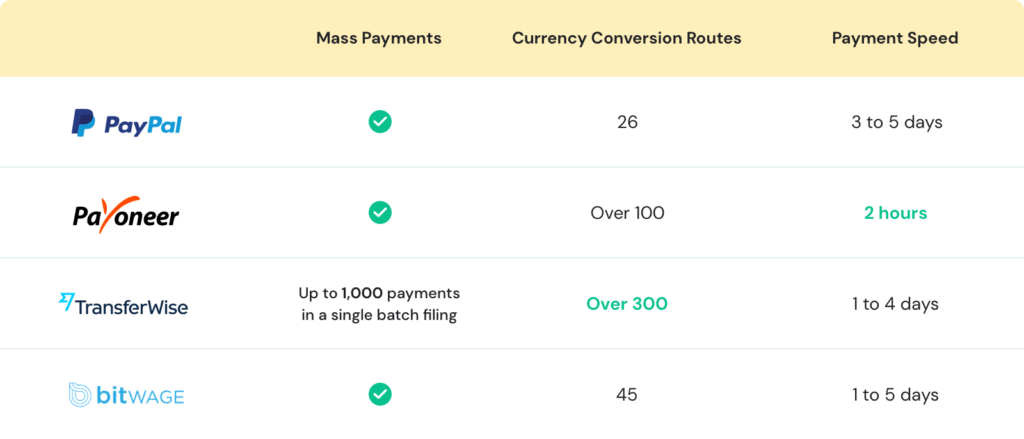 Fees: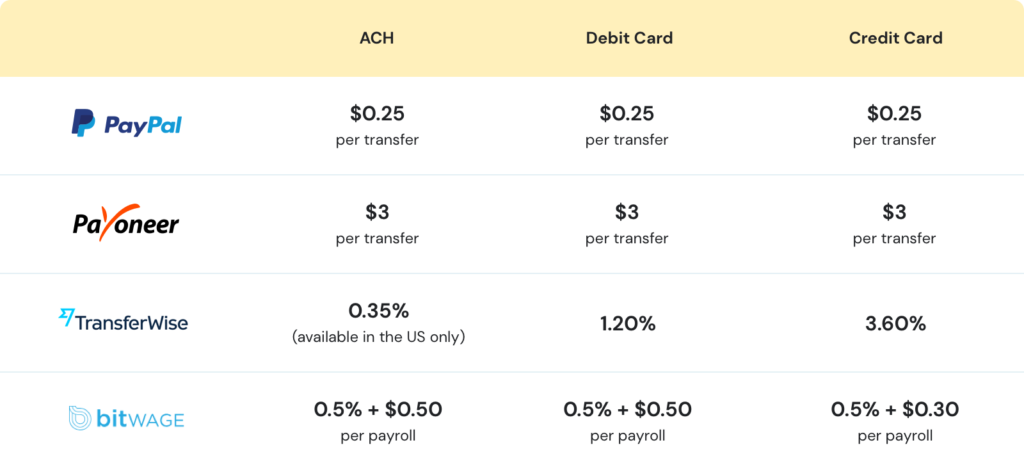 1. PayPal
PayPal has been around longer than millennials have been trolling around Reddit. Formerly known as Confinity, the company was established in 1998 and eventually merged with Elon Musk's online banking business, X.com. From 2002 and forward, the combined companies have been known as PayPal. To this day, it is among the top payment systems around the world.
PayPal Pros
If you compare PayPal vs. Payoneer and you're going for a more established company, then the former is a better choice. If a payment system has been around for over two decades, then it must be quite trustworthy. PayPal supports several banks and currencies from different countries. So, you won't have trouble using it for transferring money to your remote workers around the globe.
PayPal Cons
One of the biggest complaints about PayPal is its huge fees. Depending on the country that the receiver is in, the bank may have an extra withdrawal fee for transferring money from the platform. What's more, freelancers often report that their accounts get suspended without any legitimate reason. This can be frustrating, especially for managers who transfer large amounts.
Is PayPal Worth It?
As of this writing, PayPal has over 305 million active users. In general, it is a reliable and trustworthy payment option, especially due to the sheer number of currencies and countries it supports. If you send out less than $20,000 a month, then PayPal is the ideal option for you. You can even send out money without creating an account. However, if you're planning to use it regularly, it may be more convenient if you register.
Various factors determine the transaction fees that PayPal charges. The fee can depend on the bank account, the country that the receiver or sender is in, the PayPal balance, and the payment mode (credit or debit card). In certain cases, the payment platform also has fees for converting currencies.
If you're the one sending the money, PayPal will let you decide whether you'll handle the transaction fees or you'll let the recipient deal with it. What's great about this money transfer platform is it allows users to pay up to 10,000 people at once without charging monthly fees.
2. Payoneer
Founded in 2005, Payoneer is one of MasterCard's worldwide Member Service Providers. It is worth noting that big companies like Airbnb, Google, Fiverr, and iStock use this platform.
Payoneer Pros
What's great about Payoneer is that it supports over 150 currencies and 200 countries. What's more, it lets users withdraw funds directly to their debit cards. Aside from that, Payoneer transfer fees stay at a $3 flat rate per transaction. If you compare Payoneer vs. PayPal, you'd choose the former in terms of speed. While the latter's transfer process takes about two to four days, Payoneer usually gets the recipient's money through within 24 hours.
Payoneer Cons
Payoneer rates for transfers can be higher compared to PayPal. Also, the fees depend on your account volume. What's more, the minimum monthly payment—if you're using Payoneer for your payroll—is $30,000. If you're running a small start-up, then this amount can be quite steep.
Is Payoneer Worth It?
Payoneer fees to send money are justifiable if you are managing the payroll of larger-sized teams. As the amount you send gets higher, the rates can get lower. Payoneer costs are worth it if you are paying more than $30,000 monthly.
Payoneer follows MasterCard conversion rates. What's more, you'll need to pay $2.99 for local bank transfers and $15 if you're sending USD via SWIFT. For transfers in EUR and USD, you have to pay 1% of the total amount. However, you can expect that the Payoneer MasterCard fees won't exceed $10. The charge remains the same if you're making a global bank transfer or you're sending money to PayPal.
3. TransferWise
TransferWise has been around for almost a decade and it is one of the few payment platforms that offer the real, mid-market exchange rate. It's worth noting that the former director of Skype, Taavet Hinrikus, developed TransferWise.
TransferWise Pros
When you pit Payoneer vs. TransferWise, you'd love the latter better because of its low rates. As we've mentioned, you get to enjoy the mid-market exchange rate.
TransferWise Cons
Indeed, TransferWise won't burn the pockets of the senders or recipients because of transfer fees. However, it only supports 48 countries.
Is TransferWise Worth It?
If you're in a country where PayPal isn't supported, TransferWise may be a good option. It is also ideal for those who are cautious about fees and those who want to avoid steep bank fees. Since the money will be converted according to the mid-market rate, you can expect the transaction fees to be deducted before the conversion takes place.
4. Bitwage
Bitwage may be the fresh blood on the market, but it is one of the few that simplifies the digital payment process. Established in 2014 by former Oracle Corporation employees, this payment platform brings something revolutionary to the table. It promotes the idea that bank accounts are no longer necessary for remote workers to receive their payroll. Bitcoin lovers rejoice because Bitwage has you covered!
Bitwage Pros
Aside from Bitcoin support, what's great about Bitwage is it offers slightly lower rates for mass payments. Moreover, the process is simple and straightforward.
Bitwage Cons
Unfortunately, it only supports around 44 countries. So, it may not be your best option if you have remote workers scattered throughout the world.
Is Bitwage Worth It?
If most of your remote workers prefer cryptocurrency for payments, then Bitwage is your best option. Moreover, it is ideal for those who send out mass payments as long as the entire team is located within the US or countries that the service supports. For every payment via ACH debit, you will be charged 0.5%. On the other hand, there is a 3.5% fee for a credit card transaction. Also, every transaction will cost you $0.03. Bitwage promises to process payments in around one to five business days. However, most users claim that they usually receive the amount in their accounts faster than the guaranteed turnaround time.
How To Make Payroll Processing Simple with a Time Tracking App?
These days, the idea of remote work and outsourcing is gaining traction, especially with the global pandemic of Coronavirus COVID-19 . As more and more companies invest in the work-from-home talent pool, the demand for a reliable payment system is growing. Now, it is not easy to manage a team with members scattered around the world. You'll need a comprehensive productivity tool to simplify payroll management. In this case, Traqq is the task tracking app that you'll need.
You can use this tool alongside different payment solutions, including PayPal, Payoneer, TransferWise, and Bitwage. What's great about Traqq is it simplifies the payroll process. It makes time tracking easier while providing detailed timesheets and reports for managers. Aside from that, it offers the following benefits:
Increased Profitability
Traqq allows you to measure and analyze the activity levels of your remote workers, using online timesheets. In this way, you'll be able to identify the best performers and the ones who underdeliver. By assessing their activity levels, you will learn how you can improve their productivity, consequently optimizing your company's performance and profitability.
Easy Monitoring
Traqq takes automated screenshots without disrupting your freelancer's work. It helps detect suspicious activities or inappropriate usage, allowing you to identify weak points.
Ethical Tracking
There is a reason why this product is called 'Traqq' and not 'Spy'. Since the tool was designed by freelancers, the developers are more empathic of remote workers. All the screenshots that Traqq collects will be blurred and compressed to the extent that would prevent personal and sensitive information from becoming visible.
Flexible Monitoring
Traqq's developers also understand that there should still be room for human error. As such, if your remote worker forgets to switch the tracker on before working or turn it off once they're done, they can manually edit their recorded time. Aside from that, the user has the freedom to delete any screenshot along with its recorded time.
These days, there are plenty of tools that make managing a remote team easier. When you use Traqq with a reliable online payment service, outsourcing projects will be hassle-free and simple.