Are you going crazy dealing with all the things you need to accomplish for your business? Well, save your sanity by hiring a virtual assistant. They can help you coordinate your calendars, transcribe your documents, prepare statements, and do anything that will release some heavy load off your shoulders.
With a trusted virtual assistant taking care of administrative tasks, you can focus on other aspects of your business. You can even save around $11,000 a year by hiring a remote worker, per a 2021 Global Workplace Analytics survey.
However, there are still challenges in working with a virtual assistant. For instance, if you have to juggle projects and tasks, you may end up spending more time collaborating with them instead of getting work done.
As such, it is essential to find the best virtual assistant software that will help you manage your worker efficiently. Here are some tools that will ensure seamless collaboration with your remote employee.
For Time Tracking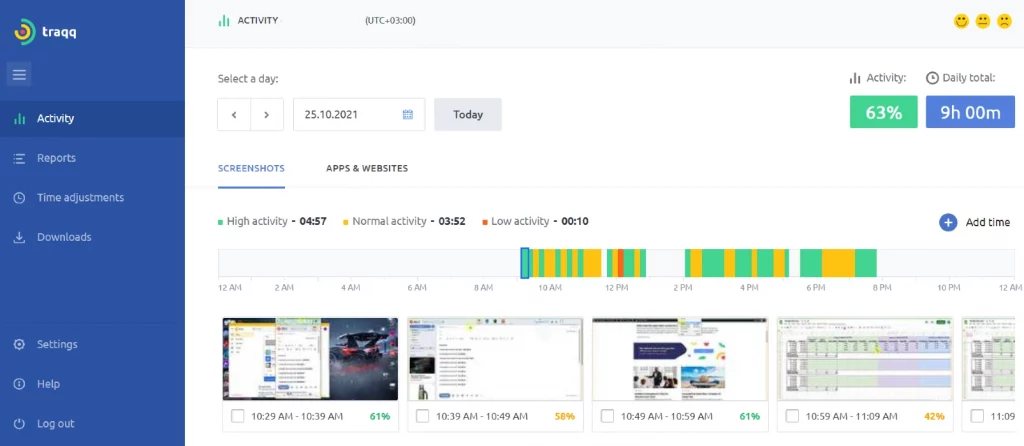 Listen to your virtual assistant when they jokingly ask you if you're planning to spy on them. Remember, jokes are half-meant. If you're introducing a time tracker to them, they might be concerned about the loss of privacy. So, you should use a tool that promotes ethical monitoring.
With Traqq, your VA won't have to worry about spying. They don't have to be concerned about their private messages, passwords, or other sensitive information. After all, the screenshots that this time tracking software takes can be blurred and compressed to prevent data leaks.
Simple User Interface
What's great about Traqq is it is a stopwatch that has a simple interface. So, your virtual assistant won't have to go through a learning curve when navigating through its features. Whether they stay online or they work offline, they can use this nifty timer. After all, they can add hours to the tool manually.
Flexible Employee Monitoring Software
While offering convenience, Traqq also gives flexibility to its users. Your virtual assistant has complete control over their time and data. They can delete hours and screenshots that they feel should not be included in the report.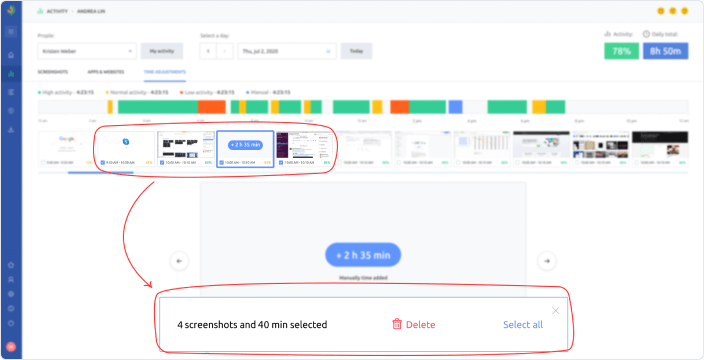 Of course, the tool will also benefit you, the manager. To ensure reasonable productivity levels from your VA, you can use Traqq to measure and analyze their activities. You can also use this work time tracker to monitor the websites and apps they frequently use. This way, you can ensure that they are using their hours for essential tasks instead of scrolling on Facebook or Twitter.
Pricing
Premium Starter – free for up to three seats
Premium Teams – $6 per seat, per month
Enterprise – custom pricing plan available upon request
For Scheduling Activities and Events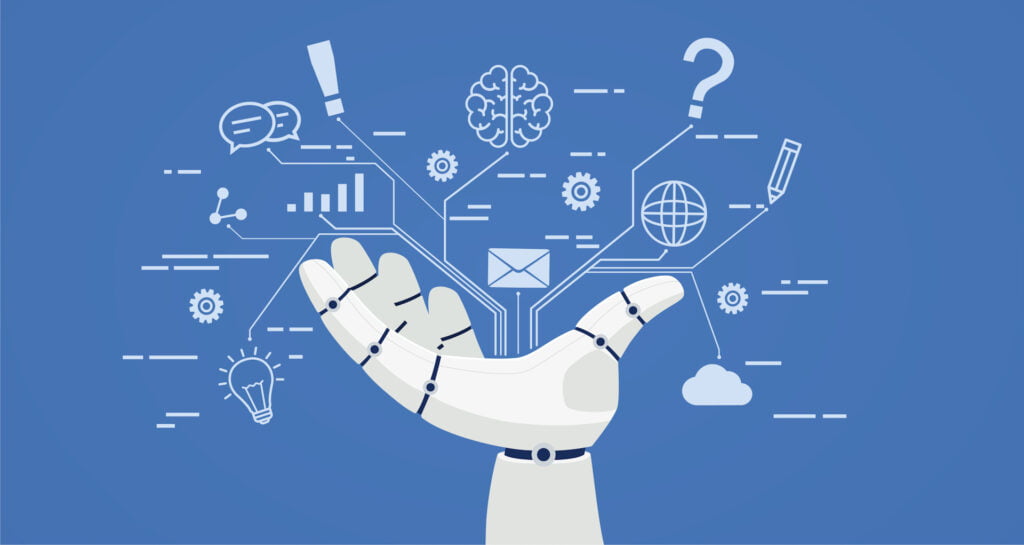 Google Calendar is virtual personal assistant software you can use to track work events. It is a web-based application that allows you to collaborate with your remote worker seamlessly. Your calendar can be broken down into different sub-categories, allowing you to organize events, deadlines, and appointments accordingly. This way, everyone in your team is aware of your schedule to help you avoid double-bookings.
Pricing
Business Starter – $4.20 per user, per month
Business Standard – $9.60 per user, per month
Business Plus – $18 per user, per month
Enterprise – custom pricing plan available upon request
3. SimplyBook.me
Efficient scheduling is a crucial skill that a virtual assistant should have, while poor scheduling is one of the major causes of project failures.
Now, if you prefer a cloud-based booking system, SimplyBook.me is one of the best scheduling options for you. This virtual assistant software lets you set appointments, accept bookings, and even send schedule reminders. What's more, the program allows you to process payments via Stripe or PayPal.
You can also customize the booking interface to blend well with your branding. Even so, you can connect the program to your own website to give your customers a seamless booking experience.
Pricing
Basic – $9.90 per month
Standard – $29.90 per month
Premium – $59.90 per month
For Collaborating
Dropbox is another popular remote work software for sharing files. After uploading a file to your account, you can get the link to it and share it with your VA. Moreover, you can create private folders and folders that provide exclusive access to select individuals.
You don't have to pull your hair out just to learn how to use the platform. Aside from that, you can sync all your local documents with your Dropbox account. This way, everything you save on your computer will be uploaded automatically to your account.
Pricing
Personal
Plus (for individuals) – $11.99 per month
Family – $19.99 per month
Business
Professional (for individuals) – $19.99 per month
Standard (for smaller teams) – $15 per user, per month
Advanced (for larger teams) – $25 per user, per month
5. Float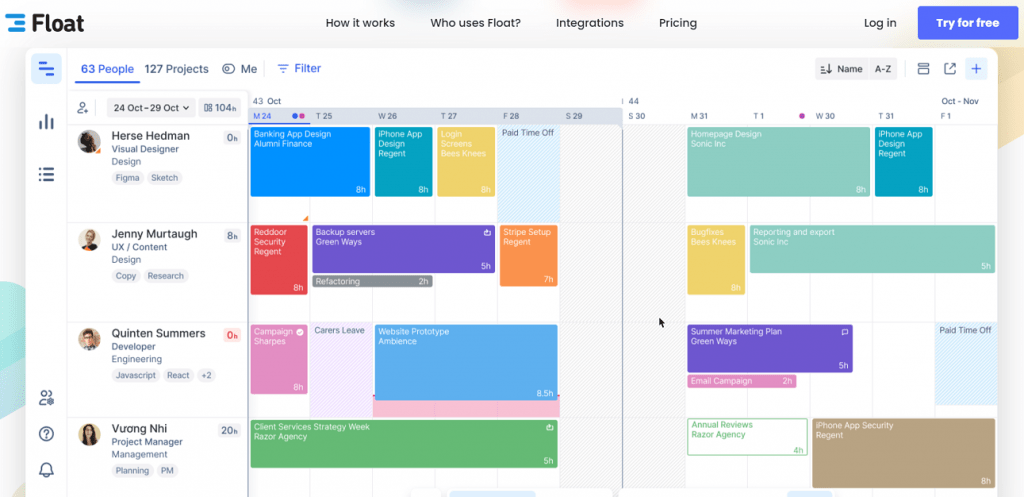 Now, if you're managing a remote team and you're having trouble identifying who's working on what, you'll need a tool like Float. It's worth noting that teams from NASA, Vice, and RGA use this software to organize projects and tasks. You can ask your virtual assistant to use the drag-and-drop scheduling feature to ensure that every task will be completed on time. Allocating work hours and projects is made easy when you use Float instead of a traditional spreadsheet.
Pricing
Resource Planning – $7.50 per user, per month
Resource Planning + Time Tracking – $12.50 per user, per month
For Accomplishing Administrative Tasks
6. LastPass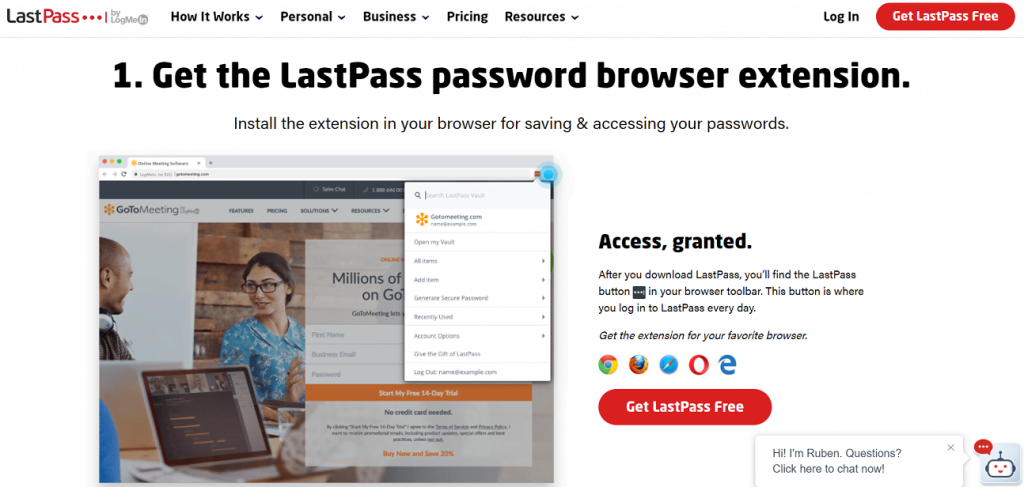 Do you run an online shop and let your virtual assistant manage purchases and invoices? If so, then it can be challenging to keep records of your login credentials. In this case, you'll need LastPass to securely exchange information with your remote employees.
You can share your details in two ways. For one, you can send them the password and let them see and use it. On the other hand, you can also share the details with them with sensitive information masked. If you're worried about sharing sensitive financial details, you will be relieved to know that LastPass keeps your communication secure.
Pricing
Single Users and Families
Premium – $3 per month
Families – $4 per month
Business Plans
Teams – $4 per user, per month
Business – $6 per user, per month
7. Rhino Support
It's not good business practice when your client has to email you for an update on a previous query. If you keep losing messages within piles and piles of emails, you'll need a private email account that can help you manage your mails. Technically, Rhino Support is a help desk application. However, you can let your virtual assistant use it to manage your public inbox. They can use the tool to delegate messages to specific team members. They can also add notes or instructions.
Pricing
Advanced – $97 per month
Pro – $197 per month
Business – $397 per month
Enterprise – $697 per month
8. Buffer
While considered an easy task, maintaining social media accounts across various platforms can be monotonous and time-consuming. If you want to streamline the process for your virtual assistant, you can let them use Buffer. This social media management platform makes creating and scheduling posts across various accounts simple.
Your VA can plan weekly or monthly posts in one sitting, and Buffer will handle the rest. This way, they can focus on performing other administrative tasks instead of constantly maintaining your social media accounts.
Pricing
Essentials – $5 per month
For Communicating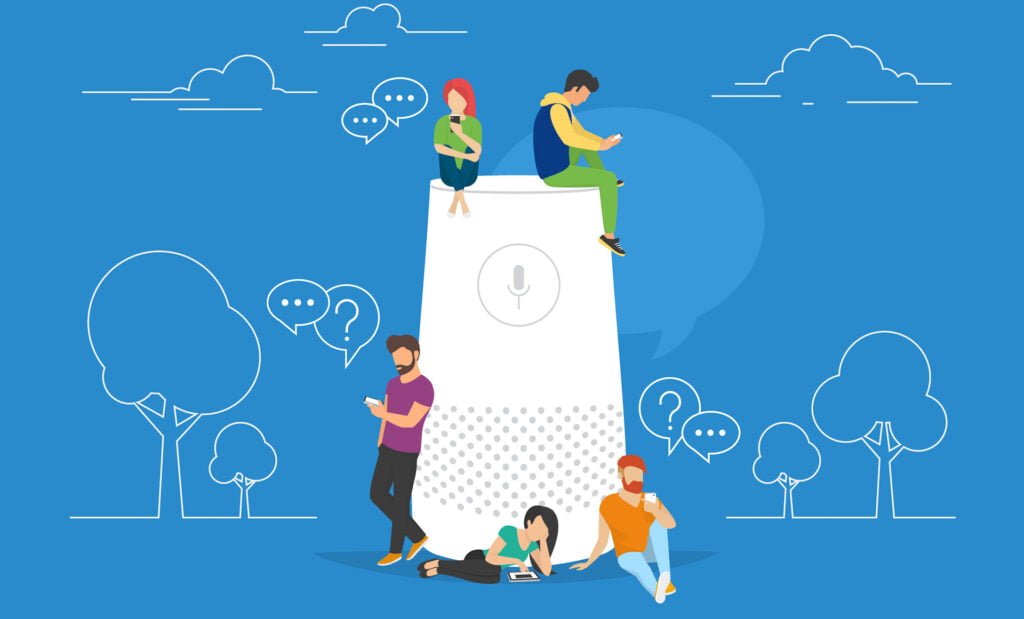 9. GroupMe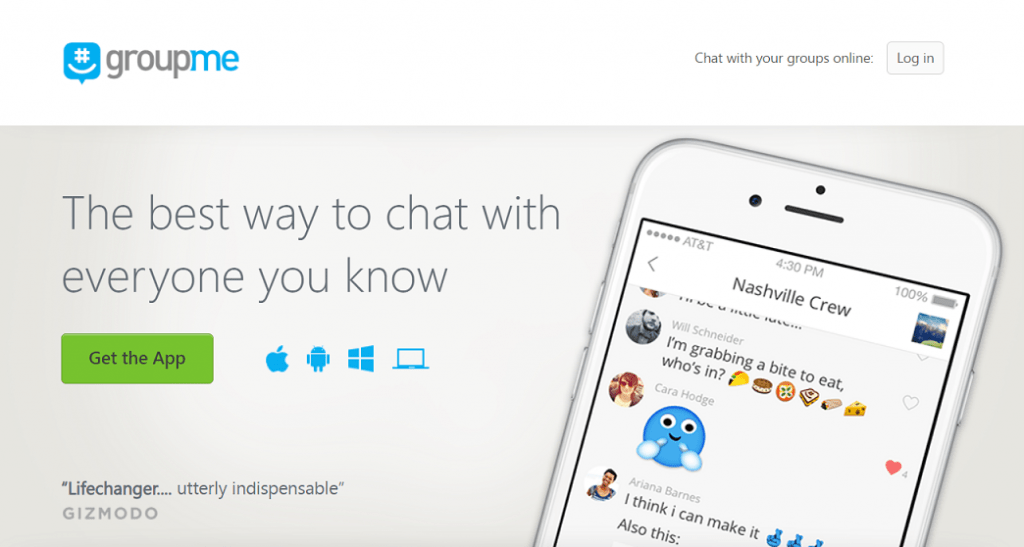 How will you collaborate with your virtual assistant if you don't have real-time communication with them? Moreover, if you want your assistant to keep track of what's happening in the team, you need a proper group messaging app that everyone can use. In this case, you can use GroupMe.
Whether you need to discuss projects or you need to perform live online seminars, this tool has the features you need. Everyone in the team can communicate in real-time. So, while you're fostering collaboration between the team members, your VA can also take the minutes since they are included in the discussions.
It's worth noting that GroupMe has versions for iOS, Windows Phone, and Android. So, compatibility issues will be the least of your concerns. What's more, your team members do not have to install the GroupMe app if you need them to join a group chat. All you need to do is go through your phone book and add them. They can communicate with the group via SMS.
Pricing
Free
10. Messaging Apps – Line or Viber
If you want a simple, one-on-one communication tool, then messaging apps like Line or Viber will do. Both are efficient enough for short exchanges of information or quick questions with your virtual assistant. You can also use them to create group chats so you can send a message to multiple contacts at once. Line may be popular in Asian countries like Japan, Taiwan, and Indonesio. However, it's a great app for companies who want to create a business presence in these countries.
Check out this guide on using Line for business: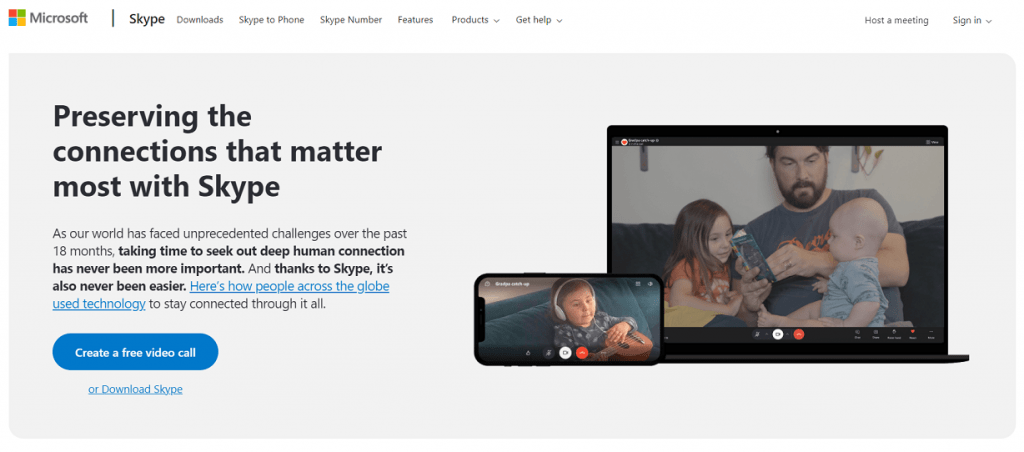 Your virtual assistants will handle most of the heavy work for you. So, you need to build a lasting relationship with them. Just because we use the term 'virtual' to refer to your remote worker, it doesn't mean that they are just some form of artificial intelligence governed by binary codes. You're working with an actual person. As such, if you want to keep a healthy professional relationship with them, it would be good to have virtual meetings with them.
When it comes to video calls, Skype is the free virtual assistant software you can rely on. You can use it to have one-on-one meetings with your employee. Moreover, you can also use the app for conference calls. When you use Skype, it will seem as if you're in the same room as your remote workers. If you want to keep a copy of your calls, you can even use the recording feature.
Pricing
Skype to Skype calls are free, but calls to mobile and landline numbers come with varying prices.
Last word…
Over the years, virtual assistant tools and software have improved tremendously. More remote work challenges continue to emerge, and tech companies are always ready to resolve them. A few years back, it was hard to imagine living in this kind of virtual work atmosphere.
Thanks to technology, we are making leaps of improvement in a short amount of time. Anyone working in the online freelancing industry would look forward to what's in store for the future.