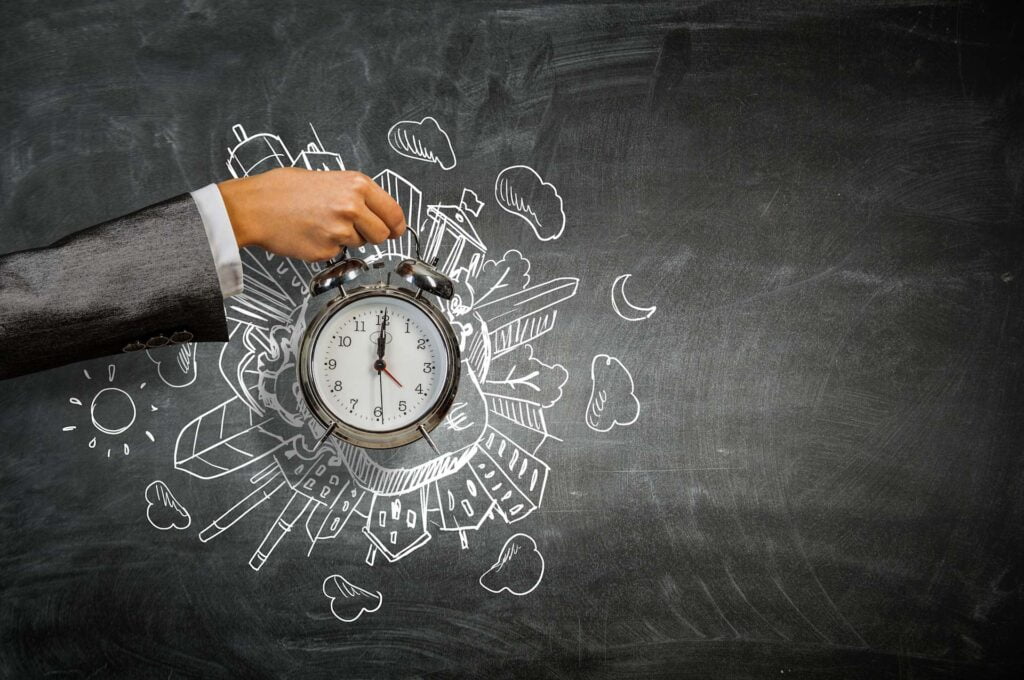 Do you want to learn better time management skills without the additional stress? It is simple – just play a game! That's right. Time management games are a thing and have been used to teach employers and employees how to better manage their time.
We've all been there. We've all been frustrated with the overwhelming number of tasks in our hands. It just seems that there is not enough time to complete everything and accomplish our goals. We're eager to learn, but not all of us can sit through a rigorous lecture on 'The Importance of Time Management'.
Thankfully, there are plenty of fun time management games for adults that offer a powerful and exciting way to practice effective time management skills.
These games are not only fun but also beneficial to employers, project managers, and employees.
What Is a Time Management Game?
A time management game can be an online, offline, or a video game that you can play individually or as a team. The best thing about these games is that they can be played right in your workspace.
Most of these time management games require you to complete goals and meet specific objectives within a limited timeresources. For example, you, the player, can be put in charge of running a restaurant or a hospital. The challenge will be to plan and strategize how to effectively use the limited resources within the set time limit to meet specific goals.
These are not just games to pass time, but rather, they help you acquire special skills that you can apply in real life. According to research from the University of Helsinki, playing video games in moderation can help develop time management skills over time.
Online time management games are the most popular. They are video games that you can play on any of your devices, and you can only progress to the next level (with increased difficulty) when you complete your tasks successfully. Offline or traditional time management games are also popular and often used for team-building purposes and to improve team interaction, collaboration, and motivation.
Benefits of Time Management Games
Build teamwork skills – Teamwork is an important aspect of any business setting. Both online and offline games can foster teamwork in that you can ask other players to help you perform specific chores like watering your crops or share resources. Most of these games require team collaboration to reach the desired goals.
Better resource management – These games require that you effectively utilize the limited resources at your disposal in order to move to the next level. In a way, you will learn how to work with what you have to achieve your desired objectives.
Boosts productivity – Most time management skills have a start and a finish. When you complete a task, it gives you a semblance of productivity. It's like starting a project and completing it successfully. Plus, you learn how to get it done quickly and with limited resources.
Improves problem-solving skills – Most of these games require that you think quickly, plan well, and strategize before making your next move. Otherwise, you won't progress to the next level. They help you gain skills that you can use in real life, at your workplace, and even at home.
Relieve stress – Let's be honest. Every job comes with its level of stress. Playing games is fun and helps to take away some of that stress.
Top 12 Time Management Games to Try Right Now
Offline Time Management Games
Traditional time management games are not reliant on gadgets or the Internet. They can be enjoyed in an office setting and are designed for single players or teams. But, the more the players, the more enjoyable the game.
They are great for boosting productivity, fostering human interaction (hence, better collaboration), and of course, better time management.
1. Circadian Rhythm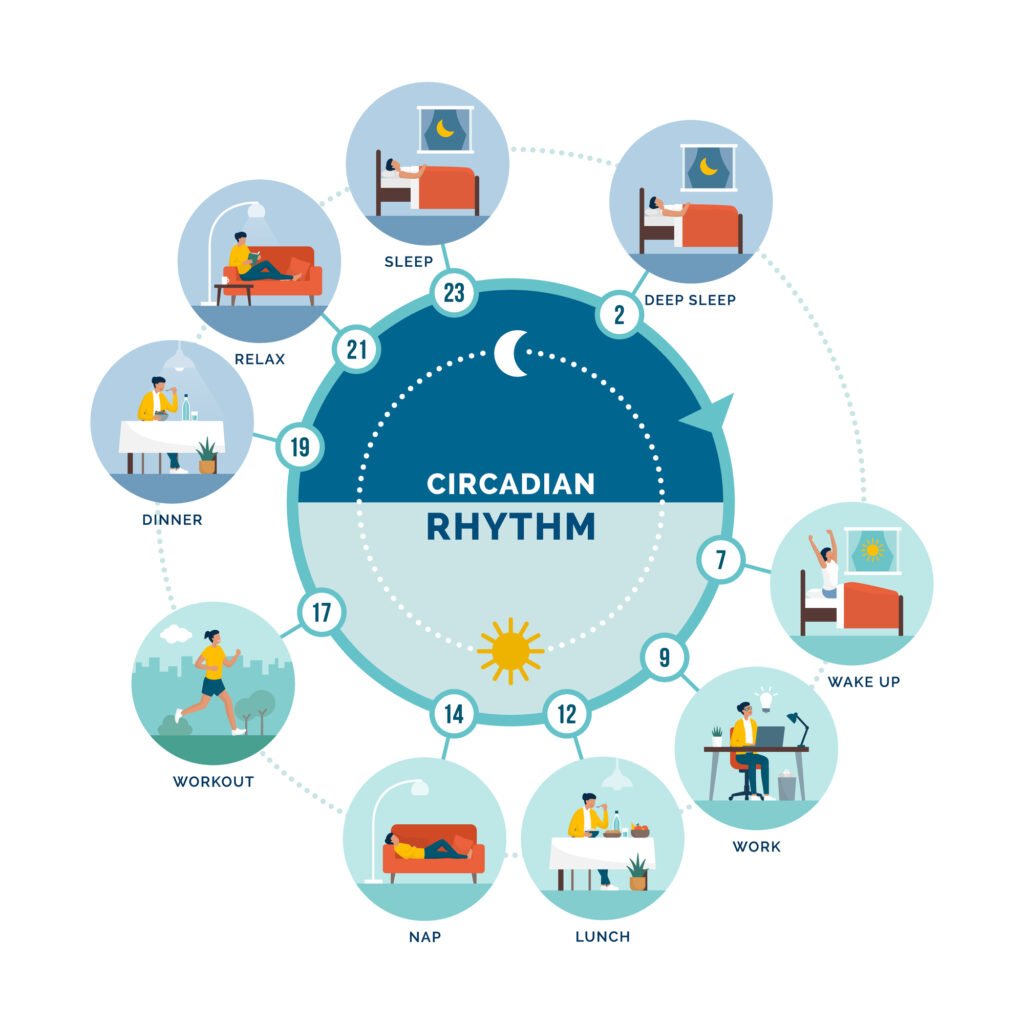 We cannot function at 100 percent every hour of the day. Our energy levels fluctuate throughout the day, and this game helps you and your team to identify their most productive times of the day.
How to play:
Ask each employee to plot their day, from waking to going to sleep, in hourly or half-hour blocks.
Instruct them to label each block with words that best describe their energy levels. For example, they can use the following features:
On Fire
Vibrant
Autopilot Control
'at 70%' energy level
Distracted
Slowing down
Tired
Hungry
Takeaway: Encourage every team member to post their rhythm charts on a wall. This way, co-workers will be able to recognize when a teammate can best perform particular tasks. With this knowledge, the team can make better decisions on when to work on more crucial tasks and when to tackle other tasks, such as meetings. As an employer or team manager, you will learn:
When it's best to take breaks
Co-workers sharing similar working and relaxing rhythms
The most distracted part of the day
2. The Big Picture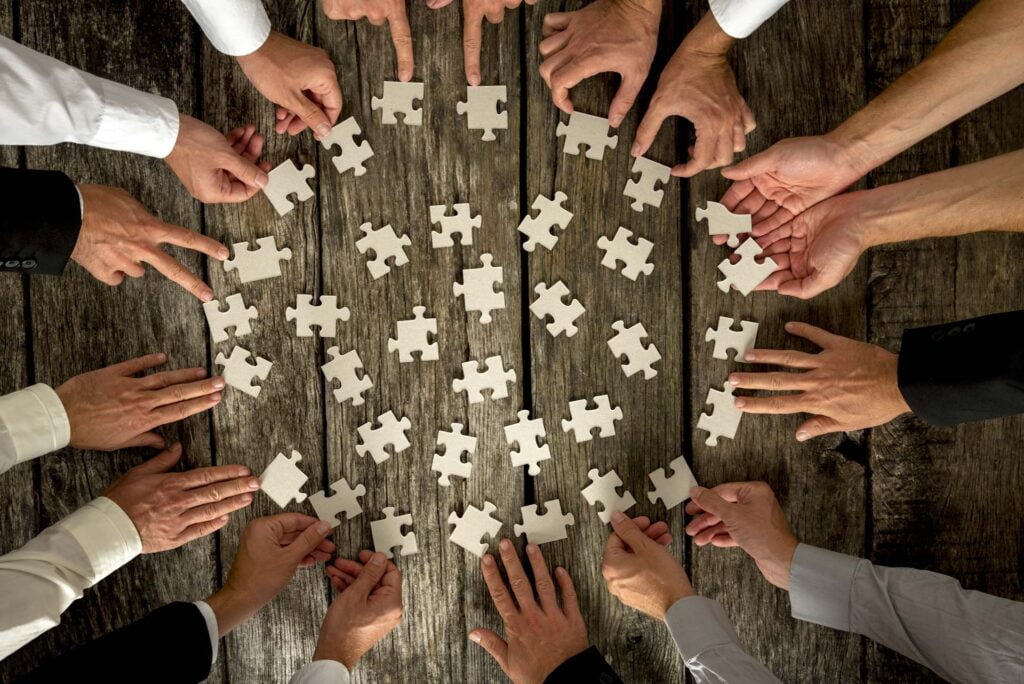 The Big Picture is great for teaching your team how to work together towards hitting the bull's eye.
How to play:
Divide your team into small groups. Each group will be responsible for painting a small segment of 'The Big Picture'.
Keep the big picture a secret. It could be anything from your company's brand, to a famous piece of artor an animal. The teams must learn to work together to ensure that the lines and colors match up.
Once all the pieces have been completed, the final masterpiece is unveiled in front of the entire team, amid cheers and applause.
You can then display the complete project in a strategic position in the office to remind co-workers the importance of teamwork.
Takeaway: Matching the colors and lines to create the 'big picture' requires teams to learn to be creative and collaborative. The game is great for fostering team bonding and encourages engagement between co-workers.
3. What I Did Yesterday
Teach your employees how to find a pattern between their daily work performance and activities with this game.
How to play:
Ask your team to write down ten things they did at work the previous day.
On a separate sheet of paper, ask them to note down five things they expect to see on their next appraisal/performance review.
For more perspective, ask them to rank the 10 things in order of urgency or importance.
Now, look over the two lists of each employee and find links between the items listed. Alternatively, you can ask each of them to look at the two lists and mark all the things with direct links to the second list.
Takeaway: We tend to justify our actions, even if it means making indirect links just to achieve that. This game allows participants to identify what they spend most of their time on, most of which are activities that have little impact on performance.
By sorting out what's truly relevant, teams can become better at managing time, subsequently, improving their performance and productivity.
Online Time Management Games
While offline time management games encourage more human interaction, online time management games are also great for improving teamwork skills, resource management, and problem-solving skills.
These games can be single-player or multi-player, and you have dozens of games to choose from. You will find new time management games that are sequels to already popular games. They come with more features and improved graphics and sound.
Cooking Time Management Games
4. Cake Mania Collection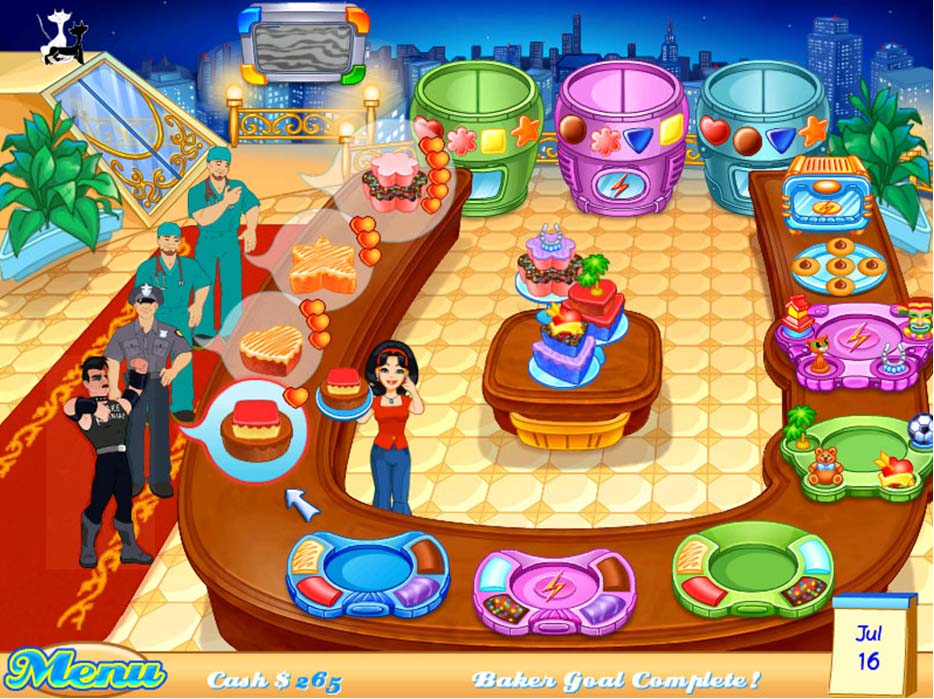 Cake Mania is a single-player game about a baker called Jill Evans. Jill runs her own bakery where she bakes and deals with several business challenges like tricky customers and time travel.
Gameplay concept: Customers come in, form a line, and place their orders. Your role is to:
Guide Jill to bake the customer's cakes as ordered, before they get impatient.
Figure out how to use cupcakes and TV to entertain your customers to keep them from leaving.
Takeaway: Use the money you get from your cake sales strategically. For example, you can buy a new oven, microwave, or better shoes to help Jill work faster, among other things. The bottom line is to learn how to manage and plan resources for better sustainability. Cake Mania also teaches you time management skills to avoid losing customers.
5. Overcooked! 2
Another fun time management game is Overcooked! 2. It is both a single-player and multi-player game that allows for a team play.
Game Concept: The game allows you and two other players to serve customers with different recipes, including sushi, burgers, pasta, and cakes, in a limited amount of time. The challenge is how to cook these meals in unusual kitchen settings, all while facing various obstacles.
Takeaway: the game teaches you to:
Coordinate orders and collaborate as a team, or else the business will collapse
Manage work in the most unexpected settings and still be able to deliver quality products and services
6. Burger Shop 2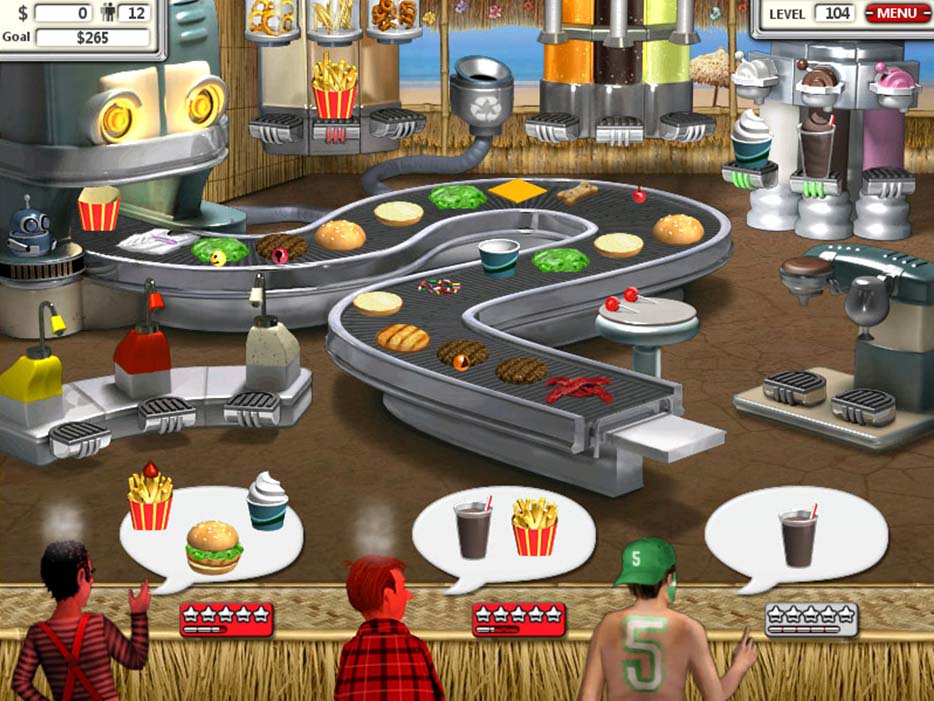 The original Burger Shop game was all about building a successful restaurant with the help of aliens. Burger Shop 2 is the sequel, where you wake up in a dumpster only to discover that your hotel business is no more, and you can't recall what happened.
Gameplay concept: You are to rebuild your burger business and figure out why it collapsed.
Takeaway:
Cook food and serve your regular customers in a speedy manner
Find creative ways to attract new customers. For example, you can upgrade your kitchen to serve new and tantalizing recipes like steak, cakes, pizzas, and pancakes.
Salon Time Management Games
7. Sally's Spa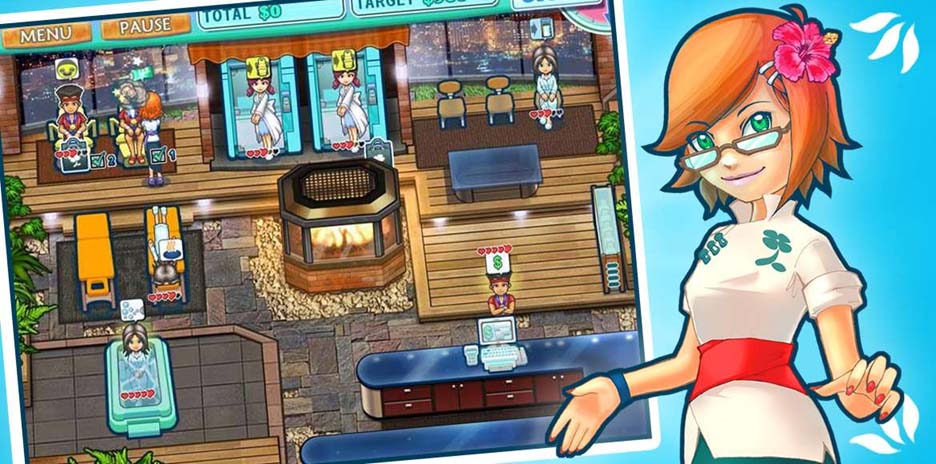 This classic game has been around for many years. It helps you to relax and has some great music and sound effects.
Gameplay concept: You are a spa manager and your roles include:
Taking customers from one station to another (spa, massage table)
Performing various tasks like hiring new employees,
Dealing with different client personalities to satisfy their needs
Collecting money at the end of it all
You can use the money to upgrade your spa. The fun part is that you get to travel around the world completing various stages.
Takeaway:
Discover exciting places around the world
Helps to relieve stress
You gain time management skills and learn how to successfully run a business
9. Jojo's Fashion Show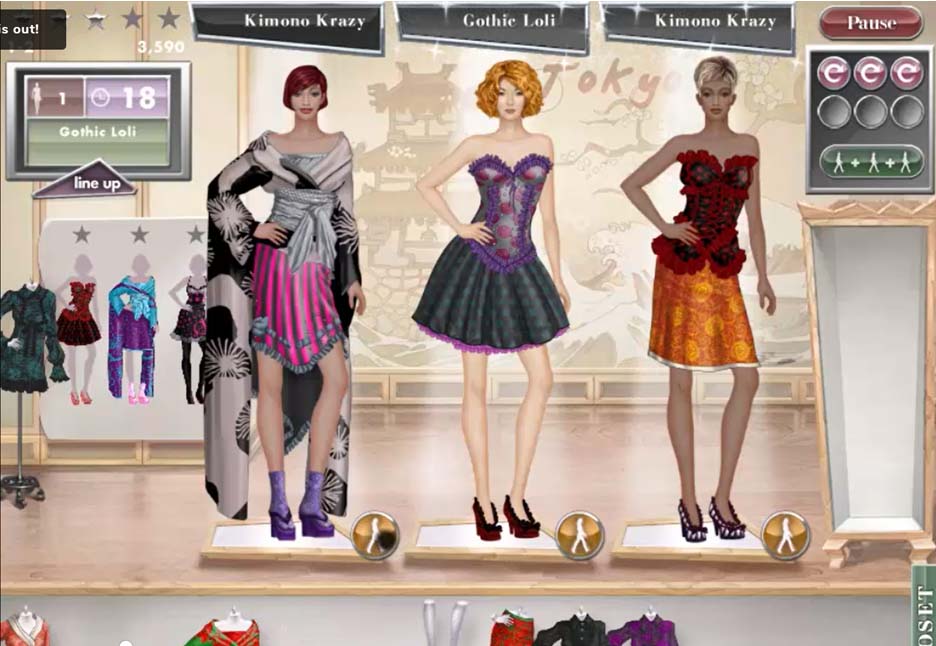 This game is about designing clothes. You must meet specific requests with your design to earn points, after which, you organize fashion shows to showcase your outfits.
Gameplay concept: you are the fashion designer, and you get to run your own fashion show. You are given limited time to organize each model's outfit, putting into consideration different styles and requirements.
Takeaway:
Fosters creativity
Teaches you to manage your time efficiently
Final Thoughts
Now that you know there are several time management games to indulge in, are you ready to dive in and have fun while learning some useful time management skills and techniques? We bet you are!
While you do that, remember to keep track of your time in order to accomplish your daily or weekly goals. After all, we don't want you to become too absorbed in the games, to the point you are oblivious to the passage of time