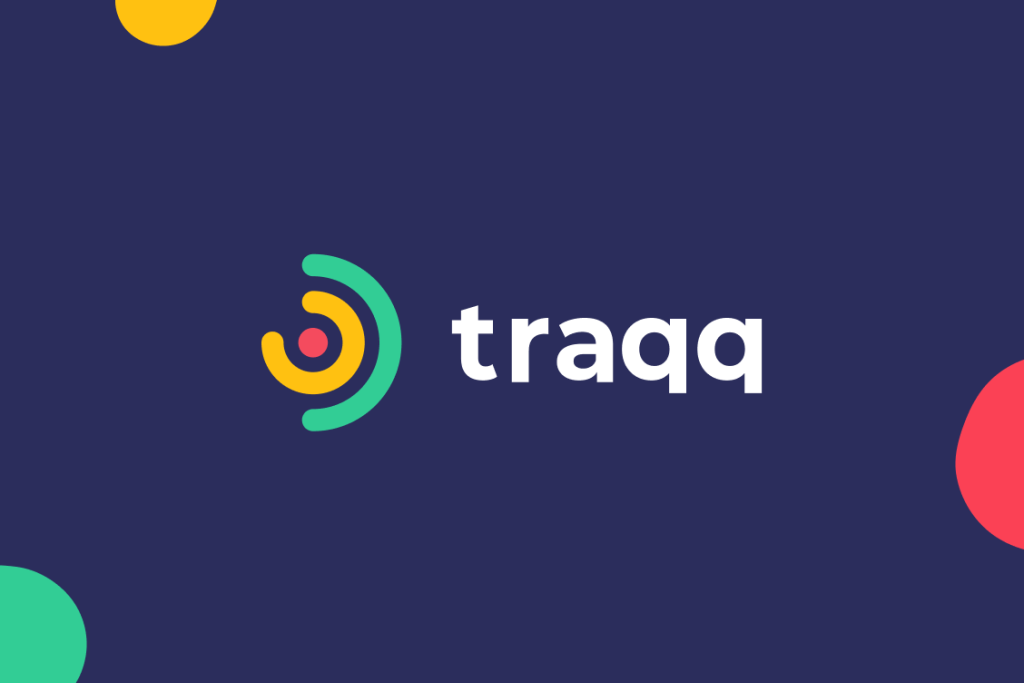 The nature of every work is different and remote work is not an exception. While some jobs can be done on a computer, certain tasks require you to step away from your keyboard. It naturally makes one wonder how to track time on a client meeting? Spoiler: it's quite easy with Traqq – the employee attendance tracker.
Traqq offers a unique way to make sure your timesheet captures all your billable hours, including time spent away from your computer. You can easily adjust your working hours directly in the app, allowing you to add time that your computer cannot capture.
The benefits of this feature are numerous, as not every employee or professional spends their time exclusively on their computer. It ensures time tracking can now cover workers from different industries.
Advantages of manual time adjustment
This feature favors workers and employers in many ways.
Capture time spent off computers
Most time trackers only calculate billable hours based on how long you spend working on your computer. They don't account for time spent elsewhere, such as in the case of field supervision, client reports, and organized offline workshops.
With Traqq's "Add time" feature, you can finally capture those hours and add them to your timesheet. That way, you're doing more justice to your invoice and paycheck.
For employers, the feature means there's a centralized time monitoring system, removing the need to take other measures to track offline working hours.
Improve accountability
Employees don't have the sole authority to add time without oversight. They must provide a note explaining the details of the added time when they perform the action.
The employer can then review the request and approve, reject, or make changes.
This function allows both parties to be on the same page and removes any potential conflict or disagreement that may occur otherwise.
Optimize productivity tracking
If you're only using data from time spent on your computer to track productivity, you won't be getting the full picture. Every aspect of your work, including those you handle outside your computer, should be included in your productivity tracking.
That way, you can efficiently measure how well you work and find the gaps you need to fill.
Traqq includes your added time when providing productivity insights. You can use the information to understand how fast you work away from your system compared to how efficient you are using your computer.
Make up for lost time
The provision for adding and deducting time is not reserved for just time spent away from the computer. It also works if you forgot to turn the tracker on when you started your day or turn it off after finishing work. As always, you are in control of your electronic timesheet.
So, you can add and deduct time, depending on your situation.
Streamline payroll
Whether you're accounting for overtime or time spent out of the office and away from your computer, Traqq makes sure you don't have separate billing systems.
Employers can now consolidate billable hours under a single system and pay using timesheets generated in the app.
Reduce errors
Adding and deducting time helps reduce discrepancies in payroll and productivity records. For example, if you forget to start tracking time long after you start working, you'll be feeding the system the wrong information, and it will go on to provide incorrect productivity metrics. The same thing happens if you forget to stop the time tracker long after you finish working.
With the adjustment feature, you can correct such mistakes and prevent further errors.
This way, employers will save costs since they won't be overpaying wages and workers will keep correct productivity records.
How to add time manually
Traqq makes it easy to do everything. Adding time for any reason, just like other features, is intuitive and straightforward.
Here are the steps:
Open the application and head to the Activity page.
Once you get to the Activity page, go to the top-right corner and click on "Add time."
The "Add manual time" dialog will now pop up, showing you a timer with a handle you can drag.
Select a date and drag the timer accordingly. You can also enter the time manually using the From and To boxes.
After inputting the additional time, add a reason. Note that the field for entering the reason for adding time is mandatory as it allows your manager to confirm your work time.
Click on the Submit Request button.
Important: Your manager or supervisor will have to approve your added time. However, in the meantime, you can always edit details of your request while you await approval. This function allows you to add crucial details that you may have omitted when you initially sent the request. You can also remove details that may have not been part of the reported time.
To edit the request, head to the Time Request tab and click on the pen icon next to pending.
What's more, you can choose to delete the request later on. To do that, go to the Time Request tab and click on the delete icon next to the request.
Add time, not work – Traqq's convenient method of time tracking
Include your in-person meetings to the billable hours with Time Adjustments feature in Traqq.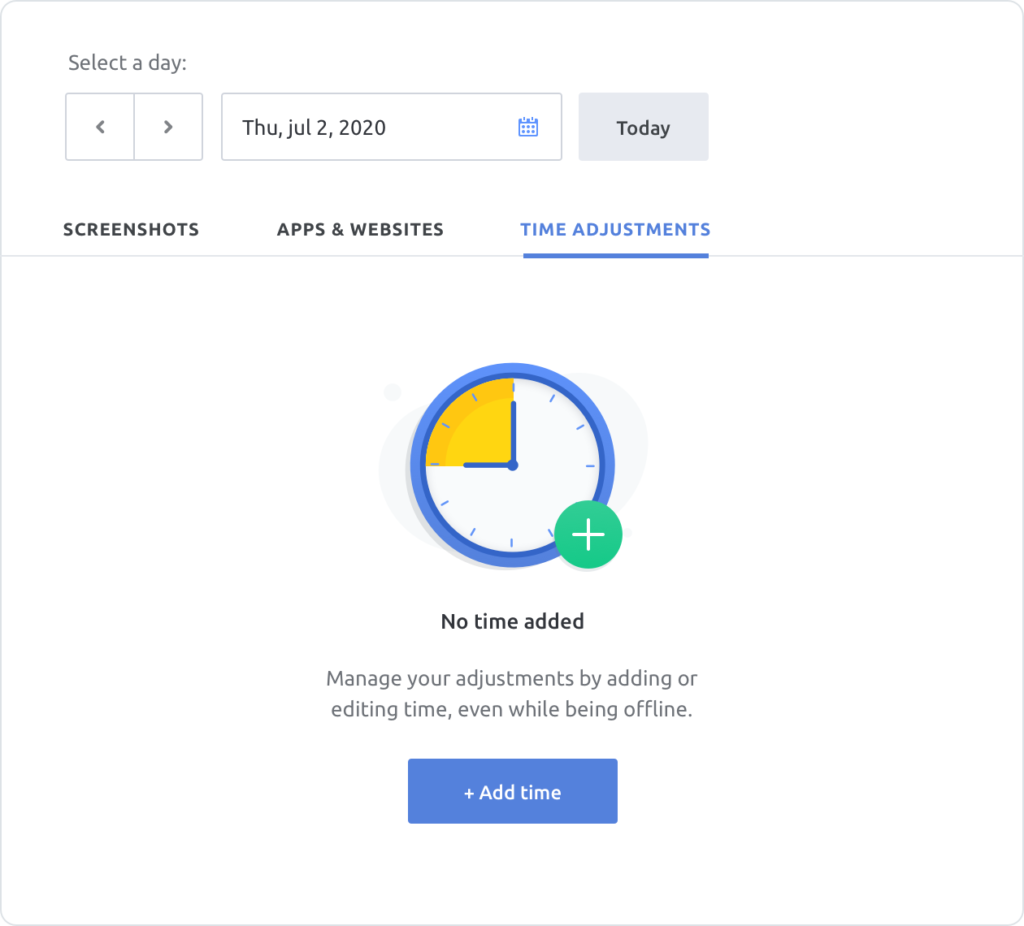 Add time to the time log in 3 clicks of a mouse. It also works if you forgot to turn the tracker on when you started your day or turn it off after finishing work. As always, you are in control of your electronic timesheet.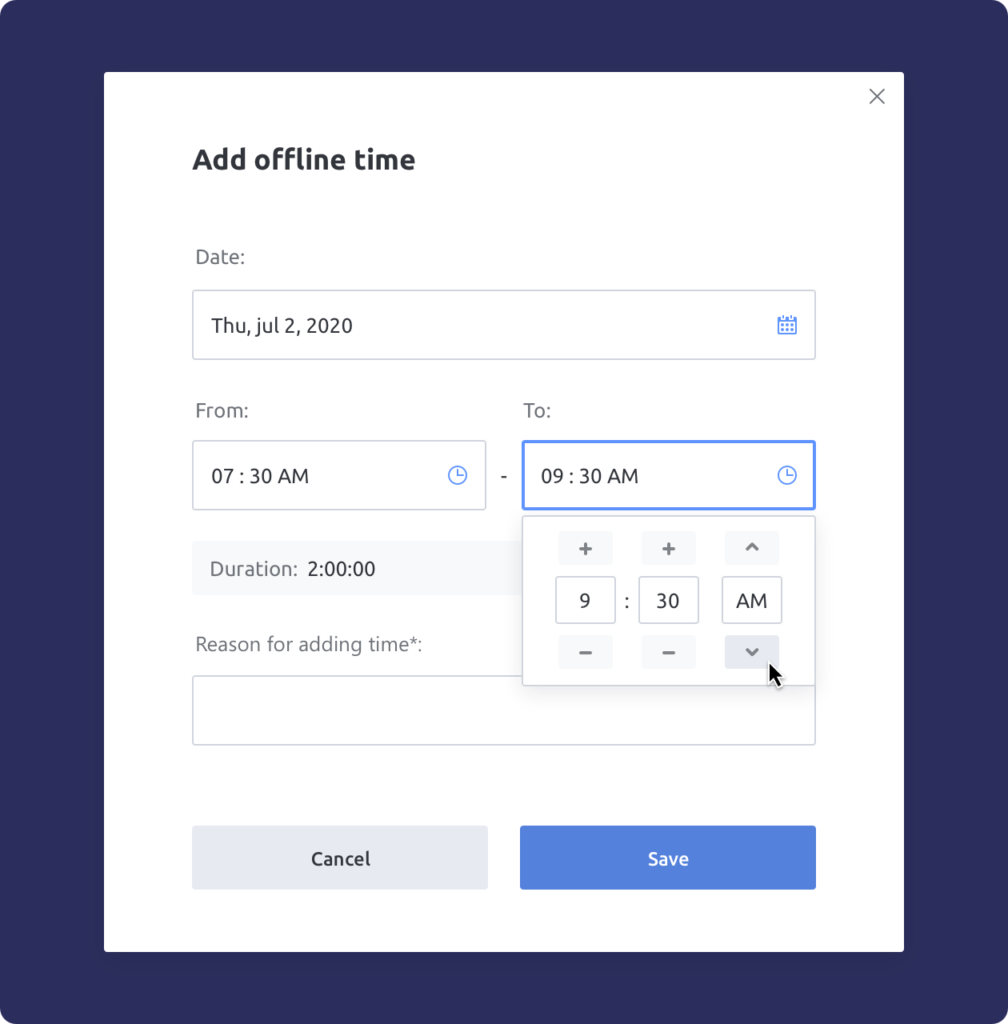 Add quick notes to the manually added time
The title says it all – explain and justify your edits by adding a quick note. It will save so much time for both you and your boss and make your time log even more transparent.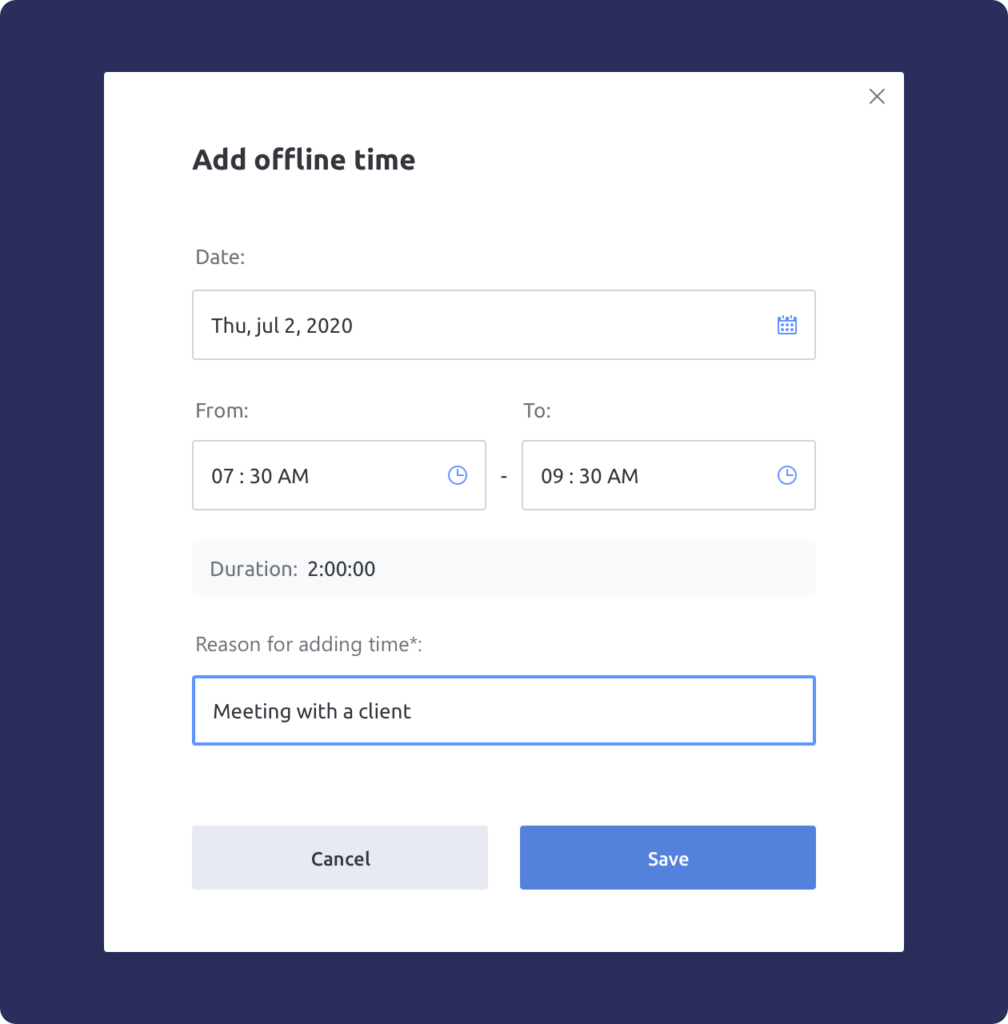 Speaking of transparency, continue reading to learn how Traqq identifies where you spend most of your time or sign up for Traqq beta right here