How to Work From Home With a Toddler: Effective and Easy-to-Apply Tips
It's so exciting to always have your kids with you all the time, but it can interfere with your work if you don't know how to handle it. Children are like little angels that can keep your heart warm with their play, smiles, and loud cries, but their troubles can also affect your concentration.
Is it difficult to work from home if you have kids? In this article, you will learn the best tips for working from home with kids. You will master how to make time for having fun with your little champs without your company-assigned projects piling up.
If you manage a remote team with little children to look out for, this guide will teach you how to help employees work from home with kids. Knowing how to manage your workers with toddlers will help you make sure they remain productive amidst child-related distractions.
Personalities differ, which is why one or a number of our tips might not work for you. Nevertheless, several other suggestions may resonate more if you try them. Below are the best strategies to survive working from home with toddlers.
1. Start Work Early Enough
Starting your day before your kids wake up is a way to be productive while working from home. Setting the alarm two to three hours before dawn can help you buy time to complete your most important tasks for the day.
If you are not the type that works very well early in the morning, use the time to plan your day. You can also check important emails, respond to them, read something relevant to your work, and prepare everything your kids will need for the day.
2. Allow Independent Play
It's quite challenging to leave your kids to play alone for fear that they may do something harmful. It's okay to have that feeling – it shows you're a good parent. However, you should be able to take your attention off for a short period and allow them to play independently.
An article on Parents.com showed that it's vital to encourage independent play in toddlers, mainly because it builds curiosity, self-confidence, and self-reliance. Moreover, it's a way to buy yourself about 20-30 minutes for work.
3. Use the Services of a Babysitter
Even if you have your day adequately planned out, you'll still get distracted by your kids, especially when it comes to feeding them, caring for them when they cry, and more. You may think you can handle the many 20-30-minute breaks to care for them, but it will eventually affect your work negatively.
Is working from home with kids possible without hiring a babysitter? Yes, but it helps to hire a babysitter to cater for your toddlers when you are busy with your projects. Create a schedule for when they should come to care for your toddler – it can be on a daily, weekly, or any other convenient basis.
For example, you could hire a babysitter to take care of your kids from morning till 1 pm. That time could be your lunch break, and it's good to spend 15-20 minutes playing with your toddlers before going back to work.
4. Swap Sitting Services with Another Work-From-Home Parent
How is working from home with kids possible using this strategy? It's exciting, and guess what? It's also zero cost! Instead of inviting a babysitter to cater to your kids' needs and paying some inconvenient sum of money per hour in return, you can try this method.
Swapping doesn't mean you take someone's child while they take yours – there's nothing reasonable about that. Why swap your kid for another child and still not solve the challenge you have?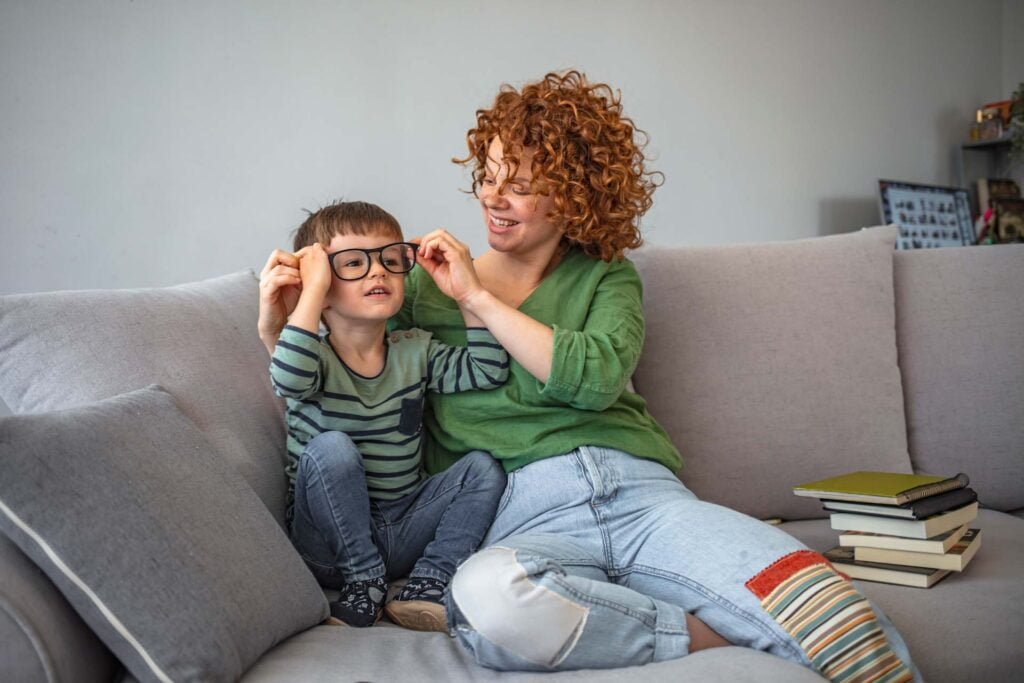 When you swap sitting services with another parent, you agree to take their kids into your home for a period so that they can focus on what they need to achieve during that time. Then, conversely, they'll also take your kids after they have completed their work, and you'll be able to focus on your job too.
One other benefit of swapping sitting services is that your kids get to hook up with other children, which is good for their general development.
5. Inculcate Nap Time in Your Kids
One of the best ways to start teaching your kids how to have routines is making nap time a necessity for them. Besides instilling it as a discipline in them, you can also use the free two-three hours to get more done at work.
Moreover, sleeping for two to three hours in the afternoon is healthy for kids. According to an article on Kidshealth.org, taking a nap in the afternoon makes it easier for kids to sleep better at night. It also aids their physical and mental development.
6. Stop Work for a Moment If You Have To
It seems like an irresponsible idea, right? Well, in fact, it's the opposite. There are times your kids need your undivided attention, and those periods are visible. If you try to escape by giving them toys or other things, it will amount to a waste of time.
Stop what you are doing right away and give your toddlers the attention they deserve. You can always catch up with work later, and you may request permission from your remote team leader if the project you're working on is very sensitive.
Even at a very young age, children yearn for care, and they recognize it when someone shows them affection. Work shouldn't be the reason you ignore your kids' yearning for care. You can be both a good parent and a responsible employee.
7. Avoid Boredom for Your Kids
Boredom is common to everyone, and even kids can get bored of doing the same things repeatedly. Instead of giving them the same toys to play with every day, try shuffling between different toys.
If your kids get engrossed in playing with their toys, you better run to catch up with work even if it's only for a few minutes. The free 15-20 minutes can make a lot of difference before your toddlers need your attention again.
8. Keep on Learning While Caring for Your Toddlers
It helps if you listen to a podcast, an audiobook, or a TED talk while feeding your toddler lunch or catering for their other needs. That way, you'll be learning what is useful for your life and work, and you'll still be caring for your kids.
9. Focus on Whatever You Are Doing
Striking a healthy balance between work and family is generally hard, but it's worth the trouble. If you master the game, your kids will have the best parent and your company will have the best employee. It only requires your dedication to being both a good parent and a responsible work-from-home employee.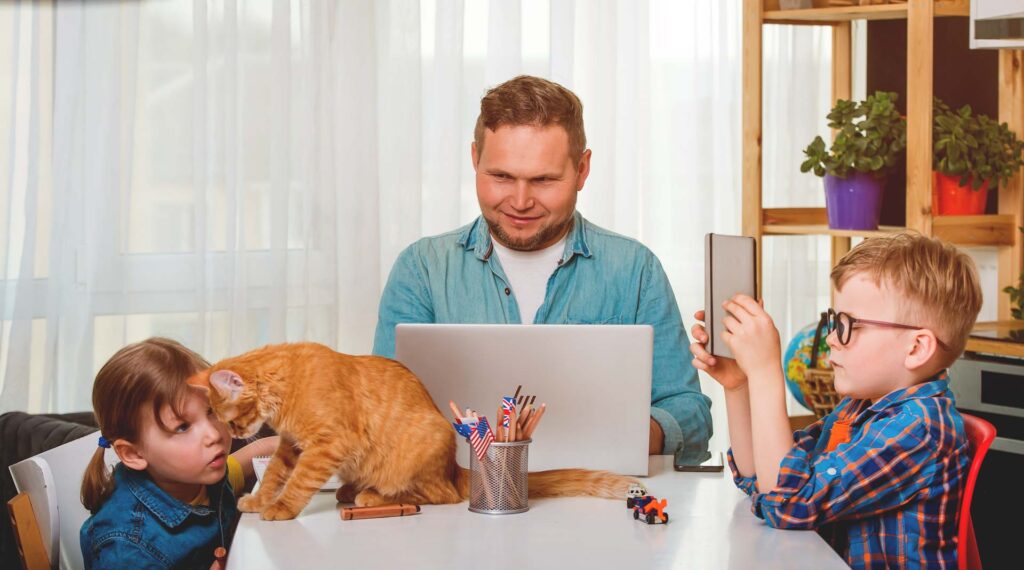 Whenever you're with your kids, ensure that you are giving them all your attention. Put away any work-related thought and focus on them completely. On the flip side, you should also shut out kid-related distractions when it's time to work.
10. Planning Is Always Necessary
Believe it or not, the benefits of planning your entire day cannot be overemphasized. In fact, the more detailed your plan is, the more likely you are to have a balanced day of work and parenting.
Your plan should include details, such as the location of your work-from-home office, hours you will spend with your toddlers, lunch breaks, and more. Your plan should also allow for extra time.
11. Discuss Your Schedule With Your Partner
This strategy won't apply to you if you are a single parent unless other mature individuals live with you. People who have partners should discuss their schedules with them. Make clear when you have to work and when you can be more flexible to play with your kids.
12. Don't Forget Your Kids Are Kids
Kids are kids, and that's important for you to keep in mind. When your toddler is playing with paint or something else that is annoying to you, remember they are having fun. Allow them to enjoy that period, and use the time to catch up with work.
Moreover, leaving your kids to enjoy doing those "dirty" plays helps to make them creative. You should ensure that there are no sharp objects, poisonous items, or other harmful things accessible to your kids.
13. Prepare Your Toddlers' Toolkit Before Meetings
When you are about to get into an online meeting, it's okay to allow your toddlers to join you. However, you should have their toolkits ready before joining a session. Their kit should have toys, food bottles, and other fun things your babies love.
To make it more fun, you can get a headset for your kid and place them on your lap during the online session. If your toddler starts to distract you during the meeting, then it's time to get them away. Work should be a priority at such a time.
14. Use Work-From-Home Productivity Tools
Using productivity tools can make things easier for you. Since what you will find most challenging while catering for your toddlers as a remote worker is time management, it helps to use time tracking software such as Traqq.
Traqq allows you to keep a real-time log of what you're doing with your tasks. With such software, you can gain insight into the things you should stop doing to make more productive use of your time.
Final Note: Strive to Get Better at It
Getting better at creating a healthy balance between being productive while working from home and being an excellent parent can be challenging, but if you strive to get better at it, you will record improvements every day. With these strategies to survive working from home with toddlers, you can be a pro at maintaining a successful work-family balance.