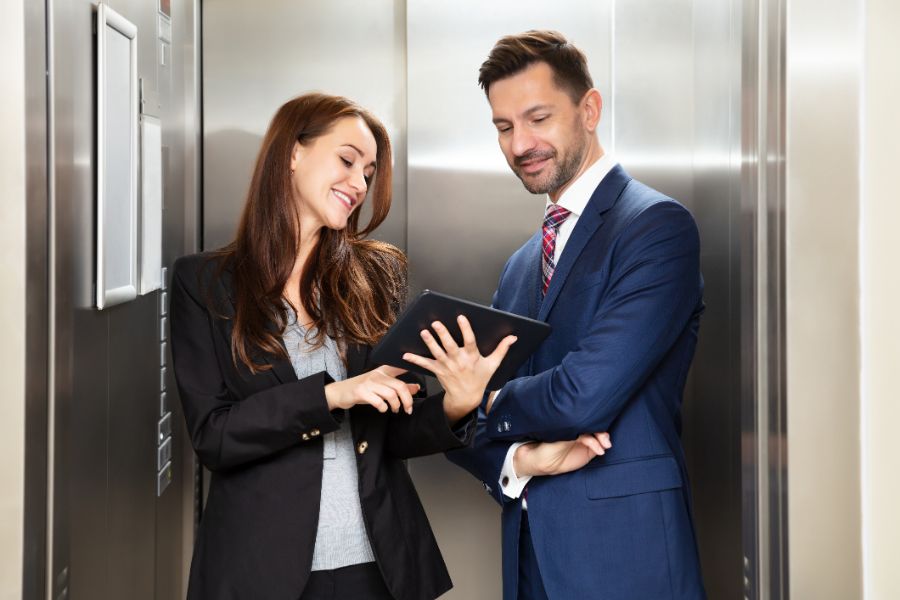 Picture this: You have 30 seconds to impress a potential employer or corporate sponsor. How best can you persuade or convince the prospect to buy into your idea?
A perfect elevator pitch can help you connect with new professionals, land a gig, or build your network. Often, candidates and entrepreneurs have around 30 seconds to two minutes to pitch their product, service, or idea.
So, how do you deliver a compelling elevator pitch that will successfully win you the opportunity of a lifetime? In this post, we show you how to create a fire elevator pitch for every situation. We also share elevator pitch examples to inspire you when creating your own.
What Is an Elevator Pitch?
An elevator pitch – also termed elevator speech – is a short, memorable, and persuasive description of an idea, product, or service. You can also use an elevator pitch to sell yourself as a professional. That is, provide a quick summary of your background, profession, experience, and purpose to introduce yourself, and make a connection or land a client.
You can apply an elevator pitch in several scenarios, including:
During membership events or professional networking
In your social platform profiles, such as LinkedIn
At a career fair
For internal networking
An elevator pitch should be 30-60 seconds long at maximum or around 75 words. According to a report by the Consumer Insights team of Microsoft, Canada, we now have a shorter attention span than goldfish, whose focus can last nine seconds.
According to the study, the average human attention span is now 8.25 seconds, down from 12 seconds. No wonder your pitch should be short, concise, and engaging.
Remember, an elevator pitch should be so convincing that, once you're done presenting it, your prospect likes you or your idea enough to accept your offer.
Why Is an Elevator Pitch Important?
You might be wondering, why do I need an elevator pitch? Well, a good elevator speech can be a great tool to help you gain confidence in introducing yourself to prospective employers and partners.
In an interview, you can be asked to provide a summary of who you are, your professional background, and your experience. The elevator pitch offers an excellent framework to practice answering one of the most asked interview questions – "tell me about yourself."
An elevator pitch also helps you understand your prospect's perspective so you can connect with them. You see, you must comprehend your target prospect's problems, concerns, hopes, and dreams before you can put together an offering they can't resist.
Preparing your elevator pitch in advance and practicing it in front of a mirror can help you refine your presentation and be ready to share it with those you meet. Consider recording the speech so that you can remove any unnecessary words to make it as sweet and short as possible.
What Makes an Excellent Elevator Pitch?
A good strategy is to approach your elevator pitch with the Twitter character limit in mind. The shorter character limit forces you to summarize and edit your tweet to concisely articulate your ideas.
You don't need to mention every detail about your product or service or career objectives. A good elevator pitch:
Is persuasive: While short, your elevator speech should be compelling enough to win the opportunity to present a more detailed plan. You want to entice an investor or hiring manager enough to leave them curious for more.
Harnesses emotion: Buyers generally buy based on emotion. Therefore, strive to connect your potential prospects emotionally to spark their interests.
Mentions your goals: Keep your elevator pitch goal-oriented to be clear about what you're looking for or can deliver.
Highlights your value proposition. It's not enough to explain what you offer. You should show people what value your work delivers. Your pitch should answer the question "Why should I care?"
Explains your expertise. People will be more interested in continuing the conversation if they feel you know what you're talking about. So, find a way to squeeze a line or two explaining your expertise.
On top of that, you should always know your audience and how to speak to them. In some scenarios, using jargon can illustrate your deep knowledge of the field. However, using jargon during an elevator pitch is discouraged since it can be off-putting. Therefore, keep your speech simple and focused.
More importantly, always have a business card ready to offer at the end of the conversation. It provides a way to continue the conversation later. What's more, it demonstrates your preparedness and enthusiasm to your audience.
What Not to Say or Do During Your Elevator Pitch
1. Avoid rambling. Rambling is easy, but it's the last thing you want when presenting your elevator speech. You have a short time to convey a load of information. Make sure it's focused, significant, and relevant.
2. Speak slowly. Keep in mind that in normal speech, the estimated speaking range to facilitate recognition of words is between 120-200 words. Anything faster than that makes comprehension a bit difficult.
Therefore, don't try to speak quickly as this will make it harder for your listeners to absorb and fully comprehend your message. Speaking slowly not only demonstrates your confidence but also shows competence.
3. Avoid speaking in a monotone way. The problem with rehearsing is that you may end up speaking in a monotone manner. You don't want to appear as if you're reading from a script. You want to sound natural and ensure you convey the message properly using both your body language and tone.
Remember to remain enthusiastic, confident, and with a high energy level. And, deliver your speech with a friendly facial expression.
4. Do not use one elevator pitch for all occasions. An elevation pitch for a corporate sponsor will differ greatly from that of a retailer. The same goes for an elevator speech for a booking agent and a publicist. Therefore, consider tailoring your elevator pitch depending on who your target audience is.
How to Write an Elevator Pitch
One study showed that there's almost no correlation between an elevator pitch or their supporting business plan and the final desired outcome of potential stakeholders. In fact, according to the research, innovators who use pitches suffer a failure rate of 96 percent.
However, not getting a positive outcome straightaway doesn't mean you failed. Your timing could be wrong, or you could've been addressing the wrong audience. It's the impression you leave that matters and one that might pay off in the future.
We should mention that your elevator pitch must be tailored to match the current situation or purpose. So, before you start crafting one, ask yourself: What do I want to achieve? Is it a new job, client, or VC (venture capitalist)? Or maybe you just want to casually introduce yourself and describe what you do for a living?
Basically, your elevator pitch will contain five major components:
The introduction
What you do and how well you can do it
Identify the challenge and offer a solution
Describe your value proposition
Close with a call to action (CTA)
With this basic elevator pitch template, you can fill in the blanks and structure an elevator pitch that will grab the intended listener's attention. Keep working on your pitch to make it precise and more personable.
Now let's take a more detailed look at each of these components. Later on, we'll share a few elevator pitch examples for different situations.
1. Introduce yourself
Before you start pitching, you should introduce yourself to the person you're selling your idea, product, or service to. Provide your full name, offer a smile, and (in the pre-Covid era, extending your hand for a handshake was expected).
It's wise to add pleasantries like "Nice to meet you" or "Thank you for your time." However, don't dwell too much on pleasantries. Remember, you only have 30-60 seconds to impress your audience. Don't waste it!
2. What you do and how well you can do it
After the short introduction, you need to explain to the prospect what you do and what makes you unique. This is where it gets tricky since you have to condense all your professional background and expertise into a few punchy sentences.
To make this easier, answer the question, "What's my company's primary mission or objective?"
Here's an example:
Hi, my name is Joe. It's nice to meet you! My company develops a time tracking solution that helps individuals and companies manage their time more effectively. Our automated solution has helped our last client to reduce time wastage by 65 percent, hence increasing productivity.
From this short description, the person you're pitching to will know who you are, what your company does, and that your product works.
3. Identify the challenge and offer a solution
Explain clearly what your business is trying to solve. What do users, businesses, or customers have to gain from your input? You'll need to have identified a few challenges that your business helps resolve so you can prepare the presentation.
The next step is to explain how your product or service will help fix the problem. It's a good idea to describe the contributions you've made and how you did it.
4. Describe your value proposition
Once you grab your audience's attention, it's time to explain, briefly, about the value the product or service you offer provides. For example, Traqq is a time tracking tool that helps users accomplish tasks and hit their targets on time.
A unique selling proposition describes how people can benefit from your product/service and sets your business apart from the competition. You can provide a brief story about one of your satisfied customers to demonstrate the impact of what you do.
5. Close with a call to action (CTA)
Consider ending your pitch by stating or asking what you want to happen next. For instance, you can request a meeting, a quick call, an appointment, contact info, etc. If your potential VC or employer agrees to your request, be sure to thank them for their time.
If they don't, gracefully end the dialog with a polite note like, "I understand, thank you for your time! If it's alright with you I can send a follow-up email to see if there's a better time for us to connect."
Now, after knowing how to structure your elevator pitch, here are a few tips to help you write a powerful pitch:
Read and edit your elevator speech. Record it and check for any fillers, making sure it doesn't sound too salesy or awkward.
Make sure your pitch stays within 30 seconds without talking too quickly.
Practice, practice, practice! You want to get the right tone for your pitch and ensure it's conversational and interesting. Try the pitch on someone you know and ask for their feedback.
Elevator Pitch Examples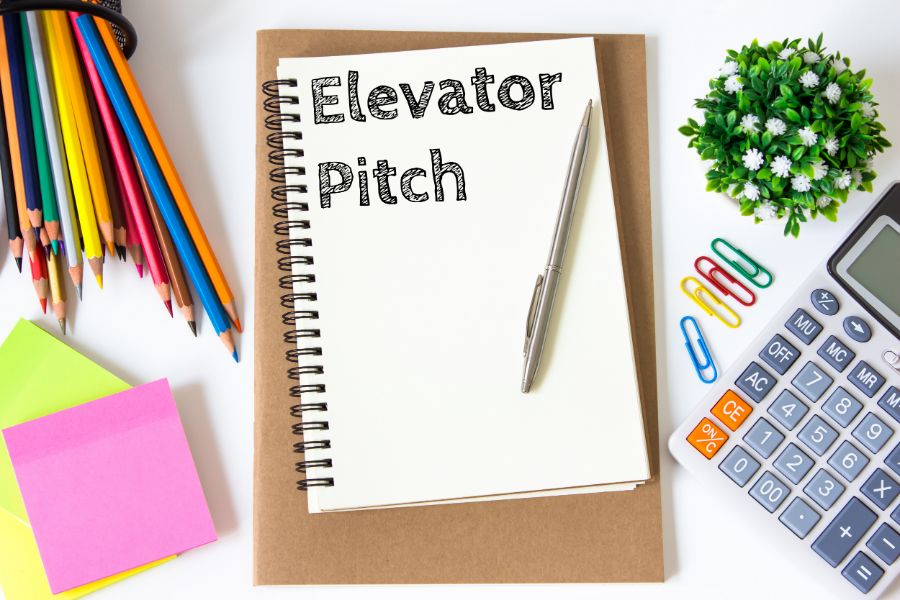 Here are a few examples of strong elevator pitches for different scenarios to inspire you.
Quick Pitch
This is the most common elevator pitch where you say your piece and drop the mic. The pitch identifies the problem and immediately offers a solution. It goes ahead to illustrate the expected benefit of using the product.
"Employee time theft remains one of the trickiest challenges companies have to deal with. Often, they don't have control over how employees spend their time, a weakness that can result in time theft going unnoticed. That's why we created Traqq, a time tracking app that anyone can use to monitor their time usage and discover how every minute is spent. And, it works so well since all the data is automatically recorded for further analysis. Want to put a stop to employee time theft in your company? Talk to us."
Use Data
Using statistics is a great way to build credibility. Adding data to support your value proposition makes your claim much stronger. Plus, data makes a problem easier to visualize.
"Did you know that more than half of your employees waste company time checking social media each day? Imagine how much money you'd lose every month if left unchecked! Now, imagine a tool that can help bring to light internet usage habits for all employees in a non-invasive way. That's what you get with Traqq. We help companies save thousands of dollars every year that would otherwise be spent paying for hours not spent working."
Make it Relatable
According to cognitive psychologist Jerome Bruner, humans are 22 times more likely to remember a fact when a personal narrative is used. Stories create a connection and are a great marketing strategy.
"The topmost challenge with transitioning to a remote work model is employee accountability. I mean, how can you tell how they are actually spending company time? It's the same problem my team and I had for a while. We didn't realize how much time we were wasting until we started using time tracking software. If you're curious, I can explain more about how I stopped worrying too much about how my workers spend time and instead, helped them become more productive."
Highlight the problem you intend to solve
Every business is created to solve a problem, and highlighting how you plan to do that can make your pitch much stronger. This pitch evokes the audience's emotions – delivering high-quality food that evil corporations are making hard to access.
"Are you frustrated by the lack of access to fresh, local, and sustainably sourced fruits and vegetables? With multi-billion-dollar chains blocking access to food from local supplies, customers have no choice but to turn to mass-produced food. What if I told you we have a way to get fresh farm produce delivered weekly right at your doorstep? At Fresh Farm Foods, we help find high-quality food and bring it to you at affordable prices. Get a 5% discount on your first order?"
Use a one-liner
While using a one-liner is not encouraged, it can be an effective way to quickly demonstrate your company's value proposition. It's usually 10 seconds long, meaning you'll be forced to cut all the fluff and present only the facts.
"Traqq is an automated time tracking system that allows freelancers, contractors, small and big teams to monitor their work hours and performance, and generate detailed reports for seamless billing and payroll."
Elevator pitch examples for a job interview
My name is Gladys Beth. Thank you for taking your time to sit with me today. After graduating with a Bachelor's degree in Communications, I've spent the last couple of years working as a freelance Social Media Manager for various local businesses. I have been relied upon for my creativity, innovative ideas, and being detail-oriented. I have always wanted to work in an organization that shares real stories that transform people's lives. That's why I find your company intriguing. I know my unique storytelling abilities and skills can make a big impact on your audience."
"Good morning! I'm Mary. As a recent Business Administration graduate, I'm seeking an opportunity to apply my entrepreneurial and marketing skills with a startup that I can be proud to be a part of. My passion for creating businesses from the ground up is what drives me. I feel most comfortable working in a fast-paced environment of a startup and bring my innovativeness and creativity to help businesses run smoothly and increase their revenue."
Elevator pitch example for a social event/job fair
"Hi! My name is Joel. Nice to meet you! I'm a recent graduate of NYU with a degree in Business Administration. I worked as an executive assistant and successfully managed and coordinated a strong professional network of 30 people. Now, I'm seeking leadership opportunities that will drive my talents even further. Would you be willing to spend 15 minutes of your time to discuss my work to see what I can offer? Is there an email address I could send my portfolio to?"
Elevator pitch example for entrepreneurs
"Good day! I'm Kipkoech, and I'm an independent contractor specializing in providing cleaning services to homes, businesses, hospitals, schools, and corporations. Your home or place of work is your haven, and my goal is to make it the most ideal place to work or relax. Let us handle all your cleaning, so you don't have to lift a finger. If you need an affordable company that doesn't leave any stone unturned and is always on time, give us a call!"
Go Out and Pitch!
Now we pass the ball to you. A well-crafted elevator pitch will pique the interest of investors, business partners, hiring managers, or VCs. You simply need to make it as catchy as possible to leave a (positive) lasting impression on your prospect.
Your elevator pitch brings you a step closer to your next big opportunity. The best approach to nailing a perfect elevator pitch is to keep practicing – you never know when an opportunity will present itself.